Day 20: THANKSGIVING DAY IN TORONTO
It wasn't until 7:50am when I awoke. Once again, I took the opportunity to sleep on since I had a feeling that we really didn't have a set itinerary today. Besides, there were fewer things to see since Canada was celebrating its Thanksgiving on this day (and that included the closure of the St Lawrence Market).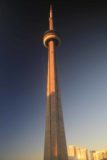 The first thing I noticed when I awoke was that the weather outside was clear. Yes!
I was a bit late for sunrise, and the buildings were reflecting the morning sun.
Nonetheless, the clear weather allowed me to take a few morning photos of the CN Tower from right outside our hotel room. However, the tower was still tall enough that I had to point the camera way up in order to photograph the apex of it.
It wasn't until about 9:30am when we finally started to go downstairs from our room to start touring the town. We were really taking our time to prepare for the day.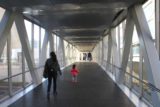 However, Julie was in the mood to catch a breakfast and she saw a Second Cup place as we were walking towards the CN Tower. So it wasn't until about 9:50am when we were finally waiting in line to purchase the ticket for going up the skyscraper.
We knew from the TripAdvisor reviews that the experience would be a rip off, but we figured that since we were in Toronto, we mind as well do it, especially since the St Lawrence Market was closed.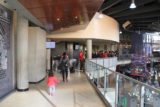 We had feared long lines and sure enough, we had to spend at least 15-20 minutes just on waiting to purchase the tickets and another 10 minutes to go up the elevator. But once we were up there, the first thing we went for was the glass floor.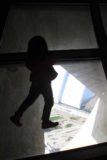 And when we got there, we noticed how many people were hesitant to walk on it. Even Tahia had limits to her fearlessness as she was gingerly taking steps on the glass. Actually, the glass floor was a very limited space, and it was nothing like the experience we had when we went up the tall tower in Shanghai (which I understood was actually based on improving on the CN Tower experience).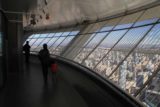 Next, we walked around the perimeter of the tower which was open-air except there were protective fences keeping people from falling over (while also getting in the way of taking photos through them).
So we didn't linger here for too long.
We then walked up the stairs to the Belvedere where there were glass windows on about 60% of the circumference of the lookout area. The rest of it were either staff areas or the Horizon Restaurant, which we wanted no part of.
I recalled overhearing some staffer offering window photos that were edited. I guess this place was really opportunistic about ripping you off. And they weren't bashful or shameful about doing it, either!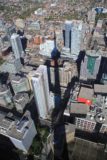 By 11:15am, we were done with the tower. And when we made it back to the bottom, we saw that the line to go up had gotten much longer.
Next, we walked in the direction of the Steam Whistle Brewing Company where there were a bunch of locomotive relics. While we were taking a few people shots there, Tahia then noticed there was a playground with slides. So of course she headed in that direction, and as we were there, we were far enough from the tower to start taking terrestrial photos of it as the massive tower was backed by clear blue skies.
After having our fill of Tahia playing at the playground, we started walking towards the ferry where we could go towards the Center Island of Toronto Island. However, we got a little sidetracked when Julie wanted to have lunch as it was lunch time.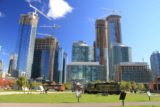 We were drawn by the activity that was going on around the Harbourfront Centre where there was a live band playing a bunch of John Mayer songs while there were a lot of children running around on some kind of astroturf grassy thing (which was soft) surrounded by picnic tables.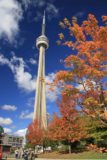 Julie picked up a pair of pulled pork sandwiches (that turned out to be disgusting and overpriced), but at least we were soaking in the ambience of the scene, which we'd imagine was one of those Thanksgiving in Canada moments. Our short lunch took place at 12:05pm.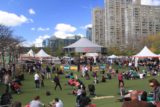 Then, we walked quite a ways from the West Quay towards the ferry station. It wasn't until about 12:55pm when we purchased the tickets at $7 per adult and $3.50 for Tahia to go on the boat. We ended up boarding the 1pm ferry (though they were going back and forth every half-hour), and by about 1:25pm, we finally made it to Toronto Island.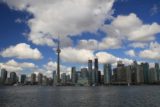 During the ferry ride, we were getting the famous Toronto skyline photos fronted by Lake Ontario. However, by this time, clouds had shown up and so the color of the scene that was once so vibrant and well-contrasted were quite muted and shadowy at this time.
We managed to take the skyline photos from both the ferry as well as from the island itself near the ferry dock.
After that photo activity, we were then meandering aimlessly about the island through a closed-for-the-season amusement park (that would've been perfect for Tahia), then watching duck and geese looking for handouts from passerbys, and then walking to the beach on the far side of the island.
Then, we let Tahia play a little more in another children's playground where we were playing on a see-saw as well as letting her do some more climbing and sliding.
Finally we caught the 3pm ferry where we managed to take a few more Toronto Skyline photos. At least at this time, the lighting was a bit more improved though the clouds still persisted.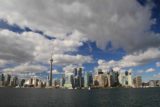 When we landed, we then walked north on Bay St in search of Union Station since the welcome literature from the Intercontinental Hotel recommended it.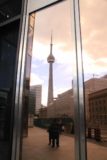 But when we got there at 3:30pm, the outside facade of the Union Station was covered up in flame retardant while the surrounding area was an ugly mess of construction work. It was kind of reminiscent of our experience in Shanghai when most of it was a construction mess as they were preparing for the Asia Expo the following year in 2010.
Inside the Union Station, the interior was grand in the sense that it had a very tall ceiling and was kind of a mini-representation of New York's Central Station. However, it was an OK experience as we spent just a few minutes before we continued on Front Street back to the Intercontinental Hotel.
So with that, we got back to our room at 3:55pm. With all that did and didn't happen, we couldn't say it was the total Toronto experience, but we did feel like we got the general flavor of the city. Who knows when we'll be back to perhaps do the very things that we missed on this trip.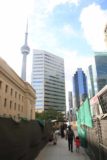 At 5:20pm we headed back down for a dinner nearby the hotel. We ended up choosing the Canyon Creek Chophouse because it was the only place that was open while the Joe Badali's place was closed (probably for Thanksgiving).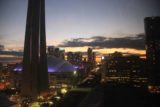 The experience reminded us of a Houston's but not as good. It was as expensive, however. We probably spent most of the time trying to keep Tahia from causing trouble whether it was putting a rubber band in her mouth or trying to prevent her from spilling water and ice, or trying to get into the salt and pepper. Whatever the risk, you can bet she would've tested it.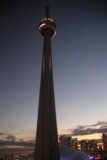 At 7:05pm, we were back in our room to call it a day. We could see that the CN Tower was now lit up as the sun had already set behind the horizon and the night sky was in twilight. So we kept the room lights closed to try our shot at photographing the CN Tower from inside our room without a tripod.
And that was that as far as our Toronto experience was concerned. With this being our last full day in Canada, we'd be back on the road tomorrow. We'll see if we would be able to fit in both Letchworth State Park and Watkins Glen tomorrow. It would all depend on how soon we could leave Toronto (perhaps beating the rush hour traffic), then getting through the border at Niagara Falls before we'd continue the roadie towards Watkins Glen…