Even though this is a waterfalls website, we recognize that there are many highlights in the Caribbean Islands (both involving and not involving waterfalls).
So we've come up with this page to pay homage to some of the highlights that we think are worth mentioning as you try to figure out what to see and do in your own trip plans.
While I recognize that this list is by no means exhaustive and that it is highly subjective, at least you have an idea of what we loved about the Caribbean Region.
So without further adieu, here are the highlights in no particular order…
The Pitons (St Lucia)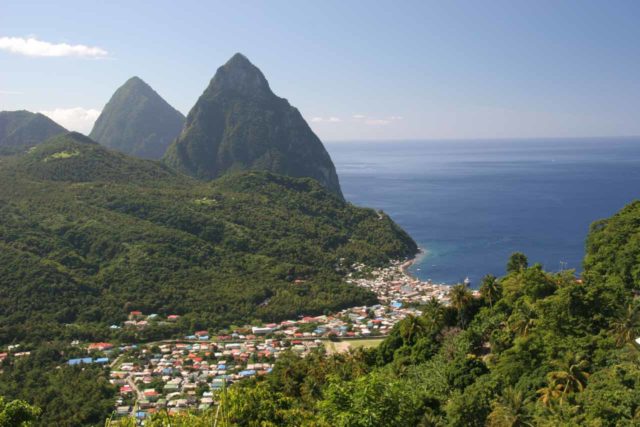 These twin conical peaks are the signature landmark of St Lucia.
They've been included into the UNESCO World Heritage list of outstanding attractions, and in fact, Julie even considers this iconic feature to rival that of Mt Otemanu and its surrounding lagoons in Bora Bora – and that's saying something!
Adding to the scenic allure is the charming town of Soufriere, which means "sulfur in the air." The Pitons provide the perfect backdrop of this scenic town and there's also plenty of activities to keep you occupied here.
Jamaican Jerk Shacks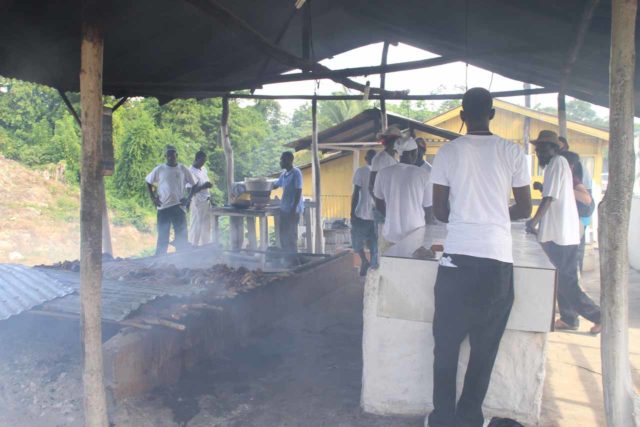 If you're in Jamaica or bound for it, you've probably heard of the famous Jamaican Jerk spices that are both marinated and spread onto meats like chicken, pork, and even fish.
But until you've eaten at one of the jerk shacks (we've tried the Scotchies in Ocho Rios and Micky's in Boston Bay – the birthplace of Jamaican Jerk), I'd argue you haven't tried the real deal.
Such places prepare the food by having it sit on wooden beams suspended over a smoky fire pit and they're covered with corrugated tin sheets to keep the smoke flavor.
Sure it won't pass food safety standards back at home in the States, but it's definitely a Jamaican institution you're not going to find at the resorts. In other words, it's as authentic as it gets.
Rick's Cafe (Jamaica)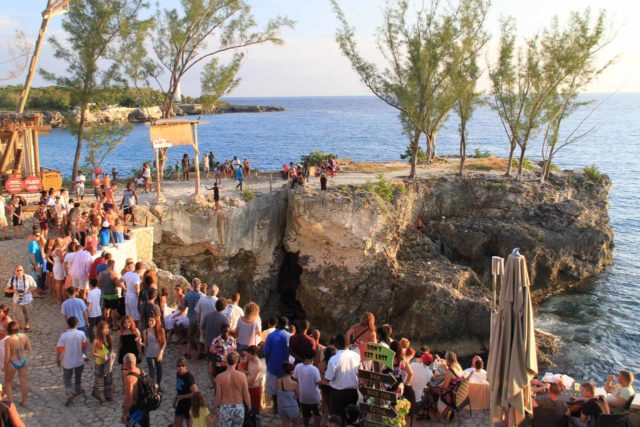 We've been told that tourism in Jamaica literally started at this rockin' bar and cafe in West End where its claim to fame is the cliff diving exhibition by locals as well as by tourists willing to give it a go.
When we were there, it was very crowded, and we don't think that was unusual given how everyone seems to know about this spectacle.
Of course while we were here, we also witnessed a gorgeous sunset, which was also said to be another treat while at Rick's.
And while sunsets aren't that unusual by themselves, there just seems to be something different about the Jamaican ones here.
Black River Safari (Jamaica)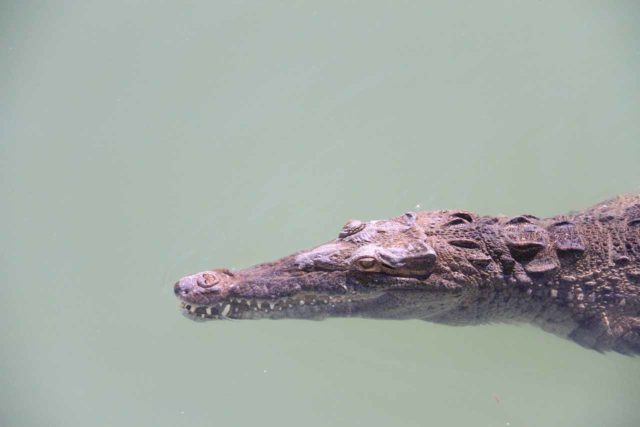 A very nice back-to-nature experience can be had at the Black River Wetland and Morass where you can have the chance to spot American Crocodiles as well as many native birds.
We managed to see two different crocodiles (or were they alligators?) on our cruise, and our tour guide even kissed one of them!
In addition to the wildlife, the mangrove-fringed watercourse is said to be the longest navigable river in the country. So our cruise gave us a chance to enjoy the photogenic beauty of the ecosystem.
It's possible to couple this safari cruise with the beautiful YS Falls (they're only 20 minutes drive from each other) so it's a nice way to spend the day this side of Jamaica.
Waterfalls
Waterfall Pages
Visitor Comments:
No users have replied to the content on this page