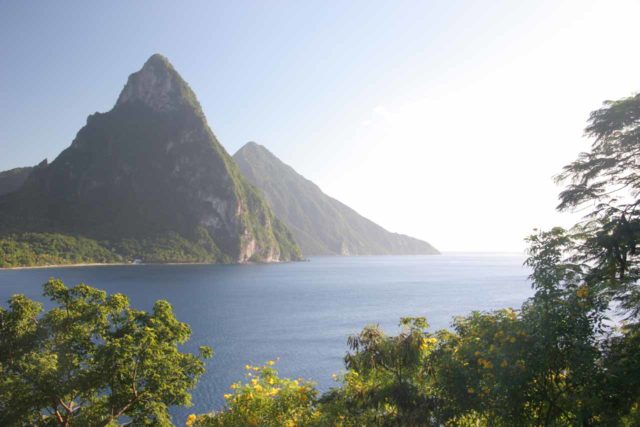 27-November 2008 to 1-December 2008:
I had never driven on a 4wd road quite like this before. There were long, curvy, and steep stretches where some parts of the road were so badly beat up that they put concrete rails in which you had to make sure your wheels stayed on the narrow rails or else risk getting stuck in a ditch that was so deep that your vehicle might not move!
So I was nervously driving when we hit a bend in the road on one of these concrete rail sections when Peter said, "Try to stay on the rails."
Seemed obvious enough, I thought to myself. But just as he was done saying it, one of the rear wheels managed to fall off the concrete rails and the rear of the vehicle immediately sunk…
Day 1: THANKSGIVING TRAVEL DAY
After leaving a surprisingly light LAX at 9:30pm the night before, we arrived in Miami at around 4:50am. Even though it seemed like we should've gotten a good night's sleep, truth is that if you factor in the time difference, it's still like 2am and we probably only slept a total of 3 hours or so (it took a little while to conk out on the plane).
Needless to say, we were rather tired and it wasn't easy trying to figure out how to kill nearly 5 and a half hours for our 10am flight to St Lucia.
The television screens all had CNN on and they were repeating and dwelling on the Mumbia/Bombay, India terrorist situation. Honestly, the coverage was annoying and sensationalized. It was particularly maddening when they have "experts" come on and try to speculate why this was happening and never really address the root cause of why organizations like this are so well-funded and well-stocked with volunteers – it's the gap between rich and poor and the greater the underclass of have-nots that you have, the more likely they're going to turn to perhaps disagreeable organizations as a way to either pull out of their rut or going out and taking others with them. Plus, it's all tied together with the way our economy works and the politics on our side of things that feed into that (reading between the lines… globalization, foreign oil dependence, and cheap labor exploitation).
Besides, I couldn't help but notice they went for Mumbai's financial district much the same way as 9/11 went for the World Trade Towers. Coincidence?
Anyways, this kind of overshadowed the PAD demonstrations in Thailand which shut down their international airport. That was particularly bad for us since we're committed to going to Thailand during the holiday season. Clearly, politics can't be avoided it seems.
So while trying to drown out the distraction of CNN, I tried to do more reading on St Lucia and trying to learn how to read Chinese characters (something I should've done many years ago).
The airport finally got busy when it was time to board our flight. Not sure what to read into that considering how empty the airports had been up to that point.
We arrived at St Lucia at around 2:30pm (1:30pm Miami time). Since we didn't have to check in bags, the whole airport experience was a relative breeze. We might try to do the same strategy for our end-of-year Thailand trip – barring any further political strife.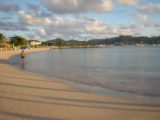 We were quickly herded into a courtesy shuttle van courtesy of Sandals. The ride was a rather long 90+ minute affair to get from the south of the island all the way up to the resorts on the north of the island. The van was crowded with lots of people and leg room was limited. Still, it was hard not to be lulled to sleep. Even as I was taking notes of the surroundings (because we planned on self-driving for much of this trip), I probably conked out myself when we got into Castries and the traffic jams therein.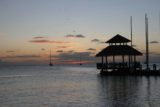 Finally at 4:45pm, we arrived at the Sandals resort. The weather was still beautiful and it seemed like sunset was coming pretty soon. But with our hungry selves, we didn't bother waiting around to see the sunset itself though the colors of the sky sure were beautiful.
Nothing terribly eventful happened tonight though we did enjoy ourselves at the Barefoot By The Sea Restaurant where we had ourselves a delicious yellow-fin tuna spiced with jerk sauce – mmmmm! They did offer turkey as the special (this being Thanksgiving Day and all), but we came here to sample as much local fare as possible so no thanks…
Day 2: DRIVING, ST LUCIAN STYLE
Since the on-site rental car desk didn't open until 8:30am, I knew we'd get a rather late start today. So the original plan to drive south to Soufriere traded places with an excursion to see closer waterfalls – specifically Sault Falls and Anse La Raye Falls time permitting.
Even though we had no trouble sleeping before 10pm last night, getting up even after 7:30am was surprisingly difficult. Maybe it was still the time difference?
In either case, we had ourselves a buffet breakfast (there never seems to be a shortage of food at these Sandals Resorts) and then got to the Avis car rental desk right as expected at its opening time. We ended up hiring the car for three days thinking we'd be doing a lot of driving on this trip and getting away from the resort for a while to experience the true St Lucia.
By 9:15am, we were handed the keys and were finally on our way to our self-made day excursions. And while we were at it, we decided to fill up on gas (we came with a little over a half-tank) and try to find a bookstore in Castries that would sell hiking maps.
Well, after filling up on gas (around $12.75 EC which was around $5/gal in cash), we got caught in the traffic and chaos of Castries in our unsuccessful bid to buy hiking maps. It was stressful to say the least because it was hard to move and parking was very difficult.
There was even a local who walked up to us and knocked on our car door. This kind of freaked us out since we weren't used to such forward pedestrians. So we kept moving, and tried to get out of this bit of Castries rush hour. About ten minutes later, we were on another street and that same guy saw us and tried to get us to open the door (maybe he wanted a ride or something). In any case, we stuck with our instincts and kept the door closed.
So after taking a wrong turn and not moving for what seemed liked forever, we finally got out of Castries and then headed to the east part of the island. And that was not an easy feat considering there weren't many signs and I had to reach back into my memory to recall what the driver did to get here from the airport yesterday.
Once we got to Dennery, I remembered that there were no signs of Sault Falls. But from looking at the map, I did recall there was a road that kind of followed the Dennery River closely so using that bit of information, we took the road that went by a signpost for the Treetop Adventures.
The road was pretty well maintained though it did seem like we were going onto residential area. Still, from reading previous trip reports, we knew we just had to persist.
Slowly driving this road, we were worried about the falls not being signposted and us not being able to find it.
When we finally reached what looked like an established car park area at 10:45am, we decided to stop the car and walk into the complex. We could hear strange zipping sounds and some wooden platforms near the tops of trees.
That could only mean one thing – a zipline tour! So we knew were entering into the Treetop Adventures.
Once inside the complex, we sheepishly (since we didn't intend to do this tour) ask the nearest employee where Sault Falls was. But after hearing his reaction of "Huh?", we switched to one of its other names Errard Falls.
That rung a bell. He proceeded to tell us to keep driving for another couple of minutes bearing left at a fork. There'll be a shack with a bunch of trash bags beside it.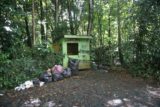 Clearly with the way the directions sounded, this waterfall wasn't at all signposted.
Nonetheless, we were thankful for the guide's helpfulness and we managed to find the aforementioned shack at 10:55am. There was another car parked here so clearly there was something worthwhile to check out.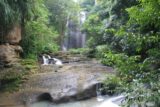 We had anticipated a rather lenthy hike to get to the waterfall, but we were surprised that it took barely five minutes of descending towards the river and seeing the falls up ahead.
We met a pair of Caucasian guys who had already enjoyed the falls. Apparently, they were former Civilian Conservation Corp. volunteers and one of them used to live here for two years. He knew we made a long drive to get to the eastern side of the island.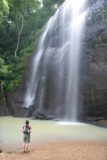 Anyways, they explained to us that we'd have to get wet to get to base of the falls. No problem for us since we knew we'd be hiking in the tropics and we had brought water shoes.
So Julie and I enjoyed ourselves at this surprisingly scenic waterfall. I had read that it was one of the better ones on the island so we relished this opportunity to take plenty of photographs and immerse our feet in the refreshingly cool water (while getting rocks in our shoes).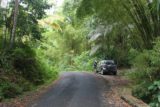 At 12pm, we got back to the car. We were the only ones here at this point and we wondered if our other waterfalling excursions on this island would be similarly peaceful and quiet.
As Julie and I drove out of the falls area and headed into Dennery, there was this sense of relaxation and relief after seeing our first waterfall. I told Julie how it was funny how waterfalls can have this effect on you.
After all, we were tense and worried about not being able to find the falls or getting into an accident or some other kind of calamity on the way here. But then after seeing the falls, all those thoughts seemed to have melted away and we were officially in the Caribbean cruising mode. Ya, mon!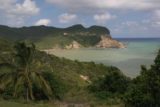 By 12:15pm, we made it back into the fishing town of Dennery. Julie recalled seeing a lookout of a nice little bay so we pulled over by the firehouse in town and snapped some photos of that bay.
With still a whole afternoon left on this day, we opted to go for another waterfall a little further south of Castries known as Anse La Raye Falls.
So back onto the mountainous road that linked the east and west of the island (watching out for crazy local drivers that pass other drivers daringly with oncoming traffic just around the corner), we arrived at the small but charming town of Anse La Raye at around 1pm.
At first, we didn't know if we were going the right way because again the falls weren't that well signposted and the streets of the town were awfully narrow (barely accommodating two-way traffic on a seeminly one-lane road).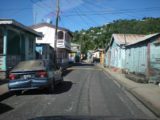 A local noticed we were lost and told us which way to go. Eventually, we went into that narrow main street in town with a pair of speed bumps. Then, we saw some arrowed signs for "La Sikwi." We knew from previous trip reports that that was the sugar mill and preceded the Anse La Raye Falls.
So fifteen minutes later, we managed to navigate the narrow streets, then a seemingly rutted 4wd section where the road kind of crossed the river in an area where I could see floods could wash out the road, and finally found some tourists who seemed to be going the other way. We knew the falls probably weren't signposted so we asked if those folks had seen the falls already.
Turned out that they did and we just had to look for another shack further up the road.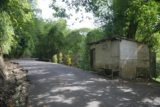 After doing that and being joined by another couple (from Switzerland) who drove up in a 2wd passenger car (meaning that rutted part was doable by 2wd), we wasted no time getting right onto the trail.
Upon seeing the 2wd vehicle making up here, Julie and I wondered if we should've just rented a cheaper passenger vehicle instead of the mini-SUV with high clearance we had hired. Oh well, hindsight's 20/20, right?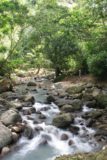 The walk didn't take very long and it was probably another fifteen minutes or so with a benign river crossing when Julie brought my attention to the attractive Anse La Raye Falls.
This was one of those waterfalls where the pictures didn't do it justice. It was probably between 15-20m tall and went over three rounded drops in a forested setting.
So we took turns taking photos along with the elderly Swiss couple who made it here. We also noticed a series of steep steps behind us that seemed to lead further higher up.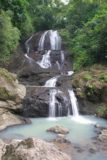 I took the liberty to see where this trail led but after huffing and puffing my way up in search for the end, the trail just kept going and going and I finally thought to myself that this might not be worth it (even if it did take me to the top of the waterfall, which I'm just speculating at this point).
By 2:10pm, we had our fill of the waterfall and were back in our rental car. If the Errard Falls were the best in the island (which I don't recall where I had read about that claim), then this waterfall was up there in terms of experience and quality.
Julie was of the mindset to head back to the Sandals Resort at this point, but I remembered seeing a conspicuous signpost talking about the River Rock Waterfall on the way into town.
So we thought since we were here already, we mind as well check it out.
But after several minutes of rather rough driving (still I reckoned a passenger car could make it), we got to the well-signed entrance where there was a $3US fee to enter. Julie didn't think it was worth it since the waterfall was man-made and wasn't even natural. I thought that was a good point so we turned around and headed back to the resort.
I snidely told Julie, "Gee, it seems that the worthwhile attractions aren't signposted and the well-signposted ones are not as worthwhile. Should it be the other way around?"
When we got back into Castries, we managed to take yet another wrong turn. That was bad because then, we were caught in another traffic jam in the City Centre. Argh! So instead of passing through Castries for a reasonable about of time, it seemed like we lost another half-hour on just this stretch alone!
By 3:30pm, we were finally out of the Castries City Centre and noticed the Sunshine Bookstore on the outskirts. Once inside, we found out that they didn't carry the type of maps we wanted. Perhaps the Rough Guide we bought for this trip wasn't accurate about this.
After noticing someone hitting another car in the parking lot (once again amping up our thoughts that drivers here a little on the aggressive and somewhat reckless side), we finally got back to Sandals at 4:25pm.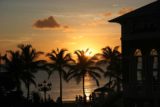 It was just in time for sunset, which we took another opportunity to take more photos as well as go back to the Barefoot By The Sea Restaurant for a quickie late lunch that consisted of Jerk Chicken (yum) and plenty of BBC (Bailey's, Banana, and Coconut) which seemed to be the most popular alco-pop drink on the island.
Next, Julie convinced me to change my mind about hiring the car for three days. Instead, we should hire the car for just one more day and use that last full day to do a cruise to Soufriere and get the "best" views of the Pitons. So we managed to book the cruise before the activities desk closed, but we couldn't tell the Avis desk right away since they were closed since 3pm.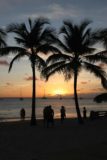 After getting cleaned up, we treated ourselves for a somewhat "formal" dinner at their Toscanini Restaurant (at the Sandals Grande where we stayed). We were entertained by our waitress Samantha who exuded Caribbean charm and we had fun with her trying various cocktail drinks since we had been asking for her recommendations. She ended the night with her own mix that she called "The Samantha." That was some kind of cherry-tasting drink and we relished that. Oh yeah, the Italian food wasn't bad either though we knew Caribbean fare would've been best suited for a Caribbean island. Still, the restaurant was popular and we had to see for ourselves why…
Day 3: PETER SIMON
I wanted to get an early start on this day, but because we had to change the rental car agreement, we had to wait until the Avis desk opened at 8:30am. So I knew we'd had to face Castries traffic again and possibly a busier Soufriere. But we mind as well treat ourselves to a French breakfast of sweet crepes at Josephine's instead of the subpar buffet brekkie from yesterday.
We didn't see Michelle, the Avis person who helped us yesterday, but we did state our intentions to drop off the keys tonight. We knew we wouldn't see the Avis desk tomorrow since the cruise started a half-hour before the Avis desk opened.
Anyways, we were on our way at 8:45am. When we passed through Castries, it was surprising that the traffic was nowhere near as crazy as it was yesterday. Perhaps it was because it was Saturday morning today…
At 9am, we thought we might be able to stop by the St Lucia Tourist Board office for some maps. But they were closed.
Onwards we contined southwards on the island. After getting past the familiar Anse La Raye, the driving got progressively more difficult and steeper with numerous bends, potholes, and the occassional locals zooming by us in both directions.
Now I could see what those before had talked about regarding the slow and steep driving on the island.
It was too bad we couldn't stop at most of the viewpoints along the way because I thought they communicated good tropical scenery with mountains, valleys, and ocean scenically framing charming towns.
We'd eventually enter a steep and narrow switchbacked road that entered the town of Canaries. This was interesting because Julie mentioned that it reminded her of Nice in the South of France. That's because you have homes kind of cliff-hugging both the steep terrain and cut through by that narrow switchbacked road we were driving on.
"Still, it's not as nice as Nice," she said.
Too bad we didn't stop for photos here as well because it was hard to find pullouts with such limited space. Nonetheless, I thought the town was charming and scenic in my mind.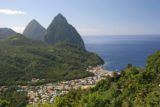 At around 10:10am, we were well past Canaries and were going down yet another series of switchbacks. This time, it was headed into the town of Soufriere. One of the overlooks really got our attention and it seemed to have a wide enough pullout for stopping (there was also plenty of locals trying to sell stuff here).
Julie and I took this opportunity to take photos of the dazzling scene of the Pitons watching over Soufriere (which meant "sulfur in the air"). That's because apparently, the area lies atop an active caldera and we could see steam rising from the Sulphur Springs in the distance.
Onwards we continued.
At about 10:40am, Julie and I were kind of lost in Soufriere. Once again, lots of narrow streets, hardly any signposts about Enbas Saut Falls which we were going for first. We'd eventually find our way to the Diamond Botannical Garden for some help.
Once inside, we got ourselves a much-needed restroom break and then we asked for directions. That was when we were approached by a guide with small dreadlocks.
He called himself Peter Simon and he was willing to take us to our destination for a fairly steep price. He was also about to guide people on the garden tour so we were under pressure to make a decision it seemed.
I wasn't comfortable with making a decision under pressure so I was skeptical about whether we were about to be conned.
Still, after noticing that the waterfalls from yesterday were not signposted, we kind of knew that we might be in for more difficulties on this excursion. So we took up on Peter Simon's offer. His tour group ended up being merged with another tour group just in front of him.
And off we went with Peter as a passenger and Julie in the back seat. I had to be the driver since that was what we agreed to on our rental agreement (even though some other local offered to drive).
So Peter Simon went right into his guide mode as he was talking about the local waterfalls nearby (upon hearing that we like waterfalls) and we conversed with him about the economy of the island, a little bit about the language, and even Global Warming – can't seem to avoid that topic no matter where you go.
As we proceeded to climb up a mountain road well east of Soufriere, we entered another small town called Fond St Jacques. But just beyond this town, that was when the road really degenerated into something a 2wd had no prayer of even trying.
Peter tried to help me out by suggesting the lines that I should take to minimize the likelihood of scraping the underside of the car on some of the severe ruts cutting through the road. Now I had driven 4wd roads before, but I had never driven on a 4wd road quite like this before.
There were long, curvy, and steep stretches where some parts of the road were so badly beat up that they put concrete rails in which you had to make sure your wheels stayed on the narrow rails or else risk getting stuck in a ditch that was so deep that your vehicle might not move!
So I was nervously driving when we hit a bend in the road on one of these concrete rail sections when Peter said, "Try to stay on the rails."
Seemed obvious enough, I thought to myself. But just as he was done saying it, one of the rear wheels managed to fall off the concrete rails and the rear of the vehicle immediately sunk.
Whoops.
Fortunately, the faux pas wasn't severe enough that I couldn't move the car. Instead, I managed to get the read wheels back on the concrete rails and continued onwards. There were a couple more stretches of concrete rails with deeply rutted portions in between, but we managed without any further mishaps.
There was also a Caucasian couple that was walking along this road. Peter was telling us that that was going to be a lengthy walk. So we found a spot beyond the concrete rails and stopped the car offering them a ride.
It turned out this couple was from Texas and they happened to have already climbed the Petit Piton yesterday, which Peter Simon thought was a rather impressive feat.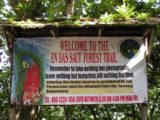 By 11:20am, we finally arrived at the trailhead for the Enbas Saut Falls. The Texan couple continued walking up the road perhaps into the Edmund Forest Reserve. Peter wasn't quite sure where they were going either.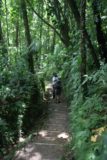 And from there, we left the car, briefly talked to another hiker (who looked exhausted) with his guide. They warned us about the many steps, but Peter Simon said they went out-and-back which was much more difficult that the 4km loop trail we were about to do.
So with the nice weather, the rainforest providing ample shelter from the sun, and the multitude of steps we had to take descending deep into nature, we had plenty of time to hear Peter Simon pointing out the various flora here. We also got into learning about the rastafarian culture, where it came from, why it was popular, and what it was really about.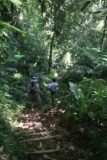 Turned out that they were really the Caribbean version of the minimalist people who could live without modern amenities and were pretty much one with nature. Not unlike the hardcore hippies we've been hearing about back home. Still, the hardcore rastafarians were very few and far between these days and many of today's rasta wannabes wear the fashion and listen to Bob Marley but still enjoy the modern amenities of electricity, wireless, automobiles, etc.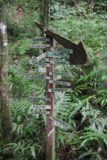 I also took this opportunity to ask Peter about all those terms I used to hear about when listening to rap music back in the early 90s. It was from that that I finally learned what "irie" meant, which was the rasta way of saying "cool."
After passing by a rather hilarious sign that pointed to all these destinations around the world, we crossed a stream and then descended more steps to the bottom of the waterfall that we were after.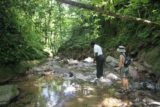 It was rather disappointingly small, but we nonetheless basked in the fact that there was no one else around and it was just us and nature.
We took plenty of photos down here as well as from the nearby picnic tables. Clearly, this spot wasn't as isolated as we thought despite the effort it took to get here.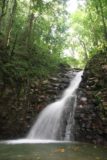 On our way out, we checked out another small waterfall just above the main one.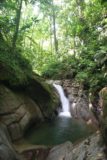 Then, we made the long hike back out. Once again, there were plenty of steps and the climb seemed relentlessly long. With us being so deep in the forest, it was also quite humid as we weren't getting any of the breezes that were blowing above us (which we could see and hear).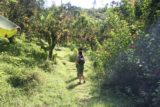 Eventually, the climb ended and we were walking through what appeared to be someone's orchard. Peter took this opportunity to show us more plants and more cultivated products. He even showed us a nutmeg and got into his joke about the nutmeg state (Connecticut) and how he heard it on jeopardy.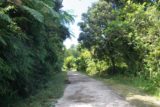 Once we were back on the main road, we continued walking uphill back towards the car park. There was an interesting triangular peak that kind of loomed over us, but it was hard to get a clean shot of it with all the overgrowth around us. I also wasn't sure if that peak was Monde Gimie, which was said to be the tallest on this island.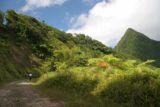 At 1:30pm, we were back at the car. We could see why Peter had us do the loop rather than the out-and-back method. No wonder why that previous guy was so tired.
So back down the 4wd road we went.
This time, I was pretty good about staying on the concrete rails though I was no less nervous driving it. There was even a couple of kids following us on foot trying to point to me where I should be moving the car on some of the hairy stretches.
By 1:55pm, we stopped around some houses near the bottom of Fond St Jacques I think. Here, Peter told us that we were at Spyke Falls. After paying an admission fee (this falls wasn't at all signposted btw), we followed Peter into another forested area with kids' voices heard in the background.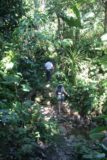 After crossing a small creek, it wasn't long before we had to steeply climb what looked like a gully. It reminded me of the difficult and wet scramble to the viewpoint of the Chinata Waterfall in Peru. Still, it was dry today and Julie and I managed to get to the viewing spot for the Spyke Falls in a little over five minutes.
This waterfall wasn't all that impressive even though it was taller than the ones we've seen before. Peter claimed this one was over 100m tall, but I reckoned it was more like 100ft tall or so.
If there was greater water volume, there would be no way we could get a clean look at the falls since we were looking up at the falls from the bedrock lip of one of the lower tiers of the falls.
So we took our obligatory photos here (with the sun's harsh light and shadows kind of ruining the photo) and wasted no time heading back to the car to visit the Toraille Falls.
It was only a few minutes further down the road, but this one was very well-signed and even had a signposted car park, which we took adventage of. We got here at around 2:20pm.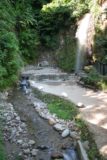 After paying the admission fee and entering the well-manicured complex, we saw the roughly 10m falls. Once again though, the sun's harsh light kind of made it difficult to take a satisfactory photo of this falls. We also didn't intend to do any swimming since we intended to get postcard views of the Pitons before heading back up to the Sandals Grande.
Toraille Falls wasn't all that impressive and it kind of once again reinforced our sarcastic notion that the well-signposted waterfalls weren't worth it and the unsignposted ones were.
We didn't spend too much time here so by 2:30pm, we were back at the car and then proceeded to go back to the Diamond Botannical Garden at 2:45pm to drop off Peter Simon and pay him.
With the fading afternoon light, we didn't think we could squeeze in the Warm Mineral Falls visit near the Jalousie Hilton before trying to get the Pitons postcard view. Besides, we weren't all that interested in driving the steep mountain roads in the dark.
So by 2:55pm, we were back in Soufriere town. We did notice a tourist office in town, but no one was manning it even though the door was open.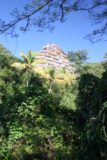 As we left town, we went straight up a rather steep and narrow road leading to Anse Chastanet. Peter had told us that the views were on the way there. Somehow I had thought the views were on the Anse Chastanet property.
Well by 3:10pm, we got to Anse Chastanet and the limited parking space here. The road to get here wasn't all that great, but at least it was better than the one we took past Fond St Jacques earlier today.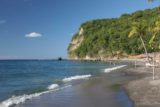 We left the car and proceeded to walk to an attractive beach at its end. Clearly with a protruding rocky peninsula between this beach and the Pitons view, this wasn't the spot to see the Pitons. However, it was a rather nice spot to chill out at the secluded beach.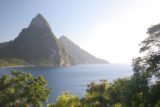 By 3:30pm, we finally found a few spots where we could get good views of the Pitons in the afternoon sun. None of these spots were signposted and we had to get lucky finding pullouts to stay out of the way of traffic, but nonetheless we got our shots that we were after. One of them was ruined by a power line but later on we found an even better view closer to Soufriere just five minutes later.
At 4pm, we finally back in the car and managed to relieve ourselves of the harrowing experience of trying to take photos as locals passed by on the single-lane steep and winding road.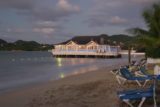 From that point on, we proceeded to head back to the north of the island. But before returning to the Sandals Grande, Julie spontaneously decided to check out the Sandals Halcyon Resort. And since we were already here, we mind as well eat here as well (which didn't open until 6:30pm and we got here at 5:20pm).
It ended up being The Pier Restaurant, but somehow we felt underdressed for the occassion (after all, we did spend the whole day hiking and sightseeing). Still, we weren't denied service (although it was lousy compared to last night's experience).
It was quite busy at this restaurant nonetheless, but that might be because there wasn't much of a selection at this property. Perhaps that's why service was so slow and the wait was on the order of 50 minutes or so. Good thing we got there are soon as they opened!
At 7:40pm, we were back at our car. From there, we headed back to the Sandals Grande, but not before getting caught in another traffic jam. This time, it was people lining up for the Shell Station not far from the turnoff from the Sandals Grande.
Once back at our resort, we decided to treat ourselves to some more BBCs and try out the Olde English Pub, which served chicken wings in Jerk Sauce.
Day 4: BAD WEATHER AND THE BIG BAMBOO
With the agreeable weather we had been having throughout the trip, Julie and I were shocked to see that it had been raining this morning. I thought this would pass in the afternoon (being in the tropics and all), but Julie somehow knew this would ruin the Pitons view throughout the day. And after all, this was the day we were going to do the cruise which promised to yield the best views of the Pitons.
So we took this opportunity to get the excellent banana crepe at Josephine's. It was a bit fattening but at least the portions could be controlled versus the stuffing you'd be subjected to at the buffet.
Afterwards, we managed to secure beach towels and then joined the tour along with a half-dozen other couples who were joining us.
The tour van drove us back towards Castries then headed towards the small airport in town where there appeared to be another harbor. That was where our tour boat was docked.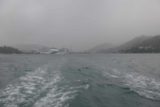 The weather was a mix of on and off showers. It wasn't exactly the type of fair weather everyone was hoping for. But when you're committed to a paid excursion like this, you have to suck it up and hope for the best.
And so we pulled away from the shore and proceeded along the 1hr 45minute cruise along the western coast towards the town of Soufriere. We could see additional squalls were drenching the coast as we pulled away from the harbor. Plus, we could see more squalls up ahead the further south we went. In fact, some of the oceanside properties (like the Sandals Regency) were a bit depressingly misty behind the squalls.
There was a constant scramble of people going under the shelter and back out in the open thanks to the on-and-off rains. Meanwhile, the tour operators were blaring reggae music (many of which were Bob Marley classics) as well as some other Caribbean reggae songs that both sounded familiar as well as others that had more of a local flavor.
Given the volume of the music, it was a bit too loud for our liking and plus it seemed to give the tour more of a party atmosphere instead of a more relaxed atmosphere that we were hoping for.
Every once in a while, someone from the tour would talk over the loud speaker and explain what we'd be seeing on the coast, whether it was Anse La Raye or Canaries.
There was also one moment where one of the songs played was a seemingly local one called "Big Bamboo." After listening to the lyrics, it soon became apparent that the big bamboo had more to do with a person's appendage and nothing at all to do with the real bamboo. And in typical reggae style, it was one of those party songs where you have a recurring word or phrase that gets applied to a variety of situations.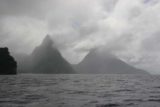 You know, kind of like Sublime's "Smoke Two Joins" where he can smoke two joins in times of peace and in times of war, smoke two joins in the morning and at night, etc. etc. Except in this case, you've got a woman in mourning for a man with a dead big bamboo, a Chinese man with no bamboo (is it really that bad for Chinese males?), bartenders mixing drinks with their big bamboo when no one's looking, and the singer fielding calls for his big bamboo. Anyways…
It was around 10:30am when we arrived at Soufriere. We could see that the views of the Pitons were rather shrouded in mist and had a mysterious quality to it. It was quite a contrast to the views we got yesterday. Boy, what a different 24 hours makes.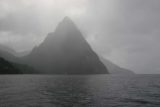 Julie was bumming about the clouds, but this was something that couldn't be controlled.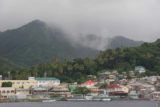 In any case, once we got onto the land, we were whisked into vans, which then proceeded to drive us to the Sulphur Springs, which was the so-called drive-in volcano. Now after hearing the tour guides give their tour and explanations that we were essentially standing in the middle of a caldera and calling this place the only drive-in volcano in the world, the more I thought about it, the more I realized that that's a false claim because Yellowstone National Park sits within the caldera of a massive supervolcano and you've got roads going right into it making that also a drive-in volcano, too!
Anyways, it was kind of raining hard when we were at the Sulphur Springs so photo opportunities were limited. It was also very crowded as other tour buses were sharing the site with us.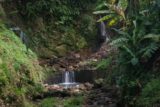 We didn't have a whole lot of time to linger around and take photos (especially of an interesting small mineral waterfall), and we didn't want to miss the bus so we were quickly whisked back into the tour van, which then proceeded to head to the Diamond Botannical Garden.
Once there, the familiar face of Peter Simon came up to Julie and I and exchanged pleasantries with us as well as a handshake. Indeed, he was the one who was to guide our tour.
And so he immediately got into his tour guide mode and it was kind of funny to hear his jokes since we had heard them already.
The tour itself was made more interesting by the fact that the rain seeemed to be relentless and the canopy of tall trees provided some relief from the raindrops.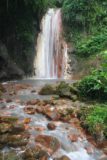 Eventually, we'd get to the end of the tour where we were given a chance to see the Diamond Falls. Unfortunately, it was rather crowded, hard to take couple photos, and hard to have a peaceful experience with all the humanity here.
At least, Peter Simon made this the last part of the tour before souvenir shopping so we used some of that time to stay behind and take more photos of the falls in the rain.
Finally, that part of the tour ended and the tour van proceeded to take us out of Soufriere and up to some lunch spot further up the road on the way back to Anse La Raye. It wasn't what Julie and I anticipated as we had thought we'd be going all the way to Anse Chastanet.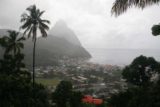 Anyways, the food was pretty fulfilling and we had some opportunities to take more photos from that lunch spot. Again, with the misty skies, the view had more of a southeast Asian feel to it rather than the clear skies of yesterday. Still, it was scenic nonetheless.
Afterwards, we returned to the boat and pulled away from Soufriere heading back north. The tour operators decided to play "Big Bamboo" again before the boat ended up stopping in some kind of area where the waters were more or less calm for some snorkeling.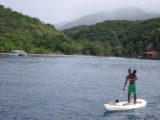 Julie and I (as did many other participants) passed on this part, but for those that did do it, there was a mix of reactions from lots of fish to not much to see at all.
Meanwhile, a local came paddling up to our boat with his carvings and trinkets. It was clear he was trying to sell them to our boat putting them one-by-one on the deck of the boat. This totally reminded me of our experience on the Nile Valley Cruise back in the summer. Except at least it was only one guy doing the pushing instead of a whole team of row boats surrounding the cruise vessels.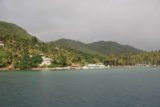 After the 45 minutes or so of snorkeling time, the boat proceeded further up the coast making a brief entrance into Marigot Bay (apparently there's lots of "financially able" people who live here) for some photo opportunities. There was also a rainbow that provided a decent backdrop to the exclusive hillside homes of the area.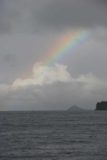 Finally, at around 4pm or so, we were back at the boat harbor. It looked like some sun broke through as we entered the van and went back through Castries back to the Sandals Grande Resort.
From there, Julie and I got cleaned up and decided to take one of the complimentary hourly shuttles to the Sandals Regency to fulfill our dinner reservation at La Toc Restaurant. We wanted to go to Kimono's, but it was sold out apparently until Tuesday, which was the day after we would leave and go home.
The dinner reservation was made the day we arrived at the Sandals Grande on Thursday afternoon, but they told us the only slot left was for 9:15pm, which was rather late – especially considering the last shuttle leaves at 11pm.
So at around 6pm, we made it to the sprawling Sandals Regency Resort. Then, we made a beeline straight for La Toc Restaurant, which was rather empty with a handful of couples here. We requested if we could eat earlier instead of waiting till 9pm and well it worked!
As we ate the mostly French fare, we couldn't help but notice how empty the restaurant was. We couldn't figure out why we were only offered the 9:15pm slot back at the Grande. In any case, we were glad we got our early dinner, then we were able to walk around the extensive property, and finally shuttle back to the Grande at around 9pm for some late night snacks at the Olde English Pub (for more jerk chicken wings and BBCs).
This was the very last night we'd be spending at the resort and so we mind as well make it count. The weather seemed to have also let up even though the ground was quite wet. All in all, Julie and I were in a celebratory mood though reality was just around the corner.
Day 5: RAINING CATS AND DOGS
As Julie and I awoke, we snuck a peak out the window and saw that it was raining big time this morning. In fact, it seemed to be dumping buckets of rain.
When it was breakfast time, we actually had to walk through big puddles that were up to the our ankles just to get to our favorite brekkie spot Josephine's for more of that banana crepe.
Once we were done with that, we pretty much spent the rest of the morning just packing our belongings while being glued to the television watching the Mumbai coverage as well as any new developments from Thailand.
It turned out that the Mumbai situation was winding down, but the airport hijacking remained in Thailand.
When 11am rolled around, we checked out of our room, learned that we were charged a $25 cancellation fee for turning in the car a day early and not hiring for that third day, and ate at Josephine's one last time for a savory curry crepe as well as a pepperoni pizza from the place next door. The pizza took quite a while to come though and when we were done eating, it was time to get to our airport shuttle van along with our belongings and say our goodbyes to the resort.
The ride back to the airport was interesting because the rains still wouldn't let up. In fact, some parts were raining so hard, that we could see little waterfalls coming down in parallel along the artificial dry walls lining some of the roads. We even saw at least three accidents with one that even hit the cliff (again, probably having more to do with the impatient local driving).
Once back at the airport, we got onto our place with little drama and made it to Miami nearly 50 minutes before the anticipated arrival time.
Well, that's when things kind of went south. It turned out that we were so early that our assigned gate was occupied. For some reason, they couldn't move us to a different gate and so we all sat on the airplane for the whole 50 minutes! Very frustrating to say the least because we were hoping to have a dinner before catching the flight back to LAX barely an hour later. Plus, we still had to go through immigration and customs, but at least we didn't check in any bags.
So we settled on a Pizza Hut dinner, caught our 9pm flight and eventually arrived in LAX at 11:30pm.
When all was said and done, it was 1:30am when we finally got to bed. Unfortunately, it was back to work the same morning leaving home at 5am. I knew I'd be a zombie at work, but I figure that was a small price to pay for an experience that added more variety to our lives.
Well, next up is Thailand, but we certainly hope the political situation there won't result in any serious problems. We're already nervous about it even though we still had nearly three weeks to go…
Visitor Comments:
Got something you'd like to share or say to keep the conversation going? Feel free to leave a comment below...
No users have replied to the content on this page