Day 1: THANKSGIVING TRAVEL DAY
After leaving a surprisingly light LAX at 9:30pm the night before, we arrived in Miami at around 4:50am. Even though it seemed like we should've gotten a good night's sleep, truth is that if you factor in the time difference, it's still like 2am and we probably only slept a total of 3 hours or so (it took a little while to conk out on the plane).
Needless to say, we were rather tired and it wasn't easy trying to figure out how to kill nearly 5 and a half hours for our 10am flight to St Lucia.
The television screens all had CNN on and they were repeating and dwelling on the Mumbia/Bombay, India terrorist situation. Honestly, the coverage was annoying and sensationalized. It was particularly maddening when they have "experts" come on and try to speculate why this was happening and never really address the root cause of why organizations like this are so well-funded and well-stocked with volunteers – it's the gap between rich and poor and the greater the underclass of have-nots that you have, the more likely they're going to turn to perhaps disagreeable organizations as a way to either pull out of their rut or going out and taking others with them. Plus, it's all tied together with the way our economy works and the politics on our side of things that feed into that (reading between the lines… globalization, foreign oil dependence, and cheap labor exploitation).
Besides, I couldn't help but notice they went for Mumbai's financial district much the same way as 9/11 went for the World Trade Towers. Coincidence?
Anyways, this kind of overshadowed the PAD demonstrations in Thailand which shut down their international airport. That was particularly bad for us since we're committed to going to Thailand during the holiday season. Clearly, politics can't be avoided it seems.
So while trying to drown out the distraction of CNN, I tried to do more reading on St Lucia and trying to learn how to read Chinese characters (something I should've done many years ago).
The airport finally got busy when it was time to board our flight. Not sure what to read into that considering how empty the airports had been up to that point.
We arrived at St Lucia at around 2:30pm (1:30pm Miami time). Since we didn't have to check in bags, the whole airport experience was a relative breeze. We might try to do the same strategy for our end-of-year Thailand trip – barring any further political strife.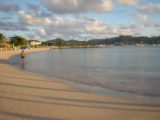 We were quickly herded into a courtesy shuttle van courtesy of Sandals. The ride was a rather long 90+ minute affair to get from the south of the island all the way up to the resorts on the north of the island. The van was crowded with lots of people and leg room was limited. Still, it was hard not to be lulled to sleep. Even as I was taking notes of the surroundings (because we planned on self-driving for much of this trip), I probably conked out myself when we got into Castries and the traffic jams therein.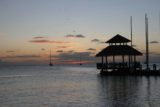 Finally at 4:45pm, we arrived at the Sandals resort. The weather was still beautiful and it seemed like sunset was coming pretty soon. But with our hungry selves, we didn't bother waiting around to see the sunset itself though the colors of the sky sure were beautiful.
Nothing terribly eventful happened tonight though we did enjoy ourselves at the Barefoot By The Sea Restaurant where we had ourselves a delicious yellow-fin tuna spiced with jerk sauce – mmmmm! They did offer turkey as the special (this being Thanksgiving Day and all), but we came here to sample as much local fare as possible so no thanks…
Visitor Comments:
Got something you'd like to share or say to keep the conversation going? Feel free to leave a comment below...
No users have replied to the content on this page