Day 2: DRIVING, ST LUCIAN STYLE
Since the on-site rental car desk didn't open until 8:30am, I knew we'd get a rather late start today. So the original plan to drive south to Soufriere traded places with an excursion to see closer waterfalls – specifically Sault Falls and Anse La Raye Falls time permitting.
Even though we had no trouble sleeping before 10pm last night, getting up even after 7:30am was surprisingly difficult. Maybe it was still the time difference?
In either case, we had ourselves a buffet breakfast (there never seems to be a shortage of food at these Sandals Resorts) and then got to the Avis car rental desk right as expected at its opening time. We ended up hiring the car for three days thinking we'd be doing a lot of driving on this trip and getting away from the resort for a while to experience the true St Lucia.
By 9:15am, we were handed the keys and were finally on our way to our self-made day excursions. And while we were at it, we decided to fill up on gas (we came with a little over a half-tank) and try to find a bookstore in Castries that would sell hiking maps.
Well, after filling up on gas (around $12.75 EC which was around $5/gal in cash), we got caught in the traffic and chaos of Castries in our unsuccessful bid to buy hiking maps. It was stressful to say the least because it was hard to move and parking was very difficult.
There was even a local who walked up to us and knocked on our car door. This kind of freaked us out since we weren't used to such forward pedestrians. So we kept moving, and tried to get out of this bit of Castries rush hour. About ten minutes later, we were on another street and that same guy saw us and tried to get us to open the door (maybe he wanted a ride or something). In any case, we stuck with our instincts and kept the door closed.
So after taking a wrong turn and not moving for what seemed liked forever, we finally got out of Castries and then headed to the east part of the island. And that was not an easy feat considering there weren't many signs and I had to reach back into my memory to recall what the driver did to get here from the airport yesterday.
Once we got to Dennery, I remembered that there were no signs of Sault Falls. But from looking at the map, I did recall there was a road that kind of followed the Dennery River closely so using that bit of information, we took the road that went by a signpost for the Treetop Adventures.
The road was pretty well maintained though it did seem like we were going onto residential area. Still, from reading previous trip reports, we knew we just had to persist.
Slowly driving this road, we were worried about the falls not being signposted and us not being able to find it.
When we finally reached what looked like an established car park area at 10:45am, we decided to stop the car and walk into the complex. We could hear strange zipping sounds and some wooden platforms near the tops of trees.
That could only mean one thing – a zipline tour! So we knew were entering into the Treetop Adventures.
Once inside the complex, we sheepishly (since we didn't intend to do this tour) ask the nearest employee where Sault Falls was. But after hearing his reaction of "Huh?", we switched to one of its other names Errard Falls.
That rung a bell. He proceeded to tell us to keep driving for another couple of minutes bearing left at a fork. There'll be a shack with a bunch of trash bags beside it.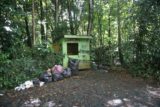 Clearly with the way the directions sounded, this waterfall wasn't at all signposted.
Nonetheless, we were thankful for the guide's helpfulness and we managed to find the aforementioned shack at 10:55am. There was another car parked here so clearly there was something worthwhile to check out.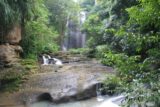 We had anticipated a rather lenthy hike to get to the waterfall, but we were surprised that it took barely five minutes of descending towards the river and seeing the falls up ahead.
We met a pair of Caucasian guys who had already enjoyed the falls. Apparently, they were former Civilian Conservation Corp. volunteers and one of them used to live here for two years. He knew we made a long drive to get to the eastern side of the island.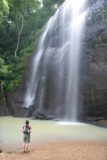 Anyways, they explained to us that we'd have to get wet to get to base of the falls. No problem for us since we knew we'd be hiking in the tropics and we had brought water shoes.
So Julie and I enjoyed ourselves at this surprisingly scenic waterfall. I had read that it was one of the better ones on the island so we relished this opportunity to take plenty of photographs and immerse our feet in the refreshingly cool water (while getting rocks in our shoes).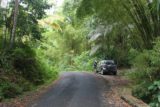 At 12pm, we got back to the car. We were the only ones here at this point and we wondered if our other waterfalling excursions on this island would be similarly peaceful and quiet.
As Julie and I drove out of the falls area and headed into Dennery, there was this sense of relaxation and relief after seeing our first waterfall. I told Julie how it was funny how waterfalls can have this effect on you.
After all, we were tense and worried about not being able to find the falls or getting into an accident or some other kind of calamity on the way here. But then after seeing the falls, all those thoughts seemed to have melted away and we were officially in the Caribbean cruising mode. Ya, mon!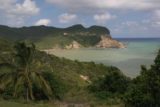 By 12:15pm, we made it back into the fishing town of Dennery. Julie recalled seeing a lookout of a nice little bay so we pulled over by the firehouse in town and snapped some photos of that bay.
With still a whole afternoon left on this day, we opted to go for another waterfall a little further south of Castries known as Anse La Raye Falls.
So back onto the mountainous road that linked the east and west of the island (watching out for crazy local drivers that pass other drivers daringly with oncoming traffic just around the corner), we arrived at the small but charming town of Anse La Raye at around 1pm.
At first, we didn't know if we were going the right way because again the falls weren't that well signposted and the streets of the town were awfully narrow (barely accommodating two-way traffic on a seeminly one-lane road).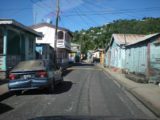 A local noticed we were lost and told us which way to go. Eventually, we went into that narrow main street in town with a pair of speed bumps. Then, we saw some arrowed signs for "La Sikwi." We knew from previous trip reports that that was the sugar mill and preceded the Anse La Raye Falls.
So fifteen minutes later, we managed to navigate the narrow streets, then a seemingly rutted 4wd section where the road kind of crossed the river in an area where I could see floods could wash out the road, and finally found some tourists who seemed to be going the other way. We knew the falls probably weren't signposted so we asked if those folks had seen the falls already.
Turned out that they did and we just had to look for another shack further up the road.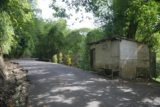 After doing that and being joined by another couple (from Switzerland) who drove up in a 2wd passenger car (meaning that rutted part was doable by 2wd), we wasted no time getting right onto the trail.
Upon seeing the 2wd vehicle making up here, Julie and I wondered if we should've just rented a cheaper passenger vehicle instead of the mini-SUV with high clearance we had hired. Oh well, hindsight's 20/20, right?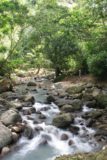 The walk didn't take very long and it was probably another fifteen minutes or so with a benign river crossing when Julie brought my attention to the attractive Anse La Raye Falls.
This was one of those waterfalls where the pictures didn't do it justice. It was probably between 15-20m tall and went over three rounded drops in a forested setting.
So we took turns taking photos along with the elderly Swiss couple who made it here. We also noticed a series of steep steps behind us that seemed to lead further higher up.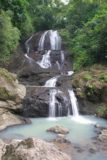 I took the liberty to see where this trail led but after huffing and puffing my way up in search for the end, the trail just kept going and going and I finally thought to myself that this might not be worth it (even if it did take me to the top of the waterfall, which I'm just speculating at this point).
By 2:10pm, we had our fill of the waterfall and were back in our rental car. If the Errard Falls were the best in the island (which I don't recall where I had read about that claim), then this waterfall was up there in terms of experience and quality.
Julie was of the mindset to head back to the Sandals Resort at this point, but I remembered seeing a conspicuous signpost talking about the River Rock Waterfall on the way into town.
So we thought since we were here already, we mind as well check it out.
But after several minutes of rather rough driving (still I reckoned a passenger car could make it), we got to the well-signed entrance where there was a $3US fee to enter. Julie didn't think it was worth it since the waterfall was man-made and wasn't even natural. I thought that was a good point so we turned around and headed back to the resort.
I snidely told Julie, "Gee, it seems that the worthwhile attractions aren't signposted and the well-signposted ones are not as worthwhile. Should it be the other way around?"
When we got back into Castries, we managed to take yet another wrong turn. That was bad because then, we were caught in another traffic jam in the City Centre. Argh! So instead of passing through Castries for a reasonable about of time, it seemed like we lost another half-hour on just this stretch alone!
By 3:30pm, we were finally out of the Castries City Centre and noticed the Sunshine Bookstore on the outskirts. Once inside, we found out that they didn't carry the type of maps we wanted. Perhaps the Rough Guide we bought for this trip wasn't accurate about this.
After noticing someone hitting another car in the parking lot (once again amping up our thoughts that drivers here a little on the aggressive and somewhat reckless side), we finally got back to Sandals at 4:25pm.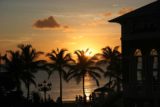 It was just in time for sunset, which we took another opportunity to take more photos as well as go back to the Barefoot By The Sea Restaurant for a quickie late lunch that consisted of Jerk Chicken (yum) and plenty of BBC (Bailey's, Banana, and Coconut) which seemed to be the most popular alco-pop drink on the island.
Next, Julie convinced me to change my mind about hiring the car for three days. Instead, we should hire the car for just one more day and use that last full day to do a cruise to Soufriere and get the "best" views of the Pitons. So we managed to book the cruise before the activities desk closed, but we couldn't tell the Avis desk right away since they were closed since 3pm.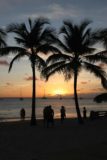 After getting cleaned up, we treated ourselves for a somewhat "formal" dinner at their Toscanini Restaurant (at the Sandals Grande where we stayed). We were entertained by our waitress Samantha who exuded Caribbean charm and we had fun with her trying various cocktail drinks since we had been asking for her recommendations. She ended the night with her own mix that she called "The Samantha." That was some kind of cherry-tasting drink and we relished that. Oh yeah, the Italian food wasn't bad either though we knew Caribbean fare would've been best suited for a Caribbean island. Still, the restaurant was popular and we had to see for ourselves why…
Visitor Comments:
Got something you'd like to share or say to keep the conversation going? Feel free to leave a comment below...
No users have replied to the content on this page