Day 3: PETER SIMON
I wanted to get an early start on this day, but because we had to change the rental car agreement, we had to wait until the Avis desk opened at 8:30am. So I knew we'd had to face Castries traffic again and possibly a busier Soufriere. But we mind as well treat ourselves to a French breakfast of sweet crepes at Josephine's instead of the subpar buffet brekkie from yesterday.
We didn't see Michelle, the Avis person who helped us yesterday, but we did state our intentions to drop off the keys tonight. We knew we wouldn't see the Avis desk tomorrow since the cruise started a half-hour before the Avis desk opened.
Anyways, we were on our way at 8:45am. When we passed through Castries, it was surprising that the traffic was nowhere near as crazy as it was yesterday. Perhaps it was because it was Saturday morning today…
At 9am, we thought we might be able to stop by the St Lucia Tourist Board office for some maps. But they were closed.
Onwards we contined southwards on the island. After getting past the familiar Anse La Raye, the driving got progressively more difficult and steeper with numerous bends, potholes, and the occassional locals zooming by us in both directions.
Now I could see what those before had talked about regarding the slow and steep driving on the island.
It was too bad we couldn't stop at most of the viewpoints along the way because I thought they communicated good tropical scenery with mountains, valleys, and ocean scenically framing charming towns.
We'd eventually enter a steep and narrow switchbacked road that entered the town of Canaries. This was interesting because Julie mentioned that it reminded her of Nice in the South of France. That's because you have homes kind of cliff-hugging both the steep terrain and cut through by that narrow switchbacked road we were driving on.
"Still, it's not as nice as Nice," she said.
Too bad we didn't stop for photos here as well because it was hard to find pullouts with such limited space. Nonetheless, I thought the town was charming and scenic in my mind.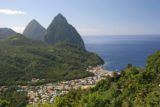 At around 10:10am, we were well past Canaries and were going down yet another series of switchbacks. This time, it was headed into the town of Soufriere. One of the overlooks really got our attention and it seemed to have a wide enough pullout for stopping (there was also plenty of locals trying to sell stuff here).
Julie and I took this opportunity to take photos of the dazzling scene of the Pitons watching over Soufriere (which meant "sulfur in the air"). That's because apparently, the area lies atop an active caldera and we could see steam rising from the Sulphur Springs in the distance.
Onwards we continued.
At about 10:40am, Julie and I were kind of lost in Soufriere. Once again, lots of narrow streets, hardly any signposts about Enbas Saut Falls which we were going for first. We'd eventually find our way to the Diamond Botannical Garden for some help.
Once inside, we got ourselves a much-needed restroom break and then we asked for directions. That was when we were approached by a guide with small dreadlocks.
He called himself Peter Simon and he was willing to take us to our destination for a fairly steep price. He was also about to guide people on the garden tour so we were under pressure to make a decision it seemed.
I wasn't comfortable with making a decision under pressure so I was skeptical about whether we were about to be conned.
Still, after noticing that the waterfalls from yesterday were not signposted, we kind of knew that we might be in for more difficulties on this excursion. So we took up on Peter Simon's offer. His tour group ended up being merged with another tour group just in front of him.
And off we went with Peter as a passenger and Julie in the back seat. I had to be the driver since that was what we agreed to on our rental agreement (even though some other local offered to drive).
So Peter Simon went right into his guide mode as he was talking about the local waterfalls nearby (upon hearing that we like waterfalls) and we conversed with him about the economy of the island, a little bit about the language, and even Global Warming – can't seem to avoid that topic no matter where you go.
As we proceeded to climb up a mountain road well east of Soufriere, we entered another small town called Fond St Jacques. But just beyond this town, that was when the road really degenerated into something a 2wd had no prayer of even trying.
Peter tried to help me out by suggesting the lines that I should take to minimize the likelihood of scraping the underside of the car on some of the severe ruts cutting through the road. Now I had driven 4wd roads before, but I had never driven on a 4wd road quite like this before.
There were long, curvy, and steep stretches where some parts of the road were so badly beat up that they put concrete rails in which you had to make sure your wheels stayed on the narrow rails or else risk getting stuck in a ditch that was so deep that your vehicle might not move!
So I was nervously driving when we hit a bend in the road on one of these concrete rail sections when Peter said, "Try to stay on the rails."
Seemed obvious enough, I thought to myself. But just as he was done saying it, one of the rear wheels managed to fall off the concrete rails and the rear of the vehicle immediately sunk.
Whoops.
Fortunately, the faux pas wasn't severe enough that I couldn't move the car. Instead, I managed to get the read wheels back on the concrete rails and continued onwards. There were a couple more stretches of concrete rails with deeply rutted portions in between, but we managed without any further mishaps.
There was also a Caucasian couple that was walking along this road. Peter was telling us that that was going to be a lengthy walk. So we found a spot beyond the concrete rails and stopped the car offering them a ride.
It turned out this couple was from Texas and they happened to have already climbed the Petit Piton yesterday, which Peter Simon thought was a rather impressive feat.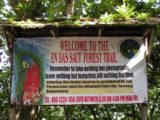 By 11:20am, we finally arrived at the trailhead for the Enbas Saut Falls. The Texan couple continued walking up the road perhaps into the Edmund Forest Reserve. Peter wasn't quite sure where they were going either.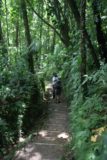 And from there, we left the car, briefly talked to another hiker (who looked exhausted) with his guide. They warned us about the many steps, but Peter Simon said they went out-and-back which was much more difficult that the 4km loop trail we were about to do.
So with the nice weather, the rainforest providing ample shelter from the sun, and the multitude of steps we had to take descending deep into nature, we had plenty of time to hear Peter Simon pointing out the various flora here. We also got into learning about the rastafarian culture, where it came from, why it was popular, and what it was really about.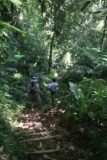 Turned out that they were really the Caribbean version of the minimalist people who could live without modern amenities and were pretty much one with nature. Not unlike the hardcore hippies we've been hearing about back home. Still, the hardcore rastafarians were very few and far between these days and many of today's rasta wannabes wear the fashion and listen to Bob Marley but still enjoy the modern amenities of electricity, wireless, automobiles, etc.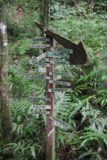 I also took this opportunity to ask Peter about all those terms I used to hear about when listening to rap music back in the early 90s. It was from that that I finally learned what "irie" meant, which was the rasta way of saying "cool."
After passing by a rather hilarious sign that pointed to all these destinations around the world, we crossed a stream and then descended more steps to the bottom of the waterfall that we were after.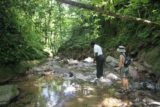 It was rather disappointingly small, but we nonetheless basked in the fact that there was no one else around and it was just us and nature.
We took plenty of photos down here as well as from the nearby picnic tables. Clearly, this spot wasn't as isolated as we thought despite the effort it took to get here.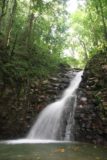 On our way out, we checked out another small waterfall just above the main one.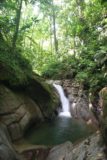 Then, we made the long hike back out. Once again, there were plenty of steps and the climb seemed relentlessly long. With us being so deep in the forest, it was also quite humid as we weren't getting any of the breezes that were blowing above us (which we could see and hear).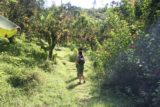 Eventually, the climb ended and we were walking through what appeared to be someone's orchard. Peter took this opportunity to show us more plants and more cultivated products. He even showed us a nutmeg and got into his joke about the nutmeg state (Connecticut) and how he heard it on jeopardy.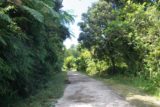 Once we were back on the main road, we continued walking uphill back towards the car park. There was an interesting triangular peak that kind of loomed over us, but it was hard to get a clean shot of it with all the overgrowth around us. I also wasn't sure if that peak was Monde Gimie, which was said to be the tallest on this island.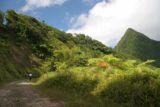 At 1:30pm, we were back at the car. We could see why Peter had us do the loop rather than the out-and-back method. No wonder why that previous guy was so tired.
So back down the 4wd road we went.
This time, I was pretty good about staying on the concrete rails though I was no less nervous driving it. There was even a couple of kids following us on foot trying to point to me where I should be moving the car on some of the hairy stretches.
By 1:55pm, we stopped around some houses near the bottom of Fond St Jacques I think. Here, Peter told us that we were at Spyke Falls. After paying an admission fee (this falls wasn't at all signposted btw), we followed Peter into another forested area with kids' voices heard in the background.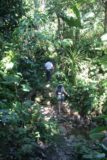 After crossing a small creek, it wasn't long before we had to steeply climb what looked like a gully. It reminded me of the difficult and wet scramble to the viewpoint of the Chinata Waterfall in Peru. Still, it was dry today and Julie and I managed to get to the viewing spot for the Spyke Falls in a little over five minutes.
This waterfall wasn't all that impressive even though it was taller than the ones we've seen before. Peter claimed this one was over 100m tall, but I reckoned it was more like 100ft tall or so.
If there was greater water volume, there would be no way we could get a clean look at the falls since we were looking up at the falls from the bedrock lip of one of the lower tiers of the falls.
So we took our obligatory photos here (with the sun's harsh light and shadows kind of ruining the photo) and wasted no time heading back to the car to visit the Toraille Falls.
It was only a few minutes further down the road, but this one was very well-signed and even had a signposted car park, which we took adventage of. We got here at around 2:20pm.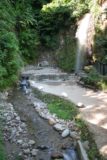 After paying the admission fee and entering the well-manicured complex, we saw the roughly 10m falls. Once again though, the sun's harsh light kind of made it difficult to take a satisfactory photo of this falls. We also didn't intend to do any swimming since we intended to get postcard views of the Pitons before heading back up to the Sandals Grande.
Toraille Falls wasn't all that impressive and it kind of once again reinforced our sarcastic notion that the well-signposted waterfalls weren't worth it and the unsignposted ones were.
We didn't spend too much time here so by 2:30pm, we were back at the car and then proceeded to go back to the Diamond Botannical Garden at 2:45pm to drop off Peter Simon and pay him.
With the fading afternoon light, we didn't think we could squeeze in the Warm Mineral Falls visit near the Jalousie Hilton before trying to get the Pitons postcard view. Besides, we weren't all that interested in driving the steep mountain roads in the dark.
So by 2:55pm, we were back in Soufriere town. We did notice a tourist office in town, but no one was manning it even though the door was open.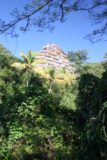 As we left town, we went straight up a rather steep and narrow road leading to Anse Chastanet. Peter had told us that the views were on the way there. Somehow I had thought the views were on the Anse Chastanet property.
Well by 3:10pm, we got to Anse Chastanet and the limited parking space here. The road to get here wasn't all that great, but at least it was better than the one we took past Fond St Jacques earlier today.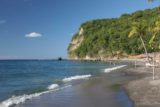 We left the car and proceeded to walk to an attractive beach at its end. Clearly with a protruding rocky peninsula between this beach and the Pitons view, this wasn't the spot to see the Pitons. However, it was a rather nice spot to chill out at the secluded beach.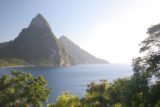 By 3:30pm, we finally found a few spots where we could get good views of the Pitons in the afternoon sun. None of these spots were signposted and we had to get lucky finding pullouts to stay out of the way of traffic, but nonetheless we got our shots that we were after. One of them was ruined by a power line but later on we found an even better view closer to Soufriere just five minutes later.
At 4pm, we finally back in the car and managed to relieve ourselves of the harrowing experience of trying to take photos as locals passed by on the single-lane steep and winding road.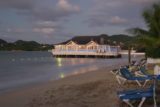 From that point on, we proceeded to head back to the north of the island. But before returning to the Sandals Grande, Julie spontaneously decided to check out the Sandals Halcyon Resort. And since we were already here, we mind as well eat here as well (which didn't open until 6:30pm and we got here at 5:20pm).
It ended up being The Pier Restaurant, but somehow we felt underdressed for the occassion (after all, we did spend the whole day hiking and sightseeing). Still, we weren't denied service (although it was lousy compared to last night's experience).
It was quite busy at this restaurant nonetheless, but that might be because there wasn't much of a selection at this property. Perhaps that's why service was so slow and the wait was on the order of 50 minutes or so. Good thing we got there are soon as they opened!
At 7:40pm, we were back at our car. From there, we headed back to the Sandals Grande, but not before getting caught in another traffic jam. This time, it was people lining up for the Shell Station not far from the turnoff from the Sandals Grande.
Once back at our resort, we decided to treat ourselves to some more BBCs and try out the Olde English Pub, which served chicken wings in Jerk Sauce.
Visitor Comments:
Got something you'd like to share or say to keep the conversation going? Feel free to leave a comment below...
No users have replied to the content on this page