Day 1: THE LONG JOURNEY TO IRIE LAND
Christmas Day was pretty low key for us as most of the family activities took place on Christmas Eve. On that day, we merely spent the time doing some last minute packing as well as other trip logistics all while tending to baby Tahia's needs.
When we left the home, we found it difficult to leave Tahia behind with Julie's Mom (and some visiting relatives) as it seemed she had just learned how to wave to us good-bye.
Anyways, we eventually made it to the airport at around 7pm where the facility seemed relatively quiet. We went through security without a hitch and we managed to kill a couple of hours at one of the restaurants with some TVs past the security check. That allowed us to at least catch the first half of the Clippers vs Warriors game as well as the Green Bay vs Chicago game.
Anyways, we boarded the plane on time, but Julie and I were quite surprised at how packed the flight was considering it was Christmas night. Still, we were pretty tired and we anticipated trying to get some sleep on the 4.25-hour red-eye flight to Miami.
We arrived at 5:10am local time in Miami where we killed some more time chilling out, reading LP, and giving the newly-built Sky Train a look (wishing LAX would have something similar to this).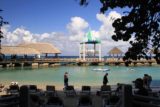 At 9am, we finally boarded the Miami-Montego Bay flight, and at 11:45am, we had finally gotten through immigration and customs as we were awaiting the long bus ride to our Sandals Resort in Ocho Rios. It wouldn't be until about 2:20pm when we finally had a lunch at our resort, but our room wasn't ready at the time.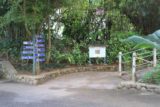 At about 3:45pm, with our bags still in the lobby awaiting our room to be ready, we went on a planned excursion to the Coyaba (apparently pronounced "CUY-ah-bah") River Garden and Mahoe Falls (pronounced "ma-HO") via private tour. Actually, we ended up going for the waterfall and not really exploring the gardens.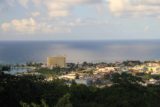 So after about 4pm, we were on the premises checking out some views of Ocho Rios and the Caribbean Sea as well as some top down views of the Mahoe Falls itself.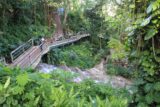 We first went left towards an overlook of Ocho Rios as well as a four-foot pool at the base of the first main set of travertine waterfalls. The pool seemed somewhat modified and manicured, but we were assured by the local guide (Vincent) that this waterfall was indeed natural and genuine originating from springs higher up on the hills here that were also responsible for the local populations' drinking water.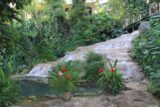 The falls was much bigger than we anticipated but it was difficult to get a clean photo from these vantage points. So we went back up to the top before descending down some steps towards other viewing areas on the opposite side of the falls.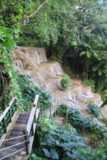 Since we weren't swimming, I'm sure we could've done as the locals were doing by spending more time at the falls. But we were content on being just sightseers so we took what photos and movies that we could before we moved on.
I asked Vincent if there was a way down to the bottom of this waterfall since it appeared a fence blocked further access to go lower, but he said there was no way to get there from where we were at.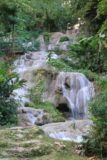 Once we get back to the car at 4:40pm, little did Julie and I realize that they were actually going to take us to some bonus waterfalls at some restaurant. But it turned out that today was a holiday so the restaurant was closed (strange that they celebrated Christmas Day on Boxing Day and Boxing Day the day after).
At 5pm, we made it to the unpaved driveway of what appeared to be a somewhat well-kept property though Vincent said no one currently owned it. Since he said he lived in the local hills just upslope from here, he knew that locals came to this spot to experience the falls. We doubted that tourists would come to this part. In any case, I felt better about this apparent trespassing as there were some make-shift signs asking for donations to keep the falls clean.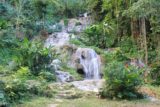 Nonetheless, we were impressed by the waterfall scene down here, and we even managed to startle a pair of local ladies who happened to be bathing higher up in one of the pools. Vincent mentioned that Mahoe was actually short for mahogany, and we definitely noticed some mohagany trees on the paid-admission part of the premises.
After having our fill at the base of the falls, we returned to Melvin and his car and proceeded to head back towards our Sandals Resort. However before we got into the car, there was a bit of commotion with some kids running downhill and an angry person yelling at them then complaining to our driver and guide. It turned out that those kids hitched a ride in his vehicle but didn't pay. Not cool. Still, we were at first a bit fearful that we were getting chewed out for trespassing though it didn't turn out to be the case.
Anyways, we passed through the main part of Ocho Rios though our impression of the area was such that it probably wasn't realistic to venture out on our own there this evening. There were hardly any tourists around though the main town center was rocking with loud reggae music and locals out and about.
At 5:15pm, we made it back to the resort where we promptly paid the $60 for transportation (not including the $20 for the waterfall visit) and proceeded to finally check into our room. I thought the tour was a bit steeply priced considering how close the garden and falls were to our resort, but I would like to think we were paying the true cost of the transportation as well as the time for both the guide and driver though I still couldn't shake the feeling that $60 USD to go a few kilometers was a bit of a rip off.
The rest of the evening was spent on a pretty sub-par Italian dinner before we cleaned up and got some much-needed rest. Even though we were probably mentally exhausted from the long travel day to even go through with a waterfalling excursion this day, at least we'd hit tomorrow's full day of waterfalling excursions with some momentum and time on our side…
Visitor Comments:
Got something you'd like to share or say to keep the conversation going? Feel free to leave a comment below...
No users have replied to the content on this page