Day 2: EXTREMES OF POPULARITY
Julie and I were still trying to get adjusted to the Eastern time zone so when our alarm went off at 6am (think 3am Pacific), it wasn't until about 6:45am when we finally got up out of bed.
We were having breakfast at around 7:45am on a pretty muggy morning. There were some tropical rains that cleared up just in time for us to have a meal. But our hearts sank when we saw a cruise ship coming closer to Ocho Rios. We knew right then and there that we were going to be seeing lots of people at Dunn's River Falls and I'm sure there'd be other fallout from the cruise crush. I doubted that we'd be able to beat the cruise crowd to Dunn's River Falls, which we were hoping to do before 9:30am.
Anyways, within no time, we were down at the lobby at the expected 9am pick-up time and we were once again met by our driver Melvin. We picked up Vincent along the way and we were off for touring on this day.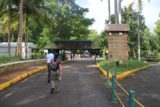 Considering it was only 4km from Ocho Rios to Dunn's River Falls, we were there around 9:30am. And with the number of vans parked there already, we knew there were lots of people inside. I guess this comes with the territory when you're touring Jamaica's most popular waterfall and possibly its most popular natural attraction.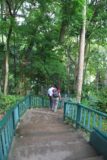 But after going through the entrance gates with our proof-of-admission wrist bands on, this place did feel more like a theme park than a natural attraction. There were souvenir shops, paved walkways, shoe rentals, and guides complete with lots of signs and even a performing reggae band hoping to score some tip money.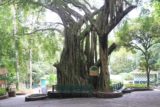 We weren't sure we were going to climb up the falls, especially since it would take time and because it became apparent that we wouldn't make it up with our camera equipment intact. So it was just Vincent acting as our guide instead of one of the local ones leading you up to climb the falls. Besides, we figured we didn't need to hold hands with heaps of strangers and lose a lot of time to get caught up in the crowd while waiting for everyone to go up.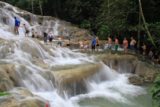 In any case, the falls were indeed long (definitely longer than rope or "langa dan rope") and quite scenic. By the way, the full saying is "time is langa dan rope" where it's better to have time than rope (or whatever material things you covet or possess).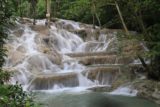 But considering that it was an interactive waterfall (i.e. one that you climb on), it certainly wasn't a nature experience as expected. Still, it was photogenic and we tried to take as many shots as we could. The long chains of tourists cooling off in the river as they were climbing made for interesting photo subjects showing just how big the major cascades were.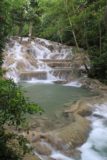 Eventually at 9:55am, we descended down towards the bottom-most reaches of the falls where the stream flowed right onto a partially submerged sandy beach flanking the Caribbean Sea. When the sun showed itself (albeit briefly) the turquoise color in the water really showed itself.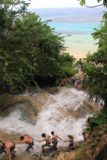 But I guess I was pleasantly surprised by how this falls actually flowed right into the seas. I never knew about this aspect of Dunn's River Falls so now I can totally see why it was as popular as it was and why it was considered by many as the most beautiful falls on the island. Even the mass commercialism couldn't quite take away from the inherent beauty of the place.
Anyways, Julie and I were content with taking photos as it became totally obvious at this point that we didn't really need to climb the falls. I did manage to climb up a couple of cascades just to provide photo ops while Julie was photographing me. But we thought it was a bit gimmicky to actually climb up the falls to the exit, which consisted of at least three or four major cascades with lots of smaller ones in between.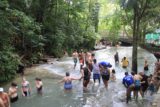 We were back at the car at about 10:35am. By this time, we could see that there were heaps more people either coming into the park or already in the park and waiting their turn to climb up the falls. I guess we managed to leave the place before it really became a zoo.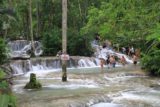 Next we embarked on a little bit of a drive to the east. We were cruising along to Irie FM, which our driver and guide seemed pleased that we were open enough to use that as our cruising music.
We went in search of both Kwaaman and Tacky Falls. But considering how our guides didn't know about Kwaaman Falls and how only Melvin knew about Tacky Falls, both of us had a feeling that this was probably going to be a bit of an off-the-beaten-path adventure.
As we cruised eastward across a pair of parishes (said to be segregated by major rivers though not all of them flow), Vincent was pointing out to us various things during the drive like a nude island, some local cruise-ship employee who remodeled his house after a cruise ship, some Ian Fleming (you know, the James Bond 007 author) tid bits, and other resorts on the island of note.
As we got somewhere within Port Maria or some other neighboring town, we left the main road and went into some secondary roads. That was when the roads narrowed even more and there were even sections full of potholes as well as unpaved. The sense that we were going on an adventure was even stronger as it was pretty obvious that hardly any tourists come to these parts in the countryside.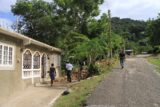 It wasn't until about 11:40am when we stopped the car next so some building with another car that was already there. That building was blasting some loud local reggae music.
We weren't sure if this was the end of the road or not, but our guide told us that we would have to walk from here so I guess it was time to sweat a bit.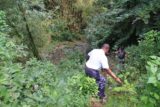 A local guide told us that it was only about 10 minutes walk so it didn't seem all that bad we figured. But once we started hiking, it became real apparent that we were sort of going on some primitive trails that were made very muddy and slippery from some recent rains. I think Vincent was suffering a bit as he was dressed somewhat professionally with dress shoes and slacks on. I think this hike was about to ruin his shoes. And I remembered Melvin looking at Vincent's attire and jokingly asked him, "your bush clothes?"
Both Julie and I had Keens on and even for us this was a bit of a struggle. Incredibly, our guide went barefoot.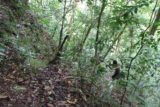 Anyways, the initial descent from this guy's property down to the river level was very steep and slippery. We were hoping that this was the most difficult part of the hike, but soon we would find out that it was only the beginning.
After crossing the low stream with some rock hopping on very slick rocks, we then followed the banks of the stream through some pretty heavy overgrowth. It was already muggy and sweaty down here. It wasn't long before another group of folks joined us. At first we thought they were locals that wanted to come along with us, but I guess it became apparent that they too were tourists probably from Jamaica itself.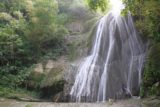 By the time we got to what seemed like the top of the falls, we then had to take a very narrow path along a ledge before descending steeply. Julie and I had done a few of these kinds of hikes before, but this one definitely made us aware that there was a dropoff to our right and a slip-and-fall here would probably be fatal. The local guide told us to grab hold of sturdy trunks and roots with our left hand throughout this traverse. The local dog that followed along was pretty confident and needed no such help.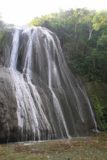 Next, we made a few more steep descents along some makeshift switchbacks going around some trees. But eventually at 12:10pm, we finally made it to the base of what turned out to be the upper tier of Tacky Falls (I had thought this was Kwaaman Falls at first). We could see that there were more tiers further below, but the local guide said that it would be too difficult to make it down there.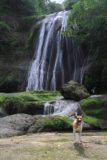 So both Julie and I took what photos that we could here being careful not to slip and fall as the footing was terribly slippery here. The sun was in an unfortunate position at this time of day so our best photo ops just so happened to be when some clouds got in its way. Otherwise, the sun was pretty much right on top of the falls.
The footing was slippery because most of the rocky surface beneath our feet were covered in wet algae. It was so slippery in fact that Julie took a spill and managed to hurt her wrist though it didn't appear that she tore any ligaments like what Kobe Bryant did not too long ago in a pre-season game against the Clippers.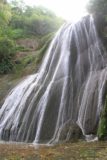 We left the falls at 12:20pm as did the other folks that joined us.
The ascent was much easier than the descent but it was still hairy in a few places given how steep and muddy the hills were. In any case, we made it back to the car 20 minutes later as a hot and sweaty mess.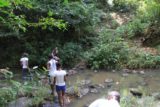 The local guide wanted tips from us, which we obliged. However, we were a little surprised that we weren't asked for an entree fee before even being guided to the falls so perhaps we unknowingly undertipped the guy.
Still, after going through this experience, we weren't sure that we wanted to fork out more money, time, and trouble for Kwaaman Falls. Apparently, it wasn't all that close to where we were at as we would have to drive there and then do some more walking. I guess going to the island's most popular waterfall and then following it up with perhaps one of the island's least popular waterfalls (as far as foreign tourists were concerned) was like experiencing the extremes of popularity, and so we thought that was enough for today.
So we decided not to pursue Kwaaman Falls (a decision I kind of regretted), and we headed back towards Ocho Rios. But during the drive, Julie had an idea of reviving the White River tubing tour which was originally replaced by our little Tacky Falls adventure. So by 1:40pm, we returned to the borders of the St Ann Parish and went right to the White River tubing tour.
It seemed like we had to take some back roads to even get to the start of the tour. But once we got into the tour, we were relieved to finally do something that was a little more relaxing.
The tube experience started off with a few mini-rapids and cascades which was a little exhilirating. But the cold water was a bit of a welcome relief from our adventure – not to mention a bit less stressful.
Our local guide Haldino was serenading us with some Bob Marley songs with his own little twist (e.g. adding Red Stripe beer to "feel alright" instead of giving thanks and praise to the Lord in the song "One Love"), but when the river calmed down a bit, we chatted with him about singing some other reggae tunes. When I asked if he had some dancehall reggae songs he wouldn't mind sharing, he had to think long and hard about a suitable one since he was afraid of offending us with some explicit lyrics. Eventually, he did one by Shabba Rank, which he acknowledged was way back in the day.
At 2:10pm, we made it to the end of the tour where Vincent and Melvin were waiting for us. We tipped Haldino and wrote in the guest book. It definitely seemed like they had gotten lots of cruise tourists an hour ago for they were all bundled together while it seemed like Julie and I were all by ourselves.
Still, we felt pretty refreshed and glad that we brought this little excursion back on today. But now we were starved as we hadn't eaten since breakfast. So it was time to check out the Scotchies in Ocho Rios. Both Melvin and Vincent insisted that this Scotchies was no different than the one in Montego Bay so we mind as well give this place a shot. We really looked forward to having authentic Jamaican Jerk chicken.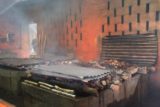 We arrived at about 2:30pm. The place seemed a little hidden, but there were plenty of cars here and there were even more tourists waiting in line for their shot at the grub. We figured these folks were from the cruise ship that came in this morning.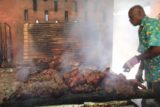 In any case as the line inched along, we did manage to see the employees prepare both the jerk chicken and jerk pork. The meats were laying on wooden beams while corrugated tin sheets covered the meat and confined the smoke. The whole cooking area was covered in smoke and soot so at least it provided some entertainment while we waited.
It wasn't until about 3:10pm when we finally found an open table. And a few minutes afterward, Vincent and Melvin came with our food and drinks. So we devoured our food as we were all pretty hungry. I commented that everything tasted better after the adventure we had today. Vincent added that everything tasted better after Tacky Falls.
It was pretty apparent that Tacky Falls was probably Vincent's most difficult tour he was involved in. But given his lack of hiking attire and he was a little on the heavy side, we gotta give it to him that he actually made it to the falls and back.
At 3:50pm, we returned to the resort. Scotchies emptied out during our meal so it was a far quieter place when we left than when we entered.
And so ended our adventurous day. We anticipate another day of adventure tomorrow, but we knew it would require a lot of driving. So Melvin recommended an 8:30am start…
Visitor Comments:
Got something you'd like to share or say to keep the conversation going? Feel free to leave a comment below...
No users have replied to the content on this page