Day 3: A BIT OF A REACH
We woke up earlier at 6am on this morning because we knew we had a whole day of touring and a lot of driving. So we got down to business, had a healthier brekkie than yesterday, and then proceeded to join up with Vincent and Melvin at about 8:40am.
Melvin showed up in a different vehicle than the 4×4 we had been riding in the last couple of days. This time, we were riding in a pretty beat up station wagon.
The first thing Julie and I noticed when we got in was that there were no functioning seat belts. We felt pretty naked without them, especially considering the third world driving conditions here. So our safety was pretty much now in the hands of Melvin.
We immediately got going towards the Port Antonio area with our plan to visit Somerset Falls, Reach Falls, lunching at a Boston Bay jerk stand, and maybe even paying a visit into the Rio Grande Valley to check out Scatter Falls and Fox Caves. It was an ambitious schedule to say the least, and it was always on the back of my mind that perhaps it was overly ambitious the driving conditions as well as the twistiness of the roads as you get further away from the touristy areas.
The drive proceeded without any dramas. The day was mostly clear, sunny, and pretty hot (at least compared to yesterday).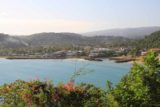 When we reached Port Maria, we continued on the main road instead of veering into local roads, which we did to reach Tacky Falls yesterday. As we continued driving past Port Maria, we ultimately got to a point where a detour went around a part of the main highway that was washed out. Just after this washout, there was a fork in the road that Vincent indicated was another way to get to Tacky Falls. Julie and I wondered if somehow the LP authors stayed at Robin's Bay, took a bamboo raft, then caught a vehicle transport to get back on the main road only to take this turnoff to get to the falls. That was because whatever they described in their experience was nothing like the drive from Port Maria through secondary potholed roads along with the arduous scramble that we partook to get there.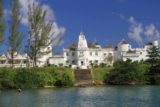 We did make a couple of impromptu stops to get a look at one of the bays in the St Mary parish as well as an old Jamaican Castle. As we got into the Portland parish, the sunny skies gave way to overcast skies as it seemed that the Blue Mountain was a cloud magnet.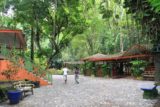 When we got to the entrance for Somerset Falls at 10:15am, the skies were completely overcast and threatening tropical rains.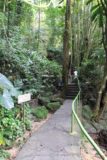 After paying the admission fee, we brought extra clothes (thinking we might get wet on this excursion) while listening to some loud dancehall reggae music blaring from the otherwise quiet restaurant and bar.
It wasn't much later that we saw a shelter next to a small cascade while up ahead was what appeared to be the namesake Somerset Falls. A large pool segregated the two tiers of the waterfalls, but this pool was also flanked by a makeshift dock where manual boat rides led to the Hidden Falls, according to a sign here.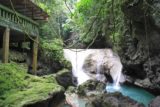 We dropped off excess clothes as well as other breakables into the adjacent locker there. I did manage to bring my DSLR camera because the guide saw that I had a bag for it.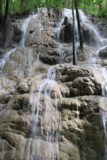 When it came time for both Julie and I to go on the boat ride, the guide promptly rowed us past the light-spraying Somerset Falls before going into a narrow gorge that curved around a corner. Just past that corner, the guide stopped the boat right before the so-called Hidden Falls, which had higher volume than Somerset Falls but was shorter.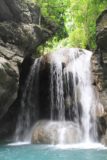 After spending some time trying to take photos of the falls, we then covered up our cameras as the guide proceeded to row us into the cave right behind the waterfall. Actually, it was more of a dark grotto than a cave, but it was dark in there save for the light from above where part of the falls dropped through.
From behind the falls, we took more photos before I left the camera behind with Julie and the guide. Then, with Julie looking nervously on, I went into the water where I climbed onto a rock where the falls was splashing. Julie took a few photos of me getting pelted by the Hidden Falls.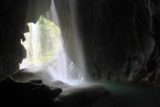 Next, the guide encouraged me to jump through the falls from the inside out while plunging into the pool outside the grotto. But before I made my move, the guide rowed the boat back out of the grotto to give Julie the opportunity to capture this on film.
The water didn't feel as cold as I had expected, and it was a nice refreshing swim considering how humid it was in this part of Jamaica's bushlands.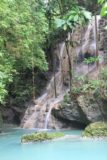 After the short tour was done, we proceeded to get our stuff from the locker, try to dry off with a towel (we neglected to bring a resort towel), and then take a few more parting shots of Somerset Falls. It was during this time when I realized that there was a path with stairs that said it led to waterfalls. Unfortunately, this path was closed.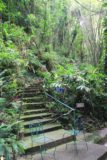 Part of me wondered whether this was closed intentionally so the only way you can see Hidden Falls was via boat ride instead of up the path looking down at it. Then again, maybe it was closed for safety reasons. Who knows?
At 11:15am, we were back in the car. The priority of the day was still Reach Falls, but Julie had this idea to maybe check out Blue Lagoon if we had time. We ultimately decided to return to Blue Lagoon on the way back to Ocho Rios. It would still take some time to even get to Reach Falls and we still wanted to try some Jamaican Jerk from one of the jerk stands in Boston Bay – said to be the place where jerk originated.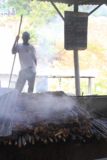 So after another hour of driving, we made it to the rows of jerk stands at Boston Bay at 12:10pm. Julie had read about Micky's so we ended up trying this place. And once again, all four of us were eating jerk chicken, jerk pork, and festivals together. This rendition of the Jamaican street foods seemed to have a little more spice than Scotchies, but Julie and I wondered if we were expecting something even spicier that didn't exist because it somehow didn't quite live up to what we envisioned. In any case, it was good, but we were still left wondering…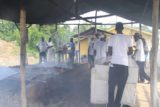 One thing was for certain, however, and that was we probably won't have an authentic Jamaican jerk experience in the US because it wouldn't meet safety fire codes nor public health codes. After all, you had this stuff fire-roasted and smoked on top of wooden beams with corrugated tin roof sheets covering the foods to confine the smoke and maintain that smoky flavor.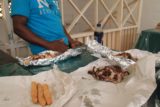 At 12:35pm, we were done eating. Now it was time to proceed to the priority of this day – Reach Falls.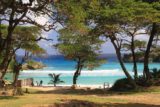 It still took over another 45 minutes or so to get there from Boston Bay. So we noticed and pulled over to photograph some of the pretty beaches in the Boston Bay area before our attention turned inland once we reached Manchioneal.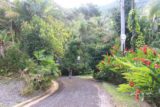 At 1:10pm, we reached the car park for the falls after a few minutes of driving on a potholed side road to get here. Yet despite the somewhat rough drive, the facility did seem to be a little built up. Besides, there were quite a few cars here so perhaps this place wasn't as off the tourist path as we had thought.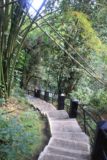 Julie had forgotten to take off her orange wrist-strap from Somerset Falls. The lady putting red wrist-straps on us commented that orange was the color of the People's National Party. The election was tomorrow, and the lady hoped that Julie would still wear it since she probably supported the PNP. And Julie wore the orange band for a bit before having two bands got a little awkward for her so she eventually managed to remove the excess one.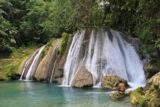 It was only a five-minute walk down a paved walkway flanked by lush jungle to get to the falls. However, the falls itself seemed underwhelming as it was probably barely 30-40ft tall though it was wide. But if this was all the waterfall had to offer, it hardly seemed like it was worth the long drive from Ocho Rios to even get here. Did LP overhype this falls?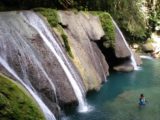 After we had our fill photographing the falls, I decided (against Julie's initial will) to go ahead and follow a guide to continue upstream towards another falls and cave. My mental image was that there would be some serious climbing and that the cave was huge. And it was that same image that prompted Julie to discourage me.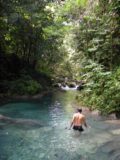 Anyways, it took us a little time to get started because we had gone down to the falls without a change of clothes. So we had to go back up to the car park (to a surprised Vincent and Melvin), but we indicated we wanted to get the swimming attire, which was baking in the car. Once we did that, I got changed, and both Julie and I returned to the falls.
Once at the bottom, I switched cameras with Julie so I wouldn't put the DSLR at risk of getting an unexpected dunking. So with her smaller Sony Cybershot, I waded across the waist-deep plunge pool before climbing up the rocks and joining the guide as well as a group of other folks also partaking on the excursion.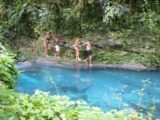 After some slippery walking along wet rocks, we eventually went upstream from the two main falls in the general area where the stream calmed down and there were very clear and very blue water before us.
Parts of the guided tour involved swimming (which was optional) and when that happened, the guide took the dry path while keeping the camera from getting wet in the process. In between the swimming, there were some more slippery bouldering as well as hanging onto ledges as well as wading through pools.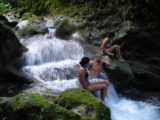 Eventually, after a couple more swims, we made it to another cascade. By itself, this falls wasn't all that impressive. However, the guide went upstream, disappeared, and then reappeared at the base of one of the drops of the falls. It turned out that the cave that was being talked about was somehow underneath this cascade.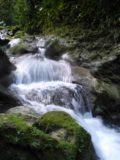 So with the camera and other belongings safely resting in a dry spot, we all took turns going up the cascade and then slowly descending into a hole where the stream just to happened to not flow into. Once I got into the hole (with the guidance of the guide to place my foot on the correct natural footholds), I found myself inside a bluish cave with half my body under water and the upper half in the cool cave. There was even a small waterfall plunging through a hole and right into this cave.
Boy did I wish I have a waterproof camera or waterproof a DSLR to capture the scene down here. I don't think I had ever experienced anything like this before. And it was at this point that I started to have a different take on the whole Reach Falls experience — that is, one that wasn't all that photogenic but was definitely a unique experience where photographic sightseeing doesn't do it justice.
After this initial cave, we had to duck under some rocks while briefly putting head under water before re-emerging back in the open in a mini-gorge with water falling around us. But then, there was another duck-under-water moment which put us in yet another cave (albeit smaller). The next duck-under-water moment involved holding the breath a little longer and getting pulled outside a waterfall. It was at this point that we were back at the base of the falls where the guide originally emerged when he did his little demo to us.
The rest of the party went back up the small cascade and into the caves again. I remained behind with camera in hand to capture as much as I could from the outside. However, I knew that even taking movies from out here just didn't do it justice.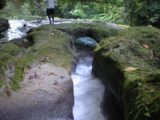 After this bit of fun was over, we proceeded to swim/hike back downstream to get back to the main area. We all had lots more mozzie bites, but I figured this was worth it.
Back at the main area, we then went to the middle cascade just above the big plunge at the end. But now the guide had us into the middle cascade which flowed right into a heart-shaped hole. The guide showed us that there were a few spots to chill out within the rush of the cascades creating a virtual jacuzzi effect.
After taking a few more photos and movies from here, the rest of the party went down the main part of the falls (they stopped the practice of plunging from the top due to the potential for death). Meanwhile, I joined Julie back at the steps, and after tipping the guide, we headed out. It was getting late as it was already past 3pm. We still had the Blue Lagoon to go plus we still had to get to Ocho Rios, which we preferred to do before it got dark (and the roads get that much more treacherous).
And so at 3:05pm, we were back at the entrance. And then we quickly got back in the car as we headed back in the direction of Ocho Rios. It became obvious at this point that our original desires to go up the Rio Grande and visit both Scatter Falls and Fox Caves was a pipe dream at this point.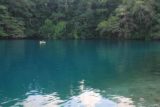 At 3:55pm, we took the short detour to the Blue Lagoon. But once we got there, we could see that it was a very calm inlet with some signs as well as some stands with people eagerly trying to sell us on tours or other things that we really didn't need. Especially given our time crunch, we got the gist of this place, and we saw all we needed to see. It was now time to return to our resort and the daylight hours were fading fast.
After some quick driving with lots of horn-honking and passing by Melvin, we ultimately made it back to our Ocho Rios resort at 6:05pm. We were a little nervous given that we didn't have seat belts, but we ultimately made it back in one piece. And so ended our time in Ocho Rios and most of northeastern Jamaica. Tomorrow, we were headed to Negril, where we looked forward to seeing the western and southwestern parts of the island.
Visitor Comments:
Got something you'd like to share or say to keep the conversation going? Feel free to leave a comment below...
No users have replied to the content on this page