Day 4: ELECTION DAY
After respecting the fact that today was Jamaica's election day (primarily a two-party race between the JLP and PNP), we had some decisions to make regarding what we were going to be doing today. Originally, we were arranging for private transport from Ocho Rios to Negril with a detour to Mayfield Falls. However, we learned last night that Sandals had already booked a private transport for us. And since it was voting day, I was sure it would be difficult for our itinerary to be fulfilled at the expense of the driver's ability to vote.
So as expected, we hauled our bags over to the lobby shortly before 9:45am (we were determined not to be rushed in getting our bags ready because we didn't want to risk the porters confusing our bags with those going to the airport). And at 10am, we were promptly whisked away to Negril by Angie.
We spent the long drive talking to her about various things. It started with tour operators in the Ocho Rios area where she happened to be a competitor with Pete Taylor. Of course she took the high road by not saying good or bad of her peers. However, Julie and I noticed immediately that Angie drove much more safely than Melvin did on our excursions.
Angie picked up her daughter in Mo Bay before we continued onto Negril. We learned during this part of the drive that it might take more time than we expected to go to Mayfield Falls so even as we deferred this falls for the last day we're in Jamaica, it was going to be pretty tight given our airport shuttle would leave the resort at around 1pm. I guess that would seal the deal in terms of getting an early start on that day.
We also entertained the notion of adding Little Ochie to tomorrow's itinerary to YS Falls and the Black River Safari. I guess the extra 3-hours return of driving just to get to the restaurant (and not including the eating itself) would be a bit too much to fit in a day. I'm sure there's good seafood there, but we've had good seafood in other places and it wasn't a life and death thing if we missed it.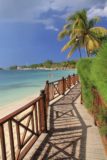 Anyways as we were mulling over our options, we decided to chill for today since we would've gone over three hours of riding on the road to get to Negril. We arrived at Sandals Negril at 1:10pm. The room wasn't ready at the time so we had some food at the grill under some really hot weather when the sun came out. There were even short bursts of tropical rain during our lunch.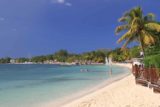 I also had a bit of a rude awakening by a sandfly biting me so apparently that was my first experience with these things since New Zealand.
When the lunch was done, we returned to the lobby where we found out that our room was ready, and after a short orientation by one of the front desk people, we were in our room at 2:25pm.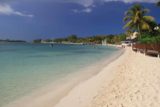 During our time in the room, Julie decided she wanted to check out the snorkeling here. So we caught a 3pm tour at the last minute. And at that time, the sun was mostly hidden behind clouds so that muted most of the colors in the reefs below. I'm sure it would've been more colorful under better weather, but perhaps we were spoiled by the Great Barrier Reef anyways so it would be hard for any other place to live up to it.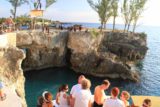 When we were done with this tour, we returned to our room to rinse off before heading back out to our awaiting driver at 4:30pm. We ended up going to Rick's Cafe to check out that cheesy-but-must-do-touristy cliff dive watching and sunset viewing.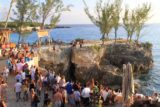 The place was pretty packed with mostly American tourists, but there was certainly a buzz to the scene here. Anyways, aside from the sideshows, it was a pretty scenic spot. But we were content to get our movies and photos before ordering a lobster.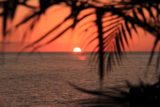 At 6:10pm, we left Rick's after finishing our pretty average lobster. The sunset we watched just 20 minutes earlier or so wasn't as spectacular as it could've been due to the absence of clouds here. We always contended that it's the clouds that make the sunsets. By the way, the photo on the Rick's menu was total BS as it showed a big globe sunset with light coming in from a different direction. Clearly this was photoshopped.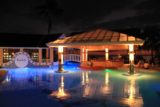 At 6:30pm, we were back at Sandals. By then, we had been in full communications with Rocky our tour operator for the next day-and-a-half so we expect to be up and out at 8am tomorrow. We expected to do YS Falls and Black River Safari, but there was no way we could fit in Little Ochie by Alligator Pond.
After a dinner at the Barefoot Restaurant on the property, we were back in our room at 7:55pm. And so ended this pretty chill and non-waterfalling Election Day in Jamaica. But the thought did cross our minds that there was the possibility of political unrest if something foul happens in these elections. We'll have to keep our fingers crossed…
Visitor Comments:
Got something you'd like to share or say to keep the conversation going? Feel free to leave a comment below...
No users have replied to the content on this page