Day 5: MANY HAPPY FACES
We awoke to our now usual 6:30am and went through the drill of getting ready for the day. After a short brekkie (bumming that this buffet in the Sandals Negril didn't have Jamaican dishes like the Ackee & Codfish save for a fattening Festival), we met up with Rocky at 8:05am.
The first thing that struck both Julie and I were that Rocky brought along a pretty big bus (that can seat 28 people) except it was only going to be Julie and I. I guess this was one of the perks of doing a private tour of YS Falls and the Black River Safari when Sandals offered the same thing for less money including admission fees and lunch (probably because they can take larger groups).
So anyways, Rocky proceeded to drive us towards the Black River Safari, which we were doing first today. We passed by a pretty massive sugar farm where we saw a giant field of sugar canes stretching from the road all the way to the mountains in the far distance. I don't think I had ever seen a sugar field so big in all our travels except possibly in Queensland, Australia.
While pointing out various things that tour guides usually do, our casual conversations gravitated towards the elections that happened yesterday. Rocky was in a real good mood because he and a lot of other people in the parishes this side of the island supported the PNP who apparently won by a landslide.
When we got to Sav-La-Mar (or Savannah-La-Mar – Plains by the Sea), we saw lots of people still celebrating the election victory by the PNP clad in orange clothing.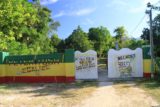 At about 9:15am, we made a brief stop at the entrance to the resting place of reggae legend Peter Tosh, who was part of Bob Marley's band, in Belmont. It was at this point that when things got a little quiet that I encouraged Rocky to turn up the reggae music. Irie FM was talking politics so he busted out his reggae CD, which provided the music background noise to the scenery we were seeing as we were looking out the bus windows.
In another topic of conversation, we talked a little about Little Ochie since we had read about this place from LP but decided we weren't going to push our luck driving all the way out there just for seafood. Rocky also said the road was narrow, bumpy, windy, and long just to even get there. Besides, we've had fresh seafood that we got to pick before eating it ala Bloody Mary's in Bora Bora so going out of our way for the Jamaican version of it just didn't seem worth it.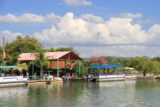 Nonetheless, Rocky did tell us that Little Ochie was the type of place where you take someone else's girl out for a romantic dinner. The problem was that other dudes would be thinking the same thing so one could still get in trouble if people you happened to know just so happened to be there when you were there.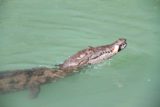 At 9:50am, we made it to the dock for Black River Tour. The tour began as expected at 10am and it included a lot of people. At the time we did this tour, there was hardly a cloud in the sky and the sun's rays were intense.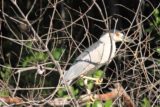 During the nearly hour-long tour, we got a chance to see a couple of American Crocodiles (or are they alligators?) which the guide seemed to know where they usually hang out. But to ensure that the tourists got decent photos, obviously the guide tossed some fish so the gator could munch on it and pose for the cameras as it was busy swallowing its food.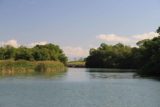 There were also lots of birds as well as mangroves, tall reeds, and other foliage typically found in wetlands or swamps not unlike our Yellow River tour in Kakadu National Park, Australia.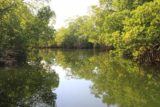 All in all, the tour was pretty relaxing, and it ended off with the guide kissing one of the smaller crocs (I think its name was Joshua).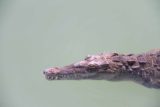 We had the included lunch at 11am, which consisted of pork and chicken made with some basic sauces and rice. It was simple and it kind of reminded us of our chicken meals at the Lusenga Trust in Kwawambwa, Zambia. In other words, it was simple but delicious.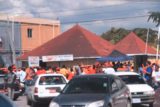 At 11:35am, we were done eating and proceeded to head to YS Falls. We had to go around another big celebration of orange-clad Jamaicans in honor of the PNP victory before leaving the Black River township towards the falls.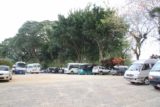 We eventually got to the car park at about 12pm. And the car park there was very full of vehicles, which also seemed to have surprised Rocky.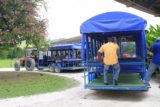 Once we showed our ticket showing that we bought a packaged deal with the Black River Safari and lunch, we promptly boarded a tractor-pulling jitney, which then hauled a bunch of other tourists towards the YS Falls themselves.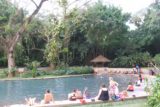 We ultimately got to the YS Store and waterfalls at 12:20pm. That was when we saw that this place was also almost theme park-like except it wasn't nearly as crazy as Dunn's River Falls.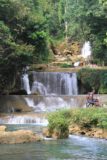 After getting changed into swimwear, we proceeded to walk past the artificial swimming pool (which happened to be full of people) towards the YS Falls themselves. And after seeing a few smaller cascades before us, we could see up ahead, there were many more cascades in succession.
Right away, Julie and I could see that this waterfall definitely was one of the prettier ones on the island. Of course, it was also very busy with tourists so photographing the falls in its natural state was a bit of a challenge, but we did have fun taking movies and photographing people diving off a rope swing as well as zip lining on the Chukka Canopy Tour across the all the way above the entirety of the falls.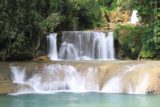 It was easy to spend time mesmerized by not only the beauty of the falls but also the fun scene that unfolded before us. Sure it wasn't exactly a naturesque experience, but somehow the fun this place brought out with the swimming, ziplining, diving, and sightseeing, etc. definitely gave it a certain energy that was hard not to get caught up in.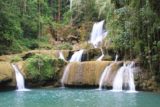 Throughout most of the time spent here, Julie and I were busy trying to take it all in. We stopped at each of the falls tiers until we ultimately stopped as far as we were allowed to go where there was a wide waterfall as well as a gate blocking further access upstream. I believe I counted at least 6 or 7 significant waterfalls comprising the greater YS Falls.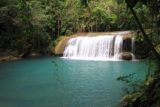 Once we were done sightseeing, I spent some time taking a dip in the bitterly cold water near the lowermost of the cascades besides a large picnic area.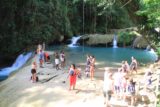 When all was said and done, it was 1:55pm when we were waiting on a jitney to arrive to take us back to the car park where Rocky was waiting for us (and socializing with other tour operators and drivers I'm sure). Ten minutes later, we finally boarded one of those tractor jitneys, and by 2:15pm we left YS Falls.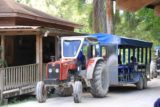 Rocky said he had never seen the falls this busy before. We weren't sure if it was because of the tourist holidays or because of some indirect factor relating to the PNP victory in yesterday's elections. Whatever the case, it seemed like orange was the color of the day.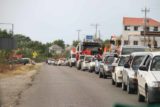 A little before 3pm, we passed through the fishing town of Whitehouse again. However, this time, there was some more celebrating going on and it apparently jammed the eastbound traffic. We were fortunate to be headed westbound so we weren't tied up. Still, all this prompted Rocky to say with a laugh, "Many happy faces."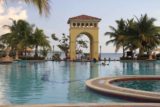 At 3pm, we made a brief detour to the Sandals Whitehouse Resort. There, we finally got to have our crepe fix by eating at their Cafe de Paris, which we had originally thought was Josephine's – in reference to the crepe place on the Sandals Grande property in St Lucia.
One thing we noticed about this Sandals facility was that it was very quiet compared to both Ocho Rios and Negril. In any case, we got our yummy crepe as well as soft chocolate chip cookies along with vanilla ice cream. Couldn't ask for a better-tasting combo of weight-gainers during tea time.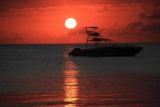 We left the Sandals Whitehouse at 3:35pm, and along the way, we passed through Savannah-La-Mar again where we saw an even bigger PNP celebration rally in the center of town. It wasn't until 4:55pm when we returned to Sandals Negril where we happened to arrive just in time to play in the water a bit before watching a colorful sunset thanks to the thunder clouds that reached well past our resort.
Like I always say, it's the clouds that make the sunset. And today was no different.
Visitor Comments:
Got something you'd like to share or say to keep the conversation going? Feel free to leave a comment below...
No users have replied to the content on this page