Day 6: THE REAL MCKOY
We once again awoke to the usual 6:30am alarm. Due to the distraction of the Clippers vs Bulls game last night, we didn't sleep until after midnight so we were a little groggy getting up. Plus, we still weren't totally done packing.
Nonetheless, we managed to get everything in order at about 7:45am then had a rushed breakfast. Still no Jamaican ackee and codfish so we stuck with small portions since we didn't feel like stuffing ourselves with more average junk food as empty calories.
So with our luggage left at the front desk and our room totally checked out, we left with our driver Presley at 8:15am, which was only 15 minutes later than our original departure time.
Today, we were embarking on our final excursion of the day, which was to Mayfield Falls. Apparently, Sandals used to offer this tour from the resort, but now it was no longer offered. Both Julie and I wondered why this was the case, but Presley didn't know either.
Presley told us that a friend of his recommended a "new road" from his usual route, which he remembered was narrow, windy, slow, and full of potholes. He was game to try out this new route so perhaps the time it would take to get there might be a little less. It might even save his car from more wear and tear if it panned out.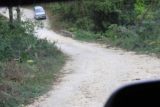 So the route we took was south of Negril and towards Sav-la-mar. Once we headed inland (north) towards the massive sugar cane fields, I could see the doubt starting to creep into Presley's mind as the road immediately started to narrow and become potholed.
Even though we passed by his friend's house, the road conditions didn't improve any as we proceeded. About a half-hour later, the roads really degenerated into partially unsealed and rutted roads possibly requiring high clearance. Still Presley was supremely confident that we'll make it Mayfield Falls, but I'm sure this wasn't the conditions he was hoping for.
"This is going to take a few years off the life of your van," I said.
"Yeah, mon. That's right," said he.
"How does this compare to the road you usually take?" I asked.
"About the same," said Presley.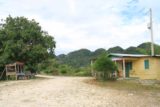 Mercifully at 9:35am, we made it through the worst of the road conditions and finally arrived at the car park for Mayfield Falls. But given how empty the car park was, it seemed like we were the only ones here.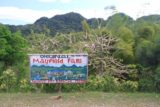 A few minutes later, a van carrying a group of German tourists showed up, but they proceeded to walk down the sloping road past the sign (that said "The Original Mayfield Falls — the Real McKoy") towards the main complex where there were shacks for a restaurant and bar, change rooms, and other quarters.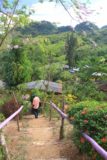 So we followed suit towards the main area where we proceeded to pay the $15pp entrance fee and were then escorted by our guide Sean.
Julie was really concerned about getting our stuff wet so she requested to Sean that we do the dry tour since the water tour involved swimming and there was no way we could keep our non-waterproof stuff (especially our cameras) dry.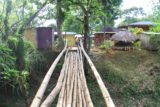 So once we crossed a pretty creaky and unstable bamboo bridge over the river, we then veered off the main trail and proceeded onto a signposted Cocoa Walk.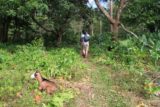 It became apparent to me that this would start off as more of Nature Walk and I had already started to wonder whether we'd be missing out on the waterfall itself, especially considering the time schedule we were on. It was already 10am and we had to leave for Sandals Negril no later than 11:30am.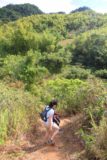 Anyways, it got pretty humid as Sean showed us various plants, fruits, and other things along the walk. Among the things we saw was the mimosa plant which shriveled to the touch and would reopen slowly for about 15 minutes. Apparently, it was a defense mechanism to ensure the plant got sun.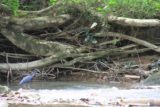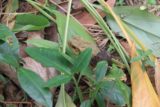 We also saw guava, African tulips (introduced), the ackee fruit which was apparently poisonous in its current form and required the shell to open up to reveal the edible part that we get in our ackee and codfish which was indeed authentically Jamaican. We even saw some birds (including a blue heron) as well as an interesting looking frog or toad.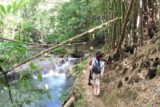 All the uphill hiking in the heat and humidity really made it real tempting for me to take a dip in the cool freshwater. And so at 10:15am, we promptly made it to a small cascade (barely 5-10ft) where Sean went into the water and I happened to join him after taking off all my clothes save the underwear (I guess we didn't think we needed swimwear, which was a mistake).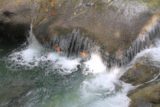 This first falls had a small grotto behind it so we were putting out our hands through the waterfall with the rest of the body hidden behind it. It was kind of a cool photo op, but more importantly, the cool water felt real good. Julie stayed dry and took the photos.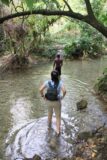 After getting our fill of this waterfall, we then did some more hybrid of hiking and stream crossing. We ultimately made it up to a slightly bigger waterfall that they called the "Washing Machine." We had to be careful not to dunk the camera in the water as we rock-hopped and waded to get right in front of the falls, but there were no dramas.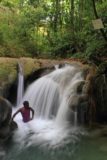 I chose not to dip in this waterfall, but Sean didn't mind the turbulence underneath this falls, which allowed me to take some photos and movies.
At 10:30am, we proceeded to walk back the way we came. And at about 10:35am, we were back onto the Cocoa Walk.
"Are we done? Is that all?" asked Julie.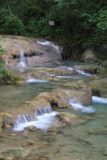 "Of course," said Sean. "The Washing Machine was the last waterfall. You chose the dry tour and not the wet tour, which is more fun and goes up all the waterfalls."
"Oh so there is no big waterfall?" asked Julie.
"No," he said. "The river is the waterfall. There is a lot of small ones you climb. That's why I asked you if you're sure you don't want to go in the water."
Then he added, "Mayfield Falls is just the name. There is no big one it's named after. It's the whole thing."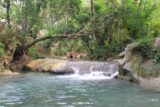 And with that realization, as we continued to head back towards the bamboo bridge, I asked Sean if we could go back to the lower parts of the river where we heard people screaming (probably due to getting into the water for the first time).
"Ya, mon," he said. "But I thought you have to get back soon."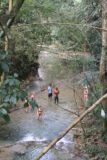 I told him we technically have until 11:30am and it was only 10:55am so with that, we went to the lowermost of the cascades we could access. But right away, the base of the first cascade was met by a pool deep enough to require swimming to continue. And so I left the camera with Julie, stripped down to my underwear, and joined Sean.
We went up about 4 or 5 of the small cascades each with their own little "jacuzzi". Between each waterfall, it required getting deep into the cool refreshing water and I'm sure any documentation of this would require a waterproof camera, which we didn't bother with on this trip.
I also noticed several stairs leading down from the other side of the riverbank towards the river itself. It seemed like this was what was missing from the tour that we took so we could take photos all along the river. So I asked where these ladders came from?
Sean said they came from the other property. I wondered if this could be the one that was competing with "the Real McKoy." I'm pretty sure it was since Sean didn't entertain the thought of going up those steps.
So after going up the first waterfall once we lost eye contact with Julie way downstream, we proceeded to head back. We took a scrambling path alongside the stream (not up the steps) before we went back in the water to get back to Julie.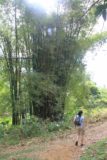 The whole time I was feeling subconscious about my out-of-shape body wearing only underwear as other tourists were going the other way (hey, maybe they thought I was wearing a Speedo), so I felt pretty relieved to return to Julie and put my clothes back on.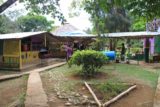 The tour ended at 11:10am where we promptly tipped Sean and then grabbed our stuff before we took off up the hill to join a napping Presley at his van. At 11:20am, we were headed back to Sandals Negril.
During the drive back, I processed the experience which could've easily been construed as disappointing. But if you take this waterfall for what it's worth, it's really more about the experience than it is about the scenery. I wondered what the other of the falls looked like (since it was said to have 21 waterfalls in all), but I somehow felt that it probably wouldn't have been photo worthy anyways.
I guess now we know why Sandals Negril stopped offering this tour. Perhaps too many people complained about it considering the mismatching expectations.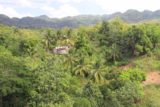 Anyways, we could see straight away that Presley took a different path but it eventually veered back into the massive sugar cane fields though it still had lots of potholes. But overall the road was a little more tame than the one we took up.
I also managed to take a few photos during the drive since it did have some attractive mountain scenery before we descended down into the sugar cane fields.
The size of the sugar cane fields made it clear to us that sugar was very big business in Jamaica. Presley said it used to be the biggest industry until tourism grew to the point that it overtook it as the number one export.
When the roads calmed down a bit, Presley called up his buddy to tell him that the road he took up this morning was "painful." It was kind of comical to hear him chew out his buddy in the Jamaican Patois language, but at the same time, I felt for Presley since this vehicle was his primary means of income.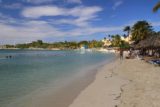 At 12:50pm, we finally made it back to the resort. It ended up being a 90-minute drive compared to the 80-minute drive on the way in, but in the grand scheme of things, the latter approach probaby didn't lessen the life of his car to the extent that the morning route was.
And so ended our touring of Jamaica. Fortunately, Sandals allowed us to shower and change in their spa before getting a last-minute buffet lunch with some more cocktail drinks. I'm sure I was pretty buzzed when the shuttle van picked us up to go to the airport, but I took my afternoon siesta during the hour-long drive anyways.
I woke up with a little bit of a headache, but I figured we'll have the two airplane rides (to Miami then to LAX) to recover. Both Julie and I couldn't wait to see our baby daughter.
That would have to wait, however, as we had to go through a pretty stressful transfer in Miami as we had to go through customs, immigration, security, and long queues every step of the way just to even make it in time for our connection back to LAX. Even back in LA, our shuttle (there goes that stupid, no-public-transport system again) took a lot of time to pick us up before returning to our parked car. So we counted down the New Year at the airport.
But all in all, it's funny how we took this trip to take a break from baby Tahia. However, after so many days on this trip, we realized that it's very difficult to go so long without her. So while most people were out partying away to celebrate the New Year, we'll do our celebration with lots of hugs and kisses for our baby daughter when she awakes first thing in the morning…
Visitor Comments:
Got something you'd like to share or say to keep the conversation going? Feel free to leave a comment below...
No users have replied to the content on this page