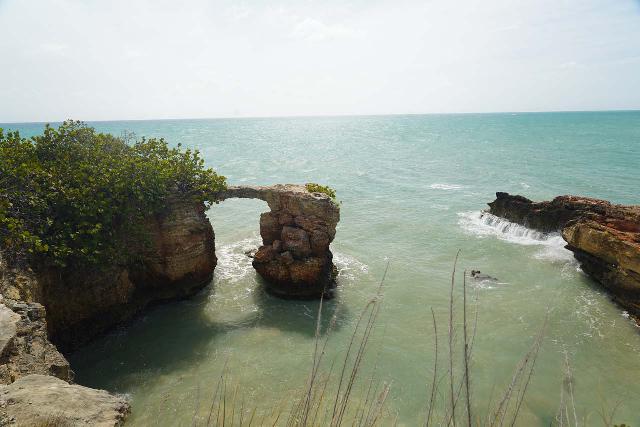 13-April 2022 to 22-April 2022:
We started doing this at around 9:55am, where Ricardo led the way down a dicey boulder scramble before getting into a nook where there was another profile view of the waterfall dropping into Charco Azul below.
Then, we had to go through a narrow opening where we literally had to lay down and squezze through that manhole with the aid of a rope as well as some spots where I had to place my feet on footholds that I couldn't see (but Ricardo was there to make sure I didn't fall).
It was probably one of the diciest things I've done, but we ultimately made it down to the bottom where we were in the confines of this "cave" while looking right across the waterfall and into the Charco Azul…
Days 0-1 (April 13-14, 2022 – San Juan, Puerto Rico): "The 3 Anxieties"
It was about 5:10pm when we got through a rather hectic day getting all packed and ready to go and started heading to the airport for our upcoming Spring Break trip to Puerto Rico.
The day was hectic because Julie was busy getting her last minute packing all done while I was actually planning our upcoming Summer trip to both Australia and Bali, knowing that there wouldn't be much time to plan it when we'd come back from this Spring Break Trip.
So my mind was actually not really on this upcoming PR trip though I knew that at some point, I'd have to switch.
Anyways, Tahia also still had school and we had to get through this day (which fortunately was a minimum day so she was able to get through her duties there and then attend a virtual math tutoring session).
Nevertheless, we were pretty much going mostly against the traffic as we made our way towards LAX, and we did our usual thing of using the airport shuttle after dropping the car off at work (so we wouldn't be subject to hefty parking dues).
We were at the airport at 6:10pm, and by about 6:30pm, we made it through TSA, where the airport actually wasn't as busy as we had anticipated considering that it was pretty much spring break.
I was aware of flight cancellations that took place last week from other people who were on their spring break, and that was the first anxiety that we had regarding our trip.
But we managed to check in Julie's big luggage while our carry-on rollers were able to be checked in for free (knowing that we had a very full flight and we likely weren't going to be able to fit our rollers into the overhead lockers).
So with all that out of the way, we then proceeded to have a rather expensive airport dinner at this place called Campanile, which we thought was going to be like this La Brea restaurant that was a bit of a high end baller kind of place.
But what we had here was actually quite disappointing though the portions were huge (and also a bit risky in terms of being unhealthy and full of gluten).
The waitress there was very friendly and talkative, and the way she talked was reminiscent of some kind of Adam Sandler movie of some Hawaiian lady who kept saying "and den…" after practically every line we'd say.
It probably wasn't that bad but she was really sweet and had that sort of Vietnamese-Hawaiian accent thing going.
So we were done with that meal fully stuffed though quite a bit lighter on the wallet as it costed us $92 in total (Julie fell for some papas bravas, which was really nothing more than hash browns and Tahia snuck in a $4 lemonade drink).
Anyways, after getting through the initial anxieties about whether this flight was happen or not (let alone be cancelled) as we boarded the flight at 8:50pm, we then marveled at the 777 plane that actually had personal in-flight entertainment!
That was rare for an American Airlines flight, but we took it where we could as Tahia was learning how to play Tetris for the first time.
Well, at least it seemed like this plane was taking off on time, and so that might help us allay our fears about the tight connection we'd have in Miami as we had less than 90 minutes between this flight and the next one for San Juan.
And sure enough, by about 9:20pm, the plane was taxiing, and soon thereafter, the plane took off.
As much as I found sleeping on airplanes to be rather difficult historically, I must have been pretty sleep-deprived in my day-to-day recently and so I actually slept surprisingly ok throughout this red-eye flight.
By about 4:15am, we landed at the Miami Airport, where we then had to eventually de-plane and get to the gate for the next flight, which we promptly did at about 4:50am.
Fortunately since Puerto Rico is US territory, we didn't have to mess with any immigration or passport control delays and so this tight connection happened without a hitch.
Eventually, the boarding happened as scheduled at around 5:30am, and then we boarded this pretty full flight and this took off without a hitch either.
I managed to get a little more shut-eye on this flight as did Tahia (who I guess really crashed after being unable to sleep on the Miami flight).
And so our second anxiety that would conspire to mess up our plans had come to pass as we indeed made our second flight.
Now the only anxiety left was whether all our luggage would make it to the destination.
Eventually at about 8:15am, the plane was about to land though I was concerned at lots of people coughing and sniffling around us on this pretty full flight (hoping that our double-masking would help fend off whatever coodies people would be passing).
It was also quite chilly on the plane, which was surprising considering I wasn't all that cold on the longer flight to Miami.
By about 8:30am, the plane landed and we then had to make our way to the baggage claim, where we waited patiently for the luggages to come out of the conveyor belt and ultimately we did collect all of our luggages.
So the third anxiety ultimately came to pass.
Next at about 9:15am, we then picked up our rental car at the Avis, where my preferred membership made this process go without a hitch.
It took some time to get all loaded up while trying to make sure our GPSes were working (I learned then that my Gaia GPS map wasn't downloaded yet, which I guess I had forgotten to do leading up to this trip).
Anyways, we promptly drove off to some supermarket called Pueblo thinking that we might need to pick up some jugs of water as well as some local snacks that Tahia and Julie were looking forward to getting.
However, when we got to the parking lot at the Pueblo, it was actually raining quite hard at 9:40am so we had to wait it out.
At least, the radio station was playing La Quinta Estacion's "El Sol No Regresa", which was the song of the trip when we were in Spain back in 2015 so that helped to pass the squall that we were under at the time.
Of course, a rain that heavy kind of made us concerned about our upcoming San Juan food tour that we had booked, which was to happen at 1pm today rain or shine.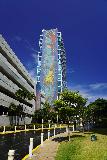 And at around 9:55am, we were done with our grocery shopping at Pueblo, where we then proceeded to go to the Caribe Hotel, where we got there at 10:10am as we had to wait a bit to check in.
Eventually, we learned that the room wasn't ready but we could leave the luggage here and also self-park further down the road.
So we did that at around 10:40am, and then we killed some time checking out the resort's pools and the rough seas outside of the breaks.
And after getting oriented with this area (which Tahia was really looking forward to playing in the pool later today), we then ordered an Uber at around 11:35am, as we had to take one of these things to get to Old San Juan and the Plaza de Armas.
It didn't take long before the Uber driver showed up and we actually had to walk over to the street because apparently the Uber driver doesn't go to the hotel main entrance (we'd later learn that that was the pickup spot for Ubers).
The Caribe Taxi was around $15 to get to the Plaza de Armas, but our Uber was more like $6 (though we knew that we'd have to tip).
When we got into the Uber, we were conversing with the driver in Spanish, where we learned that most of the traffic was for the beach and because it was getting to the end of Easter Week, especially this weekend.
Indeed, the traffic was at a standstill for the beaches, and fortunately, we were going around a large part of that congestion on the way into Old San Juan.
We'd eventually get to the Plaza de Armas, and then we took some pictures of the buildings surrounding this pigeon-populated square (where clearing some people were feeding them).
Julie and Tahia wanted to go into the Marshalls for some shopping, and I figured that I wasn't going to wait around doing nothing so I decided to do some exploring while they were shopping.
I ultimately walked up the hill on some random street through the narrow one-lane cobblestone surfaces up to the top of the hill where I saw the ocean.
Then, as I descended, I saw that there was an attractive wall that was actually El Murro, which was the Spanish-build defenses surrounding Old San Juan that was erected back at around 1521 or so.
Apparently, the establishment of San Juan had something to do with the 500-year anniversary signs we were seeing everywhere, and I'd imagine that this place was really going to party at some point.
Regardless, I did some exploring of the wall, where I saw that there was also an attractive barrio below the wall called La Perla.
Unfortunately, this place looked like it was mostly closed as it appeared to have been battered and not re-built after damage from Hurricane Maria.
I wanted to explore that area a bit more, but it seemed kind of abandoned and I wasn't sure it was possible to go down there on my own.
Plus, I had to get back to the Plaza de Armas in time for our tour so I eventually had to leave this alluring spot and head back down to the square.
By the time I got there at 12:45pm, Julie and Tahia were upset at me for leaving them at the square as apparently they weren't in the Marshalls for long and they were worried about where I went and why I wasn't picking up the cell phone for her calls (it wasn't loud enough for me to hear).
Anyways, we'd eventually meet up with our guide named Desiree at the meeting time of 1pm, and then we pretty much went from restaurant to restaurant as it was legitimately a tasting tour of Old San Juan.
The first place we went to was the Chocobar Cortes, which was all about chocolates here.
We had an interesting taco with tostones shell as well as some chocolate and rum drink, while at the same time we learned about other trip participants basically consisting of a woman from Medellin, Columbia, a family from Raleigh, North Carolina, and a family from Baltimore, Maryland.
It seemed like everyone on this tour had someone in their party who spoke pretty fluent Spanish so I was actually probably the weakest representative for our party since I wasn't really that fluent even though I had some command of the language as long as the native speaker could slow down for me.
Regardless, it was a pretty fun tour, and after getting done with this restaurant, we then headed over to this place called Deaverdura where it was a very busy place that served up a more traditional lechon with beans and rice and a toston that was more like bread than crunchy chips.
This place was heartier but also quite delicious, and we ended up with drinks of a soursop with rum as well as some kind of Caribbean cherry (forgot the name) with rum.
The latter was actually pretty good, and Tahia got her virgin one which she enjoyed.
When we were done with that visit, we then walked over to another restaurant further up the hill, which this time was some kind of tavern (I think it was called something like La Taberna Lupolo), and as people were getting stuffed, it was another food and drink stop.
This time, we had mostly beer-battered red snapper fish taco on a flour tortilla as well as another drink with rum.
Julie got some kind of cheese as her gluten replacement, and so everyone was quite stuffed and gave me their portions (at least Tahia gave me her taco) as they couldn't eat anymore.
And then after doing this stop, we walked down towards the far western end of Old San Juan where there was some kind of coffee shop that only had some picture of a coffee pot but no name.
At this place, Julie was really into how they made their coffee considering that she said it was "fruity".
I was never really a coffee drinker, and I can't say I could truly tell the difference between good and bad coffee.
But regardless, she said that was definitely one of the better coffees that she has had, and then we all walked past some butterfly alleyway (it used to have umbrellas) as well as some kind of overlook across some bay back towards the mainland.
That was where we got some popsicles at Senor Paleta for the final food stop of our three-hour foodie tour of Old San Juan, and we were racing to finish that popsicle as it was melting in the heat and humidity.
I got some kind of Choco Brownie flavor while Julie and Tahia both got Mango and Strawberry combo popsicles.
And with that, the tour was done and everyone went their separate ways while we were taking some pictures of the overlook here as well as getting our last questions in for Desiree (considering that tomorrow was Good Friday and a lot of places wouldn't be open for business).
She had suggested some place called Cueva del Mar as well as Casita Miramar so we might give that a go tomorrow given our limited dining options.
Anyways, we then walked around some more in Old San Juan since we were already here, and the traffic in the city was quite tight as all the one-way alleyways were stuffed with cars and people walking around.
It was quite atmospheric, and we also got our shots in regarding the butterfly alleyway as well as another round of gelato at this place called Annita La Mamma del Gelato (which had a line though Tahia really had to pee so that was the nearest place for that).
Well, I waited in line for the gelato as Tahia didn't mind making more room for dessert like this, and we ultimately learned that this place was quite the spot for gelato, especially considering the line and how busy it was here.
COVID-19? What COVID-19? As it was quite packed and we were one of the few people wearing masks indoors here.
Anyways, we enjoyed our gelato where Tahia got some kind of watermelon and mint sorbet that reminded me of a mojito, Julie got some kind of mango flavor, and I got some kind of hazelnut one that Julie suggested for me.
The choices were a bit overwhelming but I'd have to say that this gelato spot definitely had a lot of unusual flavors, and perhaps that was why this place seemed to have such great reviews on Yelp.
When we were done with that dessert stop (as we were definitely adding more calories while being full), we then walked towards the fortress and wall (at what was the Castillo de San Cristobal).
By the time we got out to that area, we got past some churches and some attractive squares along the way, and then we found ourselves in some wide open grassy space where lots of families were flying kites.
Actually, the sea breeze that was here was quite nice, and it helped to de-humidify the otherwise would-be intense humidity of this island.
And so we took some time exploring around the walls, where there were views of some cemetery fronting the sea within the fortress, and it made me wonder whether we should explore more of the monuments here in a return to Old San Juan maybe on Saturday after my Charco Prieto tour.
Indeed, we took our time doing some exploration of this seemingly historical and special spot, and then we were headed back to order our return ride via Uber at 5:50pm though the first person cancelled on us (probably because of the traffic).
And then, we caught a second Uber driver a few minutes later, where this woman seemed to know her way around the streets and even making left turns onto oncoming traffic around the bridge to get back to the Caribe Hotel at 6:15pm.
From there, it was starting to get dark, and we still had to get some stuff out of the car, queue up for the 2 elevators up to our room, and then finally indulge Tahia at the pool after 7pm.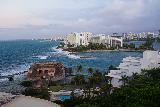 So Tahia and I killed time there as she finally got to play while I was trying not to freeze as the water wasn't that warm and there was also a bit of an afternoon breeze blowing.
I remembered pulling a calf muscle doing pullups on the infinity pool walls so that had to stop though I was surprised that I was actually able to do that since I always struggled with doing pull-ups or chin-ups during boot camp at the gym.
Regardless, after messing around in the large infinity pools and then the jacuzzi, and then freezing back in the bigger pools, we then returned the towels and headed back up to our room at 8:05pm.
At that point, we pretty much crashed for the night as we had a really eventuful day…
Not bad for our first day in Puerto Rico!
Day 2 (April 15, 2022 – San Juan, Puerto Rico): "Tense Experiences"
It was 5:30am when I awoke to the alarm, when it was already almost sunrise as I looked out the window and saw that the skies were somewhat orange.
I took some time to get caught up on yesterday's happenings seeing that there was a lot going on during our very first day in Puerto Rico.
It took some time for Julie and Tahia to get ready, but Julie did manage to get downstairs to wait in line for coffee and some breakfast sandwiches, and so we munched on that before getting into the car at 7:30am.
After running back and forth trying to figure out how to pay for our parking, the receptionist gave me a card (that I later found out was nothing more than our room key), and then we were finally on our way out.
Anyways, the drive east towards El Yunque Rainforest was pretty smooth and holiday light since today was Good Friday, and lots of Puerto Rico was Catholic (so they did indeed celebrate this day).
We'd eventually get to the turnoff for El Yunque on the 191 Road, but we actually overshot the easy-to-miss road, and took the next one, which had us go across some narrow lane (where parked vehicles made it essentially a single-lane street) before getting back onto the 191.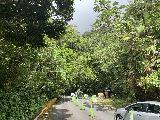 Then, we followed this road before catching up to some slow traffic to the station where they checked for permits that I had bought on reservation.gov.
During this stretch, there were very few opportunities to pull over so we pretty much followed this person all the way to the checking station, which was situated practically next to the La Coca Waterfall.
We got to the waterfall at 8:20am, where we were briefly the only people checking out the falls from the bridge until the lemmings effect was pretty much in full swing as a couple other families stopped as we were here taking pictures and videos from the bridge.
La Coca Waterfall was pretty much a roadside waterfall that still had segmented flow during our visit, but I'd bet it would have been a more consolidated wall earlier in the year when it was closer to the "wet" season, I'd imagine.
My understanding was that the "dry" season started in December or January and would continue until around now, when things would heat up and start to approach hurricane season come May and through Summer.
One of the families that were here did some slippery boulder scrambling to get up to some kind of rock ledge or outcrop that was pretty good for taking contextual videos of the waterfall with people there to show its size.
And so I went ahead and did that in my Chacos (since I didn't bother changing out of the my shoes for a roadside waterfall), and that was when I realized that perhaps that wasn't the greatest idea given the how slippery the footing was here.
Nevertheless, I documented what I needed to do and rejoined Julie and Tahia below at 8:45am, just as more cars had showed up and started to enjoy this spot.
About five minutes later, we then stopped at an attractive tower that was well-signed called the Yokahu Tower.
Tahia was too content to want to stay in the car to sleep so it was just Julie and I getting out of the car to briefly take pictures of this attractive tower as well as the views towards the direction of Luquillo, I'd imagine.
Once that was done, we got back in the car at 8:55am, and then drove towards the Quebrada Juan Diego at about 9am.
There were a handful of cars already here, and there also seemed to be a handful of pullouts near the signed trailhead next to the bridge over the Juan Diego creek.
his time, we put on our trail runners and proceeded to do this hike, which I knew shouldn't take very long at least according to my pre-trip research.
We proceeded to go onto the well-developed trail, which followed the Quebrada Juan Diego, and it was just as quite a few families were heading back down the trail.
It only took a few minutes before arriving at the Juan Diego Falls, which was had a modest-sized lower tier as well as an attractive upper tier that was partially hidden from the vantage point we were at.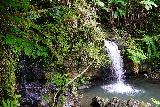 As we were documenting this spot, I took some time to evaluate how to get up to the upper waterfall, and that was where I spotted what looked to be a rather steep climb to get around the lower waterfall on the left side across the creek.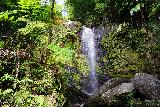 So I went ahead and did that scramble, but I eventually got to a real dicey part where I was on a muddy wall that had a rope tied nearby.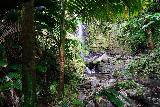 I had to use that rope to essentially crawl my way up past the wall and then get over some tree before scurrying down the other side (which was also a bit muddy), and then I finally got onto the slippery boulders fronting the upper drop of the Juan Diego Waterfall.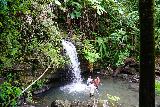 Since I was all alone here, I took some time to take videos and pictures before heading back down to Julie and Tahia as I wasn't really looking forward to the muddy wall section.
Sure enough, when I got back there, I had to really utilize the rope and carefully place my feet rappeling style before getting back onto terra firma, and then I scrambled my way back down to the creek where a family was in the middle of yelping underneath the cold water beneath the lower falls.
From there, we headed back towards the main road and eventually got to the car at 9:50am.
Knowing that La Mina Falls was still closed due to damage from Hurricane Maria a few years ago, I knew that there really wasn't anything else left to do for us at El Yunque Rainforest (as we weren't interested in peak bagging on trails near the end of the road).
My understanding was that before Maria, the 191 Road used to go all the way through the rainforest and even get to the Charco El Hippie, but now that place doesn't seem like a likely candidate to reach on this day.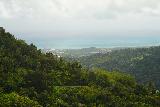 And so we drove back towards the entrance of El Yunque as we made a couple of vista stops before leaving the park proper, then getting back to the main road, and then deciding to head further east towards Las Tinajas Waterfall.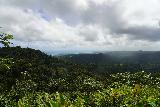 During this drive, I had in my mind that perhaps we might be able to make it back to Old San Juan to check out the Castillo de San Cristobal, which we thought might be a cool experience for the family.
Thus, I kept in my mind that we should do Las Tinajas, then go back for some lunch at the kioskos de Luquillo, which we saw right off the road, and then see if we'd make it to El Murro and the fortresses in Old San Juan.
Well, the drive out to Las Tinajas seemed like we were going on quite a few rural roads in the vicinity of Fajardo, and it wouldn't be until around 10:50am when we got to what appeared to be a very busy area.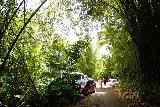 It looked like there was a lot of parking at one property (which we didn't know to stop for), and we drove all the way to the end of the road, where there was a line of a couple of cars with some people chatting at the gate.
We weren't sure if we had just made it in time for Las Tinajas or if we were going to get screwed and be unable to visit Las Tinajas Waterfall.
But after talking with an elderly guy here, who was apparently the owner, I'd imagine, he told us that he could carve out a couple of spaces for us though this lot was primarily by contract for specific tour groups under contract.
I never knew that this waterfall was for tour groups, but there seemed to be huge groups of people (all wearing life jackets and helmets), and that's when it seemed like we had stumbled upon what seemed like a tour group waterfall.
Anyways, we once again geared up and had to coerce Tahia to get out of the car and stop sleeping so we can partake in this hike.
Then, we proceeded to go further up the road as it seemed like the majority of visitors were going in this direction.
I kept wondering in the back of my mind whether Charco Frio was supposed to be roadside or not back by the parking areas, but it was clear that most of the people were coming back from the trail (or going upstream like we were) so there clearly must be something further up ahead.
Although the trail itself was pretty wide and easy-to-follow, it was also plagued with a lot of mud.
There were also a couple more gates along the way, which further proved that this was indeed a private access to Las Tinajas, and perhaps that was why it required a bit of an adventure to reach the falls if say the private access was closed.
Anyways, one false detour to the creek and waiting for a handful of stretches for large tour groups to get across the trail so we can get through, we then finally got to the Las Tinajas Waterfall at about 11:30am.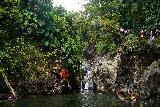 There were a couple of muddy descents to get down to the river, and both Julie and Tahia actually took the narrower muddy side trail down while I took the rootier (and muddy) path that most of the tour groups had gone.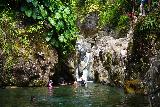 And when we got down to the creek, we could see that there were already lots of people doing cliff jumps and rope swings, but we wondered where the waterfall was.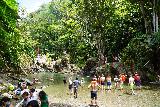 That was we realized that we had to wade in the creek a bit before we could finally see the attractive cascade backing a narrow chasm where the creek was deep enough to support all the aerial maneuvers that tour group participants were doing.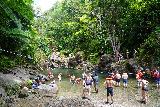 It looked like a whole lot of fun doing, and even Tahia felt like she wanted to get in on the action though she wondered if these swings and cliff jumps were for paying customers only.
She also didn't bring swimming gear so she was content as Julie and I were to just document the experience and bask in the rather party-like ambience of Las Tinajas.
I did notice that some tour groups went even further up the cliffs perhaps towards another water slide (as I heard some tour guide ask the participants if they were interested), but I opted not to scramble up there.
That said, the water did feel pretty good after the sweaty hike it took to get here.
But after having our fill of this spot, we then headed back the way we came where along the way, the tropical downpours did happen for a few minutes, which further muddied up the trail.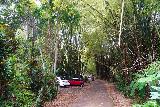 By about 12:15pm, we made it back to the car, but I wanted to pursue what these Charco Frio pools were so I left Julie and Tahia to chill out there while I went to ask the owners if I could pursue them.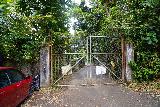 Through the broken English (and or broken Spanish on my part), the owner let me through his gate to backtrack towards his property, and then go through his property to get down to the creek.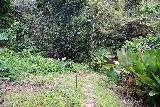 He told me to let him know when I get back to the gate when I'm done.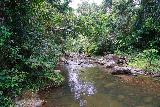 And so by about 12:20pm, I got down to the creek, where I then had to pretty much follow what seemed to be creekside use trails before crossing the creek and then getting to a real muddy trail on the other side.
At some point, I noticed some boulder obstacles and small pools with tiny cascades feeding them, and I wondered if this was the Charco Frio.
But since I didn't know any better, I kept scrambling up the muddy path on the other side of the creek a ways before the muddiness got even worse, and the trail kept going.
At this point, I decided that it probably wasn't a good idea to keep going as whatever this Charco Frio pool was wasn't really anything more than haphazard pools or small cascades in the creek that were incidental.
Indeed, when I came back and went all the way to the Charco Frio parking lot (seeing how big this lot was) at around 12:55pm, I managed to talk to one of the guides who confirmed my suspicions about Charco Frio being nothing more than pools.
And he confirmed that really it was Las Tinajas Waterfall that was the main attraction here, and he seemed surprised that I made it up there until I told him that I actually went through the "old man's property" to get there.
At that moment, I realized that anyone going along the creek at this point were really doing the more challenging adventure and scramble to get up to the Las Tinajas Waterfall if they weren't going up through the private property path.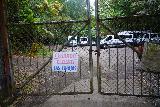 I also noticed that the large parking area here was only $5 per vehicle though the property owner behind the gate who had the trail had charged us $10 for the vehicle and $2 per person (so it was $16 total for us).
I figured that was fair since we were using his property, but I'd imagine it was the tour groups that helped turn his property into a big source of income.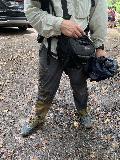 Anyways, by about 1:05pm, I made it back to the car, which was a bit later than I had anticipated, but at least that bit of reconn helped me better understand what was going on here.
At this point, I resigned myself to realizing that there was no way we'd make it back to Old San Juan for the national parks attractions there.
Nevertheless, we drove out of this area, and then headed back towards Luquillo for a lunch at the kiosks there.
Julie had it in her mind to check out some restaurant called Terruno, which was a place that Desiree had recommended yesterday.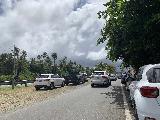 However, Julie's routing on her phone had us go away from the quioscos and towards parking by the beach where there was a police blockade keeping people from driving closer to where Julie's routing wanted us to go.
So given that difficulty, we then went back into the chaos of the Luquillo Kiosks, which also had its share of congestion.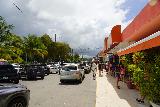 We eventually parked at a spot near where a cop there said it was ok to park, and that was when we could finally walk around and have a late lunch at 1:45pm.
It didn't take long before we realized that quite a few of the kioskos were crowded, and so we ultimately settled in on some random kiosk called Coconut Sauce.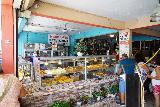 That was because Julie saw fresh seafood and decided that was what we should pursue. And so we decided to eat there, where the food came out pretty slowly but at least we had ourselves a pretty delicious pina colada (virgin) where the drink was inside a pineapple with fruit pieces hanging on it.
But when all was said and done, this was one of the most expensive meals we had as apparently Julie's whole red snapper had to have been at least $50 or more (they must have charged that by the pound or something).
I also had a paella and Tahia had a shrimp, but regardless, this meal was like $117 and then I tipped some amount, too (so it was closer to $140 USD!).
That wasn't what I was expected from a kiosk, but I guess some TripAdvisor people were complaining that this place used to be where cheap eats were, but now it was pretty much tourist prices (i.e. overpriced).
After eating the meal at 3:05pm, we then checked out the beach, which had lots of blaring loud music as well as lots of people.
It turned out that the loud music was the results of perhaps one or two parties which brought large speakers and really turned the beach ambience into something more like what we might encounter at Olvera Street in downtown LA (though instead of mariachi music, we were getting dance hall latin music).
It wasn't exactly a very relaxing way to experience a beach, and so we eventually got back to the car at 3:30pm.
From there, I then decided that since we were already here, we should just drive to Las Paylas Waterslides and see what this place was all about since we were already here.
But when we finally showed up to the car park for Las Paylas at 3:50pm (which was real easy to miss and parking was limited), we saw that it was pouring rain.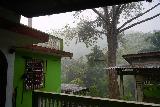 We showed up just as a trio of cars were pulling away and so that left us all by ourselves trying to wait out this downpour, which lasted for quite a while.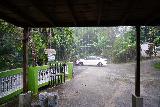 Eventually after what seemed like forever, I just got outside the car with a rain poncho and tried to bring my gear and document the experience under the tin-roofed shelter where I paid the $5 to pursue the water slides.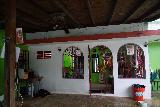 The lady there collecting the money gave me a look like I should wait out the squall, which I did, though I think she knew that I wasn't really here to play in the natural water slides.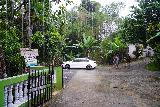 Anyways, it seemed like the downpour calmed down momentarily and so I went down the steps in my rain poncho, before I encountered a fairly tame path that was maintained by these owners before descending among rocks and some packed dirt and mud.
I eventually got down to where I could see the apparent natural waterslide which was a cascade that looked somewhat flat from the side but looked like a legitimate waterfall once I got down to the bottom.
It was disappointing to see how much litter was down here, and I wasn't sure if access was only through this persons' property (where I'd imagine they wouldn't tolerate things like this), or if there was an alternate access that involved more scrambling.
It actually looked like there was more scrambling over slippery boulders (though I couldn't tell if there were more waterslides) further downstream as I was content to just document Las Paylas.
Plus, the plunge pool looked a bit muddy brown, which was a telltale sign that a flash flood or heavy rain had just come through this area.
Nevertheless, it was too bad that I was all alone here and I couldn't document anyone doing down the waterslide to see what that was like, nor how people would scramble up along the slippery rocks to even get to the top and make their way down.
So I took my photos and videos and went back up to the car at about 4:30pm, which was just as another car pulled up and were talking with an owner.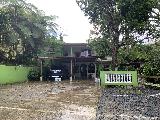 I'd bet that he wanted to close up this place and talk those folks out of doing the water slides because of the flash flood risk.
And with that, we headed out and made our way back towards San Juan, where it seemed like the rain came back (and was quite heavy in stretches with street flooding en route), and this rain persisted all the way to San Juan itself!
I had thought that this rain was only limited to El Yunque and the mountains here, but actually this rain stretched all the way to the city and perhaps beyond so maybe it wasn't as localized as I thought (a good sign for the waterfalls we targeted later on in this trip).
Regardless, we got back to the Caribe Hotel at around 5:40pm, where I dropped Julie and Tahia back at the main entrance while it was squalling, and then I went back to park the car and rejoin them to bring the stuff back up to our room.
Along the way, we did indulge in some desserts, where Julie tried out some kind of guava pastry and quesito (much like what you'd get at a Porto's though that was more Cuban), and I indulged in a bit of a chocolate chip cookie sandwich. Indeed, the pounds were piling on in this trip!
Other passerbys saw us and could tell that we had gone into the rainforest today as we were quite the muddy mess especially with all the gear we had on us.
And so we had some time for ourselves for the rest of the evening as today it looked like it was all overcast and rainy throughout.
While Julie was researching about how Pina Colada was apparently "invented" at the Caribe Hotel, she wanted to go down to the Caribar so we could see for ourselves.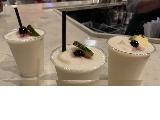 So we did this at around 7:45pm, and it took quite a bit of time to get seated (or at least scope out an open spot), and then have a margherita pizza (Napoli style) along with the pina colada drinks.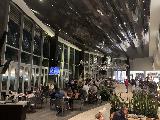 All told, the drinks were like $40 with tax and tip while the pizza was like $20 with tax and tip so we overspent some more on this day.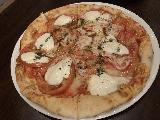 Eventually at some time closer to 9pm, we finally got back to our room, where we could then get cleaned up and finally wind down the day.
It wasn't good that I was getting a scratchy throat throughout this afternoon, and I wondered if I had somehow caught COVID either on the flights over to and from Miami (where there were people coughing around us even though we were double-masked) or if it came from our food tour.
After all, the restaurants we went to had mostly unmasked people and they were crowded as if COVID doesn't exist anymore (well, the mask mandates were lifted and we were one of the few people with masks on).
Anyways, I went to bed with that bit on my mind wondering if this was going to mess up our Spring Break trip, but all in all, it was quite the hectic day.
Tomorrow, we had to divide and conquer as I was going on an adventurous tour where Charco Prieto was the goal (and reason for me doing this tour) even though I knew it was on All Trails.
But apparently, this tour lasted 8 hours so I wondered what else they were going to do.
In the mean time, the plan was for Julie and Tahia to go to the fortresses again tomorrow before chilling out at the resort for our last full day in San Juan.
Day 3 (April 16, 2022 – San Juan, Puerto Rico): "La Familia"
It was 5:30am when I awoke to my alarm, but unlike the other days where my day would be dependent on how soon Julie and Tahia would get ready for the day, today was all about dividing and conquering.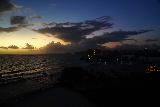 On tap for today, I was going on a tour to visit Charco Prieto while Julie and Tahia were supposed to go into Old San Juan to visit the insides of the foretresses.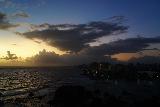 I know they were targeting the Castillo de San Cristobal first, but I wasn't sure if they'd also make the time to visit El Murro, which we saw from the outside on our very first day in San Juan.
So after tending to my blogging duties and getting all caught up on yesterday's activities, I then had my cold breakfast from the kioskos de Luquillo yesterday (hey can't let a $140 meal go to waste, right?), which was basically the leftover paella.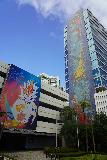 By about 8:35am, I then made it out to the waiting area by the Uber pickup spot outside the main cul-de-sac of the hotel, and eventually got picked up by Jesus of Jerry's Adventures at 8:45am.
I was the second party (even though it was only me) as there was a Filipino family from Jersey that was picked up first.
Speaking of family, I noticed that Jesus liked to refer to the tour members as "family" (or la familia), which he reinforced in person as well as in text messages leading up to today's tour.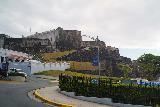 With the holiday light traffic in the morning, we had no trouble getting the next groups of people, which consisted of a couple from Pennsylvania, another from the Honduras by way of New Hampshire, and one from the British Virgin Islands by way of Wales.
At first, I was concerned about the tight spaces in the van from a COVID-19 standpoint, but I knew that this was reality in the post-COVID era as the world pretty much has to learn to live with this.
Now, the skies were actually partly cloudy and there seemed to be heavier clouds budding over the mountains that we were approaching backing the community of Bayamon.
Jesus was keeping things interesting with some Puerto Rico trivia games where he was trying to stoke some competition among the tour participants.
I think I answered the Spanish surname of Christopher Columbus, but then for the rest of the competition, I pretty much came up dry.
We went up some pretty winding and narrow mountainous roads flanked by some residences, and we ultimately made it up to some kind of lookout area in the vicinity of some fortress remnant with a nice view back towards the northern coast of Puerto Rico, including San Juan.
We got to this lookout at around 9:45am, and we learned about the Spanish influence on the founding of modern Puerto Rico as well as how the Tainos and tribes in Cuba were instrumental in starting the Spanish-American War.
The plight of the Tainos also mirrored the story arc of the Avatar movie, where the outsiders befriended the locals before turning on them for their resources.
After the lookout, we were then taken to the Charco Prieto trailhead as we arrived there at 10:15am (well, actually a little uphill from there away from a stream that was ultimately the source of the Charco Prieto waterfall just in case of a flash flood down there).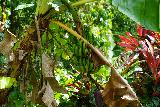 We got some cold water and Jesus passed around some snacks before we had gotten started, and by this time, the intense sun was pretty much out but we were surrounded by thunderclouds that I was certain would start to dump their load hopefully when we're done with our excursion.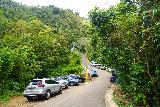 Now, we kind of anticipated that today's tour was going to last until 5pm, but with this being the day before Easter Sunday, a lot of places were closed, and this included a restaurant stop in Bayamon.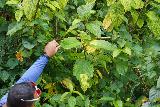 So it was pretty much going to be just the waterfall and then going back to San Juan.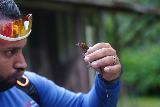 There were actually quite a few cars that were already parked at the Charco Prieto Trailhead, and it was pretty much as i had anticipated since I learned in my trip research that this place was already on AllTrails.
So I was sure that locals and tourists would have already blown up this spot on the socials and so parking and crowds might become tricky.
In any case, we were in good hands with Jesus as he made sure to educate us on the stuff that we'd come across including how bananas grow, a gecko that he caught, some neurotoxic stinging plant, and some bird calls.
Of course, he also helped us by guiding us on the easiest paths or routes where it was possible to get by without getting wet though with the slippery boulders, I'm sure there'll be spots where it's best to just go in the water rather than risk a misstep.
There were some intermediate waterfalls along the way, which kept the scenery interesting on the muggy hike.
At around the second intermediate waterfall, Jesus paused and showed the group how the Tainos used some naturally occurring rocks that could act as dyes when wet.
He grounded up three different shades or brown or orange that we were able to apply on ourselves as a sort of Taino war paint.
Anyways, beyond this second cascade, the trail became increasingly a bit more challenging and dicier.
That said, the obstacles were nothing ridiculous, but it did get quite challenging, especially towards the end of the hike.
This was because we had to cling to some narrow and slippery rock ledges above dropoffs and pools flanking intermediate cascades.
The diciest of the obstacles were right at the lower waterfall fronting the main Charco Prieto Waterfall, which involved a rope support to hold onto as well as Jesus telling us where to place our weight for the least amount of risk and maximum success.
But ultimately by about 11:20am, we finally made it to the Charco Prieto (which Jesus also mentioned was called Posa Negra), and we showed up just in time for a momentary rain as the clouds around us already started to dump their load.
Fortunately, this rain was short-lived though it lasted long enough to prompt me to pull out my rain poncho and protect my gear (especially those that are water-sensitive).
We spent a pretty solid half-hour at the falls where Jesus did cross the creek and scrambled his way up to the base of the main drop of the Charco Prieto Waterfall where he was getting a shower.
Meanwhile, I was chatting with other tour members while also documenting the experience.
A few people on the tour did manage to wade in the shallow plunge pool to cool off while others did do the slippery scramble up to the base of the main drop of Charco Prieto Waterfall.
The rain squalls came and went a couple more times while we were chilling out here though there was one brief heavy squall that prompted some of us to use the natural rock shelter (basically a huge boulder that fell from the cliff some time ago).
By about 11:50am, we started to head out again as it started to rain and stop yet again.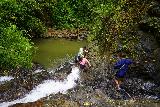 The weather seemed like a warning for a prolonged period of thunderstorms for the rest of this afternoon, and that was also kind of our cue to leave.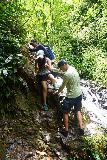 The hike back was initially tricky as we had to cling to slippery slopes and ledges to get around the lower Poza Negra Waterfall, and then we had to cling to more slippery ledges further downstream.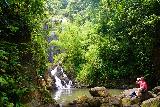 But eventually, we'd continue to make progress on the return hike as it seemed easier on the way back since we kind of knew what to look forward to.
And before we knew it, we got back to the Charco Prieto Trailhead where it looked like there were even more cars that were parked here.
Apparently, this place probably really blew up on the socials in the last couple of years (or at least on AllTrails), and this was a common phenomenon that we had seen back at home as well as apparently the rest of the world.
Although Jesus offered to hike back up the hill and drive the van down to pick us up, we all decided as a group to hike back up the hill to get to the van.
So by 12:40pm, we were inside the vehicle and made our way back towards San Juan.
During the drive back, most of the "family" was looking forward to having a lunch in Old San Juan at some place called Cafe Manoline though Julie and Tahia wanted me back at town.
They told me that they had encountered some pouring rain while they were having a lunch break after having visited the Castillo de San Cristobal, and as a result of the rain, they didn't bother going to El Murro, which was the other fort at the very tip of Viejo San Juan.
Anyways, after we made pretty good progress getting through Bayamon, the traffic pretty much snarled to a prolonged stop as we approached a chokepoint by the bridge linking the San Juan Island with the rest of the mainland.
The original plan was to have a lunch stop at some local joint in Bayamon, but they were closed today so that kind of bummed out Jesus as well as some of the familia eager to try out something a bit less touristy.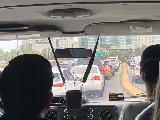 And to add insult to injury, we must have been stuck in this traffic for pretty close to an hour so whatever time we thought we'd have for the rest of the afternoon really was pretty much shot.
Jesus forgot to drop me off at the Caribe Hotel (otherwise I would have met up with Julie and Tahia right when they arrived at the hotel) and we went straight to the Viejo San Juan so I didn't get to have the popsicle that Julie and Tahia bought for me (as it was melting for too long).
They were really talking up this place as being better than what we had at Senor Paleta, which we had as part of our foodie tour by Spoon on the first day we were in San Juan.
Oh well, eventually at 2:45pm, I was finally dropped at the hotel.
After having some rotisserie chicken and some sweet plantains, Tahia and I then went down to the pools for some play time under the cloudy skies at 3:15pm.
Not surprisingly, both the beaches and the pools were super busy with people, but Tahia opted to go into the pool instead of the beach so she could try to play tag with me or do wrasslin' moves (basically an excuse to flip her in the pool), or carry her around the pool.
We also managed to play a little bit of basketball, which was tricky because we didn't have our legs under us (and thus no power) for as long as they were submerged in the pool.
And we didn't really get a chance to chill out in the jacuzzi because they were small and they were crowded with people.
After well over an hour in the pool, Julie came down to us and encouraged us to go to the beach to at least check it out.
Well, after a few minutes in the beach, it turned out that the water was a bit on the stagnant and dirty side, and so we opted to go back to the pool to play a little while longer.
And eventually at 5:15pm, we made it back to the room.
So even though it was a rather low key afternoon with no more sightseeing, it was still quality time spent as a family, and that's also valid as far as travel experiences are concerned.
We then pretty much spent the rest of the evening doing an Uber eats of this taco joint called Nomada with a nice view from our balcony (hey the $500+ per night we were spending here had to be worth something, right?).
Surprising all of us, the tacos at Nomada were quite good, and it was not quite the ripoff as the Caribar was or other eateries on the ground floor of this hotel.
Julie also indulged with one more coffee fix where we also got one last go at a dessert before calling it a night.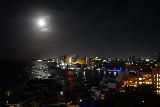 That said, we had to pack up and get ready for tomorrow because we planned to get an early start to beat the traffic that was so painfully clear on this day (as well as each of the previous two days).
Not only that, but Jesus earlier on warned me about how busy it was going to get at waterfalls in the west like the Gozalandia Waterfall as well as Salto Collazo, especially since tomorrow was Easter Sunday.
And those are just the two waterfalls we were supposed to visit tomorrow on the way to Aguadilla. So this is going to be very interesting (and not likely going to work in our favor, I'm sure)…
Day 4 (April 17, 2022 – Aguadilla, Puerto Rico): "On The Unexpected Tip"
It was about 5am when we awoke to our alarm, which we had set earlier in anticipation of some intense traffic given that today was Easter Sunday.
After rush eating some cold rotisserie chicken leftovers from yesterday, we then got all packed up and went downstairs to eventually load up the car by about 6:15am.
This was timed for right when Julie wanted to wait in line for some Starbucks coffee and brekkie foods, and then we eventually headed out by around 6:30am.
The drive out of San Juan went pretty much without a hitch as it was holiday light and not many people were out and about on this Sunday morning.
We'd ultimately get to the PR-2 west as we headed towards the vicinity of Arecibo, which had a couple of target attractions like the Charco Planta as well as the Cueva Ventana.
Unfortunately, the Cueva Ventana was closed (which I only read about last night) and I really didn't feel like going out of the way to visit the Charco Planta, which had man-modifications due to some hydro facility.
So instead of expecting to reach the Gozalandia Waterfalls by late afternoon, when I was real nervous about this place getting busy, we eventually reached a well-signed bridge for the Salto Collazo near the town of Lares at 8am.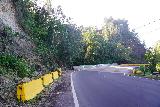 We just pulled over some shoulders right across from some kind of hydro-looking shack or something like that, and the graffiti on the bridge pretty much said it all as it stated "Salto Collazo" on it so there was no doubt we were in the right place.
I was the first to get out of the car and change into the Altra Lone Peak 5s while putting on a fresh pair of nylon socks (this was the third and last of the fresh ones I had as the other two were still damp).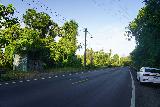 Anyways, I had to be careful about getting stuff out of the car even though we were parked within the road shoulder because we were still on the PR-111 and there was still fairly significant traffic going to and from along this road.
I'd eventually head towards the bridge and then descend to the left right towards the base of the first and upper of the Salto Collazo Waterfalls.
Although this place was pretty convenient and impressive, it didn't take long for me to get the feel of this place and then start looking for a way to get down to the base of the taller main drop of the waterfall further downstream.
From initial indications, there didn't seem to be a safe way to get down to the lower waterfall from across where we were parked.
So Julie retreated to the car and tried to talk me out of going to the bottom of the falls.
But as stubborn as I was, I decided to cross the bridge and pursue walking onto a small road leaving from the east side of this bridge.
Once I got onto the narrow road, which appeared to be leading towards some private residences, I did notice that there was a faint (most litter-strewn) path that more or less showed me where people have been to before.
After some damp, humid, and slippery scrambling, I ultimately found my way to the base of the Salto Collazo Waterfall, where I really tried not to mind all the graffiti around me.
So clearly, this place wasn't all that unknown, but at least at this moment, I was all alone and did my business narrating for our YouTube Channel.
By the time I was done, I then scrambled back downsteam and then took the steep but manageable path leading back up to the access road, and then eventually to the parked car at 9:05am.
Next, we continued driving the PR-111 just as the traffic volume really started picking up.
It didn't take long after driving further to the west that chanced upon the narrow residential streets with accompanying signs pointing the way to the Gozalandia Waterfalls.
There was already a car in front of me that was also headed to the Gozalandia Waterfall so that kind of took most of the guesswork out of choosing which path to take on the narrow and winding residential streets.
And by 9:20am, we got through to the Gozalandia car park, where we paid the $10 and then was instructed to park close to some kind of damaged building, which I suspect might have been killed by Hurricane Maria.
So it took Julie some time to get started, and with Tahia and I getting antsy, we went ahead and started descending the path leading to the main Gozalandia waterfall.
As Tahia made her way down, I lingered at the top as I checked out the upper lookouts and then descended some steep and narrow steps down to the swimming area fronting the lower falls.
Once at the bottom, Tahia was so eager to go for a swim that she took matters into her own hands tried to set up on a rock in the middle of the river just as the intense sun was shining right onto it.
That was when I learned that morning wasn't exactly the best time to visit this waterfall because we were pretty much looking against the sun at the falls.
Nevertheless, this waterfall was nice, and it was pretty wide so there were already people enjoying this spot (mostly from tourists).
One thing that was surprising was that we kind of braced ourselves for there to be loud music kind of like what we saw at Luquillo Beach, but down here, it was quiet.
The reason for that was that this waterfall was private and so they set the rules and said that no BBQ, no music, and no coolers were allowed.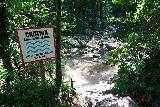 So I'd imagine that drove away most of the locals looking for a free spot to linger around, especially with today being Easter Sunday.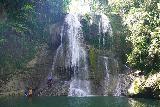 Perhaps that was also why we noticed that there wasn't that much litter down here either.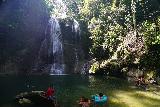 Now I had brought down the tripod so that we could take a family photo as well as some long exposure shots, but with the sun against us and the amount of hassle it took to even set up and get a shot off, I just felt like it was way more trouble than it was worth.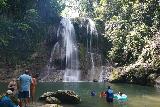 I mentally kept wondering if getting this tripod was a waste of money (and bringing it along was not worth the weight and bulk), especially since I would rather be in the moment instead of spending so much time trying to get a shot only to doctor it later and try to monetize off it.
Anyways, Julie finally joined us and so we spent a few minutes trying to make use of the tripod for a family photo.
And when that was done at around 10:20am, I left the tripod with them since I didn't want to bring that to the upper waterfall, which I was targeting next.
Julie had brought a floatie so Tahia could get further into the pool (though it was probably a bit colder than she would have liked).
And I pretty much left them to enjoy this place thinking that when I'm done with the upper waterfall, I'd come back here and cool off with Tahia since I expected to be pretty sweaty and messy upon returning.
So with that, I saw that there was a separate set of concrete steps, which I went ahead and took just to see where it went.
It was actually an alternate trail that wrapped around underneath the building that was beat up by the car park, and I eventually got back to the trail junction point, where I could now pursue the upper waterfall.
This concrete path continued to follow the stream past some intermediate cascades along the way before climbing some mild steps.
It didn't take long before I showed up to the other waterfall at 10:45am, where there were already a handful of adults enjoying themselves at this more secluded spot.
One thing I noticed about this spot was that it was pretty much all adults that were here, which made me realize that the lower pool was primarily where the families (especially the kids) were.
But up here, I guess families were less interested in doing a hike to earn a visit, and so there was also a rope swing in addition to the smaller but plunging upper Gozalandia Waterfall.
I took some time to document this spot, including myself doing my extemporaneous self documenting, before I headed back to rejoin Julie and Tahia.
When I got back to the lower falls at 11:15am, I was surprised to see that Julie and Tahia weren't there.
I suspected that they probably had gone back up to perhaps have an early lunch or something.
Anyways, I eventually found them at around 11:30am where they were at a shaded bench having some water and some leftovers (or finally getting to eat the Starbucks brekkie from the Caribe Hotel earlier this morning).
And when we put the stuff back in the car, we decided to try out some stuff at the eaterie here since Julie noticed some people carrying around some passion-fruit-looking drinks that looked really good.
Ultimately, we decided to have ourselves a cold drink (passion-fruit mojitos and a pina colada – all virgin) and we also tried out a mofongo that had shrimp with garlic sauce in it.
Although the entire thing costed us a pretty pricey $60 (with tax and tip), we at least left knowing that we didn't have to go looking for a lunch spot as we started to make our way towards the Punta Borinquen (wondering if we could check in early).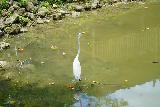 However, as we drove into the somewhat mild traffic on our way to the main highway, Julie made a call to the next accommodation where they ultimately told us that the rooms weren't ready.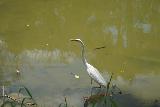 And since the Punta Borinquen was more north than what I was hoping, we ultimately decided to drive all the way to the southern tip towards the Cabo Rojo Lighthouse where we hoped to see the sea arch down there.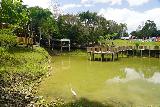 Actually, I originally didn't even intend to visit this part because it was kind of out of the way, but since there was no Cueva Ventana, no Arecibo Radio Telescope, and no reason to linger at the Charco Planta, I figured we mind as well do this for something different.
Now, the drive down to the southwestern tip of Puerto Rico was already a bit of a long drive as it was.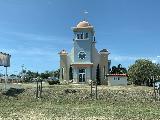 However, by the time we got into a caravan of traffic and approached a congested junction, there were cops there directing traffic, and I must have mistook their traffic handling thinking they were detouring people.
And what happened was that I wound up going on this really busy road towards Combate Beach where there was a giant line of cars waiting to leave.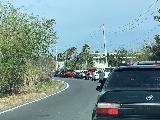 We couldn't make a U-turn which meant that we had to try to get all the way to the end of the line, and what we wound up doing was going all the way to Combate Beach before circling back towards the end of the line and sitting in traffic until we got back to the original junction.
That detour was costly as it probably took us an extra hour to drive back to the resumption of the road leading all the way to the Cabo Rojo Lighthouse and the Playa Sucia.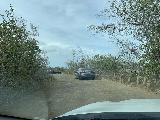 Well, I guess we saw for ourselves where most of the Puerto Rico locals went (i.e. to any beach or waterfall), and we literally felt their frustrations with the traffic situation.
Hey, when in Rome, right?
Ultimately, we'd get to the Cabo Rojo Lighthouse vicinity at 2:55pm.
This was at the end of a very badly rutted and potholed road, which really would be better suited for high clearance vehicles, but there were a lot of passenger cars that made it out here (albeit very carefully and very slowly).
And from there, we hiked around the Cabo Rojo Lighthouse while also checking out the Playa Sucia as well as noticing the wide open stagnant pools that seemed to have a bit of a sulfur smell to it.
In fact, I was joking with Julie and Tahia that this place smelled like Yellowstone because it was probably a bunch of bird poo going into the stagnant water.
It was the only way I could justify there having this smell when there was no thermal spring or geyser around here.
But the highlight of our time spent up here was actually the sea cliffs in the vicinity of the Cabo Rojo Lighthouse.
We had to be careful not to get too close to the edge of the cliffs, but it was nice to see sea stacks and even try to compose these sea cliff views with the lighthouse in the background.
In fact, some of the sea stacks reminded me of a poor man's version of the Twelve Apostles along the Great Ocean Road in Victoria, Australia.
As we continued further to the west along the sea cliffs, we finally saw the small but attractive sea arch, which looked like it was a bit fragile and might be on the verse of collapse.
There were also temperary wave-generated waterfalls as well as what appeared to be blowholes further down the coast, which kind of shows you how much turbulence there was in the rough seas out here.
After having our fill of the arch, we then headed back towards Playa Sucia where we briefly felt the not-so-cold water at the so-called dirty beach, where a bay seemed to have dispelled a lot of the wave energy making this beach more or less calm enough to enjoy.
I'd imagine they called this place the dirty beach because of the smelly stagnant water backing this beach.
Anyways, we finally got back to the car at 4:10pm, and after carefully making our way back along the beat up road, we also made a stop at some salt cultivation area as Julie wanted to take pictures of the salt mounds here.
But other than that, we had to make the long drive back towards Punta Borinquen on the northwest side of the PR (we were on the southwest side), and that took a bit of time, especially given the traffic lights and the traffic in general.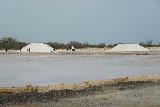 With hindsight being 20/20, I regretted not staying in Mayaguez instead of Punta Borinquen (let alone Aguadilla) because we were headed back this way tomorrow on the way to Ponce by way of a couple of waterfalls.
Regardless, we were stuck with our decision, and it wouldn't be until about 6pm when we finally arrived at the Punta Borinquen Resort, which was basically a pretty typical hotel though it was situated next to an airport as well as a bunch of bases and American installations here.
After checking in and dropping off our stuff, we then went for a ramen takeout at Sampai, where we ate in the car so at least the dinner was hot (albeit awkward to eat), and finally by 7:30pm, we were back in our room to finally chill for the night.
Tahia was bummed that we had run out of time to go swimming in the pool, but with all the adventures and misadventures that we had on this Easter Sunday, it was still a fulfilling family day where we had all sorts of improvisations to make.
Tomorrow, we had more off-the-beaten-track adventures to check out as we'd delve further into the Central Mountains before finally settling in on Ponce…
Day 5 (April 18, 2022 – Ponce, Puerto Rico): "Roadside Runaround"
It was about 4am when I awoke as I had to get caught up on yesterday's happenings while Julie and Tahia were still sleeping.
The plan was to get out of Punta Borinquen by 5am knowing how far north we had started from (since we opted to stay near Aguadilla instead of Mayaguez) so we needed to make up for some of that lost time with an early start.
Besides, it wasn't like there was much that really held our interest in these parts since we weren't surfers and the hotel we were at was definitely many steps down from the Caribe Hotel in San Juan that we had stayed at for each of the first three nights (at nearly $600 USD a night!).
Anyways, we didn't leave by 5am as I had hoped, and we actually left at 6am, which was pretty much right on our original schedule.
So we headed south where it definitely felt like the roads were a bit busier given that Easter Week was over and people were now going back to their regularly-scheduled work routines.
That said, the drive pretty much went without much trouble since we had done this route yesterday despite how relatively busy the roads were so early in the morning.
Aside from one Wendy's stop, which had just opened by the time we made it down to Mayaguez at around 6:35am, we then ate our brekkie quickly in the car, and then we proceeded to head inland towards Maricao at 6:45am.
I had originally thought that maybe we only needed to take the carretera 105 east all the way to Maricao from Mayaguez, but that involved some additional urban driving.
So I just let the GPS dictate where we were going, and it told us to take a more parallel path to the north of the 105 before crossing over somewhere halfway and then going east of the 105 into Maricao.
The mountain roads had locals on them, which wasn't surprising, but it was the narrowness and twistiness of the roads that I had braced for when I planned this part of the trip.
Fortunately, driving in Europe (especially Norway) kind of made me used to these kinds of tight two-way traffic mountain roads though the added obstacles of potholes and deadfall made things interesting in a few stretches.
We'd eventually make it into Maricao, which seemed like a fairly significant mountain town considering the drive it took to get here, and then we proceeded further along the carretera 105 for a short distance further to the east where we'd eventually join up with the 425 just past a bridge.
We then headed south on the 425 as the road noticeably started detetiorating, and we ultimately stopped the car at the top of some hill next to a shipping container that had some graffiti on it (one said Curet with a heart over it).
And we got there at around 7:55am, which was pretty much as I had anticipated when I planned out this trip even though the GPS had us believe that the drive should have taken 90 minutes (instead of closer to 2 hours).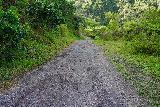 We actually settled for the top of the hill here because the road was even more beat up further down, and I figured we mind as well walk down that stretch of road.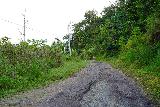 Anyways, since we were in the middle of nowhere, we all decided that we were going to do this excursion (what else was there to do here?), and so we took some time to get all geared up and ready to go.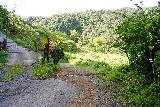 That said, we kind of assumed that there would be ample shade along this excursion so Julie and I didn't bother bringing a hat.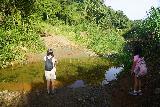 Nevertheless, the hike down the road was fairly steep but still quite manageable, and we went by someone's gated driveway where the path became an even rougher 4wd road to the right of it.
It was definitely something the passenger car we were driving couldn't handle.
It didn't take long before we had to cross the river for the first time as the road bottomed out, but this crossing was really more of a 4wd road ford so it really wasn't a big deal.
Then, the road climbed beyond the crossing and went in and out of the shade while also giving us glimpses back at the private residence as well as container where we had parked the car.
The road was only muddy in one stretch, but it was fairly wide and tame the rest of the way.
Ultimately, the road descended to a second crossing of the river before reaching a welcome-looking residence with a sign welcoming us to Salto Curet.
There was further signage saying that we now had to go into the river again, but this time, we had to wade in it.
The wading actually wasn't all that bad, and it was just that we had to get wet on this excursion, which was the only real complication to the otherwise straightforward hike.
Well, there was some mild rock hopping towards the end (where we always had to be cognizant of the slip and fall hazards of these rocks, especially when they're wet), but we got to the Salto Curet at 8:50am.
We were all alone at this waterfall, which actually had a somewhat hidden upper tier to it.
But since we were enjoying this place having it all to ourselves, Julie and Tahia finally had their Wendy's breakfast while sitting and enjoying the pretty waterfall across the wide plunge pool.
In the meantime, I took some time to document the whole experience as per our usual MO these days, and then after having our fill of this place at 9:20am, we headed out.
Indeed, I was glad that Julie and Tahia had a chance to do this excursion because it was pretty easy, and it totally lightened the mood considering that we were worried about this being difficult or risk prone (as many off-the-beaten-path waterfalls tended to be).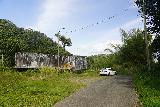 The hike back also went pretty uneventfully and we ended up back at the car at about 9:55am, where we noticed the gate to the driveway that we had passed by earlier on was now open.
Anyways, we then drove off and now were nervous about the next phase of the drive as we had to get to Salto Santa Clara but we weren't going to drive all the way to the main Highway 2 and then come back up through Yauco to get to that next waterfall.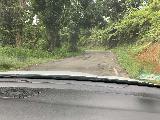 Instead, we were going to the take the mountain roads (called the Ruta Panoramica, I'd imagine though there seemed to be many of these) to get there.
And when you look at it from say Gaia GPS, it was intimidating because there were numerous lines that went this way and that, and I was concerned that we might get lost or the driving would be so slow that we'd wind up spending the whole day driving roads like this.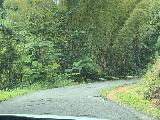 Well, the GPS had us continue on the PR-425, which seemed to get through some more pothole-riddled roads and some one-lane stretches high up in the mountains.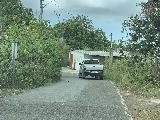 But eventually the road joined up with the 105 again, and that seemed to improve the driving conditions somewhat as it followed some winding ridges before joining up with the carretera 374.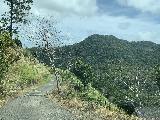 Then, we cut along this "highway" before joining up with the 428 where both of our GPSes wanted us to go north on this highway and then down some really sketchy narrow road that was beat up.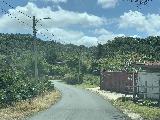 When I saw that the Garmin Nuvi wanted us to go right into some really sketchy roads, that was when I knew that they were misleading us, and I had to backtrack to the sanity of the 428.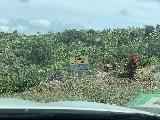 This time, we had to look carefully at our downloaded map on Gaia GPS because the navigation wasn't helping us at this point, and so we followed the 428 in the opposite direction (south) towards its junction with the PR-372.
That was when we finally saw some Salto Santa Clara signs at this junction, and we then followed the PR-372 north until the next signed junction, which then went up a narrow and steep road ultimately leading to a pair of residences at the end of this road.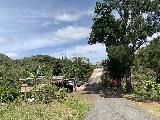 We ultimately parked off the road and under some limited shade provided by a tree at 11am.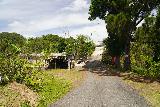 I knew the shade might grow as the day wore on, especially since Julie and Tahia wanted to stay at the car this time around.
Aside from some barking dogs just staring at me from the driveway as well as one owner seeing what the commotion was about, I went ahead and hiked onto the trail.
Again, there was signage pointing the way down the mountain as it was apparent to me that the owners here (who I'm assuming maintained this trail) did a great job of making this place accessible.
Eventually, the path (more like a rugged 4wd road) descended to a shallow stream crossing that I was able to rock hop across, and then it continued up more 4wd road before reaching another sign telling me to deviate from the road and now go on a legitimate hiking trail at 11:15am.
From there, the path was now a narrow jungle path though it was still pretty easy to follow as it descended towards the creek again that I was able to get across without getting wet.
Then, it kept to the right of the creek and followed more hiking trail that seemed to be full of fast-moving geckos and/or snakes (since I kept hearing rustling in the vegetation whenever I approached).
Eventually, I reached an attractive intermediate cascade, where it seemed like I was on top of some major dropoff just further downstream.
I noticed that there was a steel cable wanting me to go down into the rocky confines of the top of the waterfall, and I thought there was no way I could do something like that.
However, I did notice that there was an alternate path to the right that I hoped would be the correct path, and sure enough it was as it veered to the right away from the top of the waterfall and then delved deeper into the jungle along more forested ledges.
This path eventually got to a steep descent that had some steel cable to aid in the descent and the footing.
Then the path continued for a few minutes more before making the final descent to the boulder-strewn watercourse before the impressive Salto Santa Clara, which I got to at 11:45am.
I'd have to say kudos to the owner or trail maintainer because it was so well-signed as well as had enough aids to keep this place accessible that I really considered this place a true gem.
The waterfall was beautiful as it had this pitchfork shape with an upper columnar drop before splitting into a much longer twin drop.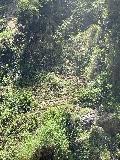 I saw that there was a ledge across the creek where I might get an elevated and more frontal view of the waterfall, so I went ahead and pursued that, but as I got up to the ledge (which required me to crawl), my water bottle fell into a slimy and stagnant part of the creek below.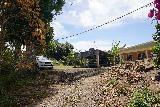 Well, I knew that I had to go down and get it, but I was more worried about my water getting contaminated so I figured that I couldn't have a drink the rest of the way.
Nevertheless, I went ahead and documented the falls from here though it was kind of against the bright midday sun.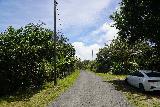 And I basked in the regal view where the falls was quite secluded as there were some vertical walls both adjacent and opposite the waterfall itself in a scene kind of reminiscent of the Tiefen Waterfall in Taiwan.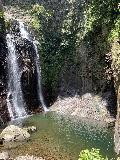 After having my fill of this spot, I then got out my trekking pole and tried to scoop out the steel bottle swimming in the muck of the slimy creek.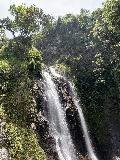 While it was a bit of a struggle to get the bottle out, I eventually did the job and then promptly crossed the creek to get onto the "island" in front of the Salto Santa Clara, where I documented the falls a little more from there while putting away my trekking pole.
After having my fill of the Salto Santa Clara at 12:20pm, I then headed back the way I came, which didn't take that much time as I ultimately returned to both Julie and Tahia by about 12:55pm.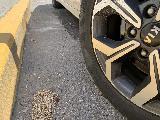 But as I got up to the car to get the pack and my gear off, Julie alerted me to the front tire on the passenger side, which had a noticeable bulge on it.
It looked like the tire was about to blow out, and since we were deep in the southwestern part of Puerto Rico's Central Mountains (with still more mountain driving to go), that didn't bode well for us.
It always seemed like we get rental car drama no matter where we go, and this was just another typical experience, I figured.
Nevertheless, we had to take care of this and since we were now headed towards the city of Ponce, where we were going to spend the night, we figured that this city would have the facilities necessary to fix this problem.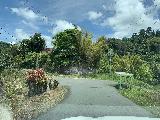 It took some time to take the PR-327 south all the way into the town of Yauco, and that was when Julie tried to call Avis Roadside Assistance for our next steps.
Well, she had plenty of time to make this call because the Highway 2 was congested as there was a detour on the highway.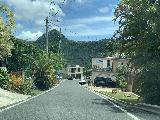 We'd eventually get past this spot of congestion, and as we were making good time on the 2 heading towards Ponce, Julie was finally able to call someone at Roadside Assistance, but it was a bit difficult to talk to this person over the phone as the channel quality wasn't great.
On the first attempt of calling the Roadside Assistance, he actually gave us the general Roadside Assistance number, which was pretty much giving us the runaround.
So when we called back, he then tried to get our information and tried to assume that we were stranded somewhere and needed emergency assistance.
Well, that wasn't the case since we were driving towards Ponce, but this call took so long and it wasn't getting anywhere that we were already at the gate fronting the Ponce Hilton while this call was still going on.
By this point, we decided that we were just going to go to the local airport here in Ponce, and then seek out the Avis Rental kiosk in there, and so we did that (after ending our call), and then got to the airport at 2:30pm.
From there, Julie talked to the Avis person at the counter there, and then she told us to go to the Pep Boys in Juana Diaz, where Avis had a contract with them.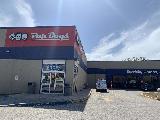 Well, Juana Diaz was also the town nearest to Salto Collores, which was the last waterfall of the day, but we first had to take care of this tire issue.
So when we got to the Pep Boys in Juana Diaz at 2:45pm, we then explained the situation, and the staff was pretty helpful in terms of taking care of us and getting us out on our way (jumping the queue since Avis was a contract partner).
And eventually by 3:50pm, we finally got the car back, and then proceeded to drive out towards Salto Collores since we were already here.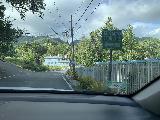 It was getting late in the day, and we were concerned that we were running out of time (especially since Julie wanted to check out the pier at Ponce while Tahia wanted to play in the pool at the Hilton).
So we then headed up to the Salto Collores (though the GPS took us on a little bit of a detour as we apparently missed the PR-512), but we ultimately got there at 4:25pm.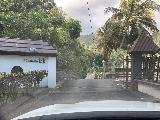 Fortunately for us, the gate was already open and we promptly drove to the parking area by this person's house.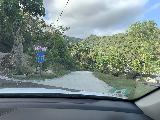 We could see that this waterfall was a short visit as it was literally just a couple minutes down the hill from the parking area, but we paid the owner $10 to park here and make the visit.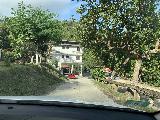 He was inquisitive as he asked about our heritage (seeing that we were Asian and I guess they don't get that many of them in this part of Puerto Rico), and he seemed pretty impressed that I was able to speak Spanish to him.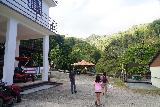 Regardless, he showed us that the waterfall was just down the ramp and then onto a maintained plank path leading right up to the plunge pool and waterfall where there were a couple of couples already there.
And so we were on our way quickly down there where we joined up with the couples that were here (both of whom weren't shy about showing PDA or public displays of affection) around the waterfall.
I couldn't tell if they were locals or not, but they were somewhat younger than us, and one of them brought music though it wasn't the annoying dance hall music that we heard in Luquillo.
Instead, it was more atmospheric, which made me wonder if these folks were European as opposed to Puerto Rican.
Regardless, we left them to their own devices while we were busy documenting this place.
The falls itself was a modest 10-15m or so, and it had a somewhat light but still satisfactory flow.
But it didn't take long before we had our fill of this place and documented the experience per our MO, and by 4:55pm, we were back in the car ready to finally check into our hotel in Ponce.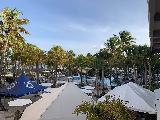 The drive back was uneventful except for one tricky left turn that we had to make (you really have to be aggressive because you don't move if you don't insist though one driver made it easy for us by slowing down as he was coming in the opposite direction).
And by aboutr 5:35pm, we finally arrived at the Ponce Hilton to check in and get settled.
By about 5:50pm, we got into our room, but with daylight running out, we initially thought we were going to drive to the pier in Ponce, but we ultimately decided to just chill out at the resort to have dinner here at the hotel.
We did briefly scope out the property as there was a pretty large pool with a water slide (though we were worried it wouldn't be available by the time we were done with dinner; and we were right about that), and we also checked out a rough dark-sanded beach.
Anyways, the 6:20pm dinner was expensive though we probably paid abougt $50 worth of drinks ($37 of which was from a pitcher of passion-fruit mojito), and we also each got a main of snapper, steak burger, and churrasco mofongo.
The dinner was probably on the order of $150 in total, but Julie and I were also a bit buzzed since we didn't get our mojito virgin.
Tahia enjoyed her mango daiquiri though, and Julie even got a virgin pina colada, which she liked.
By about 7:45pm, we were back in the room where we got changed, and then we went down to the pool to indulge Tahia's desire to play in there.
Julie hung out at the jacuzzi though it didn't last long because it was busy down there plus we were also quite intoxicated by this point (and Tahia noticed as she felt like she was the only "sane" person in the family).
It was a bummer that we couldn't do the water slide, but either way, Tahia seemed pretty happy about going into the pool, and by 8:45pm, we were back in the room to finally settle for the night (while Julie and I tried to sleep away our intoxication)…
Tomorrow, we have to go back into the mountains as we were about to settle near the Canon de San Cristobal, and that might be back to rustic conditions considering this place in Ponce was actually pretty nice…
Day 6 (April 19, 2022 – Barranquitas, Puerto Rico): "Defying Expectations"
It was 4am when I awoke, and fortunately there was no hangover after not feeling so great last night after drinking too much (no thanks to the parcha mojito pitcher).
So after taking some time to get prepared and to finish up blogging about yesterday, we then packed up our stuff and headed downstairs in anticipation for a very busy day today as we were headed back into the Central Mountains in the heart of Puerto Rico.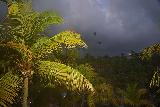 However, as we started to see more daylight at around 6:15am, we were in for a shock as we noticed there were dark thunderclouds pretty much covering the Caribbean Sea towards the beach side of the resort.
Moreover, when Tahia and I went brought our luggage down to the front lobby area so I could go get the car, we saw that there were also menacing-looking dark clouds looming right over us and appearing to blow our way!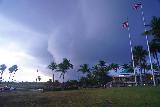 Indeed, when we got into the car, it was just in time because then it started raining squalls, and this kind of set the tone for what appeared to be a very wet morning, which concerned us because we'd apparently have to be waterfalling in this weather!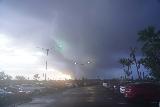 Not good!
It kind of defied my expectation that Ponche and the southern side of Puerto Rico tended to be dry, but today's observation kind of flew in the face of that assumption.
The clouds moved quickly, and it kind of set the mood to be a rather drab and sluggish day where we'll have to evaluate whether we'd want to risk flash flooding on some of the excursions that were planned for today.
Anyways, after a little bit of confusion about trying to get out of the resort due to the paid parking situation, we were finally sorted out with that at 6:25am, and then we drove back out towards Juana Diaz again where we made a Wendy's brekkie stop at 6:40am.
By this time, it was pouring rain again even though it looked like we were getting closer to the edge of the front out east.
After getting the food and eating it briefly in the case, we left at 6:55am, and as we headed north on the familiar road that went past the Pep Boys shop that we were at yesterday to tend to our tire situation, we were then caught in a lot of heavy traffic near Villalba.
It turned out that the traffic was due to school drop-off congestion, which we can relate to given how crazy it can be when we have to drop Tahia off at school.
And so it took some time to drive up the PR-149 beyond Villalba though it was much clearer after getting past the school congestion and then going up the winding mountain roads.
The drive itself wasn't too bad though there were a surprising number of vehicles going the other way back towards Juana Diaz, which meant that we had plenty of moments of needing to scoot by oncoming traffic and especially around the blind corners.
So that made the drive a bit more interesting than it did yesterday when we drove from Mayaguez to Maricao and then towards Yauco along parts of the Ruta Panoramica (which actually seemed to be a catch-all term for the mountain roads going east-west along PR's spine).
We were paying attention to the kilometer markers along the PR-149 and it turned out that some of the crowdsourced directions were off because they said the falls would be around the 41km marker, but it was really more like between the 42.1 and 42.3 kilometer markers.
Eventually by about 7:45am, we made it to the Chorro de Dona Juana Waterfall, which was actually a roadside waterfall seen directly from a road bridge (similar to the Salto Collazo Waterfall that we saw a few days ago).
However, we had to overshoot the bridge and find an informal pullout to the left of the road.
Given how convenient this waterfall was, we got out of the car and promptly walked to the bridge to document this place.
Naturally, we were the only people here that got out of the car to experience the falls, and the weather somewhat momentarily calmed down when we first got there (as it had been raining pretty consistently going up this road).
There were a handful of passer-bys that were probably locals needing to be somewhere, and we had to watch out for the passing vehicles as we checked out the waterfall from the bridge.
However, the calm in the weather didn't last long as the next wave of rain started coming our way, which essentially abridged our visit, and I definitely didn't bother going down towards the edge of the plunge pool of this multi-tiered waterfall.
So by 8am, we got back to the car, and then proceeded to drive further south towards the Ciales-Jayuya Highway (PR-144), which took us west away from the PR-149 towards the town of Jayuya.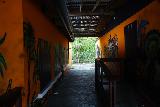 We targeted La Piedra Escrita ("the written rock"), which was an important Taino petroglyphs site, but when we got there at 8:25am, we weren't sure if we were at the right place because we parked at what seemed to be an abandoned restaurant.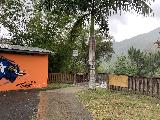 And there was no explicit signage saying anything about La Piedra Escrita pointing in this direction.
Further complicating matters, it was starting to pour rain again so we had to wait it out in the car for a bit, which prompted Julie to want to abandon this visit even though the research said that this was a real easy boardwalk leading down to the written rock itself.
Eventually, when the rain somewhat was calm enough for me to bust out my camera and phone along with rain poncho, I then got out of the car and sought shelter at the restaurant just when another wave of squall came down on the area.
During this time, I then made it to the boardwalk where there was the first lookout shelter, which I sought refuge in and I was sharing this spot with a Taino local who seemed to also be waiting out the rain while checking out his phone.
So after a few more minutes of trying to wait out the heavy rain, I decided that I mind as well keep going down the boardwalk towards the next shelter, wait a few minutes more, and then walk down to the next one at a switchback.
At this point, the rain finally seemed to start to calm down a bit, and I was able to walk the length of the boardwalk down to some steps and then onto the slippery slab of dark rocks sloping towards a cascade and the famed La Piedra Escrita adjacent to it.
Seeing how wet and slippery the slab was that I was standing upon, I didn't go down to the level of the river for a more direct look.
Instead, I was content with the more elevated views because the petroglyphs were more readily visible from up there, and I was able to get the whole context.
I even noticed that there was a petroglyph on the slab that I was standing on.
Nevertheless, I went ahead and documented the experience just as the weather really started to calm down again, which allowed me to start taking a few more photos with the Sony Alpha A7 3, which doesn't like the water very much.
While I was documenting the experience, there was one couple that did make it down here, and the man of the couple went for a swim in the river.
Ultimately, Julie and Tahia finally joined me down here for a few family photos while Julie went ahead and documented her experience, and then we made it back up to the car at 9:30am, which was just in time for another round of rain.
Since we were making good time on this day, the thought crossed my mind that maybe we should pursue a lechonera, of which I was aware of Las Cabanas de Dona Juana, which was not far from the Chorro de Dona Juana.
So I was looking forward to that, but we first had to stop by Las Delicias Waterfall, which was along the PR-141 / PR-533 due east of Jayuya.
We'd eventually get to a bridge crossing over a stream that I'd imagine would contain the Cascada Las Delicias, and Julie noticed there was indeed a waterfall upstream of this bridge.
So we next had to find parking, and there was a pullout further to the east where there was already one car there, and we parked behind him at 10am.
We then got out of the car and walked back towards the bridge where there was a path to the right of the bridge leading upstream towards the waterfall that was clearly visible up ahead.
With Julie and Tahia behind trying to get ready and catch up, I went ahead and documented the lower waterfall and noticed that there was also an attractive upper waterfall further upstream.
But this involved going across the stream on some slippery rocks and then up the slab and rocks to the left of the lower falls, which were also quite slippery.
But eventually, I got up to the base of the main waterfall, where I saw that there was one guy about to leave after having had his fill of the falls (he must have been the guy parked in front of us).
And so I took some time to document this intimate waterfall that seemed to have some kind of ledge across its base as well as that ledge leading to perhaps an alcove or cave though it didn't look immediately obvious how to access it.
Instead, I was content to just base in the base of this waterfall, and eventually Tahia caught up to me and Julie also caught up after hesitating to go up the lower waterfall.
So after taking some family shots, we then scrambled back downstream and back down the lower waterfall where we all slipped and slid down the slick rock before making it back to the car at 10:50am.
At this point, I decided that we should drive back down the PR-149 past the Chorro Dona Juana Waterfall in pursuit of Las Cabanas de Dona Juana for our first legitimate lechonera experience (we had yet to have one to this point).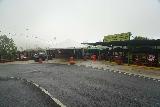 Unfortunately, when we got there at 11:20am, we saw that it was closed as apparently they're only open on weekends now.
So that was a real bummer, and complicating the issue was that it started raining hard again plus Tahia was struggling with motion sickness as she was throwing up in front of the car.
I guess Julie's insistance on Tahia sleeping too much on this trip wasn't good as she was doing just fine sleeping in the car, especially on the curvy roads that we had been doing within the Central Mountains of PR.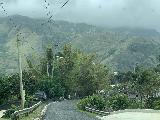 So on an empty stomach, we proceeded to keep driving east along the Ruta Panoramica PR-143 as the drive involved going into the clouds for some scary stretches of low visibility.
For sure, there was no way we could stop at the Mirador Orocovis Villalba since there really wasn't anything to see.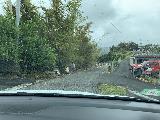 I also had to watch out for potholes along this winding road, but we eventually made it to the PR-155.
From there, we took it north and then after some consultation, we eventually got off the PR-155 towards the PR-566, which was a local road leading us closer to the Charco La Guitarra trailhead.
While our research from Puerto Rico Day Trips website said to just follow the PR-593 all the way, it didn't look like we could access that road immediately from our approach, and it wasn't until taking the PR-566 did we connect with the PR-593.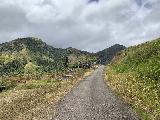 I suspected that the 593 going in the other direction might have led down to the town of Orocovis, but regardless, we kind of knew that wherever we were going was pretty much off the beaten path.
Indeed, when we caught up with the PR-593, we were then making our way up to a hill before the road descended steeply on some nearly single-lane roads, which made me wonder if our small passenger car was going to make it back up.
Well, we kept going on the faith that we didn't quite make it to the 4×4 section yet, and ultimately we arrived at the part of the road where it did say "Solo 4×4" and that was where we turned around and found a flat parking spot near some residence here.
We parked at about 12:25pm, and it was clear that I was going to be solo hiking this one while Julie and Tahia would stay behind in the car.
So after gearing up and finally putting on the trail runners, I then started the hike at 12:35pm, where it didn't take long before I started descending the very steep road.
The steepness of this paved single-lane road was very reminiscent of the descent into Waipi'o Valley on the Big Island of Hawaii, but this road seemed to be a bit steeper and longer than that.
So I was making quick progress going down this road but I also had to bust out my rain poncho as the next round of rain came my way, which potentially made this road even more slick.
Now even though we weren't supposed to be driving down this road, I did notice a handful of passenger vehicles parked near some of the residences alongside this place, and I suspected they were locals who knew what they were doing.
By the time I made it down to the bottom of the steep road at 12:50pm, I saw that there was a suspension bridge going across the river as well as a concrete ford.
Not knowing any better, I actually kept walking past the ford and then briefly up the steep ramp on the other side, but when I looked at the printout, I realized that my next move should have been to start stream scrambling upstream.
So I backtracked and then started the stream scramble proper as it was now apparent that I had essentially route-find my way while also trying to make sure to avoid the neurotoxic plants while also trying not to take a bad spill on the slippery rocks.
Eventually, I saw that there was a side stream coming in from the left, which I knew belonged to the Cascada La Plazuela, and I went ahead and did a rather non-trivial rock scramble to get right to the base of this waterfall.
By the time I got there at 1:25pm, the weather momentarily cleared again and even the sun came out, which brought out the reds of the rock walls underneath the falls as well as the green algae in the stream.
This was a tall waterfall, and from where I was viewing it, I knew that there were more unseen tiers further upstream that I noticed on the approach but couldn't see from down here.
Anyways, I didn't want to linger at this spot for too long given the slippery rocky terrain here and that I noticed some dark clouds around me that I guess didn't quite hit me while I was here.
And so I resumed the scramble as I went downstream from this side creek and then further upstream along the Rio Bauta, where I pretty much route-found my way as the terrain was very rocky and the route was totally not obvious in stretches.
The boulders because even greater obstacles where I had to really watch out for the dark rocks that were already slippery even when they were dry, but they were pretty much game over if going on them while wet.
Indeed, this scramble because even more slow and non-trivial as there were ledges clinging and sloping towards deep pools in the river, which I wanted to avoid, and so it was really slow going and I was getting concerned that I might not make it to the Charco La Guitarra.
Well, eventually after one non-trivial leap of faith and some more ledge clinging with bouldering, I finally made it to the Charco La Guitarra at 2:05pm.
That was where I saw the guitar-shaped swimming hole with a pair of small cascades spilling into it, but it was clear that I wouldn't be able to see the true guitar shape of this place unless I had a drone to shoot it from above.
In any case, I documented what I could of this place and was content just to take what pictures I could around the fringes of the deep pool here.
But with another dark cloud seemingly coming my way, I had to get out of here and not get caught in the slippery rocky terrain when the rain would wet everything.
And so I hastily left at 2:20pm, and by 2:25pm, I got past the diciest of the obstacles (it always seems easier when you're on the way back), and then I was pretty much "home free" on the scramble back towards the 4wd road, which I got back to at 2:45pm.
Next, I had to slowly go up the steep 4×4 ramp road, which was a real leg burner (much like the Waipi'o Valley Road), and with the unrelenting tropical sun on me, I was sweating bullets before finally making it back to the car at 3pm.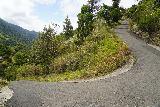 Of course, we weren't quite out of the woods yet as we still had to drive out of here up the steep road, and so we quickly made our way up in low gear while keeping the momentum (hoping no one would be coming down the other way).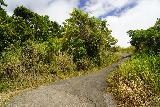 And then once we got out of that, we then tried to find a way down the 593 towards Orocovis but our GPSes kept insisting on going back the way we came.
I wanted to get to Orocovis and then take the direct state highway down to Barranquitas where we were staying the night, but Julie insisted on sticking with the GPS and going back down the 566 then down the PR-155 to the PR-143 Ruta Panoramica again.
I eventually gave into that not wanting to argue, and we'd eventually make our way to the 143 but then as we got closer to the town of Barranquitas, there was a road closure (and that was why I saw the Desvio signs before it).
In the back of my mind, I knew that we should have taken the state highway route via Orocovis along the PR-156 as the PR-143 was riddled with potholes, and this detour was the last straw.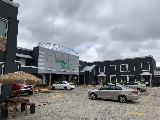 But regardless, we took the detour, which then took us to the PR-156 near Barranquitas, and eventually by about 4pm, we arrived at the Canyon Hotel in Barranquitas where we were finally able to check in.
The person who was living here helped to give us the keys, but he also gave us some restaurant recommendations, and he actually suggested that we try out this bakery called Kmilas, which he said also had a nice view.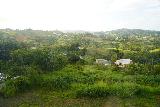 We were sold on that since we wanted to enjoy the views considering we were in the mountains, and so after getting settled, we got back in the car at 4:45pm and headed right up to Kmilas.
We got there at 4:55pm, but the parking situation was a bit tight as the road had a lot of cars and there were much parking spaces though eventually one spot opened up and we seized that in the break in the traffic.
Anyways, we had ourselves a nice meal here as I got a churrasco a la parrilla that had a mofongo with it while Julie got a pechuga mofongo (chicken), and Tahia got a pasta.
It was actually a satisfying meal and the mofongo actually had a pretty good texture with lots of garlic in it, which made it taste a lot better and there were even some crunchy bites in them, too.
We also had some virgin cocktails again (Julie and I shared a parcha-coco combo mojito while Tahia got a strawberry smoothie), and then after having our meal, we really indulged in getting lots of pastries.
It was as if we were buying the whole bakery as we had gotten lots of goodies to try out as dessert as well as to have for breakfast tomorrow morning.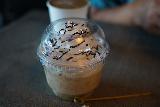 And in addition to the dulce de leche pudding as well as Julie's coffee, we also took away some donuts as well as some more authentic desserts with guava in them.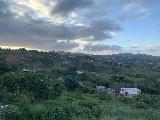 I knew this wasn't going to be a cheap meal, but it turned out that we paid a little over $100 USD, which was actually reasonable considering what we had bought here.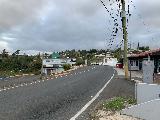 It was a way better value than what we had been paying at the resorts earlier on in this trip, especially during our night in Ponce.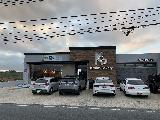 Anyways, by about 6:30pm after Julie helping me watch for traffic as we got out of Kmilas, we finally got back to our room to settle for the night at 6:40pm.
Indeed, our experience at Kmilas exceeded our expectations thinking that we were in a functional local town of Barranquitas, which was not the sleepy mountain town that I had envisioned.
In fact, this town was definitely a not-for-tourist town, and I wondered how many other tourists would make it out this way given the drive it took to get here.
But then again, Kmilas was really a home run, and even all the waterfalls that we did today didn't take as long as anticipated except for the difficult scramble to Charco La Guitarra.
So all in all, things were definitely not what I had expected going into this day, but I guess that's how things go when you go off-the-beaten track like this, where the reality often corrects the assumptions made when planning out trips like this.
And often times, that's the actual joy of travel, where the reality shatters the expectations and keeps things interesting…
Anyways, we finally got back at a reasonable hour, and so I could tend to my photo organizing duties while Julie and Tahia were busy streaming some movie while playing game, respectively.
Tomorrow, I had to do a guided hike into Canon de San Cristobal, and we'll see if the rain we saw today helped to revive La Niebla Waterfall or not (or if the rain would persist)…
I guess we'll find out tomorrow…
Day 7 (April 20, 2022 – Fajardo, Puerto Rico): "Contrasting Experiences"
It was about 6am when I awoke, which was actually later than my usual wake up time throughout this trip.
Now I was supposed to be picked up for my guided hike into the Canon de San Cristobal today at around 8am so I quickly got my stuff ready for the hike as well as wrapping up any blogging that I had to do.
I also ate some of the leftover Kmilas Bakery pastries that we had bought to go as well as some leftover dinner also from Kmilas.
So I ate quite a bit of the leftover mofongo leaving Julie some of the churrasco one that I had ordered while only eating some of Julie's pechuga mofongo as well.
I actually managed to be pretty efficient doing my blogging and getting all geared up this morning.
So when the guide texted Julie that he was already waiting downstairs at 7:45am, I immediately got my belongings and headed downstairs leaving Julie and Tahia to spend the morning at the hotel.
My guide for today's hike into the Canon de San Cristobal was named Ricardo, and he was actually driving a taxi car as we made our way around the road leading towards Aibonito, where there was the southern access into the Canon San Cristobal.
We ultimately arrived at the southern trailhead for the Canon San Cristobal, where there was an open gate as well as what looked like someone's farmlands.
When we got out of the car and proceeded to start walking, we passed by what looked like a field where locals here were cultivating stuff.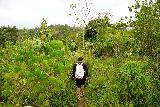 Ricardo told me that they were cultivating a variety of things to essentially raise money for the upkeep of the Canon de San Cristobal.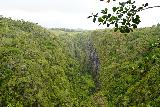 Apparently, the locals here have to try to raise money because they don't really get that much help from the US government let alone the local Puerto Rican government to try to keep the Canon de San Cristobal acessible for tourists who come out this way.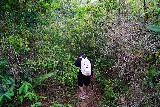 Eventually, we got a nice distant view towards the Canon de San Cristobal where we noticed a steep and nearly vertical cliff in the distance fronted by lots of tropical jungle foliage.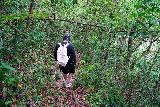 Ricardo showed me where one tourist had gotten too close to the edge of this overlook, where the cliff gave way and caused her to fall down below the mirador.
She was apparently lucky that some trees beneath had broken her fall, otherwise there would be nothing stopping her from plunging all the way to the bottom.
We definitely stayed back and momentarily enjoyed this view before continuing on.
The descent along this trail became even steeper as even Ricardo was slipping quite a bit on his way down, and I was really paying attention to where I was placing my weight.
Ultimately, we'd get to the bottom of the descent where the terrain became more of a combination of wet dirt covered in fallen leaves combined with rocks (many of which were also very slippery, especially the dark ones).
At least the trail was now mostly flat as the scenery opened up a bit amongst some tall grass (which was apparently invasive and have taken over the island) while also becoming more of a small boulder scramble.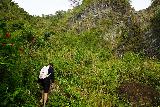 Ricardo pointed out where there were rusted machinery among the rocks that we were scrambling over, and some of them even looked like nature was making some of this rubbish blend in or becoming like the rocks that were naturally here.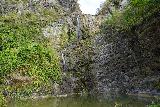 It was an opportunity for him to point out to me that people used to toss their unwanted trash into the canyon until it became frowned upon, and even the locals kids (who can tell who was doing this) would confront the perpetrator and ask him why.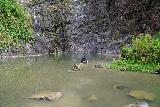 Indeed, when it comes to Nature, respect is hard to come by, and I guess some people just don't care or can't seem to equate how their actions have a long term negative impact.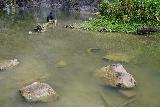 But eventually by about 8:35am, we arrived at La Niebla Waterfall, which was flowing, but it definitely didn't have the high flow that we saw in a photo at our hotel room, which was way wider than the multi-tiered column that we saw at this time.
Ricardo went ahead and waded into the plunge pool, where he got to a log that was still above water and used that as a seat, which was next to an "island".
And I went ahead and joined him for more photos and videos of the waterfall while also noting along the way there was a tire submerged in the plunge pool, which further illustrated how this canyon was once a dumping ground.
After documenting the experience (and dealing a little with some kind of memory error on my GoPro, which I had to restart and readjust the battery; maybe it got too hot?), we then decided to pursue other spots within the canyon at 8:55am.
With time seemingly on our side, we then continued back towards the main stream that cuts through the Canyon de San Cristobal, where we did more bouldering and jungle hiking.
So it wasn't easy as we were constantly looking down at where we were placing our feet to ensure no slip-and-fall, and that kind of made it a challenge to look up every so often and enjoy the scenery around us.
I guess that's the nature of jungle hiking though, where humidity pretty much ensures that the terrain would be muddy or at least damp enough to make everything slippery.
Nevertheless, by about 9:15am, we arrived at the top of a waterfall, which Ricardo said was Las Cabras Waterfall.
Down below this waterfall was a giant plunge pool flanked by high vertical cliffs including some that had a bold tint of red, which I'd imagine would be where there was a presence of iron that had oxidized over the years.
We took some time to enjoy this view (being careful not to get too close to the edge) before we continued with the hike as we went to the left of it and back into the jungle along the creek.
At around this time, I had noticed that my red synthetic shirt had gone missing as it was attached on the outside of my pack where my rain poncho was, and so I wondered if I had lost the shirt for good or if I had even brought it at all.
Regardless, we were committed to the adventure, and Ricardo assured me that we were likely to find it on the way back.
So the jungle scramble persisted as we were on the lookout for plants that had thorns on their steps (some of which he said were actually roses that grew naturally down here) while also watching out for leaves that had stinging hairs on them.
Again, we were also vigilant about maintaining balance while scrambling over boulders that were always slippery.
At one point, we were within the narrows of Canon de San Cristobal where Ricardo pointed out that to our left was the municipality of Barranquitas while the right side above the canyon was the municipality of Aibonito.
He mentioned that just about all municipalities were divided by rivers, which made a lot of sense since you couldn't really dispute natural boundaries whereas you'd have issues with imaginary lines marking political boundaries.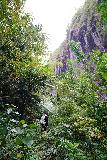 Eventually, we'd get to a point where the rock scrambling and bouldering intensified as we descended beneath an "arch" consisting of boulders that had flaked off into the canyon, and we even bypassed a recent rockfall, which Ricardo said resulted from a recent strong earthquake.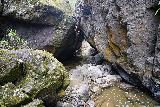 That earthquake was apparently above 7 on the Richter scale, and it happened after Hurricane Maria, which really decimated some of the communities in the area.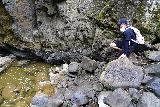 Anyways, after going underneath the "arch" and doing some crawling to ensure we didn't bump our heads on some of the low overhangs while still clinging to ledges, we then had to cross a deep part of the creek.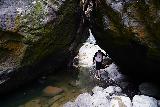 This was where I inadvertently got my wallet and the bottom of my camera bag wet.
This water was probably about knee-deep to thigh-deep or so, but it was only for that short stretch before we got to the other side and finally looked down at a waterfall spilling into Charco Azul (blue pool) at 9:45am.
This was the spot that Ricardo was eager to show me about the Canon de San Cristobal, and it was definitely a more special spot than the La Niebla Waterfall that we were at earlier.
Down here, the canyon was probably at its narrowest of our excursion, as the aforementioned blue pool was way down below, and some of the cliff ledges to the right of us were where Ricardo used to do a cliff jump down into the deep pool below.
Apparently, there were levels of cliff jumping where you'd have to scramble down towards a lower cliff jump for the "kiddie" one while the highest spots were for the "higher grade levels" that had an even crazier vertical plunge.
We then scrambled over to the left side of the cliff where we could peer right down across the nice waterfall here, and then after having our fill of the views from here, we then decided to unsling our packs and most of our belongings to go down into a "cave".
We started doing this at around 9:55am, where Ricardo led the way down a dicey boulder scramble before getting into a nook where there was another profile view of the waterfall dropping into Charco Azul below.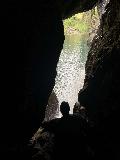 Then, we had to go through a narrow opening where we literally had to lay down and squezze through that manhole with the aid of a rope as well as some spots where I had to place my feet on footholds that I couldn't see (but Ricardo was there to make sure I didn't fall).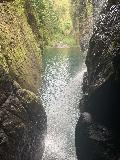 It was probably one of the diciest things I've done, but we ultimately made it down to the bottom where we were in the confines of this "cave" while looking right across the waterfall and into the Charco Azul.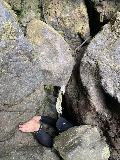 Apparently, it was possible to continue scrambling right to the bottom of this waterfall, but it was very slippery and dicey at best, and since he knew that I didn't really have any intention of going swimming here, we were content with our views from the "cave".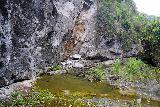 Nevertheless, this experience to me felt like the we were experiencing the REAL Puerto Rico as most tourists would be closer to the resorts and the beaches, but it was the jungles of the Central Mountains where we were truly feeling the essence of Taino Culture.
It was quite the contrast, but I felt this was very rewarding even though I knew that Julie and Tahia really looked forward to the beaches for the final full day of this trip.
After having our fill of this spot, we then made our way back up, which also wasn't easy as I had a hard time getting through (and pretty much had to orient myself the way I came in), and then eventually we got back up to our packs to begin the hike back up at around 10:30am or so.
So we went ahead and made the jungle trek back the way we came, but we did make one stop at La Cabra Waterfall where we got to experience that waterfall a little more.
Then, we resumed our jungle trek back up into the steep ascent though we took a slightly different path around the steep slippery section.
Ricardo was struggling a bit with this ascent so we took frequent breaks, and along the way, we saw my red shirt lying on the trail so I was relieved that I didn't lose it after all.
Ultimately by around 11:35am, we were back at the car, where we were pretty much the only people on this adventure.
I'd imagine that maybe the weekends might see a handful of local people in the know coming down to the Charco Azul and beyond, but as far as tourists were concerned, I was apparently one of the few that got to witness that Charco Azul.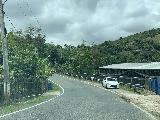 So back in the car we went (which required a little bit of a jump start, which Ricardo came prepared with a self-starting jumper kit), and then we were back at the Canyon Hotel at 12pm, pretty much right on time as scheduled.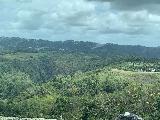 And with that, the family was re-united, and we thanked Ricardo as well as paid him for the tour along with a tip as I definitely appreciated him showing me the wonders of the Canon de San Cristobal, and he expressed his happiness for sharing spots like this.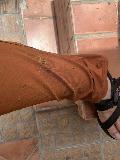 Next, we then drove out of Barraquitas towards the town of Cayey and eventually going for our first lechonera experience, where we ultimately targeted this place called Lechonera Los Amigos.
The mountain drive was heavy with traffic, but at least it was mostly moving as we passed through the municipality of Aibonito, but the GPS definitely wanted to take us on some extensive mountain roads, which I think Julie and Tahia were pretty much over all the curvy roads by now.
Ultimately, after the extensive driving on the Ruta Panoramica en route to Cayey, we'd eventually reach the PR-52, which was a toll road freeway that we then took towards the comunity of Guavate, and after making our exit, we then stopped at the busy Lechonera Los Amigos at 1pm.
This place was actually next to the highway, but we were eager to finally try out this place that was probably the most well-known of the lechoneras in Puerto Rico.
There were a lot of well-dressed people, whom I'd imagine were tourists from other Central American countries or something, because they seemed too well-dressed for the tropics.
Anyways, we had ourselves a pound of the lechon asado, a quarter of a chicken, some salted cod salad (the only green we'd have on this meal as Puerto Rican food definitely lacked veggies), and some sweet plaintains along with boiled yucca and rice.
Well, as far as the lechonera experience went, it was a simple meal where it was pretty much the meats that had some salt as the seasoning on the meats.
However, it definitely wasn't the Versailles Cuban food kind of experience that we'd get back at home where such meats would be drenched in very strong garlic sauce.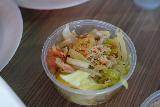 There were also some harder, drier parts of the pork, which definitely could have used that Cuban garlic sauce, but aside from that, we at least finally got to say that we tried lechon asado at a lechonera.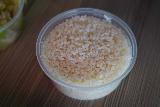 I still wondered in the back of my mind whether we made the right choice for a lechonera spot as I remembered Ricardo telling me that you'd do better if you didn't stop at the first lechonera but went deeper into Guavate and find a busy local joint down there.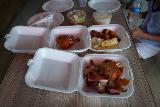 But with time being of the essence and Julie assured through TripAdvisor that we found the most well-known and legitimate spot for a lechonera, we pretty much had our fill, took some leftovers, and then proceeded to make the drive towards Fajardo.
The drive towards Fajardo was interesting in that we followed pretty much all freeways (all of which are toll) and took the PR-52 north towards Caguas, and then took the freeway southeast towards Humacao before following the PR-3 all the way to Avenida El Conquistor near Fajardo.
From there, we followed the local streets towards the secluded El Conquistador Resort, where we then dropped off the luggage, checked-in, and self-parked at around 3:25pm.
Then, we tried to find our room which was a bit of an adventure itself as this place was quite the giant resort and it was like navigating through a maze.
But eventually at around 3:50pm, we finally found our room, and what a view did it have!
Indeed, our room looked down towards the Coqui Water Park below where Tahia was eager to try the water slides down there.
It also had a nice view of the coastline and some of the offshore islands to the east of us.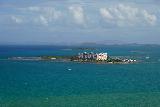 But since we knew that the Coqui Water Park was going to close at 6pm, we quickly got dressed into our swimming attire and then retreated down the funicular by around 4:25pm.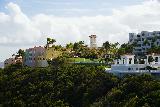 And for the next 90 minutes or so, Tahia would finally get to experience the water park where there was a tube slide, a lazy river, a twisty person slide, and a plunging slide that was the highest one in the park.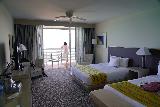 There was also an infinity pool as well as a suspension bridge over part of the pool as well as lifeguards to ensure people didn't do anything that would endanger themselves or other people.
I think this pretty much made Tahia's trip as it was how I'd imagine what Six Flags Hurricane Harbor might be like, and we eagerly kept going up and down the highest of the water slides (and getting water into our noses and ears in the process) while Julie was filming us.
Tahia's reaction to all this smaller version of the Great Wolf Lodge kind of said it all in my mind as far as how someone Tahia's age thinks when they're on their Spring Break.
And so we kept doing all the slides and tubing slides (including going backwards on the tube) before finally they closed off the so-called Yocahu Tower (which was where the stairs were to enable the sliding) about 10 minutes before closing time.
So that was it, and ultimately by around 6pm, we then decided to have a dinner at the Ballyhoo bar, where we enjoyed the views just as some rain started to come over the resort.
And while the food wasn't great (we had a chimichurri steak along with some garlic shrimp and a couple of virgin cocktails), we finally got up to our room at 7:15pm to end off the day.
Although we didn't really want to go back out of the resort to drive to the Pueblo for some water, at least the bartender down there filled up my water bottles so I could at least have enough water to do some final waterfalling before our island catamaran.
Unfortunately, that ride was at 1pm instead of 10am so hopefully the weather would hold up by that time as Julie was looking forward to having a secluded beach experience out there.
But aside from that, we finally wound down the day and ultimately slept with the back door open as we could listen to the sound of the waves in the distance while also getting the trade wind breeze.
So we didn't really need the AC at all on this night.
Tomorrow, we'd have one last full day in Puerto Rico, but I think Julie made the right call by splurging for two nights in Fajardo instead of spending two nights in Barranquitas as originally planned…
Day 8 (April 21, 2022 – Fajardo, Puerto Rico): "Last Hurrahs"
It was about 4:30am when I awoke to my alarm.
All night we had the doors open so we could sleep to the sounds of the waves and we were also feeling the trade winds blowing into the room so the AC wasn't even necessary.
After doing some obligatory blogging (though I didn't get around to picking photos from yesterday), I eventually had some leftover food from the lechonera yesterday, and I was checking out the views of the sunrise during that early morning cold breakfast.
By about 6:15am, I headed out to a pretty quiet morning though I knew that the seemingly calm weather from the morning will eventually give way to thunderstorms in the afternoon (which had been the pattern throughout our week in Puerto Rico).
Apparently, this weather pattern was typical of the build-up to the Hurricane Season though I've been told that the heaviest rains tended to fall in the month of May, which is pretty much right around the corner.
It took about 10 minutes to get of our room and walk all the way to the car so I was in there by about 6:25am.
Then, I headed down towards the PR-3 main highway before I followed the traffic (which was surprisingly somewhat heavy at this time) on the way to El Yunque Forest again.
However, this time, I intended to take the PR-186 up towards the Rio Espiritu Santo instead of the PR-191 towards the main part of El Yunque National Forest (i.e. the part that requires reservations).
The drive pretty much went uneventfully though I was a little concerned about missing the turnoff for the PR-186 since its left turn was very close to the ramp for the toll expressway leading to San Juan.
Anyways, the drive up the PR-186 initially was a pretty decent drive though there were some stretches of potholes here and there, and there was plenty of oncoming traffic going in the opposite direction to squeeze through.
However, when I entered the El Yunque Forest, then the road became noticeably way worse as there were not only potholes on the road, but there were deep ruts and channels crossing the road.
So I had to go real slow here, and I'd imagine this road (despite being paved) might have been better off for high clearance vehicles.
Nevertheless, after getting past the bridge over the Qubrada Sonadora (which had its own roadside cascade), I finally arrived at the bridge traversing the Rio Espiritu Santo (Holy Spirit River) at 7:20am.
Although there was a somewhat large clearing for parking, it was sunk a little to deep from the main road for my liking so I actually parked closer to one of the bridge where there was apparently barely enough room for my passenger car.
At first, I saw just a run-of-the-mill cascade when I looked upstream as well as some segmented cascades over a wide series of rocks when I peered downstream.
However, when I got up to the far end of the bridge and looked upstream, that was when I saw the waterfall of the Rio Espiritu Santo, and I knew that I was in the right place as a result.
So I went ahead and started scrambling from the right side of the bridge, but it didn't take long before I realized that the scrambling wasn't going to be easy.
After all, just about every boulder were bigger than the size of me, and there were dropoffs and slippery rocks conspiring to undermine the footing.
At some point, some of the steps were so big that I ultimately decided to leave my backpack behind so I could go ahead and crawl and pull myself up over some of the human-sized bouulder obstacles.
Eventually at 7:55am, I got past the giant boulder obstacles, and I finally got a clean look at the Espiritu Santo Waterfall fronted by the Charco Verde (or Green Pool).
Of course, being in the precarious positions that I was in standing atop one or more of the slippery boulders peering at both the waterfall as well as the pool below, I merely documented the experience here and then got a little closer to the pool before heading back to the car.
Even though this was hardly a hike, the obstacles were so sketchy and precarious that I was content to document the experience with this waterfall before deciding to call it a day and return to the car by about 8:15am.
At this point, I got back in the car and proceeded to drive back down the PR-186 as I headed back down the road past the same old potholes and ruts.
On the drive back down, I was surprised to see a few more cars parked around the Quebrada Sonadora, but aside from those vehicles, it was still a rather quiet start to the day.
Eventually, I got back down towards the PR-3 and headed east towards Fajardo once again.
By this time at around 9:05am, I had been texting Julie that I was headed back, and she had me on an errand to buy her some feminine products, which I went ahead and did at the Pueblo on the way back to the El Conquistador Resort.
Once that errand was run, I then returned to El Conquistador Resort at 9:30am.
On the way back to the room, I decided that it was such a beautiful morning that I took the liberty to take a few more shots of the resort on the way back to the room.
So I finally got back to the room at around 9:50am, which was pretty much right on the promised time that I told Julie when I'd be back.
I didn't bother stopping at Las Paylas Waterfall like I thought I might do because I figured that it might be a little too early for other people to be there.
And that would have defeated the purpose of showing how other people would do the water slides.
So with that, the waterfalling duties of Puerto Rico was pretty much over.
When I got back to the room, I had some leftover desserts that Julie and Tahia got earlier this morning.
Then by about 10:40am, we decided to head back down to the Coqui Water Park for some more water park fun with Tahia.
We still had some time to kill before the 1pm scheduled ferry ride towards the Isla Palomino, which was apparently part of El Conquistador Resort, and that was for a little beach time as well as maybe some snorkeling.
Anyways, once we got down to the water park, Julie joined in on the fun as she finally decided to go on some of the slides as well as the lazy river.
However, she didn't want to do the big slide atop the Yocahu Tower, and since I had brought the GoPro with me, I decided to try to film the experience, which was a bit easier said than done.
In fact, on my first attempt, the GoPro flew off my head and went down the waterslide on its own, which I had to go back and retrieve.
But on subsequent attempts, I had to use one arm to hold onto the GoPro so I couldn't exactly keep my arms crossed.
And aside from filming the experiences on each of the water slides just for the heck of it (and to see how well the GoPro can handle water), we eventually got on the slides so much that I started getting tired of them.
I swear Tahia and I each must have done the big water slide at least a dozen times over the last couple of days though we still couldn't get Julie to do it.
Anyways, by about 12pm, we had ourselves a quick lunch at the Ballyhoo Bar, where we each had some form of an avocado toast (though Julie and I had it with smoked salmon while Tahia had it with mushrooms), and that actually wasn't bad.
When we were done with our lunch, we then headed over to the boat boarding area where we registered with someone there, and then waited until about 1:15pm after the driver had his lunch (since our scheduled time was 1pm).
When we got over to the Isla Palomino, it was nice and bright with lots of pretty blue water seen from the beach that we were chilling out at.
However, I was quite tired from the week long of adventure combined with all the driving and water slides, and I guess all that kind of caught up with me so I spent maybe 15-30 minutes napping.
When I woke up refreshed, I joined Julie and Tahia in the water where Julie finally got to do her snorkeling though our old equipment apparently started failing (i.e. it was leaking) and we didn't have fins so we couldn't fight the current.
So we didn't really see any reefs and there was a lot of sea grass or something like that with a handful of fish.
Although I tried to document the experience with the GoPro, it wasn't exactly a GBR (Great Barrier Reef) experience or even the pristine South Pacific experiences that we had in the past.
And so it didn't take long before we were done with the water, and then decided to try to catch the next boat back to the main part of El Conquistador Resort.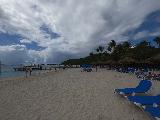 By about 3:45pm, we made it back to our room where we had intended to go back down to the Coqui Water Park for one last go at it (even though I was getting sick of it), but we first decided to try to Palettamerica shop in the resort for some popsicles.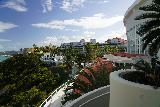 As we did this, Julie and I talked it out and decided that we should actually have one last dinner in Luquillo, which might be a splurge, but at least it wouldn't be the ripoff at the resort that it (as well as all other resorts we've done) had been.
And so we got dressed in street clothes, got the popsicles at around 4:15pm, and then walked to the car with popsicles in hand to keep ourselves cool on the way.
Our original intend was to go to the Terruno Restaurant, but then Julie was doing Yelp Reviews and changed her mind to go for La Parrilla, which was the highest rated of the kioskos in Luquillo.
When we got to the familiar kioskos, this time they weren't as crazy busy as they were during Semana Santa, and we ended up parking behind La Parrilla at around 4:55pm without any trouble.
Also since we had an early dinner (even this place was busy), we had no trouble getting seated as well as placing our order.
We ended up getting a lobster as well as a fresh snapper, and they all come with a side (which we chose sweet plantains) as well as some stuffings of calamari with garlic cream sauce and paella, respectively.
Tahia got her grupper nuggets dinner, and we all got drinks where Tahia got a pina colada, Julie got a parcha slushy, and I got a parcha mojito.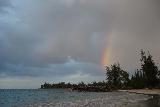 It turned out that the food was as good as we could ask for, and it was totally better than anything we could have gotten at the resort even if I knew that this dinner was a splurge.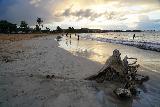 And when all was said and done, we paid around $152 with tax and tip, which was on par with what we would have paid at the resort for crappy food.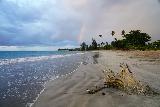 We even had some plantain leftovers though we did finish the langostine and snapper as well as the grupper nuggets, and we pretty much were totally stuffed at the end of it.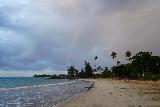 We then went to the beach, which felt a lot quieter and we caught the scene just in time for a sunset as well as a rainbow looking in the other direction.
However, we also saw some mean looking squalls in the distance, and it appeared that the rain was definitely headed our way.
So we got back into the car at 6:35pm, and then we followed the heavy traffic back east along the PR-3 on our way back to the El Conquistador Resort.
But by this time, the squalls came heavily and there was local street flooding along the way.
We were worried that our clothes that we were drying on our balcony would get soaked given how heavy the rain was falling.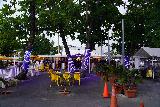 When we got back to El Conquistador at 7:20pm, we decided to have one last go at the Palettamerica (which now seemed to have more flavors), and we ultimately decided to get mango-flavored popsicles as well as a strawberry one (as opposed to mojito and parcha earlier on).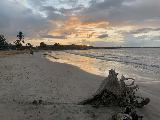 Even though we were stuffed, we figured that this was our last go to splurge and enjoy our last day of the Spring Break trip as we had to get home tomorrow.
And so ended the tourist part of the overall experience where we pretty much hit all the waterfalls that we had targeted except for perhaps Charco El Hippie as well as the waterfalls like Los Siete Chorros and Charco Azul somewhere southeast of Guavate.
But aside from that, we thought this was a pretty successful trip, and now it was time to get back home where the real work would begin to process all this new data in a place that for all intents and purposes felt like another country even though it was still a US Territory.
I'm sure we'll walk out of this experience with a better appreciation of Taino Culture (if not the Puerto Rican Spanish accent), and I'm sure Tahia will have something to look back upon when she goes to school…
Day 9 (April 22, 2022 – Los Angeles, California, USA): "The Anxieties In Reverse"
It was 5am when we awoke to our alarms.
We had slept with the doors open under the faith that whoever was smoking wasn't going to be doing it all night, and so we at least had gotten to sleep one more night to the sound of the waves with the trade winds blowing into our room.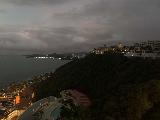 However, as the daylight was getting brighter, we could see outside that there were lots of dark clouds surrounding us, especially in the direction of El Yunque Rainforest.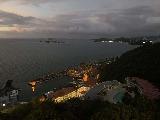 So we did some last minute packing while I had the leftover sweet plantains from La Parrilla last night.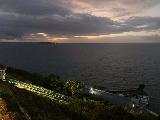 We also tried to drink up most of the water we still had in our bottles knowing that we'd either have to dump it or chug it when we'd get to the TSA checkpoint at the airport.
So by 6:05am, we pretty much loaded the car, and it definitely looked like the area saw some rain (or was about to get it) in the direction of San Juan Airport.
Having gotten used to driving in Puerto Rico for over a week, the drive back was pretty uneventful as we finally got to the Avis rental car return section of the garage at the Luis Munoz Airport at 7:20am.
Then, we did the hectic routine of making sure we left nothing in the car, and then we walked over to the American Airlines ticketing desk to put all our belongings through agricultural inspection before checking in our luggage (including our carry-ons, which could be done for free).
Then, we got to our gate at around 7:50am, and we ultimately boarded our flight for Miami on time at around 8:30am.
The flight was pretty uneventful as it was mostly a blur to me as both Tahia and I were getting caught up on sleep while Julie was using the in-flight app to watch some movie on her phone.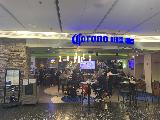 By the time we landed in Miami some time around 12:30pm, we then hiked over to the Corona Beach House cafe somewhere deep in the D terminal of the Miami Airport.
We chose that spot because it was a participant in the Global Priority Pass, which these days was becoming harder and harder to find places that would accommodate this program.
We wound up eating a pretty decent lunch consisting of tilapia with shrimp, pulled pork sandwich, and mango salsa salmon.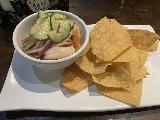 Perhaps the only thing we probably could have done without was the shrimp ceviche, which wasn't great.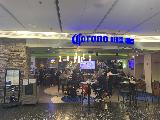 But considering that they took off $90 off the price paid for this lunch (though this included 18% gratuity that I didn't realize so I tipped extra), we wound up only spending $30 for everything, which still wasn't bad.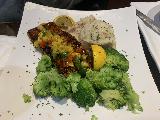 In fact, we swore that amongst the airport foods we've had, this place was one of the best foodie spots that we've had in an airport.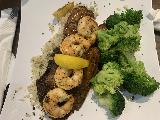 When we were finally done eating at 1:35pm, we were pretty stuffed, but we next hiked over to the Turkish Airlines Lounge, which was also a Global Priority Pass participant.
We ultimately got there at 1:55pm, where it was way over at the E terminal instead of the D terminal, where we were at (actually very close to our departure gate).
Anyways, this lounge was a bit smaller and more crowded than say our last lounge experiences at the Nadi Airport in Fiji or the Korean Airlines Lounge in LAX (where no one at that airport participates anymore).
At least it's better than the chaos outside where everyone seems to be going home.
So we chilled out in relative luxury though it's definitely trickier to avoid COVID given how busy it was and how there were just as many unmasked people (how could you be if you're eating and drinking) in here as there were masked.
I guess it was the same story on the plane earlier on when I sat across the aisle from an unmasked dude, but that shouldn't be surprising considering the state governor pretty much doesn't think COVID exists.
Regardless, this was time to get caught up on posting Instagram waterfalls from our trip while Tahia was busy playing Bedwars or something like that.
And with our 5 hour layover before going home, we were definitely taking as much advantage as we could with all this idle time.
Nevertheless, it was nice to head home again, even if it means going back to my day job, dealing with LA traffic, its day-to-day hassles, and whatever other bills and errands that await me when we return.
Such is life however, it can't always be smooth sailing, but the contrast of traffic, fickle tropical weather, and an itinerary full of activities pretty much meant that I needed to unwind and take a break from the vacation, I guess.
That said, sometimes you gotta be willing to be uncomfortable to make extraordinary things happen.
I have a feeling that I really won't have that much time to unwind at home as now the work really begins to process all this information and content moving forward from this PR Spring Break…
Visitor Comments:
Got something you'd like to share or say to keep the conversation going? Feel free to leave a comment below...
No users have replied to the content on this page