Day 9 (April 22, 2022 – Los Angeles, California, USA): "The Anxieties In Reverse"
It was 5am when we awoke to our alarms.
We had slept with the doors open under the faith that whoever was smoking wasn't going to be doing it all night, and so we at least had gotten to sleep one more night to the sound of the waves with the trade winds blowing into our room.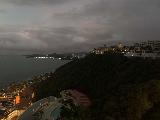 However, as the daylight was getting brighter, we could see outside that there were lots of dark clouds surrounding us, especially in the direction of El Yunque Rainforest.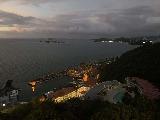 So we did some last minute packing while I had the leftover sweet plantains from La Parrilla last night.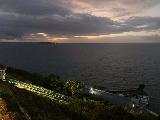 We also tried to drink up most of the water we still had in our bottles knowing that we'd either have to dump it or chug it when we'd get to the TSA checkpoint at the airport.
So by 6:05am, we pretty much loaded the car, and it definitely looked like the area saw some rain (or was about to get it) in the direction of San Juan Airport.
Having gotten used to driving in Puerto Rico for over a week, the drive back was pretty uneventful as we finally got to the Avis rental car return section of the garage at the Luis Munoz Airport at 7:20am.
Then, we did the hectic routine of making sure we left nothing in the car, and then we walked over to the American Airlines ticketing desk to put all our belongings through agricultural inspection before checking in our luggage (including our carry-ons, which could be done for free).
Then, we got to our gate at around 7:50am, and we ultimately boarded our flight for Miami on time at around 8:30am.
The flight was pretty uneventful as it was mostly a blur to me as both Tahia and I were getting caught up on sleep while Julie was using the in-flight app to watch some movie on her phone.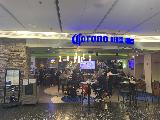 By the time we landed in Miami some time around 12:30pm, we then hiked over to the Corona Beach House cafe somewhere deep in the D terminal of the Miami Airport.
We chose that spot because it was a participant in the Global Priority Pass, which these days was becoming harder and harder to find places that would accommodate this program.
We wound up eating a pretty decent lunch consisting of tilapia with shrimp, pulled pork sandwich, and mango salsa salmon.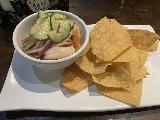 Perhaps the only thing we probably could have done without was the shrimp ceviche, which wasn't great.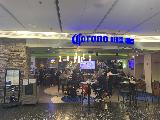 But considering that they took off $90 off the price paid for this lunch (though this included 18% gratuity that I didn't realize so I tipped extra), we wound up only spending $30 for everything, which still wasn't bad.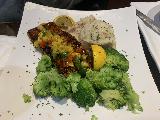 In fact, we swore that amongst the airport foods we've had, this place was one of the best foodie spots that we've had in an airport.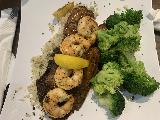 When we were finally done eating at 1:35pm, we were pretty stuffed, but we next hiked over to the Turkish Airlines Lounge, which was also a Global Priority Pass participant.
We ultimately got there at 1:55pm, where it was way over at the E terminal instead of the D terminal, where we were at (actually very close to our departure gate).
Anyways, this lounge was a bit smaller and more crowded than say our last lounge experiences at the Nadi Airport in Fiji or the Korean Airlines Lounge in LAX (where no one at that airport participates anymore).
At least it's better than the chaos outside where everyone seems to be going home.
So we chilled out in relative luxury though it's definitely trickier to avoid COVID given how busy it was and how there were just as many unmasked people (how could you be if you're eating and drinking) in here as there were masked.
I guess it was the same story on the plane earlier on when I sat across the aisle from an unmasked dude, but that shouldn't be surprising considering the state governor pretty much doesn't think COVID exists.
Regardless, this was time to get caught up on posting Instagram waterfalls from our trip while Tahia was busy playing Bedwars or something like that.
And with our 5 hour layover before going home, we were definitely taking as much advantage as we could with all this idle time.
Nevertheless, it was nice to head home again, even if it means going back to my day job, dealing with LA traffic, its day-to-day hassles, and whatever other bills and errands that await me when we return.
Such is life however, it can't always be smooth sailing, but the contrast of traffic, fickle tropical weather, and an itinerary full of activities pretty much meant that I needed to unwind and take a break from the vacation, I guess.
That said, sometimes you gotta be willing to be uncomfortable to make extraordinary things happen.
I have a feeling that I really won't have that much time to unwind at home as now the work really begins to process all this information and content moving forward from this PR Spring Break…
Visitor Comments:
Got something you'd like to share or say to keep the conversation going? Feel free to leave a comment below...
No users have replied to the content on this page