Days 0-1 (April 13-14, 2022 – San Juan, Puerto Rico): "The 3 Anxieties"
It was about 5:10pm when we got through a rather hectic day getting all packed and ready to go and started heading to the airport for our upcoming Spring Break trip to Puerto Rico.
The day was hectic because Julie was busy getting her last minute packing all done while I was actually planning our upcoming Summer trip to both Australia and Bali, knowing that there wouldn't be much time to plan it when we'd come back from this Spring Break Trip.
So my mind was actually not really on this upcoming PR trip though I knew that at some point, I'd have to switch.
Anyways, Tahia also still had school and we had to get through this day (which fortunately was a minimum day so she was able to get through her duties there and then attend a virtual math tutoring session).
Nevertheless, we were pretty much going mostly against the traffic as we made our way towards LAX, and we did our usual thing of using the airport shuttle after dropping the car off at work (so we wouldn't be subject to hefty parking dues).
We were at the airport at 6:10pm, and by about 6:30pm, we made it through TSA, where the airport actually wasn't as busy as we had anticipated considering that it was pretty much spring break.
I was aware of flight cancellations that took place last week from other people who were on their spring break, and that was the first anxiety that we had regarding our trip.
But we managed to check in Julie's big luggage while our carry-on rollers were able to be checked in for free (knowing that we had a very full flight and we likely weren't going to be able to fit our rollers into the overhead lockers).
So with all that out of the way, we then proceeded to have a rather expensive airport dinner at this place called Campanile, which we thought was going to be like this La Brea restaurant that was a bit of a high end baller kind of place.
But what we had here was actually quite disappointing though the portions were huge (and also a bit risky in terms of being unhealthy and full of gluten).
The waitress there was very friendly and talkative, and the way she talked was reminiscent of some kind of Adam Sandler movie of some Hawaiian lady who kept saying "and den…" after practically every line we'd say.
It probably wasn't that bad but she was really sweet and had that sort of Vietnamese-Hawaiian accent thing going.
So we were done with that meal fully stuffed though quite a bit lighter on the wallet as it costed us $92 in total (Julie fell for some papas bravas, which was really nothing more than hash browns and Tahia snuck in a $4 lemonade drink).
Anyways, after getting through the initial anxieties about whether this flight was happen or not (let alone be cancelled) as we boarded the flight at 8:50pm, we then marveled at the 777 plane that actually had personal in-flight entertainment!
That was rare for an American Airlines flight, but we took it where we could as Tahia was learning how to play Tetris for the first time.
Well, at least it seemed like this plane was taking off on time, and so that might help us allay our fears about the tight connection we'd have in Miami as we had less than 90 minutes between this flight and the next one for San Juan.
And sure enough, by about 9:20pm, the plane was taxiing, and soon thereafter, the plane took off.
As much as I found sleeping on airplanes to be rather difficult historically, I must have been pretty sleep-deprived in my day-to-day recently and so I actually slept surprisingly ok throughout this red-eye flight.
By about 4:15am, we landed at the Miami Airport, where we then had to eventually de-plane and get to the gate for the next flight, which we promptly did at about 4:50am.
Fortunately since Puerto Rico is US territory, we didn't have to mess with any immigration or passport control delays and so this tight connection happened without a hitch.
Eventually, the boarding happened as scheduled at around 5:30am, and then we boarded this pretty full flight and this took off without a hitch either.
I managed to get a little more shut-eye on this flight as did Tahia (who I guess really crashed after being unable to sleep on the Miami flight).
And so our second anxiety that would conspire to mess up our plans had come to pass as we indeed made our second flight.
Now the only anxiety left was whether all our luggage would make it to the destination.
Eventually at about 8:15am, the plane was about to land though I was concerned at lots of people coughing and sniffling around us on this pretty full flight (hoping that our double-masking would help fend off whatever coodies people would be passing).
It was also quite chilly on the plane, which was surprising considering I wasn't all that cold on the longer flight to Miami.
By about 8:30am, the plane landed and we then had to make our way to the baggage claim, where we waited patiently for the luggages to come out of the conveyor belt and ultimately we did collect all of our luggages.
So the third anxiety ultimately came to pass.
Next at about 9:15am, we then picked up our rental car at the Avis, where my preferred membership made this process go without a hitch.
It took some time to get all loaded up while trying to make sure our GPSes were working (I learned then that my Gaia GPS map wasn't downloaded yet, which I guess I had forgotten to do leading up to this trip).
Anyways, we promptly drove off to some supermarket called Pueblo thinking that we might need to pick up some jugs of water as well as some local snacks that Tahia and Julie were looking forward to getting.
However, when we got to the parking lot at the Pueblo, it was actually raining quite hard at 9:40am so we had to wait it out.
At least, the radio station was playing La Quinta Estacion's "El Sol No Regresa", which was the song of the trip when we were in Spain back in 2015 so that helped to pass the squall that we were under at the time.
Of course, a rain that heavy kind of made us concerned about our upcoming San Juan food tour that we had booked, which was to happen at 1pm today rain or shine.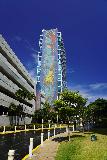 And at around 9:55am, we were done with our grocery shopping at Pueblo, where we then proceeded to go to the Caribe Hotel, where we got there at 10:10am as we had to wait a bit to check in.
Eventually, we learned that the room wasn't ready but we could leave the luggage here and also self-park further down the road.
So we did that at around 10:40am, and then we killed some time checking out the resort's pools and the rough seas outside of the breaks.
And after getting oriented with this area (which Tahia was really looking forward to playing in the pool later today), we then ordered an Uber at around 11:35am, as we had to take one of these things to get to Old San Juan and the Plaza de Armas.
It didn't take long before the Uber driver showed up and we actually had to walk over to the street because apparently the Uber driver doesn't go to the hotel main entrance (we'd later learn that that was the pickup spot for Ubers).
The Caribe Taxi was around $15 to get to the Plaza de Armas, but our Uber was more like $6 (though we knew that we'd have to tip).
When we got into the Uber, we were conversing with the driver in Spanish, where we learned that most of the traffic was for the beach and because it was getting to the end of Easter Week, especially this weekend.
Indeed, the traffic was at a standstill for the beaches, and fortunately, we were going around a large part of that congestion on the way into Old San Juan.
We'd eventually get to the Plaza de Armas, and then we took some pictures of the buildings surrounding this pigeon-populated square (where clearing some people were feeding them).
Julie and Tahia wanted to go into the Marshalls for some shopping, and I figured that I wasn't going to wait around doing nothing so I decided to do some exploring while they were shopping.
I ultimately walked up the hill on some random street through the narrow one-lane cobblestone surfaces up to the top of the hill where I saw the ocean.
Then, as I descended, I saw that there was an attractive wall that was actually El Murro, which was the Spanish-build defenses surrounding Old San Juan that was erected back at around 1521 or so.
Apparently, the establishment of San Juan had something to do with the 500-year anniversary signs we were seeing everywhere, and I'd imagine that this place was really going to party at some point.
Regardless, I did some exploring of the wall, where I saw that there was also an attractive barrio below the wall called La Perla.
Unfortunately, this place looked like it was mostly closed as it appeared to have been battered and not re-built after damage from Hurricane Maria.
I wanted to explore that area a bit more, but it seemed kind of abandoned and I wasn't sure it was possible to go down there on my own.
Plus, I had to get back to the Plaza de Armas in time for our tour so I eventually had to leave this alluring spot and head back down to the square.
By the time I got there at 12:45pm, Julie and Tahia were upset at me for leaving them at the square as apparently they weren't in the Marshalls for long and they were worried about where I went and why I wasn't picking up the cell phone for her calls (it wasn't loud enough for me to hear).
Anyways, we'd eventually meet up with our guide named Desiree at the meeting time of 1pm, and then we pretty much went from restaurant to restaurant as it was legitimately a tasting tour of Old San Juan.
The first place we went to was the Chocobar Cortes, which was all about chocolates here.
We had an interesting taco with tostones shell as well as some chocolate and rum drink, while at the same time we learned about other trip participants basically consisting of a woman from Medellin, Columbia, a family from Raleigh, North Carolina, and a family from Baltimore, Maryland.
It seemed like everyone on this tour had someone in their party who spoke pretty fluent Spanish so I was actually probably the weakest representative for our party since I wasn't really that fluent even though I had some command of the language as long as the native speaker could slow down for me.
Regardless, it was a pretty fun tour, and after getting done with this restaurant, we then headed over to this place called Deaverdura where it was a very busy place that served up a more traditional lechon with beans and rice and a toston that was more like bread than crunchy chips.
This place was heartier but also quite delicious, and we ended up with drinks of a soursop with rum as well as some kind of Caribbean cherry (forgot the name) with rum.
The latter was actually pretty good, and Tahia got her virgin one which she enjoyed.
When we were done with that visit, we then walked over to another restaurant further up the hill, which this time was some kind of tavern (I think it was called something like La Taberna Lupolo), and as people were getting stuffed, it was another food and drink stop.
This time, we had mostly beer-battered red snapper fish taco on a flour tortilla as well as another drink with rum.
Julie got some kind of cheese as her gluten replacement, and so everyone was quite stuffed and gave me their portions (at least Tahia gave me her taco) as they couldn't eat anymore.
And then after doing this stop, we walked down towards the far western end of Old San Juan where there was some kind of coffee shop that only had some picture of a coffee pot but no name.
At this place, Julie was really into how they made their coffee considering that she said it was "fruity".
I was never really a coffee drinker, and I can't say I could truly tell the difference between good and bad coffee.
But regardless, she said that was definitely one of the better coffees that she has had, and then we all walked past some butterfly alleyway (it used to have umbrellas) as well as some kind of overlook across some bay back towards the mainland.
That was where we got some popsicles at Senor Paleta for the final food stop of our three-hour foodie tour of Old San Juan, and we were racing to finish that popsicle as it was melting in the heat and humidity.
I got some kind of Choco Brownie flavor while Julie and Tahia both got Mango and Strawberry combo popsicles.
And with that, the tour was done and everyone went their separate ways while we were taking some pictures of the overlook here as well as getting our last questions in for Desiree (considering that tomorrow was Good Friday and a lot of places wouldn't be open for business).
She had suggested some place called Cueva del Mar as well as Casita Miramar so we might give that a go tomorrow given our limited dining options.
Anyways, we then walked around some more in Old San Juan since we were already here, and the traffic in the city was quite tight as all the one-way alleyways were stuffed with cars and people walking around.
It was quite atmospheric, and we also got our shots in regarding the butterfly alleyway as well as another round of gelato at this place called Annita La Mamma del Gelato (which had a line though Tahia really had to pee so that was the nearest place for that).
Well, I waited in line for the gelato as Tahia didn't mind making more room for dessert like this, and we ultimately learned that this place was quite the spot for gelato, especially considering the line and how busy it was here.
COVID-19? What COVID-19? As it was quite packed and we were one of the few people wearing masks indoors here.
Anyways, we enjoyed our gelato where Tahia got some kind of watermelon and mint sorbet that reminded me of a mojito, Julie got some kind of mango flavor, and I got some kind of hazelnut one that Julie suggested for me.
The choices were a bit overwhelming but I'd have to say that this gelato spot definitely had a lot of unusual flavors, and perhaps that was why this place seemed to have such great reviews on Yelp.
When we were done with that dessert stop (as we were definitely adding more calories while being full), we then walked towards the fortress and wall (at what was the Castillo de San Cristobal).
By the time we got out to that area, we got past some churches and some attractive squares along the way, and then we found ourselves in some wide open grassy space where lots of families were flying kites.
Actually, the sea breeze that was here was quite nice, and it helped to de-humidify the otherwise would-be intense humidity of this island.
And so we took some time exploring around the walls, where there were views of some cemetery fronting the sea within the fortress, and it made me wonder whether we should explore more of the monuments here in a return to Old San Juan maybe on Saturday after my Charco Prieto tour.
Indeed, we took our time doing some exploration of this seemingly historical and special spot, and then we were headed back to order our return ride via Uber at 5:50pm though the first person cancelled on us (probably because of the traffic).
And then, we caught a second Uber driver a few minutes later, where this woman seemed to know her way around the streets and even making left turns onto oncoming traffic around the bridge to get back to the Caribe Hotel at 6:15pm.
From there, it was starting to get dark, and we still had to get some stuff out of the car, queue up for the 2 elevators up to our room, and then finally indulge Tahia at the pool after 7pm.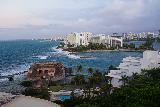 So Tahia and I killed time there as she finally got to play while I was trying not to freeze as the water wasn't that warm and there was also a bit of an afternoon breeze blowing.
I remembered pulling a calf muscle doing pullups on the infinity pool walls so that had to stop though I was surprised that I was actually able to do that since I always struggled with doing pull-ups or chin-ups during boot camp at the gym.
Regardless, after messing around in the large infinity pools and then the jacuzzi, and then freezing back in the bigger pools, we then returned the towels and headed back up to our room at 8:05pm.
At that point, we pretty much crashed for the night as we had a really eventuful day…
Not bad for our first day in Puerto Rico!
Visitor Comments:
Got something you'd like to share or say to keep the conversation going? Feel free to leave a comment below...
No users have replied to the content on this page