Day 2 (April 15, 2022 – San Juan, Puerto Rico): "Tense Experiences"
It was 5:30am when I awoke to the alarm, when it was already almost sunrise as I looked out the window and saw that the skies were somewhat orange.
I took some time to get caught up on yesterday's happenings seeing that there was a lot going on during our very first day in Puerto Rico.
It took some time for Julie and Tahia to get ready, but Julie did manage to get downstairs to wait in line for coffee and some breakfast sandwiches, and so we munched on that before getting into the car at 7:30am.
After running back and forth trying to figure out how to pay for our parking, the receptionist gave me a card (that I later found out was nothing more than our room key), and then we were finally on our way out.
Anyways, the drive east towards El Yunque Rainforest was pretty smooth and holiday light since today was Good Friday, and lots of Puerto Rico was Catholic (so they did indeed celebrate this day).
We'd eventually get to the turnoff for El Yunque on the 191 Road, but we actually overshot the easy-to-miss road, and took the next one, which had us go across some narrow lane (where parked vehicles made it essentially a single-lane street) before getting back onto the 191.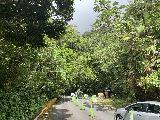 Then, we followed this road before catching up to some slow traffic to the station where they checked for permits that I had bought on reservation.gov.
During this stretch, there were very few opportunities to pull over so we pretty much followed this person all the way to the checking station, which was situated practically next to the La Coca Waterfall.
We got to the waterfall at 8:20am, where we were briefly the only people checking out the falls from the bridge until the lemmings effect was pretty much in full swing as a couple other families stopped as we were here taking pictures and videos from the bridge.
La Coca Waterfall was pretty much a roadside waterfall that still had segmented flow during our visit, but I'd bet it would have been a more consolidated wall earlier in the year when it was closer to the "wet" season, I'd imagine.
My understanding was that the "dry" season started in December or January and would continue until around now, when things would heat up and start to approach hurricane season come May and through Summer.
One of the families that were here did some slippery boulder scrambling to get up to some kind of rock ledge or outcrop that was pretty good for taking contextual videos of the waterfall with people there to show its size.
And so I went ahead and did that in my Chacos (since I didn't bother changing out of the my shoes for a roadside waterfall), and that was when I realized that perhaps that wasn't the greatest idea given the how slippery the footing was here.
Nevertheless, I documented what I needed to do and rejoined Julie and Tahia below at 8:45am, just as more cars had showed up and started to enjoy this spot.
About five minutes later, we then stopped at an attractive tower that was well-signed called the Yokahu Tower.
Tahia was too content to want to stay in the car to sleep so it was just Julie and I getting out of the car to briefly take pictures of this attractive tower as well as the views towards the direction of Luquillo, I'd imagine.
Once that was done, we got back in the car at 8:55am, and then drove towards the Quebrada Juan Diego at about 9am.
There were a handful of cars already here, and there also seemed to be a handful of pullouts near the signed trailhead next to the bridge over the Juan Diego creek.
his time, we put on our trail runners and proceeded to do this hike, which I knew shouldn't take very long at least according to my pre-trip research.
We proceeded to go onto the well-developed trail, which followed the Quebrada Juan Diego, and it was just as quite a few families were heading back down the trail.
It only took a few minutes before arriving at the Juan Diego Falls, which was had a modest-sized lower tier as well as an attractive upper tier that was partially hidden from the vantage point we were at.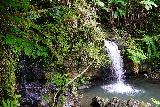 As we were documenting this spot, I took some time to evaluate how to get up to the upper waterfall, and that was where I spotted what looked to be a rather steep climb to get around the lower waterfall on the left side across the creek.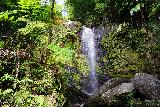 So I went ahead and did that scramble, but I eventually got to a real dicey part where I was on a muddy wall that had a rope tied nearby.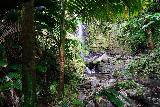 I had to use that rope to essentially crawl my way up past the wall and then get over some tree before scurrying down the other side (which was also a bit muddy), and then I finally got onto the slippery boulders fronting the upper drop of the Juan Diego Waterfall.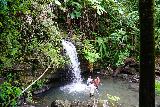 Since I was all alone here, I took some time to take videos and pictures before heading back down to Julie and Tahia as I wasn't really looking forward to the muddy wall section.
Sure enough, when I got back there, I had to really utilize the rope and carefully place my feet rappeling style before getting back onto terra firma, and then I scrambled my way back down to the creek where a family was in the middle of yelping underneath the cold water beneath the lower falls.
From there, we headed back towards the main road and eventually got to the car at 9:50am.
Knowing that La Mina Falls was still closed due to damage from Hurricane Maria a few years ago, I knew that there really wasn't anything else left to do for us at El Yunque Rainforest (as we weren't interested in peak bagging on trails near the end of the road).
My understanding was that before Maria, the 191 Road used to go all the way through the rainforest and even get to the Charco El Hippie, but now that place doesn't seem like a likely candidate to reach on this day.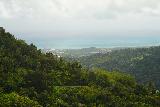 And so we drove back towards the entrance of El Yunque as we made a couple of vista stops before leaving the park proper, then getting back to the main road, and then deciding to head further east towards Las Tinajas Waterfall.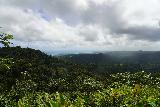 During this drive, I had in my mind that perhaps we might be able to make it back to Old San Juan to check out the Castillo de San Cristobal, which we thought might be a cool experience for the family.
Thus, I kept in my mind that we should do Las Tinajas, then go back for some lunch at the kioskos de Luquillo, which we saw right off the road, and then see if we'd make it to El Murro and the fortresses in Old San Juan.
Well, the drive out to Las Tinajas seemed like we were going on quite a few rural roads in the vicinity of Fajardo, and it wouldn't be until around 10:50am when we got to what appeared to be a very busy area.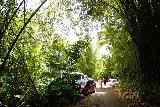 It looked like there was a lot of parking at one property (which we didn't know to stop for), and we drove all the way to the end of the road, where there was a line of a couple of cars with some people chatting at the gate.
We weren't sure if we had just made it in time for Las Tinajas or if we were going to get screwed and be unable to visit Las Tinajas Waterfall.
But after talking with an elderly guy here, who was apparently the owner, I'd imagine, he told us that he could carve out a couple of spaces for us though this lot was primarily by contract for specific tour groups under contract.
I never knew that this waterfall was for tour groups, but there seemed to be huge groups of people (all wearing life jackets and helmets), and that's when it seemed like we had stumbled upon what seemed like a tour group waterfall.
Anyways, we once again geared up and had to coerce Tahia to get out of the car and stop sleeping so we can partake in this hike.
Then, we proceeded to go further up the road as it seemed like the majority of visitors were going in this direction.
I kept wondering in the back of my mind whether Charco Frio was supposed to be roadside or not back by the parking areas, but it was clear that most of the people were coming back from the trail (or going upstream like we were) so there clearly must be something further up ahead.
Although the trail itself was pretty wide and easy-to-follow, it was also plagued with a lot of mud.
There were also a couple more gates along the way, which further proved that this was indeed a private access to Las Tinajas, and perhaps that was why it required a bit of an adventure to reach the falls if say the private access was closed.
Anyways, one false detour to the creek and waiting for a handful of stretches for large tour groups to get across the trail so we can get through, we then finally got to the Las Tinajas Waterfall at about 11:30am.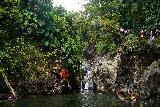 There were a couple of muddy descents to get down to the river, and both Julie and Tahia actually took the narrower muddy side trail down while I took the rootier (and muddy) path that most of the tour groups had gone.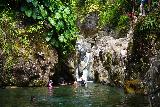 And when we got down to the creek, we could see that there were already lots of people doing cliff jumps and rope swings, but we wondered where the waterfall was.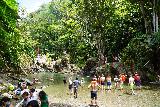 That was we realized that we had to wade in the creek a bit before we could finally see the attractive cascade backing a narrow chasm where the creek was deep enough to support all the aerial maneuvers that tour group participants were doing.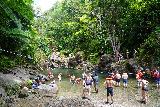 It looked like a whole lot of fun doing, and even Tahia felt like she wanted to get in on the action though she wondered if these swings and cliff jumps were for paying customers only.
She also didn't bring swimming gear so she was content as Julie and I were to just document the experience and bask in the rather party-like ambience of Las Tinajas.
I did notice that some tour groups went even further up the cliffs perhaps towards another water slide (as I heard some tour guide ask the participants if they were interested), but I opted not to scramble up there.
That said, the water did feel pretty good after the sweaty hike it took to get here.
But after having our fill of this spot, we then headed back the way we came where along the way, the tropical downpours did happen for a few minutes, which further muddied up the trail.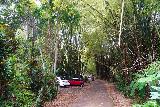 By about 12:15pm, we made it back to the car, but I wanted to pursue what these Charco Frio pools were so I left Julie and Tahia to chill out there while I went to ask the owners if I could pursue them.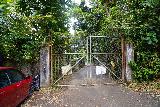 Through the broken English (and or broken Spanish on my part), the owner let me through his gate to backtrack towards his property, and then go through his property to get down to the creek.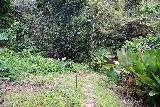 He told me to let him know when I get back to the gate when I'm done.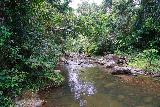 And so by about 12:20pm, I got down to the creek, where I then had to pretty much follow what seemed to be creekside use trails before crossing the creek and then getting to a real muddy trail on the other side.
At some point, I noticed some boulder obstacles and small pools with tiny cascades feeding them, and I wondered if this was the Charco Frio.
But since I didn't know any better, I kept scrambling up the muddy path on the other side of the creek a ways before the muddiness got even worse, and the trail kept going.
At this point, I decided that it probably wasn't a good idea to keep going as whatever this Charco Frio pool was wasn't really anything more than haphazard pools or small cascades in the creek that were incidental.
Indeed, when I came back and went all the way to the Charco Frio parking lot (seeing how big this lot was) at around 12:55pm, I managed to talk to one of the guides who confirmed my suspicions about Charco Frio being nothing more than pools.
And he confirmed that really it was Las Tinajas Waterfall that was the main attraction here, and he seemed surprised that I made it up there until I told him that I actually went through the "old man's property" to get there.
At that moment, I realized that anyone going along the creek at this point were really doing the more challenging adventure and scramble to get up to the Las Tinajas Waterfall if they weren't going up through the private property path.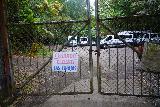 I also noticed that the large parking area here was only $5 per vehicle though the property owner behind the gate who had the trail had charged us $10 for the vehicle and $2 per person (so it was $16 total for us).
I figured that was fair since we were using his property, but I'd imagine it was the tour groups that helped turn his property into a big source of income.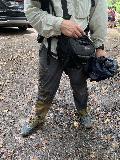 Anyways, by about 1:05pm, I made it back to the car, which was a bit later than I had anticipated, but at least that bit of reconn helped me better understand what was going on here.
At this point, I resigned myself to realizing that there was no way we'd make it back to Old San Juan for the national parks attractions there.
Nevertheless, we drove out of this area, and then headed back towards Luquillo for a lunch at the kiosks there.
Julie had it in her mind to check out some restaurant called Terruno, which was a place that Desiree had recommended yesterday.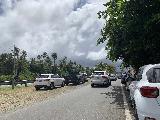 However, Julie's routing on her phone had us go away from the quioscos and towards parking by the beach where there was a police blockade keeping people from driving closer to where Julie's routing wanted us to go.
So given that difficulty, we then went back into the chaos of the Luquillo Kiosks, which also had its share of congestion.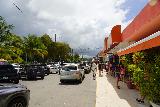 We eventually parked at a spot near where a cop there said it was ok to park, and that was when we could finally walk around and have a late lunch at 1:45pm.
It didn't take long before we realized that quite a few of the kioskos were crowded, and so we ultimately settled in on some random kiosk called Coconut Sauce.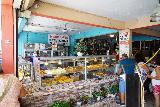 That was because Julie saw fresh seafood and decided that was what we should pursue. And so we decided to eat there, where the food came out pretty slowly but at least we had ourselves a pretty delicious pina colada (virgin) where the drink was inside a pineapple with fruit pieces hanging on it.
But when all was said and done, this was one of the most expensive meals we had as apparently Julie's whole red snapper had to have been at least $50 or more (they must have charged that by the pound or something).
I also had a paella and Tahia had a shrimp, but regardless, this meal was like $117 and then I tipped some amount, too (so it was closer to $140 USD!).
That wasn't what I was expected from a kiosk, but I guess some TripAdvisor people were complaining that this place used to be where cheap eats were, but now it was pretty much tourist prices (i.e. overpriced).
After eating the meal at 3:05pm, we then checked out the beach, which had lots of blaring loud music as well as lots of people.
It turned out that the loud music was the results of perhaps one or two parties which brought large speakers and really turned the beach ambience into something more like what we might encounter at Olvera Street in downtown LA (though instead of mariachi music, we were getting dance hall latin music).
It wasn't exactly a very relaxing way to experience a beach, and so we eventually got back to the car at 3:30pm.
From there, I then decided that since we were already here, we should just drive to Las Paylas Waterslides and see what this place was all about since we were already here.
But when we finally showed up to the car park for Las Paylas at 3:50pm (which was real easy to miss and parking was limited), we saw that it was pouring rain.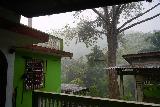 We showed up just as a trio of cars were pulling away and so that left us all by ourselves trying to wait out this downpour, which lasted for quite a while.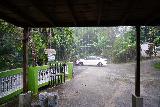 Eventually after what seemed like forever, I just got outside the car with a rain poncho and tried to bring my gear and document the experience under the tin-roofed shelter where I paid the $5 to pursue the water slides.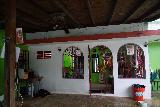 The lady there collecting the money gave me a look like I should wait out the squall, which I did, though I think she knew that I wasn't really here to play in the natural water slides.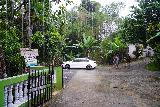 Anyways, it seemed like the downpour calmed down momentarily and so I went down the steps in my rain poncho, before I encountered a fairly tame path that was maintained by these owners before descending among rocks and some packed dirt and mud.
I eventually got down to where I could see the apparent natural waterslide which was a cascade that looked somewhat flat from the side but looked like a legitimate waterfall once I got down to the bottom.
It was disappointing to see how much litter was down here, and I wasn't sure if access was only through this persons' property (where I'd imagine they wouldn't tolerate things like this), or if there was an alternate access that involved more scrambling.
It actually looked like there was more scrambling over slippery boulders (though I couldn't tell if there were more waterslides) further downstream as I was content to just document Las Paylas.
Plus, the plunge pool looked a bit muddy brown, which was a telltale sign that a flash flood or heavy rain had just come through this area.
Nevertheless, it was too bad that I was all alone here and I couldn't document anyone doing down the waterslide to see what that was like, nor how people would scramble up along the slippery rocks to even get to the top and make their way down.
So I took my photos and videos and went back up to the car at about 4:30pm, which was just as another car pulled up and were talking with an owner.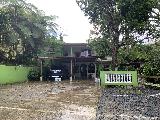 I'd bet that he wanted to close up this place and talk those folks out of doing the water slides because of the flash flood risk.
And with that, we headed out and made our way back towards San Juan, where it seemed like the rain came back (and was quite heavy in stretches with street flooding en route), and this rain persisted all the way to San Juan itself!
I had thought that this rain was only limited to El Yunque and the mountains here, but actually this rain stretched all the way to the city and perhaps beyond so maybe it wasn't as localized as I thought (a good sign for the waterfalls we targeted later on in this trip).
Regardless, we got back to the Caribe Hotel at around 5:40pm, where I dropped Julie and Tahia back at the main entrance while it was squalling, and then I went back to park the car and rejoin them to bring the stuff back up to our room.
Along the way, we did indulge in some desserts, where Julie tried out some kind of guava pastry and quesito (much like what you'd get at a Porto's though that was more Cuban), and I indulged in a bit of a chocolate chip cookie sandwich. Indeed, the pounds were piling on in this trip!
Other passerbys saw us and could tell that we had gone into the rainforest today as we were quite the muddy mess especially with all the gear we had on us.
And so we had some time for ourselves for the rest of the evening as today it looked like it was all overcast and rainy throughout.
While Julie was researching about how Pina Colada was apparently "invented" at the Caribe Hotel, she wanted to go down to the Caribar so we could see for ourselves.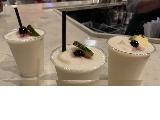 So we did this at around 7:45pm, and it took quite a bit of time to get seated (or at least scope out an open spot), and then have a margherita pizza (Napoli style) along with the pina colada drinks.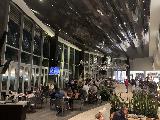 All told, the drinks were like $40 with tax and tip while the pizza was like $20 with tax and tip so we overspent some more on this day.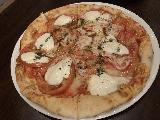 Eventually at some time closer to 9pm, we finally got back to our room, where we could then get cleaned up and finally wind down the day.
It wasn't good that I was getting a scratchy throat throughout this afternoon, and I wondered if I had somehow caught COVID either on the flights over to and from Miami (where there were people coughing around us even though we were double-masked) or if it came from our food tour.
After all, the restaurants we went to had mostly unmasked people and they were crowded as if COVID doesn't exist anymore (well, the mask mandates were lifted and we were one of the few people with masks on).
Anyways, I went to bed with that bit on my mind wondering if this was going to mess up our Spring Break trip, but all in all, it was quite the hectic day.
Tomorrow, we had to divide and conquer as I was going on an adventurous tour where Charco Prieto was the goal (and reason for me doing this tour) even though I knew it was on All Trails.
But apparently, this tour lasted 8 hours so I wondered what else they were going to do.
In the mean time, the plan was for Julie and Tahia to go to the fortresses again tomorrow before chilling out at the resort for our last full day in San Juan.
Visitor Comments:
Got something you'd like to share or say to keep the conversation going? Feel free to leave a comment below...
No users have replied to the content on this page