Day 3 (April 16, 2022 – San Juan, Puerto Rico): "La Familia"
It was 5:30am when I awoke to my alarm, but unlike the other days where my day would be dependent on how soon Julie and Tahia would get ready for the day, today was all about dividing and conquering.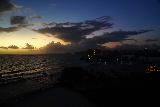 On tap for today, I was going on a tour to visit Charco Prieto while Julie and Tahia were supposed to go into Old San Juan to visit the insides of the foretresses.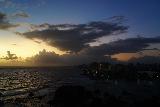 I know they were targeting the Castillo de San Cristobal first, but I wasn't sure if they'd also make the time to visit El Murro, which we saw from the outside on our very first day in San Juan.
So after tending to my blogging duties and getting all caught up on yesterday's activities, I then had my cold breakfast from the kioskos de Luquillo yesterday (hey can't let a $140 meal go to waste, right?), which was basically the leftover paella.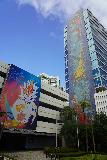 By about 8:35am, I then made it out to the waiting area by the Uber pickup spot outside the main cul-de-sac of the hotel, and eventually got picked up by Jesus of Jerry's Adventures at 8:45am.
I was the second party (even though it was only me) as there was a Filipino family from Jersey that was picked up first.
Speaking of family, I noticed that Jesus liked to refer to the tour members as "family" (or la familia), which he reinforced in person as well as in text messages leading up to today's tour.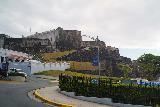 With the holiday light traffic in the morning, we had no trouble getting the next groups of people, which consisted of a couple from Pennsylvania, another from the Honduras by way of New Hampshire, and one from the British Virgin Islands by way of Wales.
At first, I was concerned about the tight spaces in the van from a COVID-19 standpoint, but I knew that this was reality in the post-COVID era as the world pretty much has to learn to live with this.
Now, the skies were actually partly cloudy and there seemed to be heavier clouds budding over the mountains that we were approaching backing the community of Bayamon.
Jesus was keeping things interesting with some Puerto Rico trivia games where he was trying to stoke some competition among the tour participants.
I think I answered the Spanish surname of Christopher Columbus, but then for the rest of the competition, I pretty much came up dry.
We went up some pretty winding and narrow mountainous roads flanked by some residences, and we ultimately made it up to some kind of lookout area in the vicinity of some fortress remnant with a nice view back towards the northern coast of Puerto Rico, including San Juan.
We got to this lookout at around 9:45am, and we learned about the Spanish influence on the founding of modern Puerto Rico as well as how the Tainos and tribes in Cuba were instrumental in starting the Spanish-American War.
The plight of the Tainos also mirrored the story arc of the Avatar movie, where the outsiders befriended the locals before turning on them for their resources.
After the lookout, we were then taken to the Charco Prieto trailhead as we arrived there at 10:15am (well, actually a little uphill from there away from a stream that was ultimately the source of the Charco Prieto waterfall just in case of a flash flood down there).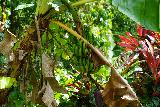 We got some cold water and Jesus passed around some snacks before we had gotten started, and by this time, the intense sun was pretty much out but we were surrounded by thunderclouds that I was certain would start to dump their load hopefully when we're done with our excursion.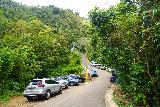 Now, we kind of anticipated that today's tour was going to last until 5pm, but with this being the day before Easter Sunday, a lot of places were closed, and this included a restaurant stop in Bayamon.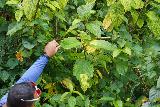 So it was pretty much going to be just the waterfall and then going back to San Juan.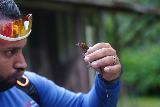 There were actually quite a few cars that were already parked at the Charco Prieto Trailhead, and it was pretty much as i had anticipated since I learned in my trip research that this place was already on AllTrails.
So I was sure that locals and tourists would have already blown up this spot on the socials and so parking and crowds might become tricky.
In any case, we were in good hands with Jesus as he made sure to educate us on the stuff that we'd come across including how bananas grow, a gecko that he caught, some neurotoxic stinging plant, and some bird calls.
Of course, he also helped us by guiding us on the easiest paths or routes where it was possible to get by without getting wet though with the slippery boulders, I'm sure there'll be spots where it's best to just go in the water rather than risk a misstep.
There were some intermediate waterfalls along the way, which kept the scenery interesting on the muggy hike.
At around the second intermediate waterfall, Jesus paused and showed the group how the Tainos used some naturally occurring rocks that could act as dyes when wet.
He grounded up three different shades or brown or orange that we were able to apply on ourselves as a sort of Taino war paint.
Anyways, beyond this second cascade, the trail became increasingly a bit more challenging and dicier.
That said, the obstacles were nothing ridiculous, but it did get quite challenging, especially towards the end of the hike.
This was because we had to cling to some narrow and slippery rock ledges above dropoffs and pools flanking intermediate cascades.
The diciest of the obstacles were right at the lower waterfall fronting the main Charco Prieto Waterfall, which involved a rope support to hold onto as well as Jesus telling us where to place our weight for the least amount of risk and maximum success.
But ultimately by about 11:20am, we finally made it to the Charco Prieto (which Jesus also mentioned was called Posa Negra), and we showed up just in time for a momentary rain as the clouds around us already started to dump their load.
Fortunately, this rain was short-lived though it lasted long enough to prompt me to pull out my rain poncho and protect my gear (especially those that are water-sensitive).
We spent a pretty solid half-hour at the falls where Jesus did cross the creek and scrambled his way up to the base of the main drop of the Charco Prieto Waterfall where he was getting a shower.
Meanwhile, I was chatting with other tour members while also documenting the experience.
A few people on the tour did manage to wade in the shallow plunge pool to cool off while others did do the slippery scramble up to the base of the main drop of Charco Prieto Waterfall.
The rain squalls came and went a couple more times while we were chilling out here though there was one brief heavy squall that prompted some of us to use the natural rock shelter (basically a huge boulder that fell from the cliff some time ago).
By about 11:50am, we started to head out again as it started to rain and stop yet again.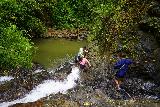 The weather seemed like a warning for a prolonged period of thunderstorms for the rest of this afternoon, and that was also kind of our cue to leave.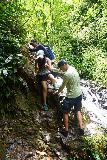 The hike back was initially tricky as we had to cling to slippery slopes and ledges to get around the lower Poza Negra Waterfall, and then we had to cling to more slippery ledges further downstream.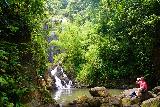 But eventually, we'd continue to make progress on the return hike as it seemed easier on the way back since we kind of knew what to look forward to.
And before we knew it, we got back to the Charco Prieto Trailhead where it looked like there were even more cars that were parked here.
Apparently, this place probably really blew up on the socials in the last couple of years (or at least on AllTrails), and this was a common phenomenon that we had seen back at home as well as apparently the rest of the world.
Although Jesus offered to hike back up the hill and drive the van down to pick us up, we all decided as a group to hike back up the hill to get to the van.
So by 12:40pm, we were inside the vehicle and made our way back towards San Juan.
During the drive back, most of the "family" was looking forward to having a lunch in Old San Juan at some place called Cafe Manoline though Julie and Tahia wanted me back at town.
They told me that they had encountered some pouring rain while they were having a lunch break after having visited the Castillo de San Cristobal, and as a result of the rain, they didn't bother going to El Murro, which was the other fort at the very tip of Viejo San Juan.
Anyways, after we made pretty good progress getting through Bayamon, the traffic pretty much snarled to a prolonged stop as we approached a chokepoint by the bridge linking the San Juan Island with the rest of the mainland.
The original plan was to have a lunch stop at some local joint in Bayamon, but they were closed today so that kind of bummed out Jesus as well as some of the familia eager to try out something a bit less touristy.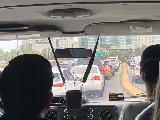 And to add insult to injury, we must have been stuck in this traffic for pretty close to an hour so whatever time we thought we'd have for the rest of the afternoon really was pretty much shot.
Jesus forgot to drop me off at the Caribe Hotel (otherwise I would have met up with Julie and Tahia right when they arrived at the hotel) and we went straight to the Viejo San Juan so I didn't get to have the popsicle that Julie and Tahia bought for me (as it was melting for too long).
They were really talking up this place as being better than what we had at Senor Paleta, which we had as part of our foodie tour by Spoon on the first day we were in San Juan.
Oh well, eventually at 2:45pm, I was finally dropped at the hotel.
After having some rotisserie chicken and some sweet plantains, Tahia and I then went down to the pools for some play time under the cloudy skies at 3:15pm.
Not surprisingly, both the beaches and the pools were super busy with people, but Tahia opted to go into the pool instead of the beach so she could try to play tag with me or do wrasslin' moves (basically an excuse to flip her in the pool), or carry her around the pool.
We also managed to play a little bit of basketball, which was tricky because we didn't have our legs under us (and thus no power) for as long as they were submerged in the pool.
And we didn't really get a chance to chill out in the jacuzzi because they were small and they were crowded with people.
After well over an hour in the pool, Julie came down to us and encouraged us to go to the beach to at least check it out.
Well, after a few minutes in the beach, it turned out that the water was a bit on the stagnant and dirty side, and so we opted to go back to the pool to play a little while longer.
And eventually at 5:15pm, we made it back to the room.
So even though it was a rather low key afternoon with no more sightseeing, it was still quality time spent as a family, and that's also valid as far as travel experiences are concerned.
We then pretty much spent the rest of the evening doing an Uber eats of this taco joint called Nomada with a nice view from our balcony (hey the $500+ per night we were spending here had to be worth something, right?).
Surprising all of us, the tacos at Nomada were quite good, and it was not quite the ripoff as the Caribar was or other eateries on the ground floor of this hotel.
Julie also indulged with one more coffee fix where we also got one last go at a dessert before calling it a night.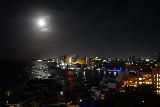 That said, we had to pack up and get ready for tomorrow because we planned to get an early start to beat the traffic that was so painfully clear on this day (as well as each of the previous two days).
Not only that, but Jesus earlier on warned me about how busy it was going to get at waterfalls in the west like the Gozalandia Waterfall as well as Salto Collazo, especially since tomorrow was Easter Sunday.
And those are just the two waterfalls we were supposed to visit tomorrow on the way to Aguadilla. So this is going to be very interesting (and not likely going to work in our favor, I'm sure)…
Visitor Comments:
Got something you'd like to share or say to keep the conversation going? Feel free to leave a comment below...
No users have replied to the content on this page