Day 4 (April 17, 2022 – Aguadilla, Puerto Rico): "On The Unexpected Tip"
It was about 5am when we awoke to our alarm, which we had set earlier in anticipation of some intense traffic given that today was Easter Sunday.
After rush eating some cold rotisserie chicken leftovers from yesterday, we then got all packed up and went downstairs to eventually load up the car by about 6:15am.
This was timed for right when Julie wanted to wait in line for some Starbucks coffee and brekkie foods, and then we eventually headed out by around 6:30am.
The drive out of San Juan went pretty much without a hitch as it was holiday light and not many people were out and about on this Sunday morning.
We'd ultimately get to the PR-2 west as we headed towards the vicinity of Arecibo, which had a couple of target attractions like the Charco Planta as well as the Cueva Ventana.
Unfortunately, the Cueva Ventana was closed (which I only read about last night) and I really didn't feel like going out of the way to visit the Charco Planta, which had man-modifications due to some hydro facility.
So instead of expecting to reach the Gozalandia Waterfalls by late afternoon, when I was real nervous about this place getting busy, we eventually reached a well-signed bridge for the Salto Collazo near the town of Lares at 8am.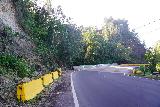 We just pulled over some shoulders right across from some kind of hydro-looking shack or something like that, and the graffiti on the bridge pretty much said it all as it stated "Salto Collazo" on it so there was no doubt we were in the right place.
I was the first to get out of the car and change into the Altra Lone Peak 5s while putting on a fresh pair of nylon socks (this was the third and last of the fresh ones I had as the other two were still damp).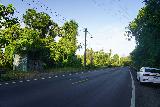 Anyways, I had to be careful about getting stuff out of the car even though we were parked within the road shoulder because we were still on the PR-111 and there was still fairly significant traffic going to and from along this road.
I'd eventually head towards the bridge and then descend to the left right towards the base of the first and upper of the Salto Collazo Waterfalls.
Although this place was pretty convenient and impressive, it didn't take long for me to get the feel of this place and then start looking for a way to get down to the base of the taller main drop of the waterfall further downstream.
From initial indications, there didn't seem to be a safe way to get down to the lower waterfall from across where we were parked.
So Julie retreated to the car and tried to talk me out of going to the bottom of the falls.
But as stubborn as I was, I decided to cross the bridge and pursue walking onto a small road leaving from the east side of this bridge.
Once I got onto the narrow road, which appeared to be leading towards some private residences, I did notice that there was a faint (most litter-strewn) path that more or less showed me where people have been to before.
After some damp, humid, and slippery scrambling, I ultimately found my way to the base of the Salto Collazo Waterfall, where I really tried not to mind all the graffiti around me.
So clearly, this place wasn't all that unknown, but at least at this moment, I was all alone and did my business narrating for our YouTube Channel.
By the time I was done, I then scrambled back downsteam and then took the steep but manageable path leading back up to the access road, and then eventually to the parked car at 9:05am.
Next, we continued driving the PR-111 just as the traffic volume really started picking up.
It didn't take long after driving further to the west that chanced upon the narrow residential streets with accompanying signs pointing the way to the Gozalandia Waterfalls.
There was already a car in front of me that was also headed to the Gozalandia Waterfall so that kind of took most of the guesswork out of choosing which path to take on the narrow and winding residential streets.
And by 9:20am, we got through to the Gozalandia car park, where we paid the $10 and then was instructed to park close to some kind of damaged building, which I suspect might have been killed by Hurricane Maria.
So it took Julie some time to get started, and with Tahia and I getting antsy, we went ahead and started descending the path leading to the main Gozalandia waterfall.
As Tahia made her way down, I lingered at the top as I checked out the upper lookouts and then descended some steep and narrow steps down to the swimming area fronting the lower falls.
Once at the bottom, Tahia was so eager to go for a swim that she took matters into her own hands tried to set up on a rock in the middle of the river just as the intense sun was shining right onto it.
That was when I learned that morning wasn't exactly the best time to visit this waterfall because we were pretty much looking against the sun at the falls.
Nevertheless, this waterfall was nice, and it was pretty wide so there were already people enjoying this spot (mostly from tourists).
One thing that was surprising was that we kind of braced ourselves for there to be loud music kind of like what we saw at Luquillo Beach, but down here, it was quiet.
The reason for that was that this waterfall was private and so they set the rules and said that no BBQ, no music, and no coolers were allowed.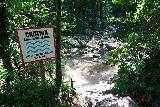 So I'd imagine that drove away most of the locals looking for a free spot to linger around, especially with today being Easter Sunday.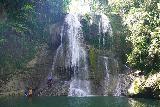 Perhaps that was also why we noticed that there wasn't that much litter down here either.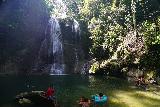 Now I had brought down the tripod so that we could take a family photo as well as some long exposure shots, but with the sun against us and the amount of hassle it took to even set up and get a shot off, I just felt like it was way more trouble than it was worth.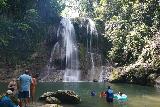 I mentally kept wondering if getting this tripod was a waste of money (and bringing it along was not worth the weight and bulk), especially since I would rather be in the moment instead of spending so much time trying to get a shot only to doctor it later and try to monetize off it.
Anyways, Julie finally joined us and so we spent a few minutes trying to make use of the tripod for a family photo.
And when that was done at around 10:20am, I left the tripod with them since I didn't want to bring that to the upper waterfall, which I was targeting next.
Julie had brought a floatie so Tahia could get further into the pool (though it was probably a bit colder than she would have liked).
And I pretty much left them to enjoy this place thinking that when I'm done with the upper waterfall, I'd come back here and cool off with Tahia since I expected to be pretty sweaty and messy upon returning.
So with that, I saw that there was a separate set of concrete steps, which I went ahead and took just to see where it went.
It was actually an alternate trail that wrapped around underneath the building that was beat up by the car park, and I eventually got back to the trail junction point, where I could now pursue the upper waterfall.
This concrete path continued to follow the stream past some intermediate cascades along the way before climbing some mild steps.
It didn't take long before I showed up to the other waterfall at 10:45am, where there were already a handful of adults enjoying themselves at this more secluded spot.
One thing I noticed about this spot was that it was pretty much all adults that were here, which made me realize that the lower pool was primarily where the families (especially the kids) were.
But up here, I guess families were less interested in doing a hike to earn a visit, and so there was also a rope swing in addition to the smaller but plunging upper Gozalandia Waterfall.
I took some time to document this spot, including myself doing my extemporaneous self documenting, before I headed back to rejoin Julie and Tahia.
When I got back to the lower falls at 11:15am, I was surprised to see that Julie and Tahia weren't there.
I suspected that they probably had gone back up to perhaps have an early lunch or something.
Anyways, I eventually found them at around 11:30am where they were at a shaded bench having some water and some leftovers (or finally getting to eat the Starbucks brekkie from the Caribe Hotel earlier this morning).
And when we put the stuff back in the car, we decided to try out some stuff at the eaterie here since Julie noticed some people carrying around some passion-fruit-looking drinks that looked really good.
Ultimately, we decided to have ourselves a cold drink (passion-fruit mojitos and a pina colada – all virgin) and we also tried out a mofongo that had shrimp with garlic sauce in it.
Although the entire thing costed us a pretty pricey $60 (with tax and tip), we at least left knowing that we didn't have to go looking for a lunch spot as we started to make our way towards the Punta Borinquen (wondering if we could check in early).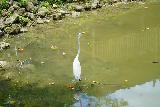 However, as we drove into the somewhat mild traffic on our way to the main highway, Julie made a call to the next accommodation where they ultimately told us that the rooms weren't ready.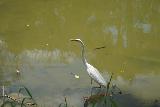 And since the Punta Borinquen was more north than what I was hoping, we ultimately decided to drive all the way to the southern tip towards the Cabo Rojo Lighthouse where we hoped to see the sea arch down there.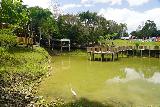 Actually, I originally didn't even intend to visit this part because it was kind of out of the way, but since there was no Cueva Ventana, no Arecibo Radio Telescope, and no reason to linger at the Charco Planta, I figured we mind as well do this for something different.
Now, the drive down to the southwestern tip of Puerto Rico was already a bit of a long drive as it was.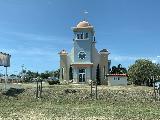 However, by the time we got into a caravan of traffic and approached a congested junction, there were cops there directing traffic, and I must have mistook their traffic handling thinking they were detouring people.
And what happened was that I wound up going on this really busy road towards Combate Beach where there was a giant line of cars waiting to leave.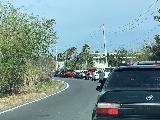 We couldn't make a U-turn which meant that we had to try to get all the way to the end of the line, and what we wound up doing was going all the way to Combate Beach before circling back towards the end of the line and sitting in traffic until we got back to the original junction.
That detour was costly as it probably took us an extra hour to drive back to the resumption of the road leading all the way to the Cabo Rojo Lighthouse and the Playa Sucia.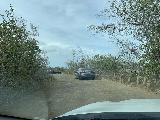 Well, I guess we saw for ourselves where most of the Puerto Rico locals went (i.e. to any beach or waterfall), and we literally felt their frustrations with the traffic situation.
Hey, when in Rome, right?
Ultimately, we'd get to the Cabo Rojo Lighthouse vicinity at 2:55pm.
This was at the end of a very badly rutted and potholed road, which really would be better suited for high clearance vehicles, but there were a lot of passenger cars that made it out here (albeit very carefully and very slowly).
And from there, we hiked around the Cabo Rojo Lighthouse while also checking out the Playa Sucia as well as noticing the wide open stagnant pools that seemed to have a bit of a sulfur smell to it.
In fact, I was joking with Julie and Tahia that this place smelled like Yellowstone because it was probably a bunch of bird poo going into the stagnant water.
It was the only way I could justify there having this smell when there was no thermal spring or geyser around here.
But the highlight of our time spent up here was actually the sea cliffs in the vicinity of the Cabo Rojo Lighthouse.
We had to be careful not to get too close to the edge of the cliffs, but it was nice to see sea stacks and even try to compose these sea cliff views with the lighthouse in the background.
In fact, some of the sea stacks reminded me of a poor man's version of the Twelve Apostles along the Great Ocean Road in Victoria, Australia.
As we continued further to the west along the sea cliffs, we finally saw the small but attractive sea arch, which looked like it was a bit fragile and might be on the verse of collapse.
There were also temperary wave-generated waterfalls as well as what appeared to be blowholes further down the coast, which kind of shows you how much turbulence there was in the rough seas out here.
After having our fill of the arch, we then headed back towards Playa Sucia where we briefly felt the not-so-cold water at the so-called dirty beach, where a bay seemed to have dispelled a lot of the wave energy making this beach more or less calm enough to enjoy.
I'd imagine they called this place the dirty beach because of the smelly stagnant water backing this beach.
Anyways, we finally got back to the car at 4:10pm, and after carefully making our way back along the beat up road, we also made a stop at some salt cultivation area as Julie wanted to take pictures of the salt mounds here.
But other than that, we had to make the long drive back towards Punta Borinquen on the northwest side of the PR (we were on the southwest side), and that took a bit of time, especially given the traffic lights and the traffic in general.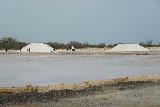 With hindsight being 20/20, I regretted not staying in Mayaguez instead of Punta Borinquen (let alone Aguadilla) because we were headed back this way tomorrow on the way to Ponce by way of a couple of waterfalls.
Regardless, we were stuck with our decision, and it wouldn't be until about 6pm when we finally arrived at the Punta Borinquen Resort, which was basically a pretty typical hotel though it was situated next to an airport as well as a bunch of bases and American installations here.
After checking in and dropping off our stuff, we then went for a ramen takeout at Sampai, where we ate in the car so at least the dinner was hot (albeit awkward to eat), and finally by 7:30pm, we were back in our room to finally chill for the night.
Tahia was bummed that we had run out of time to go swimming in the pool, but with all the adventures and misadventures that we had on this Easter Sunday, it was still a fulfilling family day where we had all sorts of improvisations to make.
Tomorrow, we had more off-the-beaten-track adventures to check out as we'd delve further into the Central Mountains before finally settling in on Ponce…
Visitor Comments:
Got something you'd like to share or say to keep the conversation going? Feel free to leave a comment below...
No users have replied to the content on this page