Day 5 (April 18, 2022 – Ponce, Puerto Rico): "Roadside Runaround"
It was about 4am when I awoke as I had to get caught up on yesterday's happenings while Julie and Tahia were still sleeping.
The plan was to get out of Punta Borinquen by 5am knowing how far north we had started from (since we opted to stay near Aguadilla instead of Mayaguez) so we needed to make up for some of that lost time with an early start.
Besides, it wasn't like there was much that really held our interest in these parts since we weren't surfers and the hotel we were at was definitely many steps down from the Caribe Hotel in San Juan that we had stayed at for each of the first three nights (at nearly $600 USD a night!).
Anyways, we didn't leave by 5am as I had hoped, and we actually left at 6am, which was pretty much right on our original schedule.
So we headed south where it definitely felt like the roads were a bit busier given that Easter Week was over and people were now going back to their regularly-scheduled work routines.
That said, the drive pretty much went without much trouble since we had done this route yesterday despite how relatively busy the roads were so early in the morning.
Aside from one Wendy's stop, which had just opened by the time we made it down to Mayaguez at around 6:35am, we then ate our brekkie quickly in the car, and then we proceeded to head inland towards Maricao at 6:45am.
I had originally thought that maybe we only needed to take the carretera 105 east all the way to Maricao from Mayaguez, but that involved some additional urban driving.
So I just let the GPS dictate where we were going, and it told us to take a more parallel path to the north of the 105 before crossing over somewhere halfway and then going east of the 105 into Maricao.
The mountain roads had locals on them, which wasn't surprising, but it was the narrowness and twistiness of the roads that I had braced for when I planned this part of the trip.
Fortunately, driving in Europe (especially Norway) kind of made me used to these kinds of tight two-way traffic mountain roads though the added obstacles of potholes and deadfall made things interesting in a few stretches.
We'd eventually make it into Maricao, which seemed like a fairly significant mountain town considering the drive it took to get here, and then we proceeded further along the carretera 105 for a short distance further to the east where we'd eventually join up with the 425 just past a bridge.
We then headed south on the 425 as the road noticeably started detetiorating, and we ultimately stopped the car at the top of some hill next to a shipping container that had some graffiti on it (one said Curet with a heart over it).
And we got there at around 7:55am, which was pretty much as I had anticipated when I planned out this trip even though the GPS had us believe that the drive should have taken 90 minutes (instead of closer to 2 hours).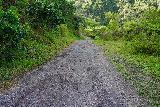 We actually settled for the top of the hill here because the road was even more beat up further down, and I figured we mind as well walk down that stretch of road.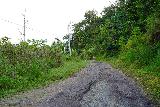 Anyways, since we were in the middle of nowhere, we all decided that we were going to do this excursion (what else was there to do here?), and so we took some time to get all geared up and ready to go.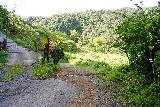 That said, we kind of assumed that there would be ample shade along this excursion so Julie and I didn't bother bringing a hat.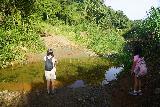 Nevertheless, the hike down the road was fairly steep but still quite manageable, and we went by someone's gated driveway where the path became an even rougher 4wd road to the right of it.
It was definitely something the passenger car we were driving couldn't handle.
It didn't take long before we had to cross the river for the first time as the road bottomed out, but this crossing was really more of a 4wd road ford so it really wasn't a big deal.
Then, the road climbed beyond the crossing and went in and out of the shade while also giving us glimpses back at the private residence as well as container where we had parked the car.
The road was only muddy in one stretch, but it was fairly wide and tame the rest of the way.
Ultimately, the road descended to a second crossing of the river before reaching a welcome-looking residence with a sign welcoming us to Salto Curet.
There was further signage saying that we now had to go into the river again, but this time, we had to wade in it.
The wading actually wasn't all that bad, and it was just that we had to get wet on this excursion, which was the only real complication to the otherwise straightforward hike.
Well, there was some mild rock hopping towards the end (where we always had to be cognizant of the slip and fall hazards of these rocks, especially when they're wet), but we got to the Salto Curet at 8:50am.
We were all alone at this waterfall, which actually had a somewhat hidden upper tier to it.
But since we were enjoying this place having it all to ourselves, Julie and Tahia finally had their Wendy's breakfast while sitting and enjoying the pretty waterfall across the wide plunge pool.
In the meantime, I took some time to document the whole experience as per our usual MO these days, and then after having our fill of this place at 9:20am, we headed out.
Indeed, I was glad that Julie and Tahia had a chance to do this excursion because it was pretty easy, and it totally lightened the mood considering that we were worried about this being difficult or risk prone (as many off-the-beaten-path waterfalls tended to be).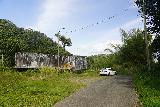 The hike back also went pretty uneventfully and we ended up back at the car at about 9:55am, where we noticed the gate to the driveway that we had passed by earlier on was now open.
Anyways, we then drove off and now were nervous about the next phase of the drive as we had to get to Salto Santa Clara but we weren't going to drive all the way to the main Highway 2 and then come back up through Yauco to get to that next waterfall.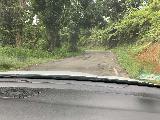 Instead, we were going to the take the mountain roads (called the Ruta Panoramica, I'd imagine though there seemed to be many of these) to get there.
And when you look at it from say Gaia GPS, it was intimidating because there were numerous lines that went this way and that, and I was concerned that we might get lost or the driving would be so slow that we'd wind up spending the whole day driving roads like this.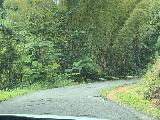 Well, the GPS had us continue on the PR-425, which seemed to get through some more pothole-riddled roads and some one-lane stretches high up in the mountains.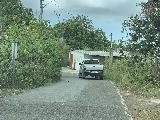 But eventually the road joined up with the 105 again, and that seemed to improve the driving conditions somewhat as it followed some winding ridges before joining up with the carretera 374.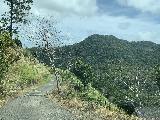 Then, we cut along this "highway" before joining up with the 428 where both of our GPSes wanted us to go north on this highway and then down some really sketchy narrow road that was beat up.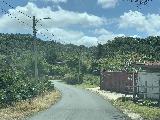 When I saw that the Garmin Nuvi wanted us to go right into some really sketchy roads, that was when I knew that they were misleading us, and I had to backtrack to the sanity of the 428.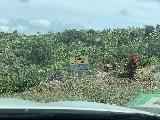 This time, we had to look carefully at our downloaded map on Gaia GPS because the navigation wasn't helping us at this point, and so we followed the 428 in the opposite direction (south) towards its junction with the PR-372.
That was when we finally saw some Salto Santa Clara signs at this junction, and we then followed the PR-372 north until the next signed junction, which then went up a narrow and steep road ultimately leading to a pair of residences at the end of this road.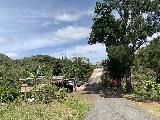 We ultimately parked off the road and under some limited shade provided by a tree at 11am.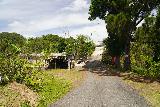 I knew the shade might grow as the day wore on, especially since Julie and Tahia wanted to stay at the car this time around.
Aside from some barking dogs just staring at me from the driveway as well as one owner seeing what the commotion was about, I went ahead and hiked onto the trail.
Again, there was signage pointing the way down the mountain as it was apparent to me that the owners here (who I'm assuming maintained this trail) did a great job of making this place accessible.
Eventually, the path (more like a rugged 4wd road) descended to a shallow stream crossing that I was able to rock hop across, and then it continued up more 4wd road before reaching another sign telling me to deviate from the road and now go on a legitimate hiking trail at 11:15am.
From there, the path was now a narrow jungle path though it was still pretty easy to follow as it descended towards the creek again that I was able to get across without getting wet.
Then, it kept to the right of the creek and followed more hiking trail that seemed to be full of fast-moving geckos and/or snakes (since I kept hearing rustling in the vegetation whenever I approached).
Eventually, I reached an attractive intermediate cascade, where it seemed like I was on top of some major dropoff just further downstream.
I noticed that there was a steel cable wanting me to go down into the rocky confines of the top of the waterfall, and I thought there was no way I could do something like that.
However, I did notice that there was an alternate path to the right that I hoped would be the correct path, and sure enough it was as it veered to the right away from the top of the waterfall and then delved deeper into the jungle along more forested ledges.
This path eventually got to a steep descent that had some steel cable to aid in the descent and the footing.
Then the path continued for a few minutes more before making the final descent to the boulder-strewn watercourse before the impressive Salto Santa Clara, which I got to at 11:45am.
I'd have to say kudos to the owner or trail maintainer because it was so well-signed as well as had enough aids to keep this place accessible that I really considered this place a true gem.
The waterfall was beautiful as it had this pitchfork shape with an upper columnar drop before splitting into a much longer twin drop.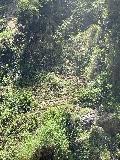 I saw that there was a ledge across the creek where I might get an elevated and more frontal view of the waterfall, so I went ahead and pursued that, but as I got up to the ledge (which required me to crawl), my water bottle fell into a slimy and stagnant part of the creek below.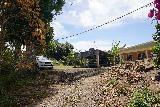 Well, I knew that I had to go down and get it, but I was more worried about my water getting contaminated so I figured that I couldn't have a drink the rest of the way.
Nevertheless, I went ahead and documented the falls from here though it was kind of against the bright midday sun.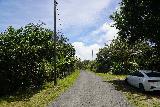 And I basked in the regal view where the falls was quite secluded as there were some vertical walls both adjacent and opposite the waterfall itself in a scene kind of reminiscent of the Tiefen Waterfall in Taiwan.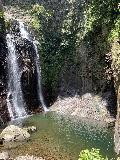 After having my fill of this spot, I then got out my trekking pole and tried to scoop out the steel bottle swimming in the muck of the slimy creek.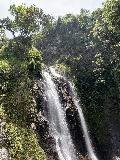 While it was a bit of a struggle to get the bottle out, I eventually did the job and then promptly crossed the creek to get onto the "island" in front of the Salto Santa Clara, where I documented the falls a little more from there while putting away my trekking pole.
After having my fill of the Salto Santa Clara at 12:20pm, I then headed back the way I came, which didn't take that much time as I ultimately returned to both Julie and Tahia by about 12:55pm.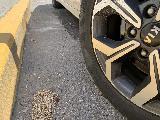 But as I got up to the car to get the pack and my gear off, Julie alerted me to the front tire on the passenger side, which had a noticeable bulge on it.
It looked like the tire was about to blow out, and since we were deep in the southwestern part of Puerto Rico's Central Mountains (with still more mountain driving to go), that didn't bode well for us.
It always seemed like we get rental car drama no matter where we go, and this was just another typical experience, I figured.
Nevertheless, we had to take care of this and since we were now headed towards the city of Ponce, where we were going to spend the night, we figured that this city would have the facilities necessary to fix this problem.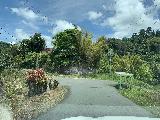 It took some time to take the PR-327 south all the way into the town of Yauco, and that was when Julie tried to call Avis Roadside Assistance for our next steps.
Well, she had plenty of time to make this call because the Highway 2 was congested as there was a detour on the highway.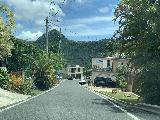 We'd eventually get past this spot of congestion, and as we were making good time on the 2 heading towards Ponce, Julie was finally able to call someone at Roadside Assistance, but it was a bit difficult to talk to this person over the phone as the channel quality wasn't great.
On the first attempt of calling the Roadside Assistance, he actually gave us the general Roadside Assistance number, which was pretty much giving us the runaround.
So when we called back, he then tried to get our information and tried to assume that we were stranded somewhere and needed emergency assistance.
Well, that wasn't the case since we were driving towards Ponce, but this call took so long and it wasn't getting anywhere that we were already at the gate fronting the Ponce Hilton while this call was still going on.
By this point, we decided that we were just going to go to the local airport here in Ponce, and then seek out the Avis Rental kiosk in there, and so we did that (after ending our call), and then got to the airport at 2:30pm.
From there, Julie talked to the Avis person at the counter there, and then she told us to go to the Pep Boys in Juana Diaz, where Avis had a contract with them.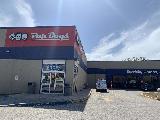 Well, Juana Diaz was also the town nearest to Salto Collores, which was the last waterfall of the day, but we first had to take care of this tire issue.
So when we got to the Pep Boys in Juana Diaz at 2:45pm, we then explained the situation, and the staff was pretty helpful in terms of taking care of us and getting us out on our way (jumping the queue since Avis was a contract partner).
And eventually by 3:50pm, we finally got the car back, and then proceeded to drive out towards Salto Collores since we were already here.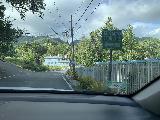 It was getting late in the day, and we were concerned that we were running out of time (especially since Julie wanted to check out the pier at Ponce while Tahia wanted to play in the pool at the Hilton).
So we then headed up to the Salto Collores (though the GPS took us on a little bit of a detour as we apparently missed the PR-512), but we ultimately got there at 4:25pm.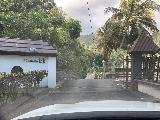 Fortunately for us, the gate was already open and we promptly drove to the parking area by this person's house.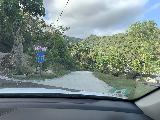 We could see that this waterfall was a short visit as it was literally just a couple minutes down the hill from the parking area, but we paid the owner $10 to park here and make the visit.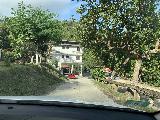 He was inquisitive as he asked about our heritage (seeing that we were Asian and I guess they don't get that many of them in this part of Puerto Rico), and he seemed pretty impressed that I was able to speak Spanish to him.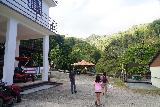 Regardless, he showed us that the waterfall was just down the ramp and then onto a maintained plank path leading right up to the plunge pool and waterfall where there were a couple of couples already there.
And so we were on our way quickly down there where we joined up with the couples that were here (both of whom weren't shy about showing PDA or public displays of affection) around the waterfall.
I couldn't tell if they were locals or not, but they were somewhat younger than us, and one of them brought music though it wasn't the annoying dance hall music that we heard in Luquillo.
Instead, it was more atmospheric, which made me wonder if these folks were European as opposed to Puerto Rican.
Regardless, we left them to their own devices while we were busy documenting this place.
The falls itself was a modest 10-15m or so, and it had a somewhat light but still satisfactory flow.
But it didn't take long before we had our fill of this place and documented the experience per our MO, and by 4:55pm, we were back in the car ready to finally check into our hotel in Ponce.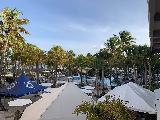 The drive back was uneventful except for one tricky left turn that we had to make (you really have to be aggressive because you don't move if you don't insist though one driver made it easy for us by slowing down as he was coming in the opposite direction).
And by aboutr 5:35pm, we finally arrived at the Ponce Hilton to check in and get settled.
By about 5:50pm, we got into our room, but with daylight running out, we initially thought we were going to drive to the pier in Ponce, but we ultimately decided to just chill out at the resort to have dinner here at the hotel.
We did briefly scope out the property as there was a pretty large pool with a water slide (though we were worried it wouldn't be available by the time we were done with dinner; and we were right about that), and we also checked out a rough dark-sanded beach.
Anyways, the 6:20pm dinner was expensive though we probably paid abougt $50 worth of drinks ($37 of which was from a pitcher of passion-fruit mojito), and we also each got a main of snapper, steak burger, and churrasco mofongo.
The dinner was probably on the order of $150 in total, but Julie and I were also a bit buzzed since we didn't get our mojito virgin.
Tahia enjoyed her mango daiquiri though, and Julie even got a virgin pina colada, which she liked.
By about 7:45pm, we were back in the room where we got changed, and then we went down to the pool to indulge Tahia's desire to play in there.
Julie hung out at the jacuzzi though it didn't last long because it was busy down there plus we were also quite intoxicated by this point (and Tahia noticed as she felt like she was the only "sane" person in the family).
It was a bummer that we couldn't do the water slide, but either way, Tahia seemed pretty happy about going into the pool, and by 8:45pm, we were back in the room to finally settle for the night (while Julie and I tried to sleep away our intoxication)…
Tomorrow, we have to go back into the mountains as we were about to settle near the Canon de San Cristobal, and that might be back to rustic conditions considering this place in Ponce was actually pretty nice…
Visitor Comments:
Got something you'd like to share or say to keep the conversation going? Feel free to leave a comment below...
No users have replied to the content on this page