Day 6 (April 19, 2022 – Barranquitas, Puerto Rico): "Defying Expectations"
It was 4am when I awoke, and fortunately there was no hangover after not feeling so great last night after drinking too much (no thanks to the parcha mojito pitcher).
So after taking some time to get prepared and to finish up blogging about yesterday, we then packed up our stuff and headed downstairs in anticipation for a very busy day today as we were headed back into the Central Mountains in the heart of Puerto Rico.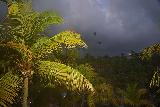 However, as we started to see more daylight at around 6:15am, we were in for a shock as we noticed there were dark thunderclouds pretty much covering the Caribbean Sea towards the beach side of the resort.
Moreover, when Tahia and I went brought our luggage down to the front lobby area so I could go get the car, we saw that there were also menacing-looking dark clouds looming right over us and appearing to blow our way!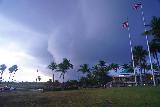 Indeed, when we got into the car, it was just in time because then it started raining squalls, and this kind of set the tone for what appeared to be a very wet morning, which concerned us because we'd apparently have to be waterfalling in this weather!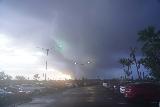 Not good!
It kind of defied my expectation that Ponche and the southern side of Puerto Rico tended to be dry, but today's observation kind of flew in the face of that assumption.
The clouds moved quickly, and it kind of set the mood to be a rather drab and sluggish day where we'll have to evaluate whether we'd want to risk flash flooding on some of the excursions that were planned for today.
Anyways, after a little bit of confusion about trying to get out of the resort due to the paid parking situation, we were finally sorted out with that at 6:25am, and then we drove back out towards Juana Diaz again where we made a Wendy's brekkie stop at 6:40am.
By this time, it was pouring rain again even though it looked like we were getting closer to the edge of the front out east.
After getting the food and eating it briefly in the case, we left at 6:55am, and as we headed north on the familiar road that went past the Pep Boys shop that we were at yesterday to tend to our tire situation, we were then caught in a lot of heavy traffic near Villalba.
It turned out that the traffic was due to school drop-off congestion, which we can relate to given how crazy it can be when we have to drop Tahia off at school.
And so it took some time to drive up the PR-149 beyond Villalba though it was much clearer after getting past the school congestion and then going up the winding mountain roads.
The drive itself wasn't too bad though there were a surprising number of vehicles going the other way back towards Juana Diaz, which meant that we had plenty of moments of needing to scoot by oncoming traffic and especially around the blind corners.
So that made the drive a bit more interesting than it did yesterday when we drove from Mayaguez to Maricao and then towards Yauco along parts of the Ruta Panoramica (which actually seemed to be a catch-all term for the mountain roads going east-west along PR's spine).
We were paying attention to the kilometer markers along the PR-149 and it turned out that some of the crowdsourced directions were off because they said the falls would be around the 41km marker, but it was really more like between the 42.1 and 42.3 kilometer markers.
Eventually by about 7:45am, we made it to the Chorro de Dona Juana Waterfall, which was actually a roadside waterfall seen directly from a road bridge (similar to the Salto Collazo Waterfall that we saw a few days ago).
However, we had to overshoot the bridge and find an informal pullout to the left of the road.
Given how convenient this waterfall was, we got out of the car and promptly walked to the bridge to document this place.
Naturally, we were the only people here that got out of the car to experience the falls, and the weather somewhat momentarily calmed down when we first got there (as it had been raining pretty consistently going up this road).
There were a handful of passer-bys that were probably locals needing to be somewhere, and we had to watch out for the passing vehicles as we checked out the waterfall from the bridge.
However, the calm in the weather didn't last long as the next wave of rain started coming our way, which essentially abridged our visit, and I definitely didn't bother going down towards the edge of the plunge pool of this multi-tiered waterfall.
So by 8am, we got back to the car, and then proceeded to drive further south towards the Ciales-Jayuya Highway (PR-144), which took us west away from the PR-149 towards the town of Jayuya.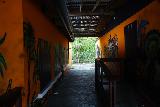 We targeted La Piedra Escrita ("the written rock"), which was an important Taino petroglyphs site, but when we got there at 8:25am, we weren't sure if we were at the right place because we parked at what seemed to be an abandoned restaurant.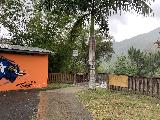 And there was no explicit signage saying anything about La Piedra Escrita pointing in this direction.
Further complicating matters, it was starting to pour rain again so we had to wait it out in the car for a bit, which prompted Julie to want to abandon this visit even though the research said that this was a real easy boardwalk leading down to the written rock itself.
Eventually, when the rain somewhat was calm enough for me to bust out my camera and phone along with rain poncho, I then got out of the car and sought shelter at the restaurant just when another wave of squall came down on the area.
During this time, I then made it to the boardwalk where there was the first lookout shelter, which I sought refuge in and I was sharing this spot with a Taino local who seemed to also be waiting out the rain while checking out his phone.
So after a few more minutes of trying to wait out the heavy rain, I decided that I mind as well keep going down the boardwalk towards the next shelter, wait a few minutes more, and then walk down to the next one at a switchback.
At this point, the rain finally seemed to start to calm down a bit, and I was able to walk the length of the boardwalk down to some steps and then onto the slippery slab of dark rocks sloping towards a cascade and the famed La Piedra Escrita adjacent to it.
Seeing how wet and slippery the slab was that I was standing upon, I didn't go down to the level of the river for a more direct look.
Instead, I was content with the more elevated views because the petroglyphs were more readily visible from up there, and I was able to get the whole context.
I even noticed that there was a petroglyph on the slab that I was standing on.
Nevertheless, I went ahead and documented the experience just as the weather really started to calm down again, which allowed me to start taking a few more photos with the Sony Alpha A7 3, which doesn't like the water very much.
While I was documenting the experience, there was one couple that did make it down here, and the man of the couple went for a swim in the river.
Ultimately, Julie and Tahia finally joined me down here for a few family photos while Julie went ahead and documented her experience, and then we made it back up to the car at 9:30am, which was just in time for another round of rain.
Since we were making good time on this day, the thought crossed my mind that maybe we should pursue a lechonera, of which I was aware of Las Cabanas de Dona Juana, which was not far from the Chorro de Dona Juana.
So I was looking forward to that, but we first had to stop by Las Delicias Waterfall, which was along the PR-141 / PR-533 due east of Jayuya.
We'd eventually get to a bridge crossing over a stream that I'd imagine would contain the Cascada Las Delicias, and Julie noticed there was indeed a waterfall upstream of this bridge.
So we next had to find parking, and there was a pullout further to the east where there was already one car there, and we parked behind him at 10am.
We then got out of the car and walked back towards the bridge where there was a path to the right of the bridge leading upstream towards the waterfall that was clearly visible up ahead.
With Julie and Tahia behind trying to get ready and catch up, I went ahead and documented the lower waterfall and noticed that there was also an attractive upper waterfall further upstream.
But this involved going across the stream on some slippery rocks and then up the slab and rocks to the left of the lower falls, which were also quite slippery.
But eventually, I got up to the base of the main waterfall, where I saw that there was one guy about to leave after having had his fill of the falls (he must have been the guy parked in front of us).
And so I took some time to document this intimate waterfall that seemed to have some kind of ledge across its base as well as that ledge leading to perhaps an alcove or cave though it didn't look immediately obvious how to access it.
Instead, I was content to just base in the base of this waterfall, and eventually Tahia caught up to me and Julie also caught up after hesitating to go up the lower waterfall.
So after taking some family shots, we then scrambled back downstream and back down the lower waterfall where we all slipped and slid down the slick rock before making it back to the car at 10:50am.
At this point, I decided that we should drive back down the PR-149 past the Chorro Dona Juana Waterfall in pursuit of Las Cabanas de Dona Juana for our first legitimate lechonera experience (we had yet to have one to this point).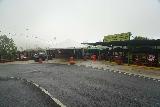 Unfortunately, when we got there at 11:20am, we saw that it was closed as apparently they're only open on weekends now.
So that was a real bummer, and complicating the issue was that it started raining hard again plus Tahia was struggling with motion sickness as she was throwing up in front of the car.
I guess Julie's insistance on Tahia sleeping too much on this trip wasn't good as she was doing just fine sleeping in the car, especially on the curvy roads that we had been doing within the Central Mountains of PR.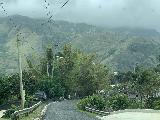 So on an empty stomach, we proceeded to keep driving east along the Ruta Panoramica PR-143 as the drive involved going into the clouds for some scary stretches of low visibility.
For sure, there was no way we could stop at the Mirador Orocovis Villalba since there really wasn't anything to see.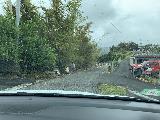 I also had to watch out for potholes along this winding road, but we eventually made it to the PR-155.
From there, we took it north and then after some consultation, we eventually got off the PR-155 towards the PR-566, which was a local road leading us closer to the Charco La Guitarra trailhead.
While our research from Puerto Rico Day Trips website said to just follow the PR-593 all the way, it didn't look like we could access that road immediately from our approach, and it wasn't until taking the PR-566 did we connect with the PR-593.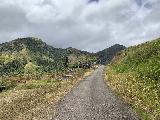 I suspected that the 593 going in the other direction might have led down to the town of Orocovis, but regardless, we kind of knew that wherever we were going was pretty much off the beaten path.
Indeed, when we caught up with the PR-593, we were then making our way up to a hill before the road descended steeply on some nearly single-lane roads, which made me wonder if our small passenger car was going to make it back up.
Well, we kept going on the faith that we didn't quite make it to the 4×4 section yet, and ultimately we arrived at the part of the road where it did say "Solo 4×4" and that was where we turned around and found a flat parking spot near some residence here.
We parked at about 12:25pm, and it was clear that I was going to be solo hiking this one while Julie and Tahia would stay behind in the car.
So after gearing up and finally putting on the trail runners, I then started the hike at 12:35pm, where it didn't take long before I started descending the very steep road.
The steepness of this paved single-lane road was very reminiscent of the descent into Waipi'o Valley on the Big Island of Hawaii, but this road seemed to be a bit steeper and longer than that.
So I was making quick progress going down this road but I also had to bust out my rain poncho as the next round of rain came my way, which potentially made this road even more slick.
Now even though we weren't supposed to be driving down this road, I did notice a handful of passenger vehicles parked near some of the residences alongside this place, and I suspected they were locals who knew what they were doing.
By the time I made it down to the bottom of the steep road at 12:50pm, I saw that there was a suspension bridge going across the river as well as a concrete ford.
Not knowing any better, I actually kept walking past the ford and then briefly up the steep ramp on the other side, but when I looked at the printout, I realized that my next move should have been to start stream scrambling upstream.
So I backtracked and then started the stream scramble proper as it was now apparent that I had essentially route-find my way while also trying to make sure to avoid the neurotoxic plants while also trying not to take a bad spill on the slippery rocks.
Eventually, I saw that there was a side stream coming in from the left, which I knew belonged to the Cascada La Plazuela, and I went ahead and did a rather non-trivial rock scramble to get right to the base of this waterfall.
By the time I got there at 1:25pm, the weather momentarily cleared again and even the sun came out, which brought out the reds of the rock walls underneath the falls as well as the green algae in the stream.
This was a tall waterfall, and from where I was viewing it, I knew that there were more unseen tiers further upstream that I noticed on the approach but couldn't see from down here.
Anyways, I didn't want to linger at this spot for too long given the slippery rocky terrain here and that I noticed some dark clouds around me that I guess didn't quite hit me while I was here.
And so I resumed the scramble as I went downstream from this side creek and then further upstream along the Rio Bauta, where I pretty much route-found my way as the terrain was very rocky and the route was totally not obvious in stretches.
The boulders because even greater obstacles where I had to really watch out for the dark rocks that were already slippery even when they were dry, but they were pretty much game over if going on them while wet.
Indeed, this scramble because even more slow and non-trivial as there were ledges clinging and sloping towards deep pools in the river, which I wanted to avoid, and so it was really slow going and I was getting concerned that I might not make it to the Charco La Guitarra.
Well, eventually after one non-trivial leap of faith and some more ledge clinging with bouldering, I finally made it to the Charco La Guitarra at 2:05pm.
That was where I saw the guitar-shaped swimming hole with a pair of small cascades spilling into it, but it was clear that I wouldn't be able to see the true guitar shape of this place unless I had a drone to shoot it from above.
In any case, I documented what I could of this place and was content just to take what pictures I could around the fringes of the deep pool here.
But with another dark cloud seemingly coming my way, I had to get out of here and not get caught in the slippery rocky terrain when the rain would wet everything.
And so I hastily left at 2:20pm, and by 2:25pm, I got past the diciest of the obstacles (it always seems easier when you're on the way back), and then I was pretty much "home free" on the scramble back towards the 4wd road, which I got back to at 2:45pm.
Next, I had to slowly go up the steep 4×4 ramp road, which was a real leg burner (much like the Waipi'o Valley Road), and with the unrelenting tropical sun on me, I was sweating bullets before finally making it back to the car at 3pm.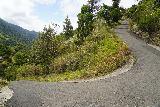 Of course, we weren't quite out of the woods yet as we still had to drive out of here up the steep road, and so we quickly made our way up in low gear while keeping the momentum (hoping no one would be coming down the other way).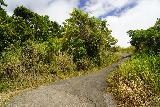 And then once we got out of that, we then tried to find a way down the 593 towards Orocovis but our GPSes kept insisting on going back the way we came.
I wanted to get to Orocovis and then take the direct state highway down to Barranquitas where we were staying the night, but Julie insisted on sticking with the GPS and going back down the 566 then down the PR-155 to the PR-143 Ruta Panoramica again.
I eventually gave into that not wanting to argue, and we'd eventually make our way to the 143 but then as we got closer to the town of Barranquitas, there was a road closure (and that was why I saw the Desvio signs before it).
In the back of my mind, I knew that we should have taken the state highway route via Orocovis along the PR-156 as the PR-143 was riddled with potholes, and this detour was the last straw.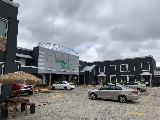 But regardless, we took the detour, which then took us to the PR-156 near Barranquitas, and eventually by about 4pm, we arrived at the Canyon Hotel in Barranquitas where we were finally able to check in.
The person who was living here helped to give us the keys, but he also gave us some restaurant recommendations, and he actually suggested that we try out this bakery called Kmilas, which he said also had a nice view.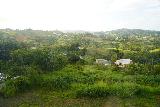 We were sold on that since we wanted to enjoy the views considering we were in the mountains, and so after getting settled, we got back in the car at 4:45pm and headed right up to Kmilas.
We got there at 4:55pm, but the parking situation was a bit tight as the road had a lot of cars and there were much parking spaces though eventually one spot opened up and we seized that in the break in the traffic.
Anyways, we had ourselves a nice meal here as I got a churrasco a la parrilla that had a mofongo with it while Julie got a pechuga mofongo (chicken), and Tahia got a pasta.
It was actually a satisfying meal and the mofongo actually had a pretty good texture with lots of garlic in it, which made it taste a lot better and there were even some crunchy bites in them, too.
We also had some virgin cocktails again (Julie and I shared a parcha-coco combo mojito while Tahia got a strawberry smoothie), and then after having our meal, we really indulged in getting lots of pastries.
It was as if we were buying the whole bakery as we had gotten lots of goodies to try out as dessert as well as to have for breakfast tomorrow morning.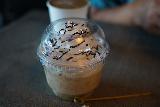 And in addition to the dulce de leche pudding as well as Julie's coffee, we also took away some donuts as well as some more authentic desserts with guava in them.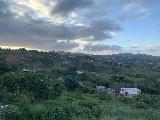 I knew this wasn't going to be a cheap meal, but it turned out that we paid a little over $100 USD, which was actually reasonable considering what we had bought here.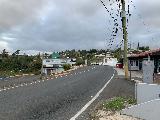 It was a way better value than what we had been paying at the resorts earlier on in this trip, especially during our night in Ponce.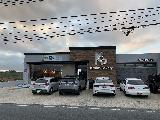 Anyways, by about 6:30pm after Julie helping me watch for traffic as we got out of Kmilas, we finally got back to our room to settle for the night at 6:40pm.
Indeed, our experience at Kmilas exceeded our expectations thinking that we were in a functional local town of Barranquitas, which was not the sleepy mountain town that I had envisioned.
In fact, this town was definitely a not-for-tourist town, and I wondered how many other tourists would make it out this way given the drive it took to get here.
But then again, Kmilas was really a home run, and even all the waterfalls that we did today didn't take as long as anticipated except for the difficult scramble to Charco La Guitarra.
So all in all, things were definitely not what I had expected going into this day, but I guess that's how things go when you go off-the-beaten track like this, where the reality often corrects the assumptions made when planning out trips like this.
And often times, that's the actual joy of travel, where the reality shatters the expectations and keeps things interesting…
Anyways, we finally got back at a reasonable hour, and so I could tend to my photo organizing duties while Julie and Tahia were busy streaming some movie while playing game, respectively.
Tomorrow, I had to do a guided hike into Canon de San Cristobal, and we'll see if the rain we saw today helped to revive La Niebla Waterfall or not (or if the rain would persist)…
I guess we'll find out tomorrow…
Visitor Comments:
Got something you'd like to share or say to keep the conversation going? Feel free to leave a comment below...
No users have replied to the content on this page