Day 7 (April 20, 2022 – Fajardo, Puerto Rico): "Contrasting Experiences"
It was about 6am when I awoke, which was actually later than my usual wake up time throughout this trip.
Now I was supposed to be picked up for my guided hike into the Canon de San Cristobal today at around 8am so I quickly got my stuff ready for the hike as well as wrapping up any blogging that I had to do.
I also ate some of the leftover Kmilas Bakery pastries that we had bought to go as well as some leftover dinner also from Kmilas.
So I ate quite a bit of the leftover mofongo leaving Julie some of the churrasco one that I had ordered while only eating some of Julie's pechuga mofongo as well.
I actually managed to be pretty efficient doing my blogging and getting all geared up this morning.
So when the guide texted Julie that he was already waiting downstairs at 7:45am, I immediately got my belongings and headed downstairs leaving Julie and Tahia to spend the morning at the hotel.
My guide for today's hike into the Canon de San Cristobal was named Ricardo, and he was actually driving a taxi car as we made our way around the road leading towards Aibonito, where there was the southern access into the Canon San Cristobal.
We ultimately arrived at the southern trailhead for the Canon San Cristobal, where there was an open gate as well as what looked like someone's farmlands.
When we got out of the car and proceeded to start walking, we passed by what looked like a field where locals here were cultivating stuff.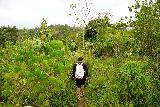 Ricardo told me that they were cultivating a variety of things to essentially raise money for the upkeep of the Canon de San Cristobal.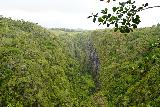 Apparently, the locals here have to try to raise money because they don't really get that much help from the US government let alone the local Puerto Rican government to try to keep the Canon de San Cristobal acessible for tourists who come out this way.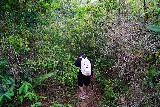 Eventually, we got a nice distant view towards the Canon de San Cristobal where we noticed a steep and nearly vertical cliff in the distance fronted by lots of tropical jungle foliage.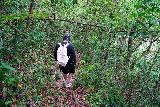 Ricardo showed me where one tourist had gotten too close to the edge of this overlook, where the cliff gave way and caused her to fall down below the mirador.
She was apparently lucky that some trees beneath had broken her fall, otherwise there would be nothing stopping her from plunging all the way to the bottom.
We definitely stayed back and momentarily enjoyed this view before continuing on.
The descent along this trail became even steeper as even Ricardo was slipping quite a bit on his way down, and I was really paying attention to where I was placing my weight.
Ultimately, we'd get to the bottom of the descent where the terrain became more of a combination of wet dirt covered in fallen leaves combined with rocks (many of which were also very slippery, especially the dark ones).
At least the trail was now mostly flat as the scenery opened up a bit amongst some tall grass (which was apparently invasive and have taken over the island) while also becoming more of a small boulder scramble.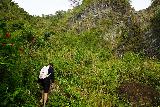 Ricardo pointed out where there were rusted machinery among the rocks that we were scrambling over, and some of them even looked like nature was making some of this rubbish blend in or becoming like the rocks that were naturally here.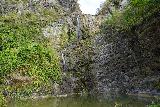 It was an opportunity for him to point out to me that people used to toss their unwanted trash into the canyon until it became frowned upon, and even the locals kids (who can tell who was doing this) would confront the perpetrator and ask him why.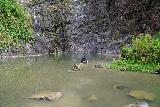 Indeed, when it comes to Nature, respect is hard to come by, and I guess some people just don't care or can't seem to equate how their actions have a long term negative impact.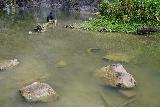 But eventually by about 8:35am, we arrived at La Niebla Waterfall, which was flowing, but it definitely didn't have the high flow that we saw in a photo at our hotel room, which was way wider than the multi-tiered column that we saw at this time.
Ricardo went ahead and waded into the plunge pool, where he got to a log that was still above water and used that as a seat, which was next to an "island".
And I went ahead and joined him for more photos and videos of the waterfall while also noting along the way there was a tire submerged in the plunge pool, which further illustrated how this canyon was once a dumping ground.
After documenting the experience (and dealing a little with some kind of memory error on my GoPro, which I had to restart and readjust the battery; maybe it got too hot?), we then decided to pursue other spots within the canyon at 8:55am.
With time seemingly on our side, we then continued back towards the main stream that cuts through the Canyon de San Cristobal, where we did more bouldering and jungle hiking.
So it wasn't easy as we were constantly looking down at where we were placing our feet to ensure no slip-and-fall, and that kind of made it a challenge to look up every so often and enjoy the scenery around us.
I guess that's the nature of jungle hiking though, where humidity pretty much ensures that the terrain would be muddy or at least damp enough to make everything slippery.
Nevertheless, by about 9:15am, we arrived at the top of a waterfall, which Ricardo said was Las Cabras Waterfall.
Down below this waterfall was a giant plunge pool flanked by high vertical cliffs including some that had a bold tint of red, which I'd imagine would be where there was a presence of iron that had oxidized over the years.
We took some time to enjoy this view (being careful not to get too close to the edge) before we continued with the hike as we went to the left of it and back into the jungle along the creek.
At around this time, I had noticed that my red synthetic shirt had gone missing as it was attached on the outside of my pack where my rain poncho was, and so I wondered if I had lost the shirt for good or if I had even brought it at all.
Regardless, we were committed to the adventure, and Ricardo assured me that we were likely to find it on the way back.
So the jungle scramble persisted as we were on the lookout for plants that had thorns on their steps (some of which he said were actually roses that grew naturally down here) while also watching out for leaves that had stinging hairs on them.
Again, we were also vigilant about maintaining balance while scrambling over boulders that were always slippery.
At one point, we were within the narrows of Canon de San Cristobal where Ricardo pointed out that to our left was the municipality of Barranquitas while the right side above the canyon was the municipality of Aibonito.
He mentioned that just about all municipalities were divided by rivers, which made a lot of sense since you couldn't really dispute natural boundaries whereas you'd have issues with imaginary lines marking political boundaries.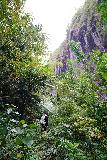 Eventually, we'd get to a point where the rock scrambling and bouldering intensified as we descended beneath an "arch" consisting of boulders that had flaked off into the canyon, and we even bypassed a recent rockfall, which Ricardo said resulted from a recent strong earthquake.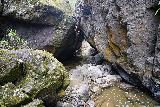 That earthquake was apparently above 7 on the Richter scale, and it happened after Hurricane Maria, which really decimated some of the communities in the area.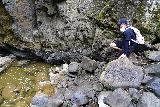 Anyways, after going underneath the "arch" and doing some crawling to ensure we didn't bump our heads on some of the low overhangs while still clinging to ledges, we then had to cross a deep part of the creek.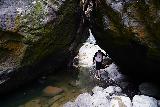 This was where I inadvertently got my wallet and the bottom of my camera bag wet.
This water was probably about knee-deep to thigh-deep or so, but it was only for that short stretch before we got to the other side and finally looked down at a waterfall spilling into Charco Azul (blue pool) at 9:45am.
This was the spot that Ricardo was eager to show me about the Canon de San Cristobal, and it was definitely a more special spot than the La Niebla Waterfall that we were at earlier.
Down here, the canyon was probably at its narrowest of our excursion, as the aforementioned blue pool was way down below, and some of the cliff ledges to the right of us were where Ricardo used to do a cliff jump down into the deep pool below.
Apparently, there were levels of cliff jumping where you'd have to scramble down towards a lower cliff jump for the "kiddie" one while the highest spots were for the "higher grade levels" that had an even crazier vertical plunge.
We then scrambled over to the left side of the cliff where we could peer right down across the nice waterfall here, and then after having our fill of the views from here, we then decided to unsling our packs and most of our belongings to go down into a "cave".
We started doing this at around 9:55am, where Ricardo led the way down a dicey boulder scramble before getting into a nook where there was another profile view of the waterfall dropping into Charco Azul below.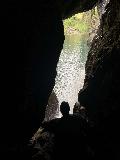 Then, we had to go through a narrow opening where we literally had to lay down and squezze through that manhole with the aid of a rope as well as some spots where I had to place my feet on footholds that I couldn't see (but Ricardo was there to make sure I didn't fall).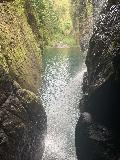 It was probably one of the diciest things I've done, but we ultimately made it down to the bottom where we were in the confines of this "cave" while looking right across the waterfall and into the Charco Azul.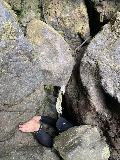 Apparently, it was possible to continue scrambling right to the bottom of this waterfall, but it was very slippery and dicey at best, and since he knew that I didn't really have any intention of going swimming here, we were content with our views from the "cave".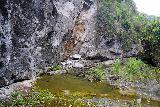 Nevertheless, this experience to me felt like the we were experiencing the REAL Puerto Rico as most tourists would be closer to the resorts and the beaches, but it was the jungles of the Central Mountains where we were truly feeling the essence of Taino Culture.
It was quite the contrast, but I felt this was very rewarding even though I knew that Julie and Tahia really looked forward to the beaches for the final full day of this trip.
After having our fill of this spot, we then made our way back up, which also wasn't easy as I had a hard time getting through (and pretty much had to orient myself the way I came in), and then eventually we got back up to our packs to begin the hike back up at around 10:30am or so.
So we went ahead and made the jungle trek back the way we came, but we did make one stop at La Cabra Waterfall where we got to experience that waterfall a little more.
Then, we resumed our jungle trek back up into the steep ascent though we took a slightly different path around the steep slippery section.
Ricardo was struggling a bit with this ascent so we took frequent breaks, and along the way, we saw my red shirt lying on the trail so I was relieved that I didn't lose it after all.
Ultimately by around 11:35am, we were back at the car, where we were pretty much the only people on this adventure.
I'd imagine that maybe the weekends might see a handful of local people in the know coming down to the Charco Azul and beyond, but as far as tourists were concerned, I was apparently one of the few that got to witness that Charco Azul.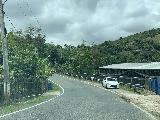 So back in the car we went (which required a little bit of a jump start, which Ricardo came prepared with a self-starting jumper kit), and then we were back at the Canyon Hotel at 12pm, pretty much right on time as scheduled.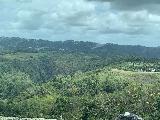 And with that, the family was re-united, and we thanked Ricardo as well as paid him for the tour along with a tip as I definitely appreciated him showing me the wonders of the Canon de San Cristobal, and he expressed his happiness for sharing spots like this.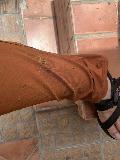 Next, we then drove out of Barraquitas towards the town of Cayey and eventually going for our first lechonera experience, where we ultimately targeted this place called Lechonera Los Amigos.
The mountain drive was heavy with traffic, but at least it was mostly moving as we passed through the municipality of Aibonito, but the GPS definitely wanted to take us on some extensive mountain roads, which I think Julie and Tahia were pretty much over all the curvy roads by now.
Ultimately, after the extensive driving on the Ruta Panoramica en route to Cayey, we'd eventually reach the PR-52, which was a toll road freeway that we then took towards the comunity of Guavate, and after making our exit, we then stopped at the busy Lechonera Los Amigos at 1pm.
This place was actually next to the highway, but we were eager to finally try out this place that was probably the most well-known of the lechoneras in Puerto Rico.
There were a lot of well-dressed people, whom I'd imagine were tourists from other Central American countries or something, because they seemed too well-dressed for the tropics.
Anyways, we had ourselves a pound of the lechon asado, a quarter of a chicken, some salted cod salad (the only green we'd have on this meal as Puerto Rican food definitely lacked veggies), and some sweet plaintains along with boiled yucca and rice.
Well, as far as the lechonera experience went, it was a simple meal where it was pretty much the meats that had some salt as the seasoning on the meats.
However, it definitely wasn't the Versailles Cuban food kind of experience that we'd get back at home where such meats would be drenched in very strong garlic sauce.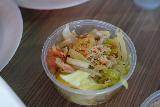 There were also some harder, drier parts of the pork, which definitely could have used that Cuban garlic sauce, but aside from that, we at least finally got to say that we tried lechon asado at a lechonera.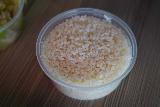 I still wondered in the back of my mind whether we made the right choice for a lechonera spot as I remembered Ricardo telling me that you'd do better if you didn't stop at the first lechonera but went deeper into Guavate and find a busy local joint down there.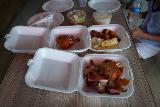 But with time being of the essence and Julie assured through TripAdvisor that we found the most well-known and legitimate spot for a lechonera, we pretty much had our fill, took some leftovers, and then proceeded to make the drive towards Fajardo.
The drive towards Fajardo was interesting in that we followed pretty much all freeways (all of which are toll) and took the PR-52 north towards Caguas, and then took the freeway southeast towards Humacao before following the PR-3 all the way to Avenida El Conquistor near Fajardo.
From there, we followed the local streets towards the secluded El Conquistador Resort, where we then dropped off the luggage, checked-in, and self-parked at around 3:25pm.
Then, we tried to find our room which was a bit of an adventure itself as this place was quite the giant resort and it was like navigating through a maze.
But eventually at around 3:50pm, we finally found our room, and what a view did it have!
Indeed, our room looked down towards the Coqui Water Park below where Tahia was eager to try the water slides down there.
It also had a nice view of the coastline and some of the offshore islands to the east of us.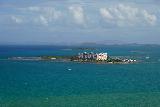 But since we knew that the Coqui Water Park was going to close at 6pm, we quickly got dressed into our swimming attire and then retreated down the funicular by around 4:25pm.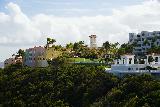 And for the next 90 minutes or so, Tahia would finally get to experience the water park where there was a tube slide, a lazy river, a twisty person slide, and a plunging slide that was the highest one in the park.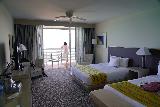 There was also an infinity pool as well as a suspension bridge over part of the pool as well as lifeguards to ensure people didn't do anything that would endanger themselves or other people.
I think this pretty much made Tahia's trip as it was how I'd imagine what Six Flags Hurricane Harbor might be like, and we eagerly kept going up and down the highest of the water slides (and getting water into our noses and ears in the process) while Julie was filming us.
Tahia's reaction to all this smaller version of the Great Wolf Lodge kind of said it all in my mind as far as how someone Tahia's age thinks when they're on their Spring Break.
And so we kept doing all the slides and tubing slides (including going backwards on the tube) before finally they closed off the so-called Yocahu Tower (which was where the stairs were to enable the sliding) about 10 minutes before closing time.
So that was it, and ultimately by around 6pm, we then decided to have a dinner at the Ballyhoo bar, where we enjoyed the views just as some rain started to come over the resort.
And while the food wasn't great (we had a chimichurri steak along with some garlic shrimp and a couple of virgin cocktails), we finally got up to our room at 7:15pm to end off the day.
Although we didn't really want to go back out of the resort to drive to the Pueblo for some water, at least the bartender down there filled up my water bottles so I could at least have enough water to do some final waterfalling before our island catamaran.
Unfortunately, that ride was at 1pm instead of 10am so hopefully the weather would hold up by that time as Julie was looking forward to having a secluded beach experience out there.
But aside from that, we finally wound down the day and ultimately slept with the back door open as we could listen to the sound of the waves in the distance while also getting the trade wind breeze.
So we didn't really need the AC at all on this night.
Tomorrow, we'd have one last full day in Puerto Rico, but I think Julie made the right call by splurging for two nights in Fajardo instead of spending two nights in Barranquitas as originally planned…
Visitor Comments:
Got something you'd like to share or say to keep the conversation going? Feel free to leave a comment below...
No users have replied to the content on this page