Day 8 (April 21, 2022 – Fajardo, Puerto Rico): "Last Hurrahs"
It was about 4:30am when I awoke to my alarm.
All night we had the doors open so we could sleep to the sounds of the waves and we were also feeling the trade winds blowing into the room so the AC wasn't even necessary.
After doing some obligatory blogging (though I didn't get around to picking photos from yesterday), I eventually had some leftover food from the lechonera yesterday, and I was checking out the views of the sunrise during that early morning cold breakfast.
By about 6:15am, I headed out to a pretty quiet morning though I knew that the seemingly calm weather from the morning will eventually give way to thunderstorms in the afternoon (which had been the pattern throughout our week in Puerto Rico).
Apparently, this weather pattern was typical of the build-up to the Hurricane Season though I've been told that the heaviest rains tended to fall in the month of May, which is pretty much right around the corner.
It took about 10 minutes to get of our room and walk all the way to the car so I was in there by about 6:25am.
Then, I headed down towards the PR-3 main highway before I followed the traffic (which was surprisingly somewhat heavy at this time) on the way to El Yunque Forest again.
However, this time, I intended to take the PR-186 up towards the Rio Espiritu Santo instead of the PR-191 towards the main part of El Yunque National Forest (i.e. the part that requires reservations).
The drive pretty much went uneventfully though I was a little concerned about missing the turnoff for the PR-186 since its left turn was very close to the ramp for the toll expressway leading to San Juan.
Anyways, the drive up the PR-186 initially was a pretty decent drive though there were some stretches of potholes here and there, and there was plenty of oncoming traffic going in the opposite direction to squeeze through.
However, when I entered the El Yunque Forest, then the road became noticeably way worse as there were not only potholes on the road, but there were deep ruts and channels crossing the road.
So I had to go real slow here, and I'd imagine this road (despite being paved) might have been better off for high clearance vehicles.
Nevertheless, after getting past the bridge over the Qubrada Sonadora (which had its own roadside cascade), I finally arrived at the bridge traversing the Rio Espiritu Santo (Holy Spirit River) at 7:20am.
Although there was a somewhat large clearing for parking, it was sunk a little to deep from the main road for my liking so I actually parked closer to one of the bridge where there was apparently barely enough room for my passenger car.
At first, I saw just a run-of-the-mill cascade when I looked upstream as well as some segmented cascades over a wide series of rocks when I peered downstream.
However, when I got up to the far end of the bridge and looked upstream, that was when I saw the waterfall of the Rio Espiritu Santo, and I knew that I was in the right place as a result.
So I went ahead and started scrambling from the right side of the bridge, but it didn't take long before I realized that the scrambling wasn't going to be easy.
After all, just about every boulder were bigger than the size of me, and there were dropoffs and slippery rocks conspiring to undermine the footing.
At some point, some of the steps were so big that I ultimately decided to leave my backpack behind so I could go ahead and crawl and pull myself up over some of the human-sized bouulder obstacles.
Eventually at 7:55am, I got past the giant boulder obstacles, and I finally got a clean look at the Espiritu Santo Waterfall fronted by the Charco Verde (or Green Pool).
Of course, being in the precarious positions that I was in standing atop one or more of the slippery boulders peering at both the waterfall as well as the pool below, I merely documented the experience here and then got a little closer to the pool before heading back to the car.
Even though this was hardly a hike, the obstacles were so sketchy and precarious that I was content to document the experience with this waterfall before deciding to call it a day and return to the car by about 8:15am.
At this point, I got back in the car and proceeded to drive back down the PR-186 as I headed back down the road past the same old potholes and ruts.
On the drive back down, I was surprised to see a few more cars parked around the Quebrada Sonadora, but aside from those vehicles, it was still a rather quiet start to the day.
Eventually, I got back down towards the PR-3 and headed east towards Fajardo once again.
By this time at around 9:05am, I had been texting Julie that I was headed back, and she had me on an errand to buy her some feminine products, which I went ahead and did at the Pueblo on the way back to the El Conquistador Resort.
Once that errand was run, I then returned to El Conquistador Resort at 9:30am.
On the way back to the room, I decided that it was such a beautiful morning that I took the liberty to take a few more shots of the resort on the way back to the room.
So I finally got back to the room at around 9:50am, which was pretty much right on the promised time that I told Julie when I'd be back.
I didn't bother stopping at Las Paylas Waterfall like I thought I might do because I figured that it might be a little too early for other people to be there.
And that would have defeated the purpose of showing how other people would do the water slides.
So with that, the waterfalling duties of Puerto Rico was pretty much over.
When I got back to the room, I had some leftover desserts that Julie and Tahia got earlier this morning.
Then by about 10:40am, we decided to head back down to the Coqui Water Park for some more water park fun with Tahia.
We still had some time to kill before the 1pm scheduled ferry ride towards the Isla Palomino, which was apparently part of El Conquistador Resort, and that was for a little beach time as well as maybe some snorkeling.
Anyways, once we got down to the water park, Julie joined in on the fun as she finally decided to go on some of the slides as well as the lazy river.
However, she didn't want to do the big slide atop the Yocahu Tower, and since I had brought the GoPro with me, I decided to try to film the experience, which was a bit easier said than done.
In fact, on my first attempt, the GoPro flew off my head and went down the waterslide on its own, which I had to go back and retrieve.
But on subsequent attempts, I had to use one arm to hold onto the GoPro so I couldn't exactly keep my arms crossed.
And aside from filming the experiences on each of the water slides just for the heck of it (and to see how well the GoPro can handle water), we eventually got on the slides so much that I started getting tired of them.
I swear Tahia and I each must have done the big water slide at least a dozen times over the last couple of days though we still couldn't get Julie to do it.
Anyways, by about 12pm, we had ourselves a quick lunch at the Ballyhoo Bar, where we each had some form of an avocado toast (though Julie and I had it with smoked salmon while Tahia had it with mushrooms), and that actually wasn't bad.
When we were done with our lunch, we then headed over to the boat boarding area where we registered with someone there, and then waited until about 1:15pm after the driver had his lunch (since our scheduled time was 1pm).
When we got over to the Isla Palomino, it was nice and bright with lots of pretty blue water seen from the beach that we were chilling out at.
However, I was quite tired from the week long of adventure combined with all the driving and water slides, and I guess all that kind of caught up with me so I spent maybe 15-30 minutes napping.
When I woke up refreshed, I joined Julie and Tahia in the water where Julie finally got to do her snorkeling though our old equipment apparently started failing (i.e. it was leaking) and we didn't have fins so we couldn't fight the current.
So we didn't really see any reefs and there was a lot of sea grass or something like that with a handful of fish.
Although I tried to document the experience with the GoPro, it wasn't exactly a GBR (Great Barrier Reef) experience or even the pristine South Pacific experiences that we had in the past.
And so it didn't take long before we were done with the water, and then decided to try to catch the next boat back to the main part of El Conquistador Resort.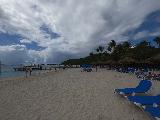 By about 3:45pm, we made it back to our room where we had intended to go back down to the Coqui Water Park for one last go at it (even though I was getting sick of it), but we first decided to try to Palettamerica shop in the resort for some popsicles.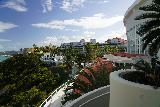 As we did this, Julie and I talked it out and decided that we should actually have one last dinner in Luquillo, which might be a splurge, but at least it wouldn't be the ripoff at the resort that it (as well as all other resorts we've done) had been.
And so we got dressed in street clothes, got the popsicles at around 4:15pm, and then walked to the car with popsicles in hand to keep ourselves cool on the way.
Our original intend was to go to the Terruno Restaurant, but then Julie was doing Yelp Reviews and changed her mind to go for La Parrilla, which was the highest rated of the kioskos in Luquillo.
When we got to the familiar kioskos, this time they weren't as crazy busy as they were during Semana Santa, and we ended up parking behind La Parrilla at around 4:55pm without any trouble.
Also since we had an early dinner (even this place was busy), we had no trouble getting seated as well as placing our order.
We ended up getting a lobster as well as a fresh snapper, and they all come with a side (which we chose sweet plantains) as well as some stuffings of calamari with garlic cream sauce and paella, respectively.
Tahia got her grupper nuggets dinner, and we all got drinks where Tahia got a pina colada, Julie got a parcha slushy, and I got a parcha mojito.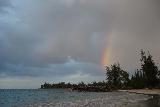 It turned out that the food was as good as we could ask for, and it was totally better than anything we could have gotten at the resort even if I knew that this dinner was a splurge.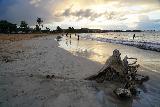 And when all was said and done, we paid around $152 with tax and tip, which was on par with what we would have paid at the resort for crappy food.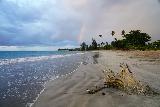 We even had some plantain leftovers though we did finish the langostine and snapper as well as the grupper nuggets, and we pretty much were totally stuffed at the end of it.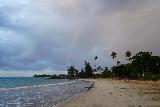 We then went to the beach, which felt a lot quieter and we caught the scene just in time for a sunset as well as a rainbow looking in the other direction.
However, we also saw some mean looking squalls in the distance, and it appeared that the rain was definitely headed our way.
So we got back into the car at 6:35pm, and then we followed the heavy traffic back east along the PR-3 on our way back to the El Conquistador Resort.
But by this time, the squalls came heavily and there was local street flooding along the way.
We were worried that our clothes that we were drying on our balcony would get soaked given how heavy the rain was falling.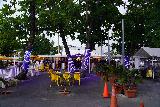 When we got back to El Conquistador at 7:20pm, we decided to have one last go at the Palettamerica (which now seemed to have more flavors), and we ultimately decided to get mango-flavored popsicles as well as a strawberry one (as opposed to mojito and parcha earlier on).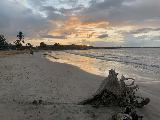 Even though we were stuffed, we figured that this was our last go to splurge and enjoy our last day of the Spring Break trip as we had to get home tomorrow.
And so ended the tourist part of the overall experience where we pretty much hit all the waterfalls that we had targeted except for perhaps Charco El Hippie as well as the waterfalls like Los Siete Chorros and Charco Azul somewhere southeast of Guavate.
But aside from that, we thought this was a pretty successful trip, and now it was time to get back home where the real work would begin to process all this new data in a place that for all intents and purposes felt like another country even though it was still a US Territory.
I'm sure we'll walk out of this experience with a better appreciation of Taino Culture (if not the Puerto Rican Spanish accent), and I'm sure Tahia will have something to look back upon when she goes to school…
Visitor Comments:
Got something you'd like to share or say to keep the conversation going? Feel free to leave a comment below...
No users have replied to the content on this page