This itinerary comprised the first half of a two-country, nearly two-month trip encompassing China and Japan.
In this itinerary write-up, we're only focusing on China since this leg of the trip could easily stand out on its own separate from Japan.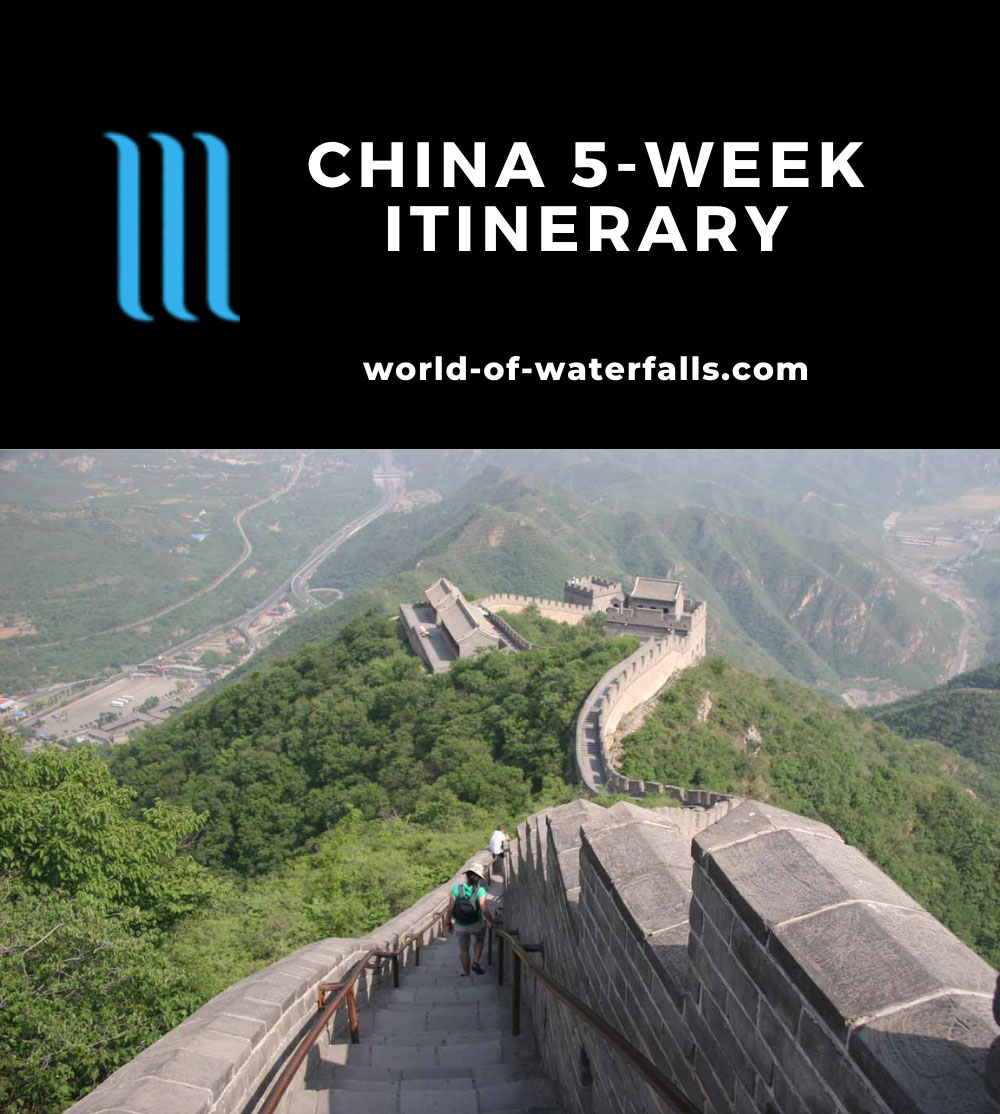 By modularizing the itinerary in this manner, we're de-emphasizing the fact that this was a very long trip. When you split it up into distinctly separate roughly month-long trips, then it becomes more manageable as you can tailor what you see here for your own trip planning.
This is a fully escorted tour. The only times we were on our own was typically in the evenings in the cities or when we were visiting friends and family.
So here are some the highlights and the trip logistics of how the China leg of this trip occurred…
Trip Map
This map and its markings were produced by this app.
Trip Highlights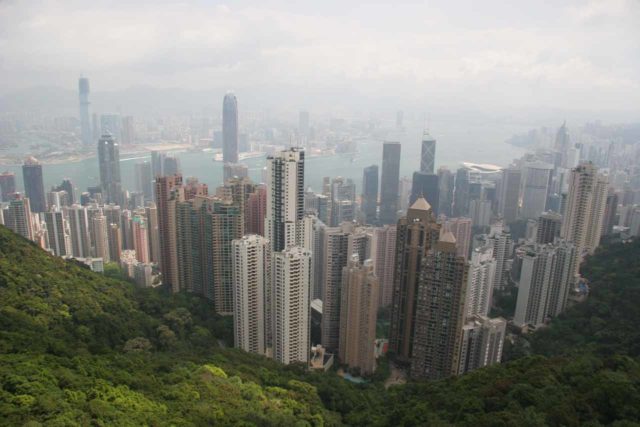 Hong Kong – This dynamic city had a lot going for it, and we had Julie's auntie to thank for showing us around and making sure we were fed. We not only saw the Avenue of the Stars in Kowloon, we also got views from Victoria Peak, went to a Big Buddha, strolled through some busy street markets as well as walking streets.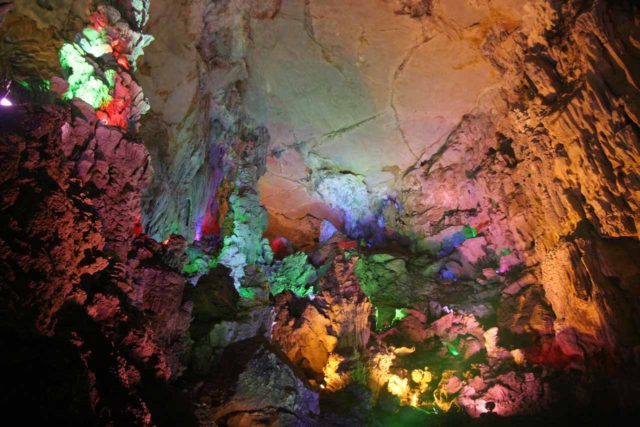 Crown Jewel Cave – The karst limestone of the greater Guilin area was ripe for harboring cave systems. This particular cave also featured an attractive (and loud) waterfall.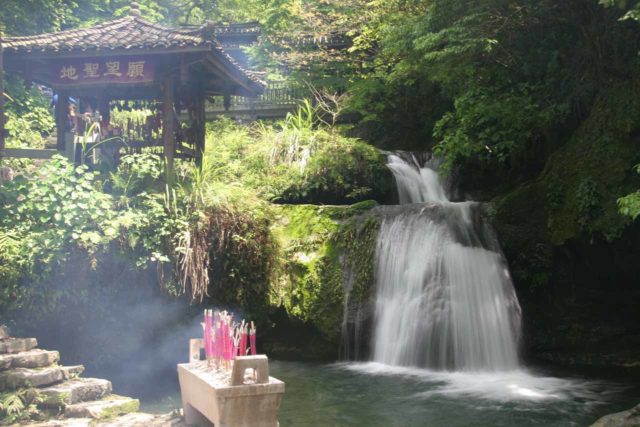 Gudong Waterfall – This was actually a series of waterfalls where some of the visitors actually got to climb up some of the drops with rope and hard-hats. We were content to check out each of the many waterfalls along the way, which made for quite a satisfying experience given how many of them there were.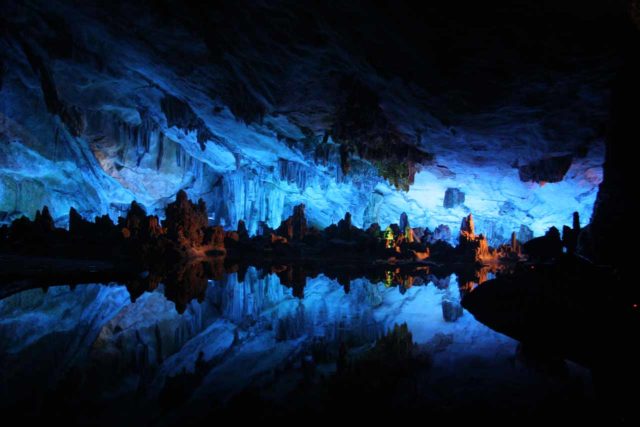 Reed Flute Cave – Of the caves we saw (or were aware of) in the Guilin area, this was probably the prettiest and most spacious one. In fact, of the photos we brought home from this trip, it seemed like this cave was the one that drew the most reaction. And indeed, even seeing it in person made this quite a scenic highlight.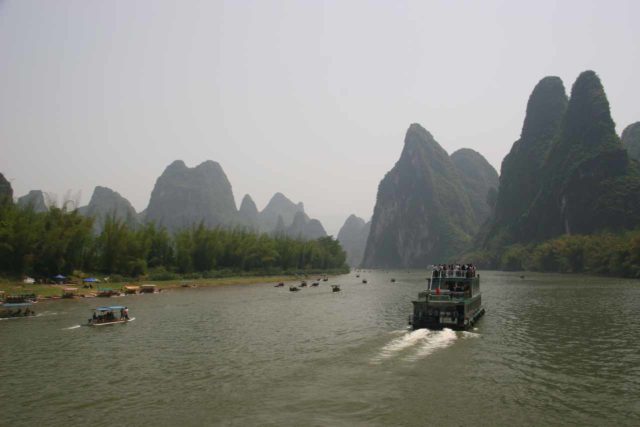 Lijiang River Cruise – This cruise between Guilin and Yangshuo went through signature karst lands that Guilin was known for. For the better part of a day, we stood on the deck to soak in the experience of watching pointy karst peaks jutting high up off the river dwarfing other boats and buildings. Indeed, it was an exercise in non-stop camera clicks.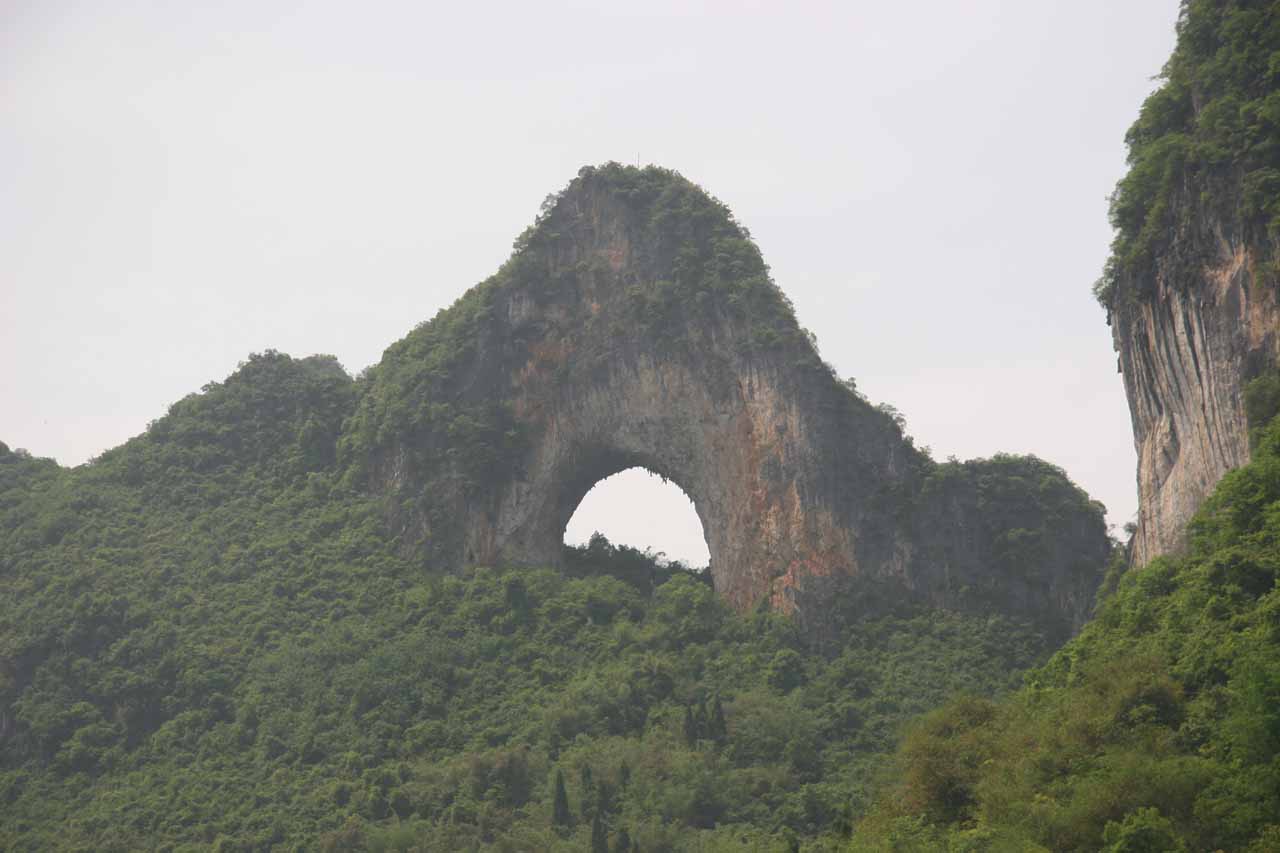 Yangshuo – This was the destination of the Lijiang River Cruise, but this charming made-for-tourist town also featured some scenic highlights like the massive Moon Hill natural arch as well as more karstic formations towering over parts of the town.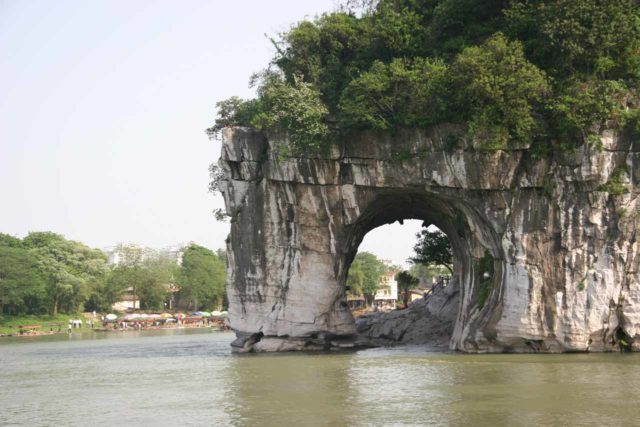 Guilin – While the general area may be referred to as Guilin (meaning osmanthus woods), there was actually a city by the same name as well as plenty of eccentric natural formations such as the Elephant Trunk Hill arch, Camel Hill, Fubo Hill (with carvings within alcoves that face the Lijiang River), and more.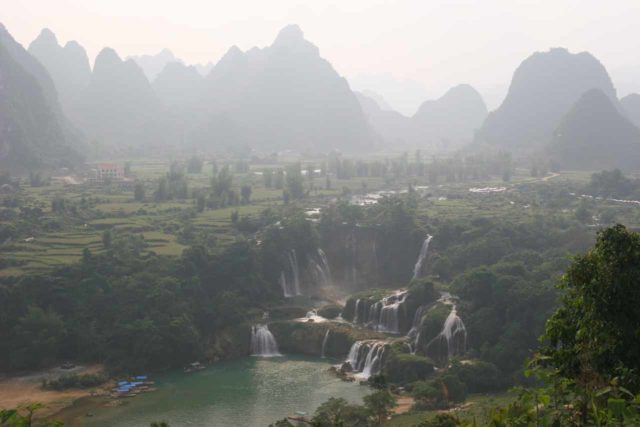 Detian Waterfall – It required quite a bit of logistics to reach this remote border waterfall (shared with Vietnam) from Nanning. And even though we didn't see it in its best flow, it was still a sight to behold as it stood amongst ghostly karst mountains whose silhouettes appear through the tropical haze in this steamy environment. Along the way, we also visited the Shatundie Waterfall.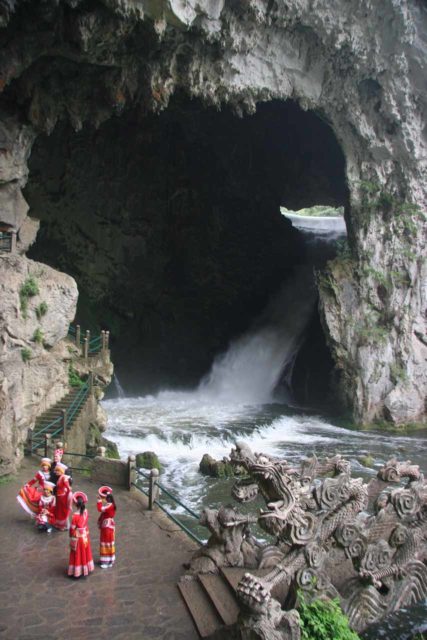 Dragon Palace Caves – This was an impressive cave system that also featured a waterfall passing through one of the cave openings. To round out the experience, we even went on a little boat ride inside one cavernous cave lit up by artificial lighting.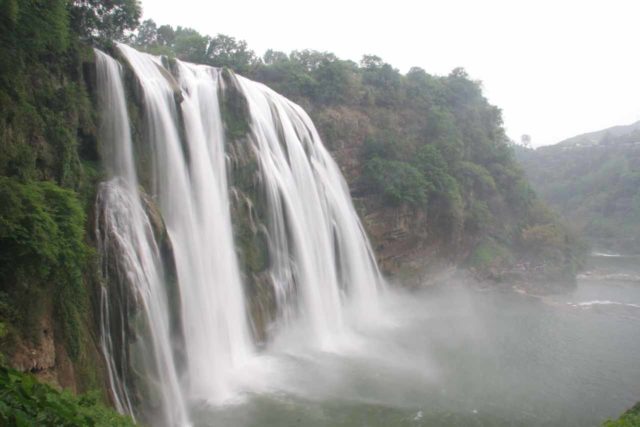 Huangguoshu Waterfall – This could very well be the most popular waterfall in China as it was a massive wall of water spilling in a block shape. And we did a loop walk that even went behind the "water curtain" while also letting us view the falls from a variety of positions.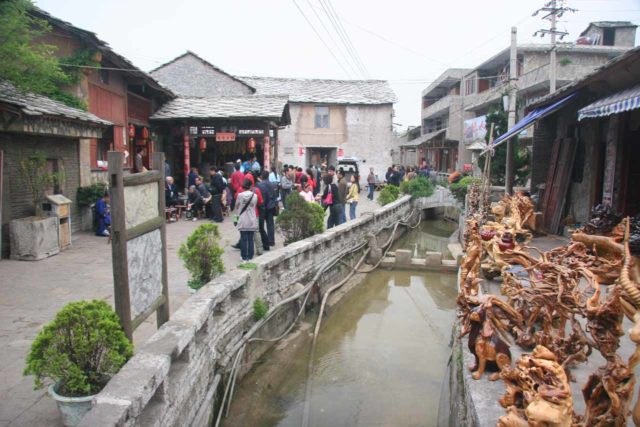 Tianlong – This was a historical village where we got to stroll through its touristy throughfare, watch an outdoor Chinese opera play, and check out red-lanterned shrines and corridors along the way.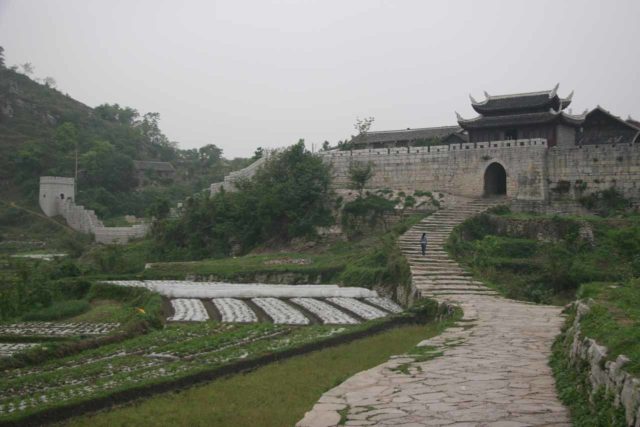 Qingyan – This was another attractive historical town though this one had an atmospheric back entrance through feudal-looking city walls. Inside were more market streets as well as shrines and temples with burning incense to really make it feel like we had stepped back in time to the Chinese dynastic periods.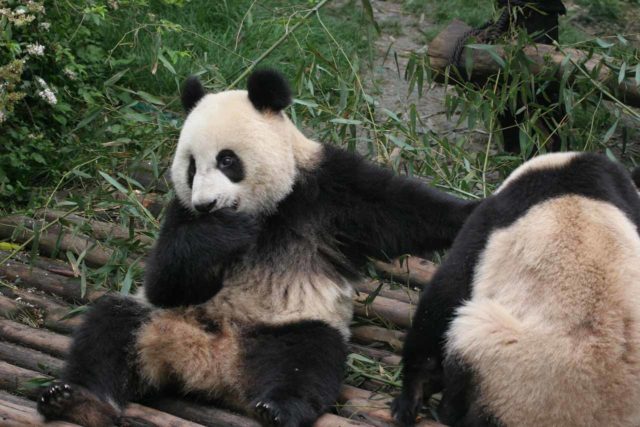 The Panda Research and Breeding Center – This was one place where we could really get a good look at giant pandas munching on bamboo while also looking cute for all onlookers. Seeing them in the wild is certainly an unlikely occurrence because they are critically endangered due to habitat loss that continues to happen. So we were only able to see pandas in places like these, which is not quite like seeing them in their natural habitat, but at the same time, they were amazing to see.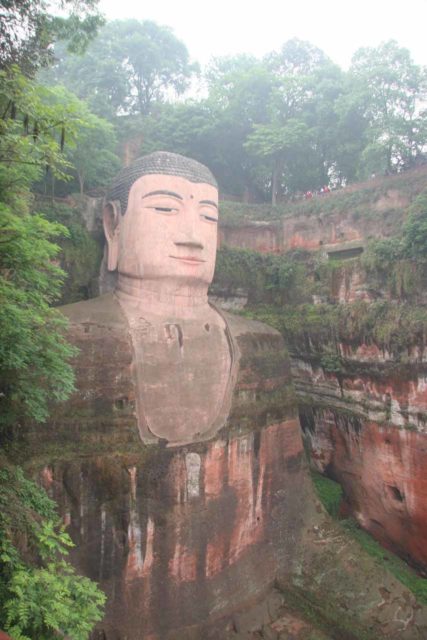 The Grand Buddha at Leshan – This was basically a buddha carved right out of the mountain, which made for a surreal sight. We were able to get precipitous up-close looks at the statue from all sorts of positions, including from a boat on the river.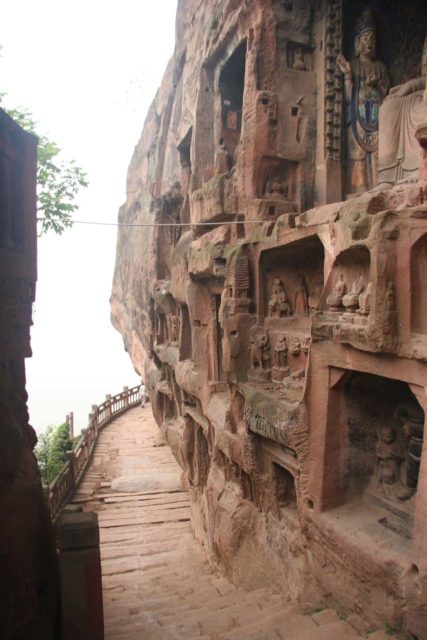 Thousand Buddha Cliffs at Jiajiang – Our relatives on my Dad's side of the family took us around the Leshan area, and one of the surprising highlights was this place where many little Buddha carvings were within alcoves and cliffs looking out to the Jiajiang River. The strange thing was that it seemed like not many tourists knew about this place as we were one of only a handful of people here. I would have expected tourists to inundate places like this.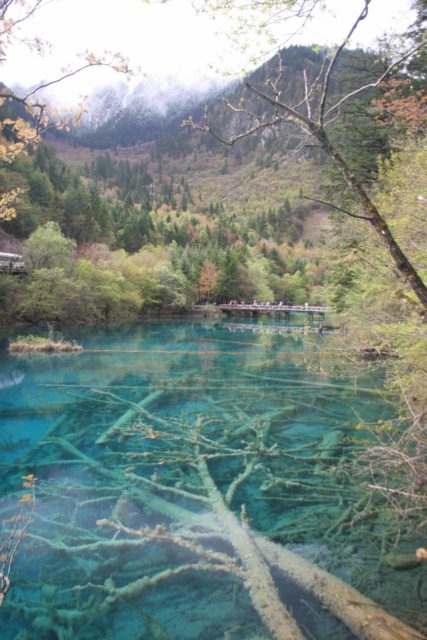 Jiuzhaigou Nature Reserve – This could very well be Chinese Nature at its finest as it featured colorful clear blue lakes, snow-crusted mountains, and limestone waterfalls to boot (e.g. Pearl Shoal Waterfall, Nuorilang Waterfall, and Shuzheng Waterfall). Now this was by no means a relaxing visit because of how popular it was, but it was very clear why once we saw for ourselves what the commotion was all about.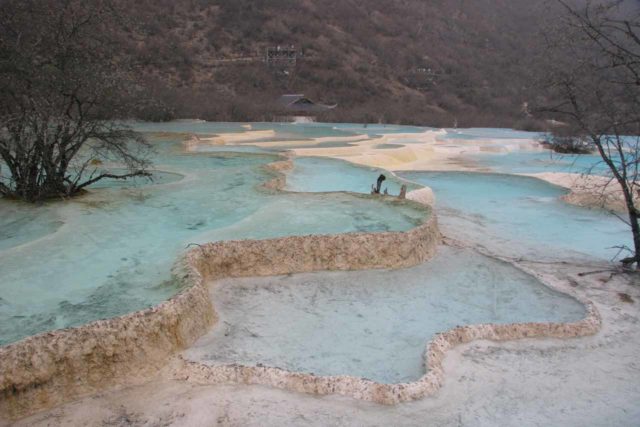 Huanglong – This colorful series of clear pools and terraces looked like something out of Yellowstone, but here it was all cold water with some kind of limestone action going on at the very top of the reserve that they called the "Yellow Dragon". We had to battle an incoming snow storm as well as non-flowing waterfalls so we're certainly due for a return visit here to see it at its glorious best in the Autumn…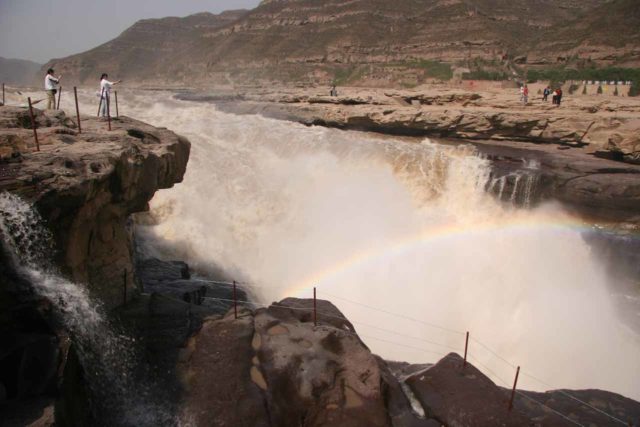 Hukou Waterfall – It took a very long drive from Xi'an to reach this waterfall on the Yellow River, but once we got there, we could see its power and its desert-like surroundings, which created that paradox we were familiar with regarding such waterfalls in dry environments like those we saw in Utah and Arizona. It was too bad we didn't get to see this falls from both of its banks, but we're hoping that we can have a return visit to do just that.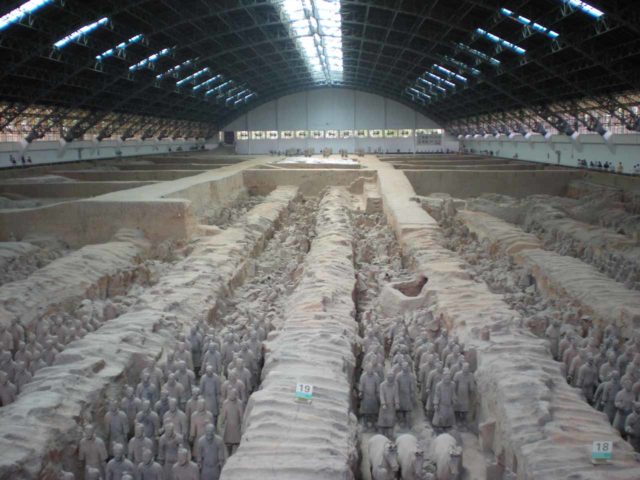 Xi'an and the Terracota Warriors – The amazing Terracota Warriors got most of the publicity when it came to Xi'an, but it also featured a happening city center of its own complete with walls, pagodas, and a happening street market in the Muslim Quarter. There were also other historical sights like the Goose Pagoda and ancient gates, which further attest to this mix of Chinese history with modern city.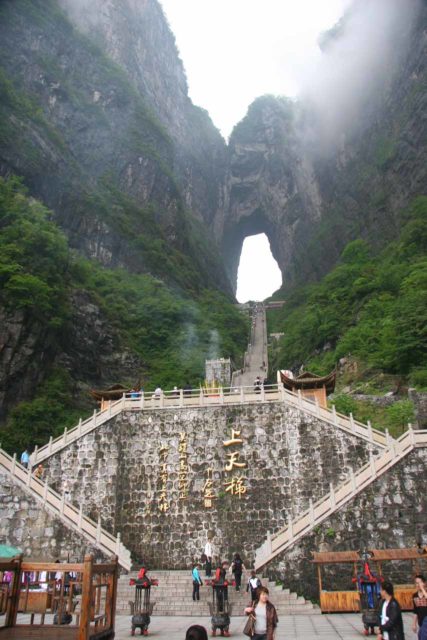 Zhangjiajie – Piercing karstic spires, massive natural arches and bridges, and precipitous cliffside panoramic walkways were all signatures of this natural area in Northern Hunan. While I we should have seen a natural waterfall here to round out the whole experience, we're going to have to come back here and do it the right way the next time we're here.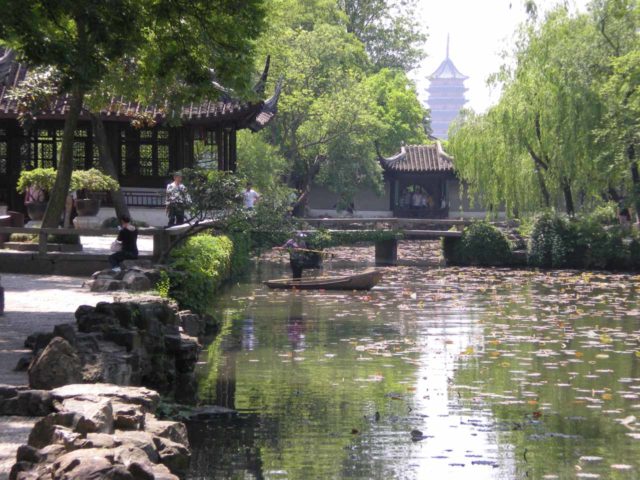 Suzhou – This seemed like the place where those signature Chinese gardens all originated from with the Humble Administrator's Garden being the model for others to follow. And indeed, it seemed like the art of getting a different visual experience for the same place just seen from different angles was definitely on display here.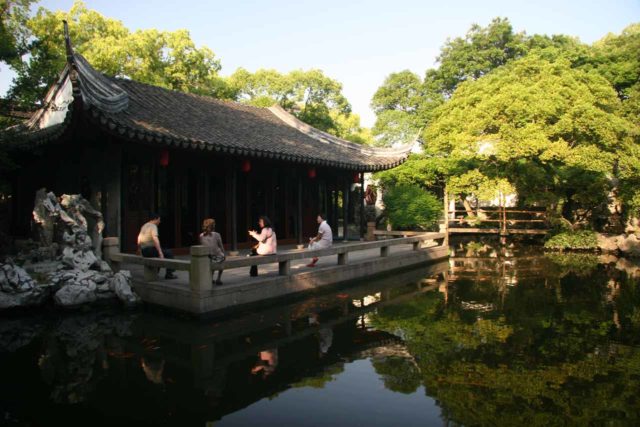 Tongli – This was like a quieter Suzhou with its share of quaint gardens, mini-Venice-like canals, traditional hutongs, and even a sex museum, we spent a night here soaking in the ambiance without the crowds, and we really savored it as it seemed like such experiences were quite rare in China.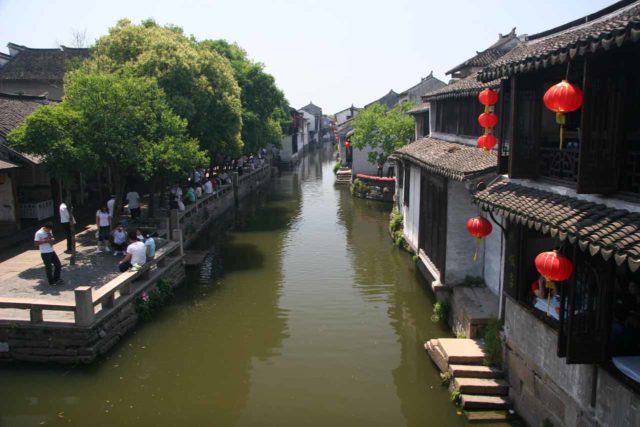 Zhouzhuang – This seemed to be a more commercialized (or at least busier) version of Tongli as this was also a canal town flanked with old Chinese buildings adorned with red lanterns, arched bridges, and lots of tourists. Just having this taste of the Chinese versions of Venice in its own small way was a treat, and I bet it merely hinted at the various hidden treasures found in and around the Suzhou area.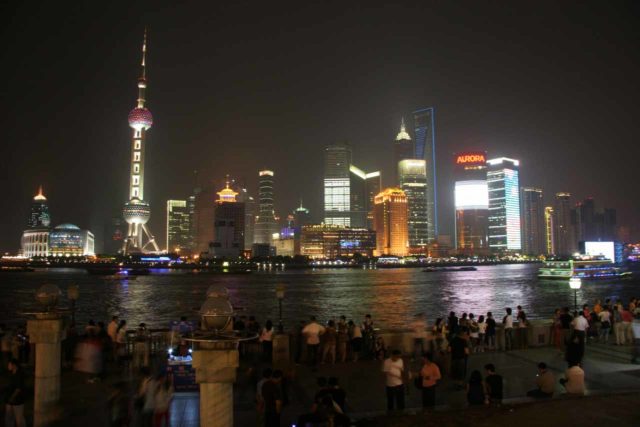 Shanghai – This dynamic city and financial capital of China had so much going for it – the skyline seen from the Bund, the skyscrapers, the Chinese gardens, and even authentic xiaolongbao (soup dumplings) just to name a few. We also got to spend our time here with Julie's friend who lived and worked in this city so we got to share the experience while trading stories as we were catching up. It was a definite high point of our long trip in China.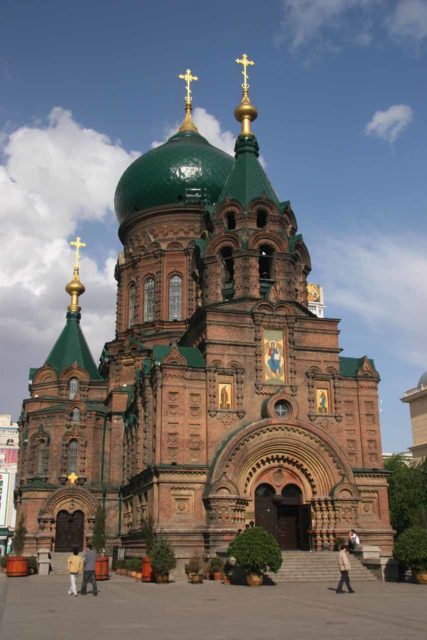 Haerbin – This city seemed to have that eccentric mix of Russian legacy combined with a typical Chinese big modern city. We also visited a Siberian Tiger park where we did a pseudo safari amongst chicken-fed tigers roaming in a caged area. This city was also well known for ice sculptures though we were definitely here at the wrong time of year for that.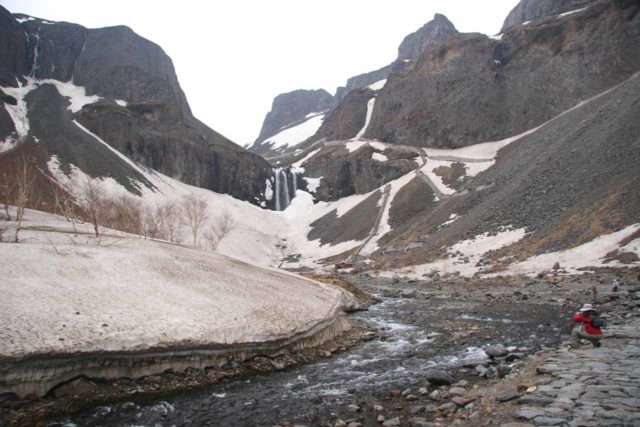 Changbaishan – The "Everwhite Mountain" was shared between North Korea and China, and it featured a crater lake at its frigid summit. Further down the slopes were thermal springs and pools as well as a few waterfalls. And even though our visit was ill-timed as we were probably 4 months too early, it was still beautiful and raw. And we hope to come back here and have a second go at this in better times.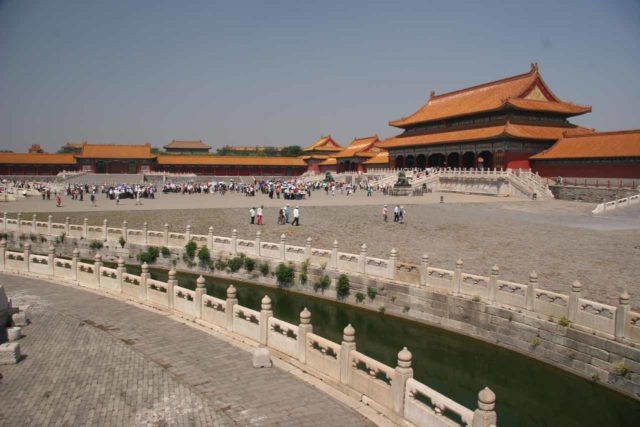 Beijing – It doesn't get much grander than the dynastic sights in China's capital. While the massive Forbidden City deservedly gets the visitors and the publicity, the city also featured the Summer Palace, the Wangfujian Pedestrian Street, Beijing Roast Duck, Temple of Heaven, and Tiananmen Square.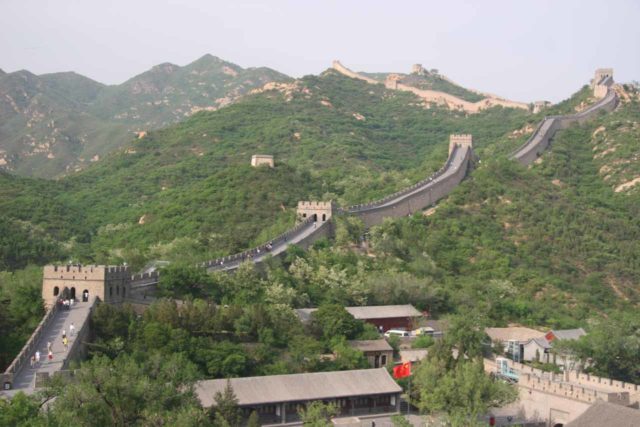 The Great Wall – This is definitely China's most enduring iconic sight, and it's extensive! In fact, a visit to this historical site actually means choosing which section of the wall to visit. It's that extensive! We visited both the Juyongguan and Badaling sections, which seemed to have quite a bit of renovation done to it so people can safely walk on the wall. Most of the remaining parts of the wall in its more remote sections have crumbled to the elements. In any case, such a sight was surreal for sure, and it was definitely worth the nearly two-hour drive from Beijing to see for ourselves!
Trip Advice
Visiting China was a bit of a cultural adjustment even for us, who are ethnically Chinese. We already knew what we were getting into just based on some family idiosyncrasies and the mannerisms of old timers like my grandmother. Still, there were quite a few things we picked up on this trip, which we're attempting to impart here…
Language Barrier: This wasn't as much of an issue for us because we have a basic working ability to speak and understand Mandarin. However, I can totally see how this can be a bit of a challenge if you don't speak the language. Having a guide can help with this at an added cost. Of course, you can also wing it and deal with the highs and lows of this unpredictability of outcome.
Custom Guided Tour: We did a lot of homework before the trip to plan out what we wanted to see, then we had to work with one of the official Chinese Travel Agencies to make it happen. It was a bit of a mixed bag in terms of how well parts of our itinerary were executed because we had a few days where we didn't do anything (when we clearly could have) and there were others where we were taken shopping at the expense of important sights we had targeted. The latter behavior was not acceptable considering we were on a private tour and not a tour group where I can see how the industry needs this.
The flip side was that I didn't consider self-driving because the driving was pretty much chaotic third-world driving conditions. Unless you're used to this (and comfortable with the risk of the high rate of accidents and driving aggressively), we were better off hiring a driver and guide (which we did through the government-sanctioned travel agency).
Visa Inconvenience: In order to visit China, we did have to submit for a Visa. That meant we were without our passport during this process until it came back with a full page stamped with such a Visa (took around a month or two). When we arrived at the airport, the customs agent could get right to the Visa page and stamp there or put some sticker on it.
Health and Hygiene: One of the things that kind of gets to you after a while (even if I was used to it from Grandma) was the seemingly incessant need to spit everywhere (and I mean hocking big loogies). Not only does this happen out in public but I've even seen it happen inside trains. Also coughing without covering the mouth is common. I wound up catching a nasty cold twice on this trip (a five-week span), which was cause for concern since the bird flu was an issue. So I can see why people wear masks all the time.
The same goes for the mainland attitude towards smoking. During our visit, smoking was prevalent everywhere, including inside the hotels. Even if we were in a "non-smoking" room, the smoke gets into the vents and finds its way into our room because smoking inside (including elevators) was common practice. Opening the windows to let the air out also brings in cigarette smoke (as well as general pollution) inside. So needless to say, our lungs weren't happy on this trip.
Travel Itinerary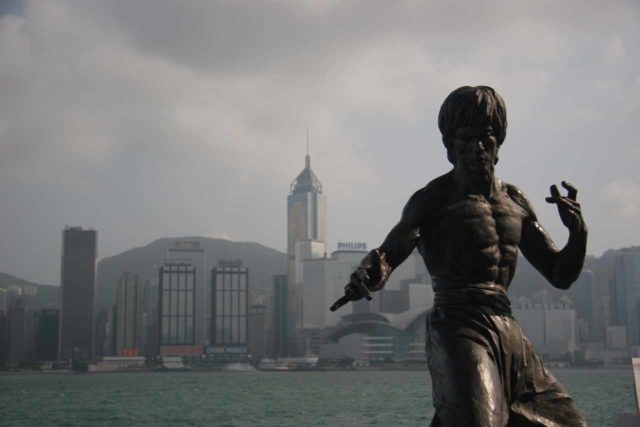 Days 1-3: Fly from Los Angeles to Hong Kong
This was a travel "day" where we crossed the international date line on a red-eye flight and arrived in Hong Kong in the morning. This gave us time to meet up with Julie's aunt, who insisted on showing us around. Among the places we went to were Victoria Peak, Stanley Harbor, and the Avenue of the Stars in Kowloon.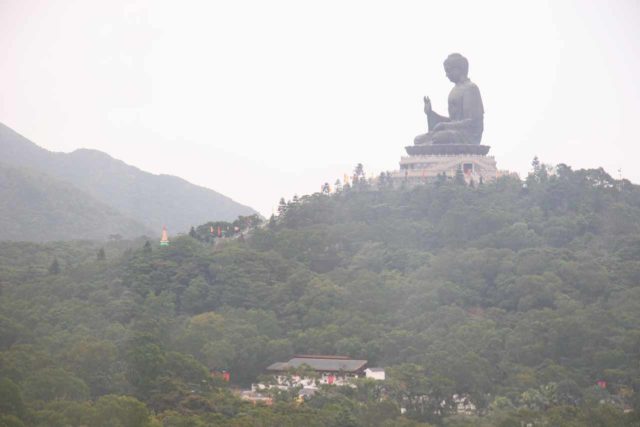 Day 4: Day at leisure in Hong Kong
On this day, we visited the Tian Tan Big Buddha, Ngong Ping Village, and the Sogo District. We also met up with some of Julie's cousins as well as hanging out with Julie's aunt some more.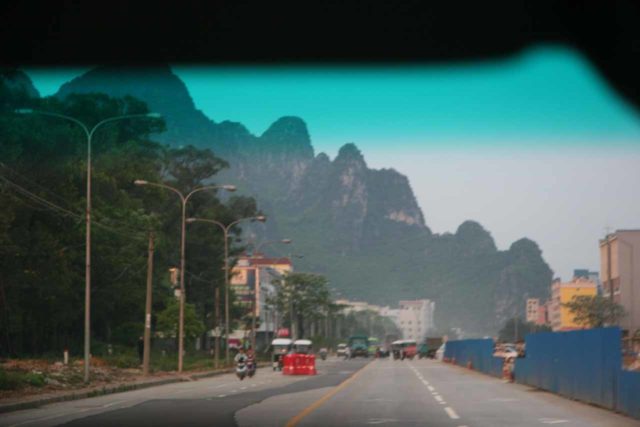 Day 5: Transport from Hong Kong to Guilin
On this day, we had one last meal before flying from Hong Kong to Guilin. Once there, we began our guided part of the trip with a local guide and driver. They took us to our accommodation so we were able to walk to the Guilin City Center on our own.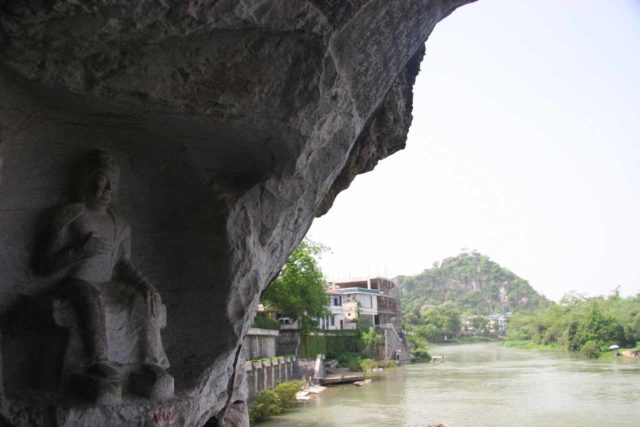 Day 6: Natural Sights around Guilin
This was the first full escorted tour day of the trip. They drove us to the Crown Jewel Cave where we saw the Crown Cave Waterfall. We also visited all of the Gudong Waterfalls.
For the rest of the day, we returned to the city to visit the Fubo Hill, Reed Flute Cave, Elephant Trunk Hill (a natural arch), and the Guilin City Center once again.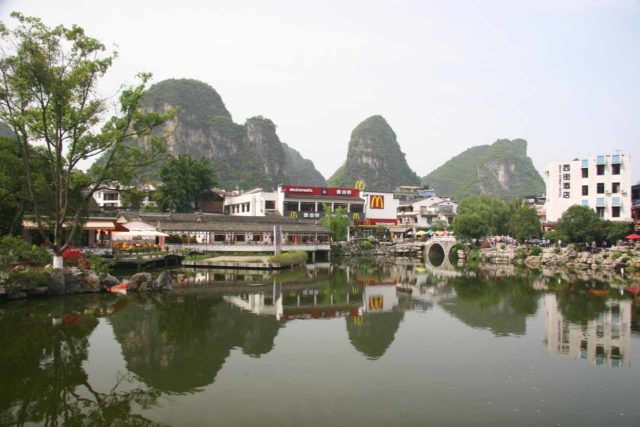 Day 7: Cruising the Lijiang River from Guilin to Yangshuo
Overnight: New Century Hotel (Yangshuo, Guangxi, China)
On this day, it was all about the Lijiang River Cruise. We were dropped off at the cruise where we then were on the river for the better part of the day. Our guide and driver met us at Yangshuo to continue the escorted tour, where we visited Moon Hill (a big natural arch in the mountain), the charming Yangshuo, and we even sat in for the Li River Light and Dance Show in the evening.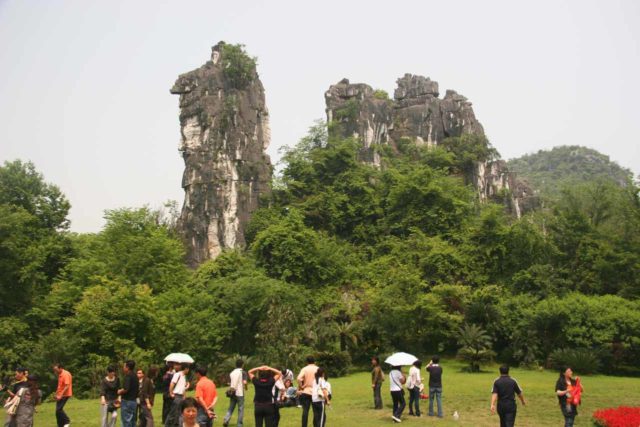 Day 8: Transport from Yangshuo to Guilin then train to Nanning
Overnight: Nanning Hotel (Nanning, Guangxi, China)
On this day, we were taken back to Guilin to visit the Seven Stars Park and Camel Hill. Then, we caught a train to Nanning, where we spent the remainder of the evening.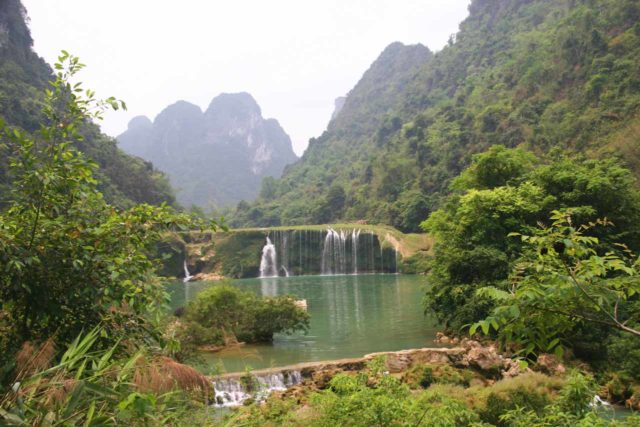 Day 9: Transport from Nanning to Detian Waterfall
On this day, we were driven from Nanning to the Detian Waterfall. Along the way, we visited the Shatundie Waterfall. While at Detian Waterfall, we checked out the 53rd Mere Stone Border Market as well as the waterfall itself.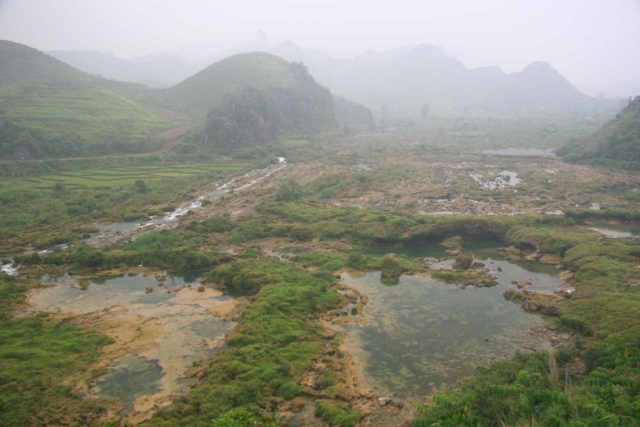 Day 10: Transport back from Detian Waterfall to Nanning
Overnight: Nanning Hotel (Nanning, Guangxi, China)
We had a little bit of the morning to check out the Detian Waterfall, then we were driven back to Nanning.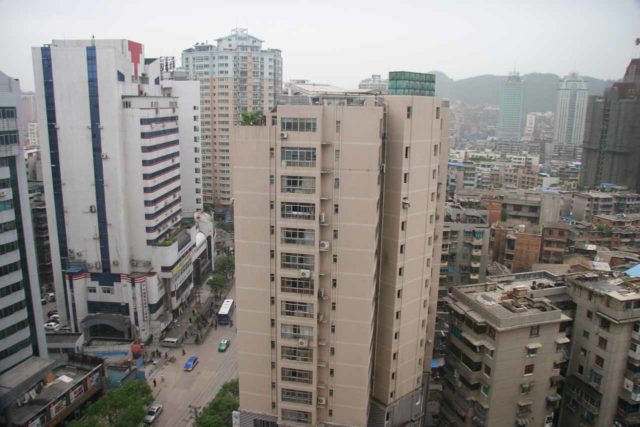 Day 11: Transport from Nanning to Guiyang
This was basically a travel day, where we spent quite a bit of time not doing much in Guiyang. In hindsight, this could have been a day we should have visited one of the neighboring walled cities, but I don't understand why the tour operator didn't do anything on this day.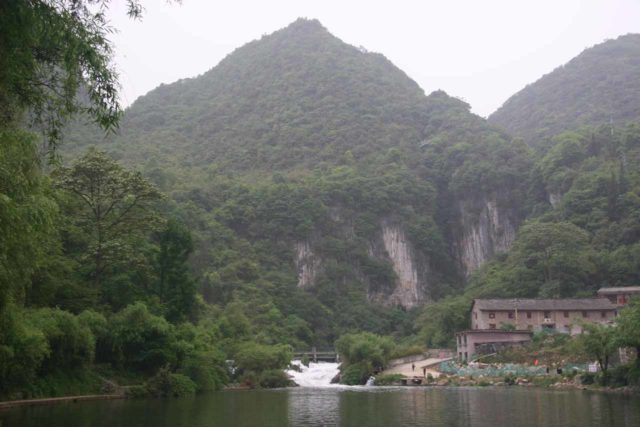 Overnight: Huangguoshu Hotel (Huangguoshu Waterfall Village, Guizhou, China)
On this day, we were driven out to the Dragon Palace Caves, where we saw the Longmen Waterfall. Then, once we made it to the Huangguoshu Waterfall, we then spent the remainder of the day checking it out.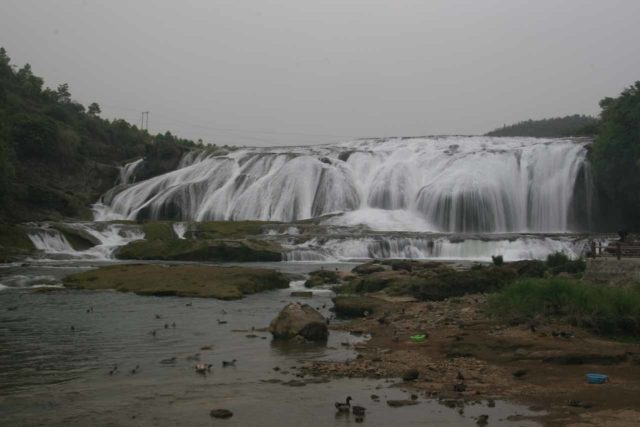 Day 13: Transport from Huangguoshu Waterfall to Guiyang
On this travel day, we visited the Doupotang Waterfall before visiting the Tianlong Village as well as the Qingyan Village en route to Guiyang. This was where I wished we could have visited Qingyan on the day we were idling in Guiyang a couple of days ago so today wasn't so rushed.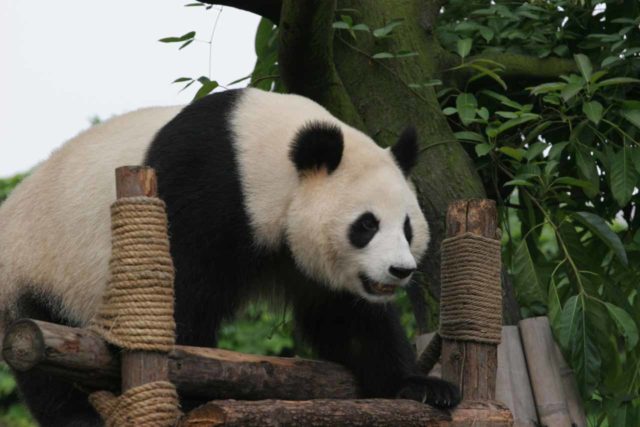 Day 14: Fly from Guiyang to Chengdu, then transport to Leshan
Overnight: Private Condo (Leshan, Sichuan, China)
On this day, we flew to Chengdu, then we visited the Panda Research and Breeding Center. Afterwards, the guided tour picked up our auntie in the Leshan area, and that was when we were on our own with Dad's relatives for the next couple of days.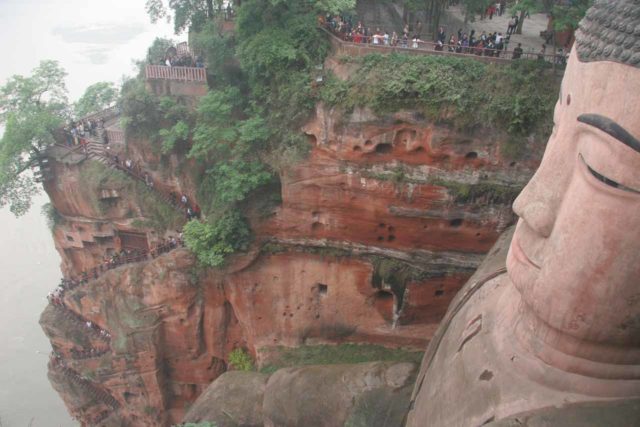 Day 15: Touring Leshan Area
Overnight: Private Condo (Leshan, Sichuan, China)
On this day, we were taken around by our uncle, where we visited the Grand Buddha, the Thousand Buddha Cliffs (Qianfoyan), and the city of Leshan.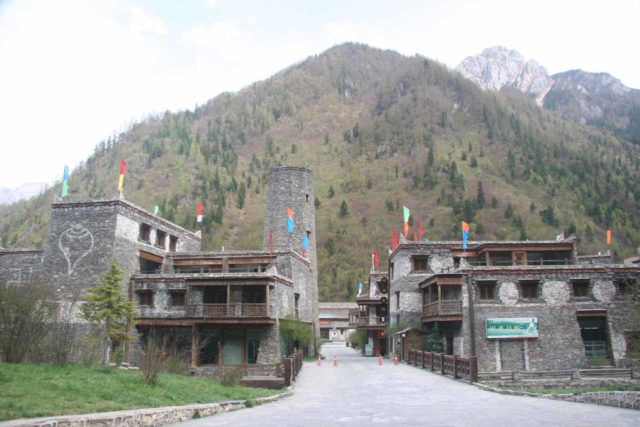 Day 16: Transport from Leshan to Chengdu, then fly and transport to Jiuzhaigou
Overnight: Sheraton Jiuzhaigou (Jiuzhaigou, Sichuan, China)
This was a travel day that took the whole day. So no sightseeing on this day.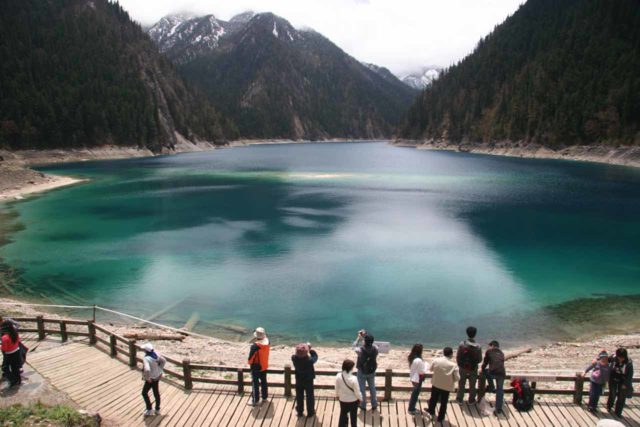 Day 17: Jiuzhaigou Nature Reserve
Overnight: Sheraton Jiuzhaigou (Jiuzhaigou, Sichuan, China)
This was a day where we shuttled into the Jiuzhaigou Nature Reserve and spent the whole day there. Among the things we visited were the Arrow Bamboo Lake, Five Flower Ponds, Long Lake, Five-Colored Lake, Tiger Lake, Shuzheng Village, and Sparking Lake. Among the waterfalls we saw were Pearl Shoal Waterfall, Nuorilang Waterfall, and Shuzheng Waterfall.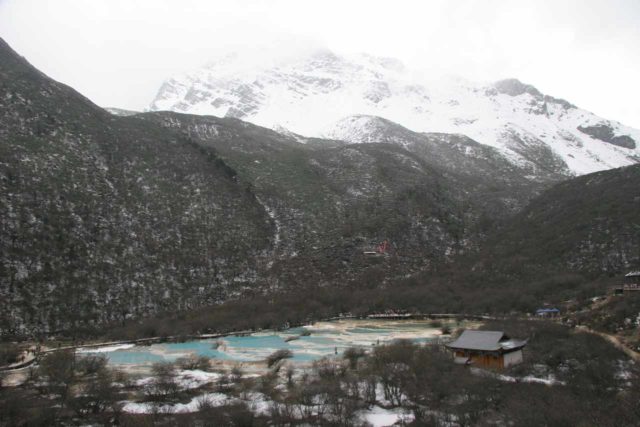 Day 18: Transport from Jiuzhaigou to Songpan County
We spent the better part of the day visiting Huanglong Nature Reserve (including the Huanglong Waterfalls before settling in at the accommodation by the regional airport.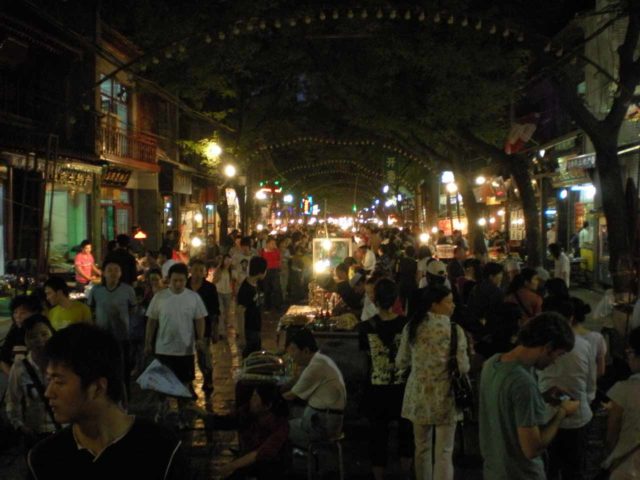 Day 19: Fly from Songpan County to Xi'an
Overnight: Melody Hotel (Xi'an, Shaanxi, China)
We caught a flight to Xi'an, then we were taken to the city center. Once there, we spent time walking about the Muslim Quarter.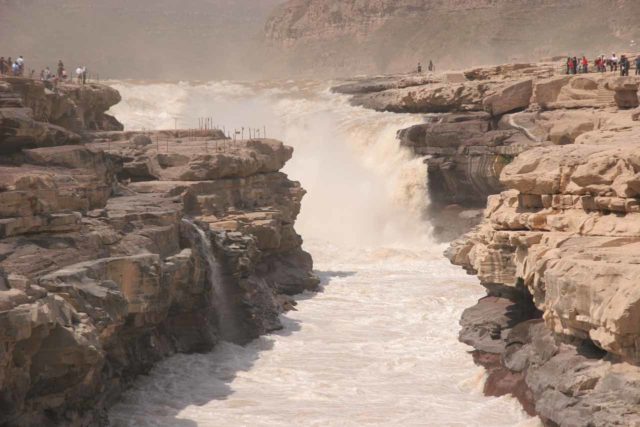 Overnight: Melody Hotel (Xi'an, Shaanxi, China)
This was a very long driving day out to the Hukou Waterfall and back from Xi'an. We were only able to visit one side of the falls due to a bridge closure.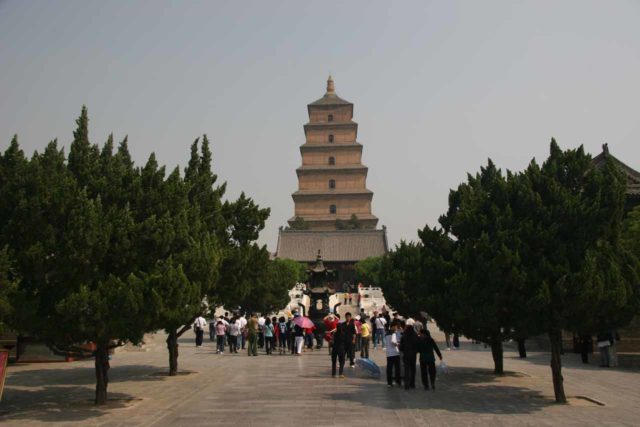 Day 21: Xi'an
Overnight: Melody Hotel (Xi'an, Shaanxi, China)
On this day, we were taken around the major sights of Xi'an – Big Wild Goose Pagoda, the Terracota Warriors Museum, and the Xi'an City Center.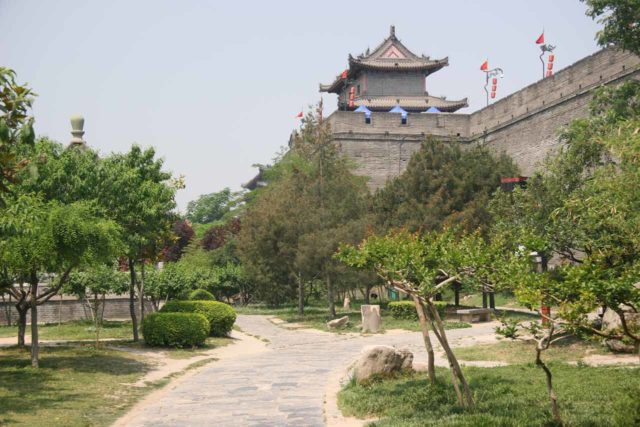 Day 22: Fly from Xi'an to Zhangjiajie
Overnight: Pipaxi Hotel (Zhangjiajie, Hunan, China)
Since our flight wasn't until late at night, we spent most of the day walking around the Xi'an City Center. Then, we were transported to the airport and subsequent flight to Zhangjiajie.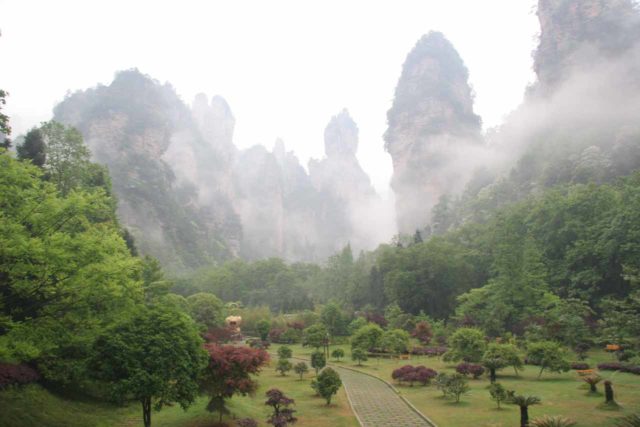 Day 23: Wulingyuan Scenic Area
Overnight: Pipaxi Hotel (Zhangjiajie, Hunan, China)
On this full day, we were driven to the Yellow Stone Village Park (Huangshizhai) and the Wulingyuan Scenic Area. Unfortunately, we spent a lot of time in the afternoon on some kind of shop attempting to sell us on tiger balm at the expense of the lone natural waterfall we were supposed to visit in Zhangjiajie.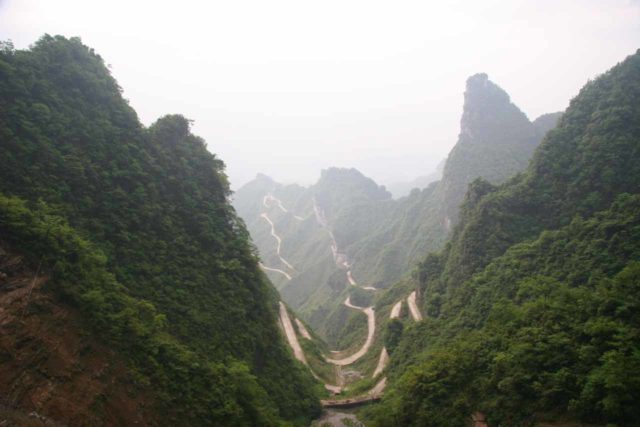 Day 24: Baofeng Lake and Tianmen Arch, then fly to Suzhou
Overnight: Pingjiang Lodge (Suzhou, Jiangsu, China)
On this day, we spent most of the day visiting the Baofeng Lake, some waterfalls, and the Tianmen Arch. Then, we flew to Suzhou for a very late night check-in.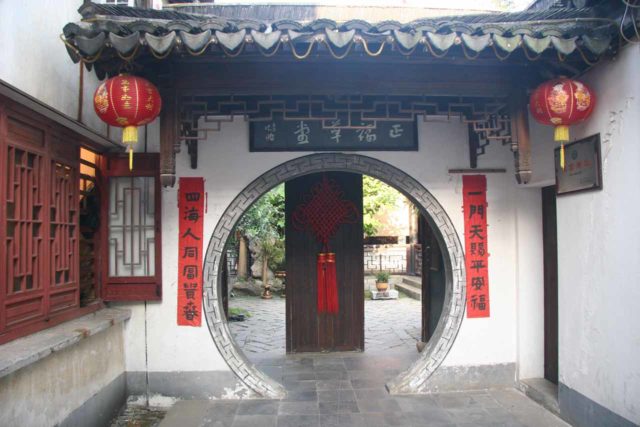 Day 25: Transport from Suzhou to Tongli
Overnight: Zhengfu Caotong (Tongli, Jiangsu, China)
Once we woke up, we visited the Humble Administrator's Garden. Then in the late afternoon, we went to Tongli, where we were on our own to explore the charming canal town.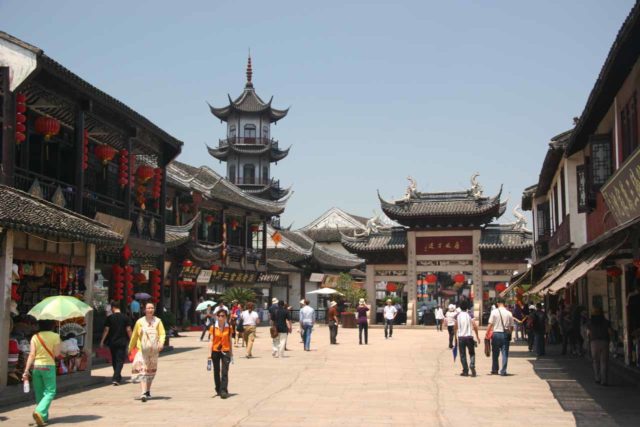 Day 26: Transport from Tongli to Shanghai
We spent the morning visiting the Tongli Sexual Cultural Exhibit, then we were transported to Zhouchuang (another canal town), before we were taken to Shanghai. At that point, we were on our own and we hung out with one of Julie's friends who works here. Among the things we did included visiting the Bund as well as walking about on Nanjing Road.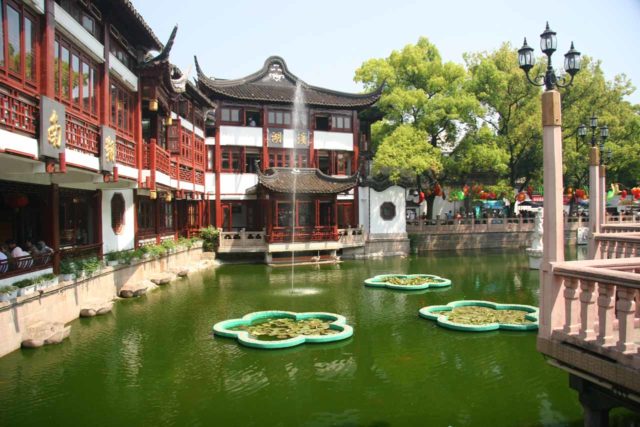 Day 27: Day at leisure in Shanghai
We had a free day to hang out with Julie's friend and self-tour the city. Among the things we did included the Yu Garden (Yuyuan), Jade Buddha Temple, the Shanghai World Financial Tower, and one last round of hanging out in the Bund.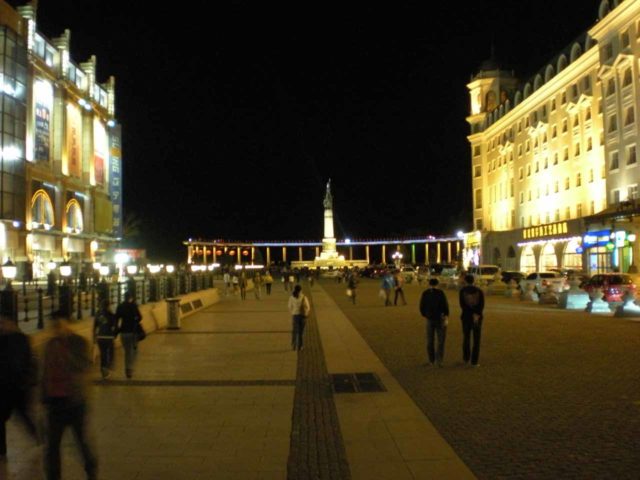 Day 28: Fly from Shanghai to Haerbin
After flying to Haerbin, we were then escorted to the Siberian Tiger Park before returning to the city so we could tour it on our own. We visited the Church of St Sofia whilst in the city.
Day 29: Transport from Haerbin to Mudanjiang
Overnight: Mudanjiang Hotel (Mudanjiang, Heilongjiang, China)
This was entirely a travel day. Included was a very long train ride to get from Haerbin to Mudanjiang.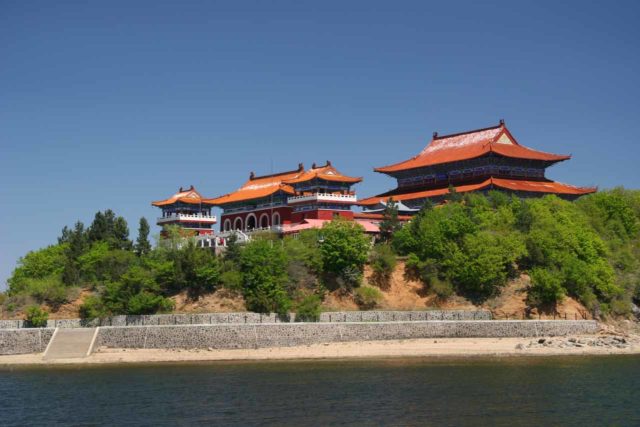 Day 30: Transport from Mudanjiang to Dunhua
This was one of the more disappointing days of the trip as we were driven from Mudanjiang to Dunhua. Along the way, we visited the Jingpo Hu and the dry Diaoshuilou Waterfall.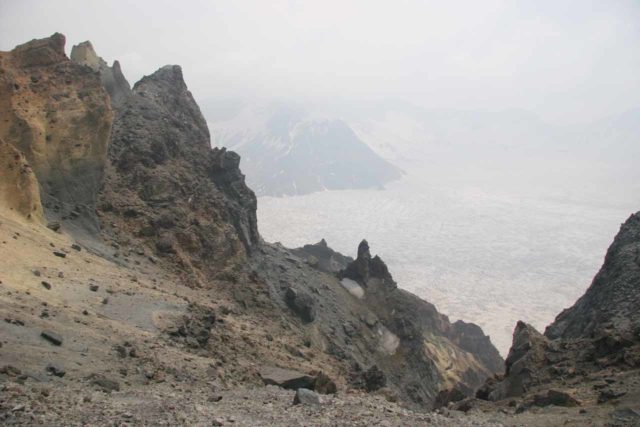 Day 31: Transport from Dunhua to Changbaishan
Overnight: Changbai Hotel (Changbaishan, Jilin, China)
On this day, we visited Heaven Lake (still mostly frozen when we showed up) as well as the Changbai Waterfall.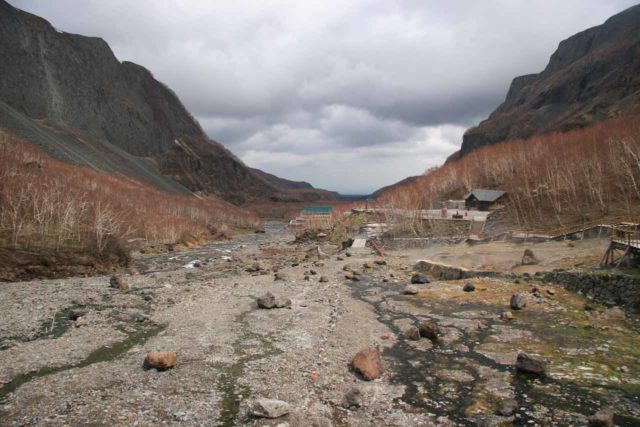 Day 32: Day tour around Changbaishan
Overnight: Changbai Hotel (Changbaishan, Jilin, China)
We started the morning going right back to the Changbai Waterfall and Julong Pool. We then went to the Little Heaven Lake as well as the Green Deep Pool. Later in the afternoon, we went to the Dongtian Waterfall and Underground Forest Waterfall.
Day 33: Transport from Changbaishan to Yanji
This was basically an all-driving travel day. Due to the bad weather, we didn't make any stops to view Changbaishan from a distance.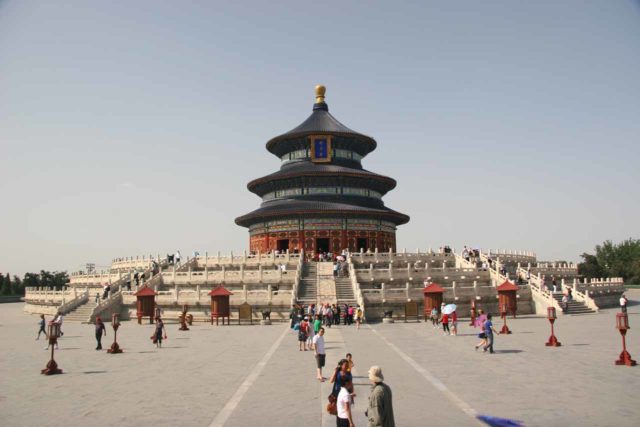 Day 34: Transport from Yanji to Beijing
After flying from Yanji to Beijing, we were then guided to the Wangfujian Pedestrian Street, the Temple of Heaven, and the Silk Street Market.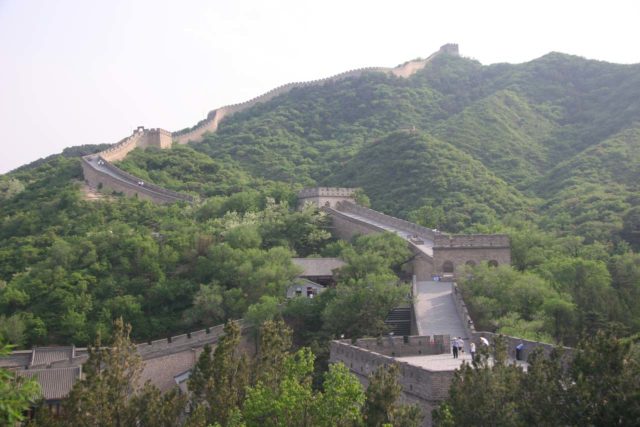 Day 35: Day touring around Beijing
On this day, we were escorted to the Summer Palace, the Ming Tombs, and the Great Wall (two different sections – Juyongguan and Badaling; the latter took a bit of convincing by Julie to let us do).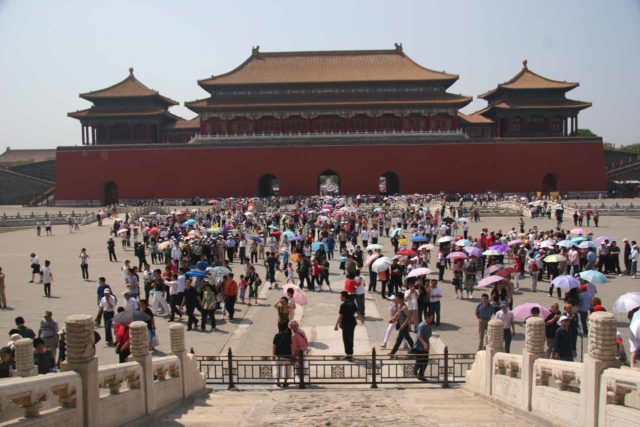 Day 36: Day touring inside Beijing
On this day, we were on our own to visit the Forbidden City and Tian'anmen Square. We also checked out the Wangfujian Pedestrian Street.
Day 37: Fly from Beijing to Tokyo
We flew out of Beijing and into Tokyo to end our 5 weeks in China.
What to Bring
In addition to the equipment that we bring on all of our trips, there wasn't anything in addition that we needed for this trip.

Visitor Comments:
Got something you'd like to share or say to keep the conversation going? Feel free to leave a comment below...
No users have replied to the content on this page