This was a trip where Mom and I split off so Dad could hang out with friends from his college days.
Although I had waterfalling targets throughout the island based on the exploits from those who cataloged and published them before me (e.g. Taiwan's Waterfalls by both Kirk Beiser and Xiaofei), we went out on our own adventure seeking them out.
Since Mom was totally within her element on this island, we didn't have any pre-made bookings for accommodations nor for rental car.
Indeed, we pretty much winged it, and I relied on my Mom to make the last minute bookings via cell or just by straight up talking to people. In a way, she was acting as the tour guide while I was the driver, and that was what made this trip quite unlike all the other trips that I've done where I'm usually the trip planner and executioner. As a result of this arrangement, Mom claims that we are now the family experts when it comes to all there is to see and do on the island, even more so than those who had lived here all their lives!
Here are the highlights and the eventual itinerary that our half-spontaneity and half-pre-planning resulted in…
Trip Map
This map and its markings were produced by this app.
Trip Highlights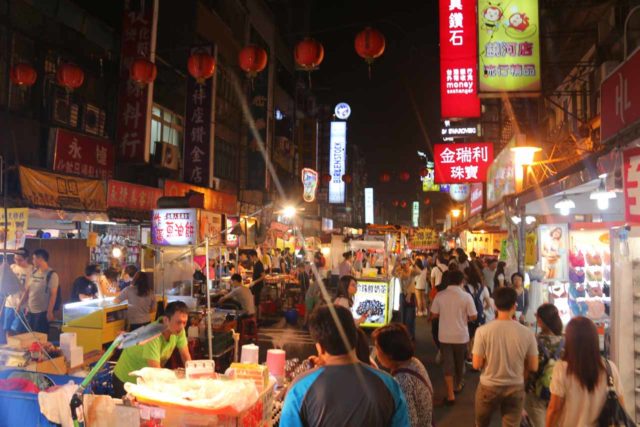 Night Markets in Taipei – an essential cultural experience when in Taiwan, there were numerous night markets throughout Taipei let alone throughout all of the island. It was the kind of place to try out local street food as well as taking part in the energy and ambience quite in a more swap-meet kind of setting than the night life we experienced in New York Times Square and in Tokyo.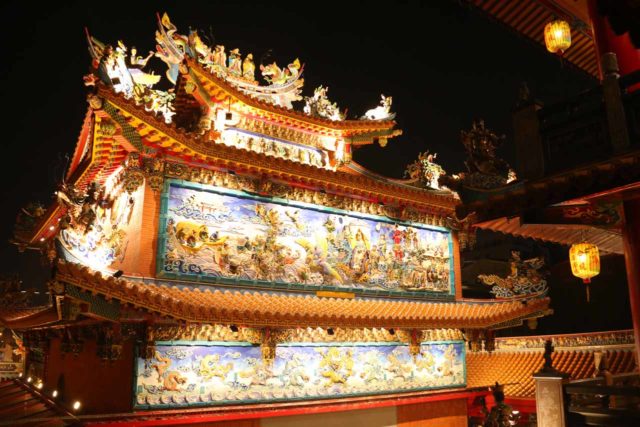 Temples – these were as ubiquitous as churches in the Western world. The ones we've encountered in Taiwan ran the gamut from tiny single-room shrines in shacks to large, multi-story built-up ones full of the smell of burning incense. Mom told me that many of them were found right next to night markets because they were community gathering spots (much like the way churches function in communities in the Western world). Thus, it was natural that trade and commerce would also occur near these gathering places.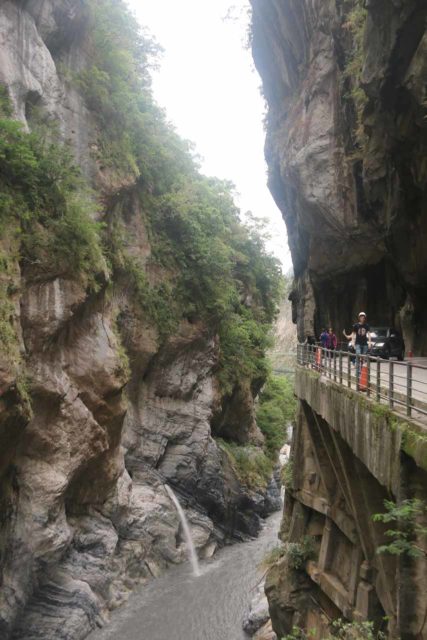 The Taroko Gorge – even though we arrived a few weeks after three typhoons (one of them category 5) grazed Taiwan, it did leave behind landslides that prevented us from getting deep into this scenic marble-composed gorge. But from what we were able to see on our trip, it was very impressive, and it left us wanting more, especially since we couldn't get deep enough to see the Baiyang Waterfall.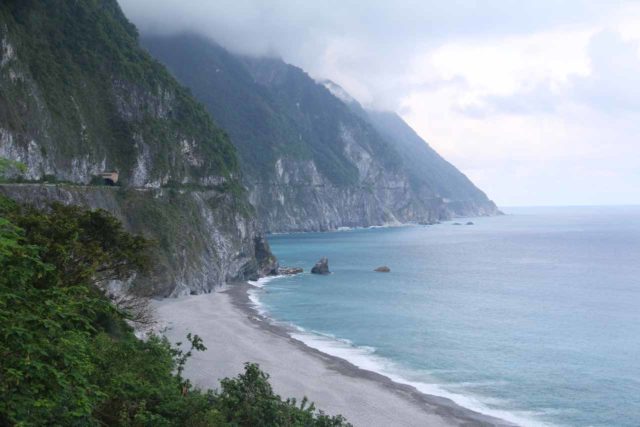 Qingshui Cliffs – this was a scenic stop that allowed us to appreciate the rugged scenery of Eastern Taiwan. Although the muggy weather and overcast skies weren't conducive to bringing out the color of the waters off the coast on our visit, we did see a few ephemeral waterfalls near the tunnels.
Fenghuang Waterfall – this was the first waterfall that Mom and I encountered on our circle island tour, and it was a nice introduction to some of the off-the-beaten-path scenery to be found in Taiwan. We also had this to ourselves so we could really enjoy the peacefulness of Nature here.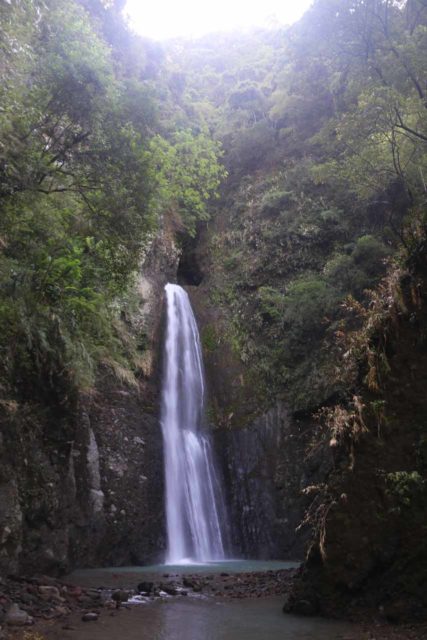 Tiefen Waterfall – this secluded waterfall require a short scrambling adventure due to a landslide that appeared to have killed off the established path. Yet the eerie isolation of this spot as it fell into a boxed canyon, where we were almost surrounded by tall cliffs on all four sides, really gave us that hidden paradise feel even though we were keenly aware of the rockfall and landslide hazard here.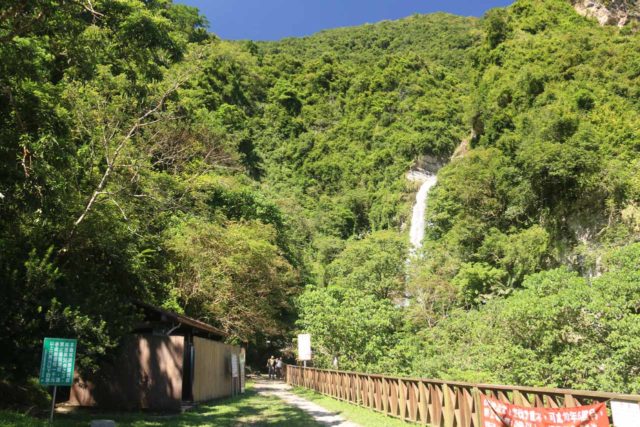 Nanan Waterfall – this roadside waterfall was scenically situated almost adjacent to some river. The neighboring road eventually would lead up to Yushan though landslides kept the road from making it there.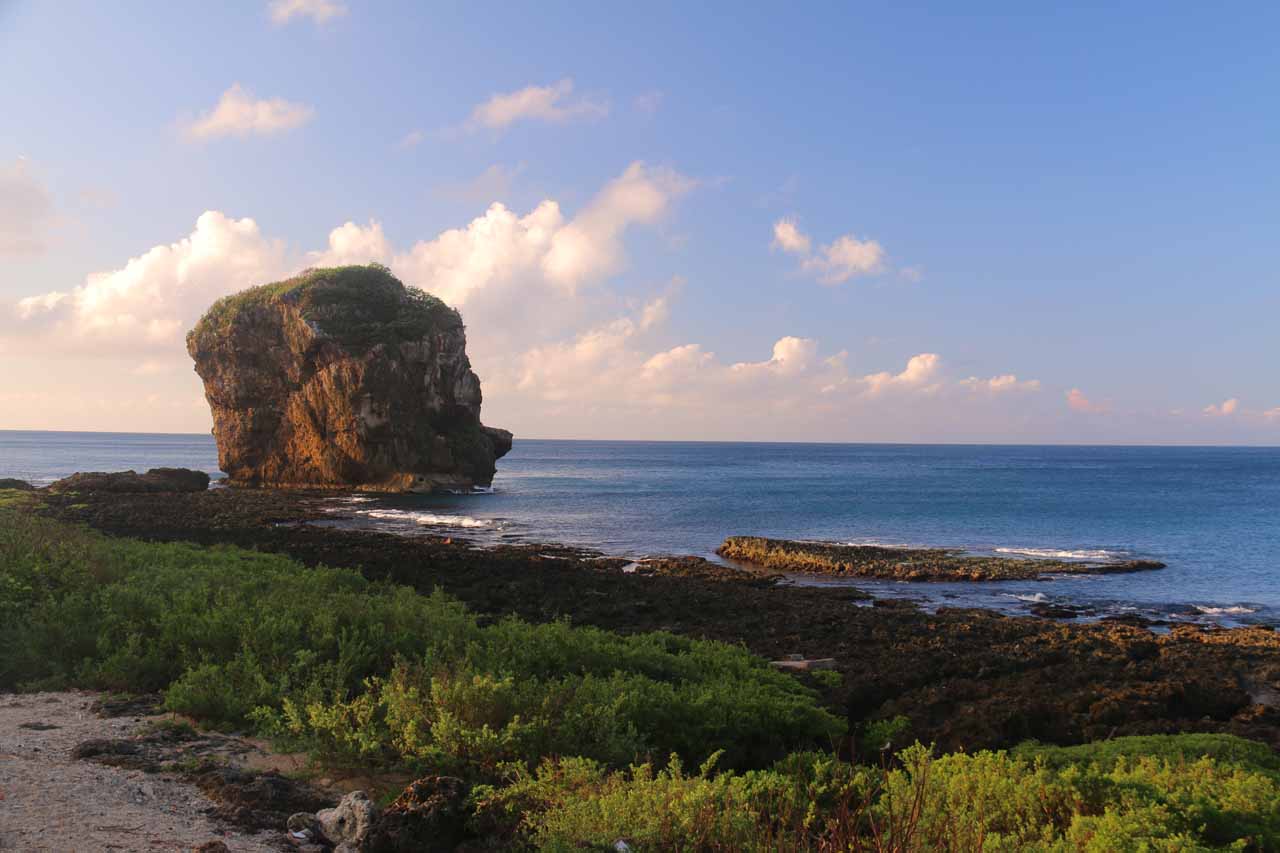 Kenting – this town near the southern tip of Taiwan had a bit of a youthful vibe to it as evidenced by how Mom and I felt like we were the older ones strolling about the very busy night market there. But this place also featured beaches, coastal rock stacks, and an intriguing reserve (though a category 5 typhoon that passed through here closed off quite a few of the paths).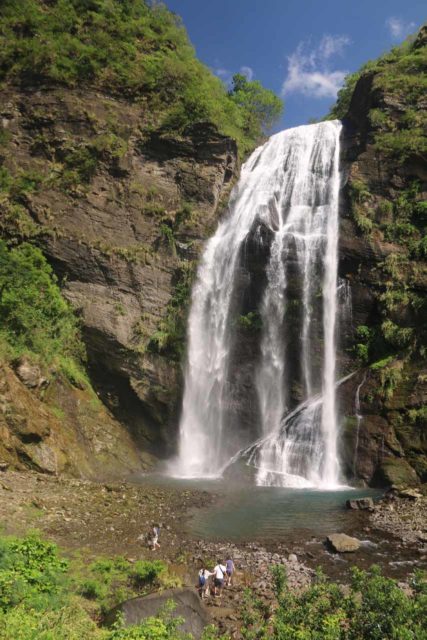 Kayoufeng Waterfall – this was hands down the waterfalling highlight of Southern Taiwan. It was impressively huge, and it output enough rainbow-yielding spray to momentarily offset the oppressive humidity, especially after the uphill hike it took to get up to the base of the falls!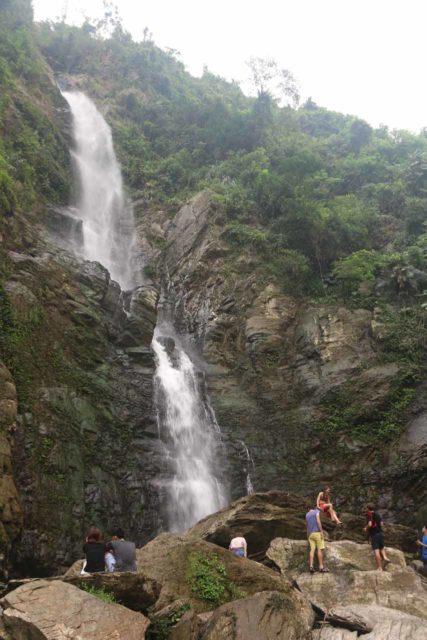 Liangshan Waterfall – it involved a bit of a hot and steamy hike to make it up to the last of the waterfall series, but as you can see from the photo, it made the work to get up here all the more gratifying. Indeed, there were other waterfalls and swimming holes along the way, and it was not far behind Kayoufeng Waterfall in terms of the most scenic waterfall in Southern Taiwan.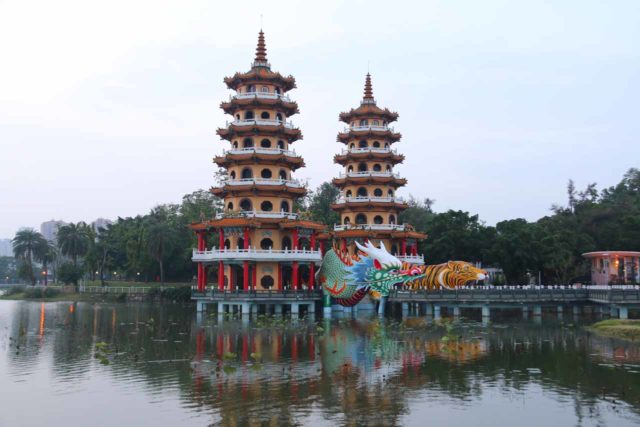 Kaohsiung – this was probably the main city of Southern Taiwan though we managed to escape the traffic and the crowds by heading out to the Lotus Pond with the Dragon and Tiger Pagodas among other temples and erected sights around the lake. In the evening, we also checked out the Liuhe Night Market though it was definitely smaller and more subdued than the ones we saw in Taipei.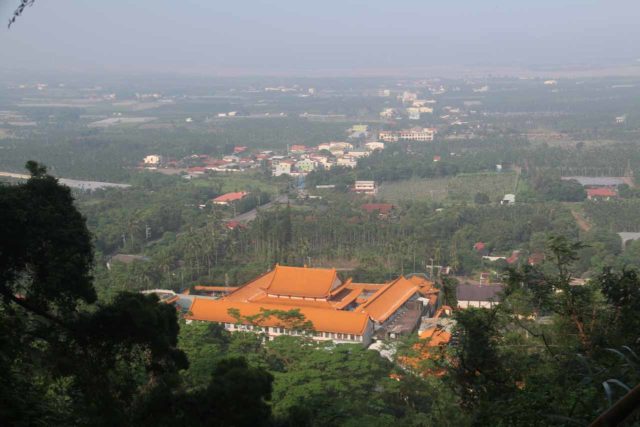 Dajin Waterfall – this was another waterfalling excursion we did around Southern Taiwan, but the rub with this attraction was that we climbed high enough to get an overlook back towards the basin, and we also checked out the temple at its trailhead. Of course, the tall waterfall wasn't bad either, as we savored the spray from the mist helping to cool off from the heat and humidity.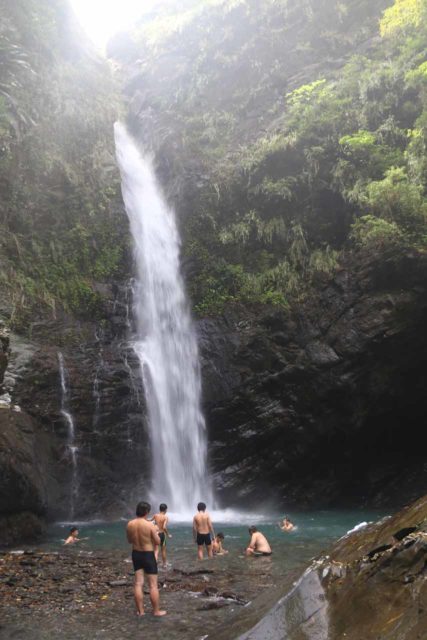 Maolin Valley Waterfall – Mom and I kind of went on a bit of an Indiana Jones-type adventure as we traversed two highly-suspended swinging bridges, a Japanese-style round bridge, lots of cliffside scenery, and a steep climb down to the waterfall itself, where we could momentarily cool off from the heat and humidity.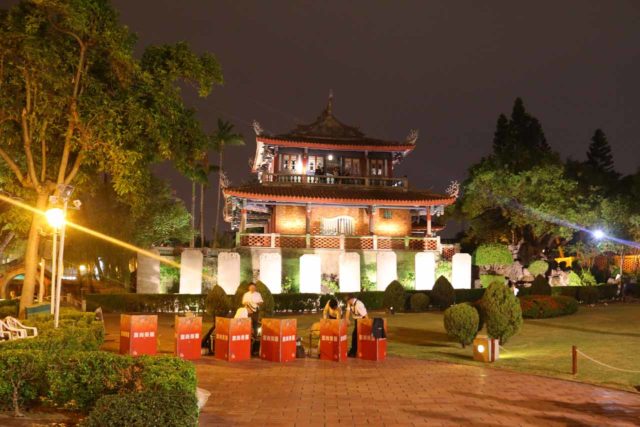 Tainan – we really didn't do ourselves many favors by not trying to fit a lot of sightseeing into a rushed afternoon, and we further exacerbated the situation by staying a bit far from the downtown area. Nonetheless, we still got a taste of places like the Anping Fort, the Chihkan Towers, the Confucius Temple, and the Matsu Temple. The city was a bit unusual in that there was a bit of a Dutch heritage and history here.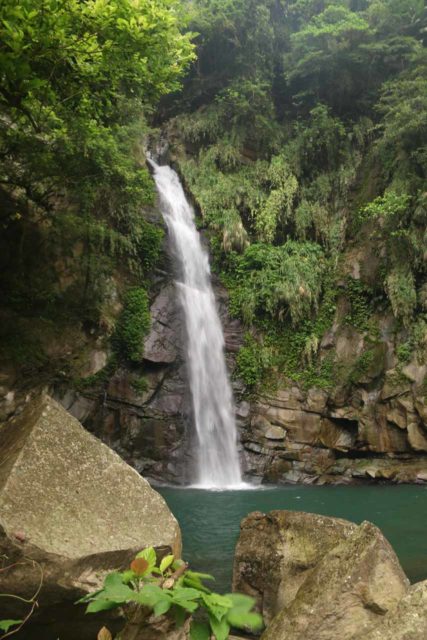 Fenghuang Waterfall near Chiayi – this was another waterfalling gem that some of locals here didn't even know about! It took a lot of stairs to descend towards this secluded waterfall, and that made the uphill hike all the more hot and sweaty. We also discovered an attractive temple on the way here.
Ban Tian Yan Temple – this impressive temple was an unexpected stop. While we noticed it on the drive up to the Fenghuang Waterfall, Mom struck up a conversation with a couple of locals who suggested that we check this place out, and so that we did. It not only featured a fairly long area for worshipping, but there was also a big Buddha in the back as well as some cheap comfort food served in one of the upstairs dining halls.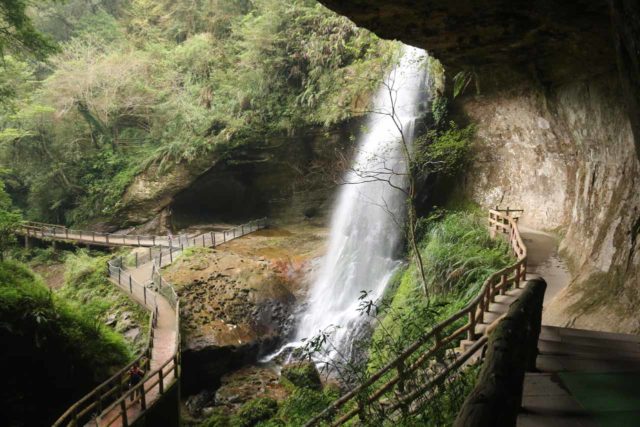 Songlong Rock Waterfall and the Shanlinhsi Nature Reserve – the main attraction of the fairly long walk was to the waterfall, but along the way, we spotted some pleasant forest scenery as well as some tunnels and an eccentric "Eye of Heaven" formation at the very top. I guess Mom and I got to know this place a bit better since we completely missed the fact that they had a shuttle bus service to shorted the 6km hike we wound up doing.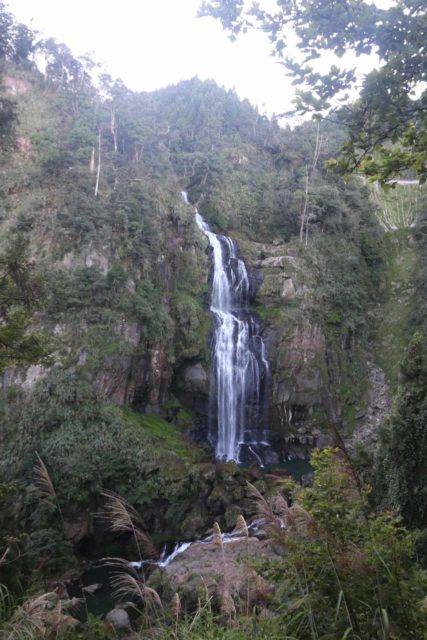 Chinglong Waterfall – this was the other waterfalling attraction that was much closer to the Sun Link Sea Resort area. Perhaps the most memorable thing about our hike to get here was that it was rather comfortably cool as we were above the inversion layer so the heat and humidity wasn't as apparent at this elevation. It could very well have been the most comfortable hike that we did throughout Taiwan. Of course, the scenery along the way further added to the place's scenic allure, making me think that the Shanlinhsi Nature Reserve was perhaps the scenic highlight of the trip so far.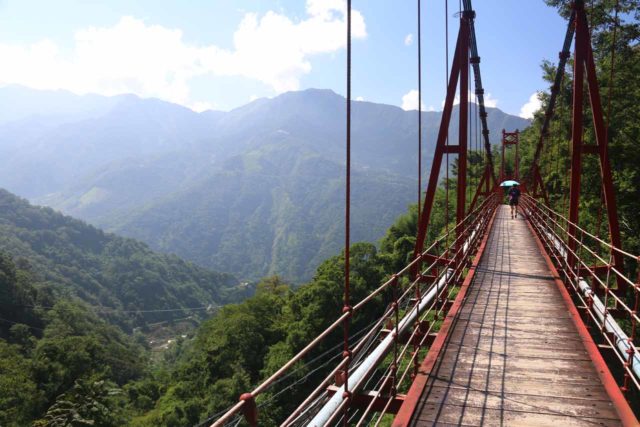 Rainbow Waterfall – it took a brutally long climb consisting of many steps to get all the way up to this waterfall. I thought it was really more about the journey rather than the destination itself though as we had to cross a very high and harrowing suspension bridge, which really made us feel like we were on top of the world. Although we spent most of our time in Dongbu doing this hike, apparently this was another one of those hot springs resort areas within reach of the Yushan Mountain (Jade Mountain), which was said to be the highest point in Taiwan.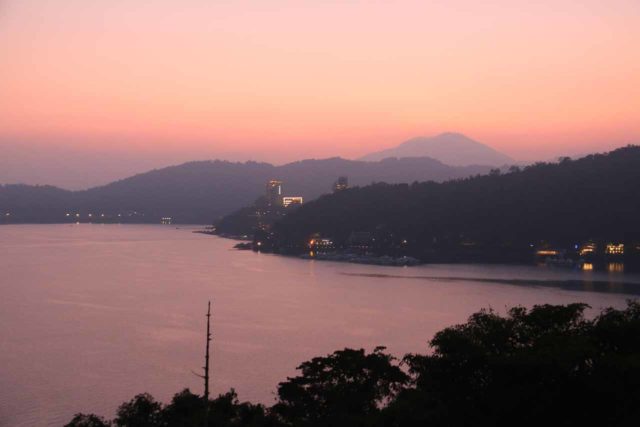 Sun Moon Lake – this seemed like one of the most well-known natural features of the mountains of Central Taiwan as it was a calm lake surrounded by scenic mountains, small resorts and towns, and some temples to boot! We even caught a scenic sunset here while also getting to know some of the foreign tourists who managed to make it out here.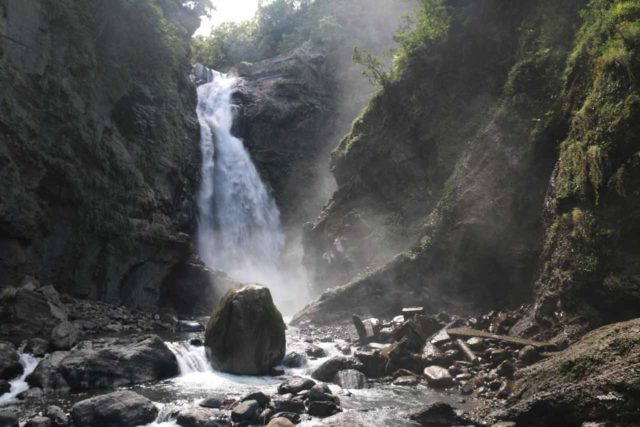 Xiao Wulai Waterfall – this waterfall marked our return to Northern Taiwan after having spent most of the trip going around Eastern, Southern, Central, and Western Taiwan. It was not far south from the international airport at Taoyuan, and this impressive waterfall belied the "small" in its name. We actually managed to get down to the base of the falls though the closed trail did have some damage due to landslides and rockfalls.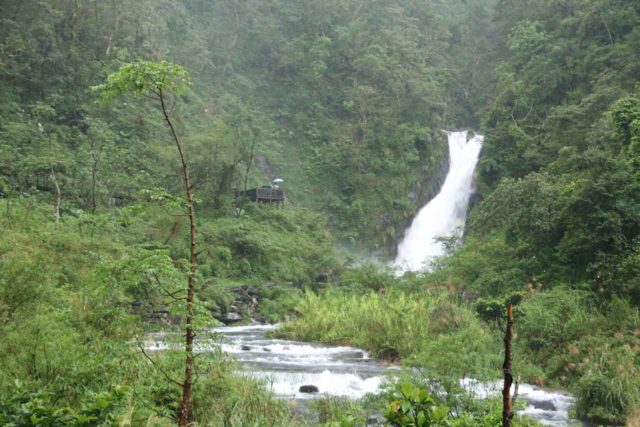 Xinliao Waterfall – of the waterfalls that we visited in Taiwan, none had a trail as simple as this one. You see, typhoons in the past kept destroying the old trails that were built in the same mold at all the others we've visited (in terms of concrete walkways and steps throughout), but in this case, they let the trail be nothing more than wood chips and dirt, which made for less-jarring-on-the-knees walks as it should be in Nature. Plus, I'm sure it was far cheaper and easier to maintain the trail this way. As for the waterfall itself, it was gushing thanks to the rainy weather, but its backdrop being surrounded by tall green-clad mountains also made this one of the more scenically-situated spots in Eastern Taiwan.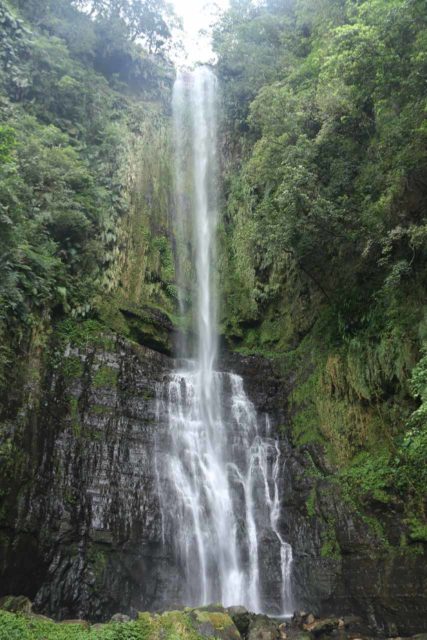 Wufengqi Waterfalls – when it came to this waterfall, we were really talking about three major sections. During our visit, the first two tiers were easily accessible, but the uppermost (and tallest of the bunch) was closed due to landslide danger. Of course after Mom talked with the locals, they said the damage wasn't too bad so we went ahead and checked out the place knowing the risk we were taking. And as you can see from the photo above, we were quite glad we did it.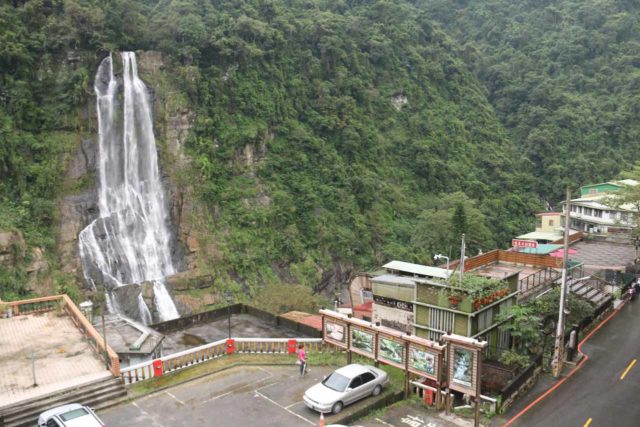 Wulai Waterfall – this impressively tall waterfall was the signature attraction of the Wulai Valley, which was affected by landslides in the past that closed off access. There seemed to be a bit of an indigenous influence in these parts though our visit mainly focused on the waterfall itself and the cable car we took to witness parts of the waterfall that would otherwise not be seen.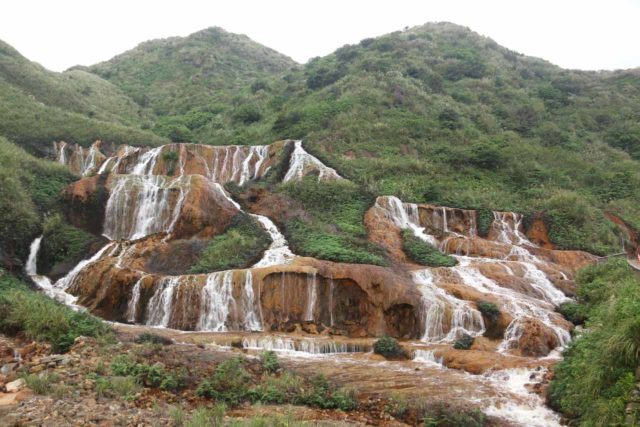 Huangjin Waterfall – this attractively wide waterfall was actually near some mines. The resulting polluted runoff could very well have added color to this natural spectacle that was surprisingly not that well-known when you compare how many tourists were visiting Jiufen further upslope!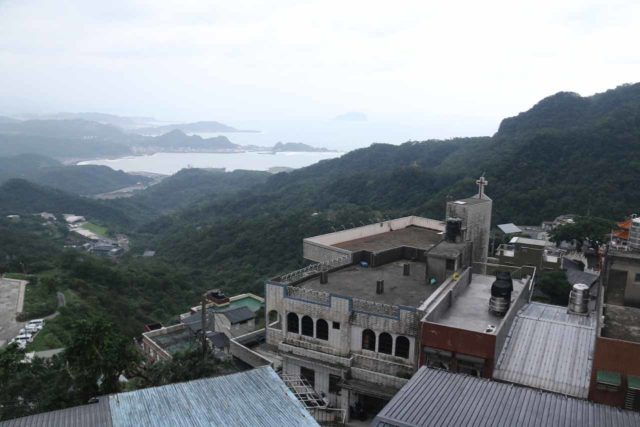 Jiufen – this historical mining town once yielded a lot of riches for the Japanese government during their occupation. But what's now left was a very happening and internationally-well-known attractions, especially at the Jiufen Laojie ("old street") where the tight alleyway yielded a lot of people packed into a conveyor-belt like scene flanked by shops and stands. It was certainly one of the more atmospheric experiences we had in Taiwan, which was all the more surprising when you consider that Mom's side of the family were based in nearby Keelung.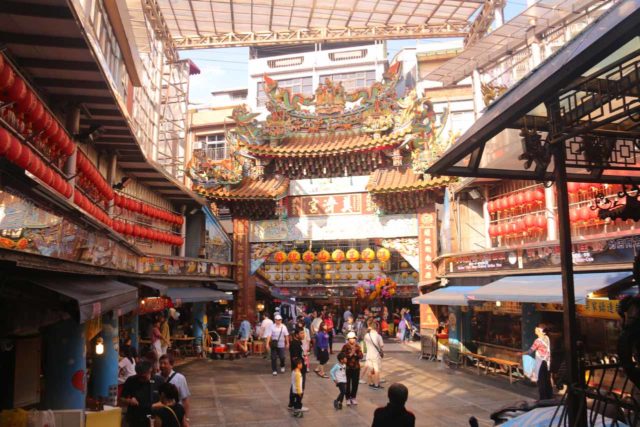 Keelung and the Miaokou Night Market – this city and the main night market here were haunts of my Mom's side of the family. They claim that the night market food here is far and away the best in all of Taiwan, and I certainly had my share of oyster omelettes, gua bao, rou gen tang, and other local comfort food street fare. The namesake temple in "Temple Mouth" (literal translation of Miaokou) was also attractive and a bit of a respite from the activity in the market itself.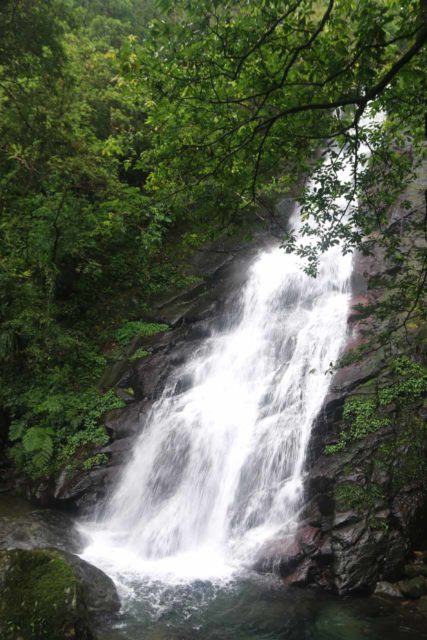 Qingshan Waterfall – this waterfall was our excuse to explore the surprisingly quiet Nothern shores of Taiwan. Indeed, despite its close proximity to the metropolitan Taipei, we wouldn't have suspected what a peaceful hiking experience we'd have. Apparently this side of Yangmingshan was also known for hot springs though we didn't get a chance to do that on this visit.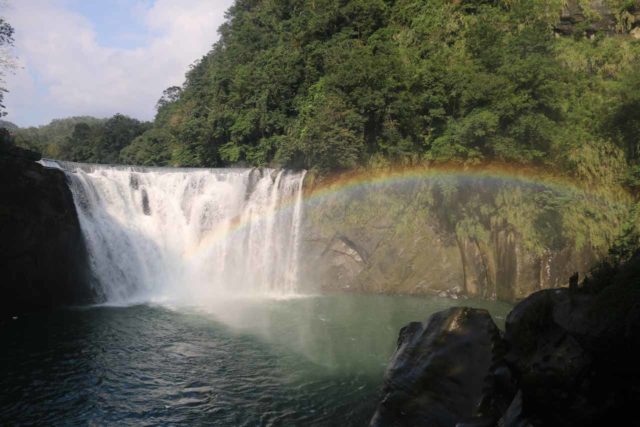 Shifen Waterfall – this was easily Taiwan's most famous waterfall, and it was a fitting last waterfall of our trip as well. We wound up doing a clockwise loop hike that started from the Yanjingdong "Eyeglasses" Waterfall before showing up at the main waterfall minutes before they opened. It was a good thing we got our early start because it got crowded real fast. Our morning visit was also accentuated by nearly perfect timing as we were treated to a wide and bold rainbow in the waterfalls mist.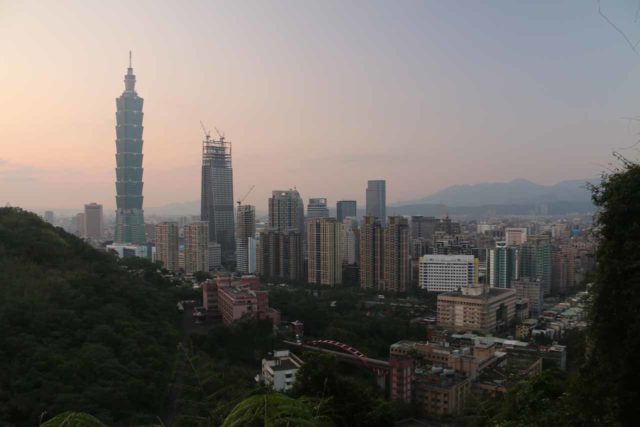 Xiangshan ("Elephant Mountain") – Mom and I did a trail that started from behind my Auntie's apartment. I never would have imagined that the hike we went on connected with an apparently world-famous lookout as we stumbled upon an international United Nations of tourists all crowded around the overlooks peering right at Taipei 101 and the surrounding high rises right at sunset. It was a fitting sightseeing end to our circle island tour even if I had to endure quite a few mozzie bites in the process.
Trip Advice
I was always under the impression that Autumn is the time of year to visit most places in Asia. And so with that in mind, that was the thinking behind our visit to Taiwan. Unfortunately, the frequency of some late season Typhoons resulted in a bit of an extended Summer that creeped well into the Autumn season, and that had some adverse impacts on this trip (it may not be this way under normal circumstances).
Here's some additional lessons learned from this trip…
Local Knowledge: In a bit of a role reversal, my Mom was actually kind of playing the role of local guide to Taiwan. Even though for both of us some of the places we went to were new, Mom had mastery of the language (especially Taiwanese) so that helped her mingle with locals and learn some things that otherwise wouldn't have happened on a more typical trip where it would be harder to communicate casually with locals.
Not only that, but Mom insisted that we never needed to make advanced bookings (more costly), and indeed, just about every night and every place we stayed at, we had pretty luxurious accommodations and most of them were less than $100 USD per night! Heck, even the rental car we did was cheap because they were trying to get more cars to go north from Hualien back to Taipei (and not the other way around)! I think Mom said that the whole trip amounted to about $300 USD over the 8 days we had rented the car.
Never Underestimate The After Effects of a Typhoon Under ordinary circumstances, Fall is supposed to be the ideal time of year to visit Taiwan (let alone China and most of other parts of Asia). The reason is because Summer tends to be monsoonal so most of the moisture falls during those months. Thus, when the weather becomes cooler (though not necessarily drier) in Autumn, you get the best of both worlds – the more manageable temperatures and humidity as well as saturated water tables from the previous season's rains.
Unfortunately on this particular year, three typhoons in less than two weeks battered the country. In the aftermath, there were landslide closures (e.g. Baiyang Waterfall unavailable and neither was Yunlong Waterfall available either) or severe road work going on as well as an extension of the Summer humidity going into the first week of November!
Apparently, the Global Warming disrupted the typical patterns such that the island was getting hit by frequent typhoons, and the weather remained stiflingly steamy and hot throughout our trip until we returned to the north under typically rainy conditions. Mom told me it was not normally like this, so who am I to argue what's normal and what's not when she grew up here and lived here for the better part of 3 decades or more.
Relaxing While it seemed like Taiwan was not exactly off the tourist radar (especially amongst the Western World), it was refreshing to see just how quiet the island can be once we got away from the obvious tourist sights in Taipei and the Taroko Gorge. A trip like this where we explored all the other regions of the island really allowed us to experience the island in its more laid back self.
Crowds: When you cram a lot of people into limited real estate, you're clearly going to have crowds. While that may not be a bad thing in places like night markets where the crowds add to the ambiance, it can be an issue at tourist sights. Granted, the crowds were nothing like we had experienced in China, but that could be the result of a fortunate (or unfortunate depending on whom you talk to) circumstance where the current government was doing things to piss off the mainland Chinese government, and thus the mainlanders crippled the Taiwanese tourism by boycotting them.
Travel Itinerary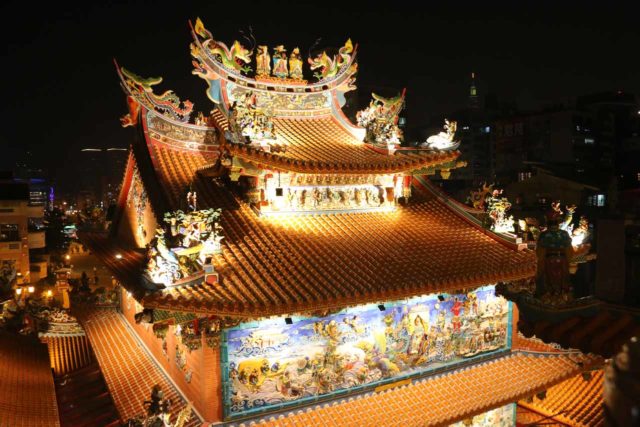 Day 1: Fly from Osaka to Taipei
Overnight: Private Apartment (Taipei, Taiwan)
This was a travel day and a day of hanging out with relatives. After running errands and spending time with family, Mom and I did have time to walk around the Taipei 101 area as well as the Raohe Night Market and Ciyou Temple.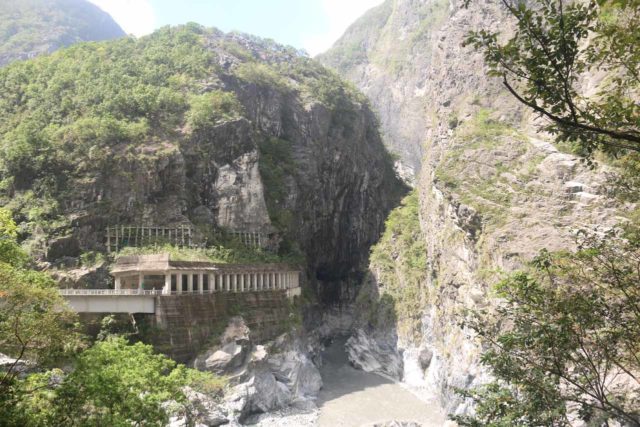 Day 2: Train from Taipei to Hualien
This was the day when Mom and I split off from Dad and started our circle island tour. We began with a train ride to Hualien, where we then rented a car at a very deep discount. That allowed us to drive into the Taroko Gorge (at least as far as we could go) before briefly checking out the Qingshui Cliffs, then settling down at Hualien City. That was where Mom and I checked out some night markets (including the so-called Rainbow Night Market), which were noticeably more subdued compared to those we had experienced in Taipei.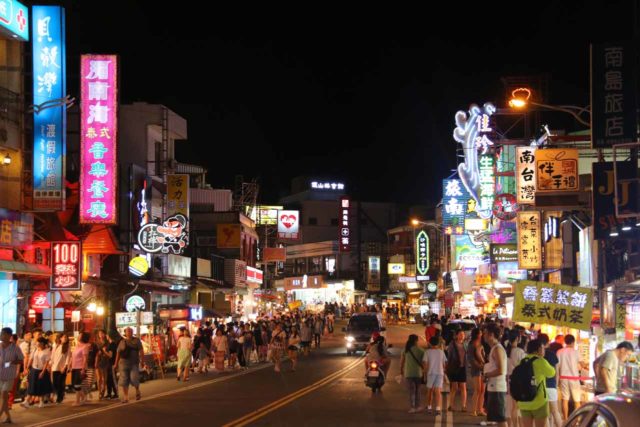 Day 3: Hualien to Kenting
This was very busy day of driving the long distance from Hualien all the way to the southern tip of Taiwan at Kenting. Along the way, we stopped for the Fenghuang Waterfall, Nanan Waterfall, Tiefen Waterfall, and the Luoshan Waterfall.
We managed to catch the sunset on the approach to Kenting, and after settling in and having dinner at the hotel, we regretted not saving some of that room for the night market fair in the real happening main drag through town.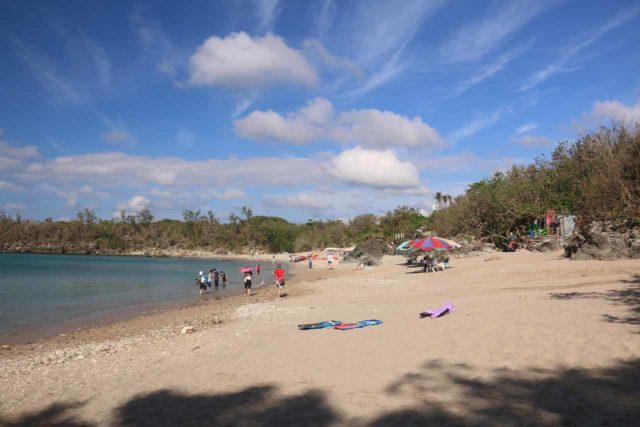 Overnight: Sunnyside Hotel (Kaohsiung, Taiwan)
From a driving distance standpoint, this was one of our shorter drives. However, we did manage to see and do a lot on this day, including the Eluanbi Lighthouse, Sail Rocks, the Kenting Beaches, Kayoufeng Waterfall, Liangshan Waterfalls, and the Liuhe Night Market in the heart of Kaohsiung.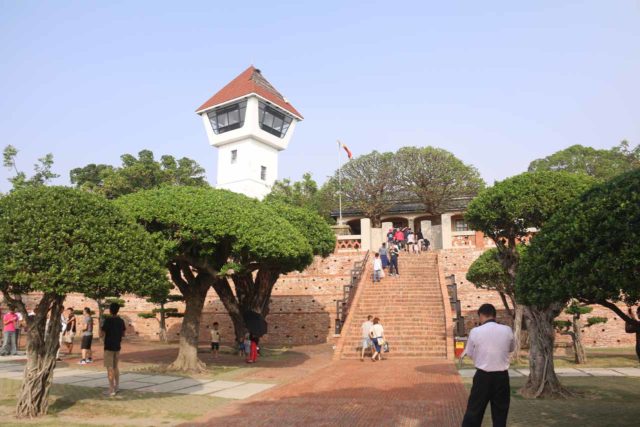 Day 5: Drive from Kaohsiung to Tainan
We began this day by visiting the Lotus Pond area, which we didn't get a chance to do yesterday. Then, we headed into the mountains to visit Dajin Waterfall, the Qingrengu (Lover's Gorge) Waterfalls, and Maolin Valley Waterfall.
Afterwards, we then spend the remainder of the day squeezing in a visit to the Anping Fort, Confucius Temple, Chihkan Towers, and Matsu Temple. We made a miscalculation in that we stayed near the Anping Fort, but we really should have stayed closer to Tainan City Center. That said, both Anping and Tainan were worth visiting, but in our limited time, we really couldn't do these places justice.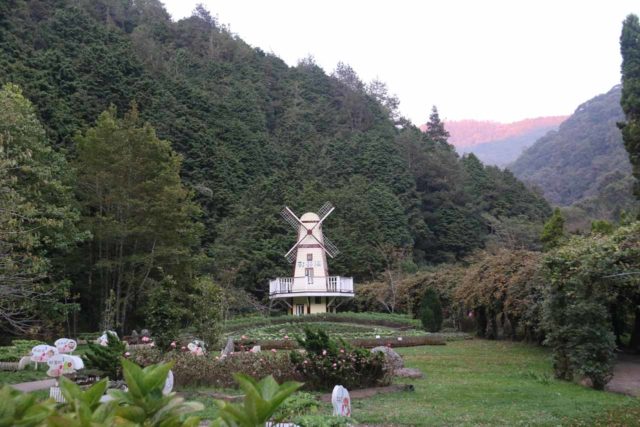 Day 6: Drive from Tainan to Shanlinhsi
Overnight: Sun Link Sea Forest and Nature Resort (Shanlinhsi, Taiwan)
After leaving Tainan, we headed back into the mountains towards Chiayi where we checked out the impressive Fenghuang Waterfall and made an unexpected visit to the Ban Tian Yan Temple. Then, after completing the drive to our accommodation high up on the mountains of Shanlinhsi, we did a hike to take in the Songlong Rock Waterfall.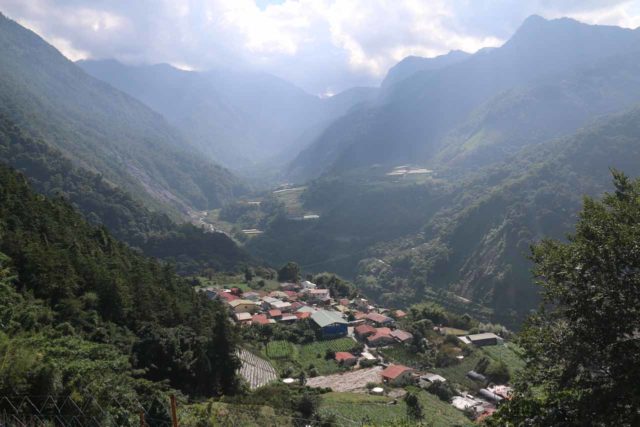 Day 7: Drive from Shanlinhsi to Sun Moon Lake
The morning began with a pre-breakfast hike to the Chinglong Waterfall. Then, we took a detour deeper into the mountains towards the Dongbu Hot Springs area to visit Rainbow Waterfall as well as a failed attempt at the Yunlong Waterfall also in the same area.
Afterwards, we then backtracked and drove towards the famous Sun Moon Lake in the heart of the mountains of Central Taiwan. There, spent time at the attractive Wenwu Temple to experience the sunset and the orange and purplish colors that the departing sun left behind in the sky.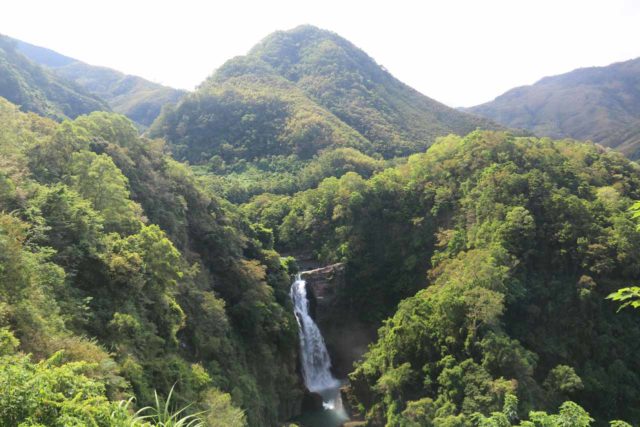 Day 8: Sun Moon Lake to Yilan
On this day, the main focus was to visit the Northern Taiwanese waterfall of Xiao Wulai Waterfall and the more subdued Xinliao Waterfall. At night, we enjoyed having chicken at this popular (and famous?) joint in Jiaoxi before enjoying the thermal spas at our accommodation.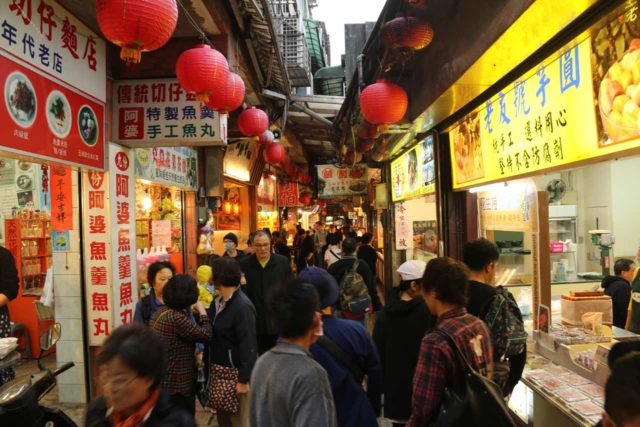 Day 9: Drive from Yilan to Keelung
Overnight: Private Apartment (Keelung, Taiwan)
On this day, we started off the day visiting the Wufengqi Waterfalls before making a detour to the Wulai Waterfall. We then swung back to the east to see the Huangjin Waterfall (aka the Golden Waterfall).
We then took the coastal route into the port city of Keelung checking out the rugged coastal scenery before meeting up with Mom's side of the family enjoying the Miaokou Night Market as well as enjoying their company and companionship.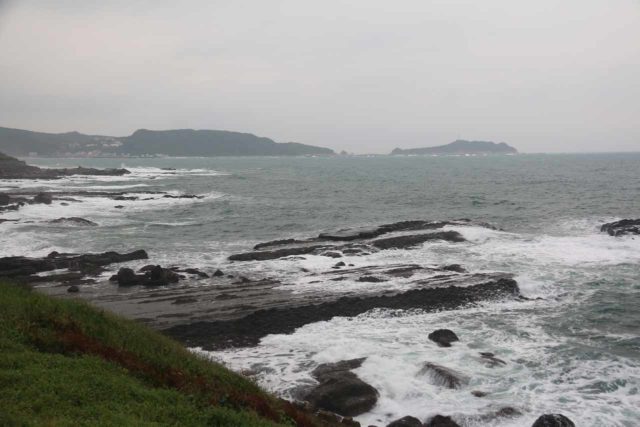 Day 10: Drive from Keelung to Taipei
Overnight: Private Apartment (Taipei, Taiwan, USA)
The lone scenic excursion of the day was to visit Qingshan Waterfall on the northern slopes of Yangmingshan. We then drove into Taipei to return the rental car and go the rest of the way by taxi or bus. In the evening, I met up with a high school friend who was living in Taiwan, and we hadn't seen each other for what seemed like at least 20 years! Then, I was left to my own devices to tour some of the other night markets in Taipei like Laoniang Night Market and Linjiang Night Market.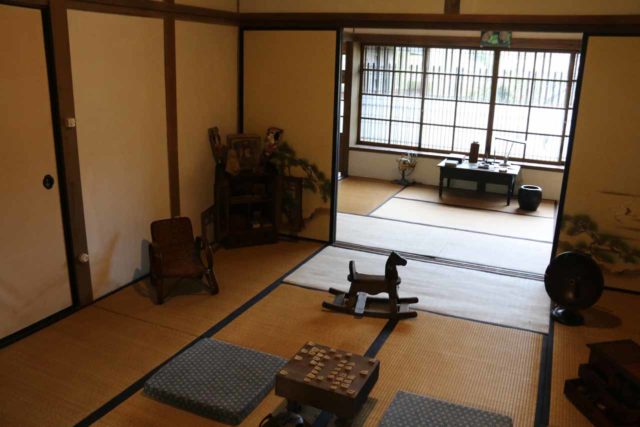 Day 11: Day Tour of Shifen Waterfall, Keelung, and Taipei
Overnight: Private Apartment (Taipei, Taiwan, USA)
Without a car, we were driven around by one of Mom's oldest brothers who took us on a bit of a sightseeing tour to see the Shifen Waterfall, the Huangjin Waterfall once again, the Jiufen Gold Museum, the Miaokou Night Market (reconvening with Mom's side of the family once again), and hiking to the lookouts at Xiangshan (or Elephant Mountain).
Day 12: Fly home from Taipei to Los Angeles
On this last day of our trip, we had a lunch with our hosts from Dad's side of the family as well as Mom's oldest brother joining us and taking us to the airport. He left us some kind of journal from Mom's great granduncle or grandfather who apparently was employed by the Japanese government to survey the northern region of Taiwan for resource potential (as well as tourism potential).
Best Places We've Stayed At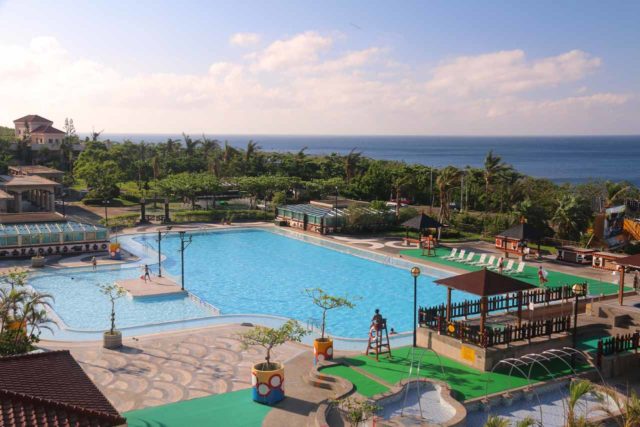 Howard Beach Resort Kenting – This accommodation was a bit of a splurge for Mom (though it was still less than $200 USD equivalent per night). It featured an underground play area, access to the beach, a refreshing swimming pool, and on-site dining where our buffet breakfast was included. It was also within walking distance from the big action of the night markets through the main drag of Kenting.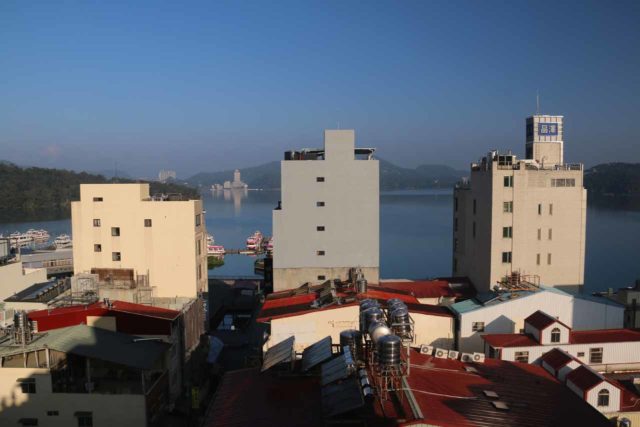 Skylight Bed and Breakfast – This accommodation had a nice location on the eastern shores of Sun Moon Lake. The room was spacious and really more of a romantic spot (so it wasn't that appropriate for Mom and I), but I could totally envision what a comfortable place to stay this would be, especially when out sightseeing around Taiwan's famous lake. The owners let me access the roof for interesting elevated views towards the lake itself.
Related Trip Reports
Waterfalls included in this itinerary
Visitor Comments:
Got something you'd like to share or say to keep the conversation going? Feel free to leave a comment below...
No users have replied to the content on this page