With my favorite camera holster bag solution (the Tamrac 5627) having been discontinued since the 2014 time frame, I was forced into looking for ways to acquire and maintain a more modern camera carrying solution. So, in this search, the Cotton Carrier Systems CCS G3 Strapshot Holster was one of the systems that I considered as a possible alternate to holster-style camera bags. And in this article, I review that camera carrying system, where I go deep into my experiences with it.
Did the Cotton Carrier Strapshot Holster become that camera carrying solution that made me reconsider the way I've been doing it all these years? Even if it didn't, does the Strapshot have a place in my current camera carrying system? Let's find out!
What Is The Cotton Carrier CCS G3 Strapshot Holster?
The Cotton Carrier CCS G3 Strapshot Holster is basically a camera carrying system that enables me to carry my camera hands-free while still using my existing day pack or backpack.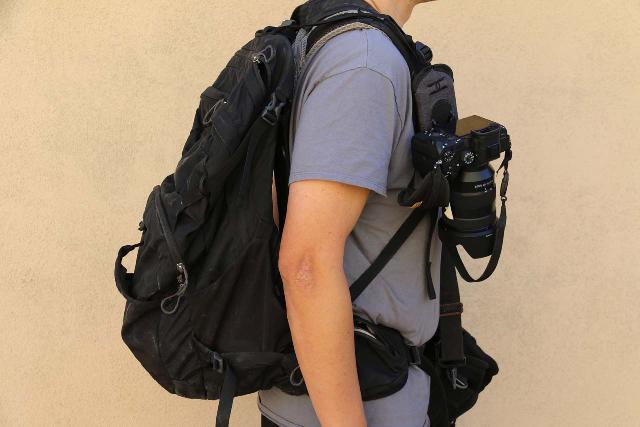 It's intended to be a quick way to access my camera and shoot at a moments notice, which is analogous to how gunslingers have holsters for the guns to quickly draw and shoot.
The Cotton Carrier Strapshot also comes with a detachable tether for that extra piece of mind so the precious camera won't hit the ground if I happen to drop it while the tether is engaged.
The product also comes with a hand strap to provide a little more of a secure grip of the camera when it's neither engaged to the Strapshot nor stowed in a camera bag.
How Does The Cotton Carrier CCS G3 Strapshot Holster Work?
The basic idea behind the Cotton Carrier CCS G3 Strapshot Holster (or just about all of the Cotton Carrier Systems products) is that the camera engages with an interface or plate for hands-free carrying.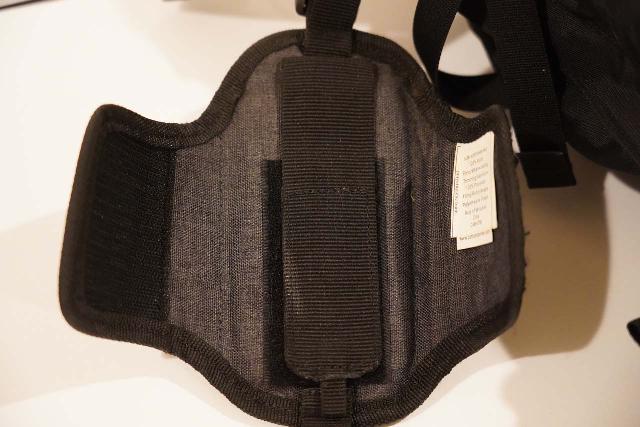 For the Strapshot, the interface plate is velcro'd onto one of the shoulder straps of the day pack or backpack.
Meanwhile, the bottom side of the camera would require a circular hub that would mate with the interface plate. An included Allen key allowed me to secure that hub to the camera by a hex screw.
When I would want to engage the camera with the Strapshot Holster, I'd turn the camera at a 90-degree angle before mating the camera with the Strapshot's interface plate.
Then, I'd let the camera rest face down as it would then be securely engaged with the Strapshot's plate for that hands-free carrying without worrying about the camera falling.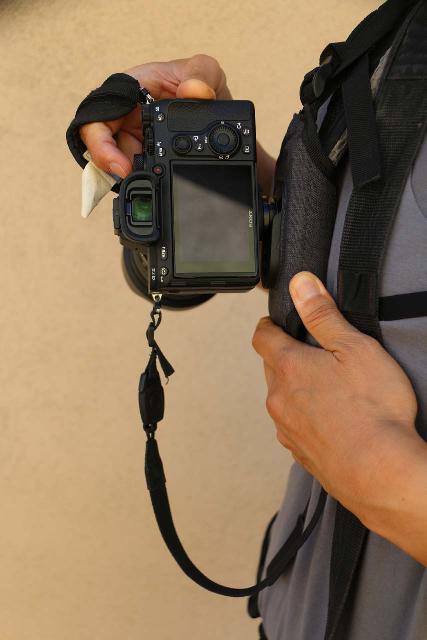 If I wanted to disengage the camera from the Strapshot, then I'd turn the camera at a 90-degree angle and then lift it out of the interface plate to free it and start shooting with it.
Why Use The Cotton Carrier CCS G3 Strapshot Holster?

The Cotton Carrier CCS G3 Strapshot Holster is a simple yet clever hands-free carrying system that theoretically would allow me to overcome the slowness of taking a camera out of a zippered bag before shooting.
The system also would enable me to carry a second camera where I could wear a camera bag carrying one camera while the Strapshot Holster could engage a second camera.
Such situations actually occur more often than you'd think. For example, if I needed to take a picture for someone, I could engage my primary camera with the Strapshot to free up my hands to do that task.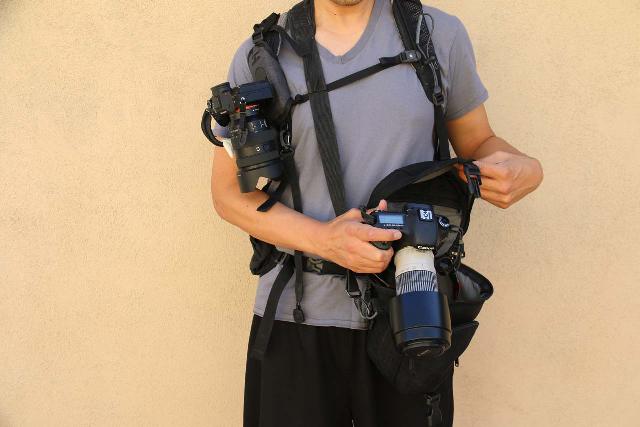 Moreover, with the limited range of high image-quality zoom lenses, it might be advantageous to carry two cameras (one with a telephoto lens and another with a more landscape-friendly zoom lens) so I wouldn't need to stop and switch lenses.
The extra throw-ins of the Cotton Carrier Strapshot like the tether and the hand strap further help to protect the camera against accidental drops.
Indeed, as alluded to earlier for hands-free multi-camera carrying, the Strapshot acts as a suitable complementary carrying system to the holster camera bag (like my Tamrac 5627 bag).
In fact, this complementary way of using the Cotton CCS G3 Strapshot is exactly how I've been using it since it doesn't add to the nuisance factor for having it anyways.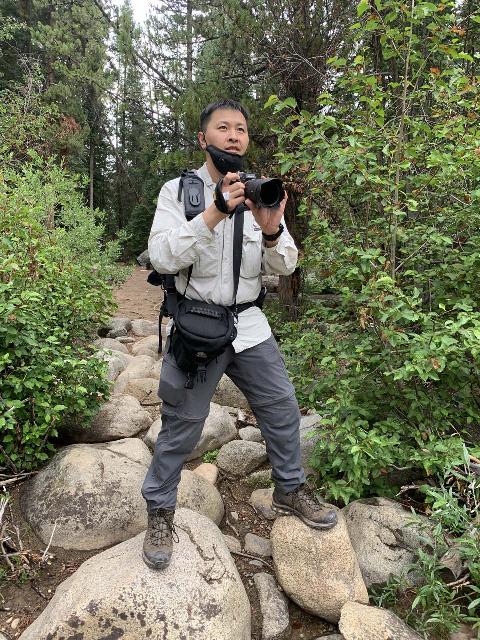 So why not walk around with it considering its advantages that I can choose to use or not without paying a nuisance price for having it on my pack?
Speaking of which, this system adds to my existing pack so I didn't need to buy and wear a separate harness or belt to take advantage of it.
Things To Be Aware Of About The Cotton Carrier CCS G3 Strapshot Holster
There are some things that I'm not too thrilled about the Cotton Carrier CCS G3 Strapshot Holster.

If you've seen my article on what is the best way to carry a pro camera when hiking, you know that I pay particular attention to comfort, workflow, and protection.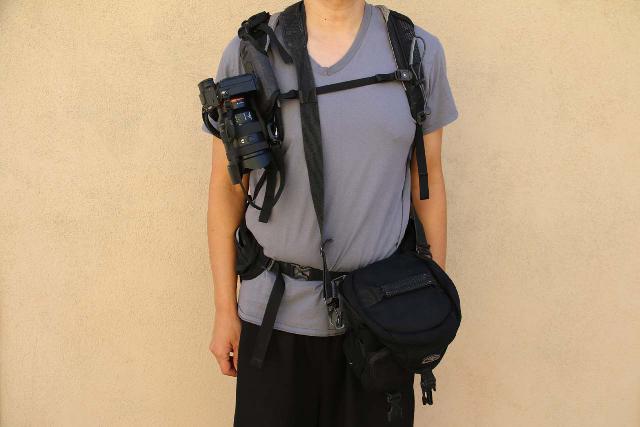 And these pain points are where using the Strapshot can be problematic, especially when in use for long periods of time.
First, the one-sided shoulder strap attachment means that there is uneven weight distribution when my camera is engaged.
Due to this, the shoulder bearing the camera starts to get uncomfortable with prolonged use so the Strapshot cannot be a long term solution (i.e. it becomes a burden and leads to chronic ailments on long hikes).
Second, the Strapshot plate strap tends to ride high even when I put it as low as I possibly can on the pack's strap.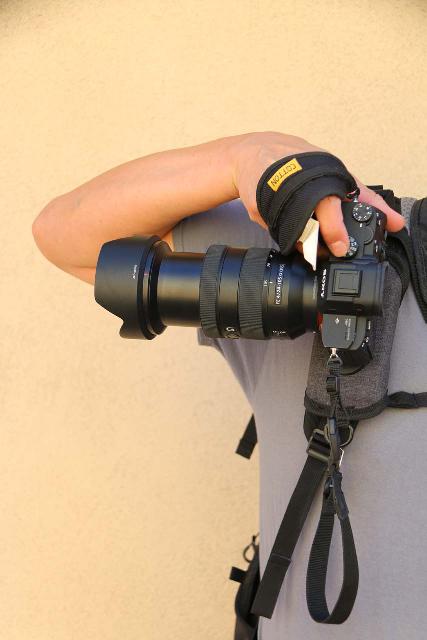 This causes an awkward mounting and dismounting of the camera, where I have to make a very high "chicken wing" just to turn the camera 90 degrees to engage and disengage the camera from the plate (while also inadvertently changing the shooting mode on my Sony).
The awkward motion tends to be slow and clumsy, and it ultimately defeats or neutralizes the speed advantage that this system could have had over taking the camera out of the Tamrac 5627 holster bag from its flip-top buckle-fastened lid.
As a result, this defeats another key purpose of having the camera mounted to the Strapshot, or at least makes it more of a complementary carrying system as opposed to one that I'd use as the primary one.
A third thing I don't like about the CCS G3 Strapshot Holster is that the included tether is too short, too flimsy, and not easy to fasten and unbuckle.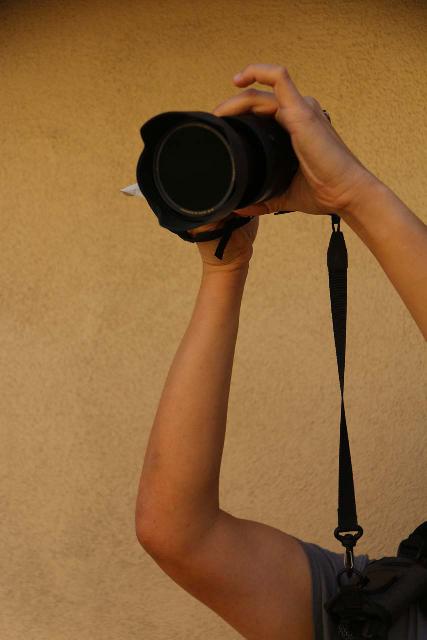 The short tether makes it hard to take a picture with my arms fully extended while using the LCD screen of my Sony Alpha7 3 Mirrorless camera for those times I have to take pictures over a crowd of people standing in front of me.
Fortunately, I happened to find a longer and more secure tether in my garage that also works with the Cotton Strapshot system so I don't need to use the default one.
A fourth aspect of the Strapshot I don't like is how the circular hub (attached to the bottom of the camera) prevents me from using my quick-release tripod plate without having to screw it in every time I have to use the tripod.
In order to overcome this inconvenience, I'd have to pay nearly another $40 for a universal tripod adapter just so I can use my quick-release tripod plate as a permanent fixture on my camera again.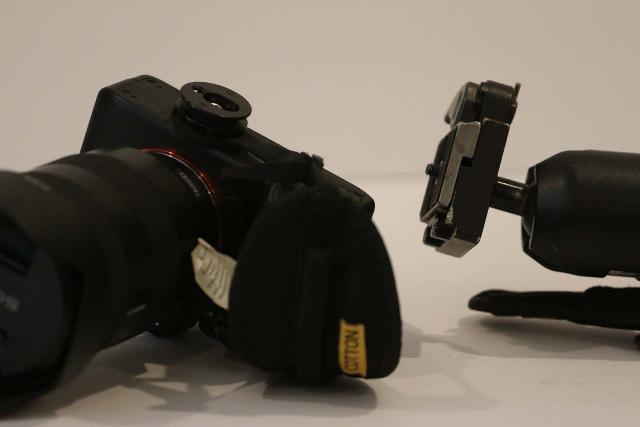 Finally, given all these shortcomings, the Cotton CCS G3 Strapshot is a very pricey buy at nearly $80.
When you consider that I have to spend another $40 (or about $120 total) just to properly work with tripods again, it made me balk at eating the cost, but when I once had to do without it, I did noticeably miss the convenience it provided as I had gotten used to the workflow using this Strapshot.
Final Thoughts / Conclusion
Overall, I found the Cotton Carrier CCS G3 Strapshot Holster to be a clever and pretty capable camera carrying addition to my already existing hiking gear.
However, given its limited utility and serious shortcomings, it seemed to be a complementary carrying system at best, but once I got used to using it, I definitely found that it had advantages that I otherwise was either unaware of or took for granted.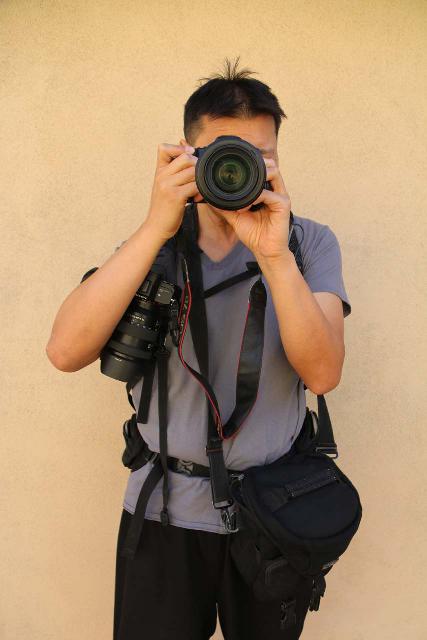 While the Strapshot can't replace my preferred system of properly attaching my Tamrac 5627 holster bag to the hip belt of my pack while stowing my camera in there, it did enable me to carry a second camera or do other things in a hands-free manner (though you can argue the camera's annoying default neck strap can enable those things too).
Even though we've committed to this system by having purchased it and using it over several hikes, it's still nice to have given that I now have a tether system to protect against clutzy moments as well as multitask by having that temporary-yet-quickly-accessible place to hold the camera.
Moreover, I've been finding that the hand strap in lieu of the annoying in-the-way neck strap to also be pretty handy (pun intended).
The bottom line is that the Cotton Carrier CCS G3 Strapshot Holster is really convenience that doesn't come cheap.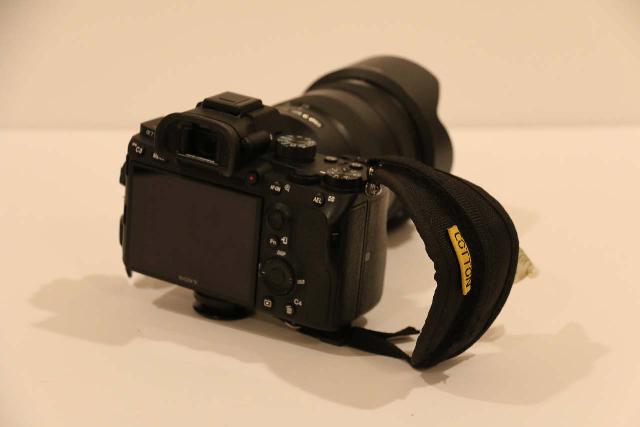 Therefore, I'm still searching for that frustratingly elusive camera carrying solution that might finally improve upon what I've been doing with the Tamrac 5627 instead of taking steps backwards from it!
Please note that this is not a sponsored post. However, there are affiliate links that help pay for this site. You can read more about these in our affiliate disclosure in the footer at the bottom of this post. If you have questions or comments, please use the comment box below.
Cotton Carrier CCS G3 Strapshot Holster
$79.00
Pros
Hands-free, Multi-Camera Enabler
Works with Existing Pack Straps
Drop Protection (with additional tether)
Stable Camera Mating
Excellent Customer Service
Cons
Leaves Camera Vulnerable to Elements and Trauma
Uneven Weight Distribution
Awkward Mate and De-mate Defeats Workflow Advantage
Strap Material may result in Durability Concerns
Visitor Comments:
Got something you'd like to share or say to keep the conversation going? Feel free to leave a comment below...
No users have replied to the content on this page