The COVID-19 pandemic pretty much messed up our plans and aspirations to continue waterfalling abroad, especially when we realized that Americans were pretty much shut out from the rest of the world.
We knew the situation wasn't going to improve as far as our country's handling of the seriousness of the pandemic from a policy standpoint.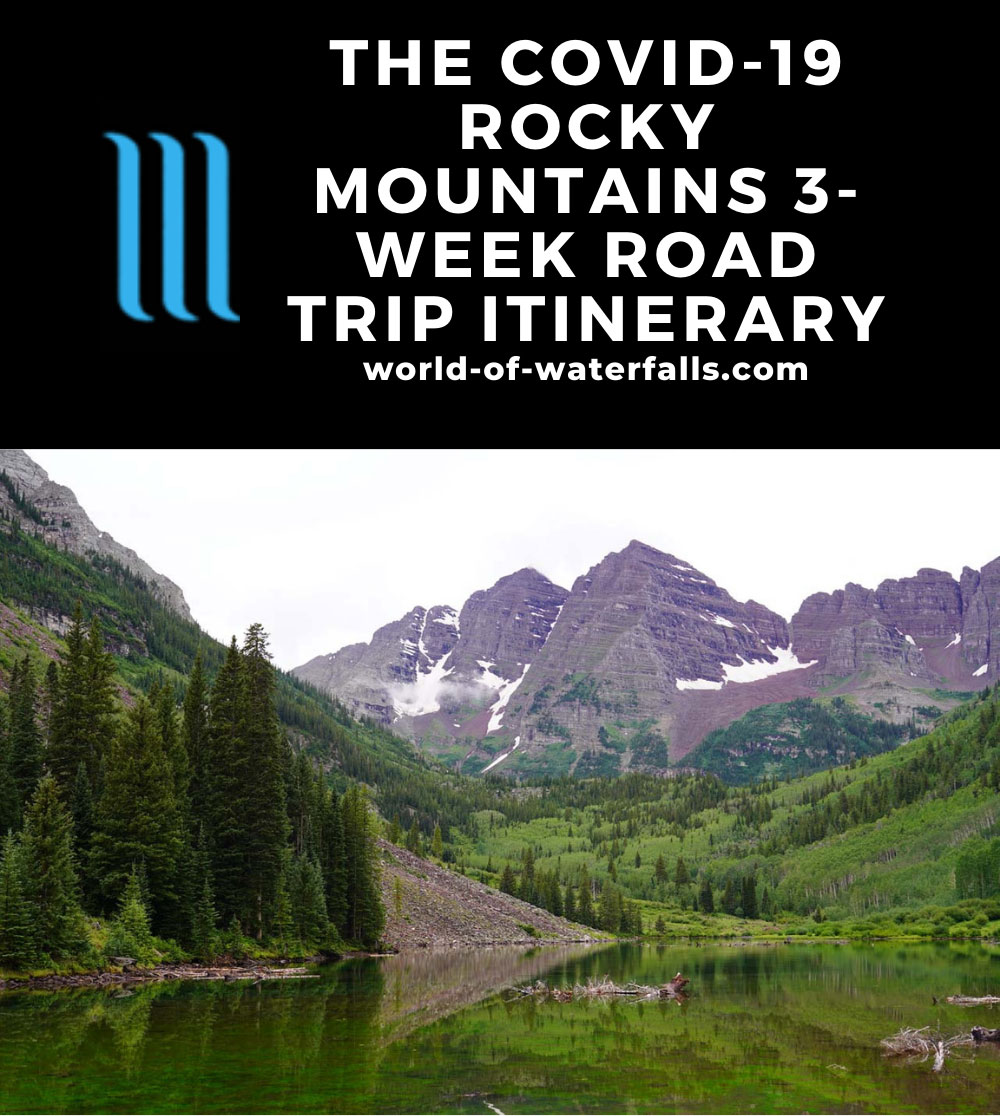 So we had to think very quickly about last-minute alternatives to go somewhere to maintain our own mental health from staying home all the time.
As for ideas, I've always had a Rocky Mountain Road Trip in the back of my mind to try to finish the unfinished hikes or redo those that I wish I had back. And I also thought that it might be easier to socially distance in the Rocky Mountains (boy was I wrong about that) while at the same time reconnecting in Nature.
When we knew that a pre-booked return trip to Iceland wasn't going to happen in August, we had less than 2-3 weeks planning out and booking this last-minute road trip before our daughter had to go back to school (well, live online teaching) in late August. And the end result was this three-week road trip.
Like with our first trips with our daughter when she was a newborn, we had to go back to basics and re-learn how we were going to continue traveling (especially waterfalling). What could we get away with? How would the extra measures impact the trip? These were the kinds of questions that could only be answered in the field (just like with our newborn almost a decade ago).
As a result, here are some highlights and how we managed to pull this trip off…
Trip Highlights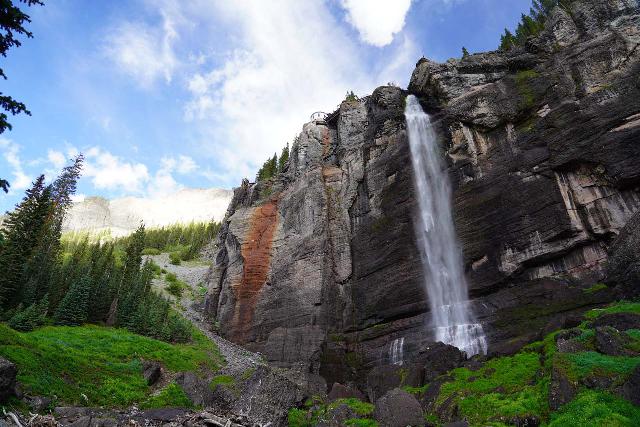 Bridal Veil Falls – this was one of the waterfalls that I wanted to revisit because the last time I saw it three years prior, it was frozen! So this was the first waterfall (let alone first attraction) we visited on this road-trip, and we did it the moment we were done checking into and sanitizing our room at the accommodation in Telluride.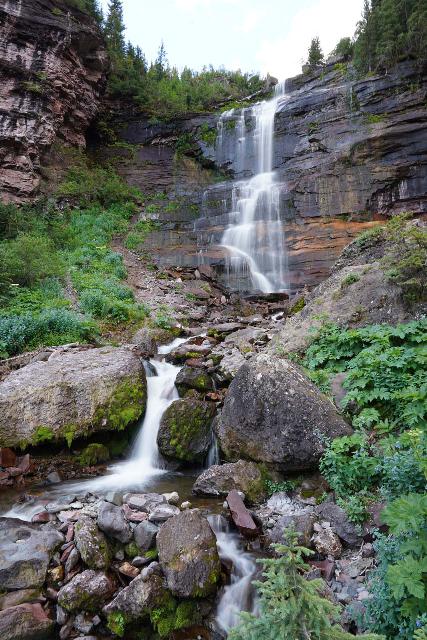 Bear Creek Falls – following up the hard hike up to Bridal Veil Falls, I took advantage of our accommodation location to do an early morning hike right up to this waterfall while Julie and Tahia were sleeping in. And I could totally see why this was one of Telluride's most popular hikes.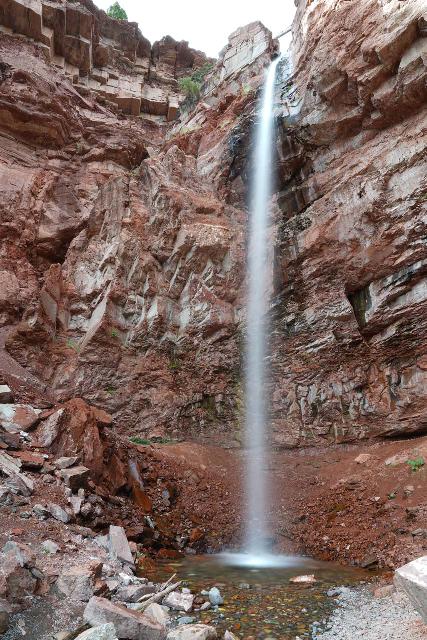 Cornet Falls – this was kind of a bonus waterfall since I had already experienced it on our last visit to Telluride in 2017, but I was glad that I had time to squeeze in this excursion before the end of our second day in town, especially since it was different than my first time around.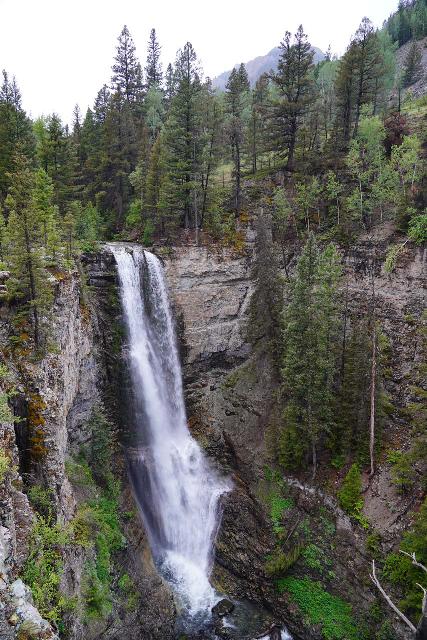 Mystic Falls – after realizing that I had failed to experience the actual waterfall the day before, I got an early start on a rainy morning while Julie and Tahia were still asleep, and learned from yesterday's mistake to finally do this falls the way I was supposed to. We left Telluride later than planned, but I didn't regret finally getting to do this waterfall right!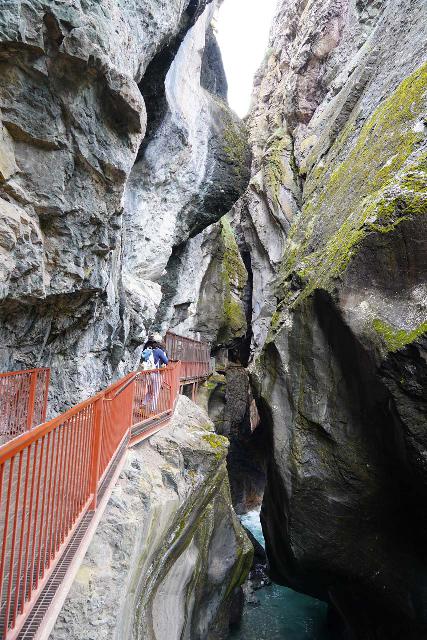 Box Canyon – this was a very popular attraction in Ouray, and we were quite nervous about the social distancing here, especially as more than half the people (especially the kids) weren't wearing masks. So we had a quick visit, but it was still an impactful one.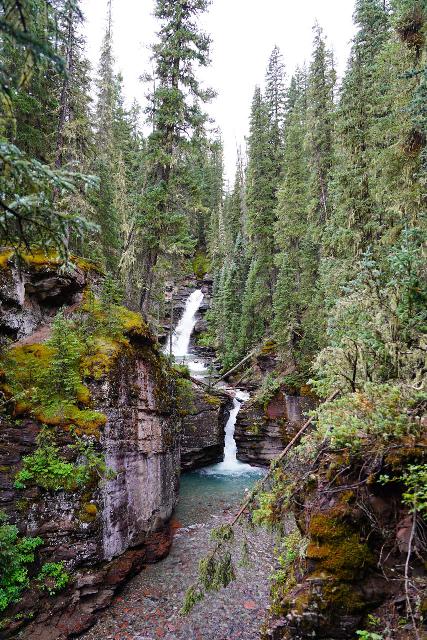 South Fork Mineral Creek Falls – this was one of the rare instances on our COVID-19 road trip where I was just about all alone visiting this colorful pair of waterfalls. I was also quite impressed with the campground here as it was surrounded by nice mountain scenery as well.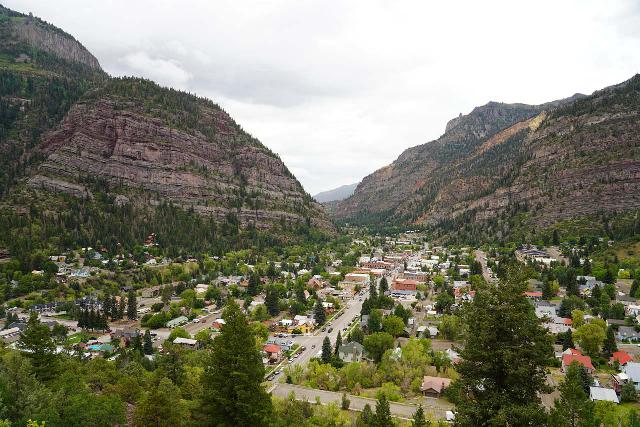 The Million Dollar Highway – we were blindsided by how scenic this scenic drive was just south of Ouray, and it even brought us a waterfall surprise at Red Mountain. And even though we were merely passing through, I'm keen on coming back to do this drive even more deliberately the next time around.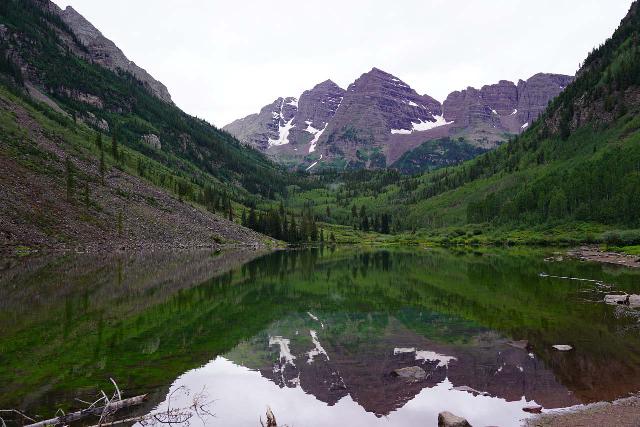 Maroon Bells – this excursion brought me into the famed panorama near Aspen, Colorado, where I finally got to see what the fuss was all about. I wound up spending a solid half-day here where I not only experienced Maroon Lake, but I also hiked up to Crater Lake. Along the way, I saw wildflowers and some beautiful scenery that went beyond the signature panorama.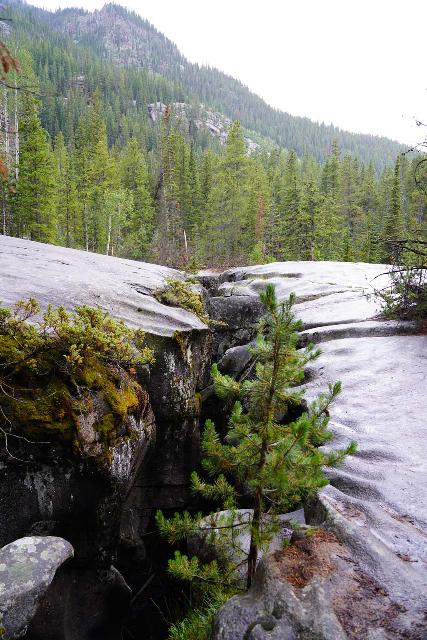 The Grottos – this was a fun little loop hike that encompassed views of The Cascades on the Roaring Fork River as well as interesting features like glacial erratics and "Ice Caves" which were really more like little slot canyons. We would have spent more time here, but we were caught in the rain and couldn't linger.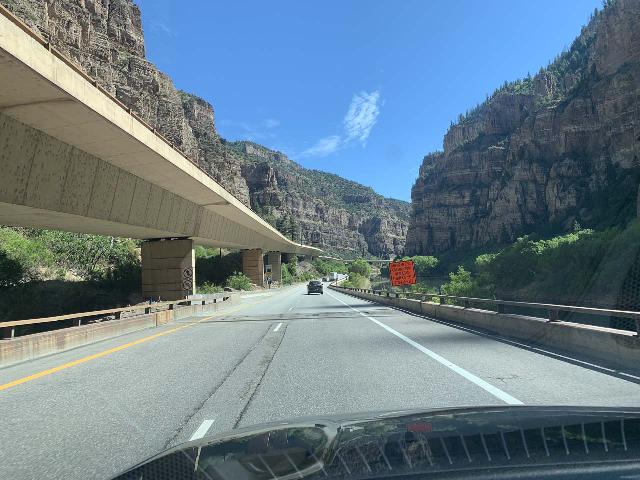 Glenwood Canyon – it's not often that a drive on an interstate would be a highlight, but in this case, we passed through the famed Glenwood Canyon on the long drive between Aspen and Steamboat Springs (the latter part of which was scenic and lightly trafficked in its own right). It was one instance where I didn't mind the slower pace from some road work combined with big rigs setting the pace.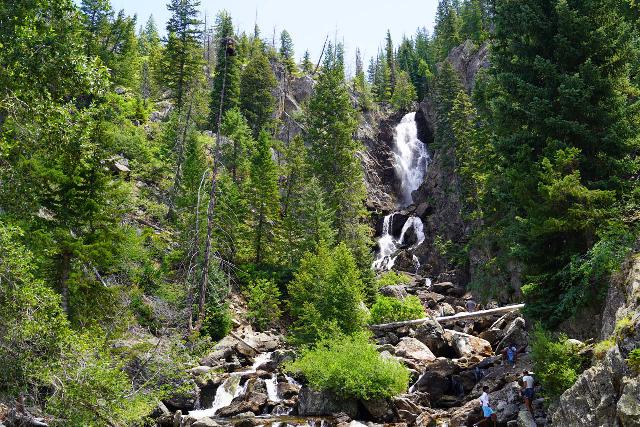 Fish Creek Falls – this waterfall was very popular, especially since it was sunny and quite warm on the day we did it. Lots of people lingered in Fish Creek at the base of the falls, but I also got up to the overlook, which was quieter and gave me a true perspective as to how big this waterfall really was!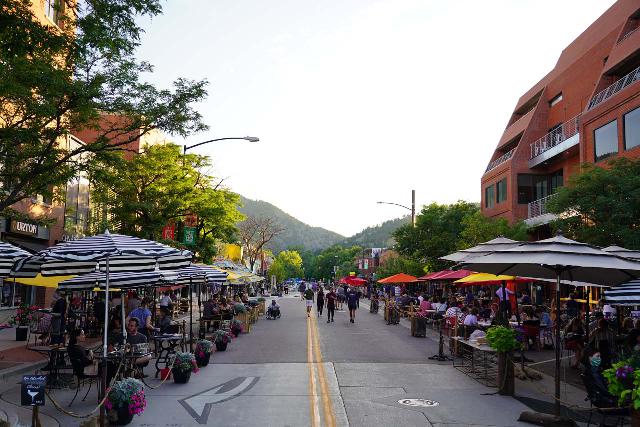 Boulder – even though it wasn't idea conditions as a result of COVID-19, we experienced a taste of how charming this university town was and we hope one day that if we can return here again, it would be when we could finally explore the city without worrying about social distancing and closed up establishments.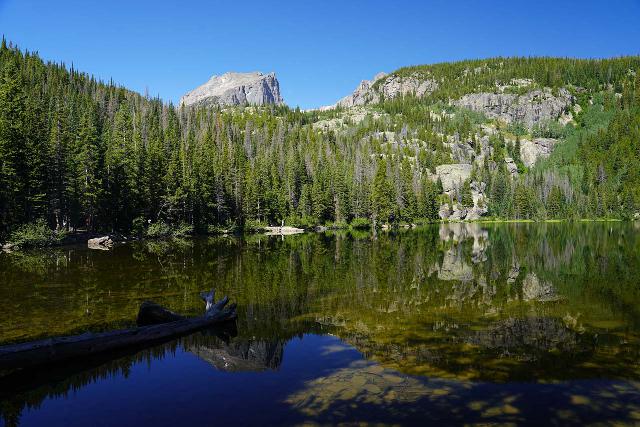 Bear Lake in Rocky Mountain National Park – although the long queue at the park and ride at the Bear Lake part of Rocky Mountain National Park (along with the stressful reservation system of trying to snag permits 2 days prior to our arrival) made for a hectic experience, we could totally see why this place was so popular. I also managed to include a short hike to Alberta Falls. Hopefully if we can come back, we can do longer hikes to really experience the other lakes here.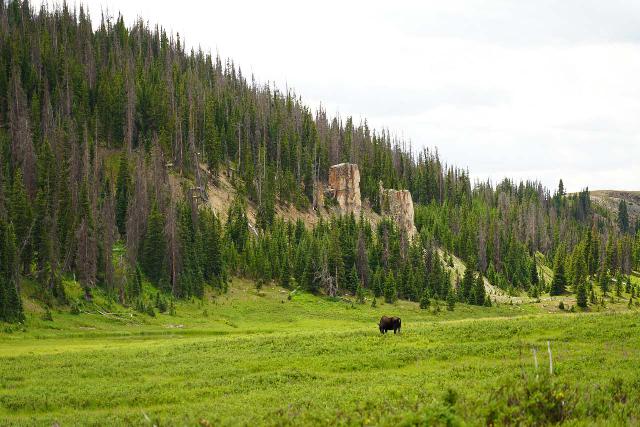 Trail Ridge Road through Rocky Mountain National Park – this was something we didn't plan for before the trip, but we were quite glad to have done it. Not only did we experience the changes in scenery as we climbed up to the Continental Divide, but we also had a surprise sighting of a moose. Sweeping panoramas were all along this drive.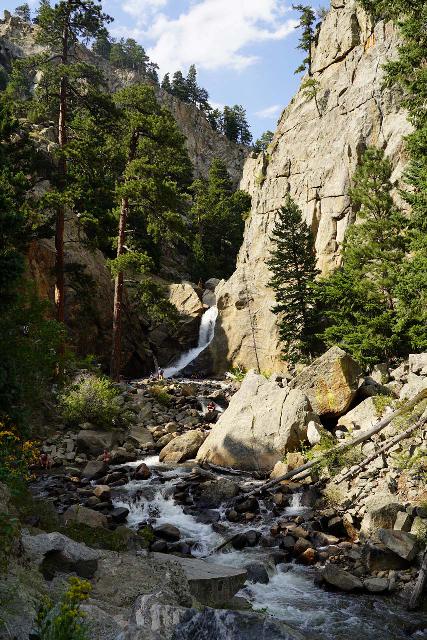 Boulder Falls – this waterfall may have had a checkered past with closures and long delays with road construction in Boulder Canyon, but we finally got to experience the fun and festive atmosphere at the base of the falls. The surrounding cliffs further added more scenic allure to this spot that was only 9 miles west of the city of Boulder.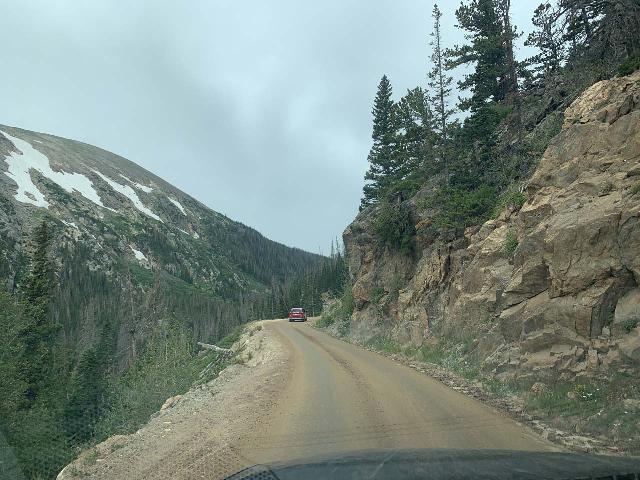 Old Fall River Road in Rocky Mountain National Park – this one-way unpaved drive goes all the way up to the Continental Divide near the Alpine Visitor Center where it rejoins the Trail Ridge Road in Rocky Mountain National Park. Along the way, there was a short jaunt to Chasm Falls as well as lots of surprise cascades further up the road.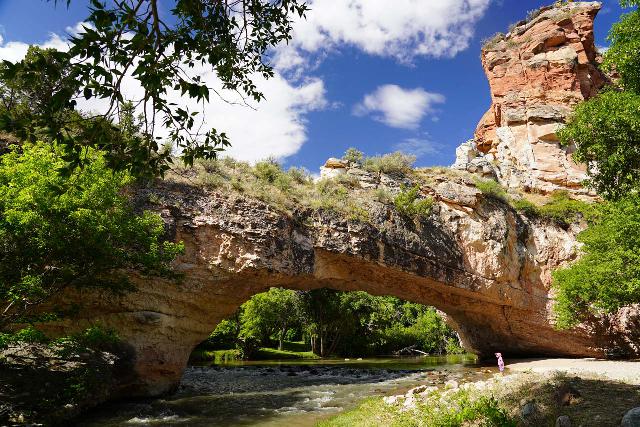 Ayres Natural Bridge – we had a surprisingly pleasant time at this serene park on the morning of our visit under beautiful skies. It was the largest natural bridge we saw on this road trip, and even our daughter found a calm spot in La Prele Creek to wade into. Of all the family excursions we did, this could very well have been the quietest and most restorative one on our road trip as well.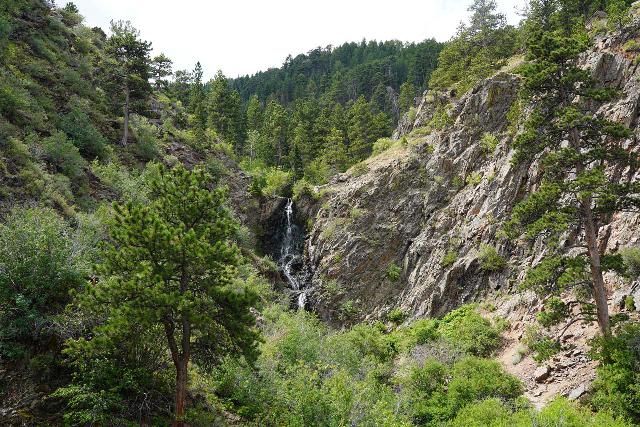 Garden Creek Falls – this unexpected waterfall was in the drier east-central part of Wyoming, but it offered a nice waterfall that was family friendly as well as a lookout over Casper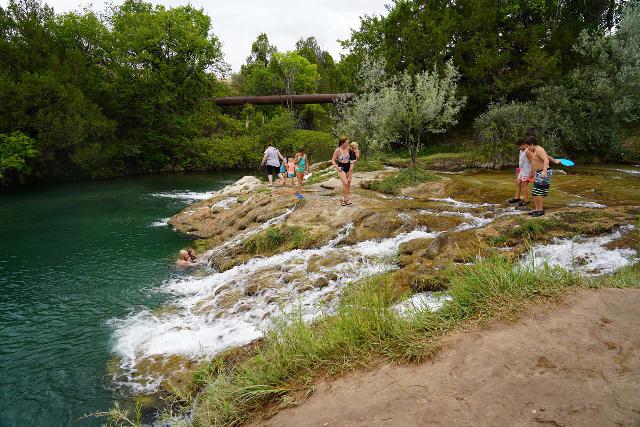 Cascade Falls near Hot Springs – waterfalls in South Dakota weren't something we expected to see, but when we saw that this place was on the way between Casper, WY and Custer, SD, we jumped at the chance to see what it was about. And after being here, we could see why this place was a very popular swimming hole and picnic area. Who knew?!?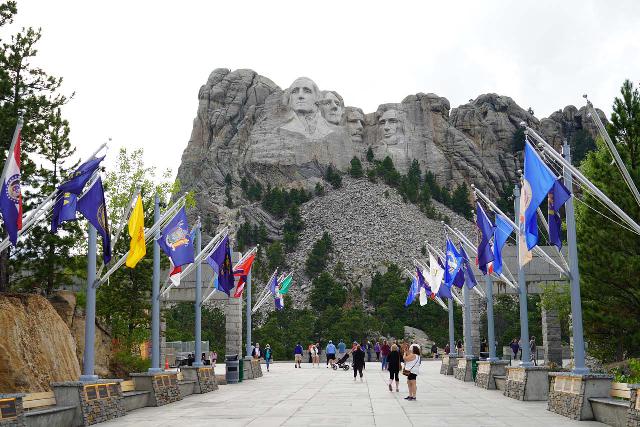 Mt Rushmore – this was a bucket list item where we always wanted to see the famed faces of the four most influential presidents in American history according to the sculptor Gutzon Borglum, who was the brainchild behind it. Despite political troubles plaguing the Nation, this memorial reminded us of the presidents that have come before that have managed to lead the nation through troubled times in the past.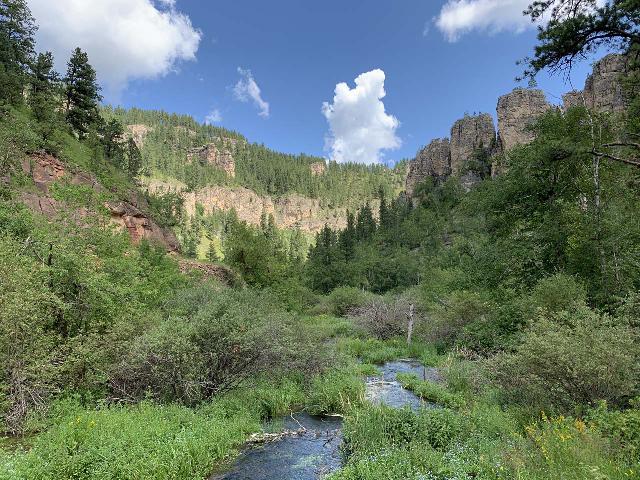 Spearfish Canyon – this scenic drive through the Black Hills of South Dakota passed through a surprisingly scenic stretch where pronounced canyons flanked by steep cliffs gave us a visual feast while also bringing us close to three waterfalls – Spearfish Falls, Roughlock Falls, and Bridal Veil Falls. This was definitely the scenic highlight of our limited time in South Dakota.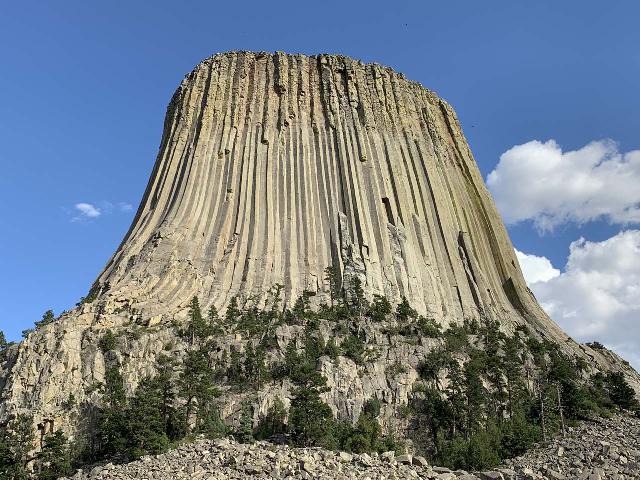 Devil's Tower – this was another big bucket list item that we had always been wanting to visit, and this road trip was the opportunity to finally experience it. We did a short walk around its base so we could see it from all sorts of angles. Despite its out-of-the-way location, we had to socially distance from lots of people (just about everyone here weren't wearing masks).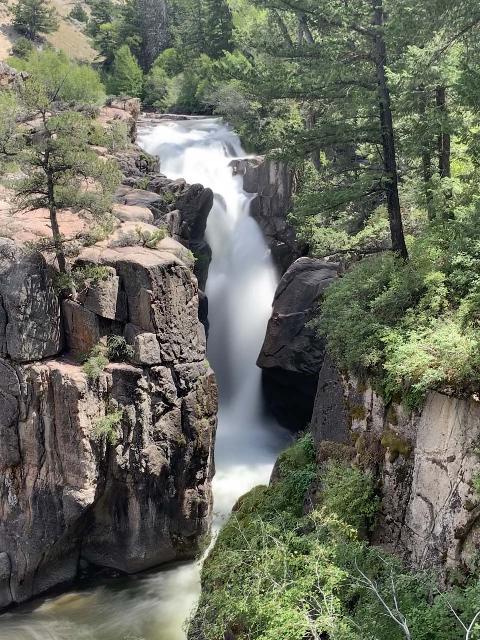 Shell Falls – this was a roadside waterfall in the remote Bighorn Mountains, where we did a 1/8-mile loop that took in this falls, its deep canyon, and Brindle Falls.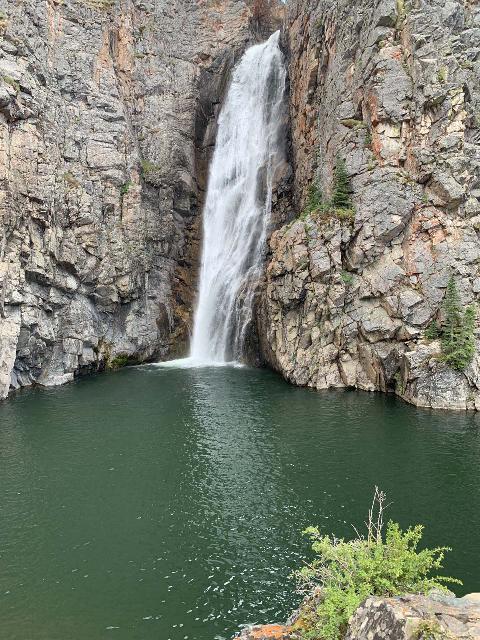 Porcupine Falls – this could very well be my favorite swimming hole on this road trip as it featured a very beautiful waterfall dropping into a large plunge pool perfect for families to chill out and enjoy themselves. It may be out-of-the-way from the national parks in the northwest of the state, but we were glad to have made the detour to get here.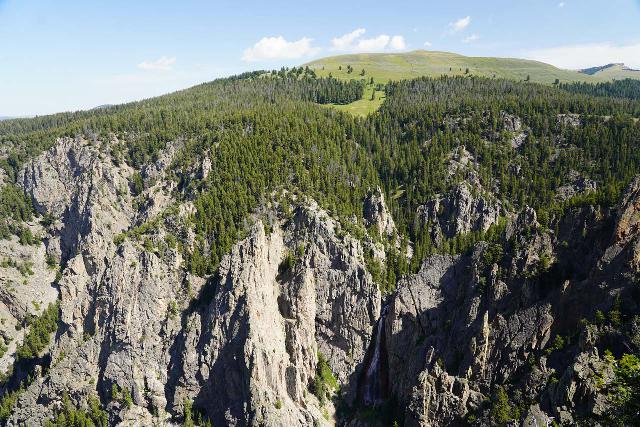 Bucking Mule Falls – even though it was close to Porcupine Falls, I had to backtrack from Wapiti/Cody as we had run out of daylight the day before to fit this in. It was a nearly 2-hour drive (in each direction) to do this 3-hour hike to its overlook, but it was an exercise in tranquility and plenty of moments of solitude.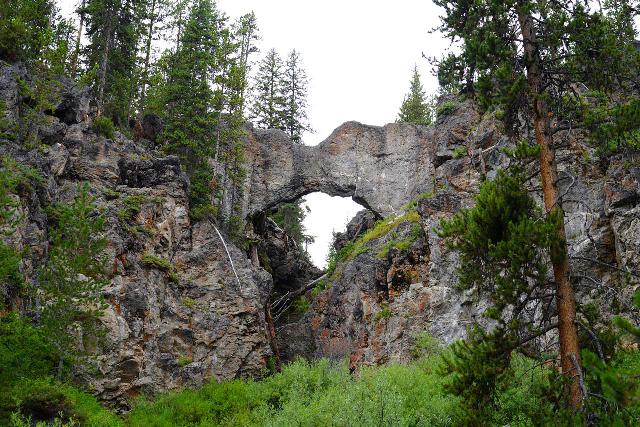 Natural Bridge – this was the second natural bridge that we saw on our road trip, but this one happened to be the first time we finally got to see one in Yellowstone National Park. There was even a small cascade flowing beneath its span, which ultimately compelled me to do a waterfall write-up for it when we got back from this trip.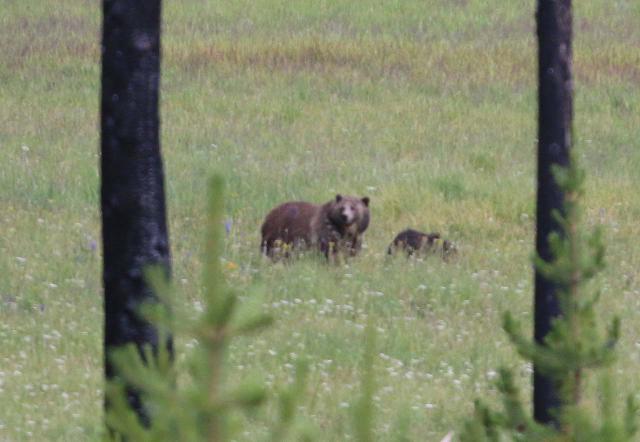 Grizzly Bear Sighting in Yellowstone – of all the times that we've visited Yellowstone National Park, this was the very first time that I finally got to witness a grizzly bear in the wild. We just happened to see a traffic jam east of Yellowstone Lake, and we even got to capture the scene with our old Canon camera with a telephoto lens attached. This was exactly why I had brought the old DSLR camera for this very reason!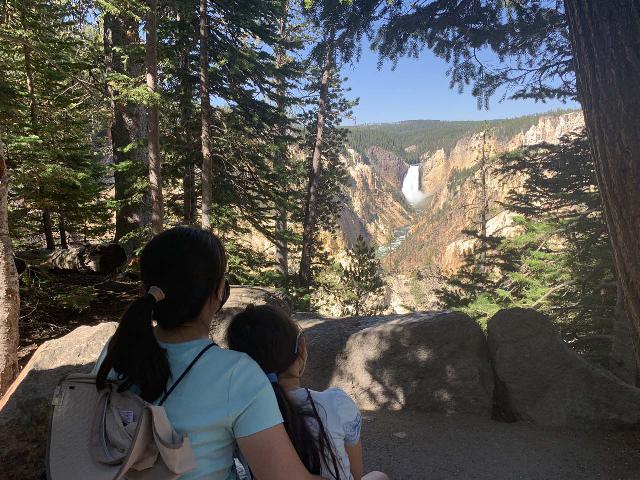 Grand Canyon of the Yellowstone River – no matter how many times we visit Yellowstone, we never get tired of experiencing the Grand Canyon of the Yellowstone River. It was here that we experienced newly-refurbished walks and viewpoints for Upper Falls, the familiar lookouts for Lower Falls, and our first sighting of Crystal Falls for the first time in 16 years!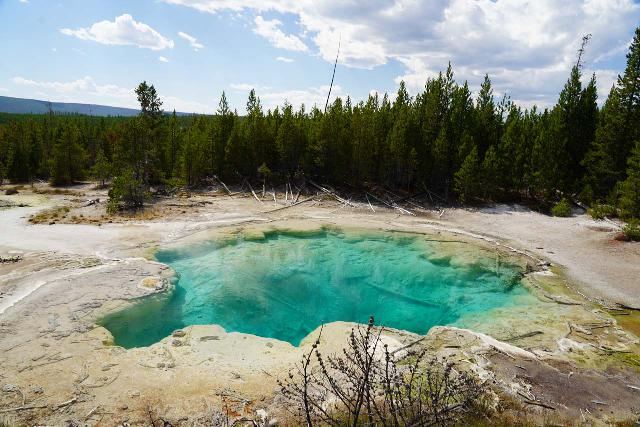 Norris Geyser Basin – it was the first time in 16 years that we've returned to Yellowstone's most geologically active geyser basin, and we almost forgot about how scenic it was even though there were no predictable geysers there. While we didn't spend as much time here as the first time around, it was still an eye-opening reminder of how Yellowstone can surprise you in so many different ways.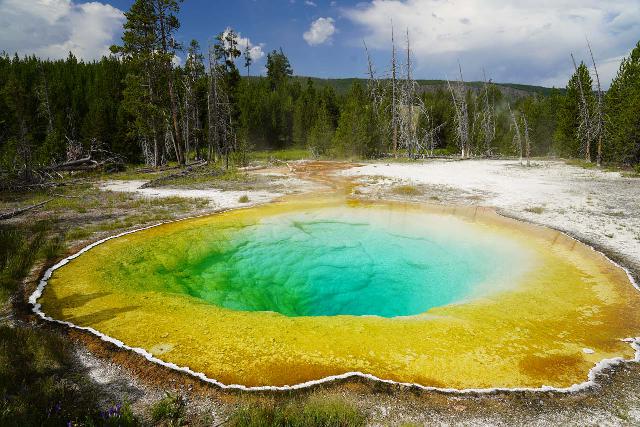 Upper Geyser Basin – this is like a mandatory ritual to see Old Faithful go off and walk out to the Morning Glory Pool, but in this case, we actually walked back to the Morning Glory Pool from the Biscuit Basin for a more relaxing experience. The prediction time window wasn't favorable on the morning of our visit so we limited our time here, but we could have easily lingered here much longer if more geysers would have gone off without waiting forever.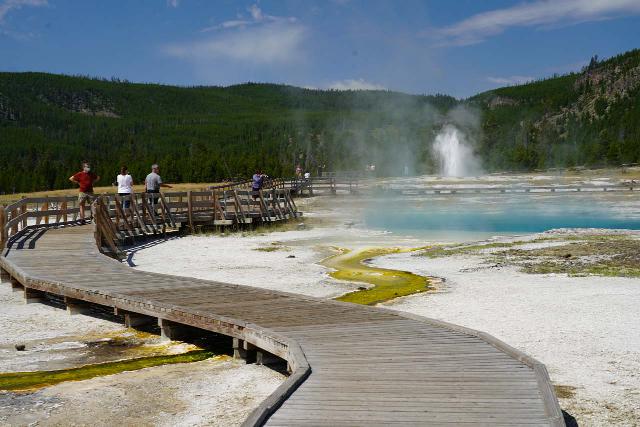 Biscuit Basin – this was a small but quite scenic geyser basin where we saw thermal pools like the Sapphire Pool as well as the spasming Jewel Geyser. It was also the starting point for the scenic Mystic Falls. And at the end of the hike, we rewarded ourselves with a picnic and some play time at the Firehole River.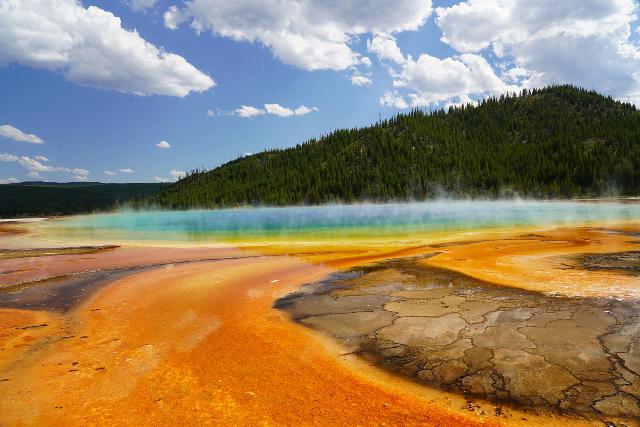 Midway Geyser Basin – this was the geyser basin that features close-up looks at the Grand Prismatic Spring, but it also featured thermal runoff from the neighboring Excelsior Geyser (as well as the Grand Prismatic Spring), which I could argue is a legitimate waterfall in and of itself. It was very crowded when we did this walk, and after having done it, we can understand why.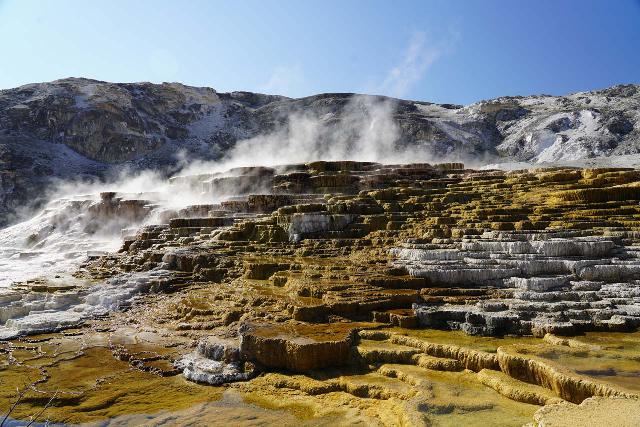 Mammoth Hot Springs – you never know what you're going to get upon a visit to these terraces and mounds with hot springs flowing over them. When we first visited this place, different springs and terraces were flowing, but on our latest visit, we really lingered at the Mound Terrace and Palette Spring.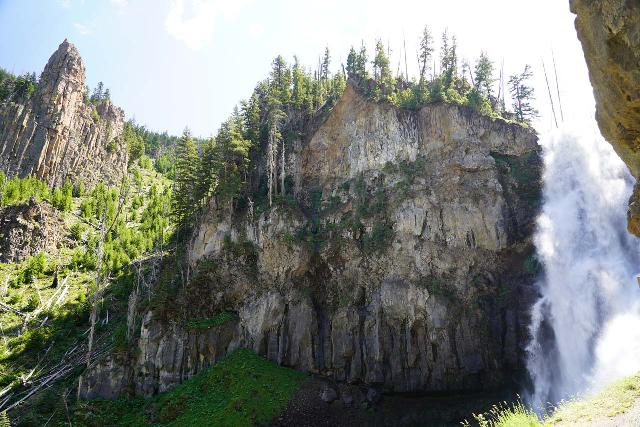 Osprey Falls – it was a long hike (made even longer with some trail re-routing over the years) to reach this waterfall, but it reminded me of how scenic the Sheepeater Canyon was and how vigorous the flow of this waterfall was too. Even the long hike around Bunsen Peak made for a lot of solitude and letting Nature's subtleties kick in.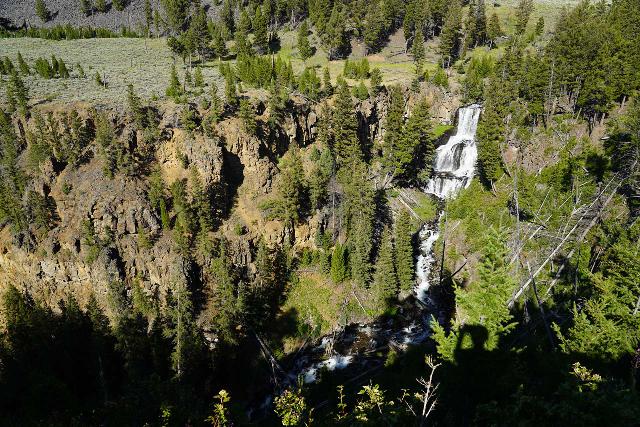 Undine Falls – it had been over 16 years when we last saw this waterfall under the correct lighting conditions, but we managed to make a quick stop here on the way back to Gardiner, and we were glad that we did.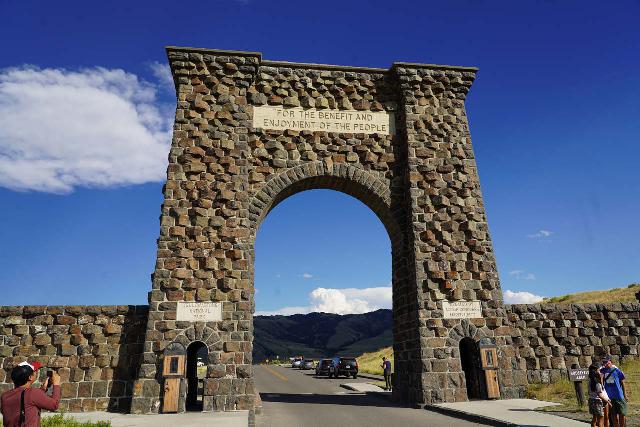 Roosevelt Arch – this was the historic north entrance to Yellowstone National Park. But when I look at the words atop the arch and the true democratic idea that it entailed, I get misty-eyed about it, especially when you contrast that with how perverted such ideals have become in the name of greed and irresponsibility in the current political landscape. So this spot definitely held some significant meaning to what the National Park idea was all about.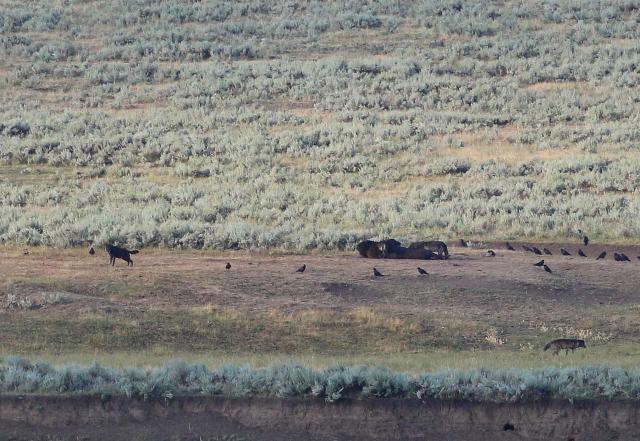 Wolves at Lamar Valley – I managed to get a pre-dawn start to get a chance at witnessing wolves in Yellowstone for my first time ever, and it was quite a treat. Apparently the feeding that I witnessed followed after grizzly bears got the first dibs at the bison kill from a wolf pack (which I missed), but it was still a sight to behold on how a functioning ecosystem looks like when you have a thriving predator population.
Terraced Falls – it took me a third try before I finally managed to get to the best view of this remote waterfall in the Bechler Backcountry. It had haunted me for 16 years (ever since our first visit back in late June 2004), but finally getting to see it was a huge payoff for all the planning and risk management that went into it.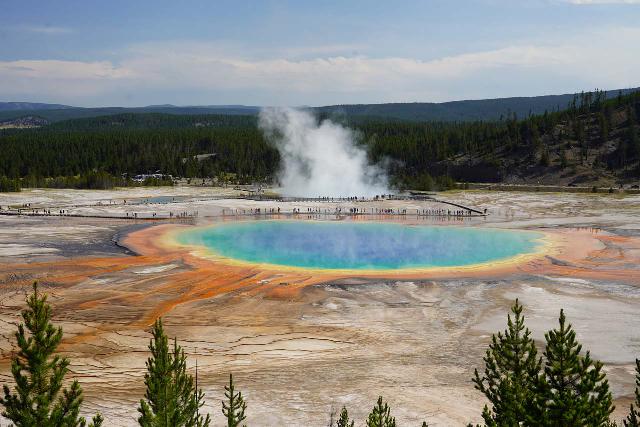 Grand Prismatic Spring Overlook – Julie made it a point to experience this overlook from the Fairy Falls Trail, especially since we had beautiful weather on the morning we did it. And we were quite glad that we did it while making the drive between Gardiner, MT and Jackson, WY.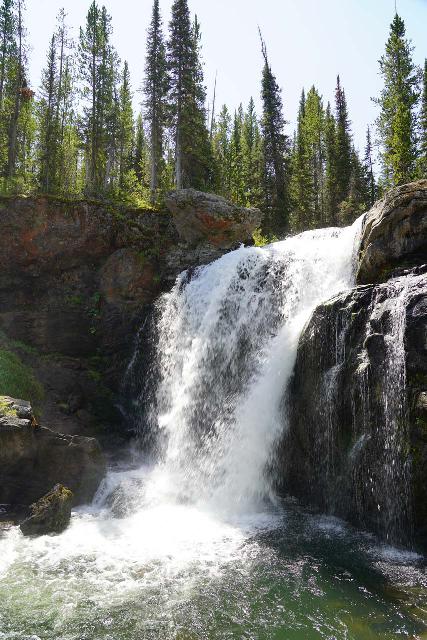 Moose Falls – this was another roadside stop on the drive between Gardiner and Jackson near the Yellowstone South Entrance, which the whole family could do. It was a bit busy for our liking when we visited, but that just goes to show you what a nice little spot this was even if we couldn't dip in its geothermally-heated waters.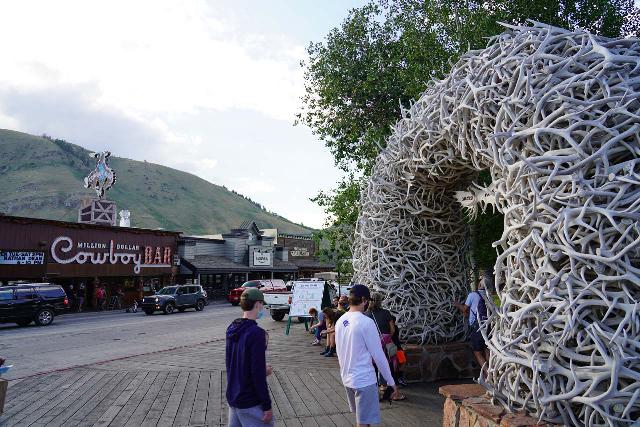 Jackson – on this trip, we finally got to stay at and experience the western charm of downtown Jackson, especially its central greenspace with antler arches at the park's four corners. And this greenspace was surrounded by shops, restaurants, and bars with lots of foot traffic to really give this place a very festive and touristy vibe to it.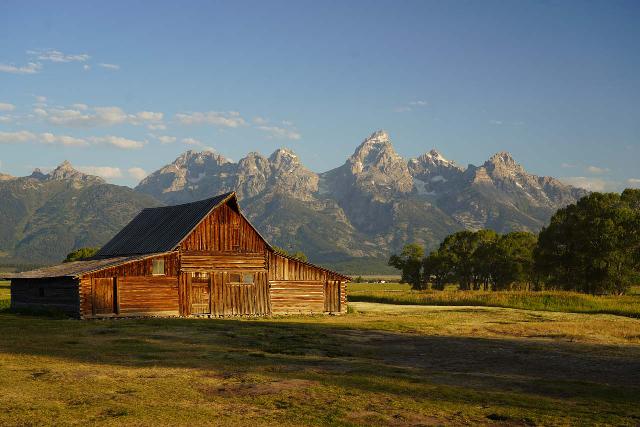 Mormon Row – even though I experienced this place at sunrise on our last visit three years ago, this time, I did a little more exploring of the famed Mormon Row to see how else I could capture the historical barns fronting the Grand Teton Range.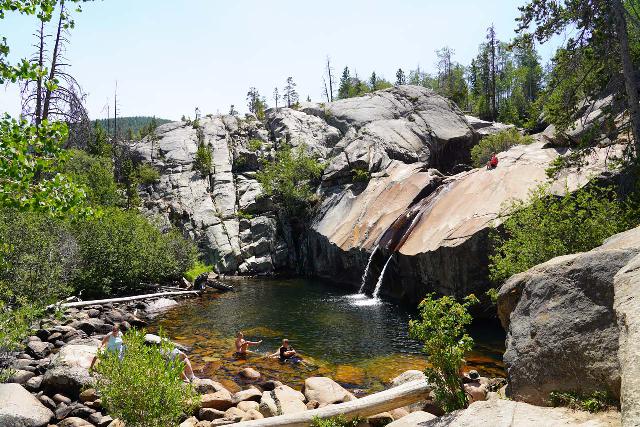 Popo Agie Falls – even though it was a bit out-of-the-way from Jackson to reach this waterfall in the east end of the Wind River Range near Lander, I was pleasantly surprised by the extent of this disjoint series of cascades. And I was even more impressed with the swimming holes that were here, including a water slide that I saw some kids use by a side waterfall.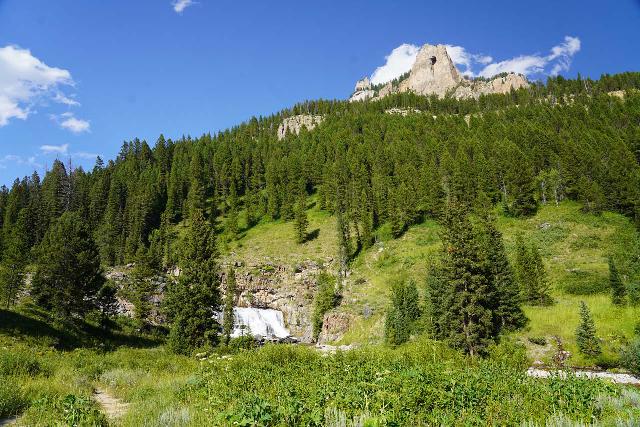 Granite Falls – it took a bit of a bumpy drive to reach this secluded waterfall in the Gros Ventre Range, but it was one of the most scenically-located off-the-beaten-path waterfalls of the trip. In addition to its wide drop, there was also The Open Door formation overhead, and there was even a hidden-in-plain-sight hot spring chill out spot as well!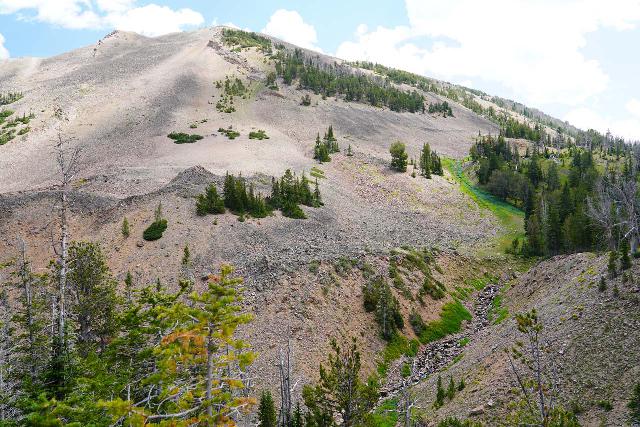 Menace Falls – it may be a bit of a detour to go this deep into the Wyoming Range to access this unsigned and obscure waterfall, but it was one of the few places left in the western side of the state where I found true solitude as well as a nice waterfall to boot! Of course we had to earn our visit with a rough drive into the Bridger-Teton National Forest from Daniel to get there.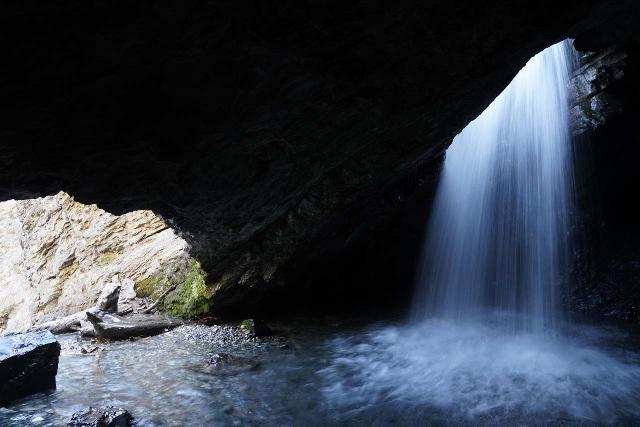 Donut Falls – this was our second try at visiting this waterfall after too much snow kind of prevented that first visit from being all it could be. So on this visit, I finally got to climb up to the donut hole and see what the fuss was all about concerning this very popular waterfall near Salt Lake City.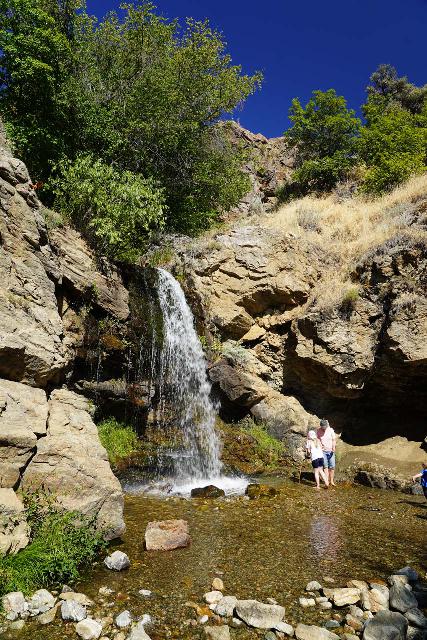 Adams Canyon – I came back to do this hike to finally experience Adams Falls with the right light and with lower waterflow on North Fork Holmes Creek. However, I also got to experience Adams Canyon Lower Falls, which provided welcome relief from the initial sandy switchbacks, especially given the intensely hot weather on the day of my visit.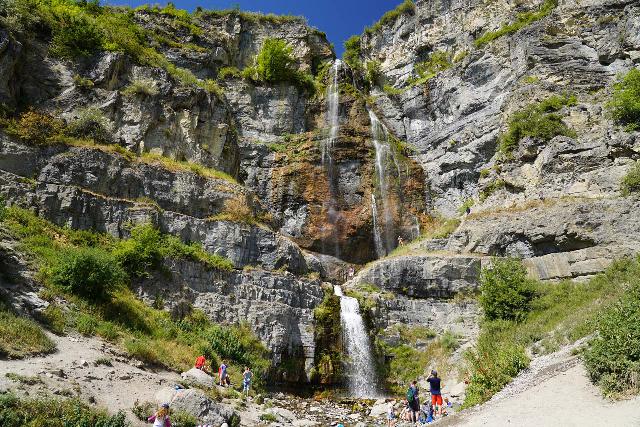 Stewart Falls – this was another one of those do-over waterfalls from three years ago, but this time I finally got to experience it with morning light. Even though its mid-Summer flow had nothing on its late Spring flow from three years back, it was still a nice hike in the Timpanogos area, and the cool creek was a hit with all the families that came here.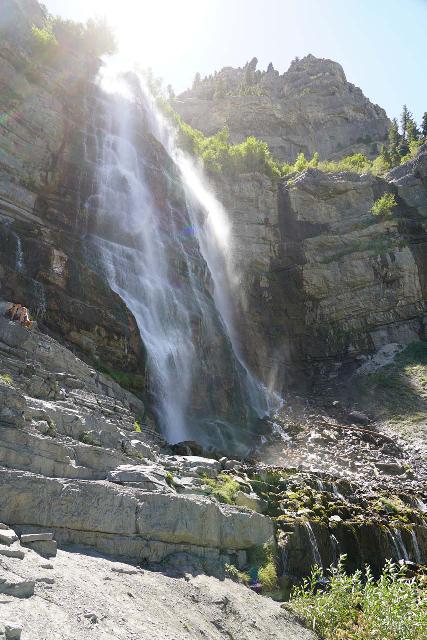 Bridal Veil Falls – unlike the first time we did this waterfall three years ago, this time, I made it a point to hike up to the base of its tallest drop just to see what the experience was like. Not only was it not terribly busy up here, but it provided a nice view across Provo Canyon as well as some cooling spray to boot.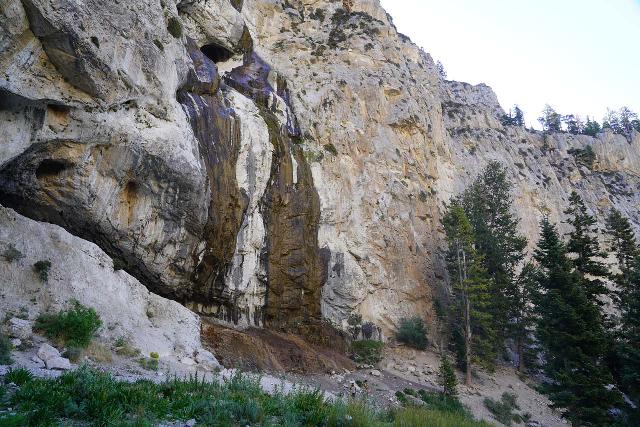 Mt Charleston – this was the place to be when Las Vegas was well into the 100-110F temperature range. But what was even more surprising was that the main waterfalls here (Mary Jane Falls and Little Falls) was actually still flowing while I also made it up to Big Falls, but I'll have to come back for that one because it was dry. It was the last hike of this COVID-19 road trip, and a fitting reason to cool off back in Las Vegas by playing in the pool with Tahia.
Trip Advice
This COVID-19 Road Trip was quite an experiment where we picked up quite a few lessons learned about how to do such a trip while minimizing the chances of contracting the virus. That said, there were other risks that were taken where I definitely wished I could take back, but what's done was done. It wasn't the first long road trip that we've done (we did one back in the Summer of 2017), but this was the first one with the pandemic situation, which changed all sorts of dynamics. So here's a quick summary of some of the lessons learned on this trip…
Portable Toilet: We knew that we had to change up some of our travel habits, and this included using the public facilities. Since we didn't know who had COVID-19 nor what those people touched, we had to avoid high-touch areas in public places and in facilities. So as far as restrooms were concerned, we avoided them altogether by using the portable bucket.
Now this created a different set of procedures when it came to managing the waste and figuring out how to go discreetly in the back seat of the car, but we eventually figured it out, and we also figured out how much gel to use to solidify urine. We also made sure to remember to toss the trash bags (we always double-layered in case of leaks) at the end of the day or during a gas station stop. The one or two times we forgot and left the waste in the bucket overnight, we knew immediately the next day even with the gel trying to obfuscate the the excrement smell.
Hand Sanitizers: One thing Julie really regretted about the road trip was not bringing enough hand sanitizers. We had lots of wipes for sanitizing the rooms, but the portable hand sanitizers had to be rationed because we didn't bring enough. As a result, I could have used one on me to sanitize my hands when someone asked me to take a picture for them during a hike (instead of remembering to sanitize them later). It's also useful to use them right before eating, especially in the field when hot soapy water is not possible.
Test The Waters: When I did the Grizzly Bear Falls hike in South Dakota, I made a very stupid mistake by bringing my expensive Sony camera and iPhone without testing the depth of a water obstacle. As fate would have it, I made a misstep and fell, and ultimately dunked both. Luckily, the phone still worked, but I had to wait 2 anxious days before the Sony started working again (albeit with slightly impacted functionality).
If I could do it all over again, I would have left the pack, the camera, and some clothes behind. Then, I'd test the crossing by going in without carrying anything I didn't want to get wet just to see how much of an obstacle it was. Then, depending on how deep the crossing was, I could then determine if I can leave the electronics behind or just cautiously proceed. I still replay that moment in my mind, and I keep kicking myself for hastily going in without properly assessing the situation.
I did test the Fall River crossing at Terraced Falls and learned that it was only thigh deep (as opposed to chest deep at Grizzly Falls) so I was able to bring my equipment successfully.
Crowded in Nature: One thing that we learned about all the hiking trails that we've been on in 2020 was that they were all crowded. I suspect that the big reason why was that places that many families would normally go to like theme parks, movie theaters, malls, playgrounds, etc. were all closed. So all that was left were the hiking trails, and that was probably the biggest (unpleasant) surprise, especially when social distancing was necessary to minimize the chances of contracting COVID-19.
Sticky Thunderstorms: I always used to use that mountain and desert thunderstorms tended to be pop-up storms that tended to show up in the afternoon. But this Rockies trip showed me that such storms can last into the night and even persist for days. So the lesson learned here was that when the forecasts say it can rain, it doesn't mean only the afternoons, but it can also mean in the mornings, too. As a result, I learned to really pay attention to the hourly forecast in addition to the full day forecast.
Of course, if there's sunny weather in the morning, I always expected that thunderstorms can pop up in the afternoons. Indeed, I never expected there to be a completely rain-free day for the whole day, especially in the Summer in the mountains. Even without rain, there's always the threat of lightning.
Don't Underestimate Squalls and Hail Storms: While on the topic of thunderstorms, we encountered some pretty sinister ones that produced hail that chipped windshields as well as squalls that fell so hard that windshield wipers couldn't keep up. These were the kind of conditions that flash floods were made of, and the best advice I have for this was to respect the severity of the storms. Sometimes it's better to just pull over and wait out the cell instead of plowing through and risk cracking the windshield, hydroplaning, or even not react fast enough due to poor visibility.
Take Out Is Not The Same: While we tried to minimize eating out (most transmissions were from restaurants and bars), but it's not the same eating the good stuff as takeout. That said, some establishments and governments have figured out ways to keep restaurants open by closing streets and repurposing them for having outdoor seating (where the UV from the sun can at least neutralize any COVID-19 virus landing on surfaces). While we had an unsatisfying takeout experience from an expensive and reputable place in Boulder, we learned from that experience and ate early at another expensive and reputable place in Jackson Hole. And the latter experience was so much more satisfying!
Travel Itinerary
Day 1: Drive from Los Angeles to Moab
We broke up a very long drive to Telluride by stopping over at Moab. It was a straight driving day with no scenic stops though the drive along the I-70 east was pretty nice.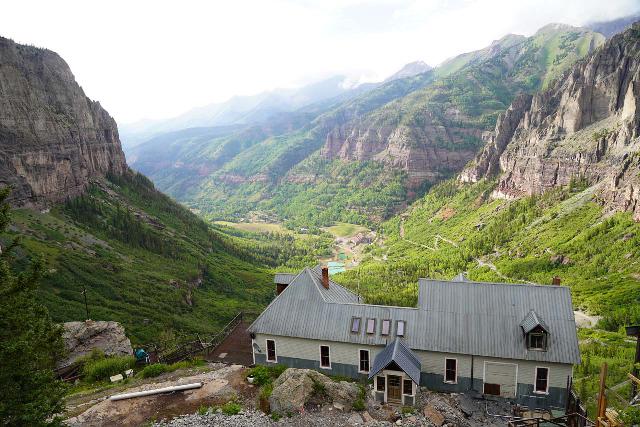 Day 2: Drive from Moab to Telluride
Overnight: The Victorian Inn (Telluride, Colorado, USA)
We finished off the long drive to Telluride before spending the rest of the afternoon hiking to Bridal Veil Falls.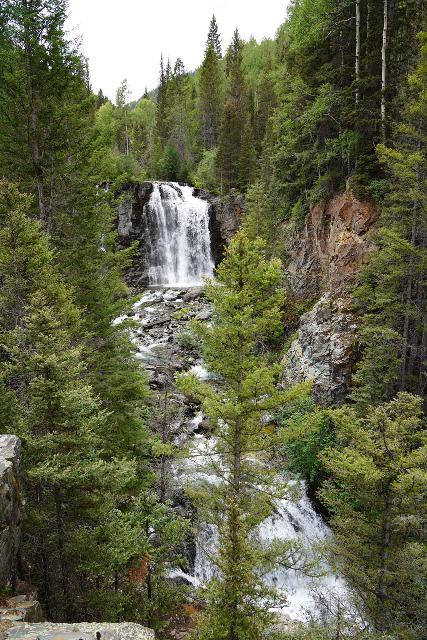 Day 3: Full day in Telluride area
Overnight: The Victorian Inn (Telluride, Colorado, USA)
This was a divide-and-conquer day where I pretty much did solo hikes throughout the day. Early in the morning, I hiked to Bear Creek Falls. Then I drove to Ames in an attempt to find Mystic Falls, but I wound up finding Upper Ames Falls. And finally, I squeezed in a visit to Cornet Falls before calling it a day.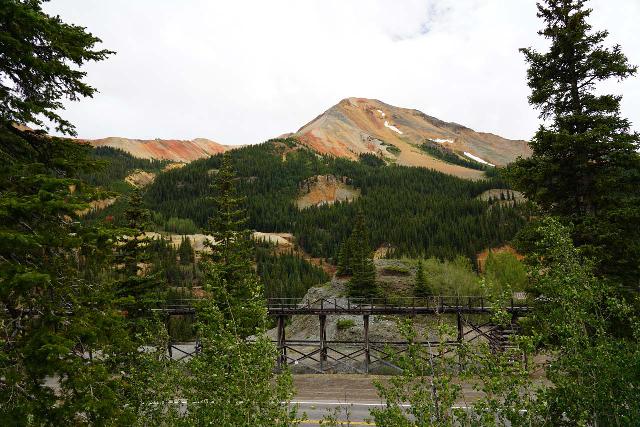 Day 4: Drive from Telluride to Aspen
After an early morning start to visit Mystic Falls for real, we then started the long drive to Aspen by way of Ouray and Silverton.
During this long drive, we visited Box Canyon, Red Mountain and the Million Dollar Highway, and South Fork Mineral Creek Falls.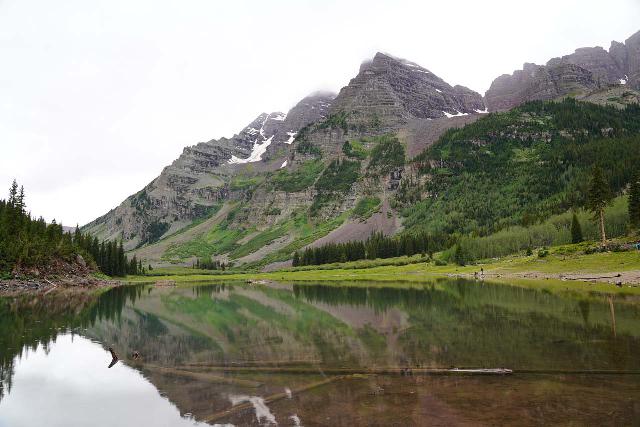 Day 5: Full day in Aspen area
Most of this day was spent doing the pre-booked shuttle and exploring the Maroon Bells-Snowmass Wilderness Area before returning to Aspen to rejoin the family and visit the Grottos Day Use Area.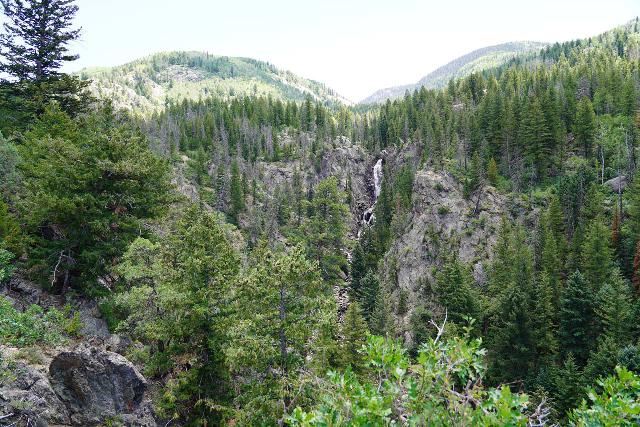 Day 6: Drive from Aspen to Boulder
This was a long driving day where we made a detour to Fish Creek Falls before continuing the drive to Boulder, where we spent the evening running errands and briefly splurging on a fine dining takeout dinner experiment that didn't really work out.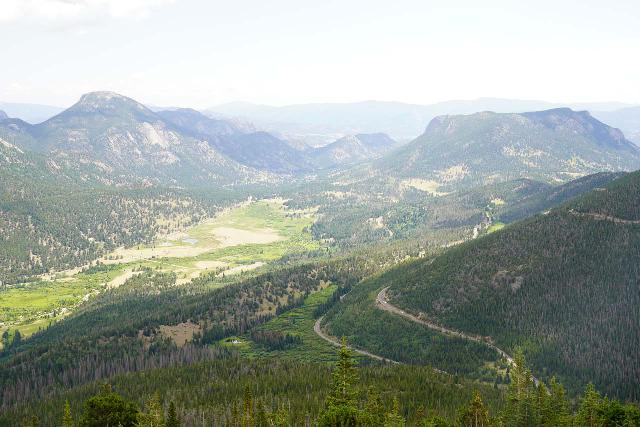 Day 7: Rocky Mountain National Park
This was a day at leisure where we visited Rocky Mountain National Park as a family. I did a shuttle did to Alberta Falls and Bear Lake, and then we did the Trail Ridge Road together. We ended the day with a visit to Boulder Falls.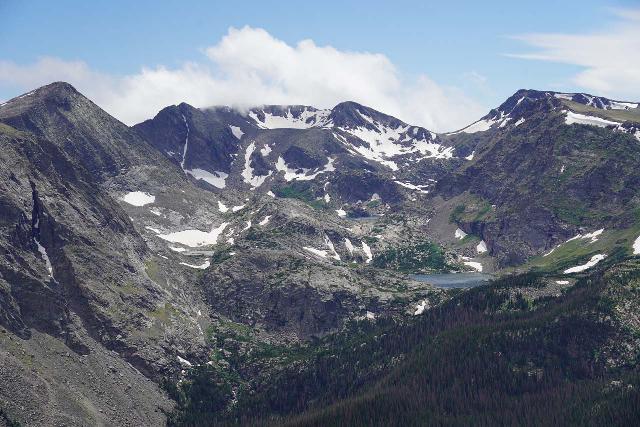 Day 8: Rocky Mountain National Park
This was a divide-and-conquer day where I got an early start and solo-hiked to Ouzel Falls and Chasm Falls. I also drove the Old Fall River Road up to the Trail Ridge Road before going down to Grand Lake to experience Adams Falls before going back over the Trail Ridge Road to Boulder.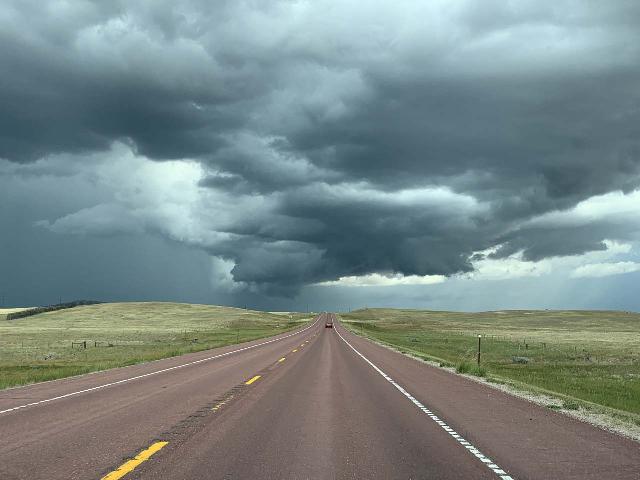 Day 9: Long drive from Boulder to Hill City
Overnight: Harney Camp Cabins (Hill City, South Dakota, USA)
This was a very long driving day where we explored a little bit of Eastern Wyoming, especially Ayres Natural Bridge and Garden Creek Falls. Then, we swung in the other direction and headed to the Black Hills of South Dakota.
Along the way, we stopped at Cascade Falls near Hot Springs, SD, before going up to Mt Rushmore.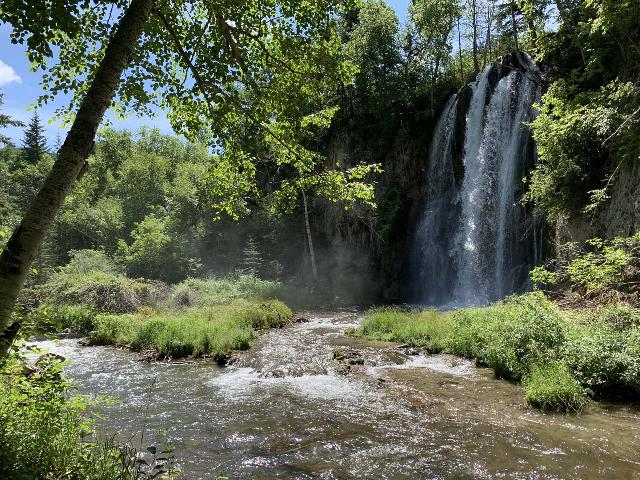 Day 10: Drive from Hill City to Sundance
Overnight: Bear Lodge Motel (Sundance, Wyoming, USA)
I started the early morning trying to find Grizzly Bear Falls, but I managed to dunk the expensive camera in water on that ill-fated hike. So I had to make do without that camera for the rest of the day, where we drove through Spearfish Canyon (visiting Spearfish Falls, Roughlock Falls, and Bridal Veil Falls along the way) and then ended the day visiting Devil's Tower.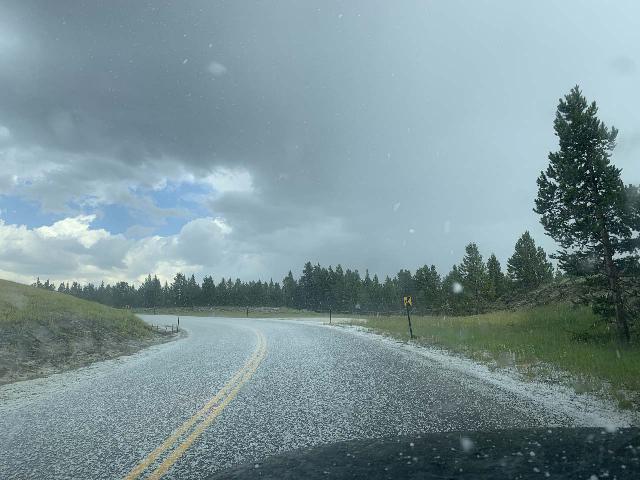 Day 11: Drive from Sundance to Wapiti
Overnight: Wapiti Lodge (Wapiti, Wyoming, USA)
This was another long driving day where we left Sundance and headed west towards Cody and eventually to Wapiti. Along the way, we visited Shell Falls and Porcupine Falls though we got caught in a severe hail storm along the way.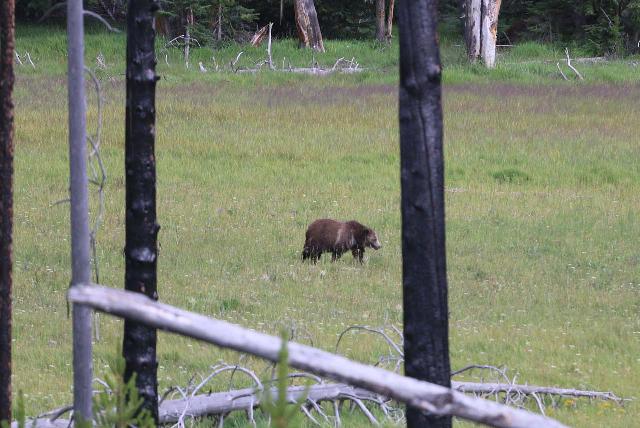 Day 12: Bighorn Mountains and Yellowstone National Park
Overnight: Wapiti Lodge (Wapiti, Wyoming, USA)
Because we had run out of time to fit in a hike to Bucking Mule Falls yesterday, I had to backtrack and do it most of the morning and early afternoon today. Then, we spent the later part of the afternoon going into Yellowstone National Park to hike to Natural Bridge. Along the way, we spotted a grizzly bear sow and cub as well as checked out the Crecelius Cascade.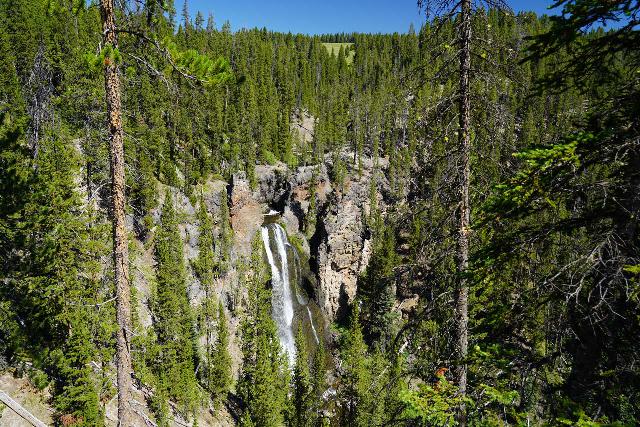 Day 13: Yellowstone National Park
Overnight: Wapiti Lodge (Wapiti, Wyoming, USA)
This was a day at leisure visiting the Canyon side of Yellowstone National Park. Along the way, we were part of a bison jam in Hayden Valley, then we visited Upper Falls, Lower Falls, and Crystal Falls before ending off the day visiting the Norris Geyser Basin.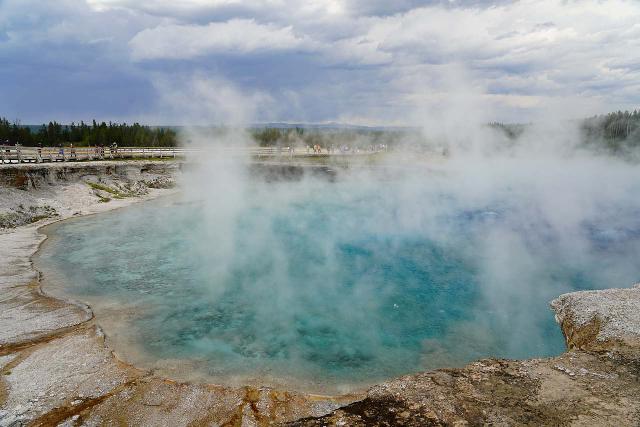 Day 14: Drive from Wapiti to Gardiner via Yellowstone National Park
On this day, we did a leisurely drive through Yellowstone National Park by way of Old Faithful. Then, we spent a good deal of time at the Biscuit Basin to backtrack to Morning Glory Pool as well as to visit the Mystic Falls.
Next, we visited the Midway Geyser Basin before continuing to Rustic Falls, and then finally ending the day in Gardiner.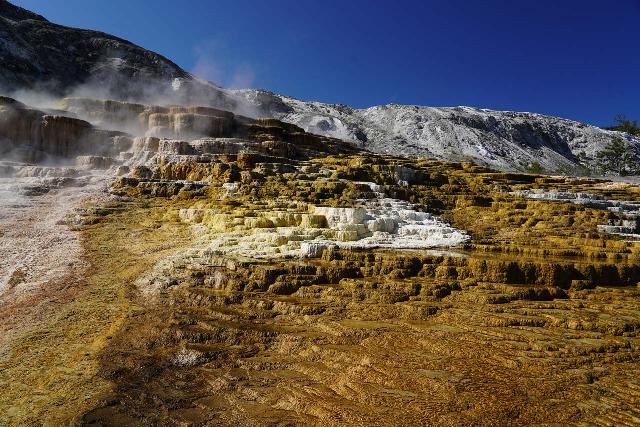 Day 15: Yellowstone National Park
This was a relatively light touring day as we focused on the northern part of Yellowstone National Park. It began with spending the better part of the morning exploring the Mammoth Hot Springs Terraces before we divided and conquered right after lunch.
While I did the long hike to Osprey Falls, Julie and Tahia drove to Lamar Valley before picking me up at the end of the day. We then stopped by Undine Falls and the Roosevelt Arch before calling it a day.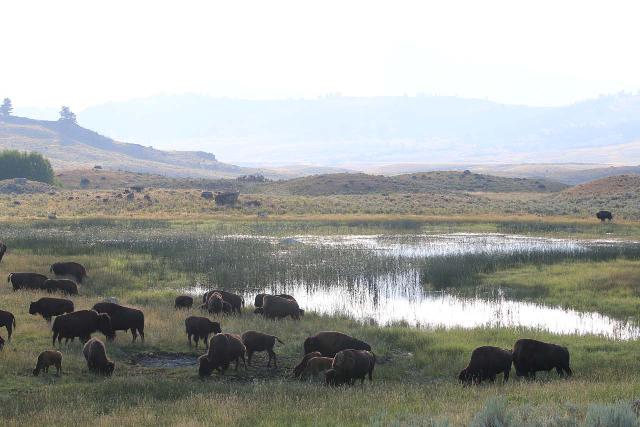 Day 16: Yellowstone National Park
On this day, I got a pre-dawn start to see wolves and other wildlife in the Lamar Valley at the northeast corner of the park. Then, I pretty much spent the rest of the day all the way down to the southwestern corner of the park in pursuit of Terraced Falls from the other side of the Fall River.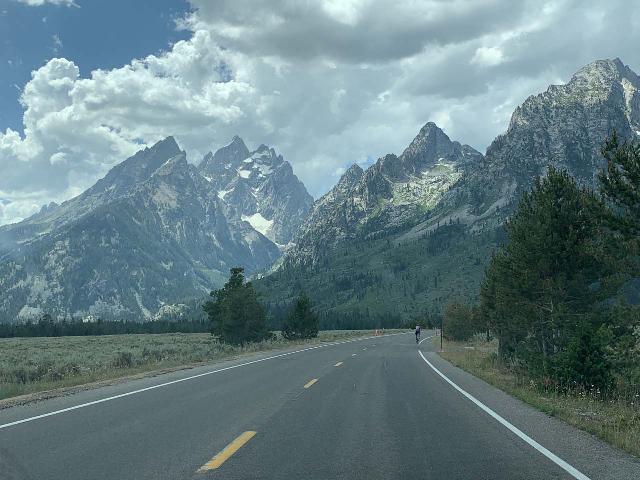 Day 17: Drive from Gardiner to Jackson
This was a transit day where we drove south towards Jackson. Along the way, we hiked to the Grand Prismatic Spring Overlook as well as visited Moose Falls. Then, we drove the Inner Loop Road for a brief tasting of the Grand Tetons before arriving at Jackson to spend the rest of the day walking around town.
We learned from our time in Boulder that if we were going to splurge at a restaurant, we had to eat there but it had to be outdoors and early so we did just that and enjoyed that experience a lot more.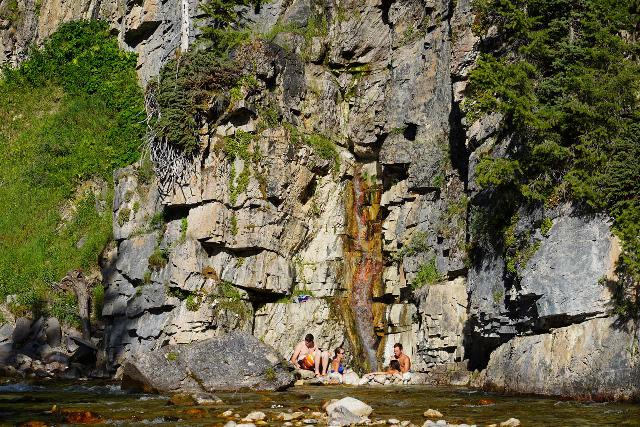 This was another long divide-and-conquer day where I got an early start to photograph the Grand Tetons at Mormon Row. Then, I drove the Wind River Valley towards Popo Agie Falls before ending the day visiting Granite Falls.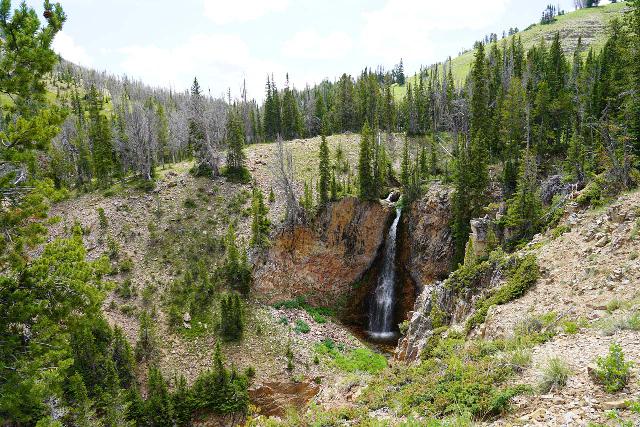 Day 19: Drive from Jackson to Salt Lake City
Overnight: Kaison's Condo (Salt Lake City, Utah, USA)
This was a transit day where we made a detour to Menace Falls before arriving in Salt Lake City.
Overnight: Kaison's Condo (Salt Lake City, Utah, USA)
This was basically a day at leisure cooling off at waterfalls around Salt Lake City. We came back to Donut Falls in the morning, then I solo'ed Adams Canyon in the hot afternoon.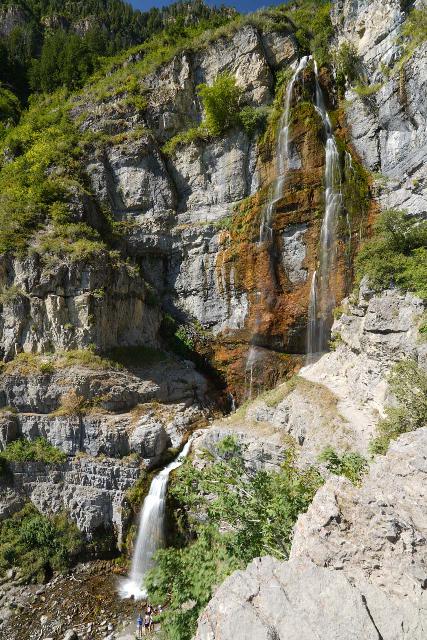 Day 21: Drive from Salt Lake City to Las Vegas
This was a transit day where we started off the morning visiting Stewart Falls (though trying to do it via the chair lift was a fail) and Bridal Veil Falls before making the long drive to Las Vegas.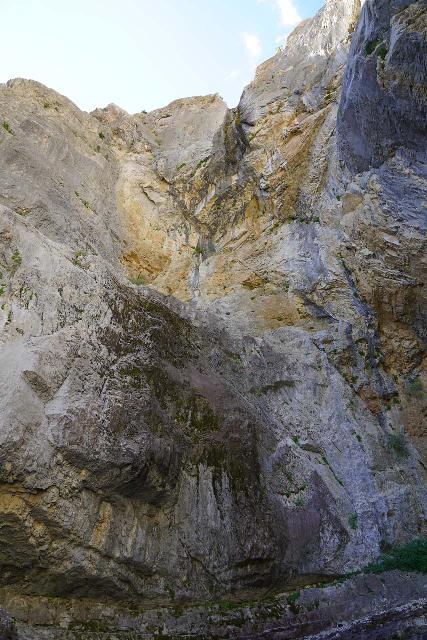 Day 22: Mt Charleston
This was the last day of waterfalling, and it was another divide-and-conquer day. I basically spent the entire morning hiking to Mary Jane Falls, Big Falls, and Little Falls before going back to Vegas and spending the rest of the afternoon with the family, especially getting sun burnt at the resort's pool.
Day 23: Drive from Las Vegas to Los Angeles
On this final day of our COVID-19 Road Trip, we went straight home to Los Angeles with some remaining detours to run some grocery errands along the way.
Best Places We've Stayed At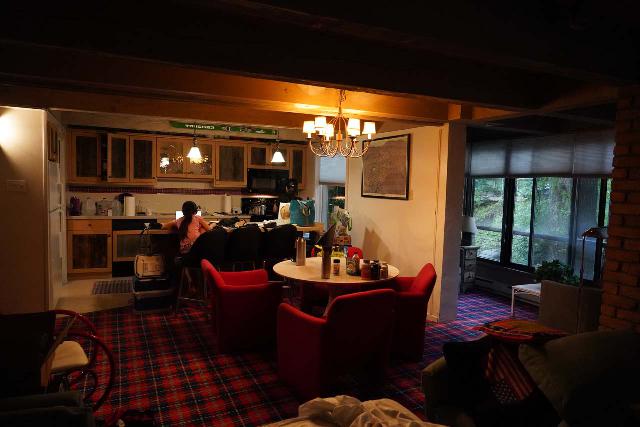 Chateau Eau Claire Unit 1, Aspen – This was heads and shoulders our favorite accommodation of our COVID-19 Road Trip. It had a good location, a full-sized kitchen, a homey decor, spaciousness, and even a chill-out extended room where we could just stare at the Roaring Fork River going by. Our unit even had a laundry machine.
Location-wise, it was a walk of about 3-4 blocks to the action in the heart of Aspen so we didn't need to compete for parking by taking out the car. And speaking of the parking, we didn't have an issue with it though we did notice that it was full every morning we woke up and looked at the lot.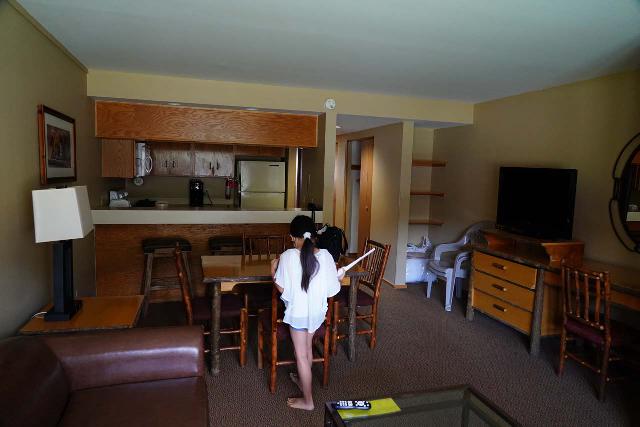 Jackson Hole Lodge – This accommodation was generously spacious and fully stocked with a full kitchen, a laundry room, a typical bedroom, and even a living room. I think we wound up scoring a suite, which seemed to have combined two units. So it would normally be half the size of this suite, and under those circumstances, I'd imagine that we wouldn't have mentioned it as one of the best places we stayed at on this road trip.
This accommodation also had a small (cold) pool, which made our daughter like this place (i.e. it was quite family friendly). The unit was also pretty close to downtown Jackson as it was only a three-block walk to get to the park with the antler arches.
However, parking was insufficient so we noticed that we had to find street parking on the backside of the property or some people parked by an adjacent shop after hours. The unit also had a dated and impersonal decor.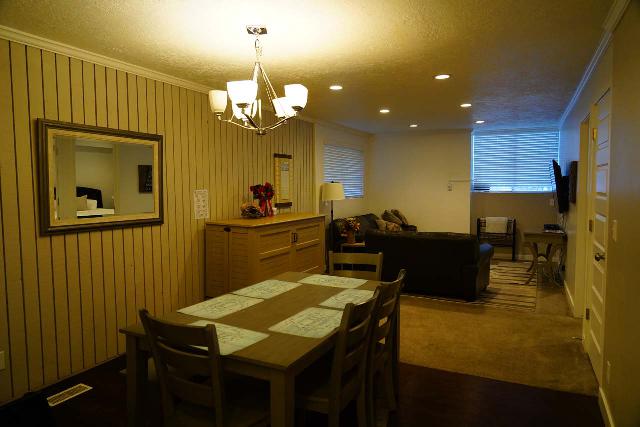 Kaison's Condo, Salt Lake City – This condo had a very homey and spacious feel to it. Julie really liked the decor and spaciousness, and she appreciated that it had a fully stocked kitchen, dining area, two bedrooms, and a shared bathroom. Indeed, the unit's feel-at-home decor made it easy to just laze in the condo and never leave the unit.
As for location, we would have had to drive west to get to downtown Salt Lake City, but we primarily stayed here as a base for waterfall hikes as well as going to Sprouts or Whole Foods so it wasn't like we were going to walk to any attractions anyways. We also had assigned parking so that was never an issue.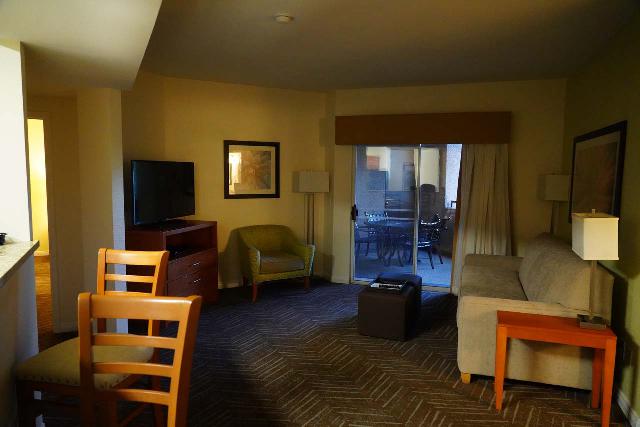 Desert Paradise Resort by Diamond Resorts, Las Vegas – This very spacious condo and community pretty much had the family in mind. Not only did the unit have a large living room, two bedrooms, a full kitchen, dining area, and even a patio, but it also had a large kid pool with artificial waterfall as well as a smaller adult pool. Parking was also plentiful though the shaded ones were pretty much always taken up given the intense desert heat here.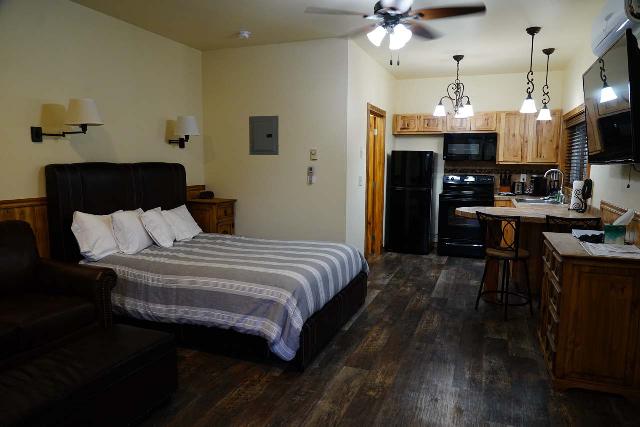 Yellowstone Riverside Cottages, Gardiner – This accommodation was pretty good for Yellowstone tourist town standards as it had a full kitchen and a fairly spacious studio. It also had assigned parking, and we could walk to the grocery store or the restaurants from the accommodation. It even had a nice view over the Gardner River.
However, the thing that really held this place back was the noise. We stayed on the lower level, where we just happened to have two different noisy neighbors that apparently didn't honor quiet time or just walk on the floor real hard. It kind of brought me back to my paper-thin-walled university housing days. As a result, that put a sour taste on our stay that really should have been one of the best places we stayed at on our trip.
What to Bring
In addition to the equipment that we bring on all of our trips, we've also found the following items were especially useful for this particular trip.
Self-made Portable Toilet: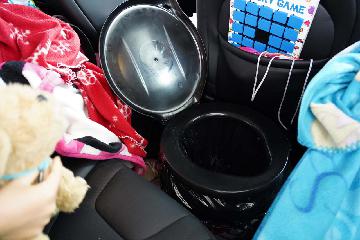 Extreme times call for extreme measures, and the COVID-19 pandemic made us want to avoid using public restrooms pretty much at all costs. So the only way to get around this was to use the portable potty, which made us have to go discreetly in the car while also finding places to discard the gelled up waste to prevent the stench from spreading as well as to prevent any possible spillage with the excrement still inside. It actually worked to our advantage on this trip, but I wasn't thrilled about adding to landfills (on top of disposable gloves for gas stations).
Water Shoes: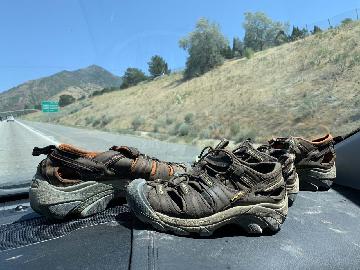 More than on our other long waterfalling trips, it seemed like we needed Water shoes or shoes that can get wet to get through the numerous deep stream obstacles that we encountered. I needed them on the Mystic Falls hike, the Terraced Falls hike, and even the Donut Falls hike among others. I also wished that I brought my Keens for the Grizzly Bear Falls hike.
So in my mind, it was worth carrying the extra weight to negotiate such situations, especially since a good pair of hiking boots aren't cheap.
Bear Spray: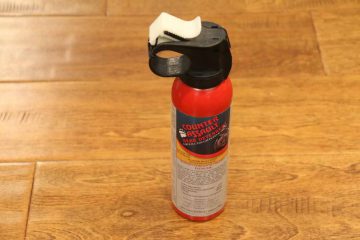 Hiking in Wyoming meant we were definitely in grizzly bear country. While there are things that can be done to minimize the likelihood of bear attacks, having bear spray
on you is a good last resort.
Now, I did notice that the National Park Service had these for rent, which might be a good alternative to paying around $50 for a can that doesn't get used that frequently. Nonetheless, I did wind up buying my own since you do have to queue up to rent one (at least from what I've seen).
Finally, one thing to be wary of is bear bells
. We've been informed by rangers that bears are smart enough to associate bear bells with packs carrying food. Therefore, bear bells act like dinner bells resulting in an increased chance of a grizzly encounter.
Reusable Water Bottle: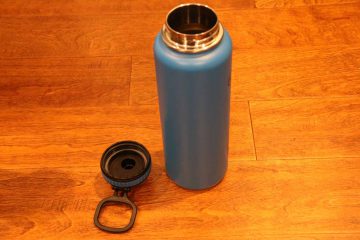 Even though this item was already in our essentials list, I'm reiterating these bottles
here because it was especially useful in the National Parks where shops had clean dispensers to fill up a bottle with water.
We made good use of these in both Glacier and Yellowstone National Parks and it dramatically reduced the need to fill the world with more plastics as well as helped us to save some money in the process.
Trekking Poles / Hiking Sticks: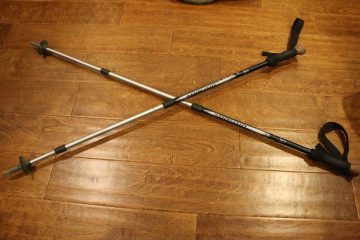 While on the topic of river crossings, I found that having trekking poles definitely helped to maintain balance, especially in spots where there was enough of a current to potentially knock me over and really damage things like my camera (from getting dunked in water).
Generally, I find carrying these poles can be burdensome, but there are situations like the river crossings and possible wildlife encounters among others, where they're useful. In fact, on this trip, I actually forgot my trekking poles at home so I actually had to find two sturdy sticks in the field while doing the Terraced Falls hike to resist the strong current in the Fall River.
Related Trip Reports
Waterfalls included in this itinerary
Visitor Comments:
Got something you'd like to share or say to keep the conversation going? Feel free to leave a comment below...
No users have replied to the content on this page