For Julie and I, this was our first European trip together. And like most people who visit Europe for the first time, we visited multiple countries.
In this case, we visited Greece, Croatia, and Switzerland.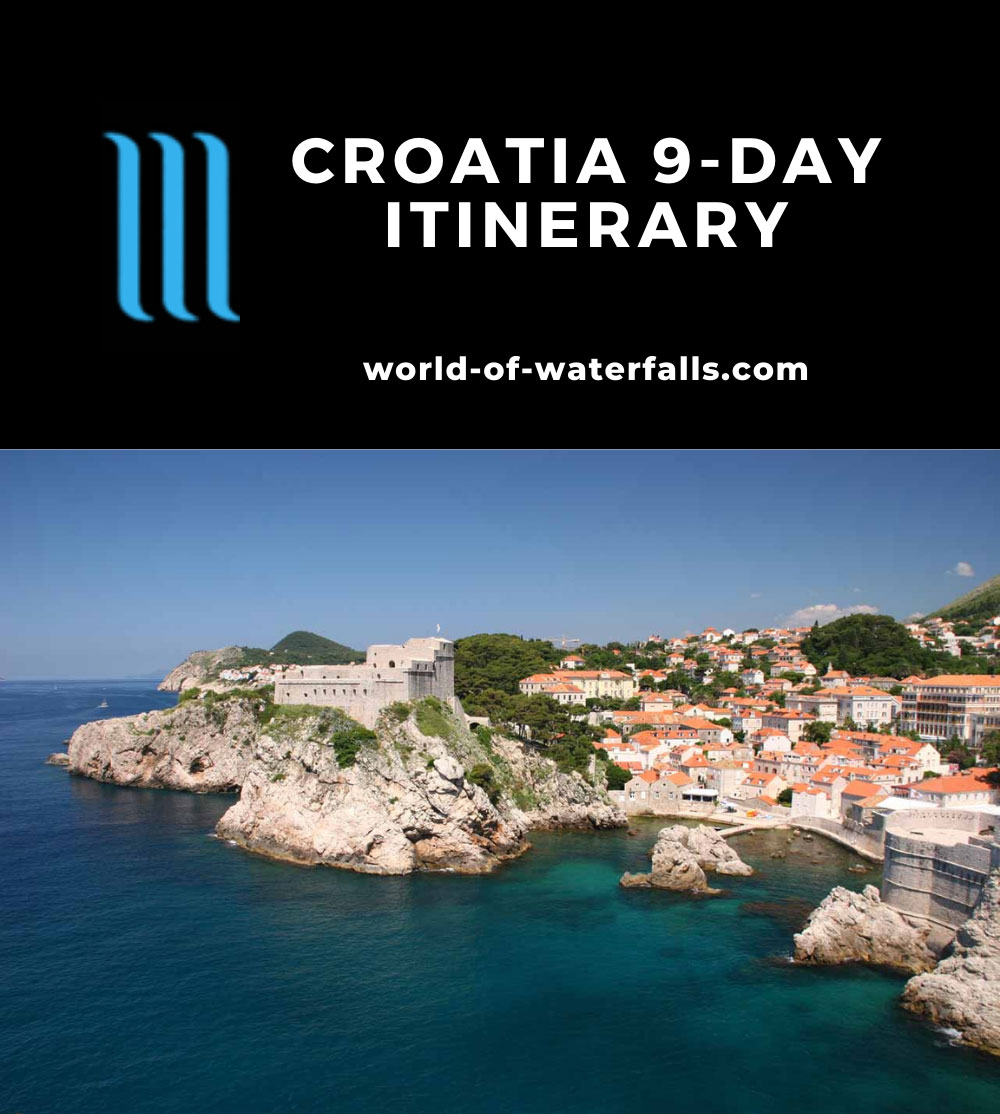 This itinerary was the second part of the three-part 30-day journey. We broke up the itineraries and modularized them in this way because each country could have been its own itinerary. That way, you can decide how to mix and match the individual countries yourself.
Regardless, we're describing this section of the itinerary in the manner that we followed on our own trip, which means we're flying in to Zagreb from Thessaloniki and leaving Dubrovnik for Zurich, Switzerland. Of course, in your own itinerary, you could easily substitute both Thessaloniki and Zurich with whatever other source and destination of your choosing when you do your own trip planning.
Here are some highlights and the logistics of how we made this Croatian leg of the trip happen…
Trip Map
This map and its markings were produced by this app.
Trip Highlights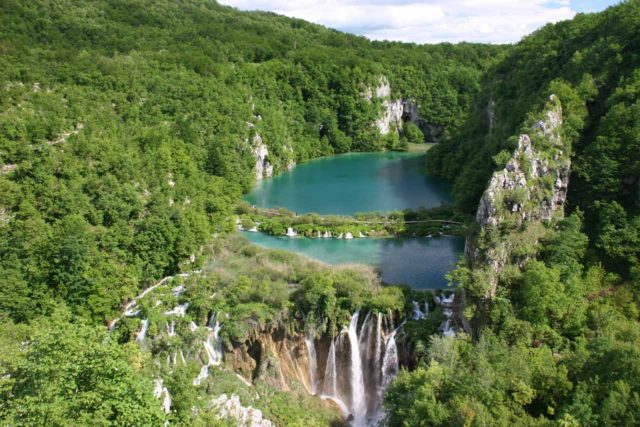 Plitvice Waterfalls – No doubt about it, this was by far the premiere natural attraction in the country. When you consider how many waterfalls each sourced from and spilling into adjacent colorful lakes, it was a place unlike any other we've seen. And that alone made for a very unique waterfalling experience that was world class. We definitely needed more than a day to really experience this place despite the bad weather.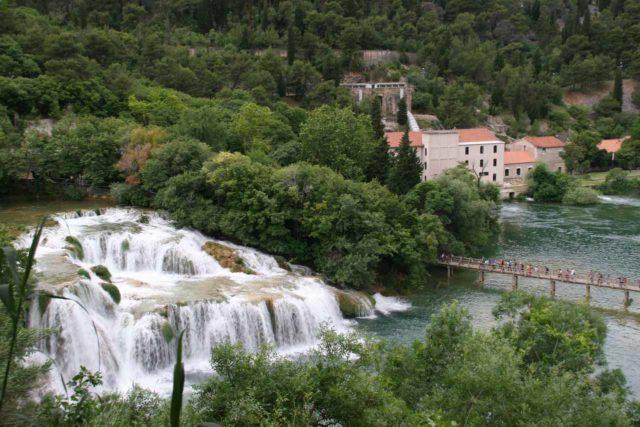 Skradin and Skradinski Buk – While Plitvice gets most of the tourist traffic and accolades, this more smaller-scale version of the limestone waterfalls that Plitvice featured offered a little more of an intimate experience. With the nearby town of Skradin with its narrow walking streets and a manageable boat ride upstream to the waterfalls, we were able to experience this main part of Krka National Park all over an entire afternoon and overnight in the town. Even at the waterfalls themselves, there was an intriguing village practically surrounded by water and cascades.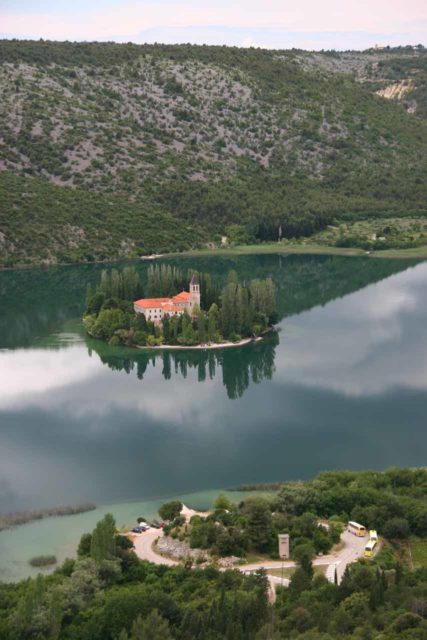 Visovac and Roski Slap – In addition to Skradinski Buk, there was another series of waterfalls further upstream as part of Krka National Park. Along the drive to get there, we also got an overlook of some monastery on an island called Visovac adding further intrigue to this excursion. While the waterfalls up here weren't as dramatic nor as plentiful as its downstream counterpart, it was quieter and more naturesque.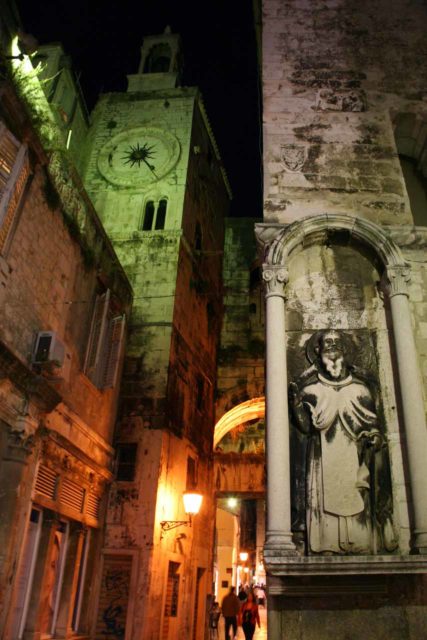 Split – Once you're within the walled interior of this charming city, it feels like you're sent back in time to a gothic time where buildings still seem to wear the scars that beared witness to centuries of history that came to pass. Indeed, the narrow walking alleyways and buzz from the tourists and locals who come here to experience it all both day and night really made this place one of the pleasant surprises of the country.
In addition to the catacombs, the serenading buskers, and surprises at every corner, there was also a charming waterfront to mix things up a bit if a change from the stone spires and archways was needed.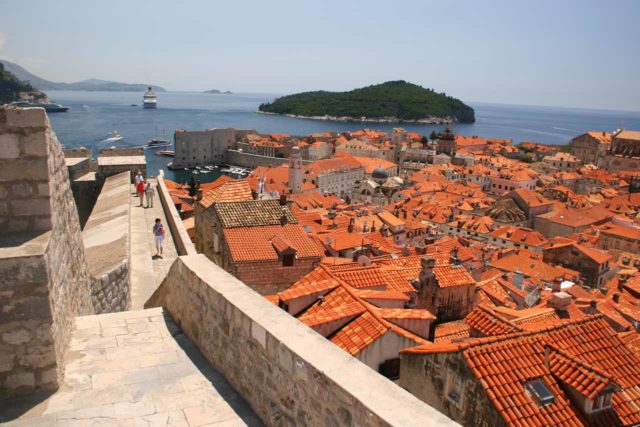 Dubrovnik – It felt like we saved the best for last as we spent the last couple of nights in Croatia in this charming walled, seaside port town. Not only was the city itself possessing of a Mediterranean beauty and charm that made it a magnet for cruise ships, but we also enjoyed the beach here, walking the walls to really see the red-tiled rooftops contrasting with the blue waters, and the night time ambience when the tourist crush had left for the day.
Trip Advice
With this being our first European trip together, we had a lot to learn about what we were capable of doing, especially when we're on our own. Here's some of the other lessons learned from this trip both pertaining to the trip overall as well as some of the specifics regarding this country…
Unseasonably Bad Weather: We got hit pretty hard while touring both Croatia and Switzerland as those two countries were where we seemed to get the brunt of the bad weather. So this kind of impacted the things we wanted to do.
It just goes to show you that you can plan to do stuff beforehand, but when you're actually there, that's when you have to adjust your expectations based on the reality of what's going on.
Note quite off-the-beaten-path: When we did this trip, it seemed like Croatia definitely had areas that were highly touristed, especially at Plitvice, Split, and Dubrovnik. However, we did see quieter (relatively speaking) places by Skradin and Zagreb. I got the feeling that it was going to be a matter of time before this country will be inundated with tourists once the "secret" is out.
Cigarette Smoke: Smoking is everywhere you go in Europe. I believe it has something to do with the belief that it somehow makes you thinner (whether that's true or not is another story). And since personal appearance matters a lot in Europe, smoking kind of goes hand-in-hand with that image and personal appearance.
Unfortunately, with a pregnant wife, we were very wary about second-hand smoke having a negative effect on an unborn child. We were also worried about high altitudes (especially in Switzerland) where oxygen is more scarce. So by controlling what was in our control by limiting our exposure to pollution and high-altitude the best we could (note I didn't say we didn't cut out these things because that would defeat the purpose of coming here to Europe in the first place), we hoped that our child would not have been adversely impacted by this trip.
Self Driving in Croatia: After having driven in Greece, we thought driving in Croatia wasn't that bad though it didn't seem like drivers here were nearly as considerate when it came to slower drivers allowing faster drivers to pass (especially on the mountain roads). The highways required toll payments, which meant they were pretty empty and smooth driving.
Perhaps the biggest issue with driving was the parking situation. Indeed, each accommodation we went to had difficult parking situations and we made it a point to get to where we needed to go as early as possible (it worked in Split). However, for both Split and Dubrovnik, we had to periodically go back to the car parks and feed the meters, which was invonvenient. In Zagreb, our accommodation was actually several blocks walk away from the room, and it was definitely not convenient in the rain.
Krka National Park money saving: If you can manage this, we learned the hard way that even if you visit both parts of Krka National Park (Skradinski Buk and Roski Slap) within a 24-hour period, if it's not on the same calendar day, it counts as two visits and thus you have to pay twice. So if you've managed your time wisely, it might be best to try to fit in a visit to both on the same day.
Travel Itinerary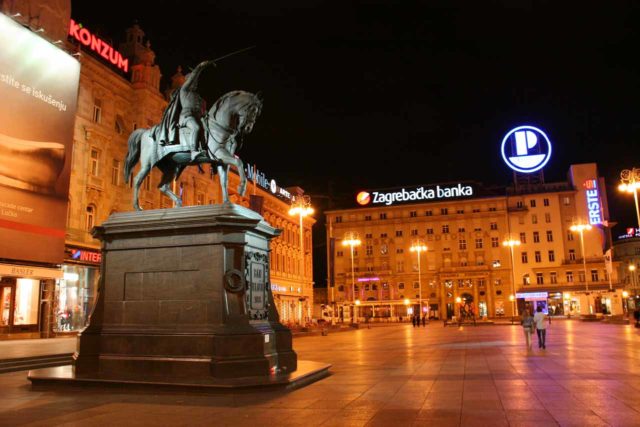 Day 12: Fly from Thessaloniki to Zagreb
We did a flight (with a connection in Philly) before eventually making it to Athens. Once we got through all the customs (and there were definitely strikes from protesting austerity measures), we then picked up the rental car and left the commotion for the quieter Peloponnese. The long drive eventually ended up in the city of Olympia, where we then spent the rest of the daylight hours touring the ruins of Ancient Olympia.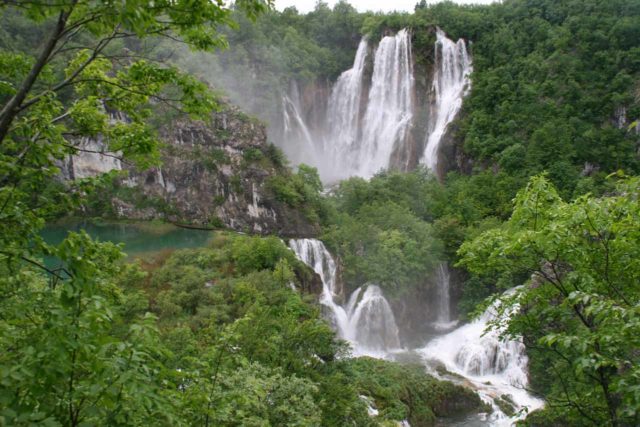 Day 13: Drove from Zagreb to Plitvice Lakes
Overnight: Hotel Bellevue (Plitvice Lakes, Croatia)
After recovering the car, we drove to the Plitvice Lakes to visit the waterfalls in the Lower Lakes.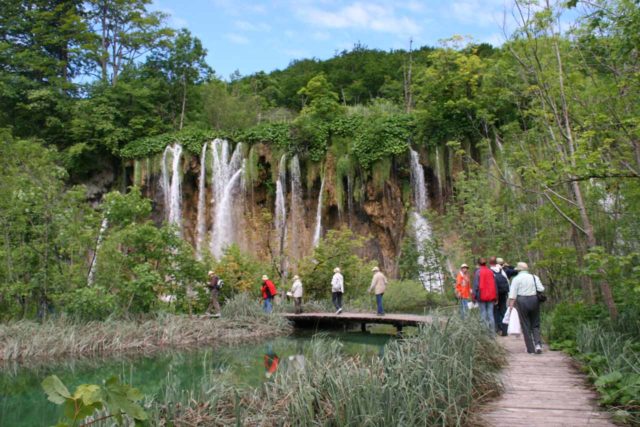 Day 14: Explore the Plitvice Lakes
Overnight: Hotel Bellevue (Plitvice Lakes, Croatia)
This was a day where we visited the Upper Lakes of Plitvice before spending the late afternoon going back to the Lower Lakes.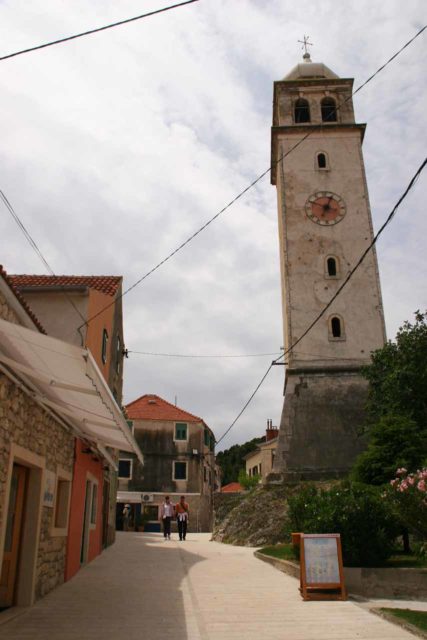 Day 15: Drive from Plitvice Lakes to Skradin
We started the day giving the Lower Lakes of Plitvice one last go before making the long drive. Eventually, we arrived in Skradin soon enough to check in, and then spend the rest of the afternoon touring the Skradinski Buk. The rest of the evening was spent in Skradin for dinner and a little evening stroll.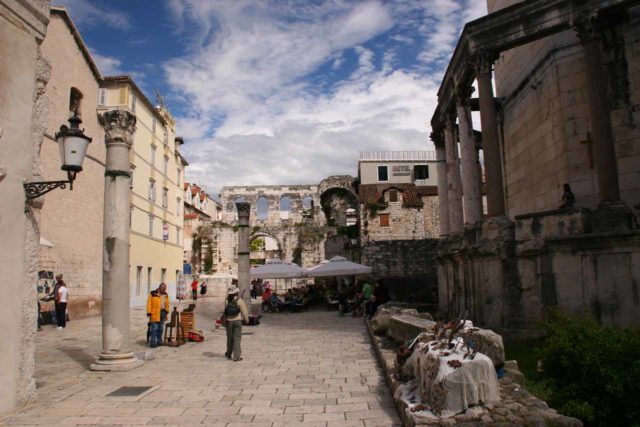 Day 16: Drive from Skradin to Split
After spending the morning driving to Roski Slap and Visovac Overlook, we then continued towards the coast before settling in on Split. Once there, we spent the rest of the day soaking in the ambiance of the charming old city.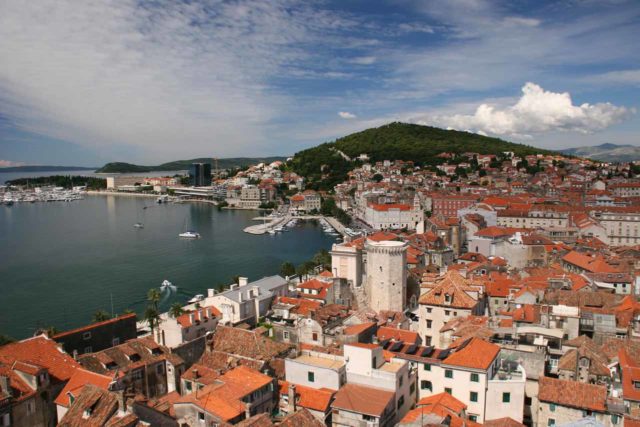 Day 17: Day at leisure in Split
This was a day where we toured the city without needing to drive. We went up the Bell Tower, strolled the waterfront, went underneath Diocletian's Palace to check out the spooky catacombs, and listened to evening buskers before the palace itself. Of course, the narrow streets that are quite conducive to walking and window shopping was a given within the walls of the old city.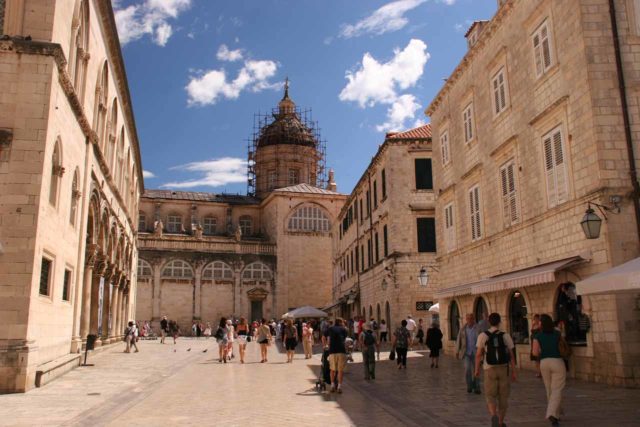 Day 18: Drive from Split to Dubrovnik
After checking out, we continued driving south along the coast to Dubrovnik. Once there, we spent the rest of the day getting acquainted with the city from within its walls.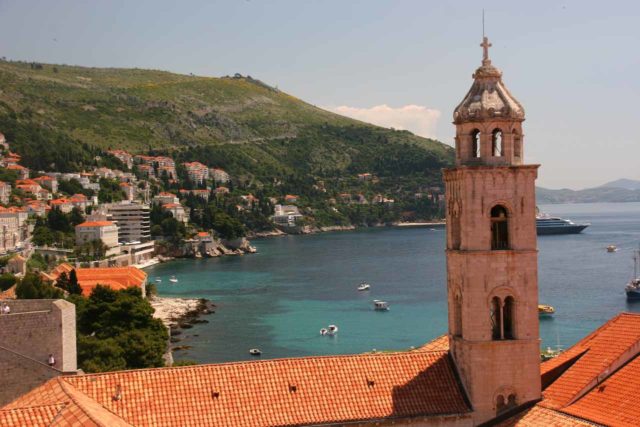 Day 19: Exploring Dubrovnik
This was a day at leisure where we walked along the city walls, then explored some of the beaches as structures outside the city walls. At the end of the day, we went back inside the city walls to soak in the night time ambiance one last time.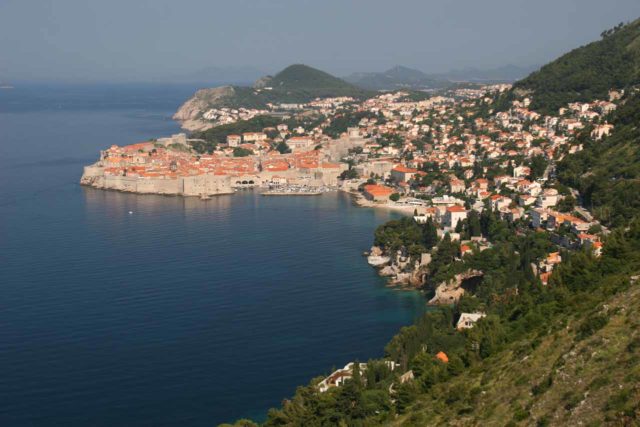 Day 20: Drive from Dubrovnik to the airport, then fly to Zurich
After leaving Dubrovnik, we drove to the airport outside of town, where we got one last panorama of the city before returning the rental car and waiting our flight into Switzerland.
Best Places We've Stayed At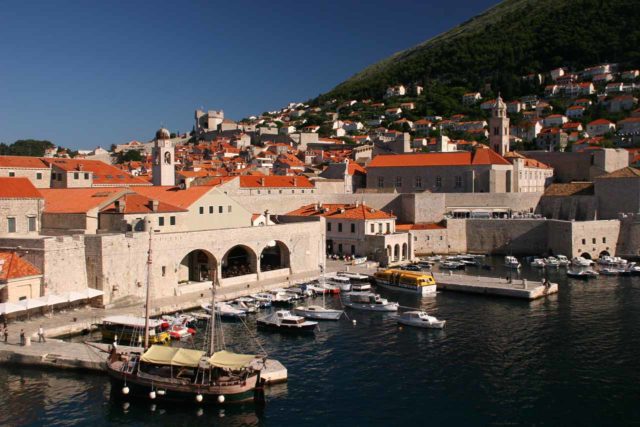 Renata Apartments, Dubrovnik – We actually stayed in a room at the very top floor in the same building as the owners, but it was its own private place with bathroom, bedroom, and living room all underneath the slanted beams of the roof with a great view of the harbor where you can see cruise ships dropping off hordes of passengers on the wall-city itself.
We spent about two nights here, and it felt just right and homey. The huge benefit of staying here was that we got to experience Dubrovnik as its quieter self when the cruise passengers have left for the day.
The only bad thing was for parking, we had to park outside the city walls, and I had to go back and feed the meter from time to time, which was very inconvenient. Whether we did this the right way or not, I'm not sure. I'm also not sure if this has improved over the years.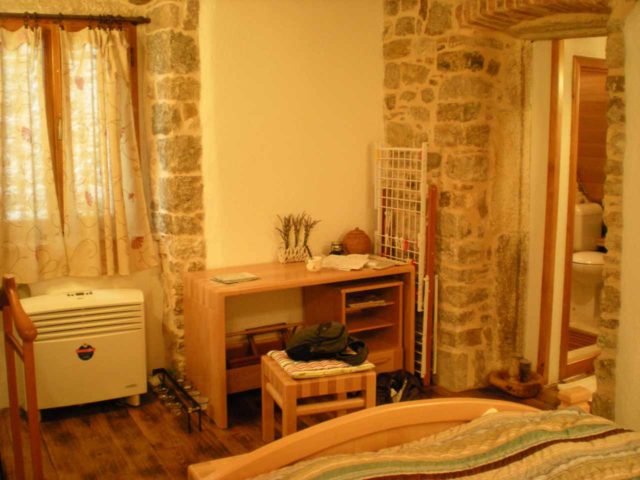 Salvezani Apartments, Split – This charming apartment made us feel like we were living like a local in Split. It had very warm and cozy furnishings inside, which made it feel welcoming. It was also well-stocked with a laundry, a small kitchen, a living room, and the usual bedroom and bathroom.
Being right smack in the center of the city within the city walls, we felt like all we had to do to get in the action was to get downstairs and right into the narrow walking streets.
Perhaps the only drawback was that being so close to the action, noise was definitely a factor (especially since I'm a light sleeper). Everything from conversations, shouting, and even the click of high heels against cobblestone streets could be heard quite easily. Also, the parking the situation was basically public parking outside the city walls, but I didn't recall needing to keep going outside to feed the meter (unlike at Dubrovnik).
Related Trip Reports
Waterfalls included in this itinerary
Visitor Comments:
Got something you'd like to share or say to keep the conversation going? Feel free to leave a comment below...
No users have replied to the content on this page