Switzerland Waterfalls exist among what I believe has to be one of the most visually stunning landscapes in all of Europe (that is if the weather cooperates). So we've created this page to acknowledge these features, particularly the Swiss Waterfalls that we've personally visited in our travels.
As you can see in the waterfall map above and the list of Switzerland Waterfalls below, we have an extensive enough survey to come up with a credible Top 10 List of Best Swiss Waterfalls so you can see what our favorites were.
And as typical with the other waterfalls that we cover in the World of Waterfalls website, each write-up you'll find within these pages include information, directions, photos, videos, maps, nearby attractions, and more! That way, you can leverage the information that we share so you can plan your own dream trip to the Swiss Alps and beyond!
Finally, there's one more thing we should point out about the Switzerland Waterfall write-ups that we've done. In some cases, Julie and I have relied on public transportation in the country. Therefore, you may notice that the driving directions for most of the waterfall write-ups in Switzerland reflect how we managed to reach each destination utilizing the mass transit (unless otherwise indicated). Naturally, if we did self-drive to reach a particular waterfall, then we'll describe how we drove there as usual.
Top 10 Lists that feature Switzerland Waterfalls
Most Recent Waterfall Write-ups
Most Recent User-submitted Waterfalls from this Country
Most Recent Visitor Comments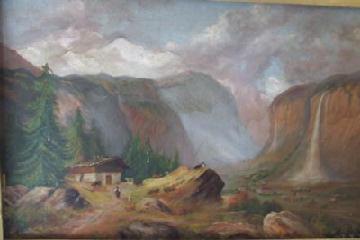 Mystery Painting. Is it of Lauterbrunnen?
February 28, 2012 7:42 am
-
Spotted a picture on your website. I am so sure thanks to you that I have finally found the mystery location of an old painting that has been in my mothers family for years. They migrated to Australia in 1855 from Hallgarten in the Rhinegau (then Prussia). Curiously, one sister of my great grandfather supposedly… ...Read More
Share your thoughts about what you've read on this page
You must be logged in to submit content. Refresh this page after you've logged in.