Waterfalls in Switzerland
Switzerland Waterfalls exist amongst what I believe has to be one of the most visually stunning landscapes in all of Europe (that is if the weather cooperates). Where else can you see cute wooden chalets and livestock grazing on grasslands perched atop foothills backed by snowy or glacial skyscraping mountains rising to the top of Europe? Fantasies of the scenery in the Sound of Music or Heidi are not that far off their romantic portrayals. And you just know that when you mix such scenic mountains with an abundance of snow, that surely means there must be scenic waterfalls throughout this land.
And this is certainly the case as we were fortunate to have visited the waterfalls of the Yosemite-like Lauterbrunnen Valley as well as around the Matterhorn, the Jura Mountains, and even in the Italian-speaking lakes area to the south.
But that's not the end of what Switzerland has to deliver.
This country also features very cute and charming cities and towns that have managed to retain their character and progress by avoiding wars with their famous neutrality. Such charming places that come to mind include the Swiss Capital Bern as well as the very cute Stein am Rhein. Heck even Luzern (Lucerne in French) and Zurich can be charming in their own right.
And who can forget the charming ski village of Zermatt with its famous mountain – Matterhorn?
Indeed, Switzerland is one country where the stereotypes are genuinely flattering characterizations of a place that seems to have it all for such a relatively small, landlocked country. And we can easily envision ourselves returning here for more waterfalling as well as those guilt-ridden Swiss delicacies known as cheese fondues or Swiss milk chocolates… yum!
Amongst the waterfalling highlights in the country, we were fortunate to have visited the Staubbach Falls, the border-straddling Saut du Doubs, and Cascata di Foroglio. We also visited the massive Rhine Fallsas well as the tall Seerenbach Falls.
There's one more thing we should point out about the pages in this region.
Julie and I relied on public transportation for most of the waterfalls. Therefore, you may notice that the directions for most of the waterfall writeups in this region reflect how we managed to reach each destination utilizing the mass transit (unless otherwise indicated).
MORE
Waterfalls in Switzerland (alphabetical order):
User-submitted Waterfalls from this Country
Visitor Comments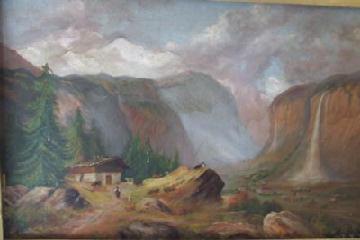 Mystery Painting. Is it of Lauterbrunnen?
February 28, 2012 7:42 am
-
Spotted a picture on your website. I am so sure thanks to you that I have finally found the mystery location of an old painting that has been in my mothers family for years. They migrated to Australia in 1855 from Hallgarten in the Rhinegau (then Prussia). Curiously, one sister of my great grandfather supposedly… ...Read More
Share your thoughts about what you've read on this page
You must be logged in to submit content. Refresh this page after you've logged in.