Ontario Waterfalls were largely overshadowed by the one-and-only Niagara Falls, but it turned out that the geology (known as the Niagara Escarpment) that gave rise to the Granddaddy of Waterfalls in North America also yielded a bit of a waterfall bonanza in this Canadian province – especially in the Golden Horseshoe Region west of encompassing Niagara Falls, Hamilton, and Toronto. It was a strange juxtaposition since this was also said to be one of the most populated areas in Canada.
Regarding the Hamilton area, it is part of the Niagara Escarpment around Lake Ontario. The fortunate geology for the city of Hamilton (once the City of Steel and now re-branded as the City of Waterfalls) made this place somewhat of a waterfall mecca. A funny thing about this aspect of the city was that apparently the City of Waterfalls moniker hadn't really caught on as a border patrol officer at Niagara Falls openly questioned why we would even want to visit Hamilton. I guess shaking off its industrial heritage is easier said than done.
In any case, among the waterfalling highlights in Ontario include Webster's Falls, Albion Falls (both in the Golden Horseshoe area), and even the awesome Kakabeka Falls on the North Shore of Lake Superior.
Finally, with waterfall fatigue becoming quite easy to achieve (especially in the Hamilton area), we also drove a little further east along the shores of Lake Ontario to Toronto, which was Canada's largest and most metropolitan city. There, we mixed things up a bit by checking out its Chinatown, the CN Tower, and even enjoying a nice little family outing at Toronto Island where we were able to look back at the city's gorgeous skyline.
Indeed, our sampling of waterfalls in Ontario merely scratched the surface of what could be done here. And we hope that with more visits to this section of the country, we'll be able to sample more of what the Nature here has to offer.
MORE
Waterfalls in Ontario (alphabetical order):
User-submitted Waterfalls from this Region
Visitor Comments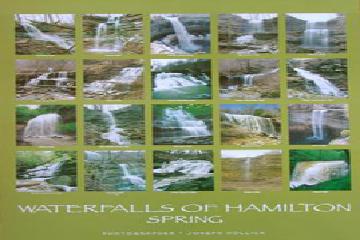 Waterfalls of Hamilton Spring – Waterfall Capital of the World
May 15, 2010 3:33 pm
-
If a person does a Google search on the Internet with the words "Waterfall Capital of the World", it will come up with "Hamilton - the Waterfall Capital of the World". Why is this? Well, the Niagara Escarpment (which is a UNESCO World Biosphere Reserve) runs through the entire length of Hamilton and every creek,… ...Read More
Share your thoughts about what you've read on this page
You must be logged in to submit content. Refresh this page after you've logged in.