Fiji Waterfalls gave Julie and I an excuse to island hop this friendly tropical island nation. That said, only a few of the hundreds of islands in Fiji are large enough to have waterfalls. The rest of the islands primarily act as uninhabited atolls, isolated resorts, or more populated islands that still lack the topography necessary for waterfalls.
Nevertheless, as you can see from the waterfall map at the top of this page, we have seen our share of them on both the main island of Viti Levu as well as the island of Taveuni. And we found that our waterfalling experiences took us away from the creature comforts of most resorts while taking us right into the genuine heart and character of the Fijian Islands.
Indeed, this is what waterfalling is all about, and we're eager to share with you our experiences through this page and the associated waterfall write-ups. Each write-up features ratings, detailed descriptions, driving directions, photographs, videos, nearby attractions, maps, and more!
So have a look at what we have to share with you, and hopefully you'll find it useful for your own waterfall trip plans…
Most Recent Waterfall Write-ups
Most Recent Visitor Comments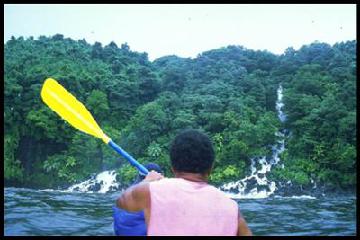 Taveuni's Ravilevu Coastline
April 23, 2009 4:07 am
-
I've been visiting Taveuni's Ravilevu coastline since 1983 and it is truly the land of waterfalls - and I've jumped a few in my 64 years of adventure. John "Caveman" Gray ...Read More
Share your thoughts about what you've read on this page
You must be logged in to submit content. Refresh this page after you've logged in.