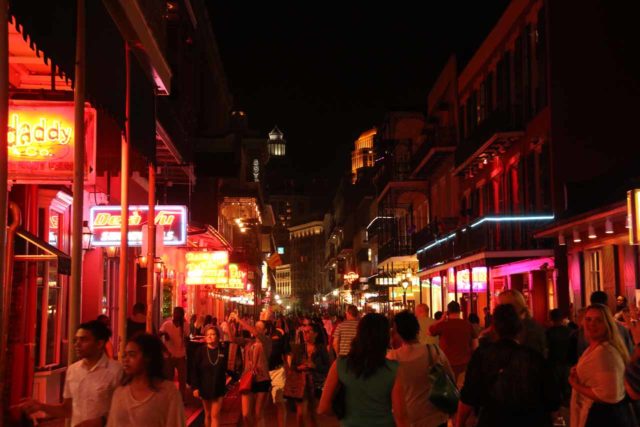 9-March 2016 to 19-March 2016:
…Then, we pretty much followed this road for a few hours. Along the way, we saw large stretches of swamp and what appeared to be lake or "sea" given how extensive some of the bodies of water we witnessed alongside the road were.
Little did we realize that we were starting to see some of the effects of the flood from last week and into last weekend that caused several parishes in the state of Louisiana to declare a state of emergency. In fact, we were going into Bossier City-Shreveport, which was right at the epicenter of the flooding late last week.
Boy was it a good thing that we didn't do the trip in reverse (clockwise) as originally planned, because we would've really been screwed with the flooding there. Plus, we would've really been screwed at the Texas-Louisiana border along the I-10 since they closed it this morning due to high water from all the runoff that went from northern Louisiana to southern Louisiana. It was amazing to think that just three days ago, we had crossed that stretch of interstate to get to New Orleans from Austin.
It took a while to get from the Hwy 1 onto I-49, but when we got onto that interstate, it was pretty smooth going as we could use the cruise control and just pay attention to the road as well as the cops. And in one moment, there was a cop right in the center of the interstate.
When I saw his siren go on, I had this sinking feeling that he…
Day 1 (March 9, 2016 – Austin, Texas): "Making It Happen Despite The Setbacks"
It was 3:30am when we awoke. All three of us (Julie, Tahia, and I) were all getting over persistent coughs all emanating from a flu that we believe Tahia had brought home from school. Whatever it was, it seemed to have this ability to allow our body to fight it off only for the symptoms to come back a couple of weeks later (perhaps from a weakened immune system allowing another bug to catch on). This was the case for both Tahia and I.
Neither of us could truly say we weren't sick since early February. It's now a month later, and while I can finally sleep through the night, I do have episodes of coughs from time to time. Tahia was also recovering from her cough, but Julie was probably in the worst shape of all three of us. And here we were on an early morning wake-up trying to catch a 6:15am flight for Dallas Fort Worth leaving the sunny weather of home and heading into stormy weather that yielded flooding and even a few tornadoes according to the weather on the web.
Indeed, we had been paying very close attention to the weather as the Winter season had been pretty dry throughout the Southern United States since a series of storms in early January. However, it had been mostly dry since, with February yielding unusually hot temperatures (if we were getting 80s here, I'm betting Texas must've been getting 90s during that time). But now that we were on our trip, it seemed ironic that the lone 1.5 weeks we'd be there, there were powerful storms breaking the several weeks of no rain. Funny how the timing just so happened to work out this way. Too bad such luck hasn't translated into lottery winnings…
Anyways, we got to the airport no problem by about 5am. And after checking in one bag, getting through security, and showing up at the gate, we promptly boarded our flight at around 5:45am, which was surprisingly on time given the foul weather that we were about to fly into. While we were standing in line, we were standing next to this Asian lady who wore these sky high stiletto heels with red bottoms (Julie said they were Christian Louboutins
). We were amazed at how someone could find boarding a plane in those shoes to be very comfortable, but I guess it's different strokes for different folks.
The flight started off pretty smooth as it was mostly clear skies at home, and it was mostly clear skies as we flew over Arizona and New Mexico. But when we got into Texas, we were suddenly flying into clouds and the ride was a little bit on the bumpy side, but it was nothing scary.
At 11:15am, the plane landed on time, and we waited patiently for our turn to get into the terminal (especially since we sat towards the back of the plane). By about 11:40am, we collected our luggage, then waited for Julie to pick up more water and a couple of sandwiches for lunch on the go. Once we were reunited once again, we then had to catch a rental car bus, which was surprisingly a bit of a drive from the Dallas Fort Worth airport at the American Airlines terminal.
So it wasn't until about 11:55am when we got to the Hertz kiosk, but we were shocked to see that there was already a pretty long line. Now, for sure, I knew that we were going to get off to a rather sluggish and late start as we were hoping to be leaving Dallas Fort Worth by 12pm. Now, it was looking more like 1pm given the length of the line, where there had to have been at least 20 different parties or so in front of us. We never recalled having to wait for so long at a Hertz before.
Eventually at 12:40pm, we collected our car and car seat (for Tahia, which was included so we didn't have to bring our own car seat this time). But when I first got to the desk, the lady helping me said that we were Gold members and we didn't have to wait in that line! That was painful to hear since we had just lost 45 precious minutes. That time was very important because we were supposed to be driving to Austin, but we had to squeeze in a visit to Gorman Falls along the way. And with the way our schedule was working out, Gorman Falls was either going to happen today or not happen at all on this trip!
Anyways, it then took us some time to get settled in our little Nissan compact hatchback (not the Ford Focus that Julie had reserved, but I guess they must've ran out of that). Eventually at 1pm, we finally were out of the rental car parking structure (this after yet another delay waiting to get out in the first place as I had apparently chosen the wrong line to do the final checkout before leaving; Indeed, it just seemed like we were making one misstep after another just trying to get out of the gate).
At first, the drive out of the airport and towards Fort Worth was met by a little bit of confusion as we weren't totally sure how to reach the I-35W, but we'd eventually get onto that freeway around 30 minutes later or so. Then, as expected, we cruised south on the I-35W at a pretty high rate though there were some episodes of heavy rain, which made us a bit concerned about whether our planned Gorman Falls hike was going to happen or not. The GPS was already telling us that we wouldn't get there until at least 4pm, which was pretty late to start a 3-mile round trip hike.
Things were coming along swimmingly until we got near the town of Hillsboro, where there was an awful traffic jam around that town. In hindsight, I should've taken the Hwy 81 to bypass the I-35W during this stretch, but I never thought that we'd be delayed another 30 minutes or so stuck in this traffic!
So it was yet another setback that was conspiring to make our aspirations to at least do Gorman Falls today not happen. What was worse was that there didn't seem to be a root cause of this traffic. The traffic just started to pick up speed well south of Waco.
Somewhere south of Waco, we stopped for an impromptu restroom break. Upon studying Julie's iPhone, we saw that there were more problems on the I-35W going south near the town of Benton. When the rest stop was over, it wasn't long before we ran into a lot of brake lights. So it was pretty obvious that we wouldn't be able to take the I-35W south to the US 190, which was annoying. We suspected that there must be some closure or something on the I-35W. Who would've thunk that the interstate was less reliable than the smaller highways, but that seemed to be the reality of the moment.
For most of the drive on the I-35W south, the weather was mostly calm (at least calmer than the Dallas Fort Worth area, which was pouring rain). The radio stations were saying that there had been severe thunderstorms last night and that we were going to get another dose of rain for both tomorrow and Friday. We also learned that Obama was visiting SXSW (south by southwest) in Austin, TX on Friday, so that already told me that we were not going to be driving on that day.
Anyways, we backtracked to get onto the US 84, which had an interesting mix of traffic lights and very high speed two-lane highways (up to 70mph). Now, the GPS said that we weren't going to make it to the Gorman Falls trailhead until around 5:20pm, which was even later than what we had planned for (we were supposed to start hiking at around 4pm if not for these delays).
We ran through a few rainy spots, but once again, the weather seemed to have held up as we were approaching the town of Lampasas after leaving the US 84 then heading south on the US 281. Once we were in Lampasas, we finally saw signs for the Colorado Bend State Park, which had us turn right onto North St, which was also where the Hwy 580 started.
Finally, we were on the correct road to Colorado Bend as we still had some 27 miles to go, but we could totally see why the GPS would've gotten us lost had we blindly followed it. In fact, we were fighting the GPS practically the whole way until we finally arrived in the town of Lampasas. So that indicated to us that the key to getting to the elusive state park was to get to that town.
Eventually, we got out of the Hwy 580 and onto the Cr-436 road, where we continued following the signs for Colorado Bend. At one point, we traversed a very low bridge that looked obviously prone to flooding. In fact, there were still puddles of water on that bridge, which made it clear to us that it must've flooded last night. If we were caught in this flood right now, we might be stuck, and I could see why the park service advised against doing the Gorman Falls hike under the threat of heavy rains.
So now, the pressure was on even more for us to wrap up this hike not only to beat the darkness, but also to beat the potential of being swept away or stranded by flood at this point.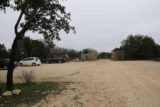 The paved road eventually led us to the entrance, where there was a self-help welcoming area to insert money into an envelope that take the attached permit as proof of purchase. Then, shortly thereafter, we took an unpaved road leading the last mile to the well-signed Gorman Falls Trail. We arrived there at 5:30pm, and given our late start, we decided that I would do this hike solo (for speed), while Julie (still not feeling well) would rest in the car and keep Tahia company.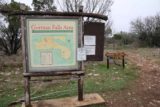 There were a couple of other cars here, including a family with two girls much older than Tahia. When I passed by starting my hike, the girls warned me about the trail being muddy and rocky. I did my research and knew that, but I thanked them for the warning and hastily made my way onto the trail.
The skies were still overcast and threatening another round of rain. But it was really the darkness that was the big concern as I had 1.5 miles to make it there. Sunset was said to be around 6:30pm so I only had less than an hour to make it there and experience the falls with whatever daylight was left before hiking back to the trailhead (possibly in the dark).
The last folks I saw on the trail was a mom and two kids. They were negotiating a flood obstacle, which I managed to go way around. After then, it was pretty much just me on the trail using all the visual clues that I could to stay on the trail and not stray or get lost. The trail did have some posts and some small reflectors or shapes put onto tree barks from time to time. Other times, there were obvious dirt stretches as well as rocks to follow.
That said, all the indications were for me to abort this journey, but I knew that it was now or never to do Gorman Falls given how out-of-the-way it was. I even startled some deer, which was yet another indicator that people probably shouldn't be out here this late (and the deer knew it, which was probably why they were so surprised). So I made haste, tried not to get my foot caught in too much puddles and mud, and also tried not to slip and fall on the flat slippery white rocks stewn through trail.
All throughout the trail, there were also black-barked trees (a fire possibly went by here not too long ago; either that or they're just soaked from the rain) as well as plenty of cacti, which I tried to make sure I didn't brush against (as I had some bad pricks from them on our last trip to Julian). There were also some signposts at trail junctions, and there were even some benches for rest, which clearly I wasn't going to use in my haste (besides, they were all wet).
Before long, I made it to the final stretch, which deviated to the left of the Gorman Springs Trail and the ranger-led trail. It looked like that maintenance road that was blocked by a gate at the trailhead could be driven to in one of these ranger-led hikes by Gorman Springs as I saw a sign indicating there was a car park over there.
Anyways, the trail went from mostly flat towards getting quickly steeper as I could now start to hear rushing water in the distance (a sure sign of Gorman Falls). After a few more minutes, I could see parts of Gorman Falls as well as the trail descending onto slippery rocks flanked by cables.
I took some time basking in the accomplishment of getting at least to this point and taking partial photos of the rejuvenated waterfall (from the heavy rains earlier this week). And I could also see that the Colorado River was just down the cliff adjacent to the end of the trail at the base of Gorman Falls. I guess I could see why they called this state park Colorado Bend. By the way, I was a little confused about this river because I always thought the Colorado River was the rivery system that started in the Rockies of Colorado, then drained towards the Gulf of California creating places like the Grand Canyon. But it turned out that this particular Colorado River just happened to be a different river system mostly in Texas with the same name as the much larger multi-state one further to the west.
Next, I carefully descended the steep rocky and cable-flanked part, which was tricky given how slippery it was. I actually had to choose my steps carefully so as to not take a nasty spill. This descent actually wasn't that bad, but I just had to slowly make sure that I had made the right steps and not planted my foot where it was sloped and slick.
Once I got to the bottom of the rocks and cables, I was right in front of Gorman Falls, which was much wider than I thought. In fact, this travertine waterfall very much reminded me of the waterfalls in Jiuzhaigou, China like Nuorilang Waterfall and Pearl Shoal Waterfall. It was even like the Nacimiento del Rio Cuervo in Spain, but at least this one had good flow.
I took whatever daylight I had left trying to capture the falls in as many angles and positions as I could. I found that the trail continued further downstream along the Colorado River, and so when I went back there, I was able to capture both of the strong flowing sides of the falls with more percolating parts in the middle.
There was a viewing platform providing very limited views of one side of the falls.
Anyways, it wasn't until about 6:35pm when I finally left the Gorman Falls. I was hastened more by the quickly diminishing daylight (as I was now beyond sunset), and it was too bad that I couldn't linger in this magical spot any longer.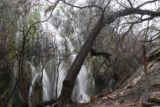 As I was hiking back up the cables then back onto the trail, I started yet another group of deer. I was trying to do as much trail running as I could knowing that the amount of natural light was fading even faster. So going back on the trail was getting tricky because the terrain was starting to look the same in each direction.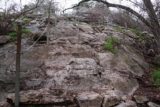 I only had my memory, my handheld GPS (which tracked where I had been so I knew of I was on the trail or not), and some subtle visual clues from the rocky trail as well as the footprints in the mud to help me along. Plus, there were those signs and benches near the trail junctions to help me along as well.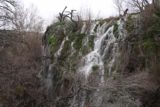 Eventually at 7pm, I finally made it back to the trailhead. Now, it was pretty much dark and I was a sweaty and smelly mess. Julie and Tahia were busy listening to my iPod in the car, but now I knew that the work wasn't over as we now had to drive in the dark (with all these deer around) towards Lambasas, and then towards Austin. And at least the weather had held up thus far though we really had to get back across the flood-prone bridge before the coast was somewhat clear as far as Colorado Bend State Park was concerned.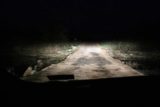 So after putting the stuff back in the car and changing out of my muddy hiking boots, we promptly headed off as the A/C was momentarily turned on to try to dry up my profuse sweating. As we were tensely driving the 580 back towards Lampasas, we did have to slow down for a little black-and-white rabbit to get across the road, and we even spotted a deer at the side of the road before it ran back into the darkness. Again, you could never be too alert for these things while driving in the dark, especially after I had hit a deer (totalling my dad's MPV) as well as a kangaroo in the past.
Indeed, while high beaming it (and reducing it when there were cars going in the opposite direction), we ultimately returned to Lampasas, then headed south on the the Hwy 183, which moved at a pretty fast clip. However, the calm weather gradually turned into drizzle as we were in the Lampasas vicinity, but as we headed south of Lampasas, the weather became a bit more intense as the rain was coming down harder.
So on top of the darkness, we were now having to deal with possible skid outs or hydroplanes from standing pools of water. I did my best to follow this truck that passed us up and was screaming along this highway at well over 70mph while keeping my distance. It was a bit unnerving trying to keep pace with this guy while going through the heavy rains, but at least it gave me one less thing to deal with in terms of reacting to whatever came up from the darkness (especially the potential for deer dashing in front of the road).
The rain continued as we were passing through the toll part of the Hwy 183 (which I guess was 183A). We weren't sure how we were supposed to pay for this system since there were no booths, but we figured that going straight to our hotel in Austin was the way to go (and get out of the roads in this rain as fast as possible). We could ask the concierge about how this system works later.
It wasn't until about 8:45pm that we were finally at the Hyatt Place in downtown Austin. On a rainy night like this on Wednesday, we had no prayer of exploring the night scene here. But then again, all of us were quite tired from a very long day that started with an early wake-up and finally ended up with us doing a late check-in. We also had to use their valet service, which was whopping $33 per night not including taxes (so we were told it would amount to something closer to $35/night or something).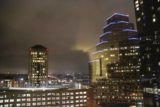 That was steep, but I guess when you're staying here on points, the hefty parking fee could be swallowed given the convenience of being so centrally located.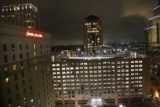 The reception staff was very friendly and informative. We learned a bit about the foodie scene here as well as the local sights. We also got confirmation that SXSW was happening (though it was more of a media event than the bally-hooed music festival that would start next week), but this big thing why Austin overnight prices had shot up to over $700 per night on Friday night (good thing we used points) was that President Obama was coming to speak at SXSW that day! So clearly we were not going to drive on that day unless we'd have to deal with traffic.
A couple of ladies working the reception were excited when they heard that we were interested in visiting the Hamilton Pool. That furthered my fuel to visit this place though I did wonder whether they'd close it off due to the bad weather. We'll see how that plays out, but I was still holding Saturday morning as the trump card in case we wouldn't be able to do it Thursday or Friday due to weather.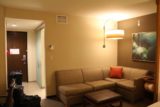 I probably got more than I bargained for in terms of information from the reception. So it wasn't until about 9:15pm when we finally got our stuff put into the room. All of us were very hungry while Julie wasn't feeling too great and my cough seemed to be worsening.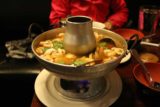 So we quickly walked in the rain next door to this place called My Thai, which was recommended by the valet guy. It was convenient, and apparently we got in just in time to have a late dinner right before they closed the kitchen. We got a pad thai, tom yum soup, and beef salad, and all that was probably a little more food than we bargained for.
As for the quality, it was OK. But when it's late, beggars can't be choosers. Maybe we were too spoiled by the Thai food selections we had back at home and our trip to Thailand several years ago. After all, we're in Austin now. I guess we couldn't expect the moon here.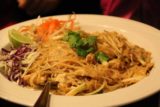 Anyways, we felt bad keeping the staff here after their closing time of 10pm. We ultimately left the restaurant at 10:30pm, tipped them generously for the great service despite the OK food, and finally got back to our room to wind down this very long day.
We still had to do several things like shower, brush teeth, etc., and Tahia seemed to have been over rested as she wouldn't fall asleep until around 1am (which was 11pm our time). Oh well, as long as we're getting rest, we'll just have to accept the fact that we're going to have a late start tomorrow with the tentative plan that tomorrow would be the waterfalling day (or driving day) regardless of the foul weather that was being predicted…
Day 2 (March 10, 2016 – Austin, Texas): "Battle of Wills"
It was about 7:30am when I awoke. I didn't even need an alarm to naturally wake up at this time (must be the 4:30am wake-ups for work back in LA), but soon thereafter, Julie's alarm went off. Neither Julie nor Tahia were in the mood to respond to this alarm so I hit the snooze button a bunch of times before Julie finally got up shortly before 8am. I kind of suspected that today would be a delayed start given that Julie was still sick and the weather forecast was pretty gloomy and wet.
With time running out on breakfast, we'd finally make our way downstairs at about 9:10am. The brekkie room was quite busy, but we managed to get in our pick-me-up shortly before they were going to take the food away at 9:30am (when brekkie was supposed to end).
It ultimately wouldn't be until about 10:35am when we finally recovered our car from the valet, which followed from a lot of time that Julie spent going to a nearby convenience store to pick up some breakfast burritos (the included breakfast was neither healthy nor very good) as well as some water.
We were all coughing less so far this morning, which made us wonder whether the antibiotics that we were so hesitant to take was working. In any case, with the weather vacillating between rainy and even hints of rare sun, we finally drove off towards McKinney Falls since that was the nearest falls to Austin that I managed to dig up from our pre-trip research.
I figured that we needed some momentum given the sluggish and delayed start. The original plan was to visit the Hamilton Pool right when they open at 9am then visit the other state parks near Austin with Pedernales Falls following McKinney Falls. However, it was clear the original plan wasn't going to happen, especially with the wet weather and wet forecast so we'd punt Hamilton Pool for Saturday morning when the forecast was predicting clearer weather finally.
The drive was fairly uneventful as we followed the I-35W to the US 290 due east before heading south on the Hwy 183. That was when we saw a brown sign for McKinney Falls State Park, where we promptly followed the signs on to McKinney Falls Parkway, which eventually led us to the state park.
We stopped by the headquarters at 10:55am to pay our $15 dollars worth of admission ($6 per adult plus $3 for a child). I learned from the worker there that our admission to this state park was also good for Pedernales State Park as long as we made our visit on this day.
Anyways, at about 11:05am, we arrived at the trailhead for the Lower McKinney Falls. We were the first ones at this car park though there were several cars that we saw en route parked at other picnic areas and car parks. So we were by no means early at this park.
Once we got out of the car and ready for the hike, we promptly walked the descending dirt trail that was saturated with lots of water from all the rains this week. Still, it wasn't as muddy as the Gorman Falls Trail. Then, it didn't take long before the trail got to a very large rock-slab area with potholes amongst the rock slab surface filled with water.
The footing there was on the slippery side, but the surface as mostly flat. Tahia was having fun trying to pretend to avoid the potholes when I knew she was mostly interested in jumping in them to create huge splashes. For some reason, kids just can't resist the temptation to make splashes from puddles.
After walking across this field, we then got to a slippery decline where the rock slab slanted closer towards the Lower McKinney Falls. However, just as I was having some doubt about making it down this slope without taking a spill, Tahia and Julie were able to carefully make their descent since they had decent footwear for adequate grip.
We then made the final descent towards the banks of Onion Creek below the Lower McKinney Falls. There was some unsightly litter and lots of foam in the water near the base of the falls, but it was clear that the creek was running full spate as the falls was very wide (though probably only about 15ft tall) while it appeared that the banks of the creek had flooded into some of the vegetation.
So we took our time capturing photos of the falls as well as taking some people shots. When we had our fill of this falls, both Julie and Tahia headed straight back across the rock slab field and back up to the car merely 200 yards away. Meanwhile, I decided to explore the brink of the Lower McKinney Falls since I had seen other people up there.
Once I was there, I was able to compose some more photos of the falls as well as some of the downstream scenery. So far, the weather had held up and not dumped buckets on us as I had feared. So our visit here was pretty satisfying albeit uneventful. I guess if not for the dirty runoff from all the rains as well as the foam and litter, I could easily see how this place could be popular for swimming in the hotter months.
We were back at the car at 11:40am, and instead of hiking the picnic trail all the way upstream to the Upper McKinney Falls, we drove to the nearest car park for the Upper McKinney Falls. We got there at about 11:50am, where there was also the Smith's Visitor Center. It didn't look open however.
And shortly after that, we made the even shorter descent towards the brink of the Upper McKinney Falls, which was nowhere near as scenic as the Lower McKinney Falls. This was really more of a funneling of Onion Creek towards a small plunge while surrounded by more of the rock slabs that appeared to be a very common feature of this place. Nevertheless, the puny size of this falls made me glad that I didn't hike to picnic trail between the lower waterfall and this waterfall, which I had contemplated doing earlier.
Down below on the right side of the plunge pool of the upper falls, we saw that there was an intriguing overhanging area, but it didn't look accessible. They also fenced off the top preventing people from walking on the overhang for fear of it collapsing. And there were sheer dropoffs plunging right into the water below on the slab that we were standing on in the near side of the overhang as well as on the far side of the overhang in the distance. So we just had to be content with this tiny falls and just gawk at whatever else caught our attention.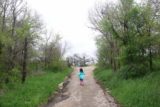 At 12:05pm, we made it back to the car. Again, the weather had held up, but as we were leaving McKinney Falls State Park at 12:15pm, we were starting to see more drizzle, which then turned to rain. I knew the relatively calm weather wasn't going to hold up given how the weather had been this week.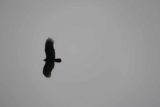 But even with the yucky conditions, I guess we can't totally complain given how Louisiana was getting the brunt of this low pressure system that was bringing moisture up from the Gulf of Mexico. We even saw footage on TV last night of Bossier City getting major flooding, and that was where we were going to go on Tuesday (after visiting New Orleans from Saturday to Tuesday).
Next up was Pedernales State Park.
This time, we followed the GPS though the Nuvi was working on an outdated map while Julie's iPhone seemed to have the more correct directions. Julie's iPhone had us driving on Burleson Rd as we were leaving McKinney State Park towards the Hwy 290 (instead of backtracking the way we came in). Once we were on the Hwy 290, we then followed this highway (starting off as a freeway before becoming a high speed country road as we left the Austin city limits to the west) into some more rainy weather.
We would follow Hwy 290 until we saw a brown sign for Pedernales State Park, which followed the local road 3232. Eventually by about 1:25pm, we showed up to the park headquarters for Pedernales State Park, which I went in to grab a trail map thinking we might need to do a little hiking for this one.
Then, we eventually made it to the car park for Pedernales Falls at about 1:30pm. It was still raining lightly and we thought we needed to don our rain ponchos and waterproof pants. But as we were walking the short trail that got us to the overlook of the Pedernales Falls, it seemed like these things weren't totally necessary. In fact, my waterproof pants weren't very breathable so I was actually getting wet from perspiration as opposed to getting wet from the rain!
Anyways, we could see from the overlook that Pedernales Falls was really a series of waterslides over probably a series of 3 or 4 obvious tiers. Once again, we could totally see why this place would be popular for swimming in the hotter months, but on a day like today, one would be nuts to be swimming in the Pedernales River given all the storm runoff.
As we saw there were people chilling out by some of the pools beneath each of the waterslides of Pedernales Falls, we decided ourselves to continue down some stone steps right down the left side of the overlook towards the banks of the Pedernales River. We eventually made it up towards a rock slab jutting towards the main waterslide's plunge pool, where we took a few more photos while Tahia was busy chucking rocks into that plunge pool.
Next, we made our way downstream just to see if there were other ways to experience this waterfall. And that was when we noticed that there was a split cascade (maybe only 5ft or so) spilling into the Pedernales River. But what was interesting about this little cascade was that it seemed like it was completely fed by a spring!
Indeed, it looked like there wasn't a sourcing creek going to these cascades, and instead, we saw water bubbling up from the sandy bottom creating enough volume before splitting up and cascading around a large slab of rock. Tahia was having fun with this spring as she had it in her mind to try to manually plug up the source of the bubbles.
Anyways, once we had our fill of this little surprise, Julie and Tahia made their way back up to the car park. Meanwhile, I did a little more exploring on the other side of the lookout, which apparently led down to the so-called Cypress Pool, which I think was perhaps THE spot for a swim as it was at the very bottom of the cascade series of Pedernales Falls. There was also a fairly sandy dunes or beach flanking this pool.
At about 2:45pm, I rejoined Julie and Tahia at the car. Even though I had seen people around the uppermost Pedernales Falls, I decided not to do the slippery slope scramble all the way up there from the main waterslides that we were at earlier. Even though that uppermost tier looked like the most vertical part of the Pedernales Falls, it also wasn't very tall so I figured I wouldn't regret not making this scramble.
And so we headed back to Austin. Along the way at 2:55pm, we made a brief stop near the park headquarters just to see what this scenic lookout nearby was about, but it was merely a flat view over a bunch of rocks and trees and nothing terribly special.
The weather was actually surprisingly calm during most of our visit to Pedernales Falls, but as we were driving back to Austin, the rain was increasing again. Anyways, we'd ultimately get to Whole Foods at about 3:55pm. Julie was very much looking forward to shopping here since she was a fan of the supermarket chain (although I tended to think of this place as "Whole Paycheck" simply because of how expensive the produce here was).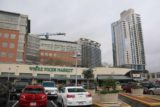 So we spent some time eating a bit of a lunner at this flagship Whole Foods, and then Julie spent quite a bit of time doing some grocery shopping. So it wouldn't be until about 5:50pm when we were finally back at the car.
I didn't expect to be spending two hours of precious vacation time shopping at Whole Foods, and so our hopes of seeing the Congress Ave bat migration as well as checking out any of the Austin downtown scene was pretty much down the drain. That said, Julie seemed to be in no hurry as she was genuinely excited about shopping here. I guess this was one reason why men are from Mars and women are from Venus, because while Julie was happily shopping, I was pretty much watching Tahia draw for most of these two hours.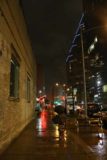 So I guess it was going to be all or nothing to check out the Austin scene tomorrow given that Obama would be at SXSW. Clearly, there'd be no way we'd want to be driving in the resulting mess.
But even as we were leaving Whole Foods, it was very crowded in the downtown area as we suspected that it must've been Austin's rush hour. So it took a while just to drive back to the Hyatt Place in downtown Austin. That said, we made an attempt to see if we could park overnight at a different lot than the expensive valet at the Hyatt Place. But when we saw that just about all the public parking was not for overnight parking and it was more for event parking for SXSW, we eventually returned to the Hyatt Place valet at 6:15pm.
Next, we got changed into street clothes, but it still took quite some time to even get back down into Austin. So once again, the battle of wills was mostly Julie's will winning out, and it wouldn't be until 7:10pm when we finally left our hotel room and went downstairs to try to experience downtown Austin.
But before we did that, we stopped by this Texas BBQ joint called Coopers, which was a reception recommendation given that La BBQ and Franklins tended to have long waits and might even run out of the good stuff if not there early enough.
We wound up eating at Cooper's at about 7:30pm. It was mostly drizzle and light rain on the way to Cooper's, but as we were eating the briskets, corn, and chili, we could see that it was pouring rain outside. I guess it was a good thing that we were indoors having our second dinner before we'd have to head outside.
So this would be our first Austin BBQ brisket fix, which didn't seem extraordinary. In fact, Julie once bought Texas BBQ brisket from Whole Foods back at home one time, and that some seemed more moist and tastier (albeit with a few more burnt parts) than Cooper's. I somehow had the feeling that we would wind up trying at least La BBQ on Saturday after Hamilton Pool before we'd be making the long drive to New Orleans. I'm sure the urge to experience the difference between this Cooper's place and La BBQ would be strong.
Once we were done with the brisket meal, the rain seemed to have subsided and the conditions seemed to be ripe to at least check out 6th street just to see what the hype was all about. But now Tahia was complaining that she wanted to go back to the room as she was tired (she did skip her afternoon nap today) so we split up. Julie took Tahia back to the room, while I explored downtown Austin for a bit on my own.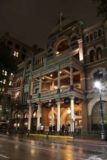 I was walking up Congress Ave in view of the State Capitol Building (apparently many other folks were out for a night on the town at this time), but eventually, I left the street for 6th street. That was when I noticed there was a historical-looking building, and when I looked closer, I could see that it was the famous Driskill.
Then, just a bit further to the east of the Driskill, I saw that there were a bunch of neon signs and lots of loud live music blaring from many of the bars that were lined up along 6th street. As I was strolling around this area peering into some of the bars (where some live bands were playing to pretty empty bars while others had audiences rocking), I was reminded of how this was very similar to Nashville.
However, the experience here seemed to have more of a rock flavor to it while the Nashville experience was more blue grass and country. The rain was a mix of light and moderate in intensity, but it didn't take long before I returned to our hotel room by about 8:45pm. I guess touring the night scene in this part of Austin wasn't the same when going it alone as opposed to sharing the experience with family.
Well, with one more full day of Austin to explore, I sure hope that we'll finally get to experience the essence of this city before we head off to New Orleans. We had largely avoided doing the all Austin thing until Friday knowing that traffic would be all messed up due to Obama's visit to SXSW. But with the forecast for more rain at least tomorrow morning, we'll see how much of a yucky experience this could very well be…
Day 3 (March 11, 2016 – Austin, Texas): "Austin 3:16"
It was about 7:50am when I awoke. I was surprised not to hear Julie's annoying alarm from her iPhone. But I guess she intentionally left it off so she could sleep in given that she was having trouble shaking off the stubborn flu that she has had for at least a week now. Tahia and I were pretty much over our flu, but we still had residual cough that was very slow in going away.
It wasn't until about 8:45am when Tahia finally awoke on her own. Julie didn't get up until around 8:30am. So I knew at this point that today was pretty much like yesterday repeating with the late start. Indeed, it wouldn't be until about 9:05am when we went downstairs for the ok breakfast that was included from the Hyatt Place.
While we were having the breakfast, we saw a bunch of people downstairs with badges. We figured that they were part of the South By Southwest festivities. And upon checking out some of the free literature, we saw that March 11-20 was the SXSW interactive and film festival. However, the SXSW Music Festival wasn't until March 15-20, and that was the SXSW that I had heard about through Triple J. In fact, this was the kind of event where new independent acts looked to get discovered, and I understand that now-famous bands like Haim, Bon Iver, and Alabama Shakes among others got their break here.
Anyways, the brekkie didn't take long, but Julie went to the convenience store next door to pick up some more water while Tahia and I were back upstairs in our room waiting for her. So it wasn't until about 10:15am when we finally went back downstairs to tour Austin.
As we walked out of the hotel, the skies were still overcast with on and off episodes of light to moderate rain. We headed over to Congress Ave, then went north directly towards the State Capitol building, which we could see clearly even from several blocks away.
There were lots of people walking along Congress Ave, and many of them were wearing badges just like the folks we saw inside the hotel. I guess this kind of reinforced how big of an event SXSW was even though the first four days was only the interactive and film festival. That said, I did see on the schedule that President Obama was supposed to give a keynote speaker address at 2:30pm at some convention center, but I guess we really couldn't tell which place was what considering that we still weren't that familiarized with Austin.
We passed beneath some historical-looking theater, which turned out to be called the Paramount. There were some things being set up for SXSW though it still seemed like whatever function that was going to happen here had yet to begin.
In fact, from looking at the agenda for SXSW, I got the impression that it was really nothing more than a bunch of functions in specific venues that included the flagship Whole Foods, the JW Marriott, and various other spots. The agenda was quite big for today, which illustrated just how extensive of an event this was. There was no possible way any casual visitor could go to all of these things, and it was probably more for industry types anyways since you had to have a badge to get into these functions.
So by about 10:50am, we finally arrived at the State Capitol Building. The weather seemed to have calmed down a bit when we arrived at the park surrounding the building. We could see that there were plenty of war memorials and statues in the park commemorating the Confederacy as it appeared that Texas really valued States Rights.
After getting through the metal detectors, we then realized just how grand this place was as soon as we entered the rotunda in the middle of the building. When we looked way up at the ceiling, we saw a lone star right in the middle, and that it was shaped like a dome. So I figured that the dome at the very top of the building could very well be the top of this rotunda that we were standing in.
At first, we thought we should do the 11am tour, but then we ultimately decided to remain in control of our own time so we just went up the elevator and did our own tour as we slowly went down each floor one at a time. While at the top floor, we got butterflies looking down at the tiny people entering the rotunda. There also seemed to be a bunch of closed doors that we couldn't get into up at this level though we did see a group of folks come down from some steps that were roped off (possibly leading up to the highest balcony closest to the top of the dome). Perhaps they were VIPs or something because the public couldn't go up there.
As we went down to the third floor, that was when we saw the upper levels of the House Assembly Room, which had a very dark yet wooden and reddish look to it. We took our time taking people shots while also imagining what this place might be like when it's a working room.
Then, we went to the Senate Assembly Room, which was more greenish and much lighter than the House Assembly. Upon looking out the windows here, we could see that the skies were clearing up momentarily and it even appeared like the sun was starting to make an appearance for the first time since we landed in Texas.
After checking out the Senate Room, we then went over to a section where there was a couple of courtrooms as well as a top down view looking into some library. That kind of piqued our interest more in going downstairs to see what else there was.
On the second floor, we went to see the floor-level perspective of the House Room again. But the Senate Room seemed to be more interesting as there were some Mexican-American war paintings, which really seemed to disturb Tahia as she was starting to understand the ugliness of war as depicted in the paintings.
At least the lady working here was entertaining Tahia commenting how she liked Tahia's clothes as even sharing dog stories.
When we had our fill of the Senate room, we then went into the library, which was definitely a working library as there were a couple of librarians and a handful of people keeping quiet and going about their business.
In the last quadrant, we went into some kind of Governor's Reception Room, which was very ornate with fancy furniture as well as some statues and plenty of stuff hung on the walls with chandeliers above. There was a guard as well as some folks walking in and out of the door behind the guard so apparently some stuff was going on during our visit.
Back on the ground floor, we then explored some corridors that we had overlooked initially. We even went downstairs into the underground corridors where there were some medal of honor tributes as well as a couple of long hallways showing the state of the Texas legislature during its history.
At 12:10pm, we went back outside of the State Capitol Building to finally experience the elusive sun for the first time on our trip. Just to our left, there was some kind of protest going on with cameras fixated on some guy in military garb while there was some lady wearing a sign while being topless! I guess her role was to get peoples' attention.
From reading the sign that she was carrying, it was clear that these folks were advocating openly carrying guns. That was interesting, but I'm not sure I'd feel very comfortable walking in public where folks would be openly packing heat, and at any given moment, you could be shot dead just by crossing a gun-wielder the wrong way.
Anyways, as we were walking away from the State Capitol Building, we saw there were a couple of ladies dressed in black making sure people knew about Jesus and God. I guess they felt it was their duty to spread the gospel in an effort to "save" those not in the know. Most of the folks (including us) went by them trying not to indulge in their banter. Indeed, this was one of those situations where some think these folks were just nuts worshipping imaginary friends while others maybe believers but probably don't view their faith in the same way as these folks.
Julie still wasn't feeling very well so we figured that now was the time to go have a lunch. So we walked south along Congress Ave towards this place called Roaring Fork. Once again, along the way there, we saw more SXSW signage and even some barricades and cones set up for line management.
While eating at Roaring Fork, Julie had some kind of salmon dish while I got this pork shoulder carnitas. We also got a side of spinach. While on paper, the food didn't seem extraordinary, the Tex Mex food was actually quite tasty. So this was a good call by Julie, and the prices seemed pretty reasonable for such an upscale lunch joint.
At around 1:15pm, we left the restaurant, then walked east along 6th Street. About 10 minutes later, we entered the historic hotel called The Driskill. Julie said that we could've stayed here instead of the Hyatt Place because it was apparently part of the Hyatt chain. However, this place didn't include breakfast so she felt it was less family-oriented.
That said, the Driskill was closer to the night life action along 6th Street so I guess if you were into the music and bar-hopping scene, then this would be the place to stay. Nevertheless, we spent some time checking out the grand halls including some of the upstairs levels, where we saw there was some kind of lounge as well as a banquet hall that seemed quite fit for wedding venues.
In fact, up at the banquet hall area, we saw there were more conference rooms being set up for some more SXSW festivities. We weren't sure what was going to happen up here as part of SXSW, but it was clear that it wasn't going to be today at this moment (though there were definitely folks actively doing something to get things set up).
At around 1:40pm, we were back out on the street. At this time, Tahia really wanted to go back to the hotel for a nap as she was in no mood to check out the 6th Street happenings. So we split up, and I was now on my own to explore Austin. It was too bad that I couldn't share the moment given Julie was still under the weather and Tahia was really starting to voice her opinions and preferences.
So I first continued going east on 6th Street. I followed the streets that I walked last night, but then I kept going another couple more blocks. There were lots of large trucks with trailers seemingly supplying barricades and other props for SXSW festivities. There were also a couple of road closures so for sure I had this feeling that 6th Street and the surrounding streets touching it was going to become a pedestrianized street.
I wish I could've seen it tonight, but I somehow got the feeling that Julie and Tahia wouldn't be as in the moment and so I'd have to leave it up to my imagination based on what I was seeing so far. I guess with the early wake-up for tomorrow in anticipation of being one of the first ones at the Hamilton Pool, we also had to get to bed early. Yep, this was one of the things I missed most about having a child – that I don't get to be as spontaneous as I used to be in moments like this.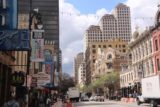 Anyways, there were some pubs that already had some live acts going on. However, it was mostly SXSW workers with badges as well as a few tourists going back and forth on either side of the wide 6th street. So I didn't see too much reason to linger for much longer.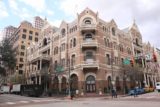 As I was leaving 6th Street and headed towards Congress Ave, I was headed south, when some random couple of guys were asking me what I was writing (in my journal). This happened at 2pm. Anyways, this was the start of a rather random conversation as these guys were touting that they were writers though the kind of journal writing that I was doing was far different than what they were doing.
One of the guys wanted to see what I was writing so I let him try to decipher my small handwriting and the notes that I had taken to this point. Meanwhile, this other guy who called himself Pirate Joe was trying to get me to his performance or something on Saturday. I doubted that I was going to stick around Austin for that long on Saturday, but I indulged him so I could end the conversation sooner rather than later (just content to get whatever pamphlet he wanted to hand me before I had to keep going).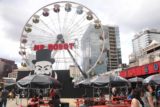 So when the conversation finally ended, I wished them well, and then I continued my walk south along Congress Ave.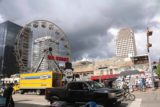 I then walked by some kind of thing going on where a sign said something to the effect of "F Society" while there was a huge ferris wheel with a clown-like face on it behind it. There was some REM music playing in the background, and I really wasn't sure what this was all about, but I suspected that this was a not-so-subtle protest against the deteriorating state of our democracy.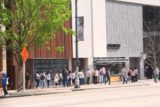 I continued the walk onto the South Congress Avenue Bridge, where the skies were the sun went away and the skies were now overcast. I knew that there were bats roosting beneath this bridge, and I kept thinking about ways to witness these bats (if they show up) while I was out and about for most of the afternoon. I was determined to at least walk all the way to Zilker Park before making my return to this bridge (hopefully in time for the bats at dusk).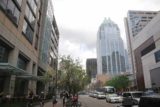 It turned out that I was on the wrong side (west side) of the Congress Bridge, because there was no way down to the hiking and biking trail way down below me. Apparently, that entranceway was on the east side of the bridge.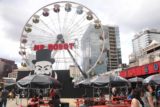 So I wound up on some side street before I reached 1st Street. There was some kind of protest going on as some lady was screaming into her megaphone while a dude that was with her was also making angry shouts. Apparently, they were trying to impose their message on passer-bys about God and Jesus again. In fact, one person was carrying the same kind of cross saying "Jesus Loves You" that the two ladies dressed in black were carrying by the Capitol Building earlier this morning.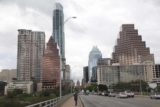 There were quite a few folks trying to ignore them while also trying not to get near them as we were waiting to cross the crosswalk. Then, on the other side of the street, we saw that there were many police (some on horseback) making sure that people didn't get close to some kind of convention center that was behind them.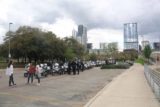 There was also a long line of motorcycle cops at the ready on one side of the Mathias Shores Park while there seemed to be a long line of vans fronting the Convention Center (which could very well be police or secret service, who knows?). Whatever the case is with such a strong police presence, President Obama must be in there giving his keynote address to SXSW.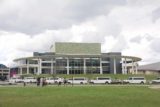 It was about 2:25pm when I got to this point, and his speech was scheduled to occur at 2:30pm. Amazing what things you discover when you just meander about on your own.
So now that I was at the Mathias Shores Park, I was able to access the hiking and biking trail finally at 2:35pm. At first, I followed the muddy trail east towards the South Congress Bridge.
Along the way, I saw that there were plenty of photo ops of the Austin Skyline fronted by the Colorado River as well as the South Congress Avenue Bridge. I had recalled seeing such a scene in a painting at some restaurant earlier on in the trip, but now that I was seeing it live, I was gladly taking pictures and trying to capture the scene that reminded me very much of something I might have seen in Brisbane, Australia.
I texted Julie about whether we should book one of the river cruises for the bat sightings (as there seemed to be a couple of vendors down here for that purpose), but when Julie didn't express that much interest in the bats, I passed on it.
When I finally went underneath the bridge at 2:45pm, I was studying to see where the bats were. I suspected that they were roosting in the dark trellis areas because the were nowhere around the more exposed areas.
That said, I did spot one or two bats frantically flying back and forth in an erratic pattern. As much as I wanted to take at least one photo proving that I had witnessed one, they were too quick and too erratic to reliably capture on a photo. Indeed, there were more larger birds around, and perhaps one of them might have frightened one of the roosting bats.
There were only joggers and bikers around, and no one else was around waiting for the bats to come out at dusk. So, I decided to do my hike back in the westerly direction along the Mathias Shores Park. There, I was essentially hiking along the Colorado River while also paying attention to some of the lookouts and monuments en route.
At one point, I saw that there was some kind of hill on the far western side of the park, where I managed to shortcut my way up the grassy hill then look backwards towards the skyline for some regal views of the Austin Skyline itself.
When I got beneath the Lamar Street Bridge, there was a busker dutifully singing some kind of country song even when there was no one around. It was also starting to sprinkle, which made me wonder if I was going to be a bit of a wet mess on my way to Zilker Park, which turned out to be further than I had expected.
Still, I marched on getting further and further away from the bat viewing spots. As the hiking and biking trail veered towards Barton Creek, I saw that there were some apartments neighboring this trail, which appeared to have been remarkably concealed from the urban developments just next door. I'd eventually get across a bridge over the Barton Springs Creek, and then I took a trail that went up towards a park road before I continued onto a very large grassy area. The time was now 3:40pm.
This grassy area must've been Zilker Park, and from seeing how vast it was (with some parts still flooded while others were a bit on the muddy side), I could see how they might hold big tented festivals or other kind of public functions here.
I even saw quite a few trees here on the periphery of the lawn area holding onto some kites that might have strayed and got tangled onto them.
In the distance towards the western side of the lawn area, I saw that there was some kind of rocky mound protruding up out of the lawn. When I went there at about 3:55pm, I climbed onto this rocky bluff, where I looked back towards the Austin Skyline rising above the extensive lawn area of Zilker Park.
This would've been a really awesome view if not for the dark clouds all over the place. I'm sure with the backdrop of blue skies, this would've been a postcard moment.
Anyways, once I had my fill of this rocky bluff, I then walked all the way across the lawn back towards the eastern part of the park, where I followed a couple down this shortcut that took me back down to the hiking/biking trail right next to Lou Neff Point.
The lookout here reminded me of a bird's nest, but it was also starting to rain a bit while I was here. So I took photos but I didn't linger for very long though the rain did subside momentarily just as I had my fill of the Lou Neff Point.
Next, I walked the trail back towards the bridges of Barton Springs Creek, but I took some time following some small railroad tracks leading me beneath the road bridge before getting to some other trail that was supposed to lead to Barton Springs. But seeing that it was still a ways away, I decided to turn back, cross over the Zilker Bridge, take one more photo of Barton Creek towards the Austin Skyline, then get back on the trail heading back towards the South Congress Avenue Bridge again.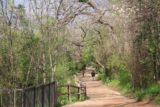 By the time this happened at 4:25pm, the sun was back out again.
With my legs and feet becoming more sore given the long stretches of standing and walking for the past three hours, I dutifully continued east along the hiking trail paralleling the Colorado River. As I got back to the Mathias Shores Park, it started to rain (at about 4:40pm).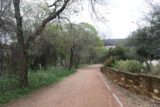 Unfortunately, I still had quite a ways to go before I could benefit from the next shelter beneath the First Street Bridge. And so for the next 10 minutes, I was starting to get wet from the somewhat moderate rain that was causing a bunch of people to pop open their umbrellas.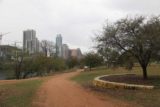 There was still police activity around the convention center, but perhaps they were there just to ensure that Obama could leave the facility safely (assuming he was still there).
By about 4:50pm, I finally made it beneath the wider 1st Street Bridge, where there were a bunch of folks on free-style bikes doing tricks as well as a few other folks trying to wait out the rain. So I chilled down here for a few minutes before I saw that it finally subsided just a few short minutes later.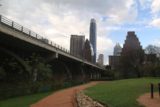 So I continued further along the wet hiking trail towards the South Congress Bridge, eventually getting there at about 5pm. It appeared that there were a handful of people near the viewing area for the Stateman Bats, but I couldn't tell if they were here for the bats or if they were gathered for something else.
At this time, Julie was texting me where I was. I was contemplating whether to stick around and wait for the bats, but it was still another hour or so before the bats MIGHT come out. So Julie talked me out of waiting for them, and there were also very dark clouds headed my way.
Anyways, now that I was on the correct side of the bridge, I got back onto the street level and walked all the way towards the Hyatt Place. I heard some loud music as well as witnessed a couple of long lines going into some venues. It seemed like these were also part of the SXSW festivities, and it reminded me that I was going to miss out on what's happening in these parts on this night – the first night of SXSW.
At 5:25pm, I finally made it back to the hotel room. And it didn't take long before we went back downstairs for an early dinner. We wound up walking towards this place called the Second Bar + Kitchen; getting there at 5:45pm. It was already busy, but it was really busiest at the bar (mostly by SXSW-badge wearers).
So we were seated pretty quickly, and we wound up eating things like the Avocado Fundido (which was pretty good and different), the flank steak with chimichurri sauce (not that great), as well as Julie's kale with salmon, and her carrot soup.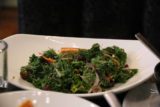 While we were eating, Tahia seemed to be mesmerized by the TV screens behind the bar playing some kind of film that looked real artsy. It definitely was something none of us recognized. And it also caused us problems in terms of her trying to finish her dinner. But eventually, she finished the food (begrudgingly), and we left the very dark restaurant where we saw outside that the pavement had been very wet as apparently another squall had passed through here during our meal.
Anyways, at 6:50pm, we were back at the room, where we finally called it a day. We wanted to end it early (much to my dismay of trying to be in the moment), but since tomorrow needed an early start, I guess something had to give…
Day 4 (March 12, 2016 – New Orleans, Louisiana): "Worth the Wait"
It was about 6:30am when Julie and I awoke. This was the earliest that we had gotten up given that we were still getting used to the two-hour difference between home and the Southern Plains time zone. But we needed to get up early so we could try to fit in the Hamilton Pool right when they opened at 9am while still having our included breakfast beforehand. We had punted the Hamilton Pool for this day given all the rains that the Austin area had received all week so I had suspected that they would close the attraction given the weather.
At about 7:20am, we finally went downstairs for the usual breakfast. And when we looked outside the window, we could actually see that there was actually sun outside! I think this was the first bonafide sun that we had seen all trip long (not the sun trying to pierce through the veil of clouds like throughout our first three days in Texas), and we knew that the weather was finally starting to improve. Too bad it took until we were leaving Austin for it to happen.
Once we were done with the ok brekkie, we then got our packed stuff (which we organized last night), and promptly went downstairs to recover the car from the expensive valet. As we were waiting for the car, one of the ladies working in the hotel (or at least the SXSW event inside) saw the sun and had this very relieved expression when she was conversing with the valet. It was pretty comical, but it kind of summed up how much the sun was missed this entire week in Austin. Anyways, we were inside the car and ready to leave downtown Austin at 8:25am.
The drive out of downtown involved a few wrong turns as I trusted the Nuvi with the outdated map, but we eventually took local streets before finding our way to the Tx-1 Loop from Cesar Chavez Ave due west. We then took the Tx-1 Loop right to the Southwest Parkway, which ultimately joined up with the Tx-71. I guess in hindsight, we should've taken the I-35W due south from downtown Austin, then take the US 290 west before taking the Tx-71 north. Oh well, you live and learn.
After a few minutes on the Tx-71, we then turned left onto Hamilton Pool Road, which had a few rough patches of uneven pavement. That said, we were hoping to be right at the pool when they opened at 9am, though we wondered just how busy it would be here since the folks in the Hyatt Place in Austin thought everyone would be in the city for SXSW. Anyways, the skies were definitely partly cloudy with lots of breaks in the cloud cover so we saw plenty of sun. Eventually at around 9:05am, we showed up to the Hamilton Pool entrance, where there was a lady there.
It didn't look good when the truck that was in front of us had to turn around. So when it was our turn to talk to the lady, she said that the Hamilton Pool was currently closed due to unsuitable hiking conditions. This was a real bombshell as this was the one waterfalling excursion that we had to do around Austin before leaving for New Orleans.
Now, she did say that the Hamilton Pool might be open at 1pm later today if the conditions improve. I wasn't sure exactly what that meant, but I presumed that it couldn't rain for all of this morning, and for perhaps the water level to subside in that time (as we suspected some part of the trail must have been flooded or something).
So during our moment of trying to accept the shock of this news, we continued driving west towards the Westcave Grotto thinking that perhaps we could kill some time there before coming back for the Hamilton Pool when they open.
The Hamilton Pool Road narrowed and twisted west of the Hamilton Pool, then it descended to another one of the low bridges that seemed really prone to flooding. Once we got across that, we then climbed up the other side before we got to the entrance for the Westcave Grotto at about 9:10am.
Once there, we saw that there was a gate that was closed with signs saying that this preserve was closed! The signs also said that it would open at 1pm so that gave me hope that even though we were told the Hamilton Pool MIGHT be open at 1pm, this claim on this sign in the adjacent reserve suggested confidence that it would be open at that time.
Still, visiting the Hamilton Pool at 1pm meant we were probably not going to leave the Hill Country until at least 2pm or so, and then, we'd be faced with a very long drive all the way to New Orleans, Louisiana. This drive was expected to take at least 9 hours or so. And it would definitely be driving in the dark.
Now, with this additional dose of reality setting in (especially that we might be arriving in New Orleans at around midnight on a night we have one hour less sleep for springing forward), we decided to drive back towards downtown Austin and wait in line for one of the famous BBQ spots called La Barbecue. We had contemplated going to Franklin's, which was said to be the best brisket place in Austin, but there was no way we were going to wait upwards of 4 hours (and waste precious vacation time) just for carcinogenic food. That said, La Barbecue was said to have a wait of upwards of an hour so it was worth getting there before they opened.
So we'd ultimately be in the east of Austin downtown along Cesar Chavel Ave, where we finally saw La Barbecue (which seemed like nothing more than a food truck) before finding street parking in the residential streets nearby. We parked the car at around 10am, and this place didn't open until 11am so we joined the handful of University of Texas students already here with chairs and blankets waiting for the place to open.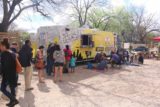 These young folks kind of turned this wait into somewhat of a social event as there had to have been at least a dozen or so co-eds just socializing and doing what folks of that age do. Meanwhile, Tahia was busy playing with my iPhone while both Julie and I were busy taking photos of the area as the crew here were getting set up. It was kind of smoky here as the three trailers where they were probably smoking or preparing the BBQ goods were spewing out the carcinogenic smoke. So we made sure that Tahia was playing in an area that didn't have as much smoke.
Not surprisingly as the opening time was getting near, the line was growing. And eventually at around 11:15am, we finally got to place our order. Right away, we wound up with 1.25 pounds of beef brisket (the guy misunderstood Julie thinking she only wanted a quarter-pound of the stuff when Julie asked for 3/4 pound), then we got a half-pound of BBQ pork ribs as well as pulled pork sliders, which was for Tahia. The whole thing costed us about $44 (including water and a side) so this food truck grub wasn't cheap.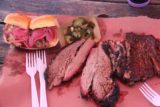 Anyways, there was some live entertainment from a guy playing cowboy blues solo just to add to the southwestern ambience. The line pretty much stretched all the way back towards some other food trucks (one was for fixing iPhones while another was for Thai food, though that one wasn't even open), which we witnessed while enjoying the cancer-causing lunch.
Tahia gladly ate her sliders while we I liked the moist brisket, which was definitely better than the Cooper's Restaurant that we had ate at in downtown Austin earlier in our trip. That said, Julie struck up a conversation with a couple who said that they had been to Franklin's and they said that Franklin's was better than this place.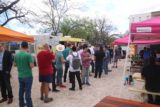 They said that the difference was in the wood that they cooked over as well as the spices that were used. I guess we'll have to give that a try the next time we're in the Austin area. Meanwhile, Julie really liked the BBQ pork ribs, which she said was pretty fall-off-the-bone. She even thought it was on par with the Houston's knife-and-fork ribs, which we always would get when we'd go to that restaurant back at home.
We left the area at about 12pm, and it turned out that we got a bit too much food so there was around a quarter-pound of brisket leftover that we decided to takeaway for later. Julie called the Hamilton Pool phone number and it gave the same recorded message saying that it was closed until possibly 1pm if conditions improve. So we just decided to drive over there to find out in person.
Julie voiced her concern about showing up to New Orleans late at night (especially since she looked forward to having Creole food), but with the forecast still calling for thunderstorms for most of today, I figured what's the hurry in going there so early? Still, it caused some tension between us throughout the morning, but I guess she resigned to the fact that we had to at least visit the Hamilton Pool before leaving. We may never have this chance again…
With many more cars on the road, it wasn't until about 12:50pm when we showed up to the Hamilton Pool once again (this time we wisened up and took the 290 to the 71 to the Hamilton Pool Road). But now there was some guy manning the front gate, and he was still turning cars away. When I asked him if the pool was closed for good, he said that it will be open at 1pm, but he didn't allow any cars to wait here until it was open in just a few minutes.
So we were trying to kill time driving around as there didn't seem to be an immediate spot or pullout to park and wait to go into the Hamilton Pool before the line got long. We found a pullout on the side road called Stage Coach Ranch Road, and while we were waiting, we could see lots of cars moving back and forth waiting for the preserve to open. So I knew that there would definitely be a line to get in.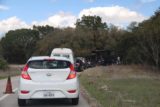 At a little after 12:55pm, we finally drove back towards the Hamilton Pool, where lo and behold, the guy was no longer at the gate! But now we were fronted by nearly a dozen cars at the gate. And as we were waiting, the line behind us already stretched back towards the highway! Good thing we didn't wait until 1pm to get here!
It took a while to finally get into the preserve and park the car because the familiar lady now at the headquarters was pretty deliberate in collecting the $15 vehicle fee. We saw on the sign that they charged a whopping $8 per person or bike to get in so that kind of pricing created this perverse incentive to show up in a car! Why pay more than $15 if you're in a group of at least 2 people or more when you can cover everyone in a carpool for just the vehicle fee?!? Strange.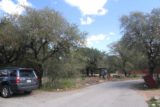 There was one guy who was warning all parked cars that it was $15 in cash or check, and that there was no swimming today due to high bacteria levels (no surprise since it had just rained hard all week and there was a lot of storm runoff). Besides, we were interested in visiting this place and not swimming anyways.
And by 1:10pm, we finally made it to the already busy Hamilton Pool car park. Immediately, we went on the quarter-mile trail, which wasn't that bad except that the rocks were still wet and slippery. Still, Julie and Tahia managed the descending part of the trail no problem.
Once we were at the bottom of the descent, it looked like the trail junctioned with the Pedernales River Trail, but that other trail was closed (not that we were going to do that trail anyways). Next, the trail meandered along the stream while passing by a few port-a-potties. There also seemed to be a maintenance road nearby (so I suppose it was technically possible to even drive down here if you were staff).
Anyways, the now-flat trail meandered between a few giant rocks before it was flanked by the stream and an impressive bluff of rock that created some welcome shade from the suddenly hot sun. Then, the trail was right next to the stream in a section that really looked like it was prone to flooding. And I was willing to bet that it was this spot that caused the trail closure this morning.
Just another minute later, there was a fork in the trail next to a new footbridge. This trail appeared to be the start and end of a loop that went right around the large pool, which must've been the Hamilton Pool. And right across the footbridge, there was a coarse sandy area right across the wide Hamilton Pool, where there was an impressive flowing waterfall fronting a very large collapsed grotto.
There were already quite a few people that made it here, and it was too bad that the sun was against us because that kind of made photographing the falls a bit difficult. Nevertheless, despite the non-ideal lighting, there was no denying that the Hamilton Pool was very beautiful, and it was every bit as advertised. Indeed, we were glad we waited to do this excursion even if it meant sacrificing the first night of New Orleans.
So Julie and Tahia went right into the grotto and hiked the rough trail for some photo ops. Meanwhile, I was taking my time trying to compose shots using the grotto or selectively framing specific aspects. There was simply too much going on to fill in a single picture frame.
Anyways, we all took our time trying to experience the Hamilton Pool waterfall from different angles. The contrast between the bright outside and the dark grotto made photography especially difficult. But still, we were caught between just enjoying the moment while also trying to convey our enjoyment through our pictures and movies.
Julie was still in a rushed frame of mind (clearly New Orleans was on her mind) so after taking a handful of family shots with the tripod that I brought), Julie and Tahia went back to the car first. Meanwhile, I was busy still photographing and documenting the Hamilton Pool, and I even completed the loop trail that continued right behind the well-flowing waterfall (in addition to some other overflowing seepage). At one moment, I thought I had heard something collapse from the grotto, though no one seemed to be aware. There was also one person on staff to make sure no one was breaking the rules and being prone to getting kicked out of here.
It wasn't until about 2:35pm when I made it back to the car. While the Hamilton Pool was a very busy place now (even busier than when we first showed up), the car park was even more crowded! Indeed, parking was limited, but now that the mission was accomplished, it was time to make the long drive to New Orleans. The GPS said we would be there at around 11pm, but I had a feeling that it might be more like midnight given how delays tend to occur when things get time sensitive.
Anyways, things were cruising along just fine as we followed the Tx-71 southeast of Austin towards Houston. But when we got to the I-10 due east for Houston, that was when we ran into some really nasty traffic. As we were stuck in the car jam, we noticed some trucks were shortcutting over a flooded ditch while others who knew the roads here intelligently exited the freeway and found a road that paralleled the freeway further to the east.
Well, we were pretty much stuck, and it turned out that this traffic jam costed us about 30 minutes.
When things were finally moving again, Julie wanted us to have a dinner on the way knowing that we weren't going to have it in New Orleans. So eventually at 6:15pm, we exited the I-10 near some mall called the City Center in Katy as Julie was seeking out Chipotle, and parked at this so-called Town and Country Parking lot after not having any luck parking in the City Center itself.
As we were busy walking around, we never did see the Chipotle that Julie was looking for so we wound up getting the Grimaldi's Pizza to go. It wasn't the healthy option that Julie was hoping for, but we weren't in the mood walking around and spending just as much time finding this Chipotle. Anyways, we got the pizza and ate it in the car. Then at 6:55pm, we paid the $6 to finally leave Katy and continue on the I-10 east.
Now, it was dark and we still had a pretty solid 5-6 hours to go to get to New Orleans. But before we could gather any momentum, there was yet another traffic jam from two oversized vehicles parked on the shoulder while passing through downtown Houston. Again, this traffic jam costed us yet another 20-30 minutes. It sure seemed like things were conspiring to keep us from getting to New Orleans in time for us to get some decent sleep.
Once we got out of Houston, the drive on the I-10 east was relatively smooth though there were quite a lot of cars still on the road. We made one gas stop somewhere near the Louisiana border (still in Texas though) near Orange at 9pm. But after that, we wouldn't make another stop until we finally arrived in New Orleans over three hours later.
Our accommodation at the Hyatt House was right next to the Superdome, and there seemed to be a lot of young folks out and about around both the Superdome area and the Hyatt Regency and Hyatt House block. We didn't know what all this was about (was there a concert or something?), but it was probably related to Spring Break.
Anyways, we finally parked the car at this Platinum Parking Garage at 12:35am. Then, we got our stuff together and walked to the Hyatt House reception, where we checked in, got our keys, and then we finally got into our very spacious apartment at 1am.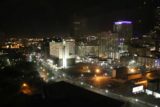 Julie's choice of staying in an apartment here was a very smart choice. I guess we were upgraded for being Hyatt Members, and this was proving once again that it was very worth being on the Hyatt Program (especially since our Sapphire card was partnered with Hyatt).
It wasn't until around 3am when we finally slept after tending to our hygiene and stuff. And as expected, it was not going to be the most restful sleep as we had already sprung forward an hour, and we didn't want to wake up too late or else miss out on touring downtown New Orleans later this morning…
Day 5 (March 13, 2016 – New Orleans, Louisiana): "A Different Kind of City"
It was about 8:25am when both Julie and I awoke. Our room faced east so the sun shone right into our room and provided that natural alarm clock despite us losing an hour of sleep from daylight savings (i.e. having to spring forward despite our late arrival and sleep time last night [or early morning to be precise]).
Indeed, we only slept a little over 5 hours, which was kind of par for me on some typical workdays where I would wind up sleeping late but still required the early morning wakeup. However, Julie had on the agenda for today for us to exclusively walk around the happening parts of downtown New Orleans (mainly the French Quarter).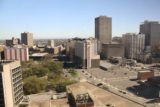 With the sun out and seemingly not a cloud in the sky, it seemed like today was easily the best weather day of the trip so far. So nothing was going to stop us except for time and energy, and perhaps our late start to the day.
So at 9:20am, we went downstairs for brekkie, but the Hyatt House seemed to really be short staffed (and some of the workers had a bit of an attitude), which contrasted mightily to our Hyatt experience in Austin where everyone was friendly and seemingly went out of their way to be helpful.
The food was pretty much the same fare as that of what we had in Austin, but they were short on things like hot water and just plain water. There was an omelette bar, but they didn't do over easy or sunny side up eggs. Only a particular type of folded over omelette.
Once the brekkie was done, it wasn't until about 10:30am when we finally went downstairs all ready to check out the downtown area of New Orleans. This was a big bucket list item for Julie so she really brought the energy on this day.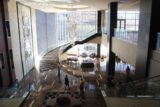 Keeping with the theme of understaffed and undersupplied, the Hyatt House didn't have any more city maps. However, we walked all the way to the adjacent Hyatt Regency, where Julie pursued the Hotel Concierge where we picked up a city map plus some pointers on which direction we should be walking to get to the French Quarter.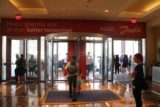 We also stumbled upon some kind of convention or event called the Danfoss Drives 2016 Convention, which happened to be taking place in the Hyatt Regency. Apparently, this was some kind of engineering firm (probably Norwegian if I had to guess based on the name), and that probably explained why the hotel lobby was so busy.
Anyways, we went outside into the pleasant morning air as there was seemingly no cloud in the sky and lots of sun. We followed Poydras Street for several blocks but somehow we missed out on Royal St. Apparently, it assumed a different name down by Poydras Street. So we backtracked then walked along Royal St en route to the anticipated French Quarter.
On one of the streets, I took a bad spill on a misstep at an intersection. I managed to roll as I fell and kept the camera from hitting the ground. That said, I managed to cut up both my knees pretty bad plus the side of my right leg and elbow. My left knee was bleeding, and Julie used Tahia's Frozen bandages to cover up both of the cuts on my knees (though the one on the left really needed to be covered up). Julie also sprayed alcohol on my open wounds, and they really stung on my right leg, which seemed to not have as severe a scab as my left.
Nevertheless, it was embarrassing as my spectacular spill was probably witnessed by cars waiting for the red light as well as some folks on a tour on the opposite corner. One lady wanted to check and make sure I didn't kill my camera on the spill, but so far no harm no foul.
Next, we crossed a very wide street with lots of flashy buildings flanking it. The center divider had a pair of railroad tracks for trolley cars or "streetcars". It turned out that this wide street was Canal Street, but we kept going on Royal Street in pursuit of the French Quarter.
Finally at about 11:10am, we found ourselves meandering about the French Quarter. I could see why they called it the French Quarter as it seemed like most of the street names and place names were in French. There were even a few signs in French though I didn't hear anyone speaking the language while we were out and about here.
As we toured the hallowed neighborhood, we started with Royal Street at first, which was charming in that we got to a part where it was mostly pedestrianized. So that made it easier for us to take photos and not worry too much about being in traffic. And there were plenty of things to photograph as we saw the colonial building with balconies while some of the buildings were colorful while others were fronted by flags of various loyalties (including the French-Canadian insignias).
However, as we walked one of the other streets towards the parallel Bourbon Street, that was when we saw even more of the charming architecture, plus the street somehow seemed narrower than that of Royal Street. We could easily see that Bourbon Street was pretty much all bars and some curio shops. Plus, there was a bit of a foul sewer-like smell that really disturbed Tahia.
So we walked around the relatively quiet Bourbon Street while checking out the ambience, and we even checked out this Musical Legends Park, where there was a live performance amongst several statues of jazz legends. There was a Cafe Beignet here, but Julie saw on her phone that there was a more original location on Royal Street.
So we bounced, and it didn't take long before we were back on Royal Street, where Julie went right for the Cafe Beignet at 11:30am, which was also busy with a line. Tahia and I claimed one of the few tables that were not cleaned up (it was full of used up plates, napkins, utensils, and lots of powdered sugar on the table), but we pretty much moved the rubbish to an adjacent empty table.
While Julie was waiting in the long line, Tahia and I were in between being busy quizzing each other on maths and english while also letting Tahia draw and let her imagination run wild. Eventually, Julie joined us with an order of a trio of beignets along with a cup of full cream milk, and we gladly had this beignet.
Julie was reaching back to the light and airy beignets we had at Crystal Cove in Newport Beach, and she thought that the beignets here were a bit on the doughier side. And now, her interest was piqued to see what the Cafe du Monde experience might be.
We were back on the street at 12:10pm as we were busy meandering some more about the French Quarter being fascinated by the colonial architecture and the jazz feel as some street-side buskers were out and about doing their thing to add to the overall ambience. Indeed, we felt like this city had a different feel to it than any of the other American cities we had visited. And it was this sense of the new experiences that really made us happy to be in the moment.
Around this time, Julie was looking for a lunch spot, and so we slowly made our way towards Jackson Square; getting there at about 12:55pm.
Now, this was where it seemed like the daytime crowd was really gathered. It was totally the happening scene as there were all sorts of little art exhibits surrounding the park with an Andrew Jackson statue right in the middle. There were lots of people meandering both around and within the square itself. Then, there was also an impressive church at the front end of this square.
With so much energy and ambience in this spot, this moment pretty much put us over the top in terms of being happy about being in the moment. Indeed, New Orleans was certainly a different kind of city. And now I could understand why Julie so badly wanted to check off this place from her bucket list.
As we briefly checked out the park, we then crossed the Decatur Street, where we saw there was some kind of Artillery Park. This small park had a raised lookout area peering back towards Jackson Square and the church of St Louis (I believe), but it also had a view towards the wide Mississippi River with bridges in the distance as well as a pleasant-looking walkway along the river.
It was getting hot at this time of day so we quickly seized the opportunity to make use of our tripod to take family shots. It wasn't an easy shot to take given how people tended to go in and out of the field of view for the photos, and I figured that we had better make use of this tripod because it was annoying to carry around, especially when city touring let alone hiking in the bush.
Next, we walked along Decatur Street, where we first located the Cafe du Monde, which had this enormous line that stretched from the famous beignet cafe all the way back towards the middle of the Artillery Park. That was crazy! So there was no way we were going to sit in that line at this moment. We were hungry for a lunch so Julie wanted to go to this place called Coop's Place for some jambalaya and other Louisiana food.
Even the walk along Decatur Street was atmospheric and happening though the street was a bit less charming than that of the signature parts of the French Quarter simply because there were too many vehicles driving along this street, which kind of took away from the overall ambience. Indeed, it was the allowance of cars in such areas that essentially made the difference between screwing up a very charming area or letting a charming area really stand out when pedestrianized.
Anyways, it wasn't until we got to the Coop's Place at around 1:20pm (after having passed by some French Market area as well as the LaTrobe Park) before we thought we were finally going to have a sit down place to relax for a bit and have a lunch. However, that place didn't allow anyone under the age of 21 inside the joint so that meant Julie had to go in there and order the lunch to go while I was busy keeping Tahia occupied outside.
It took a while for the food to be done so it wasn't until around 2pm when Julie finally rejoined us and we managed to claim a somewhat awkward sitting spot next to some plants to finally have our long awaited Creole lunch.
Indeed, it seemed busy no matter where we went, but at least it was mostly shady in LaTrobe Park where we hastily had our lunch of jambalaya, po boy, and gumbo. Personally, I wasn't into this kind of food so I wasn't exactly anticipating it like Julie was, but I had to admit that the spices in the food was what made this cuisine what it was. I'd imagine it had all the influences of spices brought over from Africa mixed in with the local products along with generations of recipes in keeping the tradition alive.
So this was something that we couldn't quite get back at home though that's not to say that chain restaurants or other wannabes back home would continue trying.
When we finished our lunch at around 2:30pm, we then walked into the sea of people crowding through the Historic French Market, which was full of food shops, restaurants, and souvenir stands. After slowly weaving our way towards the half-way point of the market, we backtracked when Julie found this place called the J's Seafood Dock as she was looking to get some crawfish and shrimp (ala Boiling Crab, but this time for the real deal).
We couldn't find a decent spot to relax and sit so we had to make do with a small table while grabbing a pair of chairs plus one broken chair. Julie picked up a pound of crawfish as well as a half-pound of this spiced shrimp, and I had to say that the shrimp was quite good. Plus, Julie cherished her crawfish, and we both thought that Boiling Crab had nothing on what we were having at this instant.
So this turned out to be like a second lunch though Julie kept insisting that this was nothing more than a snack. Still, we were both stuffed, but now we were headed over to the Cafe du Monde for our second fix of beignet.
Thus, we walked back along Decatur Street until we reached the still long line for Cafe du Monde at 3:30pm. At least this line wasn't as long as it was when we witnessed this earlier. But now that we were part of the queue, we knew that it might take a while before we'd get seated and relaxed once again. While waiting in line, Tahia got a butterfly balloon creation from one of the street buskers, and I knew he would ultimately get around to a donation, but I wasn't carrying a wallet at the time so I had to wait for Julie to get back to supply the donation.
However, Julie was busy waiting for her turn to use the restroom which also had a queue. Anyways, when she did return to us, we were then finally seated at the Cafe du Monde at 3:50pm. Even though the line looked long, it actually didn't take that long before we were seated, but it did take a bit of time for Julie to take an order. Meanwhile, it was my turn to get queued up to use the toilet facilities.
After getting our order, Julie paid the necessary cash for the beignets and milk, and we gladly ate the powdered-sugar-heavy beignets. As for a comparison between this place and Cafe Beignet, I personally couldn't tell that much of a difference between the two places. Julie was probably more partial to Cafe du Monde. But we both agreed that these places still had nothing on the beignets we had at this place at Crystal Cove in Newport Beach.
As we were eating the beignets, we were contemplating what we should be doing next. At first, we fancied going into the church to see the fancy decorations and grand chambers inside, but when we realized that the place was closed at 4pm, we then decided to stroll around the Mississippi River, especially since we saw that there was a steamboat (called Natchez) docked over there.
So we left Cafe du Monde at 4:30pm, and fifteen minutes later, we were chilling out on some benches in view of the Natchez Riverboat. Meanwhile, Tahia spent most of her time throwing rocks into the river. Indeed, it was pretty relaxing, and we needed to unwind just a bit before getting back into the action at the French Quarter.
At first Julie had this idea to check out the local's version of the French Quarter called the Frenchman Street, but when we realized how long of a walk it was (especially with a five-year-old in tow), we ultimately nixed that idea, then headed right back along Royal Street.
Along the way, we were mesmerized by the colonial architecture again (this time with late afternoon light) while we were also tranced by a large big band busking crew entertaining a large group. It kind of brought Julie and I back to the swing dancing days in the late 90s when we first met. And I could totally see how bands like Big Bad Voodoo Daddy were influenced by the New Orleans Jazz sound.
And by 5:50pm, we were at the Royal House. We didn't have to wait long before we were seated upstairs. We ordered some kind of Shrimp Creole while Julie had some kind of Shrimp Jambalaya dish. We got Tahia a side of grilled shrimp, and we splurged on a dessert of brownie a la mode. We also had a "free" (they only took off $10 out of $12 that it costed) appetizer (shrimp claw was what we got) as Julie checked in on her phone.
The whole time we were waiting for the food and eating the food, we were listening to this loud band that was playing on the street. It was a bit cacophonous in much the same way that a university band would do some freestyling, but it definitely added to the atmosphere.
At about 7:10pm, we were done eating and decided to check out more of the French Quarter at twilight. Now the Royal Street was noticeably quieter (though it was still busy) than it was during the day, but as we meandered towards Bourbon Street (getting there at 7:20pm), we immediately saw that this was the place where it was happening at this hour.
Indeed, this street was packed with people. There was loud music everywhere from the many bars that were here, and the twilight along with neon lights really made this a pretty cool place to try to photograph and capture the ambience in a photo. However, Tahia was still not keen on the smell, nor was she keen on the loud music and crowds.
When Julie saw that there were a couple of dudes fighting on the street (one guy getting pummeled while being pinned to the ground by the dude in dominant position), it didn't take long before we left Bourbon Street as this place was clearly not a place for kids. We even overheard someone saying this place was scary, and we could totally see why.
I guess in years past, we'd stick around this place a bit more to soak in the atmosphere, but it just simply wasn't practical to bring Tahia to this street.
So we headed back to Royal Street, which we could now appreciate why the concierge insinuated that Royal Street was classier than Bourbon Street. And then we made our way back to our hotel as twilight ultimately gave way to darkness lit up by the bright lights of the buildings we were going past. Julie and Tahia made one stop at a Walgreens, which turned out to be quite a long stop. And during that time as I was waiting outside, I got in yet another random conversation with a stranger.
This time, there was a dude who saw that I was still taking pictures, and asked what my camera had. Then, he went on his soap box and told me how he was local to NOLA and said how all this touristy stuff wasn't the real New Orleans; that he knew where the real "Nawlins" was, and that he was the real "Nawlins".
I indulged him for a few minutes before he found someone else to converse with. I'm sure he wanted some money from me, but the truth was that I didn't bring my wallet with me (for fear of pickpockets), and so I really didn't have anything to give at the moment.
Finally at 8:10pm, we were back at our room at the Hyatt House. While this might seem like an early end to a place as alive and kicking at night as downtown New Orleans, this was good enough for us as our nearly 10-hour day drew to a close. But boy what a day this was!
Day 6 (March 14, 2016 – New Orleans, Louisiana): "The Creole Culture"
It was about 4am when I abruptly awoke to very uncomfortable itching all over my body. It felt like there was something in my throat, and there was no way I could ignore all the itching sensations beneath my armpits, on my hips, on my arms, on my chest, back, and even feet and hands. Indeed, I had gone through this before, and I knew that it was yet another episode of an allergic reaction to eating shrimp head or parts of it.
I knew that it must've come from Jay's Seafood Dock at the Historic French Market, but I could've sworn that I tried to avoid eating the shrimp heads. But I guess I didn't do a very good job of peeling all of the skin off the shrimp before eating it, and so perhaps there were some bad things on there that should've been peeled off in the first place.
So I tried to kill an hour by surfing the web on the laptop while also drinking water to try to flush out whatever was in my system. And a little after 5am, I returned to bed as the symptoms seemed to have subsided somewhat (either that or I started to accept the current state and just dealt with it).
At about 7:45am, I awoke and so did Julie. It wasn't the 6:30am wake-up that Julie had wanted (to maximize the amount of time for today by doing the Plantation tours as early as possible), but we were just too tired to get up so early.
Besides, the hives or that severe allergic reaction that woke me up earlier in the morning was now mostly gone.
Once again, it took some time to get ready, so it wasn't until about 8:20am when we went downstairs for the brekkie. As usual, attention to detail wasn't the strong suit of this particular Hyatt House location so we saw that the water jug was empty as soon as we went down, and most of the nutella packs were also gone.
Once we were done with the brekkie, we went back upstairs to get our stuff together as today was going to be a driving day (though it was merely a day trip before returning to this Hyatt House for one last night in NOLA).
At about 9:05am, we went back downstairs, and ten minutes later, we were back in the parking garage. We were in a good spot as the car was practically right in front of the elevators on the 2nd floor.
And after a little bit of some detours while going around the Super Dome, we then got onto the I-10 as we were driving west towards the Plantations in the town of Vacherie. However along the way to the first plantation, which was planned to be the Laura Plantation, we ran into yet another nasty traffic jam due to an accident somewhere on the I-10 just east of the exit that would've led us to Vacherie (I believe it was Hwy 641).
Just our luck that this accident just had to take place in a spot where we had no choice but to endure the delay. So it was looking more and more like the 10:40am tour that we were hoping to catch could be in jeopardy, thereby forcing us to wait another 40 minutes or so for the next tour.
It turned out that this traffic jam costed us nearly 30 minutes. As we were driving the Hwy 641 or 3213, we wound up following the caravan of public service vehicles (some cops and an ambulance along with a fire truck) before they stopped to help someone else in need at one of the lighted intersections. After that, we went on a big bridge over the Mississippi River before taking the next exit, which curled us back towards Hwy 18. This road pretty much followed the river though the river itself wasn't visible as there was a levee dug up to essentially keep the river from overflowing its banks.
When we got to the car park for the Laura Plantation, it was 10:35am. When Julie first went in to purchase the tickets, it turned out that we were just in time for that 10:40am tour. So we didn't have to wait the extra 40 minutes after all though we were far from catching the first tour at 9am.
Once we were on the tour, we were essentially escorted by a young girl named Renee. She was actually quite good as she recounted the history of the plantation as well as the Creole culture, of which she was descended from.
We first went into the basement of the colorful masters' house, where Renee introduced us to the key people of this plantation starting with the DuParcs. Then, the story gravitated towards their descendants, who in turn passed down the work site (as the Laura Plantation was basically a work site) to their heirs. The plantation went through times like the Civil War, and we really got a sense of how the house and plantation were used to cultivate sugar, which was the key cash crop of Louisiana.
After going through each of the rooms on the upper floors of the main plantation home, we then walked over to the slave cabins, where we got a good sense of how they lived as well as worked. We also got a sense of how many of the freed slaves after the Civil War went right back to the plantations they worked on by hook or crook, or because they didn't want to leave the certainty of the plantations for the uncertainty of whatever was out there (including the Jim Crow laws and many more of the injustices that occurred well past the Civil War and into the Civil Rights era).
One thing that Renee encouraged was that we take photos of the interpretive signs along the way. Surely there was a lot of information to process, but taking the photos of the signs and reading them later would allow us to internalize it a bit more or jog up memories of what she said and what we were seeing. Heh, I was amused as this was one of the techniques I use when we do our waterfalling hikes or guided tours, and I'd often refer back to these signs for information instead of doing the lazy thing and just Google search what's out there (often times being inaccurate).
Renee also wanted us to imagine how the moral compass completely shifted 180 degrees in just 150 years. The mentality back then was that blacks were property, and they weren't treated as human beings. Of course when these things were said so matter-of-factly now, we react at how horrendously these people were treated as well as how shameful of a chapter slavery was in American history. However, she did a good job at reminding us of how normal that mentality was back then, and how the blacks were essentially free labor in a very lucrative business of growing sugar or other crops.
The tour ended and we were back in the car at 12:10pm. The tour was very educational, and we gave Renee a tip for the tour as we felt such a great oration and passion to go along with it couldn't go unrewarded. Tahia was also complimented by other folks on the tour saying that she had been a very well-behaved girl though she was messing with me at one point throwing little pebbles at me while the tour was still going on. That little she devil!
Next, we followed a line of cars further to the west as we then went to the Oak Alley Plantation. Julie looked forward to doing this one because it seemed to be in a lot of movies, and when we passed by a spot where we could see a line of oak trees flanking a walkway leading up to the Big House, it jogged up memories of what I might have seen in the movies like the Curious Case of Bejamin Button
(though for some reason I kept thinking about a Forrest Gump
scene here) or something like that.
I guess we were all thinking the same thing because sure enough about 10 minutes later, we were parked in the large (and unshaded) lot at the Oak Alley Plantation. Next, we paid the admission and realized that they were doing tours of the Big House on the hour and every half hour so we quickly made our way to where they do the tours since it was almost 12:30pm.
It turned out that our tour was a bit on the late side so I took some time to walk onto the walkway flanked by the line of oak trees for that signature shot looking back towards the Big House while Julie and Tahia were waiting in line. But since it was pretty much high noon, the sun was pretty much on top of the scene so it created pretty harsh shadows. I'm sure the best time to photograph this spot was probably first thing in the morning or in the twilight hours.
Once we were in the tour (which began some 15 minutes late), like the other tour at Laura, it was a big cozy as we listened to the tour guide (this one showed off a bit more French as he seemed to have retained a bit of his French heritage). The inside of the big house was quite ornate and grand, and it had that interesting mix of European as well as colonial.
Apparently, this property changed owners a bunch of times so the story here was not as fascinating nor orated quite like what we had at Laura. That said, the tour guide reminded us that once the slaves became "free" after the Civil War, the lucrative plantations were devalued to the point that they had to be sold because now labor costs went sky high.
Such an anecdote really hit home in terms of how related politics, policy, and money were. For if a fortune could all of the sudden become bust based on a post-Civil War policy position, it's no wonder why oil companies fight hard to lobby for legislation to deny the environment or why the FDA can be bought off to pass as safe cancerous or mass-extinction-accelerating pesticides or GMOs, etc.
So aside from that bit of insight, this visit was pretty much like a big photo run, and I guess the Oak Alley Plantation knew it because they seemed to have more amenities here like the mint juleps (kind of like a mojito with a shot of bourbon) stand at the Big House as well as a restaurant closer to the car park.
There were even workers at the Big House who were dressed in period dresses. Since Tahia liked dresses, I'm sure she must've been drawn to what they were wearing. I think they were there both as photo ops in addition to directing the traffic while also closing doors when a particular tour went beyond certain rooms.
So once we were done with our Big House Tour, we then walked along the Oak Alley. The sun was still on the harsh side, but we took even more photos (somewhat against the sun and shadowy) of the Big House with the line of oak trees fronting it. According to the tour (or what I thought I had heard), these oak trees were upwards of a couple hundred years old. There was one particular tree that looked like it was felled or died so there was a gaping gap in the line of trees, but for the most part, this photo op was as advertised (according to Julie since she did the research on this one).
We also took the time to take tripod shots for family photos since I was lugging it around in my backpack making it quite heavy and uncomfortable.
Next, we waited for a bit of a late lunch near the slave cabins display on a different side of the Oak Alley complex. We had to wait a little over a half-hour for our table, but when we finally were seated in the limited space restaurant, we enjoyed a shrimp creole that was much better than the place we had last night. Julie also had a blackened redfish while Tahia had a very unhealthy-looking Croque Monsieur (grilled ham-and-cheese sandwich).
After the lunch, we checked out the slave cabins, which were a bit re-created compared to the one at Laura. Then, we walked back to the Big House for one last go at the Oak Alley itself as the lighting was a bit less harsher this late in the afternoon as opposed to the high noon conditions we had earlier.
Next, as we were using the toilet facilities one last time near the Big House, we stumbled upon a short movie about how sugar was made. It was kind of like the "How It's Made" show they have on the Science Channel, and we could appreciate all the steps that went into growing and cultivating sugar, then processing it for consumption.
Given how labor intensive it was and all the steps that were involved, we couldn't imagine how the slaves would do all this by hand without the aid of such automation and control.
The movie was pretty enjoyable until the end when they went Fox News on us and tried to claim that sugar (or overconsumption of it) didn't cause obesity, diabetes, or other dietary problems. And how they encouraged the viewer to eat as much sugar as you'd like (as if there'd be no consequences to it). That prompted laughter from some students that showed up towards the end (we were watching the movie mostly alone until that point).
I guess that emphasized a bit more of how you'd defend your business as best you can if you're fortunate to have made a fortune or you're in the process of being on the way there. And then, you'd do anything to make sure you stay in business. Hence the propaganda at the end of this movie.
At 4:15pm, we were finally back in the car. Everyone was pretty much tired at this point (plus the day had been a bit on the hot and slightly humid side), and I was even finding myself getting a little fatigued on the long drive back to New Orleans.
There was a bit of a traffic jam on the 90 going into downtown, but that was when Julie finally acknowledged to me that we were supposed to listen to her phone (instead of the nuvi GPS) about staying on the I-10 towards Slidell then taking the left exit towards Poydras to get to our accommodation. That little misstep probably costed us between 20-30 minutes (seemed like traffic jams were the theme of this trip whenever we were on the interstates), so it wasn't until 5:35pm when we were back at the car park.
We quickly went back upstairs to lighten my pack as well as to use the facilities. Then at 5:55pm, we were back downstairs and going for the somewhat long walk back to the French Quarter for a dinner and one last go at experiencing downtown New Orleans with its atmosphere.
We ended up in line for this place called the Acme Oyster House at 6:25pm. There was a pretty long line here so we let Tahia play with my iPhone to keep her busy. And while Julie, Tahia, and I were waiting in line, we heard some commotion going on in the nearby Bourbon Street behind us, and I then went out of line to see what was going on (while Julie and Tahia stayed in line).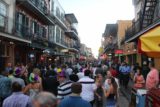 It turned out that there was loud music in a bit of a mix of parade and normal bystanders parading along with the source of the music and dancing, and Bourbon Street was bouncing along with them as it was packed with people while at the end of the line was a police escort. I did what I could to capture this atmosphere though it was tricky as the further away from the side of Bourbon Street I went, the more likely I'd get swept up in the parade like a swift moving current.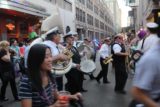 I kept thinking to myself that this must be where Mardis Gras would normally occur. Anyways, I also thought to myself that such a scene could only happen in New Orleans, and it was a reminder of how good it feels to stay in the moment and experience things like this when on travel.
At 7:05pm, we were finally seated inside the crowded and dark Acme Oyster House. The food in there didn't seem all that great, but they were most known for their oysters so we got a dozen of their signature grilled oysters while Julie got some crawfish, and we got Tahia a roast beef sandwich, which was more like a beef brisket sandwich than the dry and dark roast beef we're used to seeing.
Julie was disappointed in her crawfish as it didn't taste as fresh as what she had at the Historic French Market yesterday, and she also wanted to check out this more upscale French-Creole place at SoBou. So we didn't linger in this restaurant for long and we bounced at 8:05pm for SoBou.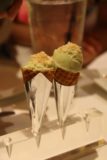 That restaurant was a block south of Royal Street so it was a little on the dead side. However the restaurant itself had a nice ambience with the lit up walls of bottles on the wall along with a more early 20th century look and feel amongst the low lighting.
But the real raison d'etre for being here was the food. And we wasted no time ordering a yellowfin tuna cone (some unique blend of raw yellowfin tuna with avocado and wasabi ice cream wrapped in a chip cone) then the sweet potato beignet, which was a very interesting savory beignet. The main was duck confit with some very subtle foie gras flavor.
This was like our second dinner so it was good that the portions were pretty much like a collection of appetizers (tapas style), and in fact, I could've sworn that they used the word pinchos to describe the portions of the food at this place (ala the pintxos you see in Northern Spain). That said, the food wasn't cheap as we nearly paid $60 with tax and tip (the service was quite good here) for all the stuff we had.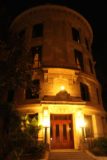 We were done with dinner at 8:50pm, and then we walked towards this place called Cafe Soule in search of one last go of the sweet beignet to see if there was anything better than those at Cafe Beignet and Cafe du Monde. Along the way, we saw this sweet place called Sucre (sugar in French), and we thought about getting their "souffle" but we didn't believe it would be the real deal so we kept going. However, when we got to Cafe Soule, we were told that their kitchen was backed up and the wait was 25 minutes just to even be seated.
So we decided that we wouldn't have our last beignet fix (we're still of the mindset that the best beignets we've had were at Crystal Cove in Newport Beach), and by 9:10pm, we were back at Sucre for our indulgence of sweets. We wound up having gelato as well as a couple of macarons each, and the $2 macarons were surprisingly good.
The place was busy but it just wasn't as crazy as the other places. Yet I had the feeling that all the places were busy in the French Quarter no matter where you go.
At 9:45pm, we left Sucre, then we headed to Bourbon Street just to experience the atmosphere one last time. When we got there, we saw that Bourbon Street was now mostly pedestrianized but it was still rocking (way more so that Royal Street) with lots of people bar crawling and lots of music blaring out of the pubs here.
There was definitely more of a polic presence here so perhaps Bourbon Street took on more of a kindler gentler feel than last night when we witnessed a street fight and lots of loud drunks being silly alongside rif raff.
It wasn't until about 10:15pm when we finally made it back to the Hyatt House. As we were getting cleaned up, there was some chopper flying around and rocking the walls and windows outside (who knows why), but besides that, with everyone very tired, it was pretty easy for us to just get cleaned up and sleep for our last night down in the Big Easy…
Day 7 (March 15, 2016 – Bossier City, Louisiana): "Aftermath of the Flood"
It was about 7:05am when we awoke. The skies were once again overcast and partly cloudy at this early hour, but we knew that the forecast had called for warm and sunny weather. Anyways, the original plan was to go to the Clark Creek Natural Area in Mississippi by the Louisiana border near Baton Rouge, then possibly visit some obscure waterfall in Louisiana at Sicily Island Hills or La Boeuf Wildlife Management Area, but given that we wanted to check out the Garden District of New Orleans, we thought we could at least do that this morning before going to Clark Creek, then making the long drive to Shreveport.
So the sense of urgency wasn't there though I wondered if we were taking our chances arriving in Shreveport at night time. In any case, it wasn't until 8:40am when we went downstairs for our final breakfast. Then, after the usual brekkie, we went back upstairs to wrap up our packing as we were going to vagabond it for the rest of the trip.
At 9:30am, Tahia and I had brought the luggage downstairs to the garage so we could load up the car. Meanwhile, Julie returned the room keys and checked out of the Hyatt House. Then, we slowly drive out of the downtown area and into the quieter Garden District in search of some of the estate homes with historical value.
Eventually at 9:50am, we stopped near 1st and Chestnut, where we saw the Anne Rice House. That house didn't look particularly impressive compared to the other neighboring homes, but we pretty much targeted the historical home then took photos of other incidental homes that caught our eye.
When we returned to the car, there happened to be a large tour group getting an explanation from the guide about the architecture of the homes here. I guess we stumbled right into the key area of interest.
Julie and I wondered what the residents of the homes here must think about the camera-wielding tourists taking pictures of their property. I guess they're tolerating it as long as the city of New Orleans is endorsing it to the tune of tourism dollars and jobs. But I could only imagine how annoying it can get being a resident here (not that we could ever afford to live in one of these places in our lifetime).
At 10:05am, we continued driving out of the narrow streets of this quiet residential neighborhood and towards a more happening area around the Lafayette Cemetery. We were lucky to have found street parking right by one of the main walking entrances because there were already quite a few people here, and the place definitely felt busier than it did within the residential area of the Garden District.
So we briefly walked within the uneven grounds of the cemetery (it was really easy to trip up here because the trees essentially uprooted a lot of the pavement above them), and it was eerily reminiscent of the Recoleta experience in Buenos Aires. Of course instead of the chance of seeing the Duarte family tomb, we were seeing some historical figures of the colonial era, including others who were baller enough to be buried here as recently as the 2000s or later.
I'm sure had we been on a guided tour, we probably could've gotten a bit more out of this visit as well as check out the most notable tombstones and memorials, but we were pretty content to check out the Children of the Destitute or something like that memorial before we exited out the other end of the cemetery. Then, we checked out this bright light blue building, which was apparently the Commander's Palace though it appeared to also double as a restaurant.
As much as we wanted to kill a little more time and eat some sweets here (especially the bread pudding souffle), they didn't open until 11:30am and it was still 10:30am at the moment. So we returned to the car and decided that we got the Garden District experience, and now it was time to go.
I guess we made good time because the cemetery suddenly became very busy with tours as well as individual tourists. I had no idea that this Garden District area was so popular.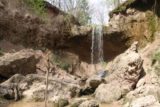 Next, we drove back towards the I-10 where we made the drive towards Baton Rouge. We made one quick gas stop (as well as potty break) before we continued on in our drive at around 11am. Unlike the other time we drove the initial stretch of the I-10 west of New Orleans, this time we didn't face traffic and it was pretty much smooth sailing going through Baton Rouge and then ultimately into the state of Mississippi as we continued north on the Hwy 61.
We'd follow the directions to the Clark Creek Natural Area based on some trail map and driving directions I got off the web. And with the directions being pretty spot on, we were at the trailhead for the signposted Clark Creek Natural Area and Waterfalls by 1pm. That said, we had to be a little careful on the last road to get there as there seemed to be quite a bit of water damage and potholes (though the vast majority of them were filled in).
After paying the honesty box $5 (though I realized that we probably could've gotten away with $4 since our party was less than 6 so we weren't supposed to pay the extra 50 cents per person), we promptly got onto the wide waterfall trail. The trail was pretty easy to follow and there were trail map signs at apparently each key junction.
However, the initial stretch of trail was mostly downhill, and I knew that this stretch would be a killer on the way back. In any case, it didn't take long for us to get to a signposted junction, where we veered left from the main path and descended towards the flowing creek (not sure if there was a waterfall there or not).
Well, it was a good thing that I did the scouting on this because it did indeed turn out to be the first waterfall of the trail. And while we tempered our expectations of waterfalls in the bayou, that first waterfall was surprisingly pretty scenic and had pretty decent flow (though nothing substantial like what we had seen in Texas earlier on in the trip). We got here at around 1:35pm.
The first waterfall had segmented plunges, and there was another couple that was already here. That said, when they saw us descending to the base of the waterfall, they left us alone and took off. And so we enjoyed this waterfall while taking photos and movies. However, it turned out that I managed to get a bite on my right elbow, which I wasn't sure if it was a mosquito or a sand fly. Whatever it was, it left a bit of an itchy bite, and I knew that I was a sitting target as long as I wasn't moving.
So as much as I wanted to let Tahia toss rocks into the stream and linger around for a bit, we knew that we still had the long drive to Shreveport from here. So we had our fill of the first falls, then climbed back up to the main waterfall trail.
At about 1:55pm, Julie and Tahia decided that they wanted to hike back to the car. So I was left alone as I promised them that I'd try to make haste in visiting the remaining waterfalls immediately accessible from the main waterfall trail.
After five more minutes, it turned out that I reached the second waterfall after veering once again from the main trail and descending to the bottom (as well as top) of this falls. While this one didn't quite have the size and character of the first, it had more of a gushing flow as it was singular. However, beneath the wooden steps, the ground seemed very steep and slippery, and so I opted not to try to get down to the base of this waterfall figuring that it wasn't worth the risk nor the extra time taken.
After climbing back up to the main trail, I then decided to continue on the main waterfall trail towards the rest of the waterfalls accessible. I had to go through a fairly featureless (except for the interesting trees and the up-and-down undulating nature of the terrain as well as some kind of shed with graffiti all over it) stretch of the main trail as it descended past a couple of flooded sections before climbing up a ridge. Then, it descended from the ridge around some rain-eroded gullies before going down a bunch of wooden steps to another creek. I'd be at the bottom at around 2:20pm.
I saw a trio of young folks down here, who greeted me with a peace sign. Apparently, they got to this point from a different starting point of the trail, and after reading the maps and figuring out where I was, I figured out that the remaining three waterfalls marked on the map required upstream stream scrambling.
So I dutifully made the stream scramble as I was well equipped with sturdy hiking boots. Besides, the stream wasn't deep though the terrain was certainly muddy, and the rocks were slippery to boot. There was also a downed big tree preventing obvious stream scramble progress, but I did see some trails of use going up and around this tree before continuing on the stream scramble. And eventually at 2:35pm, I'd get to what I called the third Clark Creek Waterfall, which was another gushing plunge of around 15ft or so.
There were some interesting cliffs with some color in them (not sure if they were natural colors or graffiti) as well as some minor overhangs. But when I had my fill of this waterfall, I was determined to at least visit the remaining waterfalls in the immediate area before heading back up to the car park to continue our long drive towards Bossier City or Shreveport.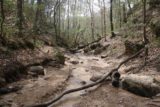 As I made my way back towards the part before the fallen tree obstacle, I then followed another fork in the stream scramble. I saw the same trio of hippies that I had seen earlier, but this time I was once again stream scrambling on this other stream.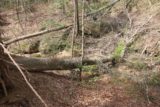 At first, I saw some alcove high up to my right with a trickling waterfall plunging over the open space below, but I punted that for later as I wanted to see the waterfall at the end of this particular stream scramble.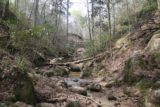 Unlike the first scramble that I had made, this particular stream was significantly muddier (even with some sections of quicksand apparently). So my boots were getting very dirty as every once in a while, my boots would sink into the soft ground around the stream. There was a lot of silt within the stream, which must've been deposited runoff from the recent rains and floods.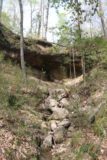 Still, if it weren't for the floods from last week, then almost certainly these waterfalls here wouldn't be flowing.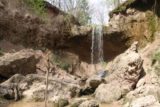 Anyways at around 2:45pm, I finally found what I was calling the fourth Clark Creek Waterfall. Like the third one, this one had a singular plunge and it was flanked by minor cliffs fronted with some big rocks and tall trees up top.
After having my fill of this waterfall, I then made the muddy stream scramble back towards that trickling waterfall, which I'll dub the fifth Clark Creek Waterfall (though it'd be a stretch to call that waterfall legit). Then, I made a brief scramble uphill within the stream to get right up to the trickling waterfall for a closer look. I wound up at the fifth waterfall's base at around 3pm.
If all the rains and flooding from last week would only produce a trickle that soon thereafter, then I could make the argument that this wasn't really a waterfall.
Anyways, I headed back downstream, but this time I thought there were some trails of use on the slanted banks alongside the minor stream. But they turned out to be nothing more than muddy slopes covered with leaves so they concealed the slippery undersurface. And thus, I had one misstep where I took a spill and landed on my butt, which I'm sure left mud on my butt and T-shirt.
Once I was back on the main stream, the scrambling became easier, and it didn't take long before the stream scramble was over and I climbed up the wooden (and slanted in spots) steps. Eventually, I'd reach the apex at around 3:10pm, where I then took a water break while getting my pack adjusted before continuing on.
Now, I was essentially hiking as fast as I could as I knew Julie and Tahia had been waiting for me for probably an hour by now. So with all the trail undulations, I'd eventually get back to the car park by 3:35pm after completing that arduous long uphill to the trailhead. With me being a hot and sweaty (and smelly) mess, I was glad that our car was parked well in the shade.
Now, with our waterfalling mission accomplished, it was time to continue on to Shreveport-Bossier City.
So we backtracked in the direction of Baton Rouge as we crossed back over to the Louisiana side, then we followed the Hwy 1 (which wasn't on my nuvi so it was very confused, but at least Julie's iPhone had this route). Then, we pretty much followed this road for a few hours. Along the way, we saw large stretches of swamp and what appeared to be lake or "sea" given how extensive some of the bodies of water we witnessed alongside the road were.
Little did we realize that we were starting to see some of the effects of the flood from last week and into last weekend that caused several parishes in the state of Louisiana to declare a state of emergency. In fact, we were going into Bossier City-Shreveport, which was right at the epicenter of the flooding late last week.
Boy was it a good thing that we didn't do the trip in reverse (clockwise) as originally planned, because we would've really be screwed with the flooding there. Plus, we would've really been screwed at the Texas-Louisiana border along the I-10 since they closed it this morning due to high water from all the runoff that went from northern Louisiana to southern Louisiana. It was amazing to think that just three days ago, we had crossed that stretch of interstate to get to New Orleans from Austin.
It took a while to get from the Hwy 1 onto I-49, but when we got onto that interstate, it was pretty smooth going as we could use the cruise control and just pay attention to the road as well as the cops. That said, I had one scare where one guy was going past me (and we were both around 5mph or more faster than the 75mph speed limit), and there was a cop right in the center of the interstate.
When I saw his siren go on, I had this sinking feeling that he could've chosen either one of us, but he opted to go past me and pull over the guy right in front of me. Whew!
So from that point on, instead of cruising at around 5-6mph over the speed limit, I reduced my cruise control a few more mph lower.
Perhaps what was scarier about driving north on the I-49 was seeing how close the bodies of water were from the interstate. We knew that these sections of the road could've easily been flooded during the rain storms late last week. And we could see in the vast bodies of water flanking I-49 some ramp closures (due to continued flooding) as well as some homes that were half inundated in the flood waters.
As the sunlight was fading after 7pm, we saw an orange globe sun through the light clouds in the distance over the flooded terrain to the west. Then, when it got dark, I was very cognizant of the deer danger as I had witnessed a few deer carcasses (as well as a few beaver or badger carcasses) on the shoulder of the road.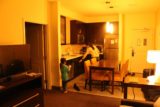 Finally at around 7:45pm, we finally arrived at our accommodation at the Residence Inn in Bossier City. We wasted no time getting our stuff up to our room at 8pm, then Julie made me change out of my muddy and stinky attire in exchange for more streetwise clothing.
At 8:10pm, we were back in the car, then we promptly drove to this mall called Boardwalk. Julie was in the mood to try this steakhouse in that mall, but they were closed at 9pm so we had to be hasty. At about 8:15pm, we were parked at the Boardwalk, then we quickly walked along the "boardwalk" alongside the Red River, which had some nice views across towards Shreveport's casinos on the other side.
Soon thereafter, we got seated and got our chain food dinner at this place called the Salt Grass Steakhouse, which apparently was a Texas chain (as we were asked if we wanted to be part of the Landry Select Club or something like that). I figured with a name like Landry, it must be referring to legendary Dallas Cowboys coach Tom Landry.
So we ended up having filet mignon as well as BBQ ribs and grilled jumbo shrimp. We had a crab cake appetizer, but with an early wake-up on order for tomorrow morning, we couldn't linger around for dessert, especially since the restaurant was closed by the time we were done eating at around 9:30pm.
The food was good, and I even checked out some NIT game that was being shown on TV at the time.
At 9:40pm, we got back to the car, but not before we spent a few minutes taking some night photos across the Red River towards the Shreveport Casinos (namely the El Dorado and the boat-looking Sam's Town). It was a shame that we couldn't be here a couple of hours earlier to take twilight shots across the river, but when it came down to the priorities of the day, Shreveport was last on the list in our limited time today.
At 9:45pm, we were back at the Residence Inn, where we finally could call it a day. And while the floods produced good waterfall sightings at Clark Creek Natural Area, we were definitely in awe of the flood aftermath that we had seen on the long drive. Hopefully, as we were continuing to go north into Arkansas tomorrow, we wouldn't have to deal with any more flood drama (let alone for the rest of the trip for that matter!).
And so the vagabonding and waterfalling end of our South Central USA trip would continue…
Day 8 (March 16, 2016 – Clarksville, Arkansas): "Little John"
It was 6am when we awoke to Julie's annoying alarm. Knowing that today involved a lot of driving in addition to at least two waterfalling excursions, I was hoping that we'd be out of Bossier City-Shreveport by this time. But since Julie was really interested in having the free breakfast at this Residence Inn, I resigned myself to the late start.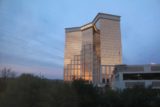 By about 6:45am, we went downstairs for brekkie. There were quite a few people down here, but we appeared to be the first ones to use the waffle making machine. And it was a good thing that we got started when we did, because a few minutes later, some kids showed up, and they were waiting to use the waffle machine as well. Since there was only one, they had to wait for Julie's job to finish before they could get started. There was quite a queue for the lone machine, so I could imagine what a further delay this would've been had we not come down here earlier.
Other than the waffle, we also had some sausages and an egg mcmuffin kind of sandwich in a biscuit. But since we were pretty much in a rush to get out the door and drive four hours into the Ozarks, we didn't linger for much longer. Yet even with our breakfast haste, it wasn't until about 7:45am when we loaded up the car and were finally leaving.
The drive up north from Shreveport involved going on the 71 before getting onto the I-49, which the nuvi didn't seem to recognize from Shreveport to Texarkana. The drive was pretty smooth, and we even got some morning views of some low lying fog floating over the calm reflective flood pools flanking the interstate. It was both scary yet beautiful at the same time.
At about 9:05am, we made a gas stop at the town of Texarkana, which was right on the Texas-Arkansas border a bit north of Louisiana's border. The speed limit went from 75mph to 70mph the moment we went into Arkansas. Anyways, when we were filling up, I couldn't help but think about the REM song "Texarkana"
, which was ringing in my head while we were here. I could only imagine that they might have been road tripping through the area or something and felt inspired enough to make a song about it.
Next, as we left Texarkana, we went east on the I-30, which was once again pretty smooth going. However, this time, Julie looked at her iPhone to look ahead for any traffic jams, and sure enough, there appeared to be a long one somewhere near the turnoff we were supposed to take to go north towards Petit Jean State Park, which was the reserve containing Cedar Falls. Cedar Falls was the main waterfalling highlight of the day.
So as we were getting close to the estimated start of the traffic jam, we decided to be smart about going around the traffic jam on the I-30. After all, we had encountered these things at least three times (taking about 30 minutes or more of delay each time) or more on this trip, and it was about time that we took matters into our own hands to avoid it.
Eventually, we'd exit the I-30 at the Hwy 270, which we briefly took south to a side road connecting with the Hwy 67. We then followed the 67 north as we crossed over a bridge above the I-30. It was when we traversed this bridge that we realized that Julie's iPhone was right, and that there was indeed a traffic jam that we wanted no part of.
Continuing north above the I-30, we then followed a local road called Fairplay Road, then we briefly got onto the Hwy 70 before continuing north on Narrows Rd. When this local road junctioned with the Hwy 5, we then went north onto the Hwy 9, which was a bit smoother going than the local roads taken earlier. The drive on Hwy 9 dominated most of the drive until it became Hwy 10 as we were going into Perryville.
We started to see a brown sign for Petit Jean State Park so we knew that we were going the right way. Then, when we got into the town of Oppelo, we turned left onto the Hwy 154, where we followed a pretty slow moving RV towing a jeep along the way. It wouldn't be until about 11:55am when we showed up to the visitor center for Petit Jean State Park.
Now unlike the other state parks that we had visited earlier on this trip, this particular park didn't require vehicle fees nor per person fees. It was pretty much free for all to enjoy (provided you were physically fit enough to do the upside down hike).
Anyways, after picking up a trail map and using the facilities here, we then drove over to the Cedar Falls Overlook, which we got to at around 12:05pm. There was a boardwalk that meandered closer to the cliffs and gorge containing Cedar Falls, and it was a bit of a longer walk than I had anticipated (though it was still on the order of 5-10 minutes).
Once we got to the lookout deck, we got sideways views of the wide semi-circular amphitheater containing the gushing Cedar Falls. The view of the bottom part of the falls was blocked by a tree that made the view somewhat unsatisfying.
We saw that there was a trail that kept going beneath the lookout deck, where a gentleman at the overlook told us that it led to a dead-end where there was a more upstream view of the falls. So we went there, but when we saw that the view from there was also obstructed by the same tree, we knew that the best way to experience the falls was not from these overlooks, but from the bottom. We knew that this was the case anyways, but our experience here pretty much confirmed it.
About five minutes later, we finally parked at the Mather Lodge, which was busy with lots of cars. But we still managed to get a parking spot towards the back. As we walked towards the lodge, I was drawn to a wide view behind the breezeway attached to the main lodge. On the other side of the breezeway, I gladly took photos of the panorama before entering the lodge.
Julie and Tahia were already inside trying to figure out what to order on the go. But when I came in and Julie showed me the menu, I decided right then and there to just dine in so we could have things like the blackened catfish or other things that might've been awkward eating on the go.
So we were seated at about 1pm, but the food was coming out very slow. In fact, at about 1:30pm, the waitress told us that something was wrong with the system and our order wasn't processed yet. When Julie got wind of this news, she flagged down the waitress and changed our order so we could take out as we were running out of time (we still had to get to Clarksville then do one more waterfalling excursion before nightfall).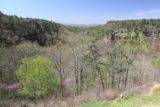 We anticipated taking 2 hours at the least to do the Cedar Falls hike so that would mean it probably wouldn't be until around 5pm when we'd finally leave Petit Jean State Park by our estimation at the time. Anyways, it wasn't until around 2:05pm when we finally got our takeout food. They took off 20% off the food price, but we were more concerned about the delay than the discount at this point.
So we had our lunch hastily at the panoramic view (so we wouldn't have to wait on service and things of that nature in the dining area), and it wasn't until 2:15pm when we were finally starting the Cedar Falls hike.
At first, we had to descend a lot of switchbacks and rocky steps. Tahia was a bit eager on the hike so she was essentially trail running, which concerned Julie and I as we didn't want her to turn an ankle or take a nasty fall, especially with the large and sharp rocks around.
Speaking of the rocks, the footing was a bit on the awkward rocky side, but it was nothing that Tahia wasn't about to do. In fact, she led our little hiking party of three, and she made sure that no one in this small group would pass her (hence the trail running).
Once we got to the bottom, the trail flattened out, then it crossed over the creek (responsible for Cedar Falls), where there was a footbridge that only allowed for 2 people at a time. So that caused a bit of a delay there as there were plenty of people sharing this trail and going in both directions.
Once we passed that part of the trail, we then meandered alongside the creek (or river? not sure), which was flanked by thin trees as well as some giant rocks. Again, there were lots of people on the trail so we were often times caught behind this large group of Hispanics or holding up some Caucasian hikers behind us (as we let Tahia set the pace).
Yet despite all that, we made it to the beautiful Cedar Falls at around 2:55pm. While we were there, we took some people shots while we were perched on one of the flatter rocks closer to the creek. There was a large shadow cast on the left side of the falls thanks to a large cliff and overhang (reminiscent of the Hamilton Pool except much taller), and so after we took our people shots, Julie and Tahia decided that they were going to head back to the car in the interest of saving time knowing that daylight was very limited from the snafu that took place at the restaurant at the Mather Lodge.
Meanwhile, I scrambled into the amphitheater and followed the narrow and slippery (with dropoff exposure) path leading closer to the backside of the falls. I didn't make it all the way behind the falls though there were plenty of younger folks that did go all the way behind the falls. But I was pretty content to capture the falls in the way that I did.
When I got back out of the shady amphitheater, I took a few more shots of the falls directly. But this time, I noticed that there were rainbows coming out of the mist at the very base of the falls. I'm sure had I waited a little bit longer, that rainbow would rise as the sun would continue to sink on the horizon.
But we couldn't afford to wait that long, so by 3:30pm, I had my fill of Cedar Falls, and then I quickly hiked back towards the Mather Lodge. The whole time, I thought I'd meet up with Julie and Tahia in the car.
Yet as I was passing some of the slower hikers, when I got back to the final ascent up to the Mather Lodge just beyond the 2-person footbridge, that was when I noticed that Julie and Tahia were up ahead. So I caught up to them, and then we returned to the Mather Lodge together at about 4pm. We made one last restroom stop in the clean bathrooms in the lodge, then we finally drove off at around 4:10pm.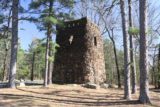 Now, instead of driving east on the Hwy 154, we drove west on the Hwy 154, which eventually took us to the Hwy 7. We went north on the Hwy 7, which gradually grew heavy with traffic, and it took some time before we'd finally make it to the I-40. Then, we quickly drove on the interstate eventually getting to Clarksville, where the Holiday Inn Express was right off the freeway on the outskirts west of town.
At 5:15pm, we quickly checked in so we could drop off some belongings. And with our afternoon check-in, we helped ourselves to a few chocolate chip cookies. Then, at 5:30pm, we drove off again this time to head towards the High Banks Twin Falls, which was going to be the last excursion of the day. I figured that this was supposed to be a short excursion and we stood a better chance of doing this before sunset than the Glory Hole Falls, which we'd have to punt for tomorrow.
The nuvi had us drive east on West Main Street before we cut across the North Ray Road then headed west on the Route 103 due northwest towards Ozark National Forest. Once we were in the forest boundaries, the road became a bit twistier and slower, and Julie openly wondered if we had gone a less efficient route to get to the falls from Clarksville instead of taking the Hwy 23 through Cass to get there.
Anyways, we were already committed to our current route, and ultimately, we'd arrive at the Route 215. Then, we drove west from there until we'd get to a signposted High Banks Canoe Launch car park at 6:05pm. There was one other truck that was parked here, but I sensed that it was just us that was here for the High Banks Twin Falls.
There was no signpost indicating the presence of the falls. So we knew that this was one of the more obscure waterfalls out there. But we also knew that we were supposed to scramble or hike from the bridge over the creek responsible for the High Banks Twin Falls. And so once we geared up and got out of the car, we backtracked to the Hwy 215 and walked alongside the road's shoulder until reaching the bridge.
Then on the east side of the bridge, we saw a somewhat obvious trail-of-use leading alongside the east side of the stream. It turned out to be less of a stream scramble than I had anticipated so the hiking was quite easy. There was also a detour leading to our right for some other side cascade, but that was merely a minor cascade that didn't warrant spending too much time there.
We continued on the trail of use then eventually did some minor rock scrambling along the banks of the stream before we finally reached the dead-end containing the double-barreled waterfall. The walk was probably merely a quarter-mile one-way.
Given the amount of rain (and flooding) that swept through Northern Louisiana and Arkansas, I was a bit surprised that the flow of this falls was somewhat lackluster. So I guess based on this observation, this falls probably couldn't last more than a few weeks without any replenishing rains. Thus, it might be more on the temporary side than a bonafide waterfall.
Julie and I debated whether to give this falls a 2 or a 1.5 given its short longevity.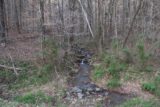 Since I brought the tripod, we spent time taking both long exposure photographs as well as some family shots. Then, when we had our fill of the waterfall, we scrambled back out of the stream and back onto the road. Then by 7pm, we were back at the car, where we promptly drove off and headed back to Clarksville via the Cass route that Julie had advocated in the first place.
As we made the drive west on the 215, the road remained pretty twisty, and when we headed south on the Hwy 23, the twistiness remained as we were following a caravan of two slower trucks in front of us. Anyways, when Julie was finally getting reception on her phone, she was busy Yelping possible dinner spots in the Clarksville area, but just about all of her first choices were closed at 8pm, and there'd be no way we'd show up before their kitchen closes.
So Julie had us going for authentic Mexican food at this place called La Chiquita (which was open until 9pm), and by 8:15pm, we'd finally find the place after the Yelp directions misguided us into going to downtown Clarksville on some random residential street.
We had ourselves a baja taco that had beef, avocado, and mangos. Meanwhile, Julie had camarones al mojo de ajo (garlic shrimp), and Tahia had some beef quesadilla. All this was accompanied with freshly made salsa and chips. And so for the reasonably-priced dinner, we had a pretty satisfying meal, which represented a pleasant change from the cajun food we had been having for the past few days.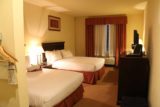 At 9:05pm, we were back in the car, and five minutes later, we returned to the Holiday Inn Express, where we'd finally call it a night. So tomorrow would probably be yet another long driving day with two fairly long waterfalling excursions, and with rain in the forecast for Friday, we'd probably have to deal with at least one or two waterfalling excursions (most likely Turner Falls in Oklahoma) that would take place in the foul weather.
So we'll see how all this plays out as such things were pretty much out of our control…
Day 9 (March 17, 2016 – Ardmore, Oklahoma): "Unexpected #2s"
It was about 7:05am when we awoke. As much as we wanted to sleep in, we knew that there was quite a bit of driving and waterfalling to do on this day. When I looked out our east-facing window I saw some menacing-looking clouds to the north as the sun was rising from the horizon up to the bottoms of the clouds.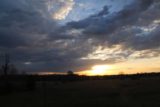 At 8am, we went downstairs for a quick brekkie. They didn't have waffles here, but they did have a pancake maker as well as the usual sausage patties and scrambled eggs. It seemed like all eyes were glued to some kind of news show doing election coverage (come to think of it, I swore it seemed like every other AM radio station I was tuning to in search of sports on this trip was about political talk).
At 8:35am, I started to load up the car while Julie and Tahia were wrapping up whatever was left to pack as well as taking a restroom break. It was pretty chilly outside, which contrasted mightily with the mostly warm and humid weather we had been experiencing thus far.
We finally left the Holiday Inn Express Clarksville at 8:40am, and we followed the nuvi GPS directions going east on Main Street into downtown Clarksville before driving northeast along the Hwy 16 before continuing to the east along Hwy 21. By around 9:35am, we got to what appeared to be the Glory Hole Trailhead as we saw a line of parked cars down a steep embankment off the Hwy 21.
But we weren't totally sure until Julie noticed a sign near the start of the trail for "Glory Hole Trail", but by then, we had passed our opportunity to park the car. So I had to make a three-point turn in the highway to get back to the line of parked cars, then we drove down the embankment to stake a claim to one of the limited parking spots.
As we went down the embankment, the steep slope caused the bumper of our car to scrape the ground. I don't know if it was because I took a bad angle or if this trailhead was really meant more for high clearance vehicles. But in any case, we parked the car and finally started hiking at 9:45am after getting geared up for the hike.
We went past the white sign stating "Glory Hole", then we followed the dirt road flanked by thin trees. There were a couple of large muddy puddles on the road, but we also saw there were use-trails going around those muddy spots.
Then, after keeping right where there was a false trail veering left, the trail then went a little more steeply downhill along a rocky path. After crossing a thin stream, the path continued its descent but we started to hear falling water as well as notice a few spur trails.
Upon exploring the first of these spur trails at 10:10am, we saw that it went to an interesting (albeit small) waterfall with some overhanging alcoves beside it. It wasn't worth spending too much time here as we knew the main attraction was still further ahead. So we returned to the main trail and continued our descent towards the Glory Hole.
But just as I was started to get momentum catching up to Julie and Tahia, I was distracted by another spur trail leading to the creek with yet another small waterfall. When I got there at 10:20am, I saw that this one wasn't as impressive as the first so I didn't linger here for long. However, when I returned to the main trail, I was distracted by yet another spur leading to the creek.
This time, I saw a series of small cascades, which were interesting. However, I sensed that the Glory Hole was very close downstream. So once again, I didn't linger for long and then I returned to the main trail. By 10:30am, I finally made it to the Glory Hole, where Julie and Tahia were conversing with a photographer with a tripod.
He showed me that I could enable alerts on my camera showing the blow out regions when I review photos in playback mode. And as we considered whether we should linger up here to check out the Glory Hole from the top, a large group of young hikers showed up. We thought they were going to linger up here so Julie, Tahia, and I first went down to the bottom on a trail that skirted around the dropoffs and followed yet another stream.
Once we were at the bottom, there were a handful of people down here all around the waterfall that fell through the Glory Hole itself. Frantically, Julie and I were taking what photos we could, but soon the large group of young hikers showed up and they pretty much hijacked the area around the Glory Hole for what seemed like an eternity.
The guy with the tripod also went down here and he was waiting patiently for them to also clear the area around the Glory Hole Falls. Meanwhile, Tahia was busy climbing some of the rocks as well as tossing some of the rocks into the stream. Both Julie and I were taking info shots with all the people at the base of the falls just to show off the scale.
Of course this waterfall was neither big nor tall, but it did have the natural pothole arch aspect of it, and that was what made this unique.
And as we were waiting for the kids to finish up doing their photos at the bottom of the falls, there were more people trickling in. Some were even at the top of the Glory Hole, which made for some interesting photo ops from the standpoint of showing just how popular yet accessible this waterfall was.
When the kids finally left, Julie and I (and the tripod guy) were busy seizing the opportunity to photograph the waterfall from as many angles as we possible could. Seeing the tripod guy made me wish that I had brought my tripod given how difficult it was to not take a blurry shot without that steadying instrument, especially with the contrast between light and dark zones resulting from the deep alcove.
At some point while we were all taking our shots, Tahia came up to us and said that she pooped in her pants. I guess without the availability of a restroom, she probably had it in her mind that she needed a toilet facility to do the deed instead of doing a nature call. The bad part was that she still waited until it happened before even telling us. So that pretty much took Julie out of enjoying the Glory Hole as they pretty much followed the cliffs in search of a private spot to clean up the mess.
That left me alone to take a few more shots of the Glory Hole before I went to the top at about 11:15am, dropped off my pack, then scrambled down to the top of the hole. There were quite a few wet spots up there, and I tried to make sure that I wasn't too close to the hole where it was possible to fall in and break a few bones or something. I was very cognizant that people have fallen in before.
Anyways, the experience up here was pretty compelling as well as I was able to show how the waterfall disappeared into the hole. I also got some pretty nice views looking downstream towards the handful of people approaching the bottom of the Glory Hole. There were even people sitting atop one of the large rocks hugging the cliffs further downstream.
From this vantage point, I finally saw Tahia and Julie approaching the Glory Hole again. So I was able to have them rendez-vous with me at the top of the Glory Hole. And when they arrived at the top (but not down into the part I was standing on), I handed the camera to Julie so she could take some photos of me besides the hole.
Once that was done, I scrambled back up to the top (taking advantage of some of the large rocks adjacent to the dropoff for lift), and then we finally left for the trailhead at 11:40am. The hike back was pretty uneventful though Tahia was going slower than before. There was one red truck that parked at the "false trail", which made us wonder if that other part was a private road or someone just decided to shorten the walk by driving in there.
At 12:15pm, we made it back to the car where there were a few more cars than when we started, but there were also some more empty spots. Now, it was time to continue the drive out of Arkansas and into Oklahoma.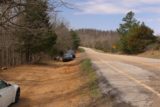 The GPS had us continue going east on the Hwy 21, which eventually led us to a charming small town called Kingston. While we were there at 12:45pm, we made a brief lunch stop where Julie went into the Weaver's Gas and Grill to pick up some freshly-made Philly Cheesesteak sandwiches to go. Julie said that she was charmed by the small town feel of this place because she witnessed how everyone who came in and out of the place seemed to know each other.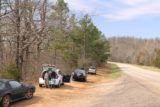 Julie got back to the car, where I briefly ate in the car before starting up the car and driving off at 1:15pm. The whole time I finally discovered that this car had Sirius XM so I was able to listen to March Madness when Jim Rome could no longer be heard on the radio (bummer). So I wound up switching between Stephen A Smith's show as well as some March Madness tournament games that were already underway.
The Hwy 21 pretty much junctioned with the Hwy 412 as we were leaving Kingston, but the surprising thing was that the Hwy 412 was pretty fast moving as it went east-west (even allowing us to go some 65mph!). We even passed into a pretty large town (more like a city) which I believed was called Springdale though it seemed to be joined up with Fayetteville to the south and Rogers to the north.
Amongst the slow moving traffic from all the traffic lights and high volume, we did make one emergency restroom stop at a Popeye's here at 2pm. Then, we continued on west on the 412 as the speed started picking up again. Shortly after passing the town of Siloam Springs, we crossed the state border into Oklahome, and not long after that, we saw a signpost indicating that the Natural Falls State Park was to our left soon.
So we turned left onto the N4680 Road, then at the next junction, the sign pointed to the left, where we obliged and were right into the Natural Falls State Park, which was very busy when we pulled in at about 2:55pm. There were lots of people camping here, and there was even a large outdoor playground that Tahia wanted to play in, but we knew that we still had a long drive all the south to Ardmore after this waterfalling visit so we couldn't indulge her. Anyways, first, we paid the $5 vehicle fee and put the red construction paper onto the rear-view mirror to prove that we paid, then we drove into the main car park for the falls at 3:05pm.
Given how developed this park was, I didn't even bother to put on hiking boots. We pretty much walked along this row of gravel surrounding a koi pond with some flower patches before getting under a signposted archway indicating that we were entering the Natural Falls and Dripping Springs Area. There was a sign showing a drawing of what the falls was supposed to look like, and that got us hastening our pace even more to get right down to the falls.
The well-developed boardwalk at first led us to an overhanging overlook high up on the cliffs looking down at the falls. The first thing we noticed was that there were springs coming out towards the bottom of the falls, but the main drop was not happening. So that made the falls look quite a bit different from what we were hoping. And I guess even with all the heavy rains that had occurred in the Southern Plain states last week, I guess that wasn't enough to revive the main part of the falls, which made me think that perhaps it was either more ephemeral that I had thought or that this particular part of northeastern Oklahoma didn't get as much rain as the rest of the Southern Plain states did (especially northern Louisiana).
So after having our fill of the upper overlook, we then followed the walkway (passing by a junction where one branch went to a lake that could clearly be seen from there) to the base of the falls, where we joined the many other folks down here sharing the view on a platform above the water. The sun was right behind us so the cliffs were perfectly lit with the falls. However, the alcoves flanking the Dripping Springs were dark. But even inside those alcoves, we could see there were more "waterfalls" or dripping springs percolating and dropping into the creek from within the shadows.
Anyways, after taking our people shots and documenting the experience, we then hiked back up to the car. Along the way, I made a brief detour to check out the high bridge spanning a particular gorge overlooking the Natural Falls amphitheater area. But with all the overgrowth and the high intrusive railing on the bridge, there really wasn't much in the way of photographing a different vantage point of the Natural Falls area down below.
Back at the car park at 3:45pm, Tahia was crying again because she told us that she pooped in her pants again, and she knew that there'd be consequences for doing it. So we hastily drove back to the visitor center to use their facilities, and fortunately, Julie came prepared with yet another spare underwear (though Tahia did get some poop on her pants as there was a giant log in there).
We don't know at what age kids stop doing this, but apparently 5 years wasn't good enough in her case.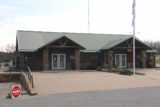 Once the icky episode was over, we then began the very long drive towards Ardmore at 4pm. As we were went on the Hwy 412, we took what appeared to be a fast-moving highway that turned out to be the Oklahoma Turnpike. So we were screaming along at 75mph (that was the speed limit) as we were headed towards Tulsa. There wasn't much of anything out in this area along the way except Native American reservations out here (I think we had passed through the Cherokee lands in this stretch).
At 5:05pm, Julie had us stop within the city limits of Tulsa so we could have an early dinner. We wound up at this place called Big Anthony's BBQ, where we had ourselves a three-meat combo of beef brisket, pulled pork, and ribs. Tahia got her pulled pork sandwich. That along with some sides of grilled veggies (including some signature cabbage dish) made for a pretty satisfying but not overfilling dinner at a reasonable price.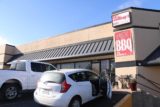 That said, Julie preferred La Barbecue's place, and apparently, we were one of the last folks to get meat here as the 7ft Big Anthony showed up to let the next customer's know that he ran out of a lot of meat. I guess the key thing with these BBQ places was to show up early (like we did at La Barbecue in Austin), and that would explain why there was such a long wait at Franklin's.
Anyways, now that we were close to visiting Julie's cousin in the greater Dallas area, she confirmed to Julie via text that Franklin's was the best BBQ place in all of Texas. I guess that piqued Julie's interest even more in that place, but it won't happen on this trip. We'll have to do that the next time we show up to Austin…
Seeing how tall Big Anthony was, it made me wonder if I had seen this guy play basketball at some point. He was a towering, but friendly presence. I was aware of the Tulsa Golden Hurricanes beating UCLA in the first round of March Madness back when Tubby Smith was coaching Tulsa and Jim Harrick was coaching UCLA in my freshman year of university (that was put Tulsa on the map in my mind). I found it interesting that I was now at the town containing that school, where even inside the restaurant, I saw an NIT champions sign in 2001. So despite the noise the school made during March Madness tournaments, I guess the NIT banner was all that they had to show for it. Of course, UCLA's championships were largely during the John Wooden era, but the year after getting bounced in the first round by Tulsa, UCLA did win their last championship in 1995.
After finishing up at Big Anthony's at 5:55pm, we then continued the long drive towards Oklahoma City on the turnpike. Given that it was pretty empty land between Tulsa and OKC, we were running dangerously low on fuel, and it wasn't until somewhere 20 miles east of OKC did we finally see a gas stop, where we had to stomach the $1.99 per gallon price tag to fill up at 7:05pm. I guess beggars can't be choosers in these circumstances.
Once we got to OKC, we then continued south on the I-35 where we saw a gorgeous sunset along the way south as it started to get dark. Finally at around 8:55pm, we arrived in Ardmore. We saw that Turner Falls was some 15-20 minutes north of Ardmore so that was where we were going tomorrow morning, but we also knew that the forecast called for thunderstorms so it promised to be a wet visit before we head to Dallas.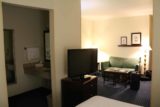 Anyways, we checked into the Springhill Suites and got into our room at 9:10pm. After all the listening to March Madness games throughout the drive, it was about time I finally got to watch some games. And I gladly did so at the expense of sleeping in late (after midnight). But with the forecast for thunderstorms tomorrow morning, I guess I wasn't exactly in any rush to be in the thick of the storm before leaving Oklahoma for Texas as we were wrapping up our trip…
Day 10 (March 18, 2016 – Dallas, Texas): "What's the Dealey, yo?"
It was 6:50am when we woke up. We could hear rumblings of thunder outside though it was still dark so we couldn't really see the effects of the apparent thunderstorm quite yet. But about 15 minutes later, the groan of the thunder grew more frequent, and there was a little more light outside where we could see that it was pouring rain outside.
So the weather forecast for this morning was pretty much correct about predicting the thunderstorms that would persist through northern Texas and southern Oklahoma though I held onto the hope that the storms would calm down by the time we checked out of the Springhill Suites. Thus, we weren't in that much of a hurry to get out of Ardmore just yet.
It wasn't until about 8:05am when we went downstairs for brekkie. This time there was a waffle making machine, but I was able to indulge my sweet tooth by spreading Nutella on it. Sure the saying, "A moment on the lips, a lifetime on the hips" crossed my mind, but neither Tahia nor I could resist.
Anyways, at 9:40am, we had finally leaded up the car, checked out of the Springhill Suites, then drove north towards Turner Falls ten minutes later. There had been some flooding in the parking lot where our car was parked so I had to move the car closer to the lobby area so we wouldn't subject our luggage towards the puddle.
The drive north was under much calmer weather than earlier this morning, but the clouds looked no less menacing. We eventually exited the I-35 at the Route 77, then we headed west along a twisty road ultimately leading to the well-signed Turner Falls Park. We saw a curio shop along the way, and I suspected that the overlook over there might have something interesting.
When we got to the entrance gate for Turner Falls, I thought I had heard the lady say that we had to pay $36 after telling her there were two adults plus a 5-year old. But Julie noticed that the receipt said that we were charged Winter rates so it was $8.76 total. I sure hoped the latter was true, because $12 per person was a total rip off.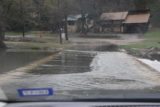 Once we were inside the complex, we drove past some buildings trying to follow the signs for the Falls Area. Shortly thereafter, we had to traverse a scary-looking concrete ford. Clearly, the thunderstorms swelled up the creek responsible for Turner Falls. We actually had to take the seemingly shallower left side of the first concrete ford because the lower end looked deeper, and I wasn't sure that our rental car would be able to handle that side.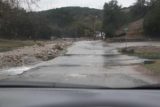 Then, there was a second concrete ford (which didn't look quite as scary as the first), before we saw that the direct access to the Falls Area was closed. So we drove up the hill in search of whether it would be possible to access the Falls Area even though we were higher up the hill.
At 10:20am, we found a paved car park near some Turner Falls Cabins. A signpost for the walkway from this car park stated that there was a walk to something called Bridal Veil Falls as well as a Natural Arch. So we went ahead and did this walk which was wet and slippery. But when we got to an overlook, we could see that there was a series of attractive looking cascades, but none of these cascades were part of the main Turner Falls.
As I continued further down the slippery and muddy trail to another overlook, I saw the natural arch, but the viewing angle wasn't very good. Plus, there was a lot of foliage obstructions. So in the end, this view wasn't all that worth the trouble.
Next, we walked towards the so-called castle, where there was a trail that went downhill through that castle then rejoining the road to the Falls Area. Then, we hastened our steps as we approached the bridge fronting the plunge pool area for the main Turner Falls. But with the dark gray skies and lack of color, our photos came nowhere close to the colorful photos that my Mom took when she made a visit here during a business trip before retiring a few years ago.
It was pretty quiet at the Falls Area as we even had a few minutes of the falls by ourselves. But as we had our fill of this travertine-like waterfall, we saw a whole crowd of people making their way to the falls as we were leaving. Eventually at 11:20am, we returned to our car.
While making our way out, we made a brief restroom stop at the park headquarters. So at 11:40am, we finally left the main Turner Falls area, then we drove back the way we came towards the I-35. However, we then made a brief stop at the curio shop (it was closed), where there were regal views of the entirety of Turner Falls as well as the series of cascades further upstream.
This overlook was very popular as several cars were up here to stop briefly, take their photos, then leave. We did the same thing. So by 11:50am, we were finally embarked on our long drive south into downtown Dallas. Turner Falls was the last waterfall we'd be visiting on this trip. And we opted not to bother with the Little Niagara at Travertine Falls, which was really more of a popular swimming hole anyways as opposed to a bonafide waterfall attraction in Oklahoma.
So the drive south on the I-35 was for the most part uneventful. We disciplined ourselves to stay within the flow of the traffic though there were moments where the drizzle and light rain made the roads slick and potentially dangerous. But we kept our distance as much as we could (though that didn't stop others from dangerously tailgating or clogging the fast lane unnecessarily).
We also had to deal with some traffic the closer to Dallas we were. I don't know what it was about the I-35 and traffic, but even when we were headed to Austin from Dallas at the very beginning of the trip, we had run into traffic problems along this north-south corridor of central Texas.
So it wasn't until about 1:55pm when we finally arrived at the Hyatt Regency, where we valeted our vehicle, and got our belongings to check in. We forsaked one of the more foodie places for lunch as we were running out of time in terms of doing a museum visit on this afternoon. Instead, after dropping off our stuff in the room at at 2:10pm, we headed back downstairs at 2:35pm, where we had a brief sandwich lunch from the little convenience store at the ground floor of the Hyatt.
We finally started walking to the downtown area of Dallas at 2:55pm. The skies were overcast but the weather was also a little on the chilly side. It seemed like the weather was still threatening rain, but so far it hadn't gotten worse than a light drizzle.
It was merely a five-minute walk before we got to the infamous Dealey Plaza. I knew from the history books and the conspiracy theory shows that this was where John F Kennedy was assassinated. And so Julie had us going to the 6th Floor Museum to get a more real experience at what really happened that fateful day in 1963.
Along the way, we saw an attractive building called the Red Museum, where the name of the building we thought was pretty obvious based on the color of the building. However, when we saw Native American pictures on the windows of that building, we started to wonder if the word "red" had a different meaning.
Meanwhile, we walked through the fountain area, which seemed to have lots of tourists in addition to passer-bys. By about 3:10pm, we waited in line to buy tickets, but we saw a huge line waiting to get into the 6th Floor Museum. At first, we thought this line was reminiscent of an airport experience, but then we were told that this line was really a time-based visit where people were told to come back at a particular time, then wait to get in. So our line was merely a short line to buy tickets, and we wound up paying $16 per person (Tahia was free) where we were told to come back around 4:15pm for our 4:30pm visit.
It was still around 3:30pm at the time so we killed time checking out Dealey Plaza, especially that Grassy Knoll area where supposedly a second shooter was said to have fired a gun towards the JFK Motorcade. There were attractive views towards the Red Museum as well as towards Reunion Tower and the Hyatt looking in a different direction.
We saw more JFK signs at this knoll, where some words from the speech he was about to deliver before he was shot was printed. Then, after the grassy knoll visit, we then went back to the fountains for more pictures of statues, signs, and views back towards the grassy knoll.
Then, we killed a little more time at the Museum Cafe across the street from the 6th Floor Museum, and by about 4:10pm, we waited in line outside for our turn to get into the 6th Floor Museum for our 4:30pm tour. A little after our appointed time, we finally went up the elevator to the 6th floor, where there were lots of people lined up and crowding around each display and booth.
It took a lot of time to listen to the audio guide for each of the displays (let alone read them), and so progress was slow. Anyways, the starting few booths painted a picture of the culture and attitudes of the era of JFK's first 1000 days as president. This included JFK's family, the music of the time, the Cuban Missile Crisis, and the social policies like the Civilian Conservation Corps that caused a lot of backlash with the right and therefore most of such policies stalled in Congress given the lack of party majority (especially with federal overreach and communism accusations – sound familiar?).
But the tour then made a dramatic turn as it then got into the fateful moments of the JFK assassination. It went over the key frames of the famous Zapruder motion sequence (including a real graphic one showing the moment JFK's head looked like it exploded) as well as a recreation of the arrangement of boxes at the corner of the building where Lee Harvey Oswald was believed to have taken the fatal shots (said to be three of them) at JFK.
There was even a web cam as well as an animation of what Lee Harvey Oswald (assuming he wasn't a patsy) must've seen when he took his shots. It really brought the Dealey Plaza to life, and it gave us a new appreciation of the very area we had taken photos in before we entered the museum. And indeed, it appeared that not a whole lot changed since JFK was shot at least as far as Dealey Plaza was concerned except that the trees grew bigger than back in 1963.
Then, the exhibit went into the investigation and conspiracy theories since the assassination as flaws and inconsistencies were found or disputed of the Warren Commission. The same was true of the acoustic tests that claimed there was a second shooter from the grassy knoll. Plus, there was the Jack Ruby shooting captured on film of Lee Harvey Oswald, which was really easy to conclude that perhaps Oswald was silenced as something greater was at play.
After all, when it comes to money and power (especially JFK's policies threatening those who stand to lose their wealth as a result), it would hardly be surprising if indeed something deeper was going on here. Then again, we'll probably never know, but there's no doubt that these kinds of things go on to this day. I guess it's just human nature when it comes to ill-begotten wealth and the protection of that wealth.
This was about as far as I got with the audio guides, but there was so much more to the visit. If we had more time, we probably could've spent another 30 minutes or so. But we now had to get back to the Hyatt to pick up the car and drive to our dinner spot, which Julie was targeting this place called Meso Maya.
On the way out of the museum, we got some nice views from the 7th floor (of the Lee Harvey Oswald corner view) as well as towards the Trinity River and the bridges spanning it. We then left the museum at 5:45pm, and we promptly walked back to the Hyatt, getting there at 6:15pm.
After dropping off my backpack, we then retrieved the car from the valet and drove off at around 6:30pm. We ultimately arrived at Meso Maya at about 6:40pm, but not before we were in a little bit of a traffic jam near the Dalls Reunion Arena, where we learned later that the Mavs were playing the Warriors. No wonder why we noticed quite a few people wearing Steph Curry jerseys back at the hotel!
Once we did the complementary valet with Meso Maya, we were finally seated at Meso Maya after around a half-hour wait. It turned out that the service from Marisela was very good and personable, and the traditional Central Mexican food was very good, creative, and different. We had an avocado margarita (though that had too much ice in it), Budin de Carne (very good), Herradera Salmon, Pozole (a soup), shrimp tacos for Tahia, and ensalada de ceviche (also very good and tangy). We ended it all off with a chocolate cake with corn ice cream.
All in all, it was probably a nearly perfect Mexican dining experience, and it was a great call by Julie to come here for dinner.
We were done eating at about 8:05pm, and finally at 8:45pm, we returned to our room at the Hyatt after dropping off our rental car with the valet again, then checking out the happening and spacious atrium within the Hyatt Regency. It all kind of reminded Julie and I of the Hyatt in downtown Indianapolis, and that included the butterflies-in-the-stomach views from the higher floors (especially where there were no windows).
Regardless, we called it a day, and we looked forward to seeing Julie's cousin's family tomorrow on our last full day in the Southern Plains States. But for the rest of this night, it was me watching March Madness late games, including two dramatic at-the-buzzer finishes as well as shocking news of a bracket busting loss by Michigan State. Indeed, they don't call it March Madness for nothing, but all that bit of entertainment pales in comparison to the precious moments we were experiencing live in person on this Spring Break Trip…
Day 11 (March 19, 2016 – Fort Worth, Texas): "Making The Most Of A Single Day"
It was about 7am when I awoke. It was still dark outside, but as Julie and Tahia eventually got up, I started to notice that the skies were partly cloudy by 7:30am as daybreak was slowly occurring. We had an original plan to take advantage of the late checkout (being Hyatt members) by doing the Reunion Tower first, then have lunch before checking out then do for Tahia the Dallas World Aquarium.
Well, those plans didn't work out because the Reunion Tower didn't open until 10:30am, which was too close to our planned get-together with Julie's cousin for lunch at 11:30am or 11am. So in the end, we resigned ourselves to not taking advantage of the late checkout (so far, we've never had to do this at a Hyatt even though it was available to us), and we decided to do the Dallas World Aquarium first since it was open at 9am.
So that meant that we had to check out of the Hyatt before we left, then pretty much take our chances by lugging our belongings with us as we drove from place to place. Apparently, Dallas wasn't one of those places where it made sense to walk everywhere, especially given how little time we had on this day with still a lot of stuff to do.
It wasn't until about 8:40am when we checked out of the Hyatt and retrieved our car from the valet. As we followed Julie's iPhone (knowing that the nuvi was thoroughly confused here and pretty much out-of-date), we eventually found metered parking by the Dallas World Aquarium at 9:05am. We wound up paying a steep ticket price of $10 as the machine assumed that we'd be here for the whole day. So it was a bit of a rip off. Only after the fact did we see that there were other meters where you could feed it coins and park for less time as well as a different lot with a machine claiming that it was only $7 for parking.
Oh well, we promptly followed a steadily growing crowd of people entering the aquarium at this time. And after hastily eating the croissant breakfast that Julie had bought at the Hyatt while checking out, we were finally allowed to go into the Dallas World Aquarium. And right off the bat, we could see that the place was decked out in re-created ecosystems (mainly of the rainforest variety), which already defied our notion of what we thought an aquarium was supposed to be. Indeed, with this place, it seemed like the word aquarium kind of undersold what was really going on here.
So we spent some time following the maze of walkways essentially guiding us on the second floor, which was very wide open as the bright ceiling (more like a greenhouse-like enclosure) capped a cavernous room full of rainforest foliage. Within the foliage, there were tropical birds flying about, monkeys climbing trees, a waterfall with fish in the freshwater stream below, and even two huge crocodiles resting besides a pool that was shared with spotted stingrays and large turtles and the odd pirhana.
Then, there were also isolated booths showcasing poisonous insects and snakes. As we went from upstairs to downstairs, we got closer looks at some of the same creatures we had seen from the second floor. We were also besides the artificial waterfall before we went into a more Monterey Bay-like aquarium feature where there was a large window showcased large fish including a very large manatee that didn't want to show its head.
Then, we saw bioluminiscent fish including the so-called flashlight fish and the moon jellyfish. Other booths contained tropical fish from places like Fiji, Solomon Islands, New Guinea, Lord Howe Island, Japan, etc.
Tahia was really keen on seeing some baby penguins, and when we finally got to the outdoor penguin exhibit, the area was cold (as it essentially shared the chilly outdoor Dallas air), and we saw some interesting looking penguins that appeared to be bearded. But there didn't appear to be any of the penguins shown in the literature. There was also a Madagascar area, but most of the organisms there weren't available.
Then, we passed through a shark tank where we walked through a tubular structure and watched sharks swim around us. Some of the sharks had interesting shapes like a nose shaped like a saw, while others looked like smaller versions of Great Whites.
Next, we went into a different area, where a separate rainforest-like enclosure featured flamingos as well as other freshwater life. This particular part of the arena also had owls and other more desert-like insects like a diamondback rattlesnake among others.
Probably the most featured animal in this large arena was a graceful yet awesome black jaguar. In the brightness of the DWA, we could clearly see how huge this jaguar is, as well as its tendency to clean itself like more domestic cats tend to do. However, we could also see that it really was like a lion adapted for the jungle as its black fur was the perfect cover at night when it would stealthily hunt prey.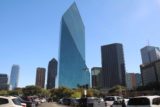 Throughout all the exhibits we had visited, the Dallas World Aquarium was busy and crowded, but it wasn't so overwhelming that it took away from the experience. In fact, the DWA totally exceeded our expectations, and Julie and I thought Tahia left this place a happy camper. Eventually at 10:50am, we were back at the car.
During our aquarium visit, we promised Julie's cousin that we'd meet them at Pecan Lodge at 11am. So we had a mere 10 minutes to meet up with them. But sure enough, by 11am, we showed up to the Pecan Lodge, where we saw them waiting in line for the place to open up. So we promptly payed $5 to park, then essentially joined them inside the restaurant as the place had just opened up.
We immediately saw that the line had wrapped around the interior of the restaurant before going out the door. But Julie's cousin knew something that we didn't when they said that there was a "special line". And the rub was this. There was an express line if you order 5 pounds or more of meat. So that was what we were doing, and we immediately sat and ate a bunch of smoked BBQ that very much was on par with La Barbecue that we had in Austin.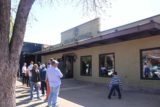 So we happily ate and did a little catching up over lunch. There was one employee who kept taking spent tin containers (that were used as plates) from us as it was apparent that his role was to usher us along so other people could sit in the seat we were in.
Anyways, there was so much meat that even the two families couldn't finish it. So by 12:15pm, we were done eating and we went outside. But before we parted momentarily (as we would meet up with them later this evening as they also had another engagement at 2pm), we seized the opportunity to take people shots though it was quite smoky outside as the meats were busy being smoked probably for the next day or for the remainder of this lunch time.
Next, Julie had us drive through a very rough part of Dallas (where we saw quite a few homeless people, including a sort of tent city beneath one of the overpasses). We did this because we were ultimately headed to this place called the Dallas Heritage Village. This was Julie's call as I had no idea what this place was about. But once we pulled up at 12:25pm, we could see straight away that there were buildings appearing as if time stood still since the 1800s.
So we went through the entrance, checked out a few buildings, then we learned that there was going to be a gunfight at 12:45pm in front of the saloon. So we waited for the gunfight, then saw it as a foursome of actors and actresses played out a robbery scene with a little bit of a twist. It turned out that the women were the co-conspirators and the men (one a cop and the other a known robber) were duped.
Tahia didn't like the gunfight too much because she thought it was violent. I'm sure the loud gunshots also didn't sit too well with her.
So afterwards, we then checked out the Renner School while also checking out the Dallas Skyline backing the old church. Inside the school, there was one person supervising while Tahia was busy playing the role of student in the mostly empty yet atmospheric classroom. This was on Julie's bucket list for things to do at the DHV, and we spent quite a bit of time trying to capture the moment of Tahia role playing as both the lone student in the room as well as the teacher behind the podium.
Next, we went to the Sullivan House, which seemed like an elegantly decorated house. Inside, there was a sweet lady who had a lot to share regarding the rooms and decorations here. However, I think she indulged us a bit too much as we probably spent a pretty solid 20-30 minutes in this one spot alone when we still had more to see in the facility.
Still, there was a lesson here in terms of teaching Tahia how to be respectful.
Then, we checked out other buildings that let us in, including a hotel, a doctor's office, another fancy home, and even an old railroad station. But at this point, Tahia wanted to see live animals, and we knew there were a couple of mules here as well as chickens and sheep. So we headed over to the far corner of the DHV (Dallas Heritage Village), where we saw a couple of blacksmiths doing their work with hot iron and live fire before seeing the animals.
Along the way, we also saw some veggies and herbs being grown. Tahia was even having fun interacting with the son of one of the workers here named William.
We ended off our tour by going into a very large two-story home that reminded us of the plantations we had seen in Louisiana near New Orleans. Along the way, it looked like preparations were being made to hold a wedding at this venue. Julie and I wondered how often they'd hold weddings here.
Anyways, Tahia was getting a bit tired and she loved to sit on the rocking chairs. But by then, I think we were pretty much getting DHV'ed out and so we were finally back at the car at 2:50pm. We definitely spent more time here than anticipated, but it was very educational and atmospheric, and we thought it was a rather hidden gem of Dallas.
That said, we still had at least the Klyde Warren Park to do as well as the Reunion Tower, and we had to do all this before meeting back up with Julie's cousin for dinner and chilling out with them later in the evening; all before checking into the hotel by the Dallas Fort Worth Airport for what would most likely be a night with very minimal sleep before catching a 7am flight the following morning.
So we next drove towards the Klyde Warren Park, and as we were navigating our way deeper into downtown Texas, we almost got distracted by the Dallas Farmer's Market. But given that we had to make a priority call on the spot (were we going to spend time here and make it an either or proposition on Klyde Warren and Reunion Tower? Or were we going to stick with our original plan and skip the DFM?), we stuck with the original plan and kept going downtown to the Klyde Warren Park.
When we finally saw the Klyde Warren Park, we could clearly see that it was a happening grassy area with a whole line of food trucks on one side of the park, and high rises surrounding the park (though the more compelling part of the skyline was looking towards the east). There were lots of people in the area, and it was a very happening scene. Even though Tahia was napping in the back seat, I knew that we had to be part of the action if we were to experience the best of Dallas on this one day.
So parking was clearly difficult to find in the immediate area around the park, but after making one circle, we drove a couple of blocks away from Klyde Warren Park, and we happened to find street parking near the Dallas Museum of the Arts (DMA) at 3:10pm. We were very lucky to have found this spot, and so we put in a coin to feed the meter another 50 minutes or so on top of the 30 minutes already in there, then we walked towards Klyde Warren Park. Since Tahia wasn't in the mood to wake up from her nap, we bribed her with the promise of ice cream.
As we walked to Klyde Warren Park, Julie tried to tease me about visiting the DMA (seeing how she was into the arts), but we all knew it was in jest as we had our priorities and were sticking to them.
Once we were at the park, we immediately soaked in the atmosphere, which was like a weekend afternoon with people out playing catch on the lawn while little kids were running around. There was even a children's play area, where Tahia immediately went in there to get in on the action. Meanwhile, Julie picked up some ice cream desserts from this food truck called Cool Haus.
And while all this was going on, I kept one eye on Tahia while also taking photos of the atmospheric park backed by the signature Dallas Skyline. We very easily could've spent quite a bit of time here, especially if there had been some kind of festival or performance (Julie's cousin told us that this place tended to have something going on). But alas, there was no such thing that we could tell on this lazy Saturday afternoon.
At 3:55pm, we returned to the car. Now that we got the gist of the Klyde Warren Park experience, we could totally see why it was so popular as well as a seemingly quintessential part of the Dallas experience. That said, I was told that this park was recently opened not that many years ago. So I guess we could attribute this to a little foresight and urban planning even with all the established structures in place.
At 4:10pm, we made it back to the familiar Reunion Tower and Hyatt Regency area. We followed the signs before we managed to find parking dedicated for the Reunion Tower. It turned out to be $6 for 0-4 hours, which we thought was pretty reasonable (though we wouldn't be using all 4 hours).
The car park itself had a nice view of both the Hyatt Regency and the Reunion Tower. But as we walked towards the tower by following the painted trail on the ground, we saw that there was something being set up for the Rock and Roll Half Marathon. We weren't sure if this had already occurred earlier today (maybe that was where the music that we heard from a distance while touring the Dallas Heritage Village came from) or if it was being set up for tomorrow.
Whatever the case, we got into the Reunion Tower area, which was pretty much attached to the Hyatt Regency lobby. So all this was pretty familiar to us from earlier in the day when we checked out of here. But then, we paid for the tickets to go up (I think it costed the family some $44 or something like that), and within a little over a minute, we were at the so-called Geodeck of the Reunion Tower.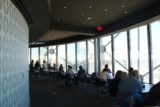 Naturally, we went outside, where there was a chilly breeze but someone good views of the skyline of Dallas as well as the Trinity River looking in the opposite direction. There were enough gaps in the fencing and girders to let us try to take photos decent photos, but after a short while, we took as many quality photos that we could before we retreated back inside.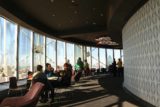 Then, we went upstairs, where there was so rotating cafe. At 5pm, we spent some time chilling out here patiently letting our sitting spot rotate away from the skyline then towards the Trinity River before making its way back to the skyline. It was a much-needed break, but we didn't stick around for the revolution to finish. So we headed back downstairs at 5:20pm, where we were greeted with a rather long queue to get back down. I guess there was only one elevator to get up here.
At 5:45pm, we were finally back at the car. Now with all the main sights that we had targeted being accomplished on this day, we were pretty fatigued of sightseeing. Still, the day wasn't over as we now had to drive up to Frisco (a Dallas suburb) to meet up with Julie's cousin again.
We'd eventually get there at 6:30pm as we took the Dallas North Tollroad (DNT), and during the drive, we wondered in hindsight if we should've taken the TxTag (I think it would've costed us an additional $30) seeing how many toll roads there were in Texas. But since we were only in Texas for a few days on this trip, we opted to do this a la carte.
After Julie made a brief stop in Target, we then finally made it to Julie's cousin's place at 6:50pm. So we finally got to see their place, and Tahia finally got to play with their three kids. We'd eventually have dinner at this pizza place at 7:20pm, and then we took our time catching up once again over dinner, then a dessert at a gelato place afterwards. The kids were having fun (pretending there were ghosts) on the walk to the gelato place because we had to stroll around the boundaries of what appeared to be a cemetery.
Back at Julie's cousin's place at 9:40pm, we chatted for a few more minutes before we were back in the car at 10:30pm. We still had to drive the toll roads to get to the Dallas Fort Worth Airport area (where there was a Hyatt House we'd be spending the night near the car rental center), and we'd eventually get there at 11pm. By 11:15pm, we finally got into the room, where we'd spend the remaining moments of this day wrapping up our packing while also tending to our hygiene.
We'd ultimately be asleep some time before 1am, but our alarm clocks were set to 4:30am knowing that we couldn't underestimate the time required to get all the way to the airport terminal, especially with all the rental car formalities to address…
Day 12 (March 20, 2016 – Los Angeles, California): "Anxious Moments at DFW"
At 4:30am, I awoke to the third sounding of the alarm. However, Julie didn't get up until nearly 5am, and Tahia didn't awake until 5:10am. Tahia was cranky as expected.
We'd eventually arrive at the rental car center at 5:30am, where we promptly left the rental car with the overworked individual tending to several clients before us. He finally said that if we had a flight to catch, we should just take off, and he'll close the rentals after the fact.
Then, by around 5:45am, we had some tense moments as we were waiting for the bus for Terminal D to show up. When a bus arrived for Terminal C at around 6am, the driver finally told us that he was also going to Terminal D. So we crowded into the crowded bus, and anxiously awaited our stop as we were going to be one of the last ones off the bus.
At around 6:10am, we were at the terminal D for American Airlines at DFW Airport. We did the check-in formalities, then we went through the security line, and then we had to hike all the way to Gate 20. With all this rushing, Tahia's crankiness increased as she didn't like having to walk so fast carrying her own pack on minimal sleep.
When we finally got to the gate at 6:30am, they were already boarding the plane. Even though we were one of the last ones to board, we still managed to have some overhead locker space for the stuff that wasn't checked in. When the flight attendants were greeting passengers embarking the plane, one lady tried to engage Tahia, but Tahia was in such a sour mood that she wasn't very receptive to the friendly conversation that the flight attendant tried to start.
It wasn't until we were finally seated that Tahia calmed down. And with at least this bit of pre-flight drama being over, we could finally try to get caught up on some sleep that we had missed out on earlier this morning.
When the plane landed on time in LA, it took a bit of time for the checked luggage to finally show up at baggage claim. But when that finally occurred some 30 minutes after we were out of the plane, we could finally start the process to go home, conclude Spring Break, and to get back to life, back to reality once again…
Visitor Comments:
Got something you'd like to share or say to keep the conversation going? Feel free to leave a comment below...
No users have replied to the content on this page