Day 9 (March 17, 2016 – Ardmore, Oklahoma): "Unexpected #2s"
It was about 7:05am when we awoke. As much as we wanted to sleep in, we knew that there was quite a bit of driving and waterfalling to do on this day. When I looked out our east-facing window I saw some menacing-looking clouds to the north as the sun was rising from the horizon up to the bottoms of the clouds.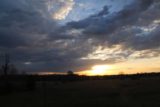 At 8am, we went downstairs for a quick brekkie. They didn't have waffles here, but they did have a pancake maker as well as the usual sausage patties and scrambled eggs. It seemed like all eyes were glued to some kind of news show doing election coverage (come to think of it, I swore it seemed like every other AM radio station I was tuning to in search of sports on this trip was about political talk).
At 8:35am, I started to load up the car while Julie and Tahia were wrapping up whatever was left to pack as well as taking a restroom break. It was pretty chilly outside, which contrasted mightily with the mostly warm and humid weather we had been experiencing thus far.
We finally left the Holiday Inn Express Clarksville at 8:40am, and we followed the nuvi GPS directions going east on Main Street into downtown Clarksville before driving northeast along the Hwy 16 before continuing to the east along Hwy 21. By around 9:35am, we got to what appeared to be the Glory Hole Trailhead as we saw a line of parked cars down a steep embankment off the Hwy 21.
But we weren't totally sure until Julie noticed a sign near the start of the trail for "Glory Hole Trail", but by then, we had passed our opportunity to park the car. So I had to make a three-point turn in the highway to get back to the line of parked cars, then we drove down the embankment to stake a claim to one of the limited parking spots.
As we went down the embankment, the steep slope caused the bumper of our car to scrape the ground. I don't know if it was because I took a bad angle or if this trailhead was really meant more for high clearance vehicles. But in any case, we parked the car and finally started hiking at 9:45am after getting geared up for the hike.
We went past the white sign stating "Glory Hole", then we followed the dirt road flanked by thin trees. There were a couple of large muddy puddles on the road, but we also saw there were use-trails going around those muddy spots.
Then, after keeping right where there was a false trail veering left, the trail then went a little more steeply downhill along a rocky path. After crossing a thin stream, the path continued its descent but we started to hear falling water as well as notice a few spur trails.
Upon exploring the first of these spur trails at 10:10am, we saw that it went to an interesting (albeit small) waterfall with some overhanging alcoves beside it. It wasn't worth spending too much time here as we knew the main attraction was still further ahead. So we returned to the main trail and continued our descent towards the Glory Hole.
But just as I was started to get momentum catching up to Julie and Tahia, I was distracted by another spur trail leading to the creek with yet another small waterfall. When I got there at 10:20am, I saw that this one wasn't as impressive as the first so I didn't linger here for long. However, when I returned to the main trail, I was distracted by yet another spur leading to the creek.
This time, I saw a series of small cascades, which were interesting. However, I sensed that the Glory Hole was very close downstream. So once again, I didn't linger for long and then I returned to the main trail. By 10:30am, I finally made it to the Glory Hole, where Julie and Tahia were conversing with a photographer with a tripod.
He showed me that I could enable alerts on my camera showing the blow out regions when I review photos in playback mode. And as we considered whether we should linger up here to check out the Glory Hole from the top, a large group of young hikers showed up. We thought they were going to linger up here so Julie, Tahia, and I first went down to the bottom on a trail that skirted around the dropoffs and followed yet another stream.
Once we were at the bottom, there were a handful of people down here all around the waterfall that fell through the Glory Hole itself. Frantically, Julie and I were taking what photos we could, but soon the large group of young hikers showed up and they pretty much hijacked the area around the Glory Hole for what seemed like an eternity.
The guy with the tripod also went down here and he was waiting patiently for them to also clear the area around the Glory Hole Falls. Meanwhile, Tahia was busy climbing some of the rocks as well as tossing some of the rocks into the stream. Both Julie and I were taking info shots with all the people at the base of the falls just to show off the scale.
Of course this waterfall was neither big nor tall, but it did have the natural pothole arch aspect of it, and that was what made this unique.
And as we were waiting for the kids to finish up doing their photos at the bottom of the falls, there were more people trickling in. Some were even at the top of the Glory Hole, which made for some interesting photo ops from the standpoint of showing just how popular yet accessible this waterfall was.
When the kids finally left, Julie and I (and the tripod guy) were busy seizing the opportunity to photograph the waterfall from as many angles as we possible could. Seeing the tripod guy made me wish that I had brought my tripod given how difficult it was to not take a blurry shot without that steadying instrument, especially with the contrast between light and dark zones resulting from the deep alcove.
At some point while we were all taking our shots, Tahia came up to us and said that she pooped in her pants. I guess without the availability of a restroom, she probably had it in her mind that she needed a toilet facility to do the deed instead of doing a nature call. The bad part was that she still waited until it happened before even telling us. So that pretty much took Julie out of enjoying the Glory Hole as they pretty much followed the cliffs in search of a private spot to clean up the mess.
That left me alone to take a few more shots of the Glory Hole before I went to the top at about 11:15am, dropped off my pack, then scrambled down to the top of the hole. There were quite a few wet spots up there, and I tried to make sure that I wasn't too close to the hole where it was possible to fall in and break a few bones or something. I was very cognizant that people have fallen in before.
Anyways, the experience up here was pretty compelling as well as I was able to show how the waterfall disappeared into the hole. I also got some pretty nice views looking downstream towards the handful of people approaching the bottom of the Glory Hole. There were even people sitting atop one of the large rocks hugging the cliffs further downstream.
From this vantage point, I finally saw Tahia and Julie approaching the Glory Hole again. So I was able to have them rendez-vous with me at the top of the Glory Hole. And when they arrived at the top (but not down into the part I was standing on), I handed the camera to Julie so she could take some photos of me besides the hole.
Once that was done, I scrambled back up to the top (taking advantage of some of the large rocks adjacent to the dropoff for lift), and then we finally left for the trailhead at 11:40am. The hike back was pretty uneventful though Tahia was going slower than before. There was one red truck that parked at the "false trail", which made us wonder if that other part was a private road or someone just decided to shorten the walk by driving in there.
At 12:15pm, we made it back to the car where there were a few more cars than when we started, but there were also some more empty spots. Now, it was time to continue the drive out of Arkansas and into Oklahoma.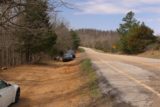 The GPS had us continue going east on the Hwy 21, which eventually led us to a charming small town called Kingston. While we were there at 12:45pm, we made a brief lunch stop where Julie went into the Weaver's Gas and Grill to pick up some freshly-made Philly Cheesesteak sandwiches to go. Julie said that she was charmed by the small town feel of this place because she witnessed how everyone who came in and out of the place seemed to know each other.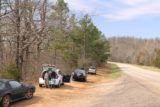 Julie got back to the car, where I briefly ate in the car before starting up the car and driving off at 1:15pm. The whole time I finally discovered that this car had Sirius XM so I was able to listen to March Madness when Jim Rome could no longer be heard on the radio (bummer). So I wound up switching between Stephen A Smith's show as well as some March Madness tournament games that were already underway.
The Hwy 21 pretty much junctioned with the Hwy 412 as we were leaving Kingston, but the surprising thing was that the Hwy 412 was pretty fast moving as it went east-west (even allowing us to go some 65mph!). We even passed into a pretty large town (more like a city) which I believed was called Springdale though it seemed to be joined up with Fayetteville to the south and Rogers to the north.
Amongst the slow moving traffic from all the traffic lights and high volume, we did make one emergency restroom stop at a Popeye's here at 2pm. Then, we continued on west on the 412 as the speed started picking up again. Shortly after passing the town of Siloam Springs, we crossed the state border into Oklahome, and not long after that, we saw a signpost indicating that the Natural Falls State Park was to our left soon.
So we turned left onto the N4680 Road, then at the next junction, the sign pointed to the left, where we obliged and were right into the Natural Falls State Park, which was very busy when we pulled in at about 2:55pm. There were lots of people camping here, and there was even a large outdoor playground that Tahia wanted to play in, but we knew that we still had a long drive all the south to Ardmore after this waterfalling visit so we couldn't indulge her. Anyways, first, we paid the $5 vehicle fee and put the red construction paper onto the rear-view mirror to prove that we paid, then we drove into the main car park for the falls at 3:05pm.
Given how developed this park was, I didn't even bother to put on hiking boots. We pretty much walked along this row of gravel surrounding a koi pond with some flower patches before getting under a signposted archway indicating that we were entering the Natural Falls and Dripping Springs Area. There was a sign showing a drawing of what the falls was supposed to look like, and that got us hastening our pace even more to get right down to the falls.
The well-developed boardwalk at first led us to an overhanging overlook high up on the cliffs looking down at the falls. The first thing we noticed was that there were springs coming out towards the bottom of the falls, but the main drop was not happening. So that made the falls look quite a bit different from what we were hoping. And I guess even with all the heavy rains that had occurred in the Southern Plain states last week, I guess that wasn't enough to revive the main part of the falls, which made me think that perhaps it was either more ephemeral that I had thought or that this particular part of northeastern Oklahoma didn't get as much rain as the rest of the Southern Plain states did (especially northern Louisiana).
So after having our fill of the upper overlook, we then followed the walkway (passing by a junction where one branch went to a lake that could clearly be seen from there) to the base of the falls, where we joined the many other folks down here sharing the view on a platform above the water. The sun was right behind us so the cliffs were perfectly lit with the falls. However, the alcoves flanking the Dripping Springs were dark. But even inside those alcoves, we could see there were more "waterfalls" or dripping springs percolating and dropping into the creek from within the shadows.
Anyways, after taking our people shots and documenting the experience, we then hiked back up to the car. Along the way, I made a brief detour to check out the high bridge spanning a particular gorge overlooking the Natural Falls amphitheater area. But with all the overgrowth and the high intrusive railing on the bridge, there really wasn't much in the way of photographing a different vantage point of the Natural Falls area down below.
Back at the car park at 3:45pm, Tahia was crying again because she told us that she pooped in her pants again, and she knew that there'd be consequences for doing it. So we hastily drove back to the visitor center to use their facilities, and fortunately, Julie came prepared with yet another spare underwear (though Tahia did get some poop on her pants as there was a giant log in there).
We don't know at what age kids stop doing this, but apparently 5 years wasn't good enough in her case.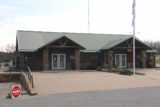 Once the icky episode was over, we then began the very long drive towards Ardmore at 4pm. As we were went on the Hwy 412, we took what appeared to be a fast-moving highway that turned out to be the Oklahoma Turnpike. So we were screaming along at 75mph (that was the speed limit) as we were headed towards Tulsa. There wasn't much of anything out in this area along the way except Native American reservations out here (I think we had passed through the Cherokee lands in this stretch).
At 5:05pm, Julie had us stop within the city limits of Tulsa so we could have an early dinner. We wound up at this place called Big Anthony's BBQ, where we had ourselves a three-meat combo of beef brisket, pulled pork, and ribs. Tahia got her pulled pork sandwich. That along with some sides of grilled veggies (including some signature cabbage dish) made for a pretty satisfying but not overfilling dinner at a reasonable price.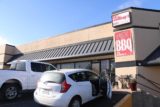 That said, Julie preferred La Barbecue's place, and apparently, we were one of the last folks to get meat here as the 7ft Big Anthony showed up to let the next customer's know that he ran out of a lot of meat. I guess the key thing with these BBQ places was to show up early (like we did at La Barbecue in Austin), and that would explain why there was such a long wait at Franklin's.
Anyways, now that we were close to visiting Julie's cousin in the greater Dallas area, she confirmed to Julie via text that Franklin's was the best BBQ place in all of Texas. I guess that piqued Julie's interest even more in that place, but it won't happen on this trip. We'll have to do that the next time we show up to Austin…
Seeing how tall Big Anthony was, it made me wonder if I had seen this guy play basketball at some point. He was a towering, but friendly presence. I was aware of the Tulsa Golden Hurricanes beating UCLA in the first round of March Madness back when Tubby Smith was coaching Tulsa and Jim Harrick was coaching UCLA in my freshman year of university (that was put Tulsa on the map in my mind). I found it interesting that I was now at the town containing that school, where even inside the restaurant, I saw an NIT champions sign in 2001. So despite the noise the school made during March Madness tournaments, I guess the NIT banner was all that they had to show for it. Of course, UCLA's championships were largely during the John Wooden era, but the year after getting bounced in the first round by Tulsa, UCLA did win their last championship in 1995.
After finishing up at Big Anthony's at 5:55pm, we then continued the long drive towards Oklahoma City on the turnpike. Given that it was pretty empty land between Tulsa and OKC, we were running dangerously low on fuel, and it wasn't until somewhere 20 miles east of OKC did we finally see a gas stop, where we had to stomach the $1.99 per gallon price tag to fill up at 7:05pm. I guess beggars can't be choosers in these circumstances.
Once we got to OKC, we then continued south on the I-35 where we saw a gorgeous sunset along the way south as it started to get dark. Finally at around 8:55pm, we arrived in Ardmore. We saw that Turner Falls was some 15-20 minutes north of Ardmore so that was where we were going tomorrow morning, but we also knew that the forecast called for thunderstorms so it promised to be a wet visit before we head to Dallas.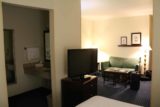 Anyways, we checked into the Springhill Suites and got into our room at 9:10pm. After all the listening to March Madness games throughout the drive, it was about time I finally got to watch some games. And I gladly did so at the expense of sleeping in late (after midnight). But with the forecast for thunderstorms tomorrow morning, I guess I wasn't exactly in any rush to be in the thick of the storm before leaving Oklahoma for Texas as we were wrapping up our trip…
Visitor Comments:
Got something you'd like to share or say to keep the conversation going? Feel free to leave a comment below...
No users have replied to the content on this page