Day 10 (March 18, 2016 – Dallas, Texas): "What's the Dealey, yo?"
It was 6:50am when we woke up. We could hear rumblings of thunder outside though it was still dark so we couldn't really see the effects of the apparent thunderstorm quite yet. But about 15 minutes later, the groan of the thunder grew more frequent, and there was a little more light outside where we could see that it was pouring rain outside.
So the weather forecast for this morning was pretty much correct about predicting the thunderstorms that would persist through northern Texas and southern Oklahoma though I held onto the hope that the storms would calm down by the time we checked out of the Springhill Suites. Thus, we weren't in that much of a hurry to get out of Ardmore just yet.
It wasn't until about 8:05am when we went downstairs for brekkie. This time there was a waffle making machine, but I was able to indulge my sweet tooth by spreading Nutella on it. Sure the saying, "A moment on the lips, a lifetime on the hips" crossed my mind, but neither Tahia nor I could resist.
Anyways, at 9:40am, we had finally leaded up the car, checked out of the Springhill Suites, then drove north towards Turner Falls ten minutes later. There had been some flooding in the parking lot where our car was parked so I had to move the car closer to the lobby area so we wouldn't subject our luggage towards the puddle.
The drive north was under much calmer weather than earlier this morning, but the clouds looked no less menacing. We eventually exited the I-35 at the Route 77, then we headed west along a twisty road ultimately leading to the well-signed Turner Falls Park. We saw a curio shop along the way, and I suspected that the overlook over there might have something interesting.
When we got to the entrance gate for Turner Falls, I thought I had heard the lady say that we had to pay $36 after telling her there were two adults plus a 5-year old. But Julie noticed that the receipt said that we were charged Winter rates so it was $8.76 total. I sure hoped the latter was true, because $12 per person was a total rip off.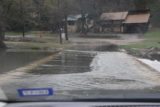 Once we were inside the complex, we drove past some buildings trying to follow the signs for the Falls Area. Shortly thereafter, we had to traverse a scary-looking concrete ford. Clearly, the thunderstorms swelled up the creek responsible for Turner Falls. We actually had to take the seemingly shallower left side of the first concrete ford because the lower end looked deeper, and I wasn't sure that our rental car would be able to handle that side.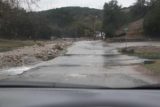 Then, there was a second concrete ford (which didn't look quite as scary as the first), before we saw that the direct access to the Falls Area was closed. So we drove up the hill in search of whether it would be possible to access the Falls Area even though we were higher up the hill.
At 10:20am, we found a paved car park near some Turner Falls Cabins. A signpost for the walkway from this car park stated that there was a walk to something called Bridal Veil Falls as well as a Natural Arch. So we went ahead and did this walk which was wet and slippery. But when we got to an overlook, we could see that there was a series of attractive looking cascades, but none of these cascades were part of the main Turner Falls.
As I continued further down the slippery and muddy trail to another overlook, I saw the natural arch, but the viewing angle wasn't very good. Plus, there was a lot of foliage obstructions. So in the end, this view wasn't all that worth the trouble.
Next, we walked towards the so-called castle, where there was a trail that went downhill through that castle then rejoining the road to the Falls Area. Then, we hastened our steps as we approached the bridge fronting the plunge pool area for the main Turner Falls. But with the dark gray skies and lack of color, our photos came nowhere close to the colorful photos that my Mom took when she made a visit here during a business trip before retiring a few years ago.
It was pretty quiet at the Falls Area as we even had a few minutes of the falls by ourselves. But as we had our fill of this travertine-like waterfall, we saw a whole crowd of people making their way to the falls as we were leaving. Eventually at 11:20am, we returned to our car.
While making our way out, we made a brief restroom stop at the park headquarters. So at 11:40am, we finally left the main Turner Falls area, then we drove back the way we came towards the I-35. However, we then made a brief stop at the curio shop (it was closed), where there were regal views of the entirety of Turner Falls as well as the series of cascades further upstream.
This overlook was very popular as several cars were up here to stop briefly, take their photos, then leave. We did the same thing. So by 11:50am, we were finally embarked on our long drive south into downtown Dallas. Turner Falls was the last waterfall we'd be visiting on this trip. And we opted not to bother with the Little Niagara at Travertine Falls, which was really more of a popular swimming hole anyways as opposed to a bonafide waterfall attraction in Oklahoma.
So the drive south on the I-35 was for the most part uneventful. We disciplined ourselves to stay within the flow of the traffic though there were moments where the drizzle and light rain made the roads slick and potentially dangerous. But we kept our distance as much as we could (though that didn't stop others from dangerously tailgating or clogging the fast lane unnecessarily).
We also had to deal with some traffic the closer to Dallas we were. I don't know what it was about the I-35 and traffic, but even when we were headed to Austin from Dallas at the very beginning of the trip, we had run into traffic problems along this north-south corridor of central Texas.
So it wasn't until about 1:55pm when we finally arrived at the Hyatt Regency, where we valeted our vehicle, and got our belongings to check in. We forsaked one of the more foodie places for lunch as we were running out of time in terms of doing a museum visit on this afternoon. Instead, after dropping off our stuff in the room at at 2:10pm, we headed back downstairs at 2:35pm, where we had a brief sandwich lunch from the little convenience store at the ground floor of the Hyatt.
We finally started walking to the downtown area of Dallas at 2:55pm. The skies were overcast but the weather was also a little on the chilly side. It seemed like the weather was still threatening rain, but so far it hadn't gotten worse than a light drizzle.
It was merely a five-minute walk before we got to the infamous Dealey Plaza. I knew from the history books and the conspiracy theory shows that this was where John F Kennedy was assassinated. And so Julie had us going to the 6th Floor Museum to get a more real experience at what really happened that fateful day in 1963.
Along the way, we saw an attractive building called the Red Museum, where the name of the building we thought was pretty obvious based on the color of the building. However, when we saw Native American pictures on the windows of that building, we started to wonder if the word "red" had a different meaning.
Meanwhile, we walked through the fountain area, which seemed to have lots of tourists in addition to passer-bys. By about 3:10pm, we waited in line to buy tickets, but we saw a huge line waiting to get into the 6th Floor Museum. At first, we thought this line was reminiscent of an airport experience, but then we were told that this line was really a time-based visit where people were told to come back at a particular time, then wait to get in. So our line was merely a short line to buy tickets, and we wound up paying $16 per person (Tahia was free) where we were told to come back around 4:15pm for our 4:30pm visit.
It was still around 3:30pm at the time so we killed time checking out Dealey Plaza, especially that Grassy Knoll area where supposedly a second shooter was said to have fired a gun towards the JFK Motorcade. There were attractive views towards the Red Museum as well as towards Reunion Tower and the Hyatt looking in a different direction.
We saw more JFK signs at this knoll, where some words from the speech he was about to deliver before he was shot was printed. Then, after the grassy knoll visit, we then went back to the fountains for more pictures of statues, signs, and views back towards the grassy knoll.
Then, we killed a little more time at the Museum Cafe across the street from the 6th Floor Museum, and by about 4:10pm, we waited in line outside for our turn to get into the 6th Floor Museum for our 4:30pm tour. A little after our appointed time, we finally went up the elevator to the 6th floor, where there were lots of people lined up and crowding around each display and booth.
It took a lot of time to listen to the audio guide for each of the displays (let alone read them), and so progress was slow. Anyways, the starting few booths painted a picture of the culture and attitudes of the era of JFK's first 1000 days as president. This included JFK's family, the music of the time, the Cuban Missile Crisis, and the social policies like the Civilian Conservation Corps that caused a lot of backlash with the right and therefore most of such policies stalled in Congress given the lack of party majority (especially with federal overreach and communism accusations – sound familiar?).
But the tour then made a dramatic turn as it then got into the fateful moments of the JFK assassination. It went over the key frames of the famous Zapruder motion sequence (including a real graphic one showing the moment JFK's head looked like it exploded) as well as a recreation of the arrangement of boxes at the corner of the building where Lee Harvey Oswald was believed to have taken the fatal shots (said to be three of them) at JFK.
There was even a web cam as well as an animation of what Lee Harvey Oswald (assuming he wasn't a patsy) must've seen when he took his shots. It really brought the Dealey Plaza to life, and it gave us a new appreciation of the very area we had taken photos in before we entered the museum. And indeed, it appeared that not a whole lot changed since JFK was shot at least as far as Dealey Plaza was concerned except that the trees grew bigger than back in 1963.
Then, the exhibit went into the investigation and conspiracy theories since the assassination as flaws and inconsistencies were found or disputed of the Warren Commission. The same was true of the acoustic tests that claimed there was a second shooter from the grassy knoll. Plus, there was the Jack Ruby shooting captured on film of Lee Harvey Oswald, which was really easy to conclude that perhaps Oswald was silenced as something greater was at play.
After all, when it comes to money and power (especially JFK's policies threatening those who stand to lose their wealth as a result), it would hardly be surprising if indeed something deeper was going on here. Then again, we'll probably never know, but there's no doubt that these kinds of things go on to this day. I guess it's just human nature when it comes to ill-begotten wealth and the protection of that wealth.
This was about as far as I got with the audio guides, but there was so much more to the visit. If we had more time, we probably could've spent another 30 minutes or so. But we now had to get back to the Hyatt to pick up the car and drive to our dinner spot, which Julie was targeting this place called Meso Maya.
On the way out of the museum, we got some nice views from the 7th floor (of the Lee Harvey Oswald corner view) as well as towards the Trinity River and the bridges spanning it. We then left the museum at 5:45pm, and we promptly walked back to the Hyatt, getting there at 6:15pm.
After dropping off my backpack, we then retrieved the car from the valet and drove off at around 6:30pm. We ultimately arrived at Meso Maya at about 6:40pm, but not before we were in a little bit of a traffic jam near the Dalls Reunion Arena, where we learned later that the Mavs were playing the Warriors. No wonder why we noticed quite a few people wearing Steph Curry jerseys back at the hotel!
Once we did the complementary valet with Meso Maya, we were finally seated at Meso Maya after around a half-hour wait. It turned out that the service from Marisela was very good and personable, and the traditional Central Mexican food was very good, creative, and different. We had an avocado margarita (though that had too much ice in it), Budin de Carne (very good), Herradera Salmon, Pozole (a soup), shrimp tacos for Tahia, and ensalada de ceviche (also very good and tangy). We ended it all off with a chocolate cake with corn ice cream.
All in all, it was probably a nearly perfect Mexican dining experience, and it was a great call by Julie to come here for dinner.
We were done eating at about 8:05pm, and finally at 8:45pm, we returned to our room at the Hyatt after dropping off our rental car with the valet again, then checking out the happening and spacious atrium within the Hyatt Regency. It all kind of reminded Julie and I of the Hyatt in downtown Indianapolis, and that included the butterflies-in-the-stomach views from the higher floors (especially where there were no windows).
Regardless, we called it a day, and we looked forward to seeing Julie's cousin's family tomorrow on our last full day in the Southern Plains States. But for the rest of this night, it was me watching March Madness late games, including two dramatic at-the-buzzer finishes as well as shocking news of a bracket busting loss by Michigan State. Indeed, they don't call it March Madness for nothing, but all that bit of entertainment pales in comparison to the precious moments we were experiencing live in person on this Spring Break Trip…
Visitor Comments:
Got something you'd like to share or say to keep the conversation going? Feel free to leave a comment below...
No users have replied to the content on this page