Day 11 (March 19, 2016 – Fort Worth, Texas): "Making The Most Of A Single Day"
It was about 7am when I awoke. It was still dark outside, but as Julie and Tahia eventually got up, I started to notice that the skies were partly cloudy by 7:30am as daybreak was slowly occurring. We had an original plan to take advantage of the late checkout (being Hyatt members) by doing the Reunion Tower first, then have lunch before checking out then do for Tahia the Dallas World Aquarium.
Well, those plans didn't work out because the Reunion Tower didn't open until 10:30am, which was too close to our planned get-together with Julie's cousin for lunch at 11:30am or 11am. So in the end, we resigned ourselves to not taking advantage of the late checkout (so far, we've never had to do this at a Hyatt even though it was available to us), and we decided to do the Dallas World Aquarium first since it was open at 9am.
So that meant that we had to check out of the Hyatt before we left, then pretty much take our chances by lugging our belongings with us as we drove from place to place. Apparently, Dallas wasn't one of those places where it made sense to walk everywhere, especially given how little time we had on this day with still a lot of stuff to do.
It wasn't until about 8:40am when we checked out of the Hyatt and retrieved our car from the valet. As we followed Julie's iPhone (knowing that the nuvi was thoroughly confused here and pretty much out-of-date), we eventually found metered parking by the Dallas World Aquarium at 9:05am. We wound up paying a steep ticket price of $10 as the machine assumed that we'd be here for the whole day. So it was a bit of a rip off. Only after the fact did we see that there were other meters where you could feed it coins and park for less time as well as a different lot with a machine claiming that it was only $7 for parking.
Oh well, we promptly followed a steadily growing crowd of people entering the aquarium at this time. And after hastily eating the croissant breakfast that Julie had bought at the Hyatt while checking out, we were finally allowed to go into the Dallas World Aquarium. And right off the bat, we could see that the place was decked out in re-created ecosystems (mainly of the rainforest variety), which already defied our notion of what we thought an aquarium was supposed to be. Indeed, with this place, it seemed like the word aquarium kind of undersold what was really going on here.
So we spent some time following the maze of walkways essentially guiding us on the second floor, which was very wide open as the bright ceiling (more like a greenhouse-like enclosure) capped a cavernous room full of rainforest foliage. Within the foliage, there were tropical birds flying about, monkeys climbing trees, a waterfall with fish in the freshwater stream below, and even two huge crocodiles resting besides a pool that was shared with spotted stingrays and large turtles and the odd pirhana.
Then, there were also isolated booths showcasing poisonous insects and snakes. As we went from upstairs to downstairs, we got closer looks at some of the same creatures we had seen from the second floor. We were also besides the artificial waterfall before we went into a more Monterey Bay-like aquarium feature where there was a large window showcased large fish including a very large manatee that didn't want to show its head.
Then, we saw bioluminiscent fish including the so-called flashlight fish and the moon jellyfish. Other booths contained tropical fish from places like Fiji, Solomon Islands, New Guinea, Lord Howe Island, Japan, etc.
Tahia was really keen on seeing some baby penguins, and when we finally got to the outdoor penguin exhibit, the area was cold (as it essentially shared the chilly outdoor Dallas air), and we saw some interesting looking penguins that appeared to be bearded. But there didn't appear to be any of the penguins shown in the literature. There was also a Madagascar area, but most of the organisms there weren't available.
Then, we passed through a shark tank where we walked through a tubular structure and watched sharks swim around us. Some of the sharks had interesting shapes like a nose shaped like a saw, while others looked like smaller versions of Great Whites.
Next, we went into a different area, where a separate rainforest-like enclosure featured flamingos as well as other freshwater life. This particular part of the arena also had owls and other more desert-like insects like a diamondback rattlesnake among others.
Probably the most featured animal in this large arena was a graceful yet awesome black jaguar. In the brightness of the DWA, we could clearly see how huge this jaguar is, as well as its tendency to clean itself like more domestic cats tend to do. However, we could also see that it really was like a lion adapted for the jungle as its black fur was the perfect cover at night when it would stealthily hunt prey.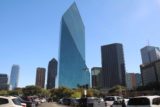 Throughout all the exhibits we had visited, the Dallas World Aquarium was busy and crowded, but it wasn't so overwhelming that it took away from the experience. In fact, the DWA totally exceeded our expectations, and Julie and I thought Tahia left this place a happy camper. Eventually at 10:50am, we were back at the car.
During our aquarium visit, we promised Julie's cousin that we'd meet them at Pecan Lodge at 11am. So we had a mere 10 minutes to meet up with them. But sure enough, by 11am, we showed up to the Pecan Lodge, where we saw them waiting in line for the place to open up. So we promptly payed $5 to park, then essentially joined them inside the restaurant as the place had just opened up.
We immediately saw that the line had wrapped around the interior of the restaurant before going out the door. But Julie's cousin knew something that we didn't when they said that there was a "special line". And the rub was this. There was an express line if you order 5 pounds or more of meat. So that was what we were doing, and we immediately sat and ate a bunch of smoked BBQ that very much was on par with La Barbecue that we had in Austin.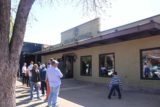 So we happily ate and did a little catching up over lunch. There was one employee who kept taking spent tin containers (that were used as plates) from us as it was apparent that his role was to usher us along so other people could sit in the seat we were in.
Anyways, there was so much meat that even the two families couldn't finish it. So by 12:15pm, we were done eating and we went outside. But before we parted momentarily (as we would meet up with them later this evening as they also had another engagement at 2pm), we seized the opportunity to take people shots though it was quite smoky outside as the meats were busy being smoked probably for the next day or for the remainder of this lunch time.
Next, Julie had us drive through a very rough part of Dallas (where we saw quite a few homeless people, including a sort of tent city beneath one of the overpasses). We did this because we were ultimately headed to this place called the Dallas Heritage Village. This was Julie's call as I had no idea what this place was about. But once we pulled up at 12:25pm, we could see straight away that there were buildings appearing as if time stood still since the 1800s.
So we went through the entrance, checked out a few buildings, then we learned that there was going to be a gunfight at 12:45pm in front of the saloon. So we waited for the gunfight, then saw it as a foursome of actors and actresses played out a robbery scene with a little bit of a twist. It turned out that the women were the co-conspirators and the men (one a cop and the other a known robber) were duped.
Tahia didn't like the gunfight too much because she thought it was violent. I'm sure the loud gunshots also didn't sit too well with her.
So afterwards, we then checked out the Renner School while also checking out the Dallas Skyline backing the old church. Inside the school, there was one person supervising while Tahia was busy playing the role of student in the mostly empty yet atmospheric classroom. This was on Julie's bucket list for things to do at the DHV, and we spent quite a bit of time trying to capture the moment of Tahia role playing as both the lone student in the room as well as the teacher behind the podium.
Next, we went to the Sullivan House, which seemed like an elegantly decorated house. Inside, there was a sweet lady who had a lot to share regarding the rooms and decorations here. However, I think she indulged us a bit too much as we probably spent a pretty solid 20-30 minutes in this one spot alone when we still had more to see in the facility.
Still, there was a lesson here in terms of teaching Tahia how to be respectful.
Then, we checked out other buildings that let us in, including a hotel, a doctor's office, another fancy home, and even an old railroad station. But at this point, Tahia wanted to see live animals, and we knew there were a couple of mules here as well as chickens and sheep. So we headed over to the far corner of the DHV (Dallas Heritage Village), where we saw a couple of blacksmiths doing their work with hot iron and live fire before seeing the animals.
Along the way, we also saw some veggies and herbs being grown. Tahia was even having fun interacting with the son of one of the workers here named William.
We ended off our tour by going into a very large two-story home that reminded us of the plantations we had seen in Louisiana near New Orleans. Along the way, it looked like preparations were being made to hold a wedding at this venue. Julie and I wondered how often they'd hold weddings here.
Anyways, Tahia was getting a bit tired and she loved to sit on the rocking chairs. But by then, I think we were pretty much getting DHV'ed out and so we were finally back at the car at 2:50pm. We definitely spent more time here than anticipated, but it was very educational and atmospheric, and we thought it was a rather hidden gem of Dallas.
That said, we still had at least the Klyde Warren Park to do as well as the Reunion Tower, and we had to do all this before meeting back up with Julie's cousin for dinner and chilling out with them later in the evening; all before checking into the hotel by the Dallas Fort Worth Airport for what would most likely be a night with very minimal sleep before catching a 7am flight the following morning.
So we next drove towards the Klyde Warren Park, and as we were navigating our way deeper into downtown Texas, we almost got distracted by the Dallas Farmer's Market. But given that we had to make a priority call on the spot (were we going to spend time here and make it an either or proposition on Klyde Warren and Reunion Tower? Or were we going to stick with our original plan and skip the DFM?), we stuck with the original plan and kept going downtown to the Klyde Warren Park.
When we finally saw the Klyde Warren Park, we could clearly see that it was a happening grassy area with a whole line of food trucks on one side of the park, and high rises surrounding the park (though the more compelling part of the skyline was looking towards the east). There were lots of people in the area, and it was a very happening scene. Even though Tahia was napping in the back seat, I knew that we had to be part of the action if we were to experience the best of Dallas on this one day.
So parking was clearly difficult to find in the immediate area around the park, but after making one circle, we drove a couple of blocks away from Klyde Warren Park, and we happened to find street parking near the Dallas Museum of the Arts (DMA) at 3:10pm. We were very lucky to have found this spot, and so we put in a coin to feed the meter another 50 minutes or so on top of the 30 minutes already in there, then we walked towards Klyde Warren Park. Since Tahia wasn't in the mood to wake up from her nap, we bribed her with the promise of ice cream.
As we walked to Klyde Warren Park, Julie tried to tease me about visiting the DMA (seeing how she was into the arts), but we all knew it was in jest as we had our priorities and were sticking to them.
Once we were at the park, we immediately soaked in the atmosphere, which was like a weekend afternoon with people out playing catch on the lawn while little kids were running around. There was even a children's play area, where Tahia immediately went in there to get in on the action. Meanwhile, Julie picked up some ice cream desserts from this food truck called Cool Haus.
And while all this was going on, I kept one eye on Tahia while also taking photos of the atmospheric park backed by the signature Dallas Skyline. We very easily could've spent quite a bit of time here, especially if there had been some kind of festival or performance (Julie's cousin told us that this place tended to have something going on). But alas, there was no such thing that we could tell on this lazy Saturday afternoon.
At 3:55pm, we returned to the car. Now that we got the gist of the Klyde Warren Park experience, we could totally see why it was so popular as well as a seemingly quintessential part of the Dallas experience. That said, I was told that this park was recently opened not that many years ago. So I guess we could attribute this to a little foresight and urban planning even with all the established structures in place.
At 4:10pm, we made it back to the familiar Reunion Tower and Hyatt Regency area. We followed the signs before we managed to find parking dedicated for the Reunion Tower. It turned out to be $6 for 0-4 hours, which we thought was pretty reasonable (though we wouldn't be using all 4 hours).
The car park itself had a nice view of both the Hyatt Regency and the Reunion Tower. But as we walked towards the tower by following the painted trail on the ground, we saw that there was something being set up for the Rock and Roll Half Marathon. We weren't sure if this had already occurred earlier today (maybe that was where the music that we heard from a distance while touring the Dallas Heritage Village came from) or if it was being set up for tomorrow.
Whatever the case, we got into the Reunion Tower area, which was pretty much attached to the Hyatt Regency lobby. So all this was pretty familiar to us from earlier in the day when we checked out of here. But then, we paid for the tickets to go up (I think it costed the family some $44 or something like that), and within a little over a minute, we were at the so-called Geodeck of the Reunion Tower.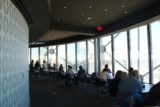 Naturally, we went outside, where there was a chilly breeze but someone good views of the skyline of Dallas as well as the Trinity River looking in the opposite direction. There were enough gaps in the fencing and girders to let us try to take photos decent photos, but after a short while, we took as many quality photos that we could before we retreated back inside.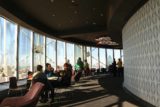 Then, we went upstairs, where there was so rotating cafe. At 5pm, we spent some time chilling out here patiently letting our sitting spot rotate away from the skyline then towards the Trinity River before making its way back to the skyline. It was a much-needed break, but we didn't stick around for the revolution to finish. So we headed back downstairs at 5:20pm, where we were greeted with a rather long queue to get back down. I guess there was only one elevator to get up here.
At 5:45pm, we were finally back at the car. Now with all the main sights that we had targeted being accomplished on this day, we were pretty fatigued of sightseeing. Still, the day wasn't over as we now had to drive up to Frisco (a Dallas suburb) to meet up with Julie's cousin again.
We'd eventually get there at 6:30pm as we took the Dallas North Tollroad (DNT), and during the drive, we wondered in hindsight if we should've taken the TxTag (I think it would've costed us an additional $30) seeing how many toll roads there were in Texas. But since we were only in Texas for a few days on this trip, we opted to do this a la carte.
After Julie made a brief stop in Target, we then finally made it to Julie's cousin's place at 6:50pm. So we finally got to see their place, and Tahia finally got to play with their three kids. We'd eventually have dinner at this pizza place at 7:20pm, and then we took our time catching up once again over dinner, then a dessert at a gelato place afterwards. The kids were having fun (pretending there were ghosts) on the walk to the gelato place because we had to stroll around the boundaries of what appeared to be a cemetery.
Back at Julie's cousin's place at 9:40pm, we chatted for a few more minutes before we were back in the car at 10:30pm. We still had to drive the toll roads to get to the Dallas Fort Worth Airport area (where there was a Hyatt House we'd be spending the night near the car rental center), and we'd eventually get there at 11pm. By 11:15pm, we finally got into the room, where we'd spend the remaining moments of this day wrapping up our packing while also tending to our hygiene.
We'd ultimately be asleep some time before 1am, but our alarm clocks were set to 4:30am knowing that we couldn't underestimate the time required to get all the way to the airport terminal, especially with all the rental car formalities to address…
Visitor Comments:
Got something you'd like to share or say to keep the conversation going? Feel free to leave a comment below...
No users have replied to the content on this page