Day 1 (March 9, 2016 – Austin, Texas): "Making It Happen Despite The Setbacks"
It was 3:30am when we awoke. All three of us (Julie, Tahia, and I) were all getting over persistent coughs all emanating from a flu that we believe Tahia had brought home from school. Whatever it was, it seemed to have this ability to allow our body to fight it off only for the symptoms to come back a couple of weeks later (perhaps from a weakened immune system allowing another bug to catch on). This was the case for both Tahia and I.
Neither of us could truly say we weren't sick since early February. It's now a month later, and while I can finally sleep through the night, I do have episodes of coughs from time to time. Tahia was also recovering from her cough, but Julie was probably in the worst shape of all three of us. And here we were on an early morning wake-up trying to catch a 6:15am flight for Dallas Fort Worth leaving the sunny weather of home and heading into stormy weather that yielded flooding and even a few tornadoes according to the weather on the web.
Indeed, we had been paying very close attention to the weather as the Winter season had been pretty dry throughout the Southern United States since a series of storms in early January. However, it had been mostly dry since, with February yielding unusually hot temperatures (if we were getting 80s here, I'm betting Texas must've been getting 90s during that time). But now that we were on our trip, it seemed ironic that the lone 1.5 weeks we'd be there, there were powerful storms breaking the several weeks of no rain. Funny how the timing just so happened to work out this way. Too bad such luck hasn't translated into lottery winnings…
Anyways, we got to the airport no problem by about 5am. And after checking in one bag, getting through security, and showing up at the gate, we promptly boarded our flight at around 5:45am, which was surprisingly on time given the foul weather that we were about to fly into. While we were standing in line, we were standing next to this Asian lady who wore these sky high stiletto heels with red bottoms (Julie said they were Christian Louboutins
). We were amazed at how someone could find boarding a plane in those shoes to be very comfortable, but I guess it's different strokes for different folks.
The flight started off pretty smooth as it was mostly clear skies at home, and it was mostly clear skies as we flew over Arizona and New Mexico. But when we got into Texas, we were suddenly flying into clouds and the ride was a little bit on the bumpy side, but it was nothing scary.
At 11:15am, the plane landed on time, and we waited patiently for our turn to get into the terminal (especially since we sat towards the back of the plane). By about 11:40am, we collected our luggage, then waited for Julie to pick up more water and a couple of sandwiches for lunch on the go. Once we were reunited once again, we then had to catch a rental car bus, which was surprisingly a bit of a drive from the Dallas Fort Worth airport at the American Airlines terminal.
So it wasn't until about 11:55am when we got to the Hertz kiosk, but we were shocked to see that there was already a pretty long line. Now, for sure, I knew that we were going to get off to a rather sluggish and late start as we were hoping to be leaving Dallas Fort Worth by 12pm. Now, it was looking more like 1pm given the length of the line, where there had to have been at least 20 different parties or so in front of us. We never recalled having to wait for so long at a Hertz before.
Eventually at 12:40pm, we collected our car and car seat (for Tahia, which was included so we didn't have to bring our own car seat this time). But when I first got to the desk, the lady helping me said that we were Gold members and we didn't have to wait in that line! That was painful to hear since we had just lost 45 precious minutes. That time was very important because we were supposed to be driving to Austin, but we had to squeeze in a visit to Gorman Falls along the way. And with the way our schedule was working out, Gorman Falls was either going to happen today or not happen at all on this trip!
Anyways, it then took us some time to get settled in our little Nissan compact hatchback (not the Ford Focus that Julie had reserved, but I guess they must've ran out of that). Eventually at 1pm, we finally were out of the rental car parking structure (this after yet another delay waiting to get out in the first place as I had apparently chosen the wrong line to do the final checkout before leaving; Indeed, it just seemed like we were making one misstep after another just trying to get out of the gate).
At first, the drive out of the airport and towards Fort Worth was met by a little bit of confusion as we weren't totally sure how to reach the I-35W, but we'd eventually get onto that freeway around 30 minutes later or so. Then, as expected, we cruised south on the I-35W at a pretty high rate though there were some episodes of heavy rain, which made us a bit concerned about whether our planned Gorman Falls hike was going to happen or not. The GPS was already telling us that we wouldn't get there until at least 4pm, which was pretty late to start a 3-mile round trip hike.
Things were coming along swimmingly until we got near the town of Hillsboro, where there was an awful traffic jam around that town. In hindsight, I should've taken the Hwy 81 to bypass the I-35W during this stretch, but I never thought that we'd be delayed another 30 minutes or so stuck in this traffic!
So it was yet another setback that was conspiring to make our aspirations to at least do Gorman Falls today not happen. What was worse was that there didn't seem to be a root cause of this traffic. The traffic just started to pick up speed well south of Waco.
Somewhere south of Waco, we stopped for an impromptu restroom break. Upon studying Julie's iPhone, we saw that there were more problems on the I-35W going south near the town of Benton. When the rest stop was over, it wasn't long before we ran into a lot of brake lights. So it was pretty obvious that we wouldn't be able to take the I-35W south to the US 190, which was annoying. We suspected that there must be some closure or something on the I-35W. Who would've thunk that the interstate was less reliable than the smaller highways, but that seemed to be the reality of the moment.
For most of the drive on the I-35W south, the weather was mostly calm (at least calmer than the Dallas Fort Worth area, which was pouring rain). The radio stations were saying that there had been severe thunderstorms last night and that we were going to get another dose of rain for both tomorrow and Friday. We also learned that Obama was visiting SXSW (south by southwest) in Austin, TX on Friday, so that already told me that we were not going to be driving on that day.
Anyways, we backtracked to get onto the US 84, which had an interesting mix of traffic lights and very high speed two-lane highways (up to 70mph). Now, the GPS said that we weren't going to make it to the Gorman Falls trailhead until around 5:20pm, which was even later than what we had planned for (we were supposed to start hiking at around 4pm if not for these delays).
We ran through a few rainy spots, but once again, the weather seemed to have held up as we were approaching the town of Lampasas after leaving the US 84 then heading south on the US 281. Once we were in Lampasas, we finally saw signs for the Colorado Bend State Park, which had us turn right onto North St, which was also where the Hwy 580 started.
Finally, we were on the correct road to Colorado Bend as we still had some 27 miles to go, but we could totally see why the GPS would've gotten us lost had we blindly followed it. In fact, we were fighting the GPS practically the whole way until we finally arrived in the town of Lampasas. So that indicated to us that the key to getting to the elusive state park was to get to that town.
Eventually, we got out of the Hwy 580 and onto the Cr-436 road, where we continued following the signs for Colorado Bend. At one point, we traversed a very low bridge that looked obviously prone to flooding. In fact, there were still puddles of water on that bridge, which made it clear to us that it must've flooded last night. If we were caught in this flood right now, we might be stuck, and I could see why the park service advised against doing the Gorman Falls hike under the threat of heavy rains.
So now, the pressure was on even more for us to wrap up this hike not only to beat the darkness, but also to beat the potential of being swept away or stranded by flood at this point.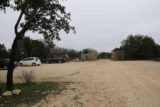 The paved road eventually led us to the entrance, where there was a self-help welcoming area to insert money into an envelope that take the attached permit as proof of purchase. Then, shortly thereafter, we took an unpaved road leading the last mile to the well-signed Gorman Falls Trail. We arrived there at 5:30pm, and given our late start, we decided that I would do this hike solo (for speed), while Julie (still not feeling well) would rest in the car and keep Tahia company.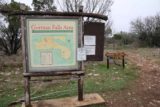 There were a couple of other cars here, including a family with two girls much older than Tahia. When I passed by starting my hike, the girls warned me about the trail being muddy and rocky. I did my research and knew that, but I thanked them for the warning and hastily made my way onto the trail.
The skies were still overcast and threatening another round of rain. But it was really the darkness that was the big concern as I had 1.5 miles to make it there. Sunset was said to be around 6:30pm so I only had less than an hour to make it there and experience the falls with whatever daylight was left before hiking back to the trailhead (possibly in the dark).
The last folks I saw on the trail was a mom and two kids. They were negotiating a flood obstacle, which I managed to go way around. After then, it was pretty much just me on the trail using all the visual clues that I could to stay on the trail and not stray or get lost. The trail did have some posts and some small reflectors or shapes put onto tree barks from time to time. Other times, there were obvious dirt stretches as well as rocks to follow.
That said, all the indications were for me to abort this journey, but I knew that it was now or never to do Gorman Falls given how out-of-the-way it was. I even startled some deer, which was yet another indicator that people probably shouldn't be out here this late (and the deer knew it, which was probably why they were so surprised). So I made haste, tried not to get my foot caught in too much puddles and mud, and also tried not to slip and fall on the flat slippery white rocks stewn through trail.
All throughout the trail, there were also black-barked trees (a fire possibly went by here not too long ago; either that or they're just soaked from the rain) as well as plenty of cacti, which I tried to make sure I didn't brush against (as I had some bad pricks from them on our last trip to Julian). There were also some signposts at trail junctions, and there were even some benches for rest, which clearly I wasn't going to use in my haste (besides, they were all wet).
Before long, I made it to the final stretch, which deviated to the left of the Gorman Springs Trail and the ranger-led trail. It looked like that maintenance road that was blocked by a gate at the trailhead could be driven to in one of these ranger-led hikes by Gorman Springs as I saw a sign indicating there was a car park over there.
Anyways, the trail went from mostly flat towards getting quickly steeper as I could now start to hear rushing water in the distance (a sure sign of Gorman Falls). After a few more minutes, I could see parts of Gorman Falls as well as the trail descending onto slippery rocks flanked by cables.
I took some time basking in the accomplishment of getting at least to this point and taking partial photos of the rejuvenated waterfall (from the heavy rains earlier this week). And I could also see that the Colorado River was just down the cliff adjacent to the end of the trail at the base of Gorman Falls. I guess I could see why they called this state park Colorado Bend. By the way, I was a little confused about this river because I always thought the Colorado River was the rivery system that started in the Rockies of Colorado, then drained towards the Gulf of California creating places like the Grand Canyon. But it turned out that this particular Colorado River just happened to be a different river system mostly in Texas with the same name as the much larger multi-state one further to the west.
Next, I carefully descended the steep rocky and cable-flanked part, which was tricky given how slippery it was. I actually had to choose my steps carefully so as to not take a nasty spill. This descent actually wasn't that bad, but I just had to slowly make sure that I had made the right steps and not planted my foot where it was sloped and slick.
Once I got to the bottom of the rocks and cables, I was right in front of Gorman Falls, which was much wider than I thought. In fact, this travertine waterfall very much reminded me of the waterfalls in Jiuzhaigou, China like Nuorilang Waterfall and Pearl Shoal Waterfall. It was even like the Nacimiento del Rio Cuervo in Spain, but at least this one had good flow.
I took whatever daylight I had left trying to capture the falls in as many angles and positions as I could. I found that the trail continued further downstream along the Colorado River, and so when I went back there, I was able to capture both of the strong flowing sides of the falls with more percolating parts in the middle.
There was a viewing platform providing very limited views of one side of the falls.
Anyways, it wasn't until about 6:35pm when I finally left the Gorman Falls. I was hastened more by the quickly diminishing daylight (as I was now beyond sunset), and it was too bad that I couldn't linger in this magical spot any longer.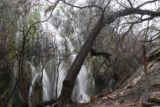 As I was hiking back up the cables then back onto the trail, I started yet another group of deer. I was trying to do as much trail running as I could knowing that the amount of natural light was fading even faster. So going back on the trail was getting tricky because the terrain was starting to look the same in each direction.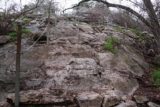 I only had my memory, my handheld GPS (which tracked where I had been so I knew of I was on the trail or not), and some subtle visual clues from the rocky trail as well as the footprints in the mud to help me along. Plus, there were those signs and benches near the trail junctions to help me along as well.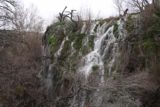 Eventually at 7pm, I finally made it back to the trailhead. Now, it was pretty much dark and I was a sweaty and smelly mess. Julie and Tahia were busy listening to my iPod in the car, but now I knew that the work wasn't over as we now had to drive in the dark (with all these deer around) towards Lambasas, and then towards Austin. And at least the weather had held up thus far though we really had to get back across the flood-prone bridge before the coast was somewhat clear as far as Colorado Bend State Park was concerned.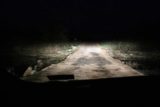 So after putting the stuff back in the car and changing out of my muddy hiking boots, we promptly headed off as the A/C was momentarily turned on to try to dry up my profuse sweating. As we were tensely driving the 580 back towards Lampasas, we did have to slow down for a little black-and-white rabbit to get across the road, and we even spotted a deer at the side of the road before it ran back into the darkness. Again, you could never be too alert for these things while driving in the dark, especially after I had hit a deer (totalling my dad's MPV) as well as a kangaroo in the past.
Indeed, while high beaming it (and reducing it when there were cars going in the opposite direction), we ultimately returned to Lampasas, then headed south on the the Hwy 183, which moved at a pretty fast clip. However, the calm weather gradually turned into drizzle as we were in the Lampasas vicinity, but as we headed south of Lampasas, the weather became a bit more intense as the rain was coming down harder.
So on top of the darkness, we were now having to deal with possible skid outs or hydroplanes from standing pools of water. I did my best to follow this truck that passed us up and was screaming along this highway at well over 70mph while keeping my distance. It was a bit unnerving trying to keep pace with this guy while going through the heavy rains, but at least it gave me one less thing to deal with in terms of reacting to whatever came up from the darkness (especially the potential for deer dashing in front of the road).
The rain continued as we were passing through the toll part of the Hwy 183 (which I guess was 183A). We weren't sure how we were supposed to pay for this system since there were no booths, but we figured that going straight to our hotel in Austin was the way to go (and get out of the roads in this rain as fast as possible). We could ask the concierge about how this system works later.
It wasn't until about 8:45pm that we were finally at the Hyatt Place in downtown Austin. On a rainy night like this on Wednesday, we had no prayer of exploring the night scene here. But then again, all of us were quite tired from a very long day that started with an early wake-up and finally ended up with us doing a late check-in. We also had to use their valet service, which was whopping $33 per night not including taxes (so we were told it would amount to something closer to $35/night or something).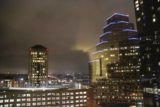 That was steep, but I guess when you're staying here on points, the hefty parking fee could be swallowed given the convenience of being so centrally located.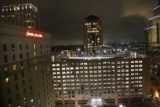 The reception staff was very friendly and informative. We learned a bit about the foodie scene here as well as the local sights. We also got confirmation that SXSW was happening (though it was more of a media event than the bally-hooed music festival that would start next week), but this big thing why Austin overnight prices had shot up to over $700 per night on Friday night (good thing we used points) was that President Obama was coming to speak at SXSW that day! So clearly we were not going to drive on that day unless we'd have to deal with traffic.
A couple of ladies working the reception were excited when they heard that we were interested in visiting the Hamilton Pool. That furthered my fuel to visit this place though I did wonder whether they'd close it off due to the bad weather. We'll see how that plays out, but I was still holding Saturday morning as the trump card in case we wouldn't be able to do it Thursday or Friday due to weather.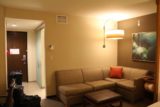 I probably got more than I bargained for in terms of information from the reception. So it wasn't until about 9:15pm when we finally got our stuff put into the room. All of us were very hungry while Julie wasn't feeling too great and my cough seemed to be worsening.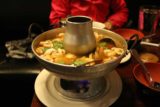 So we quickly walked in the rain next door to this place called My Thai, which was recommended by the valet guy. It was convenient, and apparently we got in just in time to have a late dinner right before they closed the kitchen. We got a pad thai, tom yum soup, and beef salad, and all that was probably a little more food than we bargained for.
As for the quality, it was OK. But when it's late, beggars can't be choosers. Maybe we were too spoiled by the Thai food selections we had back at home and our trip to Thailand several years ago. After all, we're in Austin now. I guess we couldn't expect the moon here.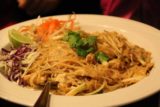 Anyways, we felt bad keeping the staff here after their closing time of 10pm. We ultimately left the restaurant at 10:30pm, tipped them generously for the great service despite the OK food, and finally got back to our room to wind down this very long day.
We still had to do several things like shower, brush teeth, etc., and Tahia seemed to have been over rested as she wouldn't fall asleep until around 1am (which was 11pm our time). Oh well, as long as we're getting rest, we'll just have to accept the fact that we're going to have a late start tomorrow with the tentative plan that tomorrow would be the waterfalling day (or driving day) regardless of the foul weather that was being predicted…
Visitor Comments:
Got something you'd like to share or say to keep the conversation going? Feel free to leave a comment below...
No users have replied to the content on this page