Day 3 (March 11, 2016 – Austin, Texas): "Austin 3:16"
It was about 7:50am when I awoke. I was surprised not to hear Julie's annoying alarm from her iPhone. But I guess she intentionally left it off so she could sleep in given that she was having trouble shaking off the stubborn flu that she has had for at least a week now. Tahia and I were pretty much over our flu, but we still had residual cough that was very slow in going away.
It wasn't until about 8:45am when Tahia finally awoke on her own. Julie didn't get up until around 8:30am. So I knew at this point that today was pretty much like yesterday repeating with the late start. Indeed, it wouldn't be until about 9:05am when we went downstairs for the ok breakfast that was included from the Hyatt Place.
While we were having the breakfast, we saw a bunch of people downstairs with badges. We figured that they were part of the South By Southwest festivities. And upon checking out some of the free literature, we saw that March 11-20 was the SXSW interactive and film festival. However, the SXSW Music Festival wasn't until March 15-20, and that was the SXSW that I had heard about through Triple J. In fact, this was the kind of event where new independent acts looked to get discovered, and I understand that now-famous bands like Haim, Bon Iver, and Alabama Shakes among others got their break here.
Anyways, the brekkie didn't take long, but Julie went to the convenience store next door to pick up some more water while Tahia and I were back upstairs in our room waiting for her. So it wasn't until about 10:15am when we finally went back downstairs to tour Austin.
As we walked out of the hotel, the skies were still overcast with on and off episodes of light to moderate rain. We headed over to Congress Ave, then went north directly towards the State Capitol building, which we could see clearly even from several blocks away.
There were lots of people walking along Congress Ave, and many of them were wearing badges just like the folks we saw inside the hotel. I guess this kind of reinforced how big of an event SXSW was even though the first four days was only the interactive and film festival. That said, I did see on the schedule that President Obama was supposed to give a keynote speaker address at 2:30pm at some convention center, but I guess we really couldn't tell which place was what considering that we still weren't that familiarized with Austin.
We passed beneath some historical-looking theater, which turned out to be called the Paramount. There were some things being set up for SXSW though it still seemed like whatever function that was going to happen here had yet to begin.
In fact, from looking at the agenda for SXSW, I got the impression that it was really nothing more than a bunch of functions in specific venues that included the flagship Whole Foods, the JW Marriott, and various other spots. The agenda was quite big for today, which illustrated just how extensive of an event this was. There was no possible way any casual visitor could go to all of these things, and it was probably more for industry types anyways since you had to have a badge to get into these functions.
So by about 10:50am, we finally arrived at the State Capitol Building. The weather seemed to have calmed down a bit when we arrived at the park surrounding the building. We could see that there were plenty of war memorials and statues in the park commemorating the Confederacy as it appeared that Texas really valued States Rights.
After getting through the metal detectors, we then realized just how grand this place was as soon as we entered the rotunda in the middle of the building. When we looked way up at the ceiling, we saw a lone star right in the middle, and that it was shaped like a dome. So I figured that the dome at the very top of the building could very well be the top of this rotunda that we were standing in.
At first, we thought we should do the 11am tour, but then we ultimately decided to remain in control of our own time so we just went up the elevator and did our own tour as we slowly went down each floor one at a time. While at the top floor, we got butterflies looking down at the tiny people entering the rotunda. There also seemed to be a bunch of closed doors that we couldn't get into up at this level though we did see a group of folks come down from some steps that were roped off (possibly leading up to the highest balcony closest to the top of the dome). Perhaps they were VIPs or something because the public couldn't go up there.
As we went down to the third floor, that was when we saw the upper levels of the House Assembly Room, which had a very dark yet wooden and reddish look to it. We took our time taking people shots while also imagining what this place might be like when it's a working room.
Then, we went to the Senate Assembly Room, which was more greenish and much lighter than the House Assembly. Upon looking out the windows here, we could see that the skies were clearing up momentarily and it even appeared like the sun was starting to make an appearance for the first time since we landed in Texas.
After checking out the Senate Room, we then went over to a section where there was a couple of courtrooms as well as a top down view looking into some library. That kind of piqued our interest more in going downstairs to see what else there was.
On the second floor, we went to see the floor-level perspective of the House Room again. But the Senate Room seemed to be more interesting as there were some Mexican-American war paintings, which really seemed to disturb Tahia as she was starting to understand the ugliness of war as depicted in the paintings.
At least the lady working here was entertaining Tahia commenting how she liked Tahia's clothes as even sharing dog stories.
When we had our fill of the Senate room, we then went into the library, which was definitely a working library as there were a couple of librarians and a handful of people keeping quiet and going about their business.
In the last quadrant, we went into some kind of Governor's Reception Room, which was very ornate with fancy furniture as well as some statues and plenty of stuff hung on the walls with chandeliers above. There was a guard as well as some folks walking in and out of the door behind the guard so apparently some stuff was going on during our visit.
Back on the ground floor, we then explored some corridors that we had overlooked initially. We even went downstairs into the underground corridors where there were some medal of honor tributes as well as a couple of long hallways showing the state of the Texas legislature during its history.
At 12:10pm, we went back outside of the State Capitol Building to finally experience the elusive sun for the first time on our trip. Just to our left, there was some kind of protest going on with cameras fixated on some guy in military garb while there was some lady wearing a sign while being topless! I guess her role was to get peoples' attention.
From reading the sign that she was carrying, it was clear that these folks were advocating openly carrying guns. That was interesting, but I'm not sure I'd feel very comfortable walking in public where folks would be openly packing heat, and at any given moment, you could be shot dead just by crossing a gun-wielder the wrong way.
Anyways, as we were walking away from the State Capitol Building, we saw there were a couple of ladies dressed in black making sure people knew about Jesus and God. I guess they felt it was their duty to spread the gospel in an effort to "save" those not in the know. Most of the folks (including us) went by them trying not to indulge in their banter. Indeed, this was one of those situations where some think these folks were just nuts worshipping imaginary friends while others maybe believers but probably don't view their faith in the same way as these folks.
Julie still wasn't feeling very well so we figured that now was the time to go have a lunch. So we walked south along Congress Ave towards this place called Roaring Fork. Once again, along the way there, we saw more SXSW signage and even some barricades and cones set up for line management.
While eating at Roaring Fork, Julie had some kind of salmon dish while I got this pork shoulder carnitas. We also got a side of spinach. While on paper, the food didn't seem extraordinary, the Tex Mex food was actually quite tasty. So this was a good call by Julie, and the prices seemed pretty reasonable for such an upscale lunch joint.
At around 1:15pm, we left the restaurant, then walked east along 6th Street. About 10 minutes later, we entered the historic hotel called The Driskill. Julie said that we could've stayed here instead of the Hyatt Place because it was apparently part of the Hyatt chain. However, this place didn't include breakfast so she felt it was less family-oriented.
That said, the Driskill was closer to the night life action along 6th Street so I guess if you were into the music and bar-hopping scene, then this would be the place to stay. Nevertheless, we spent some time checking out the grand halls including some of the upstairs levels, where we saw there was some kind of lounge as well as a banquet hall that seemed quite fit for wedding venues.
In fact, up at the banquet hall area, we saw there were more conference rooms being set up for some more SXSW festivities. We weren't sure what was going to happen up here as part of SXSW, but it was clear that it wasn't going to be today at this moment (though there were definitely folks actively doing something to get things set up).
At around 1:40pm, we were back out on the street. At this time, Tahia really wanted to go back to the hotel for a nap as she was in no mood to check out the 6th Street happenings. So we split up, and I was now on my own to explore Austin. It was too bad that I couldn't share the moment given Julie was still under the weather and Tahia was really starting to voice her opinions and preferences.
So I first continued going east on 6th Street. I followed the streets that I walked last night, but then I kept going another couple more blocks. There were lots of large trucks with trailers seemingly supplying barricades and other props for SXSW festivities. There were also a couple of road closures so for sure I had this feeling that 6th Street and the surrounding streets touching it was going to become a pedestrianized street.
I wish I could've seen it tonight, but I somehow got the feeling that Julie and Tahia wouldn't be as in the moment and so I'd have to leave it up to my imagination based on what I was seeing so far. I guess with the early wake-up for tomorrow in anticipation of being one of the first ones at the Hamilton Pool, we also had to get to bed early. Yep, this was one of the things I missed most about having a child – that I don't get to be as spontaneous as I used to be in moments like this.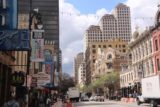 Anyways, there were some pubs that already had some live acts going on. However, it was mostly SXSW workers with badges as well as a few tourists going back and forth on either side of the wide 6th street. So I didn't see too much reason to linger for much longer.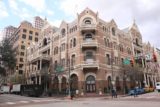 As I was leaving 6th Street and headed towards Congress Ave, I was headed south, when some random couple of guys were asking me what I was writing (in my journal). This happened at 2pm. Anyways, this was the start of a rather random conversation as these guys were touting that they were writers though the kind of journal writing that I was doing was far different than what they were doing.
One of the guys wanted to see what I was writing so I let him try to decipher my small handwriting and the notes that I had taken to this point. Meanwhile, this other guy who called himself Pirate Joe was trying to get me to his performance or something on Saturday. I doubted that I was going to stick around Austin for that long on Saturday, but I indulged him so I could end the conversation sooner rather than later (just content to get whatever pamphlet he wanted to hand me before I had to keep going).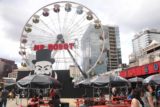 So when the conversation finally ended, I wished them well, and then I continued my walk south along Congress Ave.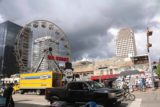 I then walked by some kind of thing going on where a sign said something to the effect of "F Society" while there was a huge ferris wheel with a clown-like face on it behind it. There was some REM music playing in the background, and I really wasn't sure what this was all about, but I suspected that this was a not-so-subtle protest against the deteriorating state of our democracy.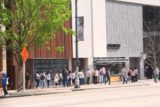 I continued the walk onto the South Congress Avenue Bridge, where the skies were the sun went away and the skies were now overcast. I knew that there were bats roosting beneath this bridge, and I kept thinking about ways to witness these bats (if they show up) while I was out and about for most of the afternoon. I was determined to at least walk all the way to Zilker Park before making my return to this bridge (hopefully in time for the bats at dusk).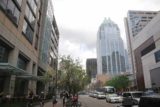 It turned out that I was on the wrong side (west side) of the Congress Bridge, because there was no way down to the hiking and biking trail way down below me. Apparently, that entranceway was on the east side of the bridge.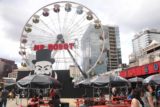 So I wound up on some side street before I reached 1st Street. There was some kind of protest going on as some lady was screaming into her megaphone while a dude that was with her was also making angry shouts. Apparently, they were trying to impose their message on passer-bys about God and Jesus again. In fact, one person was carrying the same kind of cross saying "Jesus Loves You" that the two ladies dressed in black were carrying by the Capitol Building earlier this morning.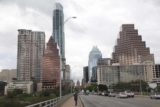 There were quite a few folks trying to ignore them while also trying not to get near them as we were waiting to cross the crosswalk. Then, on the other side of the street, we saw that there were many police (some on horseback) making sure that people didn't get close to some kind of convention center that was behind them.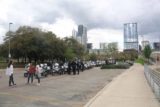 There was also a long line of motorcycle cops at the ready on one side of the Mathias Shores Park while there seemed to be a long line of vans fronting the Convention Center (which could very well be police or secret service, who knows?). Whatever the case is with such a strong police presence, President Obama must be in there giving his keynote address to SXSW.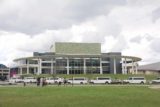 It was about 2:25pm when I got to this point, and his speech was scheduled to occur at 2:30pm. Amazing what things you discover when you just meander about on your own.
So now that I was at the Mathias Shores Park, I was able to access the hiking and biking trail finally at 2:35pm. At first, I followed the muddy trail east towards the South Congress Bridge.
Along the way, I saw that there were plenty of photo ops of the Austin Skyline fronted by the Colorado River as well as the South Congress Avenue Bridge. I had recalled seeing such a scene in a painting at some restaurant earlier on in the trip, but now that I was seeing it live, I was gladly taking pictures and trying to capture the scene that reminded me very much of something I might have seen in Brisbane, Australia.
I texted Julie about whether we should book one of the river cruises for the bat sightings (as there seemed to be a couple of vendors down here for that purpose), but when Julie didn't express that much interest in the bats, I passed on it.
When I finally went underneath the bridge at 2:45pm, I was studying to see where the bats were. I suspected that they were roosting in the dark trellis areas because the were nowhere around the more exposed areas.
That said, I did spot one or two bats frantically flying back and forth in an erratic pattern. As much as I wanted to take at least one photo proving that I had witnessed one, they were too quick and too erratic to reliably capture on a photo. Indeed, there were more larger birds around, and perhaps one of them might have frightened one of the roosting bats.
There were only joggers and bikers around, and no one else was around waiting for the bats to come out at dusk. So, I decided to do my hike back in the westerly direction along the Mathias Shores Park. There, I was essentially hiking along the Colorado River while also paying attention to some of the lookouts and monuments en route.
At one point, I saw that there was some kind of hill on the far western side of the park, where I managed to shortcut my way up the grassy hill then look backwards towards the skyline for some regal views of the Austin Skyline itself.
When I got beneath the Lamar Street Bridge, there was a busker dutifully singing some kind of country song even when there was no one around. It was also starting to sprinkle, which made me wonder if I was going to be a bit of a wet mess on my way to Zilker Park, which turned out to be further than I had expected.
Still, I marched on getting further and further away from the bat viewing spots. As the hiking and biking trail veered towards Barton Creek, I saw that there were some apartments neighboring this trail, which appeared to have been remarkably concealed from the urban developments just next door. I'd eventually get across a bridge over the Barton Springs Creek, and then I took a trail that went up towards a park road before I continued onto a very large grassy area. The time was now 3:40pm.
This grassy area must've been Zilker Park, and from seeing how vast it was (with some parts still flooded while others were a bit on the muddy side), I could see how they might hold big tented festivals or other kind of public functions here.
I even saw quite a few trees here on the periphery of the lawn area holding onto some kites that might have strayed and got tangled onto them.
In the distance towards the western side of the lawn area, I saw that there was some kind of rocky mound protruding up out of the lawn. When I went there at about 3:55pm, I climbed onto this rocky bluff, where I looked back towards the Austin Skyline rising above the extensive lawn area of Zilker Park.
This would've been a really awesome view if not for the dark clouds all over the place. I'm sure with the backdrop of blue skies, this would've been a postcard moment.
Anyways, once I had my fill of this rocky bluff, I then walked all the way across the lawn back towards the eastern part of the park, where I followed a couple down this shortcut that took me back down to the hiking/biking trail right next to Lou Neff Point.
The lookout here reminded me of a bird's nest, but it was also starting to rain a bit while I was here. So I took photos but I didn't linger for very long though the rain did subside momentarily just as I had my fill of the Lou Neff Point.
Next, I walked the trail back towards the bridges of Barton Springs Creek, but I took some time following some small railroad tracks leading me beneath the road bridge before getting to some other trail that was supposed to lead to Barton Springs. But seeing that it was still a ways away, I decided to turn back, cross over the Zilker Bridge, take one more photo of Barton Creek towards the Austin Skyline, then get back on the trail heading back towards the South Congress Avenue Bridge again.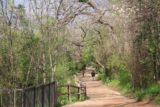 By the time this happened at 4:25pm, the sun was back out again.
With my legs and feet becoming more sore given the long stretches of standing and walking for the past three hours, I dutifully continued east along the hiking trail paralleling the Colorado River. As I got back to the Mathias Shores Park, it started to rain (at about 4:40pm).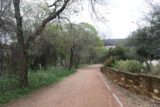 Unfortunately, I still had quite a ways to go before I could benefit from the next shelter beneath the First Street Bridge. And so for the next 10 minutes, I was starting to get wet from the somewhat moderate rain that was causing a bunch of people to pop open their umbrellas.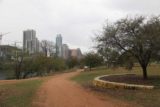 There was still police activity around the convention center, but perhaps they were there just to ensure that Obama could leave the facility safely (assuming he was still there).
By about 4:50pm, I finally made it beneath the wider 1st Street Bridge, where there were a bunch of folks on free-style bikes doing tricks as well as a few other folks trying to wait out the rain. So I chilled down here for a few minutes before I saw that it finally subsided just a few short minutes later.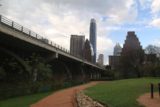 So I continued further along the wet hiking trail towards the South Congress Bridge, eventually getting there at about 5pm. It appeared that there were a handful of people near the viewing area for the Stateman Bats, but I couldn't tell if they were here for the bats or if they were gathered for something else.
At this time, Julie was texting me where I was. I was contemplating whether to stick around and wait for the bats, but it was still another hour or so before the bats MIGHT come out. So Julie talked me out of waiting for them, and there were also very dark clouds headed my way.
Anyways, now that I was on the correct side of the bridge, I got back onto the street level and walked all the way towards the Hyatt Place. I heard some loud music as well as witnessed a couple of long lines going into some venues. It seemed like these were also part of the SXSW festivities, and it reminded me that I was going to miss out on what's happening in these parts on this night – the first night of SXSW.
At 5:25pm, I finally made it back to the hotel room. And it didn't take long before we went back downstairs for an early dinner. We wound up walking towards this place called the Second Bar + Kitchen; getting there at 5:45pm. It was already busy, but it was really busiest at the bar (mostly by SXSW-badge wearers).
So we were seated pretty quickly, and we wound up eating things like the Avocado Fundido (which was pretty good and different), the flank steak with chimichurri sauce (not that great), as well as Julie's kale with salmon, and her carrot soup.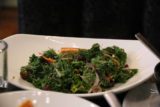 While we were eating, Tahia seemed to be mesmerized by the TV screens behind the bar playing some kind of film that looked real artsy. It definitely was something none of us recognized. And it also caused us problems in terms of her trying to finish her dinner. But eventually, she finished the food (begrudgingly), and we left the very dark restaurant where we saw outside that the pavement had been very wet as apparently another squall had passed through here during our meal.
Anyways, at 6:50pm, we were back at the room, where we finally called it a day. We wanted to end it early (much to my dismay of trying to be in the moment), but since tomorrow needed an early start, I guess something had to give…
Visitor Comments:
Got something you'd like to share or say to keep the conversation going? Feel free to leave a comment below...
No users have replied to the content on this page