Day 4 (March 12, 2016 – New Orleans, Louisiana): "Worth the Wait"
It was about 6:30am when Julie and I awoke. This was the earliest that we had gotten up given that we were still getting used to the two-hour difference between home and the Southern Plains time zone. But we needed to get up early so we could try to fit in the Hamilton Pool right when they opened at 9am while still having our included breakfast beforehand. We had punted the Hamilton Pool for this day given all the rains that the Austin area had received all week so I had suspected that they would close the attraction given the weather.
At about 7:20am, we finally went downstairs for the usual breakfast. And when we looked outside the window, we could actually see that there was actually sun outside! I think this was the first bonafide sun that we had seen all trip long (not the sun trying to pierce through the veil of clouds like throughout our first three days in Texas), and we knew that the weather was finally starting to improve. Too bad it took until we were leaving Austin for it to happen.
Once we were done with the ok brekkie, we then got our packed stuff (which we organized last night), and promptly went downstairs to recover the car from the expensive valet. As we were waiting for the car, one of the ladies working in the hotel (or at least the SXSW event inside) saw the sun and had this very relieved expression when she was conversing with the valet. It was pretty comical, but it kind of summed up how much the sun was missed this entire week in Austin. Anyways, we were inside the car and ready to leave downtown Austin at 8:25am.
The drive out of downtown involved a few wrong turns as I trusted the Nuvi with the outdated map, but we eventually took local streets before finding our way to the Tx-1 Loop from Cesar Chavez Ave due west. We then took the Tx-1 Loop right to the Southwest Parkway, which ultimately joined up with the Tx-71. I guess in hindsight, we should've taken the I-35W due south from downtown Austin, then take the US 290 west before taking the Tx-71 north. Oh well, you live and learn.
After a few minutes on the Tx-71, we then turned left onto Hamilton Pool Road, which had a few rough patches of uneven pavement. That said, we were hoping to be right at the pool when they opened at 9am, though we wondered just how busy it would be here since the folks in the Hyatt Place in Austin thought everyone would be in the city for SXSW. Anyways, the skies were definitely partly cloudy with lots of breaks in the cloud cover so we saw plenty of sun. Eventually at around 9:05am, we showed up to the Hamilton Pool entrance, where there was a lady there.
It didn't look good when the truck that was in front of us had to turn around. So when it was our turn to talk to the lady, she said that the Hamilton Pool was currently closed due to unsuitable hiking conditions. This was a real bombshell as this was the one waterfalling excursion that we had to do around Austin before leaving for New Orleans.
Now, she did say that the Hamilton Pool might be open at 1pm later today if the conditions improve. I wasn't sure exactly what that meant, but I presumed that it couldn't rain for all of this morning, and for perhaps the water level to subside in that time (as we suspected some part of the trail must have been flooded or something).
So during our moment of trying to accept the shock of this news, we continued driving west towards the Westcave Grotto thinking that perhaps we could kill some time there before coming back for the Hamilton Pool when they open.
The Hamilton Pool Road narrowed and twisted west of the Hamilton Pool, then it descended to another one of the low bridges that seemed really prone to flooding. Once we got across that, we then climbed up the other side before we got to the entrance for the Westcave Grotto at about 9:10am.
Once there, we saw that there was a gate that was closed with signs saying that this preserve was closed! The signs also said that it would open at 1pm so that gave me hope that even though we were told the Hamilton Pool MIGHT be open at 1pm, this claim on this sign in the adjacent reserve suggested confidence that it would be open at that time.
Still, visiting the Hamilton Pool at 1pm meant we were probably not going to leave the Hill Country until at least 2pm or so, and then, we'd be faced with a very long drive all the way to New Orleans, Louisiana. This drive was expected to take at least 9 hours or so. And it would definitely be driving in the dark.
Now, with this additional dose of reality setting in (especially that we might be arriving in New Orleans at around midnight on a night we have one hour less sleep for springing forward), we decided to drive back towards downtown Austin and wait in line for one of the famous BBQ spots called La Barbecue. We had contemplated going to Franklin's, which was said to be the best brisket place in Austin, but there was no way we were going to wait upwards of 4 hours (and waste precious vacation time) just for carcinogenic food. That said, La Barbecue was said to have a wait of upwards of an hour so it was worth getting there before they opened.
So we'd ultimately be in the east of Austin downtown along Cesar Chavel Ave, where we finally saw La Barbecue (which seemed like nothing more than a food truck) before finding street parking in the residential streets nearby. We parked the car at around 10am, and this place didn't open until 11am so we joined the handful of University of Texas students already here with chairs and blankets waiting for the place to open.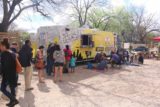 These young folks kind of turned this wait into somewhat of a social event as there had to have been at least a dozen or so co-eds just socializing and doing what folks of that age do. Meanwhile, Tahia was busy playing with my iPhone while both Julie and I were busy taking photos of the area as the crew here were getting set up. It was kind of smoky here as the three trailers where they were probably smoking or preparing the BBQ goods were spewing out the carcinogenic smoke. So we made sure that Tahia was playing in an area that didn't have as much smoke.
Not surprisingly as the opening time was getting near, the line was growing. And eventually at around 11:15am, we finally got to place our order. Right away, we wound up with 1.25 pounds of beef brisket (the guy misunderstood Julie thinking she only wanted a quarter-pound of the stuff when Julie asked for 3/4 pound), then we got a half-pound of BBQ pork ribs as well as pulled pork sliders, which was for Tahia. The whole thing costed us about $44 (including water and a side) so this food truck grub wasn't cheap.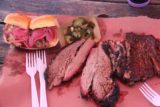 Anyways, there was some live entertainment from a guy playing cowboy blues solo just to add to the southwestern ambience. The line pretty much stretched all the way back towards some other food trucks (one was for fixing iPhones while another was for Thai food, though that one wasn't even open), which we witnessed while enjoying the cancer-causing lunch.
Tahia gladly ate her sliders while we I liked the moist brisket, which was definitely better than the Cooper's Restaurant that we had ate at in downtown Austin earlier in our trip. That said, Julie struck up a conversation with a couple who said that they had been to Franklin's and they said that Franklin's was better than this place.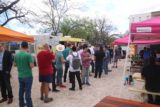 They said that the difference was in the wood that they cooked over as well as the spices that were used. I guess we'll have to give that a try the next time we're in the Austin area. Meanwhile, Julie really liked the BBQ pork ribs, which she said was pretty fall-off-the-bone. She even thought it was on par with the Houston's knife-and-fork ribs, which we always would get when we'd go to that restaurant back at home.
We left the area at about 12pm, and it turned out that we got a bit too much food so there was around a quarter-pound of brisket leftover that we decided to takeaway for later. Julie called the Hamilton Pool phone number and it gave the same recorded message saying that it was closed until possibly 1pm if conditions improve. So we just decided to drive over there to find out in person.
Julie voiced her concern about showing up to New Orleans late at night (especially since she looked forward to having Creole food), but with the forecast still calling for thunderstorms for most of today, I figured what's the hurry in going there so early? Still, it caused some tension between us throughout the morning, but I guess she resigned to the fact that we had to at least visit the Hamilton Pool before leaving. We may never have this chance again…
With many more cars on the road, it wasn't until about 12:50pm when we showed up to the Hamilton Pool once again (this time we wisened up and took the 290 to the 71 to the Hamilton Pool Road). But now there was some guy manning the front gate, and he was still turning cars away. When I asked him if the pool was closed for good, he said that it will be open at 1pm, but he didn't allow any cars to wait here until it was open in just a few minutes.
So we were trying to kill time driving around as there didn't seem to be an immediate spot or pullout to park and wait to go into the Hamilton Pool before the line got long. We found a pullout on the side road called Stage Coach Ranch Road, and while we were waiting, we could see lots of cars moving back and forth waiting for the preserve to open. So I knew that there would definitely be a line to get in.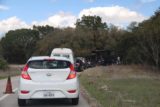 At a little after 12:55pm, we finally drove back towards the Hamilton Pool, where lo and behold, the guy was no longer at the gate! But now we were fronted by nearly a dozen cars at the gate. And as we were waiting, the line behind us already stretched back towards the highway! Good thing we didn't wait until 1pm to get here!
It took a while to finally get into the preserve and park the car because the familiar lady now at the headquarters was pretty deliberate in collecting the $15 vehicle fee. We saw on the sign that they charged a whopping $8 per person or bike to get in so that kind of pricing created this perverse incentive to show up in a car! Why pay more than $15 if you're in a group of at least 2 people or more when you can cover everyone in a carpool for just the vehicle fee?!? Strange.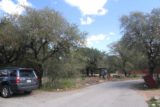 There was one guy who was warning all parked cars that it was $15 in cash or check, and that there was no swimming today due to high bacteria levels (no surprise since it had just rained hard all week and there was a lot of storm runoff). Besides, we were interested in visiting this place and not swimming anyways.
And by 1:10pm, we finally made it to the already busy Hamilton Pool car park. Immediately, we went on the quarter-mile trail, which wasn't that bad except that the rocks were still wet and slippery. Still, Julie and Tahia managed the descending part of the trail no problem.
Once we were at the bottom of the descent, it looked like the trail junctioned with the Pedernales River Trail, but that other trail was closed (not that we were going to do that trail anyways). Next, the trail meandered along the stream while passing by a few port-a-potties. There also seemed to be a maintenance road nearby (so I suppose it was technically possible to even drive down here if you were staff).
Anyways, the now-flat trail meandered between a few giant rocks before it was flanked by the stream and an impressive bluff of rock that created some welcome shade from the suddenly hot sun. Then, the trail was right next to the stream in a section that really looked like it was prone to flooding. And I was willing to bet that it was this spot that caused the trail closure this morning.
Just another minute later, there was a fork in the trail next to a new footbridge. This trail appeared to be the start and end of a loop that went right around the large pool, which must've been the Hamilton Pool. And right across the footbridge, there was a coarse sandy area right across the wide Hamilton Pool, where there was an impressive flowing waterfall fronting a very large collapsed grotto.
There were already quite a few people that made it here, and it was too bad that the sun was against us because that kind of made photographing the falls a bit difficult. Nevertheless, despite the non-ideal lighting, there was no denying that the Hamilton Pool was very beautiful, and it was every bit as advertised. Indeed, we were glad we waited to do this excursion even if it meant sacrificing the first night of New Orleans.
So Julie and Tahia went right into the grotto and hiked the rough trail for some photo ops. Meanwhile, I was taking my time trying to compose shots using the grotto or selectively framing specific aspects. There was simply too much going on to fill in a single picture frame.
Anyways, we all took our time trying to experience the Hamilton Pool waterfall from different angles. The contrast between the bright outside and the dark grotto made photography especially difficult. But still, we were caught between just enjoying the moment while also trying to convey our enjoyment through our pictures and movies.
Julie was still in a rushed frame of mind (clearly New Orleans was on her mind) so after taking a handful of family shots with the tripod that I brought), Julie and Tahia went back to the car first. Meanwhile, I was busy still photographing and documenting the Hamilton Pool, and I even completed the loop trail that continued right behind the well-flowing waterfall (in addition to some other overflowing seepage). At one moment, I thought I had heard something collapse from the grotto, though no one seemed to be aware. There was also one person on staff to make sure no one was breaking the rules and being prone to getting kicked out of here.
It wasn't until about 2:35pm when I made it back to the car. While the Hamilton Pool was a very busy place now (even busier than when we first showed up), the car park was even more crowded! Indeed, parking was limited, but now that the mission was accomplished, it was time to make the long drive to New Orleans. The GPS said we would be there at around 11pm, but I had a feeling that it might be more like midnight given how delays tend to occur when things get time sensitive.
Anyways, things were cruising along just fine as we followed the Tx-71 southeast of Austin towards Houston. But when we got to the I-10 due east for Houston, that was when we ran into some really nasty traffic. As we were stuck in the car jam, we noticed some trucks were shortcutting over a flooded ditch while others who knew the roads here intelligently exited the freeway and found a road that paralleled the freeway further to the east.
Well, we were pretty much stuck, and it turned out that this traffic jam costed us about 30 minutes.
When things were finally moving again, Julie wanted us to have a dinner on the way knowing that we weren't going to have it in New Orleans. So eventually at 6:15pm, we exited the I-10 near some mall called the City Center in Katy as Julie was seeking out Chipotle, and parked at this so-called Town and Country Parking lot after not having any luck parking in the City Center itself.
As we were busy walking around, we never did see the Chipotle that Julie was looking for so we wound up getting the Grimaldi's Pizza to go. It wasn't the healthy option that Julie was hoping for, but we weren't in the mood walking around and spending just as much time finding this Chipotle. Anyways, we got the pizza and ate it in the car. Then at 6:55pm, we paid the $6 to finally leave Katy and continue on the I-10 east.
Now, it was dark and we still had a pretty solid 5-6 hours to go to get to New Orleans. But before we could gather any momentum, there was yet another traffic jam from two oversized vehicles parked on the shoulder while passing through downtown Houston. Again, this traffic jam costed us yet another 20-30 minutes. It sure seemed like things were conspiring to keep us from getting to New Orleans in time for us to get some decent sleep.
Once we got out of Houston, the drive on the I-10 east was relatively smooth though there were quite a lot of cars still on the road. We made one gas stop somewhere near the Louisiana border (still in Texas though) near Orange at 9pm. But after that, we wouldn't make another stop until we finally arrived in New Orleans over three hours later.
Our accommodation at the Hyatt House was right next to the Superdome, and there seemed to be a lot of young folks out and about around both the Superdome area and the Hyatt Regency and Hyatt House block. We didn't know what all this was about (was there a concert or something?), but it was probably related to Spring Break.
Anyways, we finally parked the car at this Platinum Parking Garage at 12:35am. Then, we got our stuff together and walked to the Hyatt House reception, where we checked in, got our keys, and then we finally got into our very spacious apartment at 1am.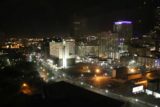 Julie's choice of staying in an apartment here was a very smart choice. I guess we were upgraded for being Hyatt Members, and this was proving once again that it was very worth being on the Hyatt Program (especially since our Sapphire card was partnered with Hyatt).
It wasn't until around 3am when we finally slept after tending to our hygiene and stuff. And as expected, it was not going to be the most restful sleep as we had already sprung forward an hour, and we didn't want to wake up too late or else miss out on touring downtown New Orleans later this morning…
Visitor Comments:
Got something you'd like to share or say to keep the conversation going? Feel free to leave a comment below...
No users have replied to the content on this page