Day 5 (March 13, 2016 – New Orleans, Louisiana): "A Different Kind of City"
It was about 8:25am when both Julie and I awoke. Our room faced east so the sun shone right into our room and provided that natural alarm clock despite us losing an hour of sleep from daylight savings (i.e. having to spring forward despite our late arrival and sleep time last night [or early morning to be precise]).
Indeed, we only slept a little over 5 hours, which was kind of par for me on some typical workdays where I would wind up sleeping late but still required the early morning wakeup. However, Julie had on the agenda for today for us to exclusively walk around the happening parts of downtown New Orleans (mainly the French Quarter).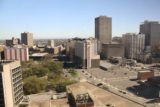 With the sun out and seemingly not a cloud in the sky, it seemed like today was easily the best weather day of the trip so far. So nothing was going to stop us except for time and energy, and perhaps our late start to the day.
So at 9:20am, we went downstairs for brekkie, but the Hyatt House seemed to really be short staffed (and some of the workers had a bit of an attitude), which contrasted mightily to our Hyatt experience in Austin where everyone was friendly and seemingly went out of their way to be helpful.
The food was pretty much the same fare as that of what we had in Austin, but they were short on things like hot water and just plain water. There was an omelette bar, but they didn't do over easy or sunny side up eggs. Only a particular type of folded over omelette.
Once the brekkie was done, it wasn't until about 10:30am when we finally went downstairs all ready to check out the downtown area of New Orleans. This was a big bucket list item for Julie so she really brought the energy on this day.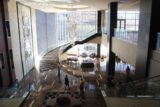 Keeping with the theme of understaffed and undersupplied, the Hyatt House didn't have any more city maps. However, we walked all the way to the adjacent Hyatt Regency, where Julie pursued the Hotel Concierge where we picked up a city map plus some pointers on which direction we should be walking to get to the French Quarter.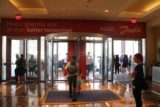 We also stumbled upon some kind of convention or event called the Danfoss Drives 2016 Convention, which happened to be taking place in the Hyatt Regency. Apparently, this was some kind of engineering firm (probably Norwegian if I had to guess based on the name), and that probably explained why the hotel lobby was so busy.
Anyways, we went outside into the pleasant morning air as there was seemingly no cloud in the sky and lots of sun. We followed Poydras Street for several blocks but somehow we missed out on Royal St. Apparently, it assumed a different name down by Poydras Street. So we backtracked then walked along Royal St en route to the anticipated French Quarter.
On one of the streets, I took a bad spill on a misstep at an intersection. I managed to roll as I fell and kept the camera from hitting the ground. That said, I managed to cut up both my knees pretty bad plus the side of my right leg and elbow. My left knee was bleeding, and Julie used Tahia's Frozen bandages to cover up both of the cuts on my knees (though the one on the left really needed to be covered up). Julie also sprayed alcohol on my open wounds, and they really stung on my right leg, which seemed to not have as severe a scab as my left.
Nevertheless, it was embarrassing as my spectacular spill was probably witnessed by cars waiting for the red light as well as some folks on a tour on the opposite corner. One lady wanted to check and make sure I didn't kill my camera on the spill, but so far no harm no foul.
Next, we crossed a very wide street with lots of flashy buildings flanking it. The center divider had a pair of railroad tracks for trolley cars or "streetcars". It turned out that this wide street was Canal Street, but we kept going on Royal Street in pursuit of the French Quarter.
Finally at about 11:10am, we found ourselves meandering about the French Quarter. I could see why they called it the French Quarter as it seemed like most of the street names and place names were in French. There were even a few signs in French though I didn't hear anyone speaking the language while we were out and about here.
As we toured the hallowed neighborhood, we started with Royal Street at first, which was charming in that we got to a part where it was mostly pedestrianized. So that made it easier for us to take photos and not worry too much about being in traffic. And there were plenty of things to photograph as we saw the colonial building with balconies while some of the buildings were colorful while others were fronted by flags of various loyalties (including the French-Canadian insignias).
However, as we walked one of the other streets towards the parallel Bourbon Street, that was when we saw even more of the charming architecture, plus the street somehow seemed narrower than that of Royal Street. We could easily see that Bourbon Street was pretty much all bars and some curio shops. Plus, there was a bit of a foul sewer-like smell that really disturbed Tahia.
So we walked around the relatively quiet Bourbon Street while checking out the ambience, and we even checked out this Musical Legends Park, where there was a live performance amongst several statues of jazz legends. There was a Cafe Beignet here, but Julie saw on her phone that there was a more original location on Royal Street.
So we bounced, and it didn't take long before we were back on Royal Street, where Julie went right for the Cafe Beignet at 11:30am, which was also busy with a line. Tahia and I claimed one of the few tables that were not cleaned up (it was full of used up plates, napkins, utensils, and lots of powdered sugar on the table), but we pretty much moved the rubbish to an adjacent empty table.
While Julie was waiting in the long line, Tahia and I were in between being busy quizzing each other on maths and english while also letting Tahia draw and let her imagination run wild. Eventually, Julie joined us with an order of a trio of beignets along with a cup of full cream milk, and we gladly had this beignet.
Julie was reaching back to the light and airy beignets we had at Crystal Cove in Newport Beach, and she thought that the beignets here were a bit on the doughier side. And now, her interest was piqued to see what the Cafe du Monde experience might be.
We were back on the street at 12:10pm as we were busy meandering some more about the French Quarter being fascinated by the colonial architecture and the jazz feel as some street-side buskers were out and about doing their thing to add to the overall ambience. Indeed, we felt like this city had a different feel to it than any of the other American cities we had visited. And it was this sense of the new experiences that really made us happy to be in the moment.
Around this time, Julie was looking for a lunch spot, and so we slowly made our way towards Jackson Square; getting there at about 12:55pm.
Now, this was where it seemed like the daytime crowd was really gathered. It was totally the happening scene as there were all sorts of little art exhibits surrounding the park with an Andrew Jackson statue right in the middle. There were lots of people meandering both around and within the square itself. Then, there was also an impressive church at the front end of this square.
With so much energy and ambience in this spot, this moment pretty much put us over the top in terms of being happy about being in the moment. Indeed, New Orleans was certainly a different kind of city. And now I could understand why Julie so badly wanted to check off this place from her bucket list.
As we briefly checked out the park, we then crossed the Decatur Street, where we saw there was some kind of Artillery Park. This small park had a raised lookout area peering back towards Jackson Square and the church of St Louis (I believe), but it also had a view towards the wide Mississippi River with bridges in the distance as well as a pleasant-looking walkway along the river.
It was getting hot at this time of day so we quickly seized the opportunity to make use of our tripod to take family shots. It wasn't an easy shot to take given how people tended to go in and out of the field of view for the photos, and I figured that we had better make use of this tripod because it was annoying to carry around, especially when city touring let alone hiking in the bush.
Next, we walked along Decatur Street, where we first located the Cafe du Monde, which had this enormous line that stretched from the famous beignet cafe all the way back towards the middle of the Artillery Park. That was crazy! So there was no way we were going to sit in that line at this moment. We were hungry for a lunch so Julie wanted to go to this place called Coop's Place for some jambalaya and other Louisiana food.
Even the walk along Decatur Street was atmospheric and happening though the street was a bit less charming than that of the signature parts of the French Quarter simply because there were too many vehicles driving along this street, which kind of took away from the overall ambience. Indeed, it was the allowance of cars in such areas that essentially made the difference between screwing up a very charming area or letting a charming area really stand out when pedestrianized.
Anyways, it wasn't until we got to the Coop's Place at around 1:20pm (after having passed by some French Market area as well as the LaTrobe Park) before we thought we were finally going to have a sit down place to relax for a bit and have a lunch. However, that place didn't allow anyone under the age of 21 inside the joint so that meant Julie had to go in there and order the lunch to go while I was busy keeping Tahia occupied outside.
It took a while for the food to be done so it wasn't until around 2pm when Julie finally rejoined us and we managed to claim a somewhat awkward sitting spot next to some plants to finally have our long awaited Creole lunch.
Indeed, it seemed busy no matter where we went, but at least it was mostly shady in LaTrobe Park where we hastily had our lunch of jambalaya, po boy, and gumbo. Personally, I wasn't into this kind of food so I wasn't exactly anticipating it like Julie was, but I had to admit that the spices in the food was what made this cuisine what it was. I'd imagine it had all the influences of spices brought over from Africa mixed in with the local products along with generations of recipes in keeping the tradition alive.
So this was something that we couldn't quite get back at home though that's not to say that chain restaurants or other wannabes back home would continue trying.
When we finished our lunch at around 2:30pm, we then walked into the sea of people crowding through the Historic French Market, which was full of food shops, restaurants, and souvenir stands. After slowly weaving our way towards the half-way point of the market, we backtracked when Julie found this place called the J's Seafood Dock as she was looking to get some crawfish and shrimp (ala Boiling Crab, but this time for the real deal).
We couldn't find a decent spot to relax and sit so we had to make do with a small table while grabbing a pair of chairs plus one broken chair. Julie picked up a pound of crawfish as well as a half-pound of this spiced shrimp, and I had to say that the shrimp was quite good. Plus, Julie cherished her crawfish, and we both thought that Boiling Crab had nothing on what we were having at this instant.
So this turned out to be like a second lunch though Julie kept insisting that this was nothing more than a snack. Still, we were both stuffed, but now we were headed over to the Cafe du Monde for our second fix of beignet.
Thus, we walked back along Decatur Street until we reached the still long line for Cafe du Monde at 3:30pm. At least this line wasn't as long as it was when we witnessed this earlier. But now that we were part of the queue, we knew that it might take a while before we'd get seated and relaxed once again. While waiting in line, Tahia got a butterfly balloon creation from one of the street buskers, and I knew he would ultimately get around to a donation, but I wasn't carrying a wallet at the time so I had to wait for Julie to get back to supply the donation.
However, Julie was busy waiting for her turn to use the restroom which also had a queue. Anyways, when she did return to us, we were then finally seated at the Cafe du Monde at 3:50pm. Even though the line looked long, it actually didn't take that long before we were seated, but it did take a bit of time for Julie to take an order. Meanwhile, it was my turn to get queued up to use the toilet facilities.
After getting our order, Julie paid the necessary cash for the beignets and milk, and we gladly ate the powdered-sugar-heavy beignets. As for a comparison between this place and Cafe Beignet, I personally couldn't tell that much of a difference between the two places. Julie was probably more partial to Cafe du Monde. But we both agreed that these places still had nothing on the beignets we had at this place at Crystal Cove in Newport Beach.
As we were eating the beignets, we were contemplating what we should be doing next. At first, we fancied going into the church to see the fancy decorations and grand chambers inside, but when we realized that the place was closed at 4pm, we then decided to stroll around the Mississippi River, especially since we saw that there was a steamboat (called Natchez) docked over there.
So we left Cafe du Monde at 4:30pm, and fifteen minutes later, we were chilling out on some benches in view of the Natchez Riverboat. Meanwhile, Tahia spent most of her time throwing rocks into the river. Indeed, it was pretty relaxing, and we needed to unwind just a bit before getting back into the action at the French Quarter.
At first Julie had this idea to check out the local's version of the French Quarter called the Frenchman Street, but when we realized how long of a walk it was (especially with a five-year-old in tow), we ultimately nixed that idea, then headed right back along Royal Street.
Along the way, we were mesmerized by the colonial architecture again (this time with late afternoon light) while we were also tranced by a large big band busking crew entertaining a large group. It kind of brought Julie and I back to the swing dancing days in the late 90s when we first met. And I could totally see how bands like Big Bad Voodoo Daddy were influenced by the New Orleans Jazz sound.
And by 5:50pm, we were at the Royal House. We didn't have to wait long before we were seated upstairs. We ordered some kind of Shrimp Creole while Julie had some kind of Shrimp Jambalaya dish. We got Tahia a side of grilled shrimp, and we splurged on a dessert of brownie a la mode. We also had a "free" (they only took off $10 out of $12 that it costed) appetizer (shrimp claw was what we got) as Julie checked in on her phone.
The whole time we were waiting for the food and eating the food, we were listening to this loud band that was playing on the street. It was a bit cacophonous in much the same way that a university band would do some freestyling, but it definitely added to the atmosphere.
At about 7:10pm, we were done eating and decided to check out more of the French Quarter at twilight. Now the Royal Street was noticeably quieter (though it was still busy) than it was during the day, but as we meandered towards Bourbon Street (getting there at 7:20pm), we immediately saw that this was the place where it was happening at this hour.
Indeed, this street was packed with people. There was loud music everywhere from the many bars that were here, and the twilight along with neon lights really made this a pretty cool place to try to photograph and capture the ambience in a photo. However, Tahia was still not keen on the smell, nor was she keen on the loud music and crowds.
When Julie saw that there were a couple of dudes fighting on the street (one guy getting pummeled while being pinned to the ground by the dude in dominant position), it didn't take long before we left Bourbon Street as this place was clearly not a place for kids. We even overheard someone saying this place was scary, and we could totally see why.
I guess in years past, we'd stick around this place a bit more to soak in the atmosphere, but it just simply wasn't practical to bring Tahia to this street.
So we headed back to Royal Street, which we could now appreciate why the concierge insinuated that Royal Street was classier than Bourbon Street. And then we made our way back to our hotel as twilight ultimately gave way to darkness lit up by the bright lights of the buildings we were going past. Julie and Tahia made one stop at a Walgreens, which turned out to be quite a long stop. And during that time as I was waiting outside, I got in yet another random conversation with a stranger.
This time, there was a dude who saw that I was still taking pictures, and asked what my camera had. Then, he went on his soap box and told me how he was local to NOLA and said how all this touristy stuff wasn't the real New Orleans; that he knew where the real "Nawlins" was, and that he was the real "Nawlins".
I indulged him for a few minutes before he found someone else to converse with. I'm sure he wanted some money from me, but the truth was that I didn't bring my wallet with me (for fear of pickpockets), and so I really didn't have anything to give at the moment.
Finally at 8:10pm, we were back at our room at the Hyatt House. While this might seem like an early end to a place as alive and kicking at night as downtown New Orleans, this was good enough for us as our nearly 10-hour day drew to a close. But boy what a day this was!
Visitor Comments:
Got something you'd like to share or say to keep the conversation going? Feel free to leave a comment below...
No users have replied to the content on this page