Day 6 (March 14, 2016 – New Orleans, Louisiana): "The Creole Culture"
It was about 4am when I abruptly awoke to very uncomfortable itching all over my body. It felt like there was something in my throat, and there was no way I could ignore all the itching sensations beneath my armpits, on my hips, on my arms, on my chest, back, and even feet and hands. Indeed, I had gone through this before, and I knew that it was yet another episode of an allergic reaction to eating shrimp head or parts of it.
I knew that it must've come from Jay's Seafood Dock at the Historic French Market, but I could've sworn that I tried to avoid eating the shrimp heads. But I guess I didn't do a very good job of peeling all of the skin off the shrimp before eating it, and so perhaps there were some bad things on there that should've been peeled off in the first place.
So I tried to kill an hour by surfing the web on the laptop while also drinking water to try to flush out whatever was in my system. And a little after 5am, I returned to bed as the symptoms seemed to have subsided somewhat (either that or I started to accept the current state and just dealt with it).
At about 7:45am, I awoke and so did Julie. It wasn't the 6:30am wake-up that Julie had wanted (to maximize the amount of time for today by doing the Plantation tours as early as possible), but we were just too tired to get up so early.
Besides, the hives or that severe allergic reaction that woke me up earlier in the morning was now mostly gone.
Once again, it took some time to get ready, so it wasn't until about 8:20am when we went downstairs for the brekkie. As usual, attention to detail wasn't the strong suit of this particular Hyatt House location so we saw that the water jug was empty as soon as we went down, and most of the nutella packs were also gone.
Once we were done with the brekkie, we went back upstairs to get our stuff together as today was going to be a driving day (though it was merely a day trip before returning to this Hyatt House for one last night in NOLA).
At about 9:05am, we went back downstairs, and ten minutes later, we were back in the parking garage. We were in a good spot as the car was practically right in front of the elevators on the 2nd floor.
And after a little bit of some detours while going around the Super Dome, we then got onto the I-10 as we were driving west towards the Plantations in the town of Vacherie. However along the way to the first plantation, which was planned to be the Laura Plantation, we ran into yet another nasty traffic jam due to an accident somewhere on the I-10 just east of the exit that would've led us to Vacherie (I believe it was Hwy 641).
Just our luck that this accident just had to take place in a spot where we had no choice but to endure the delay. So it was looking more and more like the 10:40am tour that we were hoping to catch could be in jeopardy, thereby forcing us to wait another 40 minutes or so for the next tour.
It turned out that this traffic jam costed us nearly 30 minutes. As we were driving the Hwy 641 or 3213, we wound up following the caravan of public service vehicles (some cops and an ambulance along with a fire truck) before they stopped to help someone else in need at one of the lighted intersections. After that, we went on a big bridge over the Mississippi River before taking the next exit, which curled us back towards Hwy 18. This road pretty much followed the river though the river itself wasn't visible as there was a levee dug up to essentially keep the river from overflowing its banks.
When we got to the car park for the Laura Plantation, it was 10:35am. When Julie first went in to purchase the tickets, it turned out that we were just in time for that 10:40am tour. So we didn't have to wait the extra 40 minutes after all though we were far from catching the first tour at 9am.
Once we were on the tour, we were essentially escorted by a young girl named Renee. She was actually quite good as she recounted the history of the plantation as well as the Creole culture, of which she was descended from.
We first went into the basement of the colorful masters' house, where Renee introduced us to the key people of this plantation starting with the DuParcs. Then, the story gravitated towards their descendants, who in turn passed down the work site (as the Laura Plantation was basically a work site) to their heirs. The plantation went through times like the Civil War, and we really got a sense of how the house and plantation were used to cultivate sugar, which was the key cash crop of Louisiana.
After going through each of the rooms on the upper floors of the main plantation home, we then walked over to the slave cabins, where we got a good sense of how they lived as well as worked. We also got a sense of how many of the freed slaves after the Civil War went right back to the plantations they worked on by hook or crook, or because they didn't want to leave the certainty of the plantations for the uncertainty of whatever was out there (including the Jim Crow laws and many more of the injustices that occurred well past the Civil War and into the Civil Rights era).
One thing that Renee encouraged was that we take photos of the interpretive signs along the way. Surely there was a lot of information to process, but taking the photos of the signs and reading them later would allow us to internalize it a bit more or jog up memories of what she said and what we were seeing. Heh, I was amused as this was one of the techniques I use when we do our waterfalling hikes or guided tours, and I'd often refer back to these signs for information instead of doing the lazy thing and just Google search what's out there (often times being inaccurate).
Renee also wanted us to imagine how the moral compass completely shifted 180 degrees in just 150 years. The mentality back then was that blacks were property, and they weren't treated as human beings. Of course when these things were said so matter-of-factly now, we react at how horrendously these people were treated as well as how shameful of a chapter slavery was in American history. However, she did a good job at reminding us of how normal that mentality was back then, and how the blacks were essentially free labor in a very lucrative business of growing sugar or other crops.
The tour ended and we were back in the car at 12:10pm. The tour was very educational, and we gave Renee a tip for the tour as we felt such a great oration and passion to go along with it couldn't go unrewarded. Tahia was also complimented by other folks on the tour saying that she had been a very well-behaved girl though she was messing with me at one point throwing little pebbles at me while the tour was still going on. That little she devil!
Next, we followed a line of cars further to the west as we then went to the Oak Alley Plantation. Julie looked forward to doing this one because it seemed to be in a lot of movies, and when we passed by a spot where we could see a line of oak trees flanking a walkway leading up to the Big House, it jogged up memories of what I might have seen in the movies like the Curious Case of Bejamin Button
(though for some reason I kept thinking about a Forrest Gump
scene here) or something like that.
I guess we were all thinking the same thing because sure enough about 10 minutes later, we were parked in the large (and unshaded) lot at the Oak Alley Plantation. Next, we paid the admission and realized that they were doing tours of the Big House on the hour and every half hour so we quickly made our way to where they do the tours since it was almost 12:30pm.
It turned out that our tour was a bit on the late side so I took some time to walk onto the walkway flanked by the line of oak trees for that signature shot looking back towards the Big House while Julie and Tahia were waiting in line. But since it was pretty much high noon, the sun was pretty much on top of the scene so it created pretty harsh shadows. I'm sure the best time to photograph this spot was probably first thing in the morning or in the twilight hours.
Once we were in the tour (which began some 15 minutes late), like the other tour at Laura, it was a big cozy as we listened to the tour guide (this one showed off a bit more French as he seemed to have retained a bit of his French heritage). The inside of the big house was quite ornate and grand, and it had that interesting mix of European as well as colonial.
Apparently, this property changed owners a bunch of times so the story here was not as fascinating nor orated quite like what we had at Laura. That said, the tour guide reminded us that once the slaves became "free" after the Civil War, the lucrative plantations were devalued to the point that they had to be sold because now labor costs went sky high.
Such an anecdote really hit home in terms of how related politics, policy, and money were. For if a fortune could all of the sudden become bust based on a post-Civil War policy position, it's no wonder why oil companies fight hard to lobby for legislation to deny the environment or why the FDA can be bought off to pass as safe cancerous or mass-extinction-accelerating pesticides or GMOs, etc.
So aside from that bit of insight, this visit was pretty much like a big photo run, and I guess the Oak Alley Plantation knew it because they seemed to have more amenities here like the mint juleps (kind of like a mojito with a shot of bourbon) stand at the Big House as well as a restaurant closer to the car park.
There were even workers at the Big House who were dressed in period dresses. Since Tahia liked dresses, I'm sure she must've been drawn to what they were wearing. I think they were there both as photo ops in addition to directing the traffic while also closing doors when a particular tour went beyond certain rooms.
So once we were done with our Big House Tour, we then walked along the Oak Alley. The sun was still on the harsh side, but we took even more photos (somewhat against the sun and shadowy) of the Big House with the line of oak trees fronting it. According to the tour (or what I thought I had heard), these oak trees were upwards of a couple hundred years old. There was one particular tree that looked like it was felled or died so there was a gaping gap in the line of trees, but for the most part, this photo op was as advertised (according to Julie since she did the research on this one).
We also took the time to take tripod shots for family photos since I was lugging it around in my backpack making it quite heavy and uncomfortable.
Next, we waited for a bit of a late lunch near the slave cabins display on a different side of the Oak Alley complex. We had to wait a little over a half-hour for our table, but when we finally were seated in the limited space restaurant, we enjoyed a shrimp creole that was much better than the place we had last night. Julie also had a blackened redfish while Tahia had a very unhealthy-looking Croque Monsieur (grilled ham-and-cheese sandwich).
After the lunch, we checked out the slave cabins, which were a bit re-created compared to the one at Laura. Then, we walked back to the Big House for one last go at the Oak Alley itself as the lighting was a bit less harsher this late in the afternoon as opposed to the high noon conditions we had earlier.
Next, as we were using the toilet facilities one last time near the Big House, we stumbled upon a short movie about how sugar was made. It was kind of like the "How It's Made" show they have on the Science Channel, and we could appreciate all the steps that went into growing and cultivating sugar, then processing it for consumption.
Given how labor intensive it was and all the steps that were involved, we couldn't imagine how the slaves would do all this by hand without the aid of such automation and control.
The movie was pretty enjoyable until the end when they went Fox News on us and tried to claim that sugar (or overconsumption of it) didn't cause obesity, diabetes, or other dietary problems. And how they encouraged the viewer to eat as much sugar as you'd like (as if there'd be no consequences to it). That prompted laughter from some students that showed up towards the end (we were watching the movie mostly alone until that point).
I guess that emphasized a bit more of how you'd defend your business as best you can if you're fortunate to have made a fortune or you're in the process of being on the way there. And then, you'd do anything to make sure you stay in business. Hence the propaganda at the end of this movie.
At 4:15pm, we were finally back in the car. Everyone was pretty much tired at this point (plus the day had been a bit on the hot and slightly humid side), and I was even finding myself getting a little fatigued on the long drive back to New Orleans.
There was a bit of a traffic jam on the 90 going into downtown, but that was when Julie finally acknowledged to me that we were supposed to listen to her phone (instead of the nuvi GPS) about staying on the I-10 towards Slidell then taking the left exit towards Poydras to get to our accommodation. That little misstep probably costed us between 20-30 minutes (seemed like traffic jams were the theme of this trip whenever we were on the interstates), so it wasn't until 5:35pm when we were back at the car park.
We quickly went back upstairs to lighten my pack as well as to use the facilities. Then at 5:55pm, we were back downstairs and going for the somewhat long walk back to the French Quarter for a dinner and one last go at experiencing downtown New Orleans with its atmosphere.
We ended up in line for this place called the Acme Oyster House at 6:25pm. There was a pretty long line here so we let Tahia play with my iPhone to keep her busy. And while Julie, Tahia, and I were waiting in line, we heard some commotion going on in the nearby Bourbon Street behind us, and I then went out of line to see what was going on (while Julie and Tahia stayed in line).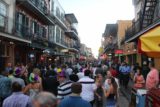 It turned out that there was loud music in a bit of a mix of parade and normal bystanders parading along with the source of the music and dancing, and Bourbon Street was bouncing along with them as it was packed with people while at the end of the line was a police escort. I did what I could to capture this atmosphere though it was tricky as the further away from the side of Bourbon Street I went, the more likely I'd get swept up in the parade like a swift moving current.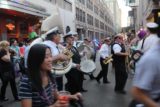 I kept thinking to myself that this must be where Mardis Gras would normally occur. Anyways, I also thought to myself that such a scene could only happen in New Orleans, and it was a reminder of how good it feels to stay in the moment and experience things like this when on travel.
At 7:05pm, we were finally seated inside the crowded and dark Acme Oyster House. The food in there didn't seem all that great, but they were most known for their oysters so we got a dozen of their signature grilled oysters while Julie got some crawfish, and we got Tahia a roast beef sandwich, which was more like a beef brisket sandwich than the dry and dark roast beef we're used to seeing.
Julie was disappointed in her crawfish as it didn't taste as fresh as what she had at the Historic French Market yesterday, and she also wanted to check out this more upscale French-Creole place at SoBou. So we didn't linger in this restaurant for long and we bounced at 8:05pm for SoBou.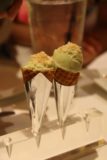 That restaurant was a block south of Royal Street so it was a little on the dead side. However the restaurant itself had a nice ambience with the lit up walls of bottles on the wall along with a more early 20th century look and feel amongst the low lighting.
But the real raison d'etre for being here was the food. And we wasted no time ordering a yellowfin tuna cone (some unique blend of raw yellowfin tuna with avocado and wasabi ice cream wrapped in a chip cone) then the sweet potato beignet, which was a very interesting savory beignet. The main was duck confit with some very subtle foie gras flavor.
This was like our second dinner so it was good that the portions were pretty much like a collection of appetizers (tapas style), and in fact, I could've sworn that they used the word pinchos to describe the portions of the food at this place (ala the pintxos you see in Northern Spain). That said, the food wasn't cheap as we nearly paid $60 with tax and tip (the service was quite good here) for all the stuff we had.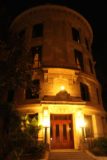 We were done with dinner at 8:50pm, and then we walked towards this place called Cafe Soule in search of one last go of the sweet beignet to see if there was anything better than those at Cafe Beignet and Cafe du Monde. Along the way, we saw this sweet place called Sucre (sugar in French), and we thought about getting their "souffle" but we didn't believe it would be the real deal so we kept going. However, when we got to Cafe Soule, we were told that their kitchen was backed up and the wait was 25 minutes just to even be seated.
So we decided that we wouldn't have our last beignet fix (we're still of the mindset that the best beignets we've had were at Crystal Cove in Newport Beach), and by 9:10pm, we were back at Sucre for our indulgence of sweets. We wound up having gelato as well as a couple of macarons each, and the $2 macarons were surprisingly good.
The place was busy but it just wasn't as crazy as the other places. Yet I had the feeling that all the places were busy in the French Quarter no matter where you go.
At 9:45pm, we left Sucre, then we headed to Bourbon Street just to experience the atmosphere one last time. When we got there, we saw that Bourbon Street was now mostly pedestrianized but it was still rocking (way more so that Royal Street) with lots of people bar crawling and lots of music blaring out of the pubs here.
There was definitely more of a polic presence here so perhaps Bourbon Street took on more of a kindler gentler feel than last night when we witnessed a street fight and lots of loud drunks being silly alongside rif raff.
It wasn't until about 10:15pm when we finally made it back to the Hyatt House. As we were getting cleaned up, there was some chopper flying around and rocking the walls and windows outside (who knows why), but besides that, with everyone very tired, it was pretty easy for us to just get cleaned up and sleep for our last night down in the Big Easy…
Visitor Comments:
Got something you'd like to share or say to keep the conversation going? Feel free to leave a comment below...
No users have replied to the content on this page