Day 7 (March 15, 2016 – Bossier City, Louisiana): "Aftermath of the Flood"
It was about 7:05am when we awoke. The skies were once again overcast and partly cloudy at this early hour, but we knew that the forecast had called for warm and sunny weather. Anyways, the original plan was to go to the Clark Creek Natural Area in Mississippi by the Louisiana border near Baton Rouge, then possibly visit some obscure waterfall in Louisiana at Sicily Island Hills or La Boeuf Wildlife Management Area, but given that we wanted to check out the Garden District of New Orleans, we thought we could at least do that this morning before going to Clark Creek, then making the long drive to Shreveport.
So the sense of urgency wasn't there though I wondered if we were taking our chances arriving in Shreveport at night time. In any case, it wasn't until 8:40am when we went downstairs for our final breakfast. Then, after the usual brekkie, we went back upstairs to wrap up our packing as we were going to vagabond it for the rest of the trip.
At 9:30am, Tahia and I had brought the luggage downstairs to the garage so we could load up the car. Meanwhile, Julie returned the room keys and checked out of the Hyatt House. Then, we slowly drive out of the downtown area and into the quieter Garden District in search of some of the estate homes with historical value.
Eventually at 9:50am, we stopped near 1st and Chestnut, where we saw the Anne Rice House. That house didn't look particularly impressive compared to the other neighboring homes, but we pretty much targeted the historical home then took photos of other incidental homes that caught our eye.
When we returned to the car, there happened to be a large tour group getting an explanation from the guide about the architecture of the homes here. I guess we stumbled right into the key area of interest.
Julie and I wondered what the residents of the homes here must think about the camera-wielding tourists taking pictures of their property. I guess they're tolerating it as long as the city of New Orleans is endorsing it to the tune of tourism dollars and jobs. But I could only imagine how annoying it can get being a resident here (not that we could ever afford to live in one of these places in our lifetime).
At 10:05am, we continued driving out of the narrow streets of this quiet residential neighborhood and towards a more happening area around the Lafayette Cemetery. We were lucky to have found street parking right by one of the main walking entrances because there were already quite a few people here, and the place definitely felt busier than it did within the residential area of the Garden District.
So we briefly walked within the uneven grounds of the cemetery (it was really easy to trip up here because the trees essentially uprooted a lot of the pavement above them), and it was eerily reminiscent of the Recoleta experience in Buenos Aires. Of course instead of the chance of seeing the Duarte family tomb, we were seeing some historical figures of the colonial era, including others who were baller enough to be buried here as recently as the 2000s or later.
I'm sure had we been on a guided tour, we probably could've gotten a bit more out of this visit as well as check out the most notable tombstones and memorials, but we were pretty content to check out the Children of the Destitute or something like that memorial before we exited out the other end of the cemetery. Then, we checked out this bright light blue building, which was apparently the Commander's Palace though it appeared to also double as a restaurant.
As much as we wanted to kill a little more time and eat some sweets here (especially the bread pudding souffle), they didn't open until 11:30am and it was still 10:30am at the moment. So we returned to the car and decided that we got the Garden District experience, and now it was time to go.
I guess we made good time because the cemetery suddenly became very busy with tours as well as individual tourists. I had no idea that this Garden District area was so popular.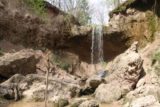 Next, we drove back towards the I-10 where we made the drive towards Baton Rouge. We made one quick gas stop (as well as potty break) before we continued on in our drive at around 11am. Unlike the other time we drove the initial stretch of the I-10 west of New Orleans, this time we didn't face traffic and it was pretty much smooth sailing going through Baton Rouge and then ultimately into the state of Mississippi as we continued north on the Hwy 61.
We'd follow the directions to the Clark Creek Natural Area based on some trail map and driving directions I got off the web. And with the directions being pretty spot on, we were at the trailhead for the signposted Clark Creek Natural Area and Waterfalls by 1pm. That said, we had to be a little careful on the last road to get there as there seemed to be quite a bit of water damage and potholes (though the vast majority of them were filled in).
After paying the honesty box $5 (though I realized that we probably could've gotten away with $4 since our party was less than 6 so we weren't supposed to pay the extra 50 cents per person), we promptly got onto the wide waterfall trail. The trail was pretty easy to follow and there were trail map signs at apparently each key junction.
However, the initial stretch of trail was mostly downhill, and I knew that this stretch would be a killer on the way back. In any case, it didn't take long for us to get to a signposted junction, where we veered left from the main path and descended towards the flowing creek (not sure if there was a waterfall there or not).
Well, it was a good thing that I did the scouting on this because it did indeed turn out to be the first waterfall of the trail. And while we tempered our expectations of waterfalls in the bayou, that first waterfall was surprisingly pretty scenic and had pretty decent flow (though nothing substantial like what we had seen in Texas earlier on in the trip). We got here at around 1:35pm.
The first waterfall had segmented plunges, and there was another couple that was already here. That said, when they saw us descending to the base of the waterfall, they left us alone and took off. And so we enjoyed this waterfall while taking photos and movies. However, it turned out that I managed to get a bite on my right elbow, which I wasn't sure if it was a mosquito or a sand fly. Whatever it was, it left a bit of an itchy bite, and I knew that I was a sitting target as long as I wasn't moving.
So as much as I wanted to let Tahia toss rocks into the stream and linger around for a bit, we knew that we still had the long drive to Shreveport from here. So we had our fill of the first falls, then climbed back up to the main waterfall trail.
At about 1:55pm, Julie and Tahia decided that they wanted to hike back to the car. So I was left alone as I promised them that I'd try to make haste in visiting the remaining waterfalls immediately accessible from the main waterfall trail.
After five more minutes, it turned out that I reached the second waterfall after veering once again from the main trail and descending to the bottom (as well as top) of this falls. While this one didn't quite have the size and character of the first, it had more of a gushing flow as it was singular. However, beneath the wooden steps, the ground seemed very steep and slippery, and so I opted not to try to get down to the base of this waterfall figuring that it wasn't worth the risk nor the extra time taken.
After climbing back up to the main trail, I then decided to continue on the main waterfall trail towards the rest of the waterfalls accessible. I had to go through a fairly featureless (except for the interesting trees and the up-and-down undulating nature of the terrain as well as some kind of shed with graffiti all over it) stretch of the main trail as it descended past a couple of flooded sections before climbing up a ridge. Then, it descended from the ridge around some rain-eroded gullies before going down a bunch of wooden steps to another creek. I'd be at the bottom at around 2:20pm.
I saw a trio of young folks down here, who greeted me with a peace sign. Apparently, they got to this point from a different starting point of the trail, and after reading the maps and figuring out where I was, I figured out that the remaining three waterfalls marked on the map required upstream stream scrambling.
So I dutifully made the stream scramble as I was well equipped with sturdy hiking boots. Besides, the stream wasn't deep though the terrain was certainly muddy, and the rocks were slippery to boot. There was also a downed big tree preventing obvious stream scramble progress, but I did see some trails of use going up and around this tree before continuing on the stream scramble. And eventually at 2:35pm, I'd get to what I called the third Clark Creek Waterfall, which was another gushing plunge of around 15ft or so.
There were some interesting cliffs with some color in them (not sure if they were natural colors or graffiti) as well as some minor overhangs. But when I had my fill of this waterfall, I was determined to at least visit the remaining waterfalls in the immediate area before heading back up to the car park to continue our long drive towards Bossier City or Shreveport.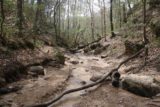 As I made my way back towards the part before the fallen tree obstacle, I then followed another fork in the stream scramble. I saw the same trio of hippies that I had seen earlier, but this time I was once again stream scrambling on this other stream.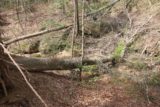 At first, I saw some alcove high up to my right with a trickling waterfall plunging over the open space below, but I punted that for later as I wanted to see the waterfall at the end of this particular stream scramble.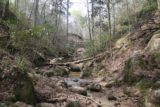 Unlike the first scramble that I had made, this particular stream was significantly muddier (even with some sections of quicksand apparently). So my boots were getting very dirty as every once in a while, my boots would sink into the soft ground around the stream. There was a lot of silt within the stream, which must've been deposited runoff from the recent rains and floods.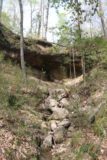 Still, if it weren't for the floods from last week, then almost certainly these waterfalls here wouldn't be flowing.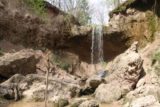 Anyways at around 2:45pm, I finally found what I was calling the fourth Clark Creek Waterfall. Like the third one, this one had a singular plunge and it was flanked by minor cliffs fronted with some big rocks and tall trees up top.
After having my fill of this waterfall, I then made the muddy stream scramble back towards that trickling waterfall, which I'll dub the fifth Clark Creek Waterfall (though it'd be a stretch to call that waterfall legit). Then, I made a brief scramble uphill within the stream to get right up to the trickling waterfall for a closer look. I wound up at the fifth waterfall's base at around 3pm.
If all the rains and flooding from last week would only produce a trickle that soon thereafter, then I could make the argument that this wasn't really a waterfall.
Anyways, I headed back downstream, but this time I thought there were some trails of use on the slanted banks alongside the minor stream. But they turned out to be nothing more than muddy slopes covered with leaves so they concealed the slippery undersurface. And thus, I had one misstep where I took a spill and landed on my butt, which I'm sure left mud on my butt and T-shirt.
Once I was back on the main stream, the scrambling became easier, and it didn't take long before the stream scramble was over and I climbed up the wooden (and slanted in spots) steps. Eventually, I'd reach the apex at around 3:10pm, where I then took a water break while getting my pack adjusted before continuing on.
Now, I was essentially hiking as fast as I could as I knew Julie and Tahia had been waiting for me for probably an hour by now. So with all the trail undulations, I'd eventually get back to the car park by 3:35pm after completing that arduous long uphill to the trailhead. With me being a hot and sweaty (and smelly) mess, I was glad that our car was parked well in the shade.
Now, with our waterfalling mission accomplished, it was time to continue on to Shreveport-Bossier City.
So we backtracked in the direction of Baton Rouge as we crossed back over to the Louisiana side, then we followed the Hwy 1 (which wasn't on my nuvi so it was very confused, but at least Julie's iPhone had this route). Then, we pretty much followed this road for a few hours. Along the way, we saw large stretches of swamp and what appeared to be lake or "sea" given how extensive some of the bodies of water we witnessed alongside the road were.
Little did we realize that we were starting to see some of the effects of the flood from last week and into last weekend that caused several parishes in the state of Louisiana to declare a state of emergency. In fact, we were going into Bossier City-Shreveport, which was right at the epicenter of the flooding late last week.
Boy was it a good thing that we didn't do the trip in reverse (clockwise) as originally planned, because we would've really be screwed with the flooding there. Plus, we would've really been screwed at the Texas-Louisiana border along the I-10 since they closed it this morning due to high water from all the runoff that went from northern Louisiana to southern Louisiana. It was amazing to think that just three days ago, we had crossed that stretch of interstate to get to New Orleans from Austin.
It took a while to get from the Hwy 1 onto I-49, but when we got onto that interstate, it was pretty smooth going as we could use the cruise control and just pay attention to the road as well as the cops. That said, I had one scare where one guy was going past me (and we were both around 5mph or more faster than the 75mph speed limit), and there was a cop right in the center of the interstate.
When I saw his siren go on, I had this sinking feeling that he could've chosen either one of us, but he opted to go past me and pull over the guy right in front of me. Whew!
So from that point on, instead of cruising at around 5-6mph over the speed limit, I reduced my cruise control a few more mph lower.
Perhaps what was scarier about driving north on the I-49 was seeing how close the bodies of water were from the interstate. We knew that these sections of the road could've easily been flooded during the rain storms late last week. And we could see in the vast bodies of water flanking I-49 some ramp closures (due to continued flooding) as well as some homes that were half inundated in the flood waters.
As the sunlight was fading after 7pm, we saw an orange globe sun through the light clouds in the distance over the flooded terrain to the west. Then, when it got dark, I was very cognizant of the deer danger as I had witnessed a few deer carcasses (as well as a few beaver or badger carcasses) on the shoulder of the road.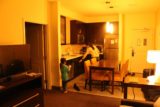 Finally at around 7:45pm, we finally arrived at our accommodation at the Residence Inn in Bossier City. We wasted no time getting our stuff up to our room at 8pm, then Julie made me change out of my muddy and stinky attire in exchange for more streetwise clothing.
At 8:10pm, we were back in the car, then we promptly drove to this mall called Boardwalk. Julie was in the mood to try this steakhouse in that mall, but they were closed at 9pm so we had to be hasty. At about 8:15pm, we were parked at the Boardwalk, then we quickly walked along the "boardwalk" alongside the Red River, which had some nice views across towards Shreveport's casinos on the other side.
Soon thereafter, we got seated and got our chain food dinner at this place called the Salt Grass Steakhouse, which apparently was a Texas chain (as we were asked if we wanted to be part of the Landry Select Club or something like that). I figured with a name like Landry, it must be referring to legendary Dallas Cowboys coach Tom Landry.
So we ended up having filet mignon as well as BBQ ribs and grilled jumbo shrimp. We had a crab cake appetizer, but with an early wake-up on order for tomorrow morning, we couldn't linger around for dessert, especially since the restaurant was closed by the time we were done eating at around 9:30pm.
The food was good, and I even checked out some NIT game that was being shown on TV at the time.
At 9:40pm, we got back to the car, but not before we spent a few minutes taking some night photos across the Red River towards the Shreveport Casinos (namely the El Dorado and the boat-looking Sam's Town). It was a shame that we couldn't be here a couple of hours earlier to take twilight shots across the river, but when it came down to the priorities of the day, Shreveport was last on the list in our limited time today.
At 9:45pm, we were back at the Residence Inn, where we finally could call it a day. And while the floods produced good waterfall sightings at Clark Creek Natural Area, we were definitely in awe of the flood aftermath that we had seen on the long drive. Hopefully, as we were continuing to go north into Arkansas tomorrow, we wouldn't have to deal with any more flood drama (let alone for the rest of the trip for that matter!).
And so the vagabonding and waterfalling end of our South Central USA trip would continue…
Visitor Comments:
Got something you'd like to share or say to keep the conversation going? Feel free to leave a comment below...
No users have replied to the content on this page