Day 8 (March 16, 2016 – Clarksville, Arkansas): "Little John"
It was 6am when we awoke to Julie's annoying alarm. Knowing that today involved a lot of driving in addition to at least two waterfalling excursions, I was hoping that we'd be out of Bossier City-Shreveport by this time. But since Julie was really interested in having the free breakfast at this Residence Inn, I resigned myself to the late start.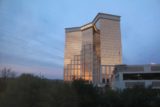 By about 6:45am, we went downstairs for brekkie. There were quite a few people down here, but we appeared to be the first ones to use the waffle making machine. And it was a good thing that we got started when we did, because a few minutes later, some kids showed up, and they were waiting to use the waffle machine as well. Since there was only one, they had to wait for Julie's job to finish before they could get started. There was quite a queue for the lone machine, so I could imagine what a further delay this would've been had we not come down here earlier.
Other than the waffle, we also had some sausages and an egg mcmuffin kind of sandwich in a biscuit. But since we were pretty much in a rush to get out the door and drive four hours into the Ozarks, we didn't linger for much longer. Yet even with our breakfast haste, it wasn't until about 7:45am when we loaded up the car and were finally leaving.
The drive up north from Shreveport involved going on the 71 before getting onto the I-49, which the nuvi didn't seem to recognize from Shreveport to Texarkana. The drive was pretty smooth, and we even got some morning views of some low lying fog floating over the calm reflective flood pools flanking the interstate. It was both scary yet beautiful at the same time.
At about 9:05am, we made a gas stop at the town of Texarkana, which was right on the Texas-Arkansas border a bit north of Louisiana's border. The speed limit went from 75mph to 70mph the moment we went into Arkansas. Anyways, when we were filling up, I couldn't help but think about the REM song "Texarkana"
, which was ringing in my head while we were here. I could only imagine that they might have been road tripping through the area or something and felt inspired enough to make a song about it.
Next, as we left Texarkana, we went east on the I-30, which was once again pretty smooth going. However, this time, Julie looked at her iPhone to look ahead for any traffic jams, and sure enough, there appeared to be a long one somewhere near the turnoff we were supposed to take to go north towards Petit Jean State Park, which was the reserve containing Cedar Falls. Cedar Falls was the main waterfalling highlight of the day.
So as we were getting close to the estimated start of the traffic jam, we decided to be smart about going around the traffic jam on the I-30. After all, we had encountered these things at least three times (taking about 30 minutes or more of delay each time) or more on this trip, and it was about time that we took matters into our own hands to avoid it.
Eventually, we'd exit the I-30 at the Hwy 270, which we briefly took south to a side road connecting with the Hwy 67. We then followed the 67 north as we crossed over a bridge above the I-30. It was when we traversed this bridge that we realized that Julie's iPhone was right, and that there was indeed a traffic jam that we wanted no part of.
Continuing north above the I-30, we then followed a local road called Fairplay Road, then we briefly got onto the Hwy 70 before continuing north on Narrows Rd. When this local road junctioned with the Hwy 5, we then went north onto the Hwy 9, which was a bit smoother going than the local roads taken earlier. The drive on Hwy 9 dominated most of the drive until it became Hwy 10 as we were going into Perryville.
We started to see a brown sign for Petit Jean State Park so we knew that we were going the right way. Then, when we got into the town of Oppelo, we turned left onto the Hwy 154, where we followed a pretty slow moving RV towing a jeep along the way. It wouldn't be until about 11:55am when we showed up to the visitor center for Petit Jean State Park.
Now unlike the other state parks that we had visited earlier on this trip, this particular park didn't require vehicle fees nor per person fees. It was pretty much free for all to enjoy (provided you were physically fit enough to do the upside down hike).
Anyways, after picking up a trail map and using the facilities here, we then drove over to the Cedar Falls Overlook, which we got to at around 12:05pm. There was a boardwalk that meandered closer to the cliffs and gorge containing Cedar Falls, and it was a bit of a longer walk than I had anticipated (though it was still on the order of 5-10 minutes).
Once we got to the lookout deck, we got sideways views of the wide semi-circular amphitheater containing the gushing Cedar Falls. The view of the bottom part of the falls was blocked by a tree that made the view somewhat unsatisfying.
We saw that there was a trail that kept going beneath the lookout deck, where a gentleman at the overlook told us that it led to a dead-end where there was a more upstream view of the falls. So we went there, but when we saw that the view from there was also obstructed by the same tree, we knew that the best way to experience the falls was not from these overlooks, but from the bottom. We knew that this was the case anyways, but our experience here pretty much confirmed it.
About five minutes later, we finally parked at the Mather Lodge, which was busy with lots of cars. But we still managed to get a parking spot towards the back. As we walked towards the lodge, I was drawn to a wide view behind the breezeway attached to the main lodge. On the other side of the breezeway, I gladly took photos of the panorama before entering the lodge.
Julie and Tahia were already inside trying to figure out what to order on the go. But when I came in and Julie showed me the menu, I decided right then and there to just dine in so we could have things like the blackened catfish or other things that might've been awkward eating on the go.
So we were seated at about 1pm, but the food was coming out very slow. In fact, at about 1:30pm, the waitress told us that something was wrong with the system and our order wasn't processed yet. When Julie got wind of this news, she flagged down the waitress and changed our order so we could take out as we were running out of time (we still had to get to Clarksville then do one more waterfalling excursion before nightfall).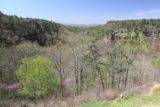 We anticipated taking 2 hours at the least to do the Cedar Falls hike so that would mean it probably wouldn't be until around 5pm when we'd finally leave Petit Jean State Park by our estimation at the time. Anyways, it wasn't until around 2:05pm when we finally got our takeout food. They took off 20% off the food price, but we were more concerned about the delay than the discount at this point.
So we had our lunch hastily at the panoramic view (so we wouldn't have to wait on service and things of that nature in the dining area), and it wasn't until 2:15pm when we were finally starting the Cedar Falls hike.
At first, we had to descend a lot of switchbacks and rocky steps. Tahia was a bit eager on the hike so she was essentially trail running, which concerned Julie and I as we didn't want her to turn an ankle or take a nasty fall, especially with the large and sharp rocks around.
Speaking of the rocks, the footing was a bit on the awkward rocky side, but it was nothing that Tahia wasn't about to do. In fact, she led our little hiking party of three, and she made sure that no one in this small group would pass her (hence the trail running).
Once we got to the bottom, the trail flattened out, then it crossed over the creek (responsible for Cedar Falls), where there was a footbridge that only allowed for 2 people at a time. So that caused a bit of a delay there as there were plenty of people sharing this trail and going in both directions.
Once we passed that part of the trail, we then meandered alongside the creek (or river? not sure), which was flanked by thin trees as well as some giant rocks. Again, there were lots of people on the trail so we were often times caught behind this large group of Hispanics or holding up some Caucasian hikers behind us (as we let Tahia set the pace).
Yet despite all that, we made it to the beautiful Cedar Falls at around 2:55pm. While we were there, we took some people shots while we were perched on one of the flatter rocks closer to the creek. There was a large shadow cast on the left side of the falls thanks to a large cliff and overhang (reminiscent of the Hamilton Pool except much taller), and so after we took our people shots, Julie and Tahia decided that they were going to head back to the car in the interest of saving time knowing that daylight was very limited from the snafu that took place at the restaurant at the Mather Lodge.
Meanwhile, I scrambled into the amphitheater and followed the narrow and slippery (with dropoff exposure) path leading closer to the backside of the falls. I didn't make it all the way behind the falls though there were plenty of younger folks that did go all the way behind the falls. But I was pretty content to capture the falls in the way that I did.
When I got back out of the shady amphitheater, I took a few more shots of the falls directly. But this time, I noticed that there were rainbows coming out of the mist at the very base of the falls. I'm sure had I waited a little bit longer, that rainbow would rise as the sun would continue to sink on the horizon.
But we couldn't afford to wait that long, so by 3:30pm, I had my fill of Cedar Falls, and then I quickly hiked back towards the Mather Lodge. The whole time, I thought I'd meet up with Julie and Tahia in the car.
Yet as I was passing some of the slower hikers, when I got back to the final ascent up to the Mather Lodge just beyond the 2-person footbridge, that was when I noticed that Julie and Tahia were up ahead. So I caught up to them, and then we returned to the Mather Lodge together at about 4pm. We made one last restroom stop in the clean bathrooms in the lodge, then we finally drove off at around 4:10pm.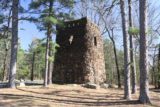 Now, instead of driving east on the Hwy 154, we drove west on the Hwy 154, which eventually took us to the Hwy 7. We went north on the Hwy 7, which gradually grew heavy with traffic, and it took some time before we'd finally make it to the I-40. Then, we quickly drove on the interstate eventually getting to Clarksville, where the Holiday Inn Express was right off the freeway on the outskirts west of town.
At 5:15pm, we quickly checked in so we could drop off some belongings. And with our afternoon check-in, we helped ourselves to a few chocolate chip cookies. Then, at 5:30pm, we drove off again this time to head towards the High Banks Twin Falls, which was going to be the last excursion of the day. I figured that this was supposed to be a short excursion and we stood a better chance of doing this before sunset than the Glory Hole Falls, which we'd have to punt for tomorrow.
The nuvi had us drive east on West Main Street before we cut across the North Ray Road then headed west on the Route 103 due northwest towards Ozark National Forest. Once we were in the forest boundaries, the road became a bit twistier and slower, and Julie openly wondered if we had gone a less efficient route to get to the falls from Clarksville instead of taking the Hwy 23 through Cass to get there.
Anyways, we were already committed to our current route, and ultimately, we'd arrive at the Route 215. Then, we drove west from there until we'd get to a signposted High Banks Canoe Launch car park at 6:05pm. There was one other truck that was parked here, but I sensed that it was just us that was here for the High Banks Twin Falls.
There was no signpost indicating the presence of the falls. So we knew that this was one of the more obscure waterfalls out there. But we also knew that we were supposed to scramble or hike from the bridge over the creek responsible for the High Banks Twin Falls. And so once we geared up and got out of the car, we backtracked to the Hwy 215 and walked alongside the road's shoulder until reaching the bridge.
Then on the east side of the bridge, we saw a somewhat obvious trail-of-use leading alongside the east side of the stream. It turned out to be less of a stream scramble than I had anticipated so the hiking was quite easy. There was also a detour leading to our right for some other side cascade, but that was merely a minor cascade that didn't warrant spending too much time there.
We continued on the trail of use then eventually did some minor rock scrambling along the banks of the stream before we finally reached the dead-end containing the double-barreled waterfall. The walk was probably merely a quarter-mile one-way.
Given the amount of rain (and flooding) that swept through Northern Louisiana and Arkansas, I was a bit surprised that the flow of this falls was somewhat lackluster. So I guess based on this observation, this falls probably couldn't last more than a few weeks without any replenishing rains. Thus, it might be more on the temporary side than a bonafide waterfall.
Julie and I debated whether to give this falls a 2 or a 1.5 given its short longevity.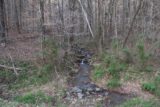 Since I brought the tripod, we spent time taking both long exposure photographs as well as some family shots. Then, when we had our fill of the waterfall, we scrambled back out of the stream and back onto the road. Then by 7pm, we were back at the car, where we promptly drove off and headed back to Clarksville via the Cass route that Julie had advocated in the first place.
As we made the drive west on the 215, the road remained pretty twisty, and when we headed south on the Hwy 23, the twistiness remained as we were following a caravan of two slower trucks in front of us. Anyways, when Julie was finally getting reception on her phone, she was busy Yelping possible dinner spots in the Clarksville area, but just about all of her first choices were closed at 8pm, and there'd be no way we'd show up before their kitchen closes.
So Julie had us going for authentic Mexican food at this place called La Chiquita (which was open until 9pm), and by 8:15pm, we'd finally find the place after the Yelp directions misguided us into going to downtown Clarksville on some random residential street.
We had ourselves a baja taco that had beef, avocado, and mangos. Meanwhile, Julie had camarones al mojo de ajo (garlic shrimp), and Tahia had some beef quesadilla. All this was accompanied with freshly made salsa and chips. And so for the reasonably-priced dinner, we had a pretty satisfying meal, which represented a pleasant change from the cajun food we had been having for the past few days.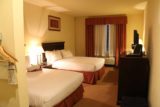 At 9:05pm, we were back in the car, and five minutes later, we returned to the Holiday Inn Express, where we'd finally call it a night. So tomorrow would probably be yet another long driving day with two fairly long waterfalling excursions, and with rain in the forecast for Friday, we'd probably have to deal with at least one or two waterfalling excursions (most likely Turner Falls in Oklahoma) that would take place in the foul weather.
So we'll see how all this plays out as such things were pretty much out of our control…
Visitor Comments:
Got something you'd like to share or say to keep the conversation going? Feel free to leave a comment below...
No users have replied to the content on this page