Day 17: FUNKY COLD MEDINA
It was 5:20am when we awoke. We had intended to wake up earlier at 5am, but apparently we slept through the alarm.
Nonetheless, we were well aware of the long drive ahead of us on this day, and the sense of urgency was further amplified as we anticipated being at Niagara Falls today some time in the early afternoon. Each moment of delay would cut into the time we'd be spending at the falls as this would be the only night we were to stay there.
At 7:10am, we left after having a pretty satisfying breakfast that included sausage, eggs, fresh fruits, muffins, and even pancakes! All of it was included, which typically wasn't the case in other Holiday Inns that we'd stayed at previously on this trip.
The drive was uneventful as it appeared that people driving on the I-90 (which we knew was a toll road) seemed to go much faster than the I-87 we had driven yesterday. I recalled being very uncomfortable going between 70mph and 75mph on the I-87, but plenty of people were passing me when I was cruising at these speeds today.
In any case, we made a couple of rest stops along the way at 8:10am and 10:35am. On the latter stop, we picked up some Edy's Ice Cream (something we had forgotten about since our last New York trip back in 2007).
Most of the time during the drive, I was searching for AM stations that featured talk radio. When I finally found Jim Rome and Colin Cowherd after Mike and Mike in the morning, I was pretty content to be entertained by these talking heads and not have to listen to the same music MP3s over and over again.
We eventually left the I-90 some time near 11am. Eventually, we got into the town of Medina, which looked like a fairly charming little village set between Niagara Falls and Rochester.
I was concerned that there were no signs for Medina Falls so we pretty much trusted the GPS directions to get to the waypoint, which was set during my pre-trip research.
After hanging a right at the Hwy 31 and 63 intersection (Center St), we then turned left onto State St, then made another left on the first available turn onto a single lane bridge over the Erie Canal. Then, I went right (per GPS instructions) onto Horan Rd until we saw a paved car park at 11:35am. However, there was no falls in sight from here.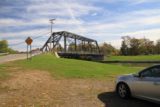 Thinking that I had made a mistake, I kept going north on Horan Rd, until Julie's own iPhone GPS showed we were going away from the canal. So I knew I had to turn back.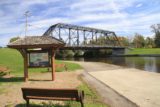 Eventually, we returned to the single-lane bridge, but this time, I kept going straight onto Laurel St (i.e. we should've not turned right when we crossed the bridge in the first place). And shortly thereafter, we saw some signs and benches just downstream from the steel single-lane bridge. It looked like there was a large grassy area with some wear and tear, and we wondered if this was the place we were to leave the car and go looking for the falls. It was now 11:50am.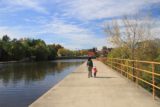 Julie first got out of the car and took a couple of steps downstream on the walkway besides the canal. That was enough to convince her and tell me that we were in the right place as she could hear the falls.
We got Tahia out and we made sure to hold her hand as there were no guard rails or fencing besides the canal. So that was always on our minds as we made our way towards the source of the noise. And barely a minute or so into the walk, we saw what appeared to be the Medina Falls, which looked like it was sourced by an outlet of the Erie Canal.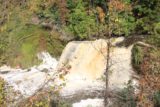 The water was a sickly brown color even though the falls itself was surrounded by pretty Autumn colors mixed in with green. However, the canal feeding the waterfall made us wonder whether this was a legitimate waterfall at all.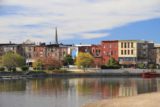 Whatever the case was, we documented the experience and then returned to the car at 12:05pm. In hindsight, this detour to see Medina Falls was probably not worth it. Now we could understand why there weren't any signs for the falls. It was because the falls itself wasn't really a big deal.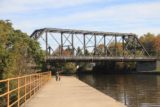 We also wondered whether that larger paved car park was truly the car park for this waterfall given how unofficial the spot we stopped the car was. That would've extended the walk by a few hundred feet or so.
Back on the other side of the steel bridge, there was also a little park that might've been a good place to let Tahia play on the jungle gym or something. But now that we got this bit of business out of the way, we weren't going to tarry here any longer as we were now headed to Niagara Falls.
The GPS had us take the historic route 104. It ultimately led us to a road alongside the Niagara River where we could see there were more parks and some escarpments rising high above the Niagara Gorge. It definitely looked much quieter than the area around the waterfalls, and I guess we could easily see why it was so quiet here as there wasn't much in the way of waterfalls.
Not much later, we then passed by a bridge that appeared to be near the Whirlpool. It was yet another thing we hadn't done 6 years ago on our prior visit to Niagara, and we weren't about to do it on this day either.
As we crossed the familiar road bridge (Rainbow Bridge, I believe it was called) towards the Canadian border, we paid the $3.25 toll to cross, and then we waited in the queue to enter Canada once again. Indeed, we were about to begin the next little stint in Canada on our New England/Canada trip, but this time, it would only focus on a specific region of Ontario (known as the "Golden Horseshoe"), or more specifically, the waterfalls from Niagara to Hamilton along with some time in Toronto… (next 4 days continued here)