Day 22: A PUBLIC TRANSPORTATION ADVENTURE
It was 5:15am when we awoke. We could hear some highway traffic even though it was still dark and I thought there'd be a deer collision risk by driving in the darkness. Apparently those drivers already out on the road weren't deterred (or perhaps didn't care about the risk).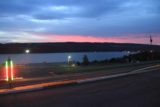 In any case, we took our time getting our belongings together while trying to discard some of the extra trash accumulated over the past three weeks. And by 7:05am, we were finally leaving. The hope that we would still be leaving at an acceptable time (i.e. not too late in the day) to visit Passaic Falls in Paterson, New Jersey, and then drop the rental car at White Plains, New York, and then finally take the mass transit all the way to our hotel at the Fairfield by the Penn Station in New York City.
We were already a little nervous about lugging our belongings through the sea of people in New York City's streets and subways. But we intentionally planned our trip this way to save on nearly $500 USD or more on rental costs while avoiding driving in the mean streets of NYC just for a little bit of this inconvenience. We'll see if our plan would work out today…
Actually, our plan for today was a little altered from our original plan which called for bagging Kaaterskill Falls before dropping the car off at White Plains, and then spending the morning of tomorrow taking the subway and PATH to Paterson before walking to Passaic Falls. But with a little flexibility and foreward thinking, we had already visited Kaaterskill Falls late last week, and then we were going to visit Paterson today instead of tomorrow. The payoff would be to have an entire day tomorrow to get reacquainted with the city splendor that was the Big Apple.
Hopefully, Tahia would enjoy it.
In any case, our drive out of Watkins Glen bound for Paterson, New Jersey was pretty uneventful. We made a Dunkin' Donuts stop at 7:10am, and the food was not up to snuff against Tim Horton's though we had some bad Tim Horton's brekkies as well.
We also made a gas and bathroom break at 9:45am somewhere near Gouldsboro State Park in Pennsylvania. Out here, the weather was quite chilly and overcast.
The prolonged drive through a combination of three interstates meant we were going around 65mph, but we also noticed at least three dead deer on the side of the road before we made our gas stop in Pennsylvania. And then we saw another three more afterwards with two of them in New Jersey. It was strange that we hadn't seen one deer (even a dead one) throughout the trip in New England, Canada, and Western New York, but here we were seeing six dead ones in Pennsylvania and New Jersey alone.
Who knew that these two states would see wildlife that we would typically be indicative of a place that was closer to nature?
Speaking of New Jersey, we were understanding why they called it the Garden State because it seemed that much of the state was full of forests and marshlands not unlike what we had seen in the Finger Lakes region of New York and the forests of northeast Pennsylvania. I guess it could easily be thought of as a garden compared to the urban jungles flanking the Hudson River.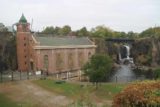 At 11:20am, we finally made it to the Great Falls (or Passaic Falls) in Paterson, New Jersey. We followed the directions given on the Great Falls website to a tee, and it worked out well for us. However, the wesite said that we were supposed to get off at exit 155P, which was misleading because it didn't exist. Instead, we took the 57B exit, and then we realized at the last minute that Cianci Street was quickly on the left after the highway 19 ended and became city streets.
So we took our time enjoying the partial views of the Great Falls from the car park near S.U.M (Society of Useful Manufactures) building. There was an Alexander Hamilton statue here (which fascinated Tahia in her love-hate relationship with statues). I guess it was Hamilton who repurposed this section of the Passaic River for hydroelectricity, and thus it was said to be the place where the American Industrial Revolution got started (for better or for worse).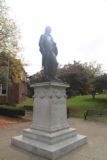 We could see that the falls had somewhat lower flow than what we had seen in the internet literature, but it was still scenic and quite an unlikely place to find such a pretty waterfall.
After getting our fill of the closest and most obvious viewpoints, we then walked along the city streets upwards towards a separate entrance where an open gate allowed us to walk onto the footbridges above the Passaic River. It was from that footbridge that we got more pretty views of the waterfall though the smelly water and the drug dealers (or at least that was what we thought many of those folks who were loitering were) kind of made us feel a little uneasy about lingering here longer.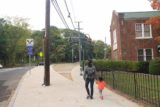 So we wouldn't get to see all the viewpoints that this place had to offer. Julie didn't want to take any more chances than necessary now that we got to see what this place was all about. Meanwhile, I found it somewhat amusing that there were some people trying to fish from the bridge above Passaic Falls. I couldn't imagine what on earth could thrive in these polluted rivers that would be big enough to be caught!
Once we were done with Passaic Falls at 12:10pm, we then drove briefly to this place called Libby's Lunch, which was visible from the exit of the upper part of Passaic Falls. But Julie didn't want to just walk there, which was why we drove the couple of blocks, found parking, and then sat within the restaurant next to a window within view of our rental car (just in case).
The place was apparently known for Texas wieners. So we got a couple different renditions of them along with a salad. Most of the customers were seniors and the place was packed with them. We wouldn't know until after we left that the place had a seniors discount on Wednesdays.
The hot dogs were ok. Julie said they weren't as good as Gray's Papaya. I guess we might get a chance to test that theory later either tonight or tomorrow. At least Libby's was pretty cheap.
By 1pm, we were done with lunch, and then we continued onwards to drive towards White Plains. Eventually by 1:50pm, we made it to the Hertz that was right across the street from the White Plains North Metro Station.
And by 2:15pm, we emptied out the rental car, got our stuff together, and proceeded to embark on our Metro Adventure that we had anticipated and feared going into this day.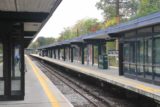 Eventually, we boarded the 2:33pm train to Grand Central Station, and it was a fairly relaxing ride that lasted until around 3:30pm. Fortunately, some workers at the North Plains station told us which trains NOT to board when it arrived so that saved us the trouble of hopping on the wrong one.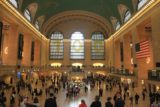 However, once we got out of the train at Grand Central, we felt immediately how humid it was. But at least when we arrived at the main section of Grand Central, we were once again enchanted by its classic look and size. Plus, there were a lot of people moving around here creating a kind of energy about the place.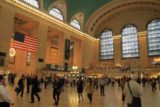 And so Julie was watching the luggages while I was lugging Tahia upstairs to take photos within Grand Central Station. Actually, she was quite mesmerized by the plethora of iPad displays on the second floor. I guess Apple really had a hold of the Big Apple if they could get this kind of product positioning in one of the busiest of public transportation spots.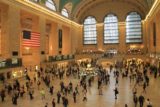 Now, we had to take the Subways, where the concentration of humanity would intensify.
As feared, it wasn't easy even getting all the way down to the purple line 7. That was because the turnstiles didn't seem conducive to allowing luggage through let alone a baby on the back. So we had to struggle a little, but we eventually figured out that Julie had to swipe her Metro Card and go in first, then I had to roll the luggage over to her beneath the turnstiles, before Tahia and I would squeeze our way in immediately after swiping the Metro Card.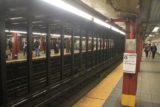 On top of that, the last bit of descent onto the platform for line 7 involved stairs. And with all the luggage we were carrying, it wasn't easy. Anyways, we would have to take the line 7 which would take us over to Times Square. Then from the Times Square stop, we would take one of the red lines for one stop to the Penn Station.
Like the bottom of Grand Central Station, the subways were hot and humid despite the crisp cool air outside. So with all the maneuvering we had to do with the luggages, all of us were hot sweaty messes.
Then, we had to find elevators and/or escalators to make our way up to street level.
Once we finally got off at Penn Station, we then had to figure out how to get up to street level, and then once we were up there, we had to figure out which direction to walk. Well, at least we just so happened to be next to Madison Square Garden in a moment of deja vu from 6 years ago when we stayed at Julie's cousin's apartment nearby this station.
And as we were walking around the Penn Station looking for where to find the Fairfield, we actually had another flash of deja vu as we were walking on 33rd street by the historical looking post office just across the street from MSG. In fact, we passed by Julie's cousin's old place, which was The Olivia. And almost right next door to it was the Fairfield.
At least now we knew that if we wanted to go to JFK on the day we leave, it shouldn't be a problem as there was a direct train from Penn Station to the Jamaica Station. We did it before, so we knew we could do it again. At least that part of the logistical adventure wouldn't be such an adventure. But at least for the sake of saving some $500 or more on car rental, it was worth the sacrifice to drop off in White Plains then going to Grand Central before transferring to Penn.
It wasn't until 4:40pm when we were finally checked into our hotel room, which was small but adequate. For over $430 per night, it had better be decent, which it was. Though it was still a rip off.
So we got settled. We needed some recovery time. My shoulders were sore from carrying my day pack backwards. My hips and thighs were sore from carrying Tahia. And we were still hot and sweaty though the AC from the room helped immensely. Finally, our feet were sore from all the walking, especially with all the added weight.
Finally at around 6pm, we headed back out on the town for an early dinner. At least now, we only had to carry one carry-on black bag, and the child carrier so Tahia could sit in it.
And having been somewhat familiar with the subway system from before, we had no problems zooming over to the French restaurant called Chez Napoleon, which Julie Yelped and decided upon simply because they served souflee, which we hadn't had since Paris in late May/early June 2012.
The dinner was a filling affair of duck confit in orange sauce, peppered steak, and of course, escargot. The meal ended with souflees, which had quite a strong hint of grand marnier in Julie's vanilla souflee and my chocolate one. The l'addition was hefty, but I guess no one said eating out in New York was cheap.
When we were all done eating, we walked over to Times Square, decided there really wasn't a need to take the subway and lose out on $2.25 per trip for such a short trip.
And when we finally made it to the bright lights of Times Square, Tahia was totally stimulated. Although it was funny that of all the things she could've focused her attention on that was around her, she chose to ask for the Elmo-costumed person looking for money for people to pose with him.
We ignored that and then went up some red lit up bleachers for a more elevated view of the energy of Times Square.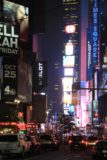 Speaking of Times Square, we noticed that there was considerably more pedestrian traffic here than before. And that was when we finally realized that one half of the roads that crossed before the flashing bright billboards and LEDs was also closed off to vehicular traffic. It was definitely not the case six years ago when we had to figure out how to get to the triangular island in the middle due to the fast-moving vehicular traffic zooming along in Times Square.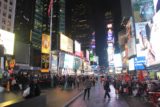 We thought that making Times Square more pedestrian friendly was the logical thing to do back then, and they had finally started doing it. No more need to worry about being road kill while snapping photo after photo. And thus experiencing the place was far more enjoyable.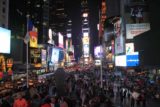 Tahia was alao very stimulated as she would look up pretty frequently while soaking it all in. I wondered how much she would remember from all that she absorbed from this moment.
Something that crossed my mind (especially after having visited Italy earlier this year) was how Times Square seemed to be a mix of the Italian concept of piazzas mixed in with a bit of a modern flair. I guess it only made sense considering the heavy Italian influence here.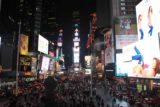 Another thing that crossed my mind was how Times Square was kind of like the precursor to the happening city centers we saw in Tokyo and even in some spots in China. Perhaps they "improved" on the idea after New York.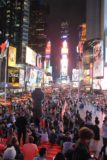 When we had it in our minds to go up the red and lighted bleachers, it was not surprising that it was quite busy. We had to squeeze our way up to the top to take some awkward photos given the crowd of people on the red bleachers itself behind the Father Duffy statue.
Once we had our fill of Times Square (ignoring Tahia's pleas to see the Elmo costumed dude), we then decided to save on our Metro Card money and take a hike all the way to our hotel at the Fairfield.
We'd eventually return back to our room at 9pm. It seemed like Tahia was overly stimulated as she quickly grew silent and then just conked out in the child carrier during the hike. So she was fussy when it was time to take a shower and brush teeth.
And so ended this busy day of driving for most of the day before working with the Subway to get from place-to-place while being a little lighter on wallet. Tomorrow, we would use our full day of NYC while also sleeping in a little after all those consecutive nights of waking up around 5am to leave before 7am.
So it was one more go of the Big Apple before we could finally conclude this trip with our plane ride home on Friday.