Day 23: TAKING A BITE OUT OF THE BIG APPLE
It wasn't until 8am when we awoke. Without much of a set agenda (other than to hit Grimaldi's and the Statue of Liberty as well as the hidden subway stop), we figured that sleeping in wouldn't hurt on this day.
Unfortunately with the late wake-up, it took a while for Julie to get ready for the day so it wasn't until about 9:45am that we finally headed downstairs for the included breakfast, which actually had one of those waffle makers.
However, the breakfast was closing when we arrived (maybe a good thing so we wouldn't waste even more time here) so we rushed to make and eat a pair of waffles before we headed out into the town at 10:05am.
After a little bit of confusion within the Penn Station about which trains we should be taking, we finally boarded the A Train to Brooklyn, which was an express train at 10:25am.
Sure enough, by 10:55am, we made it to High St Station on the Brooklyn side of the river. This was after we had missed the stop on the way in and had to take the next stop, then retrace back one stop to get to High Street.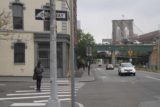 From there, we walked in the direction of the Brooklyn Bridge. Eventually, we were at the familiar Old Fulton Street where we noticed that Grimaldi's was now in a white building on the street corner. It wasn't as we had recalled it.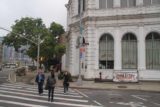 Instead, the restaurant at the old location next door was this place called Juliana's. We weren't sure what happened, but Julie started to Yelp on her phone and learned that Juliana's was the restaurant jump started by Patsy Grimaldi coming out of retirement after 15 years. The coal-fired oven couldn't move so it was now with the Juliana's Restaurant while they had to remake it in the new Grimaldi's location.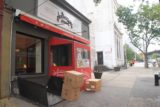 So we had a decision to make. Go with Juliana's or go back to Grimaldi's, which was where Patsy Grimaldi sold the rights to his name to another owner who ran with it. And I'd imagine 6 years ago, that was the version of Grimaldi's pizza that Julie fell in love with.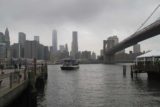 Julie eventually decided on going with Juliana's and since none of the restaurants were open until 11:30am, we continued walking over to the lookouts further down the road where we could get views across the Hudson of the New York City skyline as well as both the imposing Brooklyn Bridge to our right as well as the Manhattan Bridge further to the right after that.
With the overcast skies, the photos were a little dark and depressing, but the views were still impressive. We were even able to look far to the left and see the Statue of Liberty way in the distance. That also got Tahia a little excited with anticipation about getting closer to it.
Meanwhile, Tahia spent a few minutes playing in the neighboring Pier 1 Playground. However, when 11:30am rolled around, we had to backtrack our way towards Juliana's to ensure we'd have our long-awaited New York-style pizza before the lunch rush.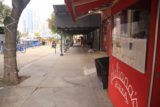 Tahia was fussing big time as we had to pry her out of the Pier 1 Playground. But we figured we'd come back to this place after lunch. Besides, it looked like the sun was starting to pierce through the clouds and make some of the financial district buildings across the Hudson have a bit of a glow to it.
As we went into Juliana's we noticed that neither this place nor Grimaldi's had a line. Now, Juliana's had a bit of a modern decor and it wasn't the hole-in-the-wall Grimaldi's that we remembered in 2007 at this very location. And from the looks of things, it appeared the new Grimaldi's next door at 1 Front Street wasn't a hole-in-the-wall anymore either.
The pizza was definitely light with good ingredients. After having tried the pizzas in Italy, Julie was still partial to this New York-style pizza, which was a crispy and less doughy than what we had in Napoli and other pizza joints throughout Italy.
Another surprise was the salad we got before our meal was also quite tasty. Normally, salads were toss ins and just filler food, but this was actually pretty good.
Even Tahia enjoyed eating her pizza and helped herself to a slice until she couldn't eat anymore. That was saying something!
We were done with lunch at 12:15pm. Sure the bill was a little on the expensive side for a pizza lunch ($38 for all of us plus tax and tip), but now we had to work off a little bit of the food by heading back to Pier 1 and getting our skyline views of Lower Manhattan with the sun now out.
So we chilled out at the Pier 1 Playground where Tahia was having lots of fun. She was interacting with the other kids which seemed to be either her age or younger as this playground seemed to really be for kids between 1-2 years.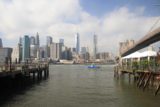 Julie noticed that many people were watching kids that didn't belong to them. They must've been nannys watching kids of parents who were probably too busy with the New York fast-paced life as I'm sure they had to work to pay the bills since I'd imagine living in the Big Apple must be awfully expensive (and probably stressful).
Finally we were done with the park at 1:20pm. We went over to the Brooklyn Bridge Ice Cream place, which seemed to be well situated as it was directly beneath the imposing towers of the Brooklyn Bridge itself. The ice cream there wasn't cheap, but I did have a $5 Ice Cream sandwich of Oreo cookies while Julie just got Peach and Cream in a cup.
At 1:30pm, we were passing by both Juliana's and Grimaldi's and noticed that there was now a big line for Grimaldi's. Meanwhile, Juliana's had no line.
I guess the lemmings effect was in full swing as tourists probably acted on the reputation and name as well as guidebooks talking about the Grimaldi's institution. Little did those people realize that Juliana's was actually the original Grimaldi's opened by Patsy and Carol Grimaldi themselves as they came out of retirement!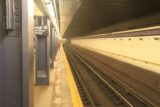 So with the pizza fix over, we were back at the High Street Station. Next, we were determined to see if we could catch a glimpse of the hidden subway stop by the Brooklyn Bridge-City Hall Station. I had read about that place in the blogs, and it piqued my interest just to see what the place looked like. Of course, there'd be no way we could get satisfying views of the stop as we'd be relegated to looking out of the subway windows while the train was moving.
And as we were about to go onto 6 train "beyond" the last stop, the train driver opened the door and asked us, "Where you going?"
I told him we were looking for the hidden subway stop. He asked the same question to the folks behind us, and he nodded his head and went back to work.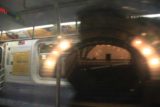 As the train moved, it started to screech as it was curving. Unfortunately, there was quite a bit of glare out the window of the moving train, but we did catch a short glimpse of the subway stop labeled City Hall. We could see the subway tiles and the arched passageways, but we couldn't really see the skylights on the ceiling. Actually, it was kind of anticlimatic given the trouble it took to get here.
So by 2:20pm, we were done with the hidden stop, and then we were back at the Broadway Station waiting on the 4 or 5 train to get down to Bowling Green, where we were now looking forward to fulfilling Tahia's desire of checking out the statue… of Liberty, that is!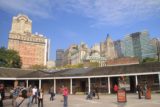 Since we never exited to street level, all the subway riding that we did from High Street Station in Brooklyn all the way to Bowling Green via the hidden City Hall stop was on one subway fee of around $2.50. Not bad.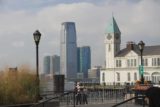 Anyways, we then walked through Battery Park towards the ticket kiosk for the Statue of Liberty boat ride to Ellis Island. It was $17.00 per adult, which probably made it a little more expensive than the vehicle fee for places like Yosemite National Park, Yellowstone National Park, and Grand Canyon National Park, but at least we were able to do it now that the government shutdown had ended last night.
So after taking some photos back towards the New York skyline from within Battery Park, we then boarded the boat and took more skyline photos while cruising on the massive Hudson.
There was afternoon light towards the skyline, but we were looking against the sun when we were looking towards the Liberty Statue. So when the boat docked at the Ellis Island dock at 3:05pm, we all got off onto the island to take more photos of the iconic Statue of Liberty.
Tahia was happy now that she got her statue fix of the most iconic one of them all in the USA.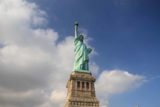 So we spent some time taking photos here. It was quite busy so we had to be very opportunistic to take family photos without other people inadvertently photobombing ours. But in any case, the harsh shadows caused by the hazy afternoon sun soon gave way to clouds, which actually helped to make the lighting more even and really bring out the green of the statue while eliminating the shadows.
Finally at 3:55pm, we were back at Battery Park where our ferry ride ended.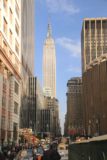 With the remaining afternoon hours, we made a beeline back to our hotel room in Midtown where we could recover a little bit before the last dinner of this trip. Julie also needed time to Yelp from our hotel room so we could figure out where to eat.
At 4:35pm, we were back at our room. Julie eventually decided to keep the Italian theme going so she eventually decided to head towards Carmine's near Times Square.
By 5:40pm, we went back downstairs and used up the last of the balance on our Metro Card to get over to the nearest subway station to Times Square on the blue line (A,C,E).
Once we made it to Carmine's, we had to wait before we got seated. We were told it was 30 minutes to 45 minutes, but we ended getting seated sooner than that after I clarified if Julie's name was called.
And when we were ordering our dinner, we noticed that other people had massive portions. It became immediately apparent that this place was like Bucca di Beppo so we ended up going very basic ordering a single dish of Pasta Bolognese for $28. It turned out to be enough, and it was also probably the most reasonably-priced dinner we had in New York (and possibly for this trip).
To reinforce the notion that Italian food was the perfect kid's comfort food, Tahia even ate some of the massive helping of the pasta without us needing to help her. Generally, if she liked something, she would help herself. That was certainly the case with the spaghetti.
After paying the bill, I was ready to head out when one of the waiters took a photo of our child carrier, which was empty since Julie and Tahia were in the washroom. This was the second person today who took a photo of it, and apparently, no one in New York had heard of REI when they asked where we got it from.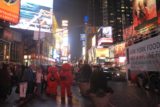 When we left the restaurant, we didn't have any more subway balance so we had to walk to our hotel room just like last night. And perhaps it was a good thing because we happened to be right next to Times Square.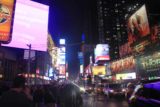 And when we got there, one lady in tall heels came up to us and complimented us on the cuteness of Tahia. She kept insisting that we "did good" when I told her that we merely just got lucky. I wasn't sure what that meant, but we thanked her and we headed in opposite directions.
By 8pm, we were finally back in our hotel room. And so ended all the sightseeing for this epic Northeastern trip. It would probably be our last hurrah for a while (at least that's what it felt like) because we were coming home to a reality that we were going to be new homeowners. I'm sure that alone would curtail some of the traveling that we had been doing up to this point.
I sure hope not. But then again, we thought our traveling would be badly curtailed when we had Tahia. And on this trip, we took the chance on bringing her with us, and it seemed to work out well. In fact, she seemed to enjoy the experience. A budding independent traveler in the making?
We'll see about that; just as we'll wait and see how the whole house thing works for or against us on our traveling desires…