13-October 2012 to 20-October 2012:
While we were busy trying to figure out if we had indeed found the trailhead for Yellow Branch Falls, another vehicle pulled up into the lot. It was a lone man, and Julie was eye-ing him because she wasn't sure if he was up to no good or not. So we waited for him to make his move before we got ready with our gear, knowing that this was going to be a longer hike than the short walks throughout yesterday.
Once the man made his move towards what appeared to be a shelter, we got out of the car with our gear ready and proceeded towards the same path that the man took. As we approached the shelter, we saw him there sitting…
Day 1: COSTLY INEFFICIENCIES
Julie and I awoke to a roughly 4:30am alarm so we could get our stuff together and drive off to LAX for our 7:45am flight. We knew it would be difficult to leave our daughter with the grandparents for a couple of weeks so we did our best to shower her with kisses without waking both her and Julie's mom before leaving.
The drive was uneventful and so was the flight. Other than a delay and some mid-air turbulence with a rough landing at the Jackson-Hartfield Airport in Atlanta (at roughly 3pm), we took our carry ons, rode a pair of trains (now why can't LAX have this?) to the rental car center, and headed straight to the Dollar kiosk to pick up the rental car.
Unfortunately, the efficiencies ended there.
We were met by a line of at least four or five parties in front of us. So unsurprisingly, we had to wait at least 20-30 minutes before we finally got to the clerk at the desk to declare our reservation.
Our two-week rental was supposed to be less than $300, but when you add up insurance (which costed another $360 or so) and the various convenience fees and taxes (which costed another $330), the entire bill ended up being almost $1000 (roughly $65/day) for our compact rental.
When we got the contract (interesting that there was neither a key nor a stall number), we went down to the level of the Dollar lot, which looked rather empty. However, there was a line of at least another five or six parties apparently all waiting for their rental cars!
Once again, it caused us to lament renting with Dollar which seemed to come across as a company that pinches pennies while nickle-and-diming customers and it showed.
In any case, it wasn't until about 4:30pm when we finally got our car. That probably dashed any hopes that Julie had of doing a little sightseeing in the downtown Atlanta area (namely some aquarium she wanted to check out).
The car didn't seem like a compact (we were thinking a Corolla), but it was probably because they were out of compacts and had to "upgrade" us to a gas guzzling American car (forget what the ads say, the Chevy Malibu they gave us wasn't exactly a model of fuel efficiency). I'm sure that won't bode well for us given the amount of driving we'll be doing on this trip.
Anyways, from there, we drove towards downtown Atlanta where we headed straight for a Whole Foods Market. While there, we had a belated lunch while also stocking up on toiletries, water, and snacks.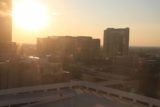 It wasn't until 6:15pm when we finally made it to our hotel in downtown Atlanta. As suspected, there wasn't much time left to do any sightseeing of the city. We were sure that the aquarium Julie wanted to visit was closed for the day.
The car park we found costed $12 for some kind of "event" parking, which was better than the $25 overnight rate for the hotel valet. However, little did I know that we'd have to go back out to drive for dinner, which got me worried about paying the $12 a second time.
When we finally decided on a dinner place called The Colonnade (known for southern fried chicken), our fears were founded when we got screwed on the parking by having to pay $12 just for being parked there for less than an hour (because it costed $12 per exit).
What a rip off!
Well, a few minutes later, we managed to get to the Colonnade, which was a pretty big restaurant full of folks with Southern accents. That must've been a good sign in that locals must love this place so we must be getting the real deal when it comes to Southern food, we thought.
In any case, the fried chicken was hot and juicy (and we contend it was probably better than Ad Hoc in Napa Valley's Yountville). We guessed that they probably brined the chicken due to its juiciness, but man were we so full of guilt eating it. We were glad we shared a plate. Otherwise, we'd probably be having a heart attack that evening.
By 8:45pm, we were finally back at the hotel in downtown Atlanta again. This time, the downtown area was quite busy as apparently this event drew quite a few people. We had no idea what this event or events was/were about. I had speculated maybe there was SEC football, but whatever the case, we just parked at the same spot we got ripped off before (after being unsuccessful finding more reasonable parking rates that were close enough to the hotel), and just crashed for the night. The attendant there said it was like $18 overnight, which caused me more mental grief as the net total would have been more than the hotel valet parking overnight!
Tomorrow, we were gonna get down to business and go waterfalling. Hopefully, they had enough moisture this past Summer to get some waterfalls flowing into Autumn. It was hard to tell, but I guess we were about to find out tomorrow…
Day 2: WATERFALLING THE SOUTH
It was 6:15am when we awoke even though we had set our alarms to 6am. It was still 3am back home so I guess it shouldn't have been too surprising that we would have some trouble getting up. Plus, it was still dark outside.
After getting our stuff together, we headed straight to our car in the car park and promptly left at 7:15am. In a bit of a minor victory, it was only $12 on exit and not the $18 I had feared. So that made the overall cost a wash with the hotel valet service.
Since we were about to embark on a long day of waterfalling throughout Northern Georgia, Julie decided to try out Dunkin' Donuts, which was just around the block from the Courtyard Inn Downtown that we stayed at. She had heard good things about the coffee there and I was certain she was gonna pick up some donuts despite starting off the trip with the guiltiest of dinners (of fried chicken) at The Colonnade last night.
Anyways with the grub in hand, we headed off and left the city of Atlanta for more rural scenery in the state's north. The day seemed very overcast compared to yesterday's clear and sunny day, and I had recalled from watching the Weather Channel last night that some severe thunderstorms were west of the Appalachian range (going as far east as Tennessee) and were headed our way both today and tomorrow. So I kind of half expected to see some bit of rain on this day.
By about 8:45am, we eventually made it to the entrance for Amicalola Falls. We were surprised that even this early in the morning when it just got bright not that long ago that there were already a handful of cars in front of us waiting to pay the $5 parking fee.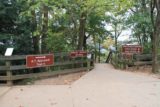 Once we got past the fee kiosk at the entrance and drove a short distance towards what seemed like a visitor and registration center (for the Appalachian Trail), we then took a left detour that climbed steeply up a road that ultimately led to another car park near the top of Amicalola Falls. We'd park the car by about 8:50am and wasted no time walking towards the bridge crossing the creek right above the falls.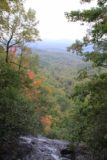 From up here, we could see the gorgeous view of trees starting to change color framing a dramatic landscape with foothills in the background and some overcast skies casting a little mood to the scene. There wasn't a whole lot of the falls to see from this vantage point, but I reckoned that it was more about the view anyways. Either that or it looked like there was some access to the Appalachian Trail after crossing the bridge here.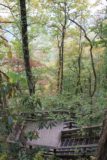 There was a sign indicating that there were 425 steps leading to the base of the falls, but after walking a few steps down, we quickly realized that there wasn't a whole lot of the falls to see here either and that we'd still have to get back all that elevation lost to regain the car.
So we quickly turned back and headed back to the car where we promptly took it back down the hill then followed the main road past the Visitor Center (and registration for the Appalachian Trail). By about 9:10am, we were at the car park where there were already at least a half-dozen vehicles.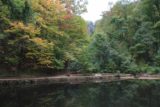 There was a pond near the car park and trailhead which reflected some pretty trees with some of the leaves turning color. But when I saw a sign indicating something about ice, it dawned on me that this pond was probably a skating rink if it gets cold enough for this pond to freeze over.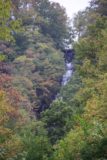 It was also from this spot that I could see the very top of Amicalola Falls, which kind of indicated to me just how tall the waterfall was (though you would need a pretty good zoom to bring it into view on a photograph).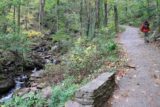 In any case, Julie and I promptly walked up the paved path which seemed to go mostly uphill while following the stream and some mini cascades. It wasn't long before we reached some stairs that led to some bridge (after 175 steps) with a pretty decent view of the main drop of the falls.
There were quite a few Chinese people on the trail, which was kind of surprising to us as we thought we would be the only Asians waterfalling in these parts. I guess we were wrong.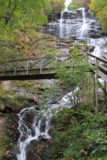 Just when we arrived at the falls, there was a breeze that rustled the trees above, which seemed to free up some loose leaves. It seemed like a magical scene where the leaves were slowly but constantly falling and floating across our line of sight as we were gazing up at the attractive waterfall.
When the breeze died down and the crowd that was here mostly left, we prepared our tripod (not making the same mistake as last time in France when I didn't bring it) and took some couple shots while also trying to get some silky shots, too.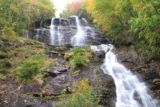 When we had our fill of the falls, the next wave of visitors came up. So that was our cue to get going and move on to the next waterfall for the day. By about 10am, we were back at the car.
By this time, the weather started to drizzle off and on. But there was no real rain as far as we were concerned.
So the next leg of the drive continuing east was pretty uneventful where we would frequently follow cars en route with a typically 45-55mph speed range. As we were passing through small town after small town, I couldn't help but notice how it seemed that each town had a local church where it wasn't hard to see that they were centers of each community. In fact, I could totally see why there was such a strong sense of church and community in these parts as a result, and I'm sure everyone within each community knows each other, looks out for each other, and also form their beliefs and values around the group think (and sometimes peer pressure) created within these tightly knit groups. This was something that we just don't see back at home where getting that community feel is very difficult. It's probably no wonder that the rural south really is God Country as these values run deep here.
Anyways by about 11:10am, that momentum we had came to grinding halt when we entered some town with seemingly Bavarian heritage called Helen. Apparently, there was some kind of Oktoberfest 2012 going on and that probably explained why there was a bit of a 15-minute traffic jam that lasted for as long as we were stuck within the town.
The town looked like it had charm and character, but we weren't really beer drinkers and we figured we were due for a trip to Germany anyways to see the real deal. So we continued on.
Not much longer, we made it to the entrance for Unicoi State Park, but when we approached the kiosk, the lady there said waterfall visitors pay in a separate kiosk further up the road. Apparently, Unicoi State Park and Anna Ruby Falls were separate entities. I wondered how often that lady sitting at the Unicoi State Park kiosk has to ask folks if they were going to the falls and then where to pay.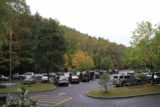 So when we eventually got there, we paid $3 per person and found parking in a very large lot that had a lot of people. Clearly this was one of the state's more popular falls.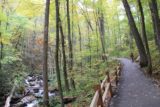 We parked the car at 11:30am under skies that were dark enough to threaten rain, and we promptly went up another path that followed the stream along a gentle incline.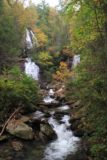 Eventually, we saw that there were lookout platforms on both sides of the creek taking in the georgeous dual waterfall. Actually, the taller segment on the left contained many drops though there were two main tiers that could clearly be seen. The right side of the falls had another smaller drop that went vertical. So you add up the sum of its parts and you got a pretty impressive waterfall. Oh, by the way, the changing fall foliage sprinkled about the scene weren't bad either!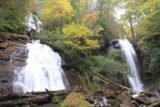 We easily took lots of time trying to take photos (with and without tripod) while taking turns with the dozens of other visitors that would come in and out of this busy viewing area. I guess it's times like these that having the tripod was more of a nuissance, but we really needed to take better and less blurrier photographs, which was a lesson learned by skimping a bit too much on our France trip.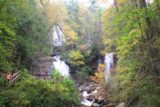 When we were done getting our fill of the falls, we headed back down the trail. It was fortunate that it hadn't really rained in earnest because both this trail and the Amicalola Falls trail done earlier would be very slippery given the inclines and the hard (i.e. paved) surfaces from which the trails were made.
Nonetheless, we still noted how family friendly the trail was given that it was mostly paved, many kids and whole families were seen here, and there were even interpretive signs sprinkled about along the way. But when all was said and done, we walked roughly 0.8 miles round trip. And by 12:35pm, we were back at the car.
Seeing how we were still in the forest, there wasn't a whole lot of hope for doing lunch at this time (which was something I expected on a day like today). So we proceeded to go to our next waterfall of the day near Lake Rabun called Minnehaha Falls.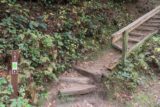 The drive went along pretty smoothly though I did recall following for quite some time some dude and his wife on a motorcycle. But by about 1:25pm we finally found the rather hidden trailhead for Minnehaha Falls, which was only attained after driving some 1.4 miles on unpaved road before having the GPS hint to us that we did indeed pass the actual trailhead.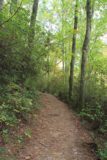 Eventually, we'd find a parking spot right across from a series of steps with someone having etched "Minnihaha" on the wooden railings right across from another sign that indicated "TH147". Indeed, we had found the right place.
So we wasted no time getting our camera gear, going up the steps, then following a narrow trail until we eventually got to an area full of giant smooth flat stones with a view of the multi-stepped and intimate cascade known as Minnehaha Falls.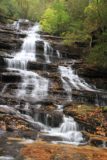 I had a feeling this was Julie's type of waterfall and then she confirmed it by saying this was her favorite one of the day. There were lots of fallen leaves providing color contrasting against the dark and wet stones around the falls. There were also trees with leaves starting to change color as well flanking the stream and cascade.
We took our time sharing this waterfall with another guy who happened to be having multiple tripods. I reckoned he must be from around here as he seemed he knew what he was doing photographing the falls. By comparison, I just hastily got my lone tripod set up so Julie and I could take a few more couple photos as well as silky long exposure photos.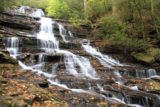 When we were done with this waterfall, we made our way back to the car. We noticed that there were a handful of other parties and families headed towards the falls. And when we got back to the car at 2pm, the pullouts that were practically empty (except for our car) all of the sudden had at least four cars. So apparently even what semed to be an obscure waterfall like this one also happened to get quite a few visitors.
We then proceeded to head towards Toccoa Falls and the neighboring town of Toccoa. We passed by some towns (most notable Tallulah Falls) though I didn't recall pulling anything up on this place in my research so I doubted that there would've been some waterfalls worth seeing here. Generally when a town is named after a waterfall, there's a very good chance that the falls are either non-existent or a shadow of its former self due to dams and hydro facilities.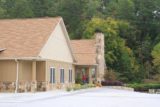 So we kept going. Eventually, we'd get to the Toccoa College campus and ultimately the gift shop fronting the falls deep in the campus at around 2:50pm. I guess I had been pretty conservative with my time estimates on this day so visiting this waterfall today instead of first thing tomorrow morning gave me ideas on how this could save us time sightseeing later on in this trip (by rearranging attractions to see in our itinerary).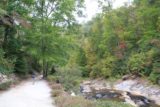 After paying the $2 per person entrance fee within the gift shop, we then walked along a short path along the creek that I'd imagine was Toccoa Creek. Once again, there were tall trees holding on tenuously to fragile leaves starting to change color. Indeed, we must've picked a pretty good time to go waterfalling in these parts.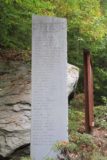 After a couple minutes more of walking, we were surprised to see how well the towering 186ft Toccoa Falls was flowing. There were also signs and memorials here reminding visitors of the tragedy that took place here in 1977 when a break in the dam upstream of the falls resulted in floods that swept away many people. From the names on the memorial, we could see that whole families died on that day (evidenced by many folks with same last names on the memorial).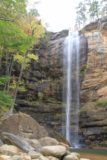 The sign here also indicated that the Toccoa Falls college was devoted to teaching of the Bible, which further confirmed our suspiscions that we were indeed in the heart of God Country. Moreover, apparently Toccoa Falls was also part of a Cherokee legend involving a tragically forbidden love between a Cherokee princess named Toccoa and the chief of a hostile tribe whose name was Wild Waters.
We spent some time enjoying the falls with a handful of other people that seemed like they were either students or faculty or staff, etc. It felt like we were the only ones who had no real local ties other than we were just visiting (as evidenced by the guy at the visitor center trying to save me money by asking if I was student, faculty, military, family, etc. having answered "no" to all the questions).
Anyways, Julie and I took a handful of more couple shots and other movies and photos before a group of uniformed kids and staff showed up as it was their turn to enjoy the scene.
By 3:25pm, we were back in the car and headed into the Toccoa town to finally look for our accommodation and check in. 15 minutes later, we did just that.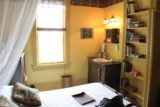 The interior of the Simmons Bond B&B were charming and historic-looking. The living room, the dining room, the library, and even our Colleen room exhibited the kind of rustic charm that I was sure attracted Julie to this little find. Even our bathroom was "hidden" behind a bookshelf, which was something you just don't see very often in boutique accommodations.
So after getting settled, we had some time to ourselves to relax a bit, then eat out at some decent Mexican food at a place called Los Primos (which we enjoyed without the same guilt we had from the fried chicken dinner last night) before filling up on gas and returning to our accommodation for a relaxing night.
Indeed, it was a wonderful way to kick off this waterfalling heavy trip, and we certainly hope that tomorrow's experience will be as successful as today's was…
Day 3: GUN COUNTRY
When we awoke at 6:30am, it had been raining pretty heavily throughout the night and it still seemed like it was raining off and on while we were getting ready for our 7am breakfast. Once again, it was still dark while we were freshening up, and it still seemed like the railroad was busy with train traffic periodically (as we had heard it periodically throughout the night!).
At 7am, we went downstairs to the charming dining room, where another couple was already having their brekkie. We joined them at the same table while the host, Elizabeth, was making the breakfast.
We weren't terribly used to dining with total strangers so it was a little awkward at first, but eventually we got into talking about holiday plans and our home towns. We learned that the couple was on a five year anniversary and "babymoon," and they were from Tallahassee, Florida. They said it was a six hour drive to get to Toccoa, though they did do a North Carolina trip as part of another trip (honeymoon) from the coast to the Blue Ridge Mountains. So that got us looking forward to that part of the trip.
We also chatted about football (thinking this part of the country was pretty big on college football), and we also talked about why we came all the way here from LA (to go waterfalling with fall colors, of course).
Anyways, the breakfast was delicious. And by about 7:45am, the rain seemed to have stopped and we were packed up and ready to leave Toccoa for South Carolina.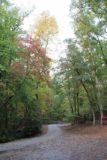 The skies remained overcast for the next hour or so as we headed towards Issaqueena Falls, which was the first waterfall of the day. Eventually, we'd get to the signed car park at 8:55am where I momentarily fretted that we might have showed up early considering there were signs indicating that park hours were 10-5. Nonetheless, all gates were open and there was another car that was already parked here, though it seemed like they were on their way out just as we were about to get started.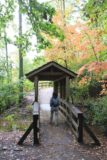 It was a little damp and cool, but we could see that there were some hints of blue skies. The walk went through a small covered bridge before getting to a lookout platform where we could get a partial view of the falls through quite a bit of foliage. It was a pretty subpar view, but we saw down below that there seemed to be a trail offering closer access. However, we wondered if it was an old trail or a scrambling trail considering the path down there wasn't terribly obvious or sanctioned by the looks of things.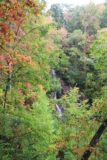 So we went ahead and scrambled our way down the obvious trail, but it quickly became apparent that it was quite a steep and slippery path. Even with our hiking boots on, we weren't getting the best traction thanks to the wet rocks and tree roots we had to put weight on.
But after the hard work to get down to the base, we were on the slippery flat rocks right in front of the falls, which now took on a totally different look than that of the overlook earlier. This time, there were strings of falling water segmenting across a rippled sloping wall. It was kind of a poor man's Minnehaha Falls but this one lacked the flow and color of the one we saw the day before.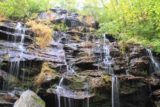 So after having our fill of this falls, we climbed back up the scrambling path and quickly returned to the car. We would return to the car at 9:45am, and five minutes later, we were across the main highway and at the car park for the picnic area for Yellow Branch. We weren't going to do the tunnels since we had a full day's itinerary and the tunnels didn't seem attractive enough for us to check them out in lieu of our waterfalling intentions.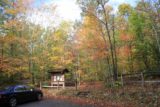 While we were busy trying to figure out if we had indeed found the trailhead for Yellow Branch Falls, another vehicle pulled up into the lot. It was a lone man, and Julie was eye-ing him because she wasn't sure if he was up to no good or not. So we waited for him to make his move before we got ready with our gear, knowing that this was going to be a longer hike than the short walks throughout yesterday.
Once the man made his move towards what appeared to be a shelter, we got out of the car with our gear ready and proceeded towards the same path that the man took. As we approached the shelter, we saw him there sitting and chilling over a sip of coffee.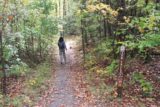 The man greeted us and that kind of put down our suspicions. In fact, it seemed like he sensed our suspicions, too. And he calmly announced his intentions of having a sip of coffee and enjoying the Nature before going to work. He said he lived nearby and he knew that we were looking for the Yellow Branch Falls. It was a good thing he pointed out the trail to us because the path we were on only went to some more picnic shelters. In any case, he did warn us of a possible false path near an unbridged creek crossing so we made sure to pay attention to that when we got there.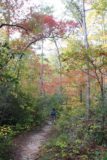 So with that, we were on our way. The trail was nice and peaceful with hints of Fall colors in the tall trees towering above us At one instant, we heard some rustling in the foliage adjacent to us, and that was when Julie noticed there was a snake that was there. It seemed to have an almost black-ish series of scales though I couldn't tell if it was large or mid-sized. Julie thought it was long and thin.
Unfortunately, it had slithered away and found a hiding spot before I could take a photo of it. And I wasn't about to go chase it to its hiding spot not knowing if it was venemous or not.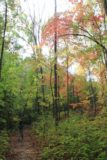 As we were meandering about the fairly long trail, the path was gently descending as explained by the stranger we met when we started the hike. But just as we were getting used to the sound of rustling leaves from the gentle breeze and the sound of us walking on the trail, all of the sudden we heard a loud BANG accompanied by echoes following the sound impulse.
We suspected it was a hunter shooting a gun or shotgun or something. But whatever it was, it certainly undermined our piece of mind since this was the first time we heard gunshots while on a trail. And we'd been waterfalling together at least over 10 years.
Anyways, we continued hiking about before we heard at least three more loud BANGs echoing throughout the forest. Again, that made us a little nervous, but there wasn't a whole lot we could do to cure that except to keep going towards our goal of the hike.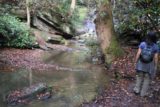 After a brief interlude of climbing then leveling out, the trail then descended once again as we finally started to hear the sound of falling water as we went further down. And eventually, we got right to the base of the falls where we had to let our boots get wet a little to cross the creek and get a decent view.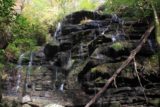 Like Issaqueena Falls, Yellow Branch Falls had similar character, but this one seemed to be a bit taller and also looked a bit more photogenic. I had brought the tripod throughout the hike so of course we used it to take long exposure shots of the falls while trying to take a few couple shots as well.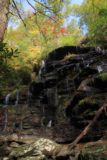 By this time, the sun started to come out as it was in between being hidden by partly cloudy skies and being out in the open to create shadows on the scene (which aren't optimal for taking photographs).
After having our fill of the falls, we started to head back up to the car park. It was about 11:10am and we figured that we had to move quickly if we were to catch as many waterfalls as planned before checking into Brevard at the end of the day.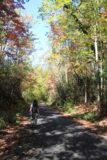 At some point on the hike, we must have missed a turn because we never recalled hearing the road so close to the trail. And, well, it turned out that we didn't go back the way we came towards the end. Instead, we'd meet up with the paved road leading to the car park and we had to follow this road back to the car, which now had at least three others parked there.
By about 12:05pm, we finally left and headed towards the next waterfall – King Creek Falls and Spoonauger Falls.
While we were headed to the falls, the car radio just happened to be tuned to 88.1 FM, which was some alternative music station courtesy of Clemson University (I never knew Clemson was in Upstate South Carolina even though I knew it was ACC school). Alternative music was something I never expected in the South, but that at least gave our iPod Shuffle a break.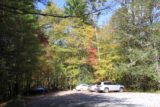 After turning off on Burrells Ford Rd, we'd eventually traverse a two-mile stretch of unpaved road before finally reaching the so-called Burrells Ford Trailhead where there were already at least a half-dozen cars parked here.
I didn't see any signs explicitly noting King Creek Falls though the info board did have some passing mention of it on a map.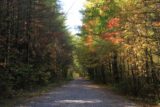 Nonetheless, Julie and I got our stuff and proceeded to walk past the gate and down the gravel road. It seemed like they used to let vehicles continue down this road, and that might explain why the descriptions in my research made it seem like Spoonauger Falls was only a 20-minute walk and King Creek Falls wasn't a big deal either.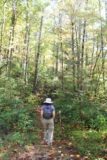 But as it was, we had to walk roughly some 0.3 miles downhill on the road before we saw another area of signage that appeared to indicate that we made it to the Burrells Ford Campground. We weren't sure where to walk from there as it seemed like there was another way to go north of the campground. Fortunately, just a few paces further down the road from this signage area, we noticed a sign indicating King Creek Falls, which left the road and went into a fairly dark trail following a rushing creek.
Naturally, we proceeded to take this trail and made haste as we knew we still had to get to Spoonauger Falls before returning to the car and then maybe checking out Rainbow Falls en route to Brevard.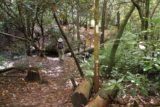 So we followed the loud creek before turning towards a bridge. On the other side, there was a junction where going left went upstream towards the falls while going right led to the Foothills Trail, which we weren't about to take.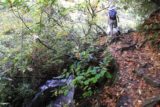 The trail got considerably narrower and progressively rougher and a little more slippery thanks to the dampness from last night (and this morning's) rains. Eventually, the trail steeply descended towards the slippery and shadowy plunge pool area right in front of the impressive King Creek Falls.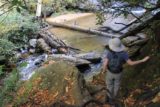 From the trail, there was not a very satisfactory view thanks to the overgrowth. Fortunately, there were some rocks (albeit slippery) offering more frontal views of the twisting waterfall. It had pretty good flow, which explained the loudness of the cove as the tall waterfall was in front of us, but behind us were also some smaller cascades.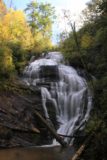 Given the lack of real estate to get creative taking photos (especially since we didn't want to ruin our boots by wading in rushing shin-deep waters), we didn't spend too much time here. We just took enough time to take photos and a handful of movies before we were on our way again.
As we proceeded to head back towards the familiar log bridge across King Creek, we noticed that there were actually two trails. The one straight ahead was marked with some white paint on the tree bark next to it. Meanwhile, there was a much wider trail following the creek downstream.
Julie opted to go with the marked trail though we weren't totally sure what the other "false" trail (or so we thought) was all about as it seemed awfully wide to be considered as false. Nonetheless, it seemed like we were indeed following the trail we had taken here when I looked at the GPS map on my etrex. However, towards the end of the hike, we heard some vehicles on gravel road, which was something we totally didn't remember on the way in. Another glance at my GPS revealed that indeed we had taken a different path than the one we took in. I guess my initial glance at it wasn't zoomed in enough to see the divergence.
Well, we weren't about to go back down the hill to see Spoonauger Falls so when we returned to the trailhead at 1:35pm, we proceeded to drive in the direction of North Carolina as we were looking to bag one more waterfall before arriving at Brevard.
On our way out, there was tree cutting work (I guess to cut trees so they don't fall on the road), which narrowed the road to one lane. Unfortunately, this work just so happened to block an attractive overlook that would've been one we'd stop for.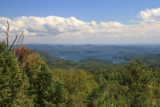 Continuing further along in the drive as we were hoping for another one of these overlooks, but it wasn't until we got to a large pullout area with an overlook towards some kind of man-made lake in the distance. But the Fall colors down below the vista still hadn't arrived in full force yet so it wasn't quite the overlook we were hoping for. We did make a brief stop to snap photos, but we then continued on our way.
After a bit of a 15-minute delay due to yet another tree-cutting work adjacent to the road (this time near the South Carolina-North Carolina border), we made a last minute decision to go see Upper Whitewater Falls as we had just seen signs for it. We figured that with the nice weather and even more hints of Fall colors, we mind as well take advantage of the situation and punt Rainbow Falls for tomorrow.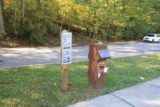 By about 2:15pm, we were at the large car park for Upper Whitewater Falls where we paid the $2 into a self-help envelope. There were quite a few cars here so we knew this was a legitimate attraction (though I had suspected this would be the case given my pre-trip research).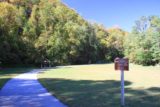 But after the short 15-minute walk towards the upper overlook, we could see that indeed this 411-ft waterfall was quite impressive. The afternoon light was right on the falls and it seemed to bring out the scattering of Fall colors around the multi-tiered gushing waterfall itself. Instantly, Julie thought this was the best waterfall of the day as the rest of the falls from today garnered a somewhat lukewarm reaction.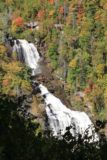 The upper overlook we were at was a little blocked below and some other guy in a Southern accent noticed what we were doing and pointed out to us that down the steps there was a better viewing platform where we could see the whole thing. So we obliged and went down the steps.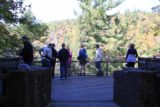 A few moments later, we took our turn getting photos and movies of the falls in the limited opening between some trees. Even though the platform was fair sized enough to handle at least a dozen people, it was really one or two people at a time to check out the falls without foliage getting in the way. So it quickly got busy down here. Thus, utilizing the tripod plus the relatively long setup time for it (for both stable long exposure shots and couple shots) meant that doing photos this way was pretty much out of the question.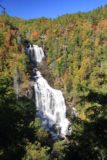 After getting our fill of this falls (and it was hard to leave this place), we were back at the car at 3:10pm. There was still quite a bit of afternoon light left so we made another last-minute decision to go back in the other direction to check out Lower Whitewater Falls. Unfortunately, that also meant dealing with the tree-cutting delays again.
After mercifully getting going again, we turned left onto Bad Creek Road, which at first seemed like a road that wasn't open to the public as it was flanked by a gate and Duke Energy signs. The road happened to be right in the middle of the work zone so we weren't sure when we'd be allowed to drive through the work zone if we return while work was still going on.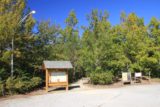 Anyways, after descending the curvy road past some wild turkeys and then turning left at a signposted turnoff, we found a large car park area occupied by one car. After parking the car and examining the signs here, it was clear that we had found the right place. Unfortunately, it was said to be 1.7 miles each way from here, and given that it was already close to 4pm, there was no way we would complete the hike and still get back to Brevard in a reasonable hour and then have dinner.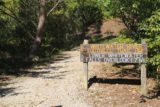 So we punted the Lower Whitewater Falls excursion for tomorrow hoping that the lighting of the morning won't be too bad knowing that afternoon light was certainly the best for the falls given our Upper Whitewater Falls experience.
When we got back to the Hwy 107, traffic was allowed to move in the northbound direction so naturally we followed in the line (without having to wait too long this time). I certainly won't be looking forward to this work coming back again tomorrow.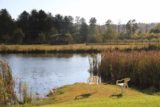 The drive towards Brevard pretty much followed a caravan of traffic going to either Lake Toxaway or Brevard. The drive seemed longer than expected, and to make matters worse, both Julie and I were getting hunger pangs for not having a real lunch. To make matter worse, I was getting a bit sleepy behind the wheel. Mercifully, we would finally arrive at the Deerwoode Lodge in the outskirts of Brevard at 4:25pm. And not much longer after that, we got settled into our rustic log cabin. Finally for the next three nights, we would have a base and wouldn't have to vagabond it for once.
The night ended with a pretty delicious dinner at the Hobnob. It was kind of like Southern food meets fusion cuisine, and we agreed that it was probably the best meal of the trip so far. However, the food was a bit pricey. Still, we enjoyed the bread with chimichurri olive oil sauce while Julie got crab cakes and I got North Carolina catfish. All this followed a scallop appetizer, and the meal ended with warm chocolate cake with ice cream dessert. It was a good thing we dined early because this place filled up quickly after 6pm.
We were back at the lodge before 7pm where we turned on the heat knowing that it might get into the 30s or 40s tonight.
Day 4: IT'S BREVAAARD
Both Julie and I awoke at 7am despite the 6:30am alarm. The evening was very cold, and since I had turned out the gas-powered fireplace to save on power, we were now not bending over backwards to get up out of the cozy bed. Of course for the next couple of nights, Julie was going to ensure that the fireplace stayed on throughout the night.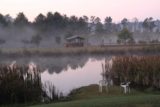 It was about 7:30am when we left the Deerwoode Lodge for today's excursions. It was a misty and frosty morning. We could see low-lying mist hovering over the ponds in the property and the grass was wet with dew. I was concerned that perhaps we had started a little early since the sun just started to come up, but I was sure there might be deer and bears potentially becoming road hazards. And after hitting a deer in Utah and a kangaroo in Western Australia, it was definitely on my mind.
But when we finally made it out to the main Highway, I was surprised to see how many cars were whizzing by in both directions. I guess most of the locals were heading to work, and I was certain they obeyed their clocks and not whether the sun was up or not. So then it started to cross my mind whether we should have started the day earlier than we had thought.
In any case, we drove back towards the Whitewater area since we didn't get to finish the Lower Whitewater Falls excursion. After looking at my research overnight, I had read that we could have used the Musterground Road (a hunting road that was open during the hunting months of September through November), and that we could shave off 2/3 of the overall hike to the overlook of the falls.
So that was on my mind when we returned to the familiar work zone (which hadn't started this early in the day), then descended the familiar Bad Creek Road all the way down to the familiar large car park for the Lower Whitewater Falls. But this time, I went ahead and proceeded along the unpaved Musterground Road and gingerly drove this road hoping there might be some sign or indication of where to stop the car and "cheat." The road seemed to get progressively rockier and bumpier the further I went. Thus, I started to get nervous about doing damage to the rental car or inducing a flat tire.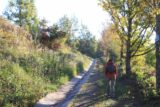 After a few minutes of futile searching save for an ATV parking area and what seemed to be some blue hashes pointing to some kind of trail leaving the gravel road, we decided that it was better to play it safe and return to the car park area. It could very well be that that trail leaving the gravel road might be where we should be walking. But given that our pre-trip GPS coordinates suggested that the falls was way down south of where we were at plus Julie's uneasiness about unsure exploration in a hunting area, we bit the bullet (figuratively speaking) and did it the long way without "cheating."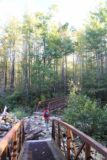 In any case, we finally got to the large car park area at 8:35am. The hike initially ascended alongside some gutter before flattening out and then entering some shaded canopy of forest. The trail undulated briefly before descending in earnest towards a pair of footbridges crossing over the river. A sign down here indicated that it was still 1.7 miles to the overlook of the falls, which we thought was strange since the trailhead sign indicated it was 1.7 miles from there. One of those signs was lying and we hoped it was the latter one and not the trailhead one…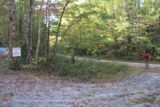 Continuing on the hike, we passed by a couple of junctions before the trail started to gently climb up towards the familiar ATV parking area. It was at that point that we realized that our earlier observation about where the trail left the gravel road was true. Indeed, we should've left the car either at or near this spot and cheated to perhaps knock off at least an hour off this excursion. But like the Stock Market, we can't cry over spilled milk, and for better or for worse, we were pushing on.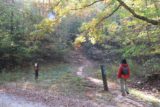 After briefly walking along the familiar gravel road, we then returned to our turnaround point (for the car) and then continued walking along what appeared to be a broad ridge with some faint thundering of falling water in the distance. I was pretty sure that that was the Lower Whitewater Falls, but little did we know how far we really had to hike to get to the endpoint from here.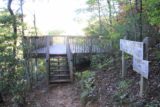 The walk eventually started to descend gradually then more steeply as we went further. The descent seemed longer than we wanted it to since we knew that we had to get back this elevation loss on the way back. It wasn't until finally around 9:30am or so that we were at the overlook platform for the falls. The lower part of Lower Whitewater Falls was in shadow though the morning light did seem to contrast the blue sky nicely for the parts that weren't in shadow. However, there wasn't as much fall colors as there was at Upper Whitewater Falls, and that prompted Julie to declare that this walk was anticlimactic.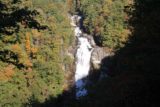 We didn't linger here long before we made the arduous climb back up towards the gravel road and then hastily make our way back to the car park knowing that the falls probably wasn't worth the overall 4-mile hike (again the signs lied) plus we were still lamenting our missed opportunity to cheat. We were the only ones on this trail, and Julie speculated that perhaps this was why it was so. However, I tended to think it had more to do with the intimidating Duke Energy infrastructure that might discourage casual visitors from bothering.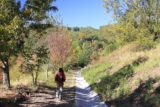 At 10:55am, we were back at the car all hot and sweaty. The water we had bought in Atlanta and we were drinking on this hike turned out to have leached so it had a definite nasty flavor to it. I'm sure it couldn't have been good for us to be drinking chemicals that found its way into our water. Lesson learned here was never to buy milk-gallon-like jugs of water since those Plastic Recycle 5 types were one of the worst at leaching.
At 11:05am, we were back at the familiar highway, but now there was the familiar tree cutting activity. After waiting here for another five minutes, we were finally on our way.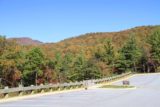 Next stop was Gorges State Park where we were intending to see Rainbow Falls. I had read that this walk used to only be 0.2 miles from the highway, but the authorities have since closed off that access and required visitors to hike to the falls via Gorges State Park. I was aware that it was 1.5 miles each way for that waterfall so I knew that while we were a little behind where I was hoping we'd be from an itinerary standpoint, this excursion wasn't going to allow us to make up any time.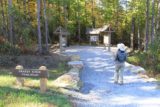 At 11:25am, we made it to the Grassy Ridge Trailhead. The drive through the state park was pretty as it seemed quite apparent that the Fall colors had reached this area. I was hoping that this trend would continue in the coming days when we would hike the Graveyard Fields as well as drive the Blue Ridge Parkway and its overlooks.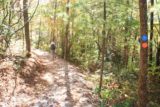 Anyways, we promptly began our hike, which descended towards a junction. We headed right on the junction and the trail immediately started to descend gently to moderately. Again, I knew we would have to get this elevation back on the return to the car so I knew we were in for a fairly long hike when we were hoping for a short one.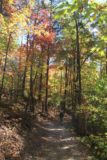 However, walking beneath some trees with red and orange leaves did occupy us as we were still getting used to the idea of experiencing Fall foliage in earnest for the first time in our lives.
Continuing along in our descent, we passed by a couple that was looking at their guidebook asking if we had seen Stairway Falls. We didn't recall seeing any signs for it so we couldn't be sure (though we weren't looking for it either).
I think we might have mistakenly given them the false notion that Stairway Falls was behind us, however, when I mentioned to them that we did reach a trail junction near the start of this descent. In any case, the guy and his wife seemed intent on bagging as many waterfalls as they could on this hike alone (five, I believe), and it kind of reminded us of me in our early waterfalling days when we would probably have done the same thing. Though these days, we know how precious time is and we just focus on a selection that we predict will be most worth our time.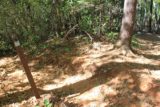 A few minutes later, we'd eventually reach a rather confusing trail junction where there was an arrow and sign for Stairway Falls pointing in one direction and Rainbow Falls in the other. Even with us observing this, we still couldn't tell for sure if that other trail descending closer to the loud river below was for Stairway Falls or not.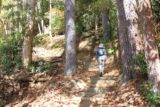 Continuing on, we mercifully made it towards the bottom of the descent, but then the trail started to climb up several steps and some inclines. And this climbing would persist for a little while more. It now became apparent that this was a rather moderate hike of 3 miles round trip in a V-shape. So not only would we have to climb up to the main waterfall, but we'd have to go back down and then climb up again to regain the car at the Grassy Ridge Trailhead.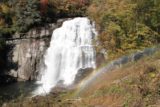 It wasn't until around 12:30pm that we finally made it a frontal view of the impressive Rainbow Falls. It seemed like we came just in time for a bright rainbow to be arcing on the lower right side of the waterfall itself though photograping and taking movies was a little challenging thanks to the mist wafting up in our direction from time to time.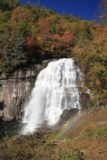 We helped a foursome of seniors take a photo, and it turned out that they were the same folks who had just left the car park before we did on this hike. Just this one act of helping them take a group photo kind of broke the ice and they opened up to us with smiles before they continued on towards the top of the falls.
At this point, Julie decided to stay at this part of the trail while she let me explore further up to see the top of the Rainbow Falls. And after a few more minutes, I saw some folks chilling out near the top of the falls greet me.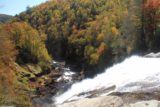 After I took my obligatory photos and movies from this perspective of the falls (which included a scattering of colorful fall foliage down below), I asked the folks here if they were continuing on to see the next falls.
One of the guys there pointed upstream and showed me that Turtleback Falls was right within sight as I could see a profile of what appeared to be just that waterfall. He then went on to say that Drift Falls was further upstream from there, but that it was now private and they were weighing their options as to whether they were going to explore it anyways.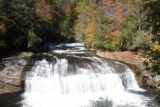 With that, I continued on and just settled for Turtleback Falls. It turned out that I joined a couple of the folks we helped to take a group picture earlier, and while I was there, we conversed some more about where we were from and where we were going. That was when I learned that these folks were from Mississippi and they had a son who lived in Asheville, NC so they seemed to know quite a bit about that place through their son.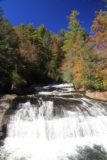 So I was being showered with advice about where to eat, what to check out, and even some bits of trivia like film locations for the Last of the Mohicans, Hunger Games, and even a famous resident named Steve Martin ("one of your guys" as the Mississipian put it to me) who happened to have a home in Brevard, NC and even have a blue grass band he moonlights for.
Speaking of Brevard, the lady corrected my pronunciation of Brevard (I thought it was "BRE-vurd") when she pronounced it, "bre-VARD". I guess it was pretty obvious I wasn't from around here, but they seemed genuinely pleased that someone from LA would come out to the Southeast (or "the South"). And as the Mississippi guy (husband of the lady who was showering me with advice and tid-bits) said to me in his Southern twang, "Welcome to the East of the Mississippi!"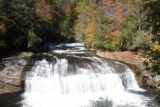 It was fun conversing with these folks, but Julie was still waiting for me by Rainbow Falls. So I wished them a happy journey (and they reciprocated of course), and I was on my way back to Julie. Once I rejoined her, I noticed that the rainbow in the mist of Rainbow Falls was gone. I guess our timing was perfect earlier on. Anyways, we now had to make the descent then long ascent back to the car. Not even an interesting-looking millipede or centipede (we didn't know what it was) could keep us for long in our pursuit of the car park.
It wasn't until about 1:45pm that we finally made it back to the Grassy Ridge Trailhead. The car park was a lot busier than it was when we started. But now we had to continue on our way as there was still three more waterfalls to see before returning to Brevard. Julie was hungry so we made a quick stop at the BP right at the junction of the 64 and 107, where we had some low quality pizza, a BLT, and some chocolate chip cookies. This unhealthy meal reinforced our decision not to take Tahia since we wouldn't want to subject her to the crap that we tended to eat when we were always on the go on these types of trips.
At 2:10pm, we continued to head west this time. There was quite a bit of traffic going in this direction though no one seemed to be in any hurry. The folks in front of us rarely considered using the slow vehicle turnouts and the cars behind us weren't tailgating. Overall, there seemed to be a little less angst than I was used to when it came to mountain driving in these parts.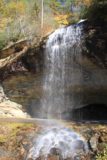 After passing through a pretty busy town that I think was called Highlands-Cashiers, we followed another caravan of cars before we saw an interesting quaint little waterfall right off the side of the road at 2:55pm.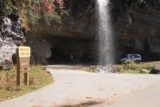 The rather unusual thing about this waterfall was that there was a small pullout loop that allowed vehicles to drive right behind the falls. I don't think we had ever seen a waterfall that allowed vehicles to drive behind it. And it was funny to see people do the deed (sometimes twice).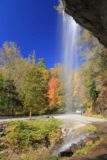 We had spent quite a bit of time at this waterfall because there were some amazing fall colors juxtaposed with the falls once we got behind it and looked out towards the road. And this was after we were busy taking photos of the front of the falls with a slight rainbow at its base!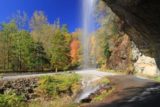 In any case, when we were done taking photos and movies of this rather funny scene of seeing folks purposefully detour and drive behind the falls, we then did the same thing ourselves with our rental car.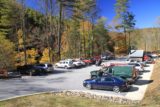 It wasn't until 3:15pm that we finally pried ourselves away from Bridal Veil Falls (that's what this falls was called), and ten minutes later, we arrived at a rather packed car park for Dry Falls. In fact, all the parking spots were taken and we had to wait for someone to vacate a spot. Fortunately, it was only a couple-minute wait.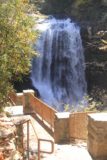 So we promptly went down the stairs and saw that the gushing Dry Falls was mostly in shadow. Most of the frontal view of the falls was against the sun. So we wasted no time getting right into the misty and shadowy behind of the falls where it was clear the cool thing about this one was the ability for us to go behind it.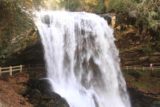 Once again, there was quite a bit of Fall colors decorating the scene around the Dry Falls so I took some time trying to trick the camera into not overexposing the colorful scene outside the shadowy confines of the falls all while trying to cope with the extreme contrast between light and dark.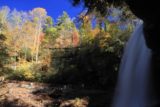 We left the busy and bustling scene at about 3:55pm. Now, there was one more waterfall excursion to do on this day, and that was to Glen Falls. Fortunately, it was only a few minutes away from the Highlands town though turning left onto the unpaved Glen Falls Road across blind traffic on the highway was rather dicey.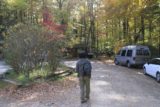 By 4:10pm, we made it to the unpaved road and trailhead for Glen Falls. Once again, there were many cars who managed to fit into the limited parking here. It was Tuesday, yet this place was so busy. Maybe it was mostly locals getting off work?
Anyways, we were greeted by the sounds of many barking dogs (seemingly angry barks as I was sure there were some dog confrontations). From my research, I knew this wasn't going to be a very long walk (3/4-mile return I think) though there were three accessible tiers to check out.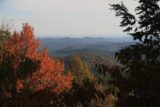 It was getting late in the day, and we still had to return to Brevard for dinner, to clean up, and to get some rest for some more waterfalling tomorrow. So we hastily made our way along the trail which presented a rather attractive view (albeit obstructed by foliage) of some Fall colors against a mountainous backdrop. Then, shortly thereafter, the trail descended alongside the creek containing the many tiers of the Glen Falls.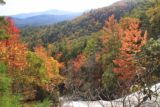 The first detour we took was towards the top of one of the main tiers which just so happened to show off a colorful ravine below as it was flanked by some attractive Fall foliage. The sun was against us, but that just meant that it would be with us when we would see the front of the falls. It was also at this vantage point that I realized that Glen Falls was actually quite tall, but we would only see it portions since there wasn't an overarching contextual view of it on this trail (since we were besides the falls and not somewhere opposite the falls where there was nothing but air and treetops).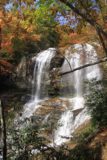 Julie stayed with me to the bottom of the topmost main tier, but then she returned to the car after that, leaving me to explore the middle and bottom tiers on my own. So with that I hastily continued the descent, checked out the attractive middle tier (which might be arguable more attractive than the topmost tier), and then descended even further towards the third tier.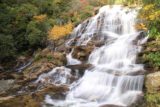 That third tier was anticlimactic as it was puny, it had lots of fallen logs obscuring about a third of its drop, and it was probably not worth the extra effort. However, I could envision this being a nice little swimming hole in the Summer when it gets hot.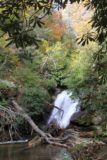 Anyways, that was the end of Glen Falls for me and I hastily made my way back up to the car park, finally getting there at 5:15pm. I was a hot and sweaty mess, but at least I knew the rest of the day could be spent in sandals and not hiking boots, and that we had a dinner to cap off this busy day.
On our way out of Highlands, Julie spotted a frozen yogurt and cupcake place and we made a quick spontaneous stop for a brief dessert break. It was interesting how Froyo, which was apparently an LA thing, made it out to Western North Carolina of all places.
At 5:25pm, we continued on our way back to Brevard. It wouldn't be until about 6:45pm when we finally made it back to town, and we opted to eat at this place called Square Root which seemed to have some decent Yelp reviews. It turned out that they did a pretty good job with the dinner (we started with Fried Green Tomatoes and then mains of Cedar block Salmon and Pork belly), and once again we were pleasantly surprised with the quality of food in this rather small town.
At 8pm, we were finally back at the Deerwoode Lodge to end off this very long day…
Day 5: QUOTH THE RAVEN
Julie and I awoke to a very chilly and foggy morning at 7am. Once again, we had to fight the urge to remain in the coziness and warmth beneath the sheets. But we knew we had yet another full day of activities today so we had to brave the cold. Actually, this time around, Julie left the gas-powered fireplace on so that kind of helped things a little, but it was still cold inside the rustic cabin.
With rain in the forecast for tomorrow, we had to change things up in our itinerary a bit. So today, we decided to hit Reedy Cove Falls, Raven Cliff Falls (this was expected to be a long excursion), and the Graveyard Fields (another expected long excursion which was originally planned for tomorrow or the day after). The remaining waterfalls of Transylvania County would have to wait for tomorrow.
It was 7:45am when we left the Deerwoode Lodge and went right into the fog. About 8 minutes later, we momentarily hit a little bit of a traffic jam, which was mostly locals dropping off kids to school. Once we got past the school, it was smooth going (albeit with the fog limiting visibility).
At about 8:15am, we made it to the Caesar Head Visitor Center. I thought I had read in my research that this was supposed to be the trailhead for Raven Cliff Falls, so given that the gates wouldn't open until 9am, we decided to continue further into South Carolina to see Reedy Cove Falls (also known as Twin Falls and Eastatoe Falls). We'd come back for this one after the detour to Reedy Cove.
So the drive descended steeply towards the basin beneath Caesar Head. It was a very twisty and steep road, and it seemed like the brakes on the rental car was starting to show signs of stressing. It was only under this duress that I finally figured out how to switch the automatic into lower gear (it wasn't immediately obvious given that you were supposed to select "M" and then use your thumb to increase or decrease the gears; geeze I wish stick shifts were more readily available).
After getting down to the basin, the drive was fairly smooth going on some highways before we hit a four-way stop that led up a different highway eventually leading us to an interesting-looking building signposted "Road Kill Grill" with a confederate flag hanging on a building opposite the sign. From my research, I knew that this was where the Cleo Chapman Rd turnoff was.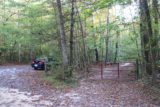 So we took it, then followed another couple miles of twisty roads, then turned right onto Eastatoe Community Road, which was flanked my more ranches and homes it appeared, and then turned right onto Water Falls Road, which was a single-lane gravel road. We took this road all the way to its dead end, where there was a gate that appeared to be for foot traffic only.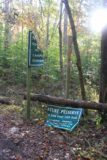 So we started the walk, got past the gate, and noticed that there was a torn sign indicating that this was a preserve. I guess someone wasn't too happy about this being a preserve.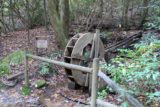 Continuing on the brief walk, we went past an interesting-looking water wheel signposted "In Loving Memory of Buck Hinkle." We weren't sure who this person was, but we'd probably google him to learn a little more.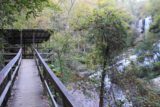 After a few minutes more of walking, we went right up to a shelter where we saw the pair of waterfalls collectively known as Reedy Cove Falls. It was also known as Twin Falls, and we could see why.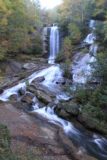 With the early morning light, the whole scene was still in shadow so we took this opportunity to take some long exposure shots while also taking movies. It didn't take long before we had our fill of this falls, and at 9:20am, started driving towards the Caesar Head Visitor Center, which we knew would be open by the time we'd get there.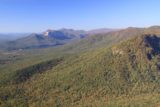 It wasn't until about 10am when we finally arrived at the Caesar Head car park. So we spent some time checking out the overlook, where we could see the basin we had just descended into, but it appeared that the Fall colors still hadn't really made it down to this elevation yet. So the view wasn't as awe inspiring as say maybe in a couple of weeks.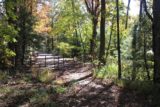 We had a little trouble finding the trailhead for Raven Cliff Falls, and we thought the trail started past a gate on the far side of the parking lot (further downhill). But after about 15 minutes of walking past several private homes with gorgeous views, we came to a fork in the road, and we started to question whether this was a legitimate trail or not.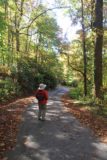 Playing it safe, we walked back up to the Visitor Center where we inquired with the lady working there where the Raven Cliff Falls car park was. It turned out that the trailhead was another mile away in a separate car park, and with that, we returned to the car and started looking for the car park (funny we didn't see it earlier in the morning).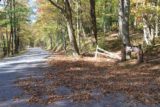 After another 15 minutes of searching and driving downhill towards the switchbacks again, we returned to the Visitor Center. This time, I made sure to ask which direction we were supposed to turn out of the Visitor Center. And when she replied that we were supposed to turn left (i.e. going back towards North Carolina), I incredulously proceeded back to the car and slowly drove in that direction (still wondering why we didn't see it earlier this morning).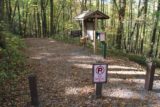 Well, it turned out that after a mile of driving as the lady at the Visitor Center said, we found the "Raven Cliff Parking" sign, which was only visible heading north and was totally not visible heading south (no wonder why we missed it). And when all was said and done, we started the hike at 11:05am, which was an hour later than when we originally returned to the Caesar Head car park.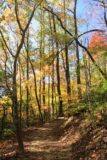 This time Julie decided to stay in the car so she could let me hike as fast as I could to the falls. Even though she wasn't going, she had already paid the self-help kiosk for two hikers (at $2 per person).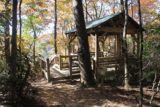 So I crossed the highway and began the hike, which immediately started going downhill. It would continue to do this, but then gradually level out and undulate with mostly a net elevation loss. There were only a handful for other hikers doing this same trail, but since I solo, I managed to make it to the overlook (the shelter and deck looked new) for Raven Cliff Falls at 11:55am, and I had it all to myself.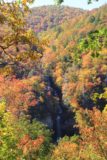 The falls was mostly in the shadowy recesses of the colorful trees surrounding it. However, I thought it was the color of the surrounding trees that really made this scene so beautiful. Apparently, this was South Carolina's tallest waterfall though this 4.4-mile return hike was a lot of effort for a distant view with quite a bit of overgrowth conspiring to keep you from getting the whole view of the falls.
After having my fill of the falls, I returned back towards the car park see a few more hikers going in the opposite direction as me.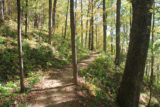 During the hike back, I had time to gather my thoughts and listen to the tranquility of the gentle breeze causing some of the colorful leaves to drop from the trees above. It was kind of a moment where I knew I was where I was at peace the most in my spirit – out in Nature.
Anyways, I made it back to the car park at 12:45pm, which was way sooner than I thought and it caught Julie by surprise. It only took me just over 90 minutes to do this whole 4.4-mile excursion while it took us over two hours to do the 4-mile Lower Whitewater Falls. I guess terrain (there was less up-and-down in this one) really did make a difference.
So we wasted no time heading back towards Brevard, where we grabbed a surprisingly delicious panini lunch and salad at Quotations. We'd eventually leave the cafe at 2:15pm to continue towards the Graveyard Fields with the intent of seeing the Fall colors before the anticipated rain would come in tomorrow.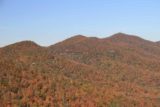 After following quite a bit of slow moving folks who refused to use the slow-vehicle turnouts on the 267 (noting where Looking Glass Falls and Sliding Rock were for future reference later on this trip), we made it up to the Blue Ridge Parkway and we made a brief stop at the Pounding Mill Overlook at 2:55pm.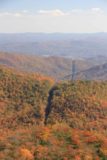 Up here, we could get a broad expansive view of the basin below with quite a bit more Fall colors than what we saw in South Carolina. However, the scene looked a little flat and it wasn't as photogenic as we had hoped (though it still was beautiful).
We were also able to see from this vantage point the scar on the landscape where the forest was cut in favor of power lines. Even from this far away, the effect of the cutting was quite noticeable.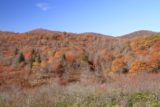 Continuing on, we evevntually made it to the Graveyard Fields Overlook car park at 3:10pm. There were many cars here and some even made themselves some room by parking on unsanctioned grassy areas between the paved parking stalls and the highway. We could see that there were some Fall colors here, but it wasn't as much as we had hoped or as we were sold on after doing some internet research about this place.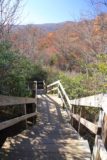 In any case, Julie and I started hiking with the intention of doing the whole Graveyard Fields loop taking in both the Lower and Upper Falls. And the trail immediately descended a series of steps leading towards a bridge above the creek responsible for the Lower Falls.
We first went to the Lower Falls, and we got there at about 3:30pm. There were about a dozen people enjoying this rounded cascade at the base. There were also a handful of others enjoying the falls near thet top. And after taking the obligatory photos and movies of this place, we started to hike back up the stairs and towards the junction with the Upper Falls and the rest of the loop trail.
Along the way, a couple that was holding an interesting North Carolina Waterfalls book by Neil Reagan caught Julie's eye and she initiated a conversation with them asking where they got the book. After all, it wasn't the first time we saw hikers holding waterfall guide books in these parts, and it was almost like the folks vacationing here really took their waterfalling seriously.
Anyways, we engaged in a conversation that probably lasted at least a half-hour or more. We learned that this couple was from South Carolina and they were excited to shower us with advice about places to check out in Brevard as well as the waterfalls that they took the time to check out. We also told them about our trip and how the waterfalls we were visiting here would ultimately show up on our website. We even told them about (and showed them on our cameras) some South Carolina waterfalls that we had just visited earlier in the day, which they didn't seem to know about.
When the engaging conversation with this friendly couple ended, we resumed hiking again at about 3:50pm. And as we were walking amidst a field of low-lying foliage, we were bummed that there wasn't as much color as we had hoped in the foliage surrounding us. As a matter of fact, most of them were bare with only branches as we reckoned most of their leaves had already fallen to the ground.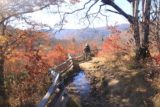 Did we miss the Fall colors event in this part of the Blue Ridge Parkway?
Now that wasn't to say that there weren't any Autumn colors during this hike. In fact, there were still lots of colors everywhere we looked.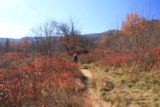 But perhaps our expectations of the explosion of colors was a bit of an instance where someone timed their visit perfectly and in good weather and showed that circumstance in their blog or website that wound up in our research. And even though we had good weather, it was clear that the colors wasn't as explosive as our expectations were. Perhaps those expectations were unrealistic to begin with.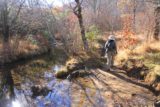 Whatever the case, we continued making hasty progress towards the Upper Falls. It was quite a lengthy detour from the main loop trail, and we started to wonder if this waterfall was going to be worth it. The trail got pretty muddy with plenty of makeshift trails to try to avoid the sloppy terrain.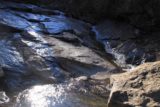 At about 4:30pm, we briefly conversed with a pair of guys who were just coming back from the Upper Falls. After they confirmed that we were just about there, they gave us some very helpful advice about making sure we scrambled on the right side of the creek and not across it. They said that the lower waterfall was not the main one, and that only just above it was the real deal.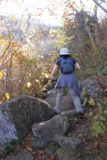 So with that in mind, we'd eventually get to the part they were talking about. However, we had to do a little head-scratching, especially when we saw how slippery and dicey it would be to try to scramble alongside the lower cascade on slippery boulders in order to get up to the Upper Falls.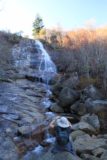 It wasn't until about 4:45pm when we finally found the Upper Falls though it certainly was a bit rough doing the combination of muddy scrambling and bouldering to get up here. All this time we were worried about going the wrong way or increasing the risk of injury.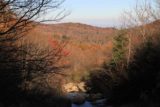 And after doing our obligatory photos and movies, we started to head back. Julie wasn't too terribly pleased with the amount of effort spent for this waterfall, but sometimes you just can't predict how things turn out until you actually get there.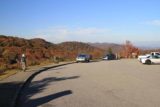 So for better or for worse, we eventually completed the loop hike and ultimately got back to the car at about 5:30pm. We knew it would be pretty close to dark by the time we got back to Brevard so the driving for the rest of the day was pretty hasty with one brief stop at the Looking Glass Rock View.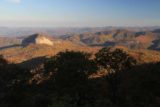 At about 6:20pm, we found this place called Hawg Wild, which specialized in North Carolina BBQ, and we figured we had to try out this food since we were in the South after all.
It turned out that the food was plenty for the both of us (and we were sharing a Sampler Platter!), and the $20 price was very reasonable.
We left the restaurant at 7pm, ran some grocery errands at Ingles (rhymes with "shingles" and not inglés as in Spanish for English), and when all was said and done, it was 8pm when we returned to the Deerwoode Lodge.
And so ended our last full day in Brevard, which was definitely a busy one at that (especially since we hiked over 7 miles on consecutive days). It was time to enjoy the rustic log cabin one last time, get a good nights sleep, and finally hit up the DuPont State Park waterfalls as well as the popular ones we had just skipped past on the 267 earlier this morning. And we'd do all of this while we would make our way up to Asheville…
Day 6: TRANSYLVANIAN DREAMS
It was 7:05am when I awoke, but Julie didn't get up until around 7:35am. Outside, it looked like the skies were threatening rain and when I started to load the car, it was drizzling and misting.
It was 8:30am when we finally left the Deerwoode Lodge. It was about an hour later than I would've liked, but we did have consecutive long days of touring so sleeping in a little bit on this day was warranted. I figured today would be a little lighter on the activities anyways.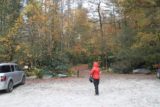 We'd eventually reach the well-signed car park for Hooker Falls. There were already a handful of cars, and even though it seemed like we were early, the truth was that we were probably late to the party. We could see that there were already plenty of people out and about, and we certainly didn't come close to beating the rush or being one of the first to be there.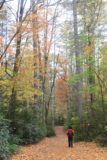 So the first order of business for the day was to hike the 1/4-mile or 0.3 miles (depending on which sign you believe) to Hooker Falls. The short and gentle descent over what seemed to be an old logging road led right down to a rocky shore where we could see the wide block waterfall with colorful fall foliage above it.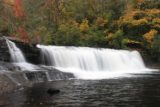 Julie commented that she had never seen so many people with tripods in one place for what we thought was a short (though pretty) waterfall. We spent some time chatting with some of the folks while also taking photos ourselves. One friendly local even pointed out to us his favorite spot and explained why it was favorite.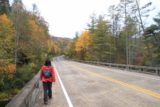 After having our fill of Hooker Falls, we then crossed the highway and then walked the half-mile or so towards Triple Falls. The walk started off along the river before it started to turn a corner and then climb pretty steeply. After a few minutes of walking the steep uphill, we got to an opening where we could see the Triple Falls coming down in successive cascades at angles to each other.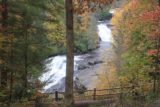 It wasn't easy getting a totally clean view of all the tiers together due to the foliage flanking the scene on both sides, but we at least got most of it. I couldn't help but wonder if this was the set of waterfalls that was partially seen in the background in the movie "The Hunger Games."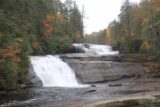 Anyways, we kept walking up the hill and saw a set of stairs that led to the top of the bottommost tier of Triple Falls. It was a little mistier down here, but the smooth rocks combined with wetness from a combination of spray and intermittent light rain conspired to make these rocks very slippery. I could totally see why people get badly hurt or die when getting close to these kinds of waterfalls.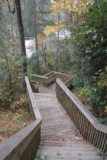 Next, we had a decision to make. We could continue walking another 1/2-mile or so to get to High Falls. Or, we could walk downhill back to the car park, then drive over to the car park for High Falls, and then make the 0.6-mile hike from there.
Ultimately, we opted to do the "lazy" way by going back to the car park. We passed by many people who were going towards Triple Falls as we were returning to the car park. Little did we realize that we'd see many of them again when approaching the High Falls from the other car park.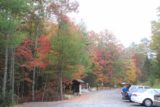 We were back at the car park at 10:35am. And by this time, the car park went from having a half-dozen or so vehicles to being a full lot with at least two-dozen vehicles or so. About five minutes later, we got to the quieter High Falls Access car park and promptly started the hike on a wide road that looked like it was closed off to vehicles (not sure how long ago that decision was made).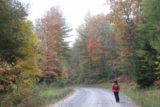 The broad hiking trail was flat as it was flanked by trees with reddish and orangish fall foliage sprinkled with others that still managed to hang onto their green. We saw one familiar-looking couple (from when we were returning to the car from Triple Falls) who recognized us and wondered if there was another way to get up here. That was when I had to confess that we cheated (though I wondered how much was this really cheating if it was faster to walk up here than to drive to the other lot and then walk down to High Falls).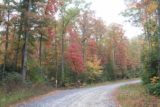 Not long after, we saw a signed junction pointing left for High Falls. We also noticed another sign saying it was another 1.9 miles to Bridal Veil Falls. I guess the jury was out on whether we should do that waterfall or see if there was a shorter way to do that hike.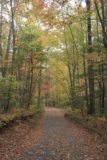 The trail narrowed to a more conventional foot trail where it started to descend towards the loud roar of High Falls. We had passed a junction where one of the paths led to a covered bridge. As we got closer to High Falls, we saw a few more familiar faces (again from when we left Triple Falls for the car park at Hooker Falls), and then we got to an opening where we could see the impressively tall and wide High Falls.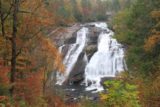 The best view I was able to get of this waterfall was from a higher vantage point, which was from a path to a picnic shelter above the main trail. It was from here that I could see the entirety of the falls flanked by colorful foliage and backed by a partial view of the covered bridge.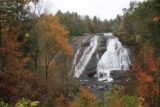 So we naturally took a few more photos and movies before I descended further in search of access to the base of High Falls.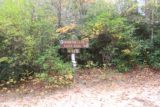 I'd eventually get to a signed junction where a sign indicated that the High Falls Trail continued to the left (going further away from the falls), which the River Bend Trail went to the right and towards the falls. There was another sign for the River Bend Trail saying it would dead-end at the base of High Falls and you're not allowed to shortcut your way back up to the main trail.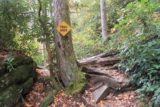 In any case, I took the River Bend Trail and followed it towards its sanctioned end where a sign discouraged further progress. Unfortunately, the view of the falls from here was mostly obstructed by foliage.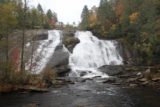 So I scrambled a little further past some downed trees and across some slippery rocks before I finally got at least somewhat of a decent view directly of the falls. I supposed that I could've kept going to get even closer to the falls, but I thought I got enough of this falls to not warrant additional risk-taking to get that unusual view or photo of the falls.
So I went back up the trail content with what I got to experience at High Falls, and we'd eventually return to the car at 12pm. During the return, it started to rain a little harder.
The next order of business was to see if we could do Bridal Veil Falls. However, it seemed like all the access roads that would've taken us very close to the falls happened to be closed to the public (they led to private lands). So it meant that we would have to hike at least 4 miles return to the falls, and for that much work, it better be worth it.
So we pulled over at a car park on the way back to the Highway (the name of that trailhead escapes me), then took out the laptop and did some quick offline research about Bridal Veil Falls. After determining that it wasn't going to be worth the time and effort, we continued on and returned to Brevard arriving in town at 12:45pm.
While in town, we killed some time to pick up another panini lunch while also filling up on gas near Ingles. Then at 1:05pm, we left to go to Looking Glass Falls. I had picked up a free map from the visitor center in Brevard and I saw that Moore Cove Falls and Slick Rock Falls weren't enough to entice us to get over our oncoming waterfall fatigue. So it was Looking Glass Falls and then on to Asheville.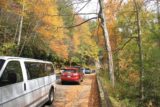 We arrived at Looking Glass Falls at 1:35pm, and by this time, the sun started to come out again. There was a very long pullout so there was enough parking for plenty of cars (at least on a weekday like today). This waterfall was busy, which was expected since it was essentially a roadside waterfall. So we took our time walking down the steps and getting different angles and views of the attractive waterfall.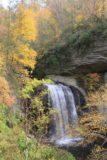 Once again, there were some fall colors around the falls, but it was hard to get the desired compositions given how many people were around the choice spots. Plus, there were lots of yellow jackets buzzing about making the experience even less comfortable. Perhaps the best spot to take photos of this waterfall was near a bench where angled views of the falls with Fall foliage was available. But once again, yellow jackets here were a nuissance thanks to a trash can near the bench that must've had a lot of sweet stuff to attract them.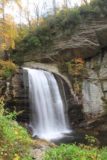 Anyways, we took our obligatory shots and videos before we returned to the car at 2pm. But just as we were about to gain some momentum to head over to Asheville, we made an impromptu stop at the Pisgah Visitor Center at 2:10pm.
While there, we picked up a non-free map with all the waterfalls in the area. It seemed like there was a table containing all the falls, keyed to the map, and had ratings with descriptions, hiking difficulties, etc. It was a nice little compact package and we opted to get this as a guide instead of a book.
Anyways, we finally left for Asheville at 2:30pm, and the drive was pretty uneventful as we arrived at the Red Roof Inn in West Asheville at 3:15pm. After briefly checking in and dropping off our bags, we left for town at 3:35pm. This time, we thought we could use the remaining time in the afternoon to check out the Biltmore Estate, which we heard was something worth doing.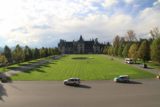 When we got to the Biltmore Estate at 3:50pm, we were shocked to learn that the admission price was $59 per adult. Since I was never into opulent castles and mansions, I hesitated to spend that kind of money for this, but I went ahead with the decision to do this anyways since we had to break up the waterfalling fatigue we were coming down with.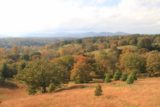 So we'd eventually get to the Biltmore House at 4:05pm. It was just then that Julie told me that we also had dinner reservations at 5pm at this place called the Corner Kitchen. That didn't leave us very much time to tour the house.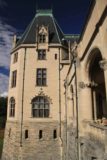 In any case, the house (as expected) was grand and almost had a very European flavor to it. In fact, we overheard that George Vanderbilt (originator of the home) was part of English nobility, which probably explained the obvious display of wealth and status.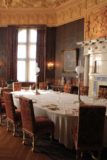 But a smart thing that the Biltmore Estate folks did was to furnish each room in a way that let us better appreciate how life must have been like in Colonial America at this estate. Indeed, it was like European aristocracy mixed with American Colonialism. We contrasted this with our Versailles experience in France where hardly any of the rooms were furnished, and we could see this Biltmore visit was interesting. The only bad thing was the inflated price, which was curiously twice the cost of say Versailles.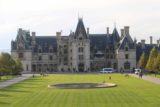 Well, we'd eventually return to our car at 5pm, and since the dinner place was near the Biltmore, we were hoping to only be slightly late to our reservation. But it turned out that it took at least 30 minutes to leave the estate thanks to a traffic jam. So it wasn't until 5:40pm that we got to the Corner Kitchen, and we ended up having to wait nearly 30 minutes before we finally got seated at the bar.
The dinner wasn't cheap, but it was delicious. It was pretty much upscale Southern food, and they even served authentic soufflee for dinner. But Julie had some blackberry-glazed pork chop while I had pecan-crusted mountain trout. We probably could've done without the chowder and the calamari since we left that place totally stuffed.
But we finally left at 7:45pm and got back to the Red Roof at 8pm. Thus, we ended what turned out to be another long day, though in this case, even when we tried to take it easy, circumstances (like waiting at the restaurant and getting stuck and ripped off at the Biltmore) dictated otherwise.
And tomorrow, we were going to have yet another long day to the northeast of Asheville along the Blue Ridge Parkway…
Day 7: SEEING RED ON THE BLUE RIDGE
It wasn't terribly difficult to wake up at 6:15am since our motel room was facing the I-40 so there was incessant noise from that freeway. At least we had a minimum of 6-7 hours of sleep so we didn't get up too groggy. And since we were spending another couple of nights in West Asheville, we were ready to go by 6:50am.
Even though it was still dark outside, I wasn't terribly worried about hitting deer due to the volume of high speed traffic on the freeways and highways here. So we were zooming along the I-40 east and then went north on the highway 221. As a result, we made great time on the drive up to Elk River Falls taking this alternate way instead of spending most of our time driving the Blue Ridge Parkway before veering north towards the Tennessee border.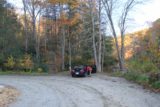 As we were nearing the North Carolina-Tennessee border (but not crossing it), the GPS had us turning right on a road that didn't exist. Fortunately, there was a signpost that had us go down a steep hump to get onto Old Mill Road. And from there, we followed some local roads while avoiding a couple of dogs that seemed to have no fear of vehicles (i.e. they wouldn't budge while sitting on the road despite us approaching). But when all was said and done, me made it to the Elk River Falls car park at 8:45am.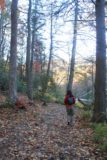 It was freezing cold at 37F when we got out of the car. But we knew it was a short walk to get to a view of the falls so we didn't put on hiking boots. We just took my tripod and our cameras and hastily made it to the falls, which was still mostly in shadow.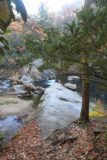 Once at the falls, there was a narrow slab of rock that we could walk onto to get right across from the large plunge pool of the falls. I'm sure that plunge pool might be inviting during a hot Summer's day, but no one in their right mind would get in the water this time of year!
But in taking the photos, my fingers were getting numb due to the cold temperatures. Still, the shadowy conditions made it possible to take decent tripod shots of the 40-50ft waterfall in long exposure. We even took a few couple shots with the tripod as we were the only ones here.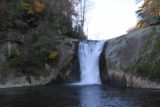 We were back at the car at 9:15am. And we promptly headed back south on the 221 towards the Linville Falls, whose sign we saw on the way up. So we at least had a clue on how to get there.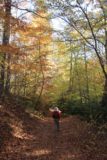 And by 9:50am, we arrived at an unpaved car park for the Linville Gorge and Wilderness Area. There were about a half dozen cars here already.
A sign at the trailhead here indicated that it was only 0.4 miles of hiking to get to the falls, but I had recalled in my research that this falls could be seen many different ways, and none I had recalled said it was only 0.4 miles.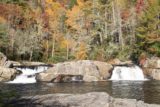 Anyways, the trail descended from the car park and hit a junction where there was a sign that said one path went to the US Forest Service car park (pointing behind the way we had just come) while the other path went to the National Park Service paved car park (to our left), which was accessible directly on the Blue Ridge Parkway. We didn't know if it made a difference which car park we chose, but we were curious whether we made life harder on ourselves with the approach that we took.
So we continued further along the trail when we hit another junction. This time, going left at this fork went a short distance to the "Upper Falls." Meanwhile, the right side went 0.3 miles to some Chimney Rock View while it also went 0.4 miles towards Erwin's View. We weren't sure what the other views meant, but we first went left to see what the Upper Linville Falls looked like.
When we got to the viewing area, we were surprised to see the quantity of people there. Clearly, they must've come from the NPS car park. However, the view of the falls here was not very impressive. There were a pair of small waterfalls with pronounced fall colors above them. Meanwhile, it was noisy because the stream narrowed and plunged unseen further downstream below the lookout area.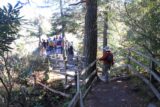 Thus, we continued to go the other way, which went uphill a short distance before we hit another trail junction next to some shelter. At 10:30am, we proceeded to go left, which led down a series of steps towards a pair of overlooks that looked like they were on top of pinnacles. Perhaps that was what they meant by Chimney Rock View. We wouldn't be viewing something that looked like a chimney rock, instead, we were standing on it.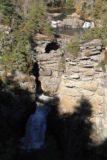 But the view from here was of a deep and shadowy gorge containing a high volume stream with lots of fall foliage trees covering the steep slopes on both sides of the gorge. At the head of the gorge was the main drop of Linville Falls.
It was too bad there were shadows because that wreaked havoc on our photos.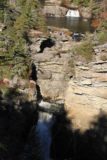 Anyways, when we got to the viewpoints, it was just in time for a very large group of teens to leave the area. We reckoned they must've been on some field trip or something. But when they left, the overlooks here got considerably quieter.
The thought occurred to both Julie and I that the signs were misleading as it seemed to suggest that the walk to the Upper Falls was the only path to view the waterfall (since it was the only path that explicitly mentioned the falls) while the other viewpoint names made no mention of views of the main falls. So we were very glad that we took the trouble to check out this viewpoint.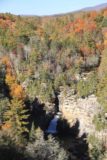 Next, we then walked the 800ft or so towards Erwin's View. Once again, there was a little bit more uphill walking to get there, and fortunately, the same group of teens were headed back down just as we showed up. It was about 10:50am when we got to the viewpoint.
That left us to share the Erwin's View with about six other folks. One of them couldn't contain his excitement at the scenery saying repeatedly, "Oh, Lord have mercy!"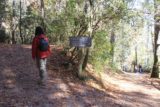 Up here at Erwin's View, we had a more distant but cleaner view of Linville Falls and the gorge downstream from it. We also noticed that there were some people way in the distance near the base of Linville Falls. Someone at the overlook told us that there was a path that went about 1.5 miles or so from the official NPS car park to get there. But given that this waterfall didn't exactly inspire us to spend more time than we needed to, we opted to go right back to the car.
So we returned to the car at 11:20am. This time, the unpaved car park had a lot more vehicles than when we started.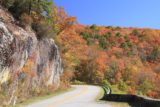 Now that the first two waterfall excursions were done, we could now drive the Blue Ridge Parkway heading towards Asheville. Even though we got to see part of the Blue Ridge Mountains on the way to the Graveyard Fields a few days ago, this was now another opportunity to see more Autumn colors with expansive views on both sides of the road (since this road was literally sitting atop the ridge of the Appalachian Range between Virginia and North Carolina).
We randomly stopped at a couple viewpoints though it was one of those things where it was better experienced than through photographs as most of the shots looked flat.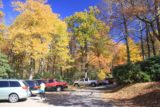 The next waterfall we went for was Crabtree Falls. And once again, we had to ignore the GPS as the waypoint was way off from the well-signposted visitor center (near the 339.5 mile post) and campground where we were supposed to start our hike. We ultimately arrived at the busy car park in front of the visitor center at 12:15pm.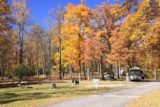 Once we got ready to go, we took a trail that went past an amphitheater (apparently for ranger programs for people camping here) and ultimately towards another car park after 10 minutes. Apparently, we could've cheated and parked closer to the real trailhead though the parking here was quite limited as the rest of the pavement here was more for registered campground occupants.
A sign here said it was 45 minutes to the falls. Another sign here said it was 1-mile to the falls, while it was 2 miles to do the entire loop. That seemed inconsistent with what the map signs were saying, but regardless, we were intending to do the falls as an out-and-back hike as we thought the loop hike was more like a minimum of 3 miles round trip.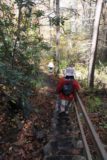 Anyways, the path started off by descending gently, but soon enough, we had to descend a few flights of steps before the trail descended even more steeply. We knew that on the way back to the car, we'd have to get back all this elevation loss. Thus, this upside-down hike was deceptively more tiring than the short hiking distance (1.5 miles one-way according to the sign at the Visitor Center) would suggest. Still, the lovely fall colors on the leaves high up above on the trees towering over us helped us take our minds off the physical exertion from time to time.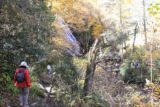 At 1:10pm, we arrived at the bridge right in front of the attractive Crabtree Falls. It was interesting how most of the hike was pretty quiet with a handful of people on the trail it seemed. But at the bridge, there were a lot more people. Still, it was a good thing that the bridge was there because I didn't bring my tripod. So I had to be opportunistic with the props in the area to take long exposure shots of this waterfall, which was a very long exposure-friendly waterfall.
In addition to the textured rippling of the water tumbling down its sloping cliffs, Crabtree Falls was also attractive thanks to the orange and yellow foliage immediately above the falls itself. So we easily spent a good bit of time taking photos in as many ways as possible before we headed back up towards the car park.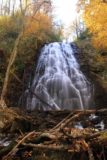 It was about 2:05pm when we finally made it back to the car park. After taking much needed bathroom breaks at the visitor center, we finally continued on the Blue Ridge Parkway at 2:20pm.
The drive went pretty uneventfully as we stayed the course on the road. As tempting as the plethora of overlooks were on both sides of the road, we only stayed for the overlook of Glassmine Falls near the milepost 361.2, which we arrived at 3:05pm.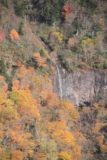 We didn't linger too long here since the thin ephemeral-looking waterfall wasn't terribly impressive (then again, maybe we were just jaded waterfallers at this point). But the Autumn colors surrounding the falls and in the valley below definitely made the scene very attractive.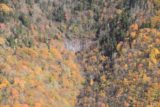 Once we were done with Glassmine Falls, we would eventually wrap up this section of the Blue Ridge Parkway and return to our accommodation in West Asheville at 4:05pm. That gave us enough time to get dressed in evening attire and head back towards downtown Asheville for a tapas dinner without reservations.
I had fretted about the lack of parking and the traffic here given last night's experience after the Biltmore Estate self-tour and dinner afterwards, so I had to believe that we were VERY lucky to have found free parking on a quiet side street (it was one-hour parking from 8am to 6pm) at 4:50pm. Clearly given the traffic and parking difficulties here, we reckoned that Asheville was once a small town that grew faster than it could handle and now had to deal with big city issues.
Nonetheless, as we walked towards this Spanish tapas place called Cúrate, we could see how downtown Asheville was a charming enough area that warranted some time spent strolling its streets and arcades. If not for the traffic and the parking (plus letting the main area be vehicle free), it could've been right up there with being a real charming and romantic place like most European centers and CBDs.
We were fortunate to have bar seating at Cúrate, and we tried out a variety of dishes from charcuterie-style meats, pan con tomates (bread with tomato spreads) to a raw trout drenched in lemon juice and lots of other herbs. We ended the dinner with a rosemary ice cream with sponge cake. However, there were so many other dishes we wished we could've tried (e.g. the Iberico Pork, fried eggplant, etc.), but we just didn't have the room in our stomachs anymore.
Julie and I knew that when it came to good fooding experiences, we preferred appetizers and starters versus mains that usually just filled you up with much less adventure and flavor. Thus, dining tapas style was the way to go.
But tapas this good in the South really caught us by surprise. I mean, tapas that could rival big city fine dining like in Los Angeles? In the South? For pretty reasonable prices for what you're getting? Who knew?!?
We made it back to our car at 6:20pm and twenty-minutes later were back at the Red Roof Inn to call it a day. For once, we had a less hectic day compared to each day of this trip up to this point, and we could finally wind down for the evening without infringing on our bedtimes.
Tomorrow, we would have another full day leaving and coming back to the Asheville area. However, this time we'd be headed southeast in the morning and then west of town in the midday-early afternoon time frame (or at least that was the plan). It's hard to say whether we could fit it all in before a 6pm dinner reservation, but we'll just play it by ear and see how that goes…
Day 8: CHEROKEES AND CHIMNEYS
It was 6:45am when we awoke. We had a pretty full slate of activities today, and we had a time constraint to be in time for our dinner reservations in downtown Asheville by 6pm.
After some last minute researching last night about today's activities, I had learned that there were opening hours for Pearson's Falls at 10am, and I wasn't sure when the gates would open for Chimney Rock and Hickory Nut Falls – two of the waterfall excursions we were planning on doing today.
So at the last minute, I decided we should head west towards the Great Smoky Mountains National Park near the Cherokee Native American Reservation in search of a pair of waterfalls (Mingo Falls and Soco Falls). I had even entertained the notion of taking a detour to Chataloochee Valley to see some wildlife (namely the introduced elk there).
So at 7:30am, we left the motel and headed west on the I-40. We then followed the GPS, which led us from the I-40 into a foothill town before it led us onto the far western end of the Blue Ridge Parkway. But with the morning light somewhat muted by partly cloudy skies, most of the views seemed either flat or didn't quite have as pronounced colors in the foliage as we had seen yesterday. Thus, we didn't really make any stops along this stretch of road.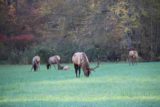 Eventually, we joined up with 441, where we turned right and noticed that there were quite a few cars parked alongside the road while the Oconaluftee Visitor Center car park looked quite busy. There were even quite a few folks standing in the grass area directing their attention towards something.
This seemed rather unusual considering it was only about 8:30am, but upon closer inspection of the commotion, we saw there was a herd of elk.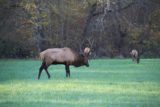 Anyways, the GPS had to look for Big Cove Road, but it was nowhere accessed from wherever we were at (near the Oconaluftee Visitor Center or somewhere north of there). So we returned to the Oconaluftee Visitor Center where I took this opportunity to photograph the elk (good thing our all-in-one lens could also do telephoto). Even though there were quite a few people who got rather close to the male elk (the one with the majestic antlers), I feared that it was either rutting season or bugling season or something so they might be aggressive.
I made sure I wasn't too close and so the photos I took respected their distance at the expense of the elk not dominating my compositions (good thing for the long zoom though). With my wildlife fix out of the way (with the elk but no bears unfortunately), I then went to the visitor center lobby where I asked how to get to Mingo Falls. That was when the lady told me that I was supposed to head south on the 441 towards Cherokee before turning left onto Big Cove Road. Once again, the GPS was misleading, but at least now we knew where we had to go.
At 8:50am, we left the Oconaluftee Visitor Center and followed the National Park Service Ranger's advice about getting to Mingo Falls. Eventually at 9:10am, we made it to the Mingo Falls car park though there was a sign that was rather confusing when it said something like "Mingo Falls 0.5 miles" with an arrow pointing to our right.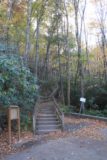 It turned out that the sign was really saying that the falls was 0.5 miles further up the road to the right and not 0.5 miles on our right. We almost drove into someone's driveway given our second interpretation of the sign, but fortunately, we kept going and eventually saw another sign near a stop sign that told us to go right, where we could see the set of stairs and a conspicuous car park up ahead after turning right at the junction.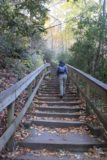 There was only one other car when we arrived. Julie and I wasted no time climbing up the stairs for several steps, and then the trail leveled out. From there, it was a narrow, flat walk leading to a bridge over the creek on which Mingo Falls flowed. That bridge was where we could best view the impressive lacy and tall waterfall.
There was a photographer who looked like he had some pro equipment with a graduated neutral density filter, a heavy-duty tripod, and perhaps even a remote trigger. He wasn't terribly talkative because I think we happened to walk in on his time to take pro shots.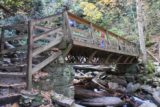 So we did our best to minimize the amount of walking on the bridge (so the bridge wouldn't shake) while we were doing our own photography of the impressive falls. The sun hadn't quite breached the cliff from which the falls fell, which was a good thing because we would've been looking against the sun had we come later.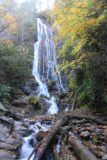 After a few minutes of the both of us doing our thing taking photos, an Asian family of five or six people (including two kids) showed up. I don't think they appreciated or were even aware of the pro photographer trying to get his shots as they stomped on the bridge and the photographer had to wait until they were gone. Unfortunately, one of the members of that family decided to scramble onto the stream and perhaps get into that photographer's line of sight (and hence in his photos).
I felt bad for that photographer as I was sure his photo session was ruined by this chain of events.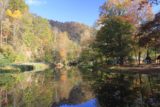 In any case, I headed back, and just as I left the bridge, I saw another couple of parties head towards the bridge. I guess Julie and I had beat the rush.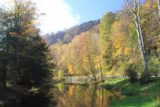 At 9:30am, we were back in the car. We then proceeded to drive towards the Native American town of Cherokee, which seemed to be the epicenter of the Cherokee Reservation here in the Great Smoky Mountains National Park. It seemed like quite a built-up town for a small town full of tourist amenities and Native American souvenir shops, museums, restaurants, etc.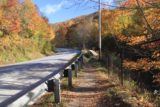 It took a while before we could finally get above the 20mph or 35mph speed zones, but eventually we got onto the 19 and twisted our way towards a pullout for Soco Falls at 10:05am.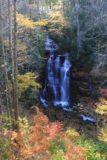 While there, we descended down towards a viewing deck, which revealed a short 30-40ft main falls, but we could see there was a second waterfall joining with it unseen from this deck. Fortunately for us, the sun just so happened to be concealed behind clouds for a moment so we could take photos from this deck. Otherwise, we could've looked totally against the sun and the falls wouldn't have been so photographable.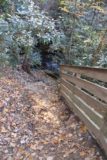 When we had our fill of this viewing deck, I descended down a steep and tricky scramble with the aid of the ropes there to get to the base of the falls. It was only at the bottom of this slippery descent that I was able to view both waterfalls in one shot. Unfortuately, I had no tripod with me so long exposure photographs were limited to my ability to both hold my breath and hold still long enough to minimize the camera shake.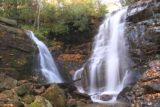 The scramble down to the base of the falls (and consequent climb back up) was definitely not for everyone. Since we noticed many seniors during our week of touring, I'd bet that such a descent would be dicey for them. However, it seemed like with some care and decent shoes, the descent wasn't as bad as I had anticipated.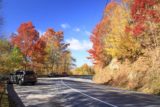 At 10:30am, I was back at the car. We proceeded to drive west on the Hwy 19 when an observation tower caught my eye. We decided to spend the 50 cents to go up that tower and enjoy the self-proclaimed "most photographed spot in the Smokies." Sure this tower seemed gimmicky, but for 50 cents, what the heck.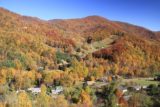 While the claim of "most photographed spot" could be disputed, what made this view attractive was that there were farms and other subjects fronting mountains draped in the fall foliage in close proximity so the photos didn't look too flat.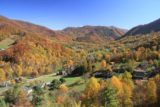 At 10:45am, we drove off and continued west on the Hwy 19 behind a train of vehicle traffic going way slower than the speed limit. That pretty much concluded our visit to the Great Smoky Mountains National Park, and now it was time to head back towards Asheville before heading southeast towards a pair of excursions in the vicinity of Hendersonville.
At 11:40am, we made a quick stop to Arby's for a pretty unsatisfying lunch. After another 20 minutes or so, we got off the I-26 near the town of Saluda. From there, we drove downhill on a very twisty road until we followed the signs for Pearson's Falls.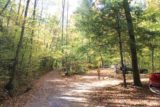 After paying our $5 admission per adult, we parked at the trailhead for Pearson's Falls (apparently still either privately owned or maintained by a garden club that needs the funds to keep the trail family friendly and protected. It was about 12:15pm when we got to the car park and roughly 5 minutes later when we started hiking.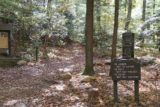 Near the trailhead, Julie noticed a sign that said, "Linger but don't litter, rest but don't molest, enjoy but don't destroy." Such true words.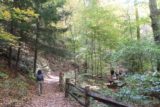 Anyways, the trail meandered alongside the stream for about 0.3 miles with a gentle uphill grade. Julie called this a relaxing and soothing trail thanks to the peaceful sounds of the running stream while walking beneath falling leaves that have changed color.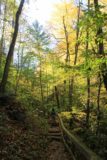 The trail was also family friendly (as a sign suggested) given the amount of families with kids and seniors that were on this trail.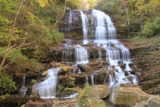 Once we were at the falls, we were treated to another waterfall with what Julie called "character." It had a rippling look as the water tumbled down its angled rock face. It was certainly a tripod friendly waterfall given such texture. However, taking the ultimate shots of this one wasn't very easy due to the quantity of people plus the limited about of unobstructed viewing space.
At 1:10pm, we were back at the car. It was finally time to head towards Chimney Rock, which was the last excursion of the day.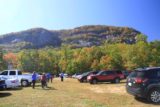 The drive to get up Chimney Rock town was mostly uneventful except for us following a long train of other cars in front of us (probably caused by a slow poke who refused to use the pullouts to let others pass). There was a pretty steep admission fee of $15 per adult, which led us to believe that this was obviously a private attraction. Then, we had to follow a line of cars up a narrow and winding road to a car park half-way up the overall ascent.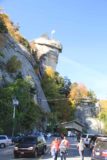 So it wasn't until about 2:10pm when we arrived at a grassy car park for Chimney Rock. They didn't let us go all the way to the top (probably because of how full it was up there) so we parked the car on the grass, then waited for a school bus to take us the rest of the way to the uppermost parking area.
Finally at 2;35pm, we were at the top area and were left to our own devices to explore.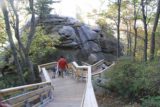 When we saw how big the queue was for the elevator to the top where they could get to Chimney Rock (we estimated it was a minimum of a half-hour wait or so), we opted to walk up the 400+ steps to the top. It was a bit tiring and sweaty, but I'd bet that we got up there faster than those who had to wait to get up via elevator.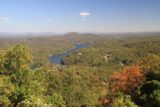 There were still more stairs to climb up besides the steps to get right up onto Chimney Rock if we wanted to get even more grand views (and less crowded) of both the Chimney Rock and the valley below. There was even a so-called Opera Box where we could duck into a little shelter and look out (trying not to bump the head onto the low overhang).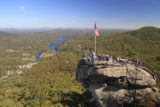 When we got the desired views, we quickly made our way back down the many steps, and then descended some more past the Moonshine Cave and ultimately near the trailhead for the Hickory Nut Falls – the last waterfall of the day. But it wasn't until about 3:25pm when we got the hike started.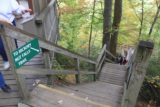 We knew we were cutting it close for our 6pm dinner reservation in downtown Asheville so we hastily walked the 0.75-mile hike (1.5-mile round trip), which was gradually uphill leading to the base of the waterfall. There were lots of people on the trail and even more people in the Chimney Rock section, and it prompted Julie to tell me that this place felt more like an amusement park than a Nature place.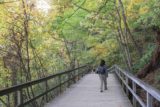 The trail was mostly under the shade of both the cliffs and the tree cover, but at the same time, we could see that the blue skies started to give way to some cloudy skies. There was also a section of trail that was said to have been washed out from a tropical storm several years ago, requiring the use of a newly-built wooden bridge section.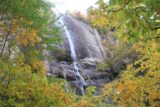 At 3:40pm we made it to the base of Hickory Nut Falls, where not surprisingly, there were many people. The falls was tall, but it had pretty light flow. I guess this waterfall was really more of an excuse to check out Chimney Rock, but if we had to pay $15 per adult for just the waterfall, it would've been quite the rip off (though the $59 per adult fee at the Biltmore was still the king of rip offs).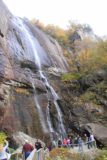 We managed to walk all the way to the end of the walk which was a viewing deck right beneath the main drop of the falls. Several people scrambled onto the stream to touch the water and feel falls' spray. And from this close vantage point, there was no way a normal zoom could capture the whole falls in one go.
After having our fill of this waterfall, we quickly made our way back to the shuttle stop. By 4:15pm, we were waiting for the shuttle, and at 4:35pm, we were finally back at the car.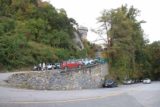 Next, we had to drive back down towards Chimney Rock town before going up two-lane highways following long lines of vehicles caused by someone going way below the speed limit and not using the pullouts to let others pass. This didn't help our cause in terms of trying to get back to our room, change, find parking, and then make our 6pm dinner reservation in downtown Asheville.
But when all was said and done, it was about 5:30pm when we returned to the Red Roof Inn we stayed at. And almost less than 10 minutes later, we were back in the car and drove towards downtown Asheville.
Given the traffic, I had to drop Julie off in front of the Table Restaurant so we wouldn't lose our dinner reservations. She made it in time, but I had to circle around looking a way to get into a parking structure that was right next to the restaurant.
It turned out that the Rankin entrance for the adjacent car park was inaccessible due to a broken machine. Fortunately after the second passby, I asked the workers there if the lot was closed. They told me that the lot was open and there was another entrance. So to make a long story short, I'd eventually attain parking at that parking structure at 6:10pm.
And so Julie and I had a little birthday dinner though the waitress completely forgot about Julie telling her about the birthday event. In any case, the food was expensive, but it wasn't as good as the price dictated. I guess it had a hard act to follow after the Cúrate dinner last night.
Still, we got to eat foie gras (which was recently banned in California) along with meat tartare plus some pulled pork main and beef short rib main. All this was followed up by a chocolate lava cake dessert.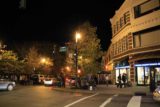 Fully stuffed, Julie and I briefly strolled a block of downtown Asheville, but there wasn't anything here that really caught our eye in terms of a bonafide city center where it would've been worth strolling around and feel like we were in the center of the action like in other cities we've been to in Europe and Oceania.
So at 7:45pm, we were back in the car. When we left the parking structure, we were shocked that we only had to pay 75 cents! That was probably the most reasonable parking price we could recall in a long time!
At 8:05pm, we were finally back at the Red Roof Inn to call an end to this busy day. We still had to pack and prepare for the second leg of our journey while also getting cleaned up. Nonetheless, the first half of our Appalachians trip was coming to an end. Tomorrow, we'd be entering Blue Grass Country where the trip would be more about arches, caves, and a little less concentrated on waterfalls than the waterfall saturation we went through this past week…
Visitor Comments:
Got something you'd like to share or say to keep the conversation going? Feel free to leave a comment below...
No users have replied to the content on this page