Day 1: COSTLY INEFFICIENCIES
Julie and I awoke to a roughly 4:30am alarm so we could get our stuff together and drive off to LAX for our 7:45am flight. We knew it would be difficult to leave our daughter with the grandparents for a couple of weeks so we did our best to shower her with kisses without waking both her and Julie's mom before leaving.
The drive was uneventful and so was the flight. Other than a delay and some mid-air turbulence with a rough landing at the Jackson-Hartfield Airport in Atlanta (at roughly 3pm), we took our carry ons, rode a pair of trains (now why can't LAX have this?) to the rental car center, and headed straight to the Dollar kiosk to pick up the rental car.
Unfortunately, the efficiencies ended there.
We were met by a line of at least four or five parties in front of us. So unsurprisingly, we had to wait at least 20-30 minutes before we finally got to the clerk at the desk to declare our reservation.
Our two-week rental was supposed to be less than $300, but when you add up insurance (which costed another $360 or so) and the various convenience fees and taxes (which costed another $330), the entire bill ended up being almost $1000 (roughly $65/day) for our compact rental.
When we got the contract (interesting that there was neither a key nor a stall number), we went down to the level of the Dollar lot, which looked rather empty. However, there was a line of at least another five or six parties apparently all waiting for their rental cars!
Once again, it caused us to lament renting with Dollar which seemed to come across as a company that pinches pennies while nickle-and-diming customers and it showed.
In any case, it wasn't until about 4:30pm when we finally got our car. That probably dashed any hopes that Julie had of doing a little sightseeing in the downtown Atlanta area (namely some aquarium she wanted to check out).
The car didn't seem like a compact (we were thinking a Corolla), but it was probably because they were out of compacts and had to "upgrade" us to a gas guzzling American car (forget what the ads say, the Chevy Malibu they gave us wasn't exactly a model of fuel efficiency). I'm sure that won't bode well for us given the amount of driving we'll be doing on this trip.
Anyways, from there, we drove towards downtown Atlanta where we headed straight for a Whole Foods Market. While there, we had a belated lunch while also stocking up on toiletries, water, and snacks.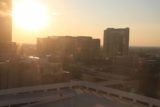 It wasn't until 6:15pm when we finally made it to our hotel in downtown Atlanta. As suspected, there wasn't much time left to do any sightseeing of the city. We were sure that the aquarium Julie wanted to visit was closed for the day.
The car park we found costed $12 for some kind of "event" parking, which was better than the $25 overnight rate for the hotel valet. However, little did I know that we'd have to go back out to drive for dinner, which got me worried about paying the $12 a second time.
When we finally decided on a dinner place called The Colonnade (known for southern fried chicken), our fears were founded when we got screwed on the parking by having to pay $12 just for being parked there for less than an hour (because it costed $12 per exit).
What a rip off!
Well, a few minutes later, we managed to get to the Colonnade, which was a pretty big restaurant full of folks with Southern accents. That must've been a good sign in that locals must love this place so we must be getting the real deal when it comes to Southern food, we thought.
In any case, the fried chicken was hot and juicy (and we contend it was probably better than Ad Hoc in Napa Valley's Yountville). We guessed that they probably brined the chicken due to its juiciness, but man were we so full of guilt eating it. We were glad we shared a plate. Otherwise, we'd probably be having a heart attack that evening.
By 8:45pm, we were finally back at the hotel in downtown Atlanta again. This time, the downtown area was quite busy as apparently this event drew quite a few people. We had no idea what this event or events was/were about. I had speculated maybe there was SEC football, but whatever the case, we just parked at the same spot we got ripped off before (after being unsuccessful finding more reasonable parking rates that were close enough to the hotel), and just crashed for the night. The attendant there said it was like $18 overnight, which caused me more mental grief as the net total would have been more than the hotel valet parking overnight!
Tomorrow, we were gonna get down to business and go waterfalling. Hopefully, they had enough moisture this past Summer to get some waterfalls flowing into Autumn. It was hard to tell, but I guess we were about to find out tomorrow…