Day 2: WATERFALLING THE SOUTH
It was 6:15am when we awoke even though we had set our alarms to 6am. It was still 3am back home so I guess it shouldn't have been too surprising that we would have some trouble getting up. Plus, it was still dark outside.
After getting our stuff together, we headed straight to our car in the car park and promptly left at 7:15am. In a bit of a minor victory, it was only $12 on exit and not the $18 I had feared. So that made the overall cost a wash with the hotel valet service.
Since we were about to embark on a long day of waterfalling throughout Northern Georgia, Julie decided to try out Dunkin' Donuts, which was just around the block from the Courtyard Inn Downtown that we stayed at. She had heard good things about the coffee there and I was certain she was gonna pick up some donuts despite starting off the trip with the guiltiest of dinners (of fried chicken) at The Colonnade last night.
Anyways with the grub in hand, we headed off and left the city of Atlanta for more rural scenery in the state's north. The day seemed very overcast compared to yesterday's clear and sunny day, and I had recalled from watching the Weather Channel last night that some severe thunderstorms were west of the Appalachian range (going as far east as Tennessee) and were headed our way both today and tomorrow. So I kind of half expected to see some bit of rain on this day.
By about 8:45am, we eventually made it to the entrance for Amicalola Falls. We were surprised that even this early in the morning when it just got bright not that long ago that there were already a handful of cars in front of us waiting to pay the $5 parking fee.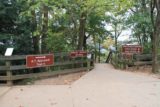 Once we got past the fee kiosk at the entrance and drove a short distance towards what seemed like a visitor and registration center (for the Appalachian Trail), we then took a left detour that climbed steeply up a road that ultimately led to another car park near the top of Amicalola Falls. We'd park the car by about 8:50am and wasted no time walking towards the bridge crossing the creek right above the falls.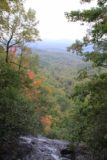 From up here, we could see the gorgeous view of trees starting to change color framing a dramatic landscape with foothills in the background and some overcast skies casting a little mood to the scene. There wasn't a whole lot of the falls to see from this vantage point, but I reckoned that it was more about the view anyways. Either that or it looked like there was some access to the Appalachian Trail after crossing the bridge here.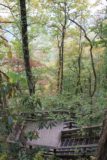 There was a sign indicating that there were 425 steps leading to the base of the falls, but after walking a few steps down, we quickly realized that there wasn't a whole lot of the falls to see here either and that we'd still have to get back all that elevation lost to regain the car.
So we quickly turned back and headed back to the car where we promptly took it back down the hill then followed the main road past the Visitor Center (and registration for the Appalachian Trail). By about 9:10am, we were at the car park where there were already at least a half-dozen vehicles.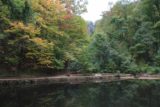 There was a pond near the car park and trailhead which reflected some pretty trees with some of the leaves turning color. But when I saw a sign indicating something about ice, it dawned on me that this pond was probably a skating rink if it gets cold enough for this pond to freeze over.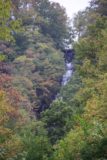 It was also from this spot that I could see the very top of Amicalola Falls, which kind of indicated to me just how tall the waterfall was (though you would need a pretty good zoom to bring it into view on a photograph).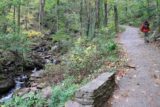 In any case, Julie and I promptly walked up the paved path which seemed to go mostly uphill while following the stream and some mini cascades. It wasn't long before we reached some stairs that led to some bridge (after 175 steps) with a pretty decent view of the main drop of the falls.
There were quite a few Chinese people on the trail, which was kind of surprising to us as we thought we would be the only Asians waterfalling in these parts. I guess we were wrong.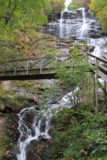 Just when we arrived at the falls, there was a breeze that rustled the trees above, which seemed to free up some loose leaves. It seemed like a magical scene where the leaves were slowly but constantly falling and floating across our line of sight as we were gazing up at the attractive waterfall.
When the breeze died down and the crowd that was here mostly left, we prepared our tripod (not making the same mistake as last time in France when I didn't bring it) and took some couple shots while also trying to get some silky shots, too.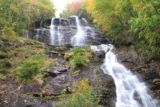 When we had our fill of the falls, the next wave of visitors came up. So that was our cue to get going and move on to the next waterfall for the day. By about 10am, we were back at the car.
By this time, the weather started to drizzle off and on. But there was no real rain as far as we were concerned.
So the next leg of the drive continuing east was pretty uneventful where we would frequently follow cars en route with a typically 45-55mph speed range. As we were passing through small town after small town, I couldn't help but notice how it seemed that each town had a local church where it wasn't hard to see that they were centers of each community. In fact, I could totally see why there was such a strong sense of church and community in these parts as a result, and I'm sure everyone within each community knows each other, looks out for each other, and also form their beliefs and values around the group think (and sometimes peer pressure) created within these tightly knit groups. This was something that we just don't see back at home where getting that community feel is very difficult. It's probably no wonder that the rural south really is God Country as these values run deep here.
Anyways by about 11:10am, that momentum we had came to grinding halt when we entered some town with seemingly Bavarian heritage called Helen. Apparently, there was some kind of Oktoberfest 2012 going on and that probably explained why there was a bit of a 15-minute traffic jam that lasted for as long as we were stuck within the town.
The town looked like it had charm and character, but we weren't really beer drinkers and we figured we were due for a trip to Germany anyways to see the real deal. So we continued on.
Not much longer, we made it to the entrance for Unicoi State Park, but when we approached the kiosk, the lady there said waterfall visitors pay in a separate kiosk further up the road. Apparently, Unicoi State Park and Anna Ruby Falls were separate entities. I wondered how often that lady sitting at the Unicoi State Park kiosk has to ask folks if they were going to the falls and then where to pay.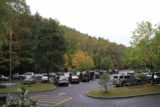 So when we eventually got there, we paid $3 per person and found parking in a very large lot that had a lot of people. Clearly this was one of the state's more popular falls.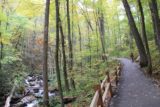 We parked the car at 11:30am under skies that were dark enough to threaten rain, and we promptly went up another path that followed the stream along a gentle incline.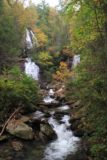 Eventually, we saw that there were lookout platforms on both sides of the creek taking in the georgeous dual waterfall. Actually, the taller segment on the left contained many drops though there were two main tiers that could clearly be seen. The right side of the falls had another smaller drop that went vertical. So you add up the sum of its parts and you got a pretty impressive waterfall. Oh, by the way, the changing fall foliage sprinkled about the scene weren't bad either!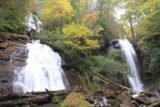 We easily took lots of time trying to take photos (with and without tripod) while taking turns with the dozens of other visitors that would come in and out of this busy viewing area. I guess it's times like these that having the tripod was more of a nuissance, but we really needed to take better and less blurrier photographs, which was a lesson learned by skimping a bit too much on our France trip.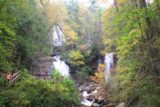 When we were done getting our fill of the falls, we headed back down the trail. It was fortunate that it hadn't really rained in earnest because both this trail and the Amicalola Falls trail done earlier would be very slippery given the inclines and the hard (i.e. paved) surfaces from which the trails were made.
Nonetheless, we still noted how family friendly the trail was given that it was mostly paved, many kids and whole families were seen here, and there were even interpretive signs sprinkled about along the way. But when all was said and done, we walked roughly 0.8 miles round trip. And by 12:35pm, we were back at the car.
Seeing how we were still in the forest, there wasn't a whole lot of hope for doing lunch at this time (which was something I expected on a day like today). So we proceeded to go to our next waterfall of the day near Lake Rabun called Minnehaha Falls.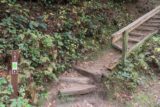 The drive went along pretty smoothly though I did recall following for quite some time some dude and his wife on a motorcycle. But by about 1:25pm we finally found the rather hidden trailhead for Minnehaha Falls, which was only attained after driving some 1.4 miles on unpaved road before having the GPS hint to us that we did indeed pass the actual trailhead.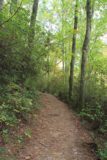 Eventually, we'd find a parking spot right across from a series of steps with someone having etched "Minnihaha" on the wooden railings right across from another sign that indicated "TH147". Indeed, we had found the right place.
So we wasted no time getting our camera gear, going up the steps, then following a narrow trail until we eventually got to an area full of giant smooth flat stones with a view of the multi-stepped and intimate cascade known as Minnehaha Falls.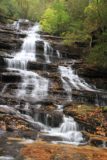 I had a feeling this was Julie's type of waterfall and then she confirmed it by saying this was her favorite one of the day. There were lots of fallen leaves providing color contrasting against the dark and wet stones around the falls. There were also trees with leaves starting to change color as well flanking the stream and cascade.
We took our time sharing this waterfall with another guy who happened to be having multiple tripods. I reckoned he must be from around here as he seemed he knew what he was doing photographing the falls. By comparison, I just hastily got my lone tripod set up so Julie and I could take a few more couple photos as well as silky long exposure photos.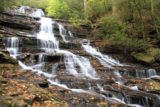 When we were done with this waterfall, we made our way back to the car. We noticed that there were a handful of other parties and families headed towards the falls. And when we got back to the car at 2pm, the pullouts that were practically empty (except for our car) all of the sudden had at least four cars. So apparently even what semed to be an obscure waterfall like this one also happened to get quite a few visitors.
We then proceeded to head towards Toccoa Falls and the neighboring town of Toccoa. We passed by some towns (most notable Tallulah Falls) though I didn't recall pulling anything up on this place in my research so I doubted that there would've been some waterfalls worth seeing here. Generally when a town is named after a waterfall, there's a very good chance that the falls are either non-existent or a shadow of its former self due to dams and hydro facilities.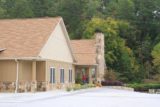 So we kept going. Eventually, we'd get to the Toccoa College campus and ultimately the gift shop fronting the falls deep in the campus at around 2:50pm. I guess I had been pretty conservative with my time estimates on this day so visiting this waterfall today instead of first thing tomorrow morning gave me ideas on how this could save us time sightseeing later on in this trip (by rearranging attractions to see in our itinerary).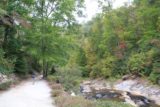 After paying the $2 per person entrance fee within the gift shop, we then walked along a short path along the creek that I'd imagine was Toccoa Creek. Once again, there were tall trees holding on tenuously to fragile leaves starting to change color. Indeed, we must've picked a pretty good time to go waterfalling in these parts.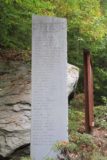 After a couple minutes more of walking, we were surprised to see how well the towering 186ft Toccoa Falls was flowing. There were also signs and memorials here reminding visitors of the tragedy that took place here in 1977 when a break in the dam upstream of the falls resulted in floods that swept away many people. From the names on the memorial, we could see that whole families died on that day (evidenced by many folks with same last names on the memorial).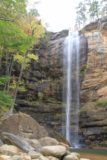 The sign here also indicated that the Toccoa Falls college was devoted to teaching of the Bible, which further confirmed our suspiscions that we were indeed in the heart of God Country. Moreover, apparently Toccoa Falls was also part of a Cherokee legend involving a tragically forbidden love between a Cherokee princess named Toccoa and the chief of a hostile tribe whose name was Wild Waters.
We spent some time enjoying the falls with a handful of other people that seemed like they were either students or faculty or staff, etc. It felt like we were the only ones who had no real local ties other than we were just visiting (as evidenced by the guy at the visitor center trying to save me money by asking if I was student, faculty, military, family, etc. having answered "no" to all the questions).
Anyways, Julie and I took a handful of more couple shots and other movies and photos before a group of uniformed kids and staff showed up as it was their turn to enjoy the scene.
By 3:25pm, we were back in the car and headed into the Toccoa town to finally look for our accommodation and check in. 15 minutes later, we did just that.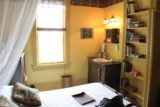 The interior of the Simmons Bond B&B were charming and historic-looking. The living room, the dining room, the library, and even our Colleen room exhibited the kind of rustic charm that I was sure attracted Julie to this little find. Even our bathroom was "hidden" behind a bookshelf, which was something you just don't see very often in boutique accommodations.
So after getting settled, we had some time to ourselves to relax a bit, then eat out at some decent Mexican food at a place called Los Primos (which we enjoyed without the same guilt we had from the fried chicken dinner last night) before filling up on gas and returning to our accommodation for a relaxing night.
Indeed, it was a wonderful way to kick off this waterfalling heavy trip, and we certainly hope that tomorrow's experience will be as successful as today's was…