Day 3: GUN COUNTRY
When we awoke at 6:30am, it had been raining pretty heavily throughout the night and it still seemed like it was raining off and on while we were getting ready for our 7am breakfast. Once again, it was still dark while we were freshening up, and it still seemed like the railroad was busy with train traffic periodically (as we had heard it periodically throughout the night!).
At 7am, we went downstairs to the charming dining room, where another couple was already having their brekkie. We joined them at the same table while the host, Elizabeth, was making the breakfast.
We weren't terribly used to dining with total strangers so it was a little awkward at first, but eventually we got into talking about holiday plans and our home towns. We learned that the couple was on a five year anniversary and "babymoon," and they were from Tallahassee, Florida. They said it was a six hour drive to get to Toccoa, though they did do a North Carolina trip as part of another trip (honeymoon) from the coast to the Blue Ridge Mountains. So that got us looking forward to that part of the trip.
We also chatted about football (thinking this part of the country was pretty big on college football), and we also talked about why we came all the way here from LA (to go waterfalling with fall colors, of course).
Anyways, the breakfast was delicious. And by about 7:45am, the rain seemed to have stopped and we were packed up and ready to leave Toccoa for South Carolina.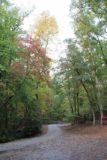 The skies remained overcast for the next hour or so as we headed towards Issaqueena Falls, which was the first waterfall of the day. Eventually, we'd get to the signed car park at 8:55am where I momentarily fretted that we might have showed up early considering there were signs indicating that park hours were 10-5. Nonetheless, all gates were open and there was another car that was already parked here, though it seemed like they were on their way out just as we were about to get started.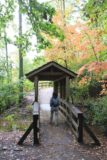 It was a little damp and cool, but we could see that there were some hints of blue skies. The walk went through a small covered bridge before getting to a lookout platform where we could get a partial view of the falls through quite a bit of foliage. It was a pretty subpar view, but we saw down below that there seemed to be a trail offering closer access. However, we wondered if it was an old trail or a scrambling trail considering the path down there wasn't terribly obvious or sanctioned by the looks of things.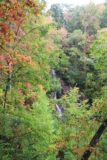 So we went ahead and scrambled our way down the obvious trail, but it quickly became apparent that it was quite a steep and slippery path. Even with our hiking boots on, we weren't getting the best traction thanks to the wet rocks and tree roots we had to put weight on.
But after the hard work to get down to the base, we were on the slippery flat rocks right in front of the falls, which now took on a totally different look than that of the overlook earlier. This time, there were strings of falling water segmenting across a rippled sloping wall. It was kind of a poor man's Minnehaha Falls but this one lacked the flow and color of the one we saw the day before.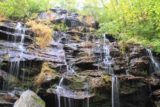 So after having our fill of this falls, we climbed back up the scrambling path and quickly returned to the car. We would return to the car at 9:45am, and five minutes later, we were across the main highway and at the car park for the picnic area for Yellow Branch. We weren't going to do the tunnels since we had a full day's itinerary and the tunnels didn't seem attractive enough for us to check them out in lieu of our waterfalling intentions.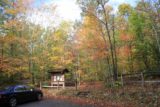 While we were busy trying to figure out if we had indeed found the trailhead for Yellow Branch Falls, another vehicle pulled up into the lot. It was a lone man, and Julie was eye-ing him because she wasn't sure if he was up to no good or not. So we waited for him to make his move before we got ready with our gear, knowing that this was going to be a longer hike than the short walks throughout yesterday.
Once the man made his move towards what appeared to be a shelter, we got out of the car with our gear ready and proceeded towards the same path that the man took. As we approached the shelter, we saw him there sitting and chilling over a sip of coffee.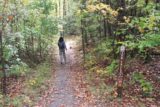 The man greeted us and that kind of put down our suspicions. In fact, it seemed like he sensed our suspicions, too. And he calmly announced his intentions of having a sip of coffee and enjoying the Nature before going to work. He said he lived nearby and he knew that we were looking for the Yellow Branch Falls. It was a good thing he pointed out the trail to us because the path we were on only went to some more picnic shelters. In any case, he did warn us of a possible false path near an unbridged creek crossing so we made sure to pay attention to that when we got there.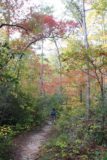 So with that, we were on our way. The trail was nice and peaceful with hints of Fall colors in the tall trees towering above us At one instant, we heard some rustling in the foliage adjacent to us, and that was when Julie noticed there was a snake that was there. It seemed to have an almost black-ish series of scales though I couldn't tell if it was large or mid-sized. Julie thought it was long and thin.
Unfortunately, it had slithered away and found a hiding spot before I could take a photo of it. And I wasn't about to go chase it to its hiding spot not knowing if it was venemous or not.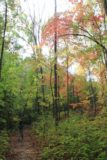 As we were meandering about the fairly long trail, the path was gently descending as explained by the stranger we met when we started the hike. But just as we were getting used to the sound of rustling leaves from the gentle breeze and the sound of us walking on the trail, all of the sudden we heard a loud BANG accompanied by echoes following the sound impulse.
We suspected it was a hunter shooting a gun or shotgun or something. But whatever it was, it certainly undermined our piece of mind since this was the first time we heard gunshots while on a trail. And we'd been waterfalling together at least over 10 years.
Anyways, we continued hiking about before we heard at least three more loud BANGs echoing throughout the forest. Again, that made us a little nervous, but there wasn't a whole lot we could do to cure that except to keep going towards our goal of the hike.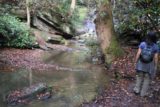 After a brief interlude of climbing then leveling out, the trail then descended once again as we finally started to hear the sound of falling water as we went further down. And eventually, we got right to the base of the falls where we had to let our boots get wet a little to cross the creek and get a decent view.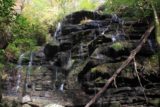 Like Issaqueena Falls, Yellow Branch Falls had similar character, but this one seemed to be a bit taller and also looked a bit more photogenic. I had brought the tripod throughout the hike so of course we used it to take long exposure shots of the falls while trying to take a few couple shots as well.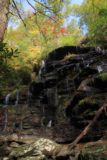 By this time, the sun started to come out as it was in between being hidden by partly cloudy skies and being out in the open to create shadows on the scene (which aren't optimal for taking photographs).
After having our fill of the falls, we started to head back up to the car park. It was about 11:10am and we figured that we had to move quickly if we were to catch as many waterfalls as planned before checking into Brevard at the end of the day.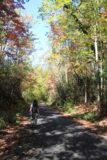 At some point on the hike, we must have missed a turn because we never recalled hearing the road so close to the trail. And, well, it turned out that we didn't go back the way we came towards the end. Instead, we'd meet up with the paved road leading to the car park and we had to follow this road back to the car, which now had at least three others parked there.
By about 12:05pm, we finally left and headed towards the next waterfall – King Creek Falls and Spoonauger Falls.
While we were headed to the falls, the car radio just happened to be tuned to 88.1 FM, which was some alternative music station courtesy of Clemson University (I never knew Clemson was in Upstate South Carolina even though I knew it was ACC school). Alternative music was something I never expected in the South, but that at least gave our iPod Shuffle a break.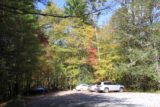 After turning off on Burrells Ford Rd, we'd eventually traverse a two-mile stretch of unpaved road before finally reaching the so-called Burrells Ford Trailhead where there were already at least a half-dozen cars parked here.
I didn't see any signs explicitly noting King Creek Falls though the info board did have some passing mention of it on a map.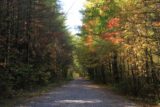 Nonetheless, Julie and I got our stuff and proceeded to walk past the gate and down the gravel road. It seemed like they used to let vehicles continue down this road, and that might explain why the descriptions in my research made it seem like Spoonauger Falls was only a 20-minute walk and King Creek Falls wasn't a big deal either.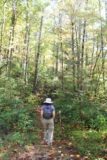 But as it was, we had to walk roughly some 0.3 miles downhill on the road before we saw another area of signage that appeared to indicate that we made it to the Burrells Ford Campground. We weren't sure where to walk from there as it seemed like there was another way to go north of the campground. Fortunately, just a few paces further down the road from this signage area, we noticed a sign indicating King Creek Falls, which left the road and went into a fairly dark trail following a rushing creek.
Naturally, we proceeded to take this trail and made haste as we knew we still had to get to Spoonauger Falls before returning to the car and then maybe checking out Rainbow Falls en route to Brevard.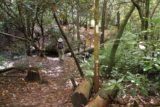 So we followed the loud creek before turning towards a bridge. On the other side, there was a junction where going left went upstream towards the falls while going right led to the Foothills Trail, which we weren't about to take.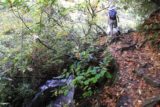 The trail got considerably narrower and progressively rougher and a little more slippery thanks to the dampness from last night (and this morning's) rains. Eventually, the trail steeply descended towards the slippery and shadowy plunge pool area right in front of the impressive King Creek Falls.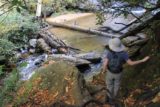 From the trail, there was not a very satisfactory view thanks to the overgrowth. Fortunately, there were some rocks (albeit slippery) offering more frontal views of the twisting waterfall. It had pretty good flow, which explained the loudness of the cove as the tall waterfall was in front of us, but behind us were also some smaller cascades.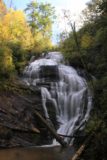 Given the lack of real estate to get creative taking photos (especially since we didn't want to ruin our boots by wading in rushing shin-deep waters), we didn't spend too much time here. We just took enough time to take photos and a handful of movies before we were on our way again.
As we proceeded to head back towards the familiar log bridge across King Creek, we noticed that there were actually two trails. The one straight ahead was marked with some white paint on the tree bark next to it. Meanwhile, there was a much wider trail following the creek downstream.
Julie opted to go with the marked trail though we weren't totally sure what the other "false" trail (or so we thought) was all about as it seemed awfully wide to be considered as false. Nonetheless, it seemed like we were indeed following the trail we had taken here when I looked at the GPS map on my etrex. However, towards the end of the hike, we heard some vehicles on gravel road, which was something we totally didn't remember on the way in. Another glance at my GPS revealed that indeed we had taken a different path than the one we took in. I guess my initial glance at it wasn't zoomed in enough to see the divergence.
Well, we weren't about to go back down the hill to see Spoonauger Falls so when we returned to the trailhead at 1:35pm, we proceeded to drive in the direction of North Carolina as we were looking to bag one more waterfall before arriving at Brevard.
On our way out, there was tree cutting work (I guess to cut trees so they don't fall on the road), which narrowed the road to one lane. Unfortunately, this work just so happened to block an attractive overlook that would've been one we'd stop for.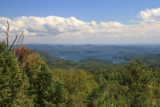 Continuing further along in the drive as we were hoping for another one of these overlooks, but it wasn't until we got to a large pullout area with an overlook towards some kind of man-made lake in the distance. But the Fall colors down below the vista still hadn't arrived in full force yet so it wasn't quite the overlook we were hoping for. We did make a brief stop to snap photos, but we then continued on our way.
After a bit of a 15-minute delay due to yet another tree-cutting work adjacent to the road (this time near the South Carolina-North Carolina border), we made a last minute decision to go see Upper Whitewater Falls as we had just seen signs for it. We figured that with the nice weather and even more hints of Fall colors, we mind as well take advantage of the situation and punt Rainbow Falls for tomorrow.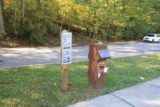 By about 2:15pm, we were at the large car park for Upper Whitewater Falls where we paid the $2 into a self-help envelope. There were quite a few cars here so we knew this was a legitimate attraction (though I had suspected this would be the case given my pre-trip research).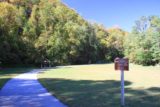 But after the short 15-minute walk towards the upper overlook, we could see that indeed this 411-ft waterfall was quite impressive. The afternoon light was right on the falls and it seemed to bring out the scattering of Fall colors around the multi-tiered gushing waterfall itself. Instantly, Julie thought this was the best waterfall of the day as the rest of the falls from today garnered a somewhat lukewarm reaction.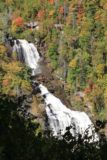 The upper overlook we were at was a little blocked below and some other guy in a Southern accent noticed what we were doing and pointed out to us that down the steps there was a better viewing platform where we could see the whole thing. So we obliged and went down the steps.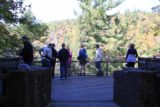 A few moments later, we took our turn getting photos and movies of the falls in the limited opening between some trees. Even though the platform was fair sized enough to handle at least a dozen people, it was really one or two people at a time to check out the falls without foliage getting in the way. So it quickly got busy down here. Thus, utilizing the tripod plus the relatively long setup time for it (for both stable long exposure shots and couple shots) meant that doing photos this way was pretty much out of the question.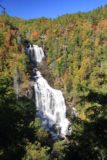 After getting our fill of this falls (and it was hard to leave this place), we were back at the car at 3:10pm. There was still quite a bit of afternoon light left so we made another last-minute decision to go back in the other direction to check out Lower Whitewater Falls. Unfortunately, that also meant dealing with the tree-cutting delays again.
After mercifully getting going again, we turned left onto Bad Creek Road, which at first seemed like a road that wasn't open to the public as it was flanked by a gate and Duke Energy signs. The road happened to be right in the middle of the work zone so we weren't sure when we'd be allowed to drive through the work zone if we return while work was still going on.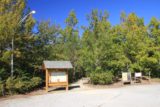 Anyways, after descending the curvy road past some wild turkeys and then turning left at a signposted turnoff, we found a large car park area occupied by one car. After parking the car and examining the signs here, it was clear that we had found the right place. Unfortunately, it was said to be 1.7 miles each way from here, and given that it was already close to 4pm, there was no way we would complete the hike and still get back to Brevard in a reasonable hour and then have dinner.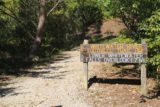 So we punted the Lower Whitewater Falls excursion for tomorrow hoping that the lighting of the morning won't be too bad knowing that afternoon light was certainly the best for the falls given our Upper Whitewater Falls experience.
When we got back to the Hwy 107, traffic was allowed to move in the northbound direction so naturally we followed in the line (without having to wait too long this time). I certainly won't be looking forward to this work coming back again tomorrow.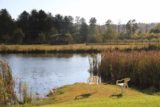 The drive towards Brevard pretty much followed a caravan of traffic going to either Lake Toxaway or Brevard. The drive seemed longer than expected, and to make matters worse, both Julie and I were getting hunger pangs for not having a real lunch. To make matter worse, I was getting a bit sleepy behind the wheel. Mercifully, we would finally arrive at the Deerwoode Lodge in the outskirts of Brevard at 4:25pm. And not much longer after that, we got settled into our rustic log cabin. Finally for the next three nights, we would have a base and wouldn't have to vagabond it for once.
The night ended with a pretty delicious dinner at the Hobnob. It was kind of like Southern food meets fusion cuisine, and we agreed that it was probably the best meal of the trip so far. However, the food was a bit pricey. Still, we enjoyed the bread with chimichurri olive oil sauce while Julie got crab cakes and I got North Carolina catfish. All this followed a scallop appetizer, and the meal ended with warm chocolate cake with ice cream dessert. It was a good thing we dined early because this place filled up quickly after 6pm.
We were back at the lodge before 7pm where we turned on the heat knowing that it might get into the 30s or 40s tonight.