Day 4: IT'S BREVAAARD
Both Julie and I awoke at 7am despite the 6:30am alarm. The evening was very cold, and since I had turned out the gas-powered fireplace to save on power, we were now not bending over backwards to get up out of the cozy bed. Of course for the next couple of nights, Julie was going to ensure that the fireplace stayed on throughout the night.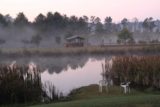 It was about 7:30am when we left the Deerwoode Lodge for today's excursions. It was a misty and frosty morning. We could see low-lying mist hovering over the ponds in the property and the grass was wet with dew. I was concerned that perhaps we had started a little early since the sun just started to come up, but I was sure there might be deer and bears potentially becoming road hazards. And after hitting a deer in Utah and a kangaroo in Western Australia, it was definitely on my mind.
But when we finally made it out to the main Highway, I was surprised to see how many cars were whizzing by in both directions. I guess most of the locals were heading to work, and I was certain they obeyed their clocks and not whether the sun was up or not. So then it started to cross my mind whether we should have started the day earlier than we had thought.
In any case, we drove back towards the Whitewater area since we didn't get to finish the Lower Whitewater Falls excursion. After looking at my research overnight, I had read that we could have used the Musterground Road (a hunting road that was open during the hunting months of September through November), and that we could shave off 2/3 of the overall hike to the overlook of the falls.
So that was on my mind when we returned to the familiar work zone (which hadn't started this early in the day), then descended the familiar Bad Creek Road all the way down to the familiar large car park for the Lower Whitewater Falls. But this time, I went ahead and proceeded along the unpaved Musterground Road and gingerly drove this road hoping there might be some sign or indication of where to stop the car and "cheat." The road seemed to get progressively rockier and bumpier the further I went. Thus, I started to get nervous about doing damage to the rental car or inducing a flat tire.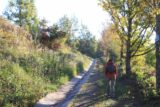 After a few minutes of futile searching save for an ATV parking area and what seemed to be some blue hashes pointing to some kind of trail leaving the gravel road, we decided that it was better to play it safe and return to the car park area. It could very well be that that trail leaving the gravel road might be where we should be walking. But given that our pre-trip GPS coordinates suggested that the falls was way down south of where we were at plus Julie's uneasiness about unsure exploration in a hunting area, we bit the bullet (figuratively speaking) and did it the long way without "cheating."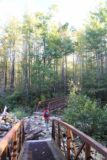 In any case, we finally got to the large car park area at 8:35am. The hike initially ascended alongside some gutter before flattening out and then entering some shaded canopy of forest. The trail undulated briefly before descending in earnest towards a pair of footbridges crossing over the river. A sign down here indicated that it was still 1.7 miles to the overlook of the falls, which we thought was strange since the trailhead sign indicated it was 1.7 miles from there. One of those signs was lying and we hoped it was the latter one and not the trailhead one…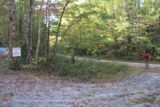 Continuing on the hike, we passed by a couple of junctions before the trail started to gently climb up towards the familiar ATV parking area. It was at that point that we realized that our earlier observation about where the trail left the gravel road was true. Indeed, we should've left the car either at or near this spot and cheated to perhaps knock off at least an hour off this excursion. But like the Stock Market, we can't cry over spilled milk, and for better or for worse, we were pushing on.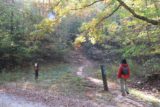 After briefly walking along the familiar gravel road, we then returned to our turnaround point (for the car) and then continued walking along what appeared to be a broad ridge with some faint thundering of falling water in the distance. I was pretty sure that that was the Lower Whitewater Falls, but little did we know how far we really had to hike to get to the endpoint from here.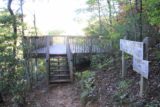 The walk eventually started to descend gradually then more steeply as we went further. The descent seemed longer than we wanted it to since we knew that we had to get back this elevation loss on the way back. It wasn't until finally around 9:30am or so that we were at the overlook platform for the falls. The lower part of Lower Whitewater Falls was in shadow though the morning light did seem to contrast the blue sky nicely for the parts that weren't in shadow. However, there wasn't as much fall colors as there was at Upper Whitewater Falls, and that prompted Julie to declare that this walk was anticlimactic.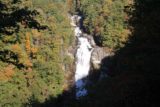 We didn't linger here long before we made the arduous climb back up towards the gravel road and then hastily make our way back to the car park knowing that the falls probably wasn't worth the overall 4-mile hike (again the signs lied) plus we were still lamenting our missed opportunity to cheat. We were the only ones on this trail, and Julie speculated that perhaps this was why it was so. However, I tended to think it had more to do with the intimidating Duke Energy infrastructure that might discourage casual visitors from bothering.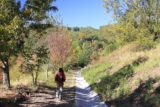 At 10:55am, we were back at the car all hot and sweaty. The water we had bought in Atlanta and we were drinking on this hike turned out to have leached so it had a definite nasty flavor to it. I'm sure it couldn't have been good for us to be drinking chemicals that found its way into our water. Lesson learned here was never to buy milk-gallon-like jugs of water since those Plastic Recycle 5 types were one of the worst at leaching.
At 11:05am, we were back at the familiar highway, but now there was the familiar tree cutting activity. After waiting here for another five minutes, we were finally on our way.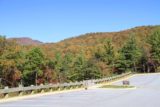 Next stop was Gorges State Park where we were intending to see Rainbow Falls. I had read that this walk used to only be 0.2 miles from the highway, but the authorities have since closed off that access and required visitors to hike to the falls via Gorges State Park. I was aware that it was 1.5 miles each way for that waterfall so I knew that while we were a little behind where I was hoping we'd be from an itinerary standpoint, this excursion wasn't going to allow us to make up any time.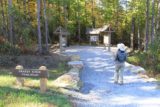 At 11:25am, we made it to the Grassy Ridge Trailhead. The drive through the state park was pretty as it seemed quite apparent that the Fall colors had reached this area. I was hoping that this trend would continue in the coming days when we would hike the Graveyard Fields as well as drive the Blue Ridge Parkway and its overlooks.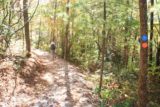 Anyways, we promptly began our hike, which descended towards a junction. We headed right on the junction and the trail immediately started to descend gently to moderately. Again, I knew we would have to get this elevation back on the return to the car so I knew we were in for a fairly long hike when we were hoping for a short one.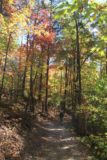 However, walking beneath some trees with red and orange leaves did occupy us as we were still getting used to the idea of experiencing Fall foliage in earnest for the first time in our lives.
Continuing along in our descent, we passed by a couple that was looking at their guidebook asking if we had seen Stairway Falls. We didn't recall seeing any signs for it so we couldn't be sure (though we weren't looking for it either).
I think we might have mistakenly given them the false notion that Stairway Falls was behind us, however, when I mentioned to them that we did reach a trail junction near the start of this descent. In any case, the guy and his wife seemed intent on bagging as many waterfalls as they could on this hike alone (five, I believe), and it kind of reminded us of me in our early waterfalling days when we would probably have done the same thing. Though these days, we know how precious time is and we just focus on a selection that we predict will be most worth our time.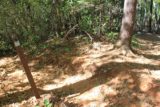 A few minutes later, we'd eventually reach a rather confusing trail junction where there was an arrow and sign for Stairway Falls pointing in one direction and Rainbow Falls in the other. Even with us observing this, we still couldn't tell for sure if that other trail descending closer to the loud river below was for Stairway Falls or not.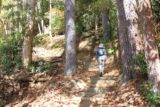 Continuing on, we mercifully made it towards the bottom of the descent, but then the trail started to climb up several steps and some inclines. And this climbing would persist for a little while more. It now became apparent that this was a rather moderate hike of 3 miles round trip in a V-shape. So not only would we have to climb up to the main waterfall, but we'd have to go back down and then climb up again to regain the car at the Grassy Ridge Trailhead.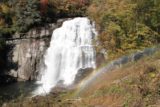 It wasn't until around 12:30pm that we finally made it a frontal view of the impressive Rainbow Falls. It seemed like we came just in time for a bright rainbow to be arcing on the lower right side of the waterfall itself though photograping and taking movies was a little challenging thanks to the mist wafting up in our direction from time to time.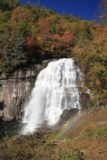 We helped a foursome of seniors take a photo, and it turned out that they were the same folks who had just left the car park before we did on this hike. Just this one act of helping them take a group photo kind of broke the ice and they opened up to us with smiles before they continued on towards the top of the falls.
At this point, Julie decided to stay at this part of the trail while she let me explore further up to see the top of the Rainbow Falls. And after a few more minutes, I saw some folks chilling out near the top of the falls greet me.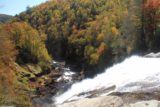 After I took my obligatory photos and movies from this perspective of the falls (which included a scattering of colorful fall foliage down below), I asked the folks here if they were continuing on to see the next falls.
One of the guys there pointed upstream and showed me that Turtleback Falls was right within sight as I could see a profile of what appeared to be just that waterfall. He then went on to say that Drift Falls was further upstream from there, but that it was now private and they were weighing their options as to whether they were going to explore it anyways.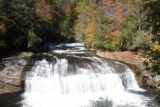 With that, I continued on and just settled for Turtleback Falls. It turned out that I joined a couple of the folks we helped to take a group picture earlier, and while I was there, we conversed some more about where we were from and where we were going. That was when I learned that these folks were from Mississippi and they had a son who lived in Asheville, NC so they seemed to know quite a bit about that place through their son.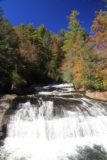 So I was being showered with advice about where to eat, what to check out, and even some bits of trivia like film locations for the Last of the Mohicans, Hunger Games, and even a famous resident named Steve Martin ("one of your guys" as the Mississipian put it to me) who happened to have a home in Brevard, NC and even have a blue grass band he moonlights for.
Speaking of Brevard, the lady corrected my pronunciation of Brevard (I thought it was "BRE-vurd") when she pronounced it, "bre-VARD". I guess it was pretty obvious I wasn't from around here, but they seemed genuinely pleased that someone from LA would come out to the Southeast (or "the South"). And as the Mississippi guy (husband of the lady who was showering me with advice and tid-bits) said to me in his Southern twang, "Welcome to the East of the Mississippi!"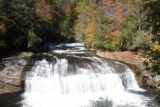 It was fun conversing with these folks, but Julie was still waiting for me by Rainbow Falls. So I wished them a happy journey (and they reciprocated of course), and I was on my way back to Julie. Once I rejoined her, I noticed that the rainbow in the mist of Rainbow Falls was gone. I guess our timing was perfect earlier on. Anyways, we now had to make the descent then long ascent back to the car. Not even an interesting-looking millipede or centipede (we didn't know what it was) could keep us for long in our pursuit of the car park.
It wasn't until about 1:45pm that we finally made it back to the Grassy Ridge Trailhead. The car park was a lot busier than it was when we started. But now we had to continue on our way as there was still three more waterfalls to see before returning to Brevard. Julie was hungry so we made a quick stop at the BP right at the junction of the 64 and 107, where we had some low quality pizza, a BLT, and some chocolate chip cookies. This unhealthy meal reinforced our decision not to take Tahia since we wouldn't want to subject her to the crap that we tended to eat when we were always on the go on these types of trips.
At 2:10pm, we continued to head west this time. There was quite a bit of traffic going in this direction though no one seemed to be in any hurry. The folks in front of us rarely considered using the slow vehicle turnouts and the cars behind us weren't tailgating. Overall, there seemed to be a little less angst than I was used to when it came to mountain driving in these parts.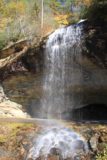 After passing through a pretty busy town that I think was called Highlands-Cashiers, we followed another caravan of cars before we saw an interesting quaint little waterfall right off the side of the road at 2:55pm.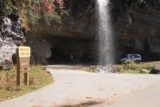 The rather unusual thing about this waterfall was that there was a small pullout loop that allowed vehicles to drive right behind the falls. I don't think we had ever seen a waterfall that allowed vehicles to drive behind it. And it was funny to see people do the deed (sometimes twice).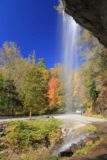 We had spent quite a bit of time at this waterfall because there were some amazing fall colors juxtaposed with the falls once we got behind it and looked out towards the road. And this was after we were busy taking photos of the front of the falls with a slight rainbow at its base!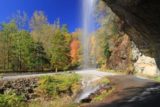 In any case, when we were done taking photos and movies of this rather funny scene of seeing folks purposefully detour and drive behind the falls, we then did the same thing ourselves with our rental car.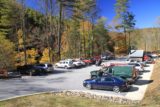 It wasn't until 3:15pm that we finally pried ourselves away from Bridal Veil Falls (that's what this falls was called), and ten minutes later, we arrived at a rather packed car park for Dry Falls. In fact, all the parking spots were taken and we had to wait for someone to vacate a spot. Fortunately, it was only a couple-minute wait.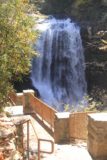 So we promptly went down the stairs and saw that the gushing Dry Falls was mostly in shadow. Most of the frontal view of the falls was against the sun. So we wasted no time getting right into the misty and shadowy behind of the falls where it was clear the cool thing about this one was the ability for us to go behind it.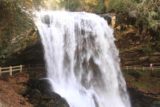 Once again, there was quite a bit of Fall colors decorating the scene around the Dry Falls so I took some time trying to trick the camera into not overexposing the colorful scene outside the shadowy confines of the falls all while trying to cope with the extreme contrast between light and dark.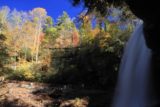 We left the busy and bustling scene at about 3:55pm. Now, there was one more waterfall excursion to do on this day, and that was to Glen Falls. Fortunately, it was only a few minutes away from the Highlands town though turning left onto the unpaved Glen Falls Road across blind traffic on the highway was rather dicey.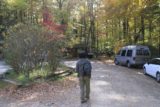 By 4:10pm, we made it to the unpaved road and trailhead for Glen Falls. Once again, there were many cars who managed to fit into the limited parking here. It was Tuesday, yet this place was so busy. Maybe it was mostly locals getting off work?
Anyways, we were greeted by the sounds of many barking dogs (seemingly angry barks as I was sure there were some dog confrontations). From my research, I knew this wasn't going to be a very long walk (3/4-mile return I think) though there were three accessible tiers to check out.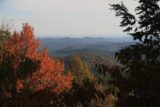 It was getting late in the day, and we still had to return to Brevard for dinner, to clean up, and to get some rest for some more waterfalling tomorrow. So we hastily made our way along the trail which presented a rather attractive view (albeit obstructed by foliage) of some Fall colors against a mountainous backdrop. Then, shortly thereafter, the trail descended alongside the creek containing the many tiers of the Glen Falls.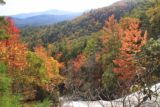 The first detour we took was towards the top of one of the main tiers which just so happened to show off a colorful ravine below as it was flanked by some attractive Fall foliage. The sun was against us, but that just meant that it would be with us when we would see the front of the falls. It was also at this vantage point that I realized that Glen Falls was actually quite tall, but we would only see it portions since there wasn't an overarching contextual view of it on this trail (since we were besides the falls and not somewhere opposite the falls where there was nothing but air and treetops).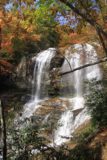 Julie stayed with me to the bottom of the topmost main tier, but then she returned to the car after that, leaving me to explore the middle and bottom tiers on my own. So with that I hastily continued the descent, checked out the attractive middle tier (which might be arguable more attractive than the topmost tier), and then descended even further towards the third tier.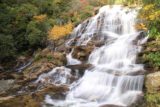 That third tier was anticlimactic as it was puny, it had lots of fallen logs obscuring about a third of its drop, and it was probably not worth the extra effort. However, I could envision this being a nice little swimming hole in the Summer when it gets hot.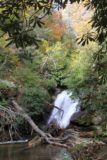 Anyways, that was the end of Glen Falls for me and I hastily made my way back up to the car park, finally getting there at 5:15pm. I was a hot and sweaty mess, but at least I knew the rest of the day could be spent in sandals and not hiking boots, and that we had a dinner to cap off this busy day.
On our way out of Highlands, Julie spotted a frozen yogurt and cupcake place and we made a quick spontaneous stop for a brief dessert break. It was interesting how Froyo, which was apparently an LA thing, made it out to Western North Carolina of all places.
At 5:25pm, we continued on our way back to Brevard. It wouldn't be until about 6:45pm when we finally made it back to town, and we opted to eat at this place called Square Root which seemed to have some decent Yelp reviews. It turned out that they did a pretty good job with the dinner (we started with Fried Green Tomatoes and then mains of Cedar block Salmon and Pork belly), and once again we were pleasantly surprised with the quality of food in this rather small town.
At 8pm, we were finally back at the Deerwoode Lodge to end off this very long day…