Day 5: QUOTH THE RAVEN
Julie and I awoke to a very chilly and foggy morning at 7am. Once again, we had to fight the urge to remain in the coziness and warmth beneath the sheets. But we knew we had yet another full day of activities today so we had to brave the cold. Actually, this time around, Julie left the gas-powered fireplace on so that kind of helped things a little, but it was still cold inside the rustic cabin.
With rain in the forecast for tomorrow, we had to change things up in our itinerary a bit. So today, we decided to hit Reedy Cove Falls, Raven Cliff Falls (this was expected to be a long excursion), and the Graveyard Fields (another expected long excursion which was originally planned for tomorrow or the day after). The remaining waterfalls of Transylvania County would have to wait for tomorrow.
It was 7:45am when we left the Deerwoode Lodge and went right into the fog. About 8 minutes later, we momentarily hit a little bit of a traffic jam, which was mostly locals dropping off kids to school. Once we got past the school, it was smooth going (albeit with the fog limiting visibility).
At about 8:15am, we made it to the Caesar Head Visitor Center. I thought I had read in my research that this was supposed to be the trailhead for Raven Cliff Falls, so given that the gates wouldn't open until 9am, we decided to continue further into South Carolina to see Reedy Cove Falls (also known as Twin Falls and Eastatoe Falls). We'd come back for this one after the detour to Reedy Cove.
So the drive descended steeply towards the basin beneath Caesar Head. It was a very twisty and steep road, and it seemed like the brakes on the rental car was starting to show signs of stressing. It was only under this duress that I finally figured out how to switch the automatic into lower gear (it wasn't immediately obvious given that you were supposed to select "M" and then use your thumb to increase or decrease the gears; geeze I wish stick shifts were more readily available).
After getting down to the basin, the drive was fairly smooth going on some highways before we hit a four-way stop that led up a different highway eventually leading us to an interesting-looking building signposted "Road Kill Grill" with a confederate flag hanging on a building opposite the sign. From my research, I knew that this was where the Cleo Chapman Rd turnoff was.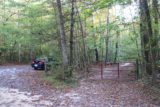 So we took it, then followed another couple miles of twisty roads, then turned right onto Eastatoe Community Road, which was flanked my more ranches and homes it appeared, and then turned right onto Water Falls Road, which was a single-lane gravel road. We took this road all the way to its dead end, where there was a gate that appeared to be for foot traffic only.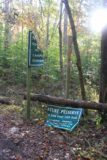 So we started the walk, got past the gate, and noticed that there was a torn sign indicating that this was a preserve. I guess someone wasn't too happy about this being a preserve.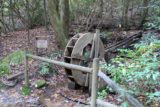 Continuing on the brief walk, we went past an interesting-looking water wheel signposted "In Loving Memory of Buck Hinkle." We weren't sure who this person was, but we'd probably google him to learn a little more.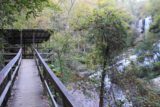 After a few minutes more of walking, we went right up to a shelter where we saw the pair of waterfalls collectively known as Reedy Cove Falls. It was also known as Twin Falls, and we could see why.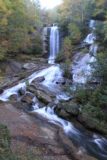 With the early morning light, the whole scene was still in shadow so we took this opportunity to take some long exposure shots while also taking movies. It didn't take long before we had our fill of this falls, and at 9:20am, started driving towards the Caesar Head Visitor Center, which we knew would be open by the time we'd get there.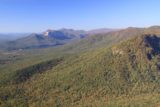 It wasn't until about 10am when we finally arrived at the Caesar Head car park. So we spent some time checking out the overlook, where we could see the basin we had just descended into, but it appeared that the Fall colors still hadn't really made it down to this elevation yet. So the view wasn't as awe inspiring as say maybe in a couple of weeks.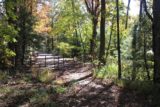 We had a little trouble finding the trailhead for Raven Cliff Falls, and we thought the trail started past a gate on the far side of the parking lot (further downhill). But after about 15 minutes of walking past several private homes with gorgeous views, we came to a fork in the road, and we started to question whether this was a legitimate trail or not.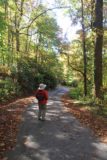 Playing it safe, we walked back up to the Visitor Center where we inquired with the lady working there where the Raven Cliff Falls car park was. It turned out that the trailhead was another mile away in a separate car park, and with that, we returned to the car and started looking for the car park (funny we didn't see it earlier in the morning).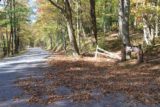 After another 15 minutes of searching and driving downhill towards the switchbacks again, we returned to the Visitor Center. This time, I made sure to ask which direction we were supposed to turn out of the Visitor Center. And when she replied that we were supposed to turn left (i.e. going back towards North Carolina), I incredulously proceeded back to the car and slowly drove in that direction (still wondering why we didn't see it earlier this morning).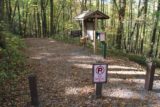 Well, it turned out that after a mile of driving as the lady at the Visitor Center said, we found the "Raven Cliff Parking" sign, which was only visible heading north and was totally not visible heading south (no wonder why we missed it). And when all was said and done, we started the hike at 11:05am, which was an hour later than when we originally returned to the Caesar Head car park.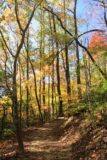 This time Julie decided to stay in the car so she could let me hike as fast as I could to the falls. Even though she wasn't going, she had already paid the self-help kiosk for two hikers (at $2 per person).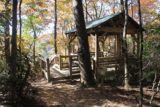 So I crossed the highway and began the hike, which immediately started going downhill. It would continue to do this, but then gradually level out and undulate with mostly a net elevation loss. There were only a handful for other hikers doing this same trail, but since I solo, I managed to make it to the overlook (the shelter and deck looked new) for Raven Cliff Falls at 11:55am, and I had it all to myself.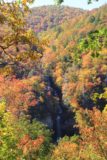 The falls was mostly in the shadowy recesses of the colorful trees surrounding it. However, I thought it was the color of the surrounding trees that really made this scene so beautiful. Apparently, this was South Carolina's tallest waterfall though this 4.4-mile return hike was a lot of effort for a distant view with quite a bit of overgrowth conspiring to keep you from getting the whole view of the falls.
After having my fill of the falls, I returned back towards the car park see a few more hikers going in the opposite direction as me.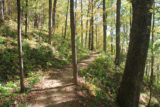 During the hike back, I had time to gather my thoughts and listen to the tranquility of the gentle breeze causing some of the colorful leaves to drop from the trees above. It was kind of a moment where I knew I was where I was at peace the most in my spirit – out in Nature.
Anyways, I made it back to the car park at 12:45pm, which was way sooner than I thought and it caught Julie by surprise. It only took me just over 90 minutes to do this whole 4.4-mile excursion while it took us over two hours to do the 4-mile Lower Whitewater Falls. I guess terrain (there was less up-and-down in this one) really did make a difference.
So we wasted no time heading back towards Brevard, where we grabbed a surprisingly delicious panini lunch and salad at Quotations. We'd eventually leave the cafe at 2:15pm to continue towards the Graveyard Fields with the intent of seeing the Fall colors before the anticipated rain would come in tomorrow.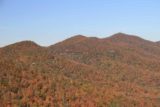 After following quite a bit of slow moving folks who refused to use the slow-vehicle turnouts on the 267 (noting where Looking Glass Falls and Sliding Rock were for future reference later on this trip), we made it up to the Blue Ridge Parkway and we made a brief stop at the Pounding Mill Overlook at 2:55pm.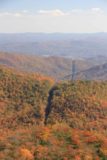 Up here, we could get a broad expansive view of the basin below with quite a bit more Fall colors than what we saw in South Carolina. However, the scene looked a little flat and it wasn't as photogenic as we had hoped (though it still was beautiful).
We were also able to see from this vantage point the scar on the landscape where the forest was cut in favor of power lines. Even from this far away, the effect of the cutting was quite noticeable.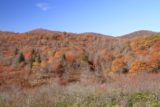 Continuing on, we evevntually made it to the Graveyard Fields Overlook car park at 3:10pm. There were many cars here and some even made themselves some room by parking on unsanctioned grassy areas between the paved parking stalls and the highway. We could see that there were some Fall colors here, but it wasn't as much as we had hoped or as we were sold on after doing some internet research about this place.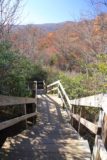 In any case, Julie and I started hiking with the intention of doing the whole Graveyard Fields loop taking in both the Lower and Upper Falls. And the trail immediately descended a series of steps leading towards a bridge above the creek responsible for the Lower Falls.
We first went to the Lower Falls, and we got there at about 3:30pm. There were about a dozen people enjoying this rounded cascade at the base. There were also a handful of others enjoying the falls near thet top. And after taking the obligatory photos and movies of this place, we started to hike back up the stairs and towards the junction with the Upper Falls and the rest of the loop trail.
Along the way, a couple that was holding an interesting North Carolina Waterfalls book by Neil Reagan caught Julie's eye and she initiated a conversation with them asking where they got the book. After all, it wasn't the first time we saw hikers holding waterfall guide books in these parts, and it was almost like the folks vacationing here really took their waterfalling seriously.
Anyways, we engaged in a conversation that probably lasted at least a half-hour or more. We learned that this couple was from South Carolina and they were excited to shower us with advice about places to check out in Brevard as well as the waterfalls that they took the time to check out. We also told them about our trip and how the waterfalls we were visiting here would ultimately show up on our website. We even told them about (and showed them on our cameras) some South Carolina waterfalls that we had just visited earlier in the day, which they didn't seem to know about.
When the engaging conversation with this friendly couple ended, we resumed hiking again at about 3:50pm. And as we were walking amidst a field of low-lying foliage, we were bummed that there wasn't as much color as we had hoped in the foliage surrounding us. As a matter of fact, most of them were bare with only branches as we reckoned most of their leaves had already fallen to the ground.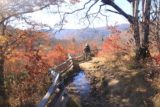 Did we miss the Fall colors event in this part of the Blue Ridge Parkway?
Now that wasn't to say that there weren't any Autumn colors during this hike. In fact, there were still lots of colors everywhere we looked.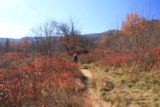 But perhaps our expectations of the explosion of colors was a bit of an instance where someone timed their visit perfectly and in good weather and showed that circumstance in their blog or website that wound up in our research. And even though we had good weather, it was clear that the colors wasn't as explosive as our expectations were. Perhaps those expectations were unrealistic to begin with.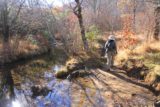 Whatever the case, we continued making hasty progress towards the Upper Falls. It was quite a lengthy detour from the main loop trail, and we started to wonder if this waterfall was going to be worth it. The trail got pretty muddy with plenty of makeshift trails to try to avoid the sloppy terrain.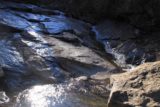 At about 4:30pm, we briefly conversed with a pair of guys who were just coming back from the Upper Falls. After they confirmed that we were just about there, they gave us some very helpful advice about making sure we scrambled on the right side of the creek and not across it. They said that the lower waterfall was not the main one, and that only just above it was the real deal.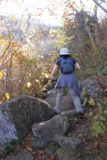 So with that in mind, we'd eventually get to the part they were talking about. However, we had to do a little head-scratching, especially when we saw how slippery and dicey it would be to try to scramble alongside the lower cascade on slippery boulders in order to get up to the Upper Falls.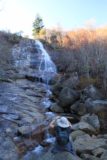 It wasn't until about 4:45pm when we finally found the Upper Falls though it certainly was a bit rough doing the combination of muddy scrambling and bouldering to get up here. All this time we were worried about going the wrong way or increasing the risk of injury.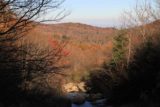 And after doing our obligatory photos and movies, we started to head back. Julie wasn't too terribly pleased with the amount of effort spent for this waterfall, but sometimes you just can't predict how things turn out until you actually get there.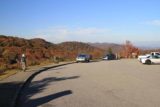 So for better or for worse, we eventually completed the loop hike and ultimately got back to the car at about 5:30pm. We knew it would be pretty close to dark by the time we got back to Brevard so the driving for the rest of the day was pretty hasty with one brief stop at the Looking Glass Rock View.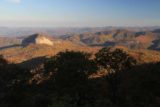 At about 6:20pm, we found this place called Hawg Wild, which specialized in North Carolina BBQ, and we figured we had to try out this food since we were in the South after all.
It turned out that the food was plenty for the both of us (and we were sharing a Sampler Platter!), and the $20 price was very reasonable.
We left the restaurant at 7pm, ran some grocery errands at Ingles (rhymes with "shingles" and not inglés as in Spanish for English), and when all was said and done, it was 8pm when we returned to the Deerwoode Lodge.
And so ended our last full day in Brevard, which was definitely a busy one at that (especially since we hiked over 7 miles on consecutive days). It was time to enjoy the rustic log cabin one last time, get a good nights sleep, and finally hit up the DuPont State Park waterfalls as well as the popular ones we had just skipped past on the 267 earlier this morning. And we'd do all of this while we would make our way up to Asheville…